For non-equipped lifters, the knee sleeve is one of the most important pieces of equipment available to allow the lifter to move more weight and support the knees.
Why Are Knee Sleeves Important?
Knee sleeves are a key piece of lifting equipment for a few reasons:
They keep your knees warm during lifting, reducing inflammation in the tendons.
They provide you with support and "bounce" out of the bottom part of the squat.
In short: knee sleeves keep your knees safe and can add some weight to your squat.
In terms of essential pieces of lifting equipment, these are really a no-brainer.
Equipment Rules by Federation
It's always important to abide by the equipment rules established by the federation you plan to compete in.
You can find links to official rules and lists of approved equipment for the IPF, USAPL, and USPA here:
SBD Knee Sleeves ($90 Pair)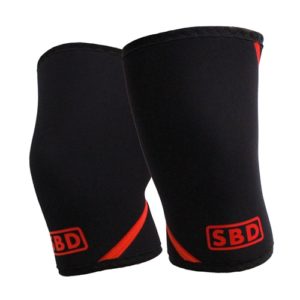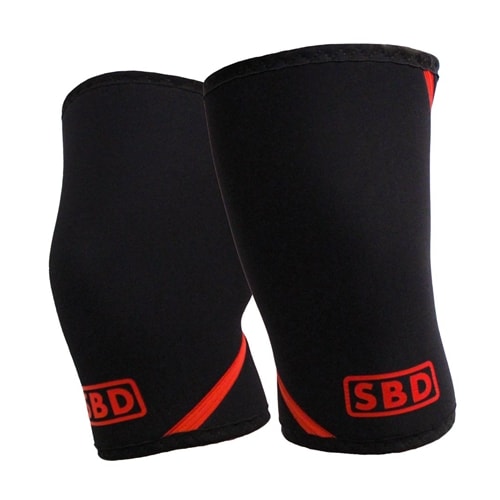 Generally considered the gold standard of knee sleeves. Known for their ultra-tight fit and quality build, SBD sleeves are a solid pick if you have the cash.
Sold Exclusively by SBD
Related: SBD Knee Sleeves vs. Rehband Knee Sleeves, SBD Knee Sleeves vs. STrong Knee Sleeves
Slingshot STrong Sleeves by Mark Bell ($80 Pair)
Reputed to be as tight fitting and supportive as SBD Sleeves, Mark Bell's STrong Sleeves have been a popular newcomer on the knee sleeve market and cost $10 less than the SBDs! These are constructed to last through the toughest squat sessions, year in and year out. Definitely worth the investment.
These are IPF approved.
Rehband Knee Sleeves ($80 Pair)
IPF-approved and renowned for quality, Rehband Knee Sleeves are some of the most popular knee sleeves amongst top lifters.
I find these are not quite as snug as the SBD sleeves, though they're very well made and have served me well. If you need to wear knee sleeves for longer sessions (such as CrossFit WODs or long leg days in the gym) these are a great option for support and comfort.
Related: Rehband Knee Sleeves vs. Nordic Knee Sleeves, Rehband Knee Sleeves vs. SBD Knee Sleeves
Stoic Knee Sleeves ($67)
Stoic knee sleeves are definitely a hot piece of powerlifting gear in 2020. They've been compared (see below) to powerhouse brands like STrong and SBD and come out roughly equal while costing a bit less. I have not personally tried these yet, but I think they're going to be my next knee sleeve purchase.
I've seen nothing but good things written about them and they seem to be in it for the long run, looking to convince skeptics with quality and sturdiness.
Stoic Knee Sleeves - Untamed Review
Nordic Lifting Knee Sleeves ($40 Pair)
The Nordic Lifting Knee Sleeves are a solid choice for the budget conscious lifter. These are still solid sleeves that will serve you well, while costing about half what the leading brands go for.
Plus, they are USPA approved, so they can be used for competition in that federation. Unfortunately, they are not IPF or USAPL approved.
Personally, I like to have a pair of "competition sleeves" and a pair of training sleeves to keep my competition sleeves in good shape. These are a great pick for "training sleeves."
Related: Rehband Knee Sleeves vs. Nordic Knee Sleeves
Happy lifting!