For non-equipped lifters, the knee sleeve is one of the most important pieces of equipment available to allow the lifter to move more weight and support the knees.
Why Are Knee Sleeves Important?
Knee sleeves are a key piece of lifting equipment for a few reasons:
They keep your knees warm during lifting, reducing inflammation in the tendons.
They provide you with support and "bounce" out of the bottom part of the squat.
In short: knee sleeves keep your knees safe and can add some weight to your squat.
In terms of essential pieces of lifting equipment, these are really a no-brainer.
Equipment Rules by Federation
It's always important to abide by the equipment rules established by the federation you plan to compete in.
You can find links to official rules and lists of approved equipment for the IPF, USAPL, and USPA here:
SBD Knee Sleeves ($90 Pair)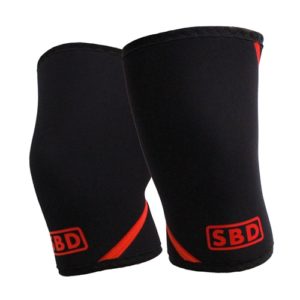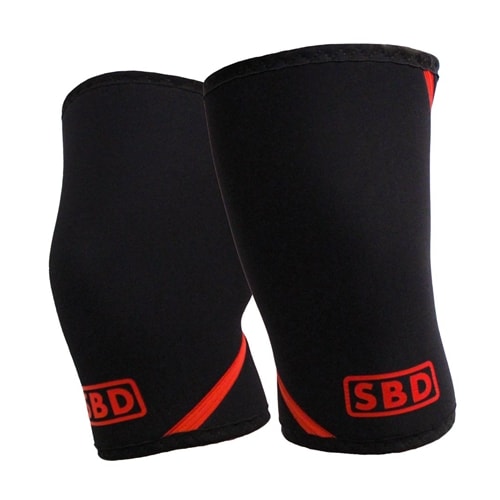 Generally considered the gold standard of knee sleeves. Known for their ultra-tight fit and quality build, SBD sleeves are a solid pick if you have the cash.
Sold Exclusively by Anderson Powerlifting
Related: SBD Knee Sleeves vs. Rehband Knee Sleeves, SBD Knee Sleeves vs. STrong Knee Sleeves
Slingshot STrong Sleeves by Mark Bell ($80 Pair)
Reputed to be as tight fitting and supportive as SBD Sleeves, Mark Bell's STrong Sleeves have been a popular newcomer on the knee sleeve market and cost $10 less than the SBDs! These are constructed to last through the toughest squat sessions, year in and year out. Definitely worth the investment.
These are IPF approved.
Rehband Knee Sleeves ($80 Pair)
IPF-approved and renowned for quality, Rehband Knee Sleeves are some of the most popular knee sleeves amongst top lifters.
I find these are not quite as snug as the SBD sleeves, though they're very well made and have served me well. If you need to wear knee sleeves for longer sessions (such as CrossFit WODs or long leg days in the gym) these are a great option for support and comfort.
Related: Rehband Knee Sleeves vs. Nordic Knee Sleeves, Rehband Knee Sleeves vs. SBD Knee Sleeves
Eleiko Knee Sleeves ($47)

Approved by all major lifting federations (IPF, IWF, USPL) Eleiko is well known as the gold standard of barbells and plates. Now enjoy the same quality workmanship without breaking the bank!
Nordic Lifting Knee Sleeves ($40 Pair)
The Nordic Lifting Knee Sleeves are a great choice for training sleeves (since they are not approved in most leagues: IPF, IWF, USAPL).
Personally, I like to have a pair of "competition sleeves" and a pair of training sleeves to keep my competition sleeves in good shape.
Related: Rehband Knee Sleeves vs. Nordic Knee Sleeves
Happy lifting!