If you're looking for the strongest pre-workout supplements, you've come to the right place.
If you're in a rush, here are our four strongest pre-workouts at the moment.
Pros:

10/10 energy

No DMAA or DMHA

No crash

Pros:

Best version of El Jefe

Excellent energy + focus

More DMHA than before

Pros:

Favorite Dark Labs product

DMAA + DMHA combo

Euphoria + energy

Pros:

Hardest hitting pre-workout

For alpha yo fans

DMAA + DMHA

Pros:

100 mg DMAA

30 full servings

Energy powerhouse

Discount code:

LIFTVAULT = 15% off Nutri Cartel, LIFTVAULT15 = 15% off Supps Central

Discount code:

LIFTVAULT = 15% off My Supp Plug, LV10 = 10% off Dark Labs

Discount code:

LIFTVAULT (Nutri Cartel), LIFTVAULT15 (Supps Central)

Discount code:

LIFTVAULT = 15% off Nutri Cartel, LIFTVAULT15 = 15% off Supp Kingz
Here are the top four new pre-workouts that stim junkies are enjoying!
Looking for a hardcore pre-workout with some exotic stims?
We have dedicated lists of the best DMAA pre-workouts and DMHA pre-workouts.
Do you want 600 mg of caffeine to the face?
We've got a pre-workout for that! Enjoy Hooligan.
What about a pre-workout with a euphoric head buzz?
Check out Ultra Pre Xtreme or Light Year Pre-Workout.
Or maybe you just want something strong, but without any banned ingredients?
For that, you need Kaged Elite Pre-Workout.
The point is that we've tried just about everything. If it's on this list, it's great. Period.
Whether you want high stim energy, intense focus and euphoria, or simply hardcore intensity and aggression in the gym, we have something for you.
As any grizzled pre-workout veteran will attest, strong pre-workouts have their own unique effects that aren't fully captured on the ingredient label.
This round-up is for the stim junkies, the true pre-workout connoisseurs.
This list is updated monthly to ensure you're getting the latest and strongest pre-workouts available.
Here is the full list of the strongest pre-workout supplements available and their effects.
Strongest Pre Workout Supplements for 2023
Assassin Pre Workout
Crack Pre Workout
Pre Phase Pre Workout
Hooligan Pre Workout
1'3 Volt Pre Workout
El Jefe Pre Workout
Excelsior Pre Workout
Shockwave Pre Workout
Each of the pre workouts below is unique in their own special way. They're all strong pre workouts, but the one that is "right" for you depends on what you're looking for. Any of these can be used as a successful tool in your health journey.
If you're looking to cut down on your caffeine consumption, I recommend checking our list of the best pre workouts without caffeine.
If you're 18 or under, I recommend checking out our list of the best pre-workouts for teens.
Assassin Pre Workout (Most Intense Pre Workout)
Hardcore Pre Workout Legend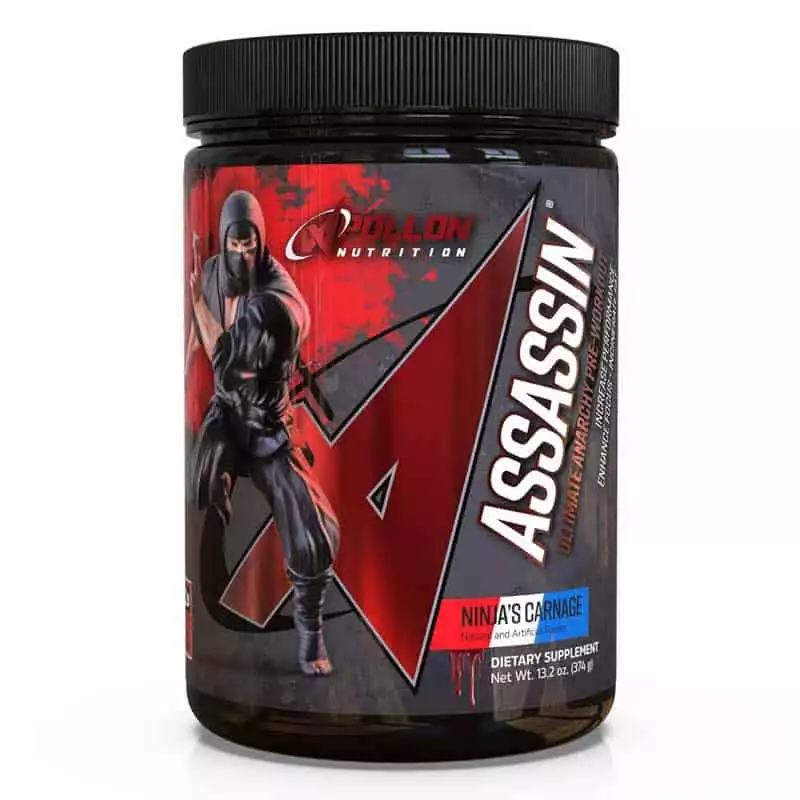 Assassin Pre Workout v7
Assassin v7 has finally arrived!
A well-rounded, but still hardcore, pre workout experience. One of the most talked about pre workouts of 2021.
Discount codes:
LIFTVAULT = 15% off at Nutri Cartel
Caffeine: 600 mg
DMHA: 200 mg
Eria Jarensis: 300 mg
Recommended Flavor: Cherry Cola
Shop Nutri Cartel
Lift Vault earns a commission if you click this link and make a purchase at no extra cost to you.
Assassin pre workout is a powerful, rage inducing hardcore supplement from Apollon Nutrition. It is for going full beast mode. When I think of the most intense pre workouts, Assassin is the first thing that comes to my mind. This is definitely "stim junkie" approved.
I take Assassin on my heaviest lifting days, which usually means squats or deadlifts. Even taking 3/4 scoop fills me with an all-encompassing feeling of energy, focus, and purpose. These things blend together to form an overall aggression and desire to rip into heavy weights.
Could you take this for a bodybuilding style pump workout? Sure – absolutely.
Could you take it and go for a long run? Yes.
But what I really want to do when I take Assassin is hit a PR squat. That is it's time to shine. It is built for RPE 10 sets.
I'm not going to break down the ingredient label line by line (I do that in my full Assassin pre workout review), but I'll note a few highlights.
In each serving of Assassin, you'll get the following ingredients:
500 mg caffeine anhydrous + 133 mg dicaffeine malate = 600 mg caffeine
300 mg Eria Jarensis
1,500 mg L-Tyrosine
300 mg Theacrine
3.5 Beta Alanine
One of the reason I love Apollon Nutrition products is that they rarely skimp on ingredient dosages. If they include an ingredient, you can expect it to be fully dosed. They don't believe in including ingredients just so they can slap it on the label for marketing purposes.
Crack Pre Workout (Energy + Pumps)
Best for Hardcore Stims + Pumps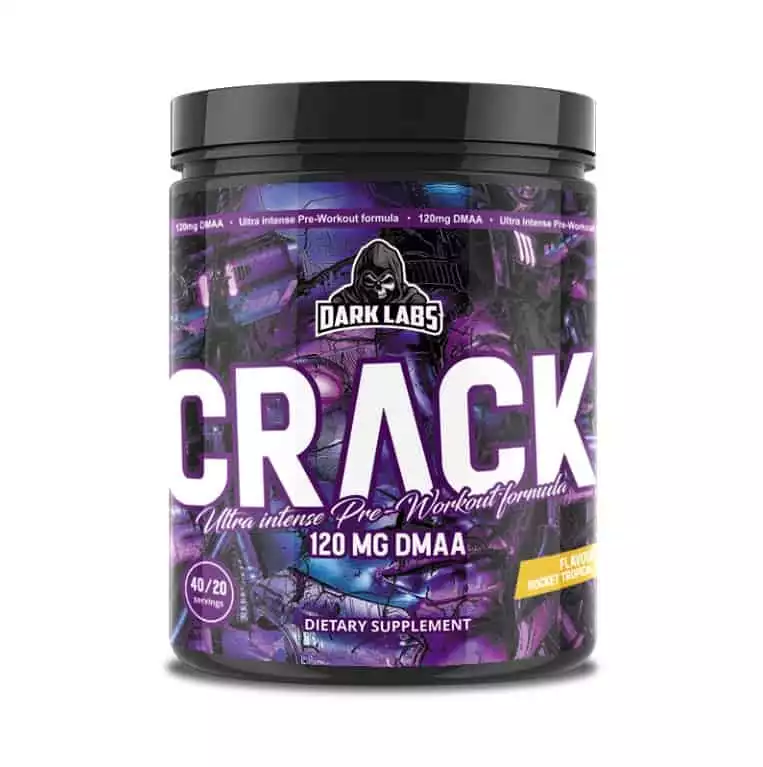 CRACK - Dark Labs
1/17/23 Update: Limited Stock Available.
A stim junkie favorite with 120 mg of DMAA and a fully-loaded pump formula.
One of the most in-demand pre-workouts in 2020, 2021, and 2022.
Citrulline Malate 2:1: 8,000 mg
Agmatine Sulfate: 1,500 mg
VASO6: 300 mg
Arginine Silicate: 1,000 mg
DMAA: 120 mg
Caffeine: 400 mg
Shop Crack
Crack Gold Limited Edition
Lift Vault earns a commission if you click this link and make a purchase at no extra cost to you.
Crack is an insanely strong pre workout that has a fully dosed stimulant and pump ingredient portfolio.
On the focus and energy side, you'll get the following ingredients per serving:
400 mg of caffeine anhydrous
120 mg of DMAA
500 mg of choline bitartrate
Even though it's a short stimulant profile, it's a powerful combination for endurance and intense energy.
On the pump and blood flow side, you'll get the following ingredients per serving:
8 grams of citrulline malate
1.5 grams of agmatine sulfate
1 gram of arginine silicate
1 gram of beet root powder
300 mg of VASO6
This is a fully loaded, powerful pump formula.
The 3 grams of CarnoSyn branded beta alanine will deliver all the tingles you want, too.
Thought it only has 20 full servings in a tub, I would wager that 1 scoop, which equates to 40 servings, would be plenty for most lifters.
Hooligan Pre Workout (Long Lasting Energy)
Strongest Pre Workout (No Banned Substances)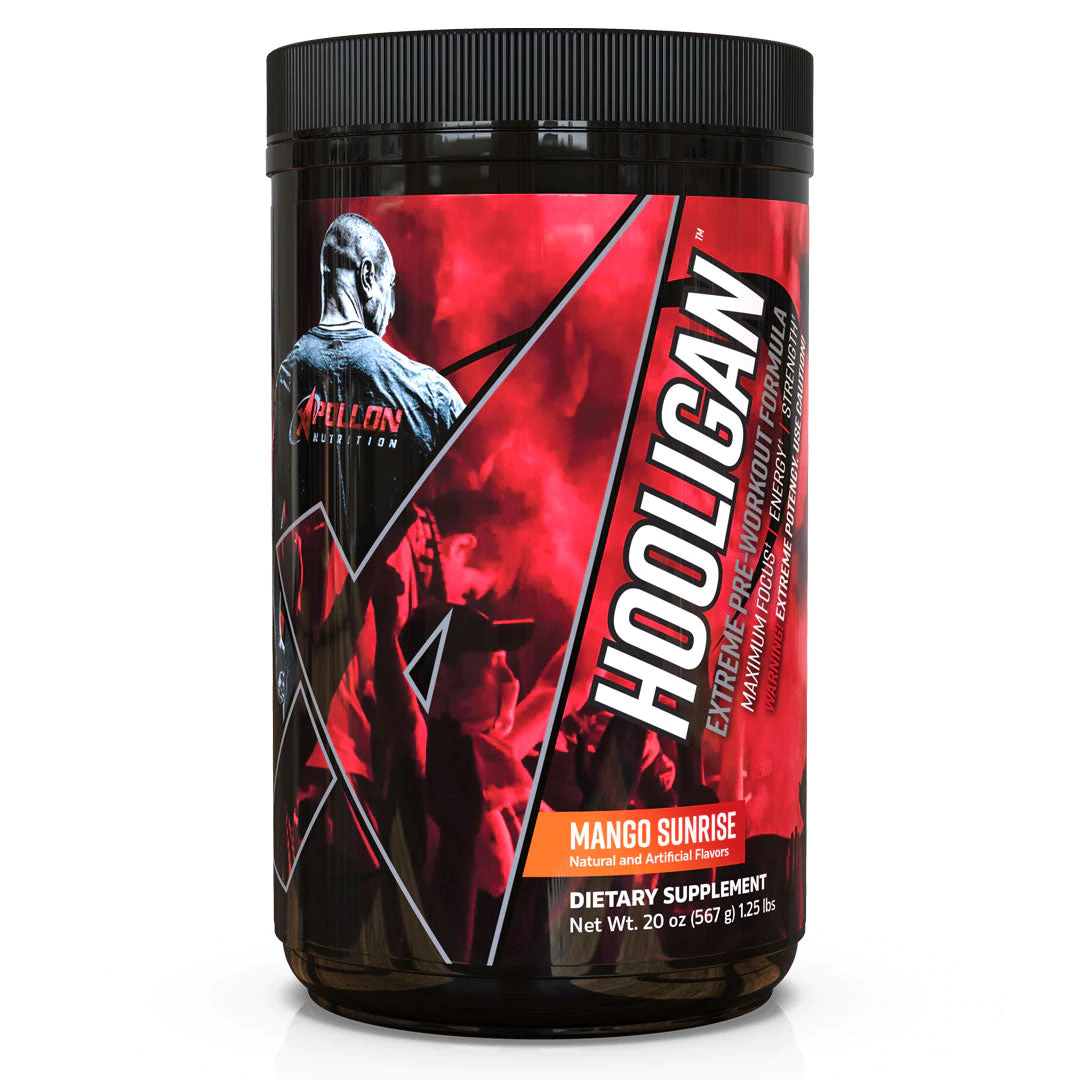 Hooligan Pre Workout v6 - Apollon Nutrition
New v6 released in April 2022!
Hooligan is the strongest pre workout without banned substances, bar none. Hooligan is brimming with pump, energy, and focus ingredients to keep you going all day long.
Discount codes:
LIFTVAULT15 = 15% off at Supp Kingz
LIFTVAULT = 15% off at Nutri Cartel
L-Citrulline: 8,000 mg
Caffeine Anhydrous: 450 mg
Di-Caffeine Malate: 200 mg (150 mg yield)
Shop Supp Kingz
Shop Nutri Cartel
Lift Vault earns a commission if you click this link and make a purchase at no extra cost to you.
Hooligan pre workout is the second supplement from Apollon Nutrition on this list.
Like its sister, Assassin, Hooligan really earns the designation of a fully dosed pre workout and is truly one of the strongest hardcore pre workout supplements. This label is a bit simpler and includes fewer stimulants, but it is no less serious – it's just different. In fact, both products are included on my list of the best pre workout supplements.
Hooligan is excellent for folks looking for an intense pre workout that delivers long lasting energy and skin ripping pumps. If you're seeking endurance, then be sure to check out Hooligan.
A few highlights from the Hooligan ingredient label, per serving:
450 mg caffeine anhydrous + 150 mg dicaffeine malate = 600 mg caffeine
300 mg Alpha GPC
200 mg Theobromine
3,000 mg Betaine Anhydrous
Of course you're getting 6 grams of L-Citrulline for pumps and blood flow and 3.2 grams of Beta Alanine for power output (and tingles).
Hooligan is overflowing with powerful ingredients to fuel even the most grueling workouts. In terms of feeling, Hooligan is predominantly an energy-focused pre workout, with the normal feelings of mood elevation and motivation associated with caffeine. It doesn't make you feel crazy or aggressive, but it'll help you do that last set (and then some).
The 133 mg of di-caffeine malate (yielding an effective dose of 100 mg of caffeine) is an "extended release" version of caffeine, which helps negate any negative "crash" effects resulting from the strong 600 mg dose of caffeine anhydrous.
But don't let the caffeine content scare you aware. The 1,500 mg of tyrosine helps smooth out your experience as well and reduce any negative side effects from the hefty caffeine dosage. You also, of course, don't have to take a full scoop. I usually don't!
Overall, Hooligan is very thoughtfully crafted supplement; they didn't just throw a bunch of stimulant ingredients in a tub and call it a day.
El Jefe Pre Workout (Energy + Mood Elevation)
Favorite DMHA Pre Workout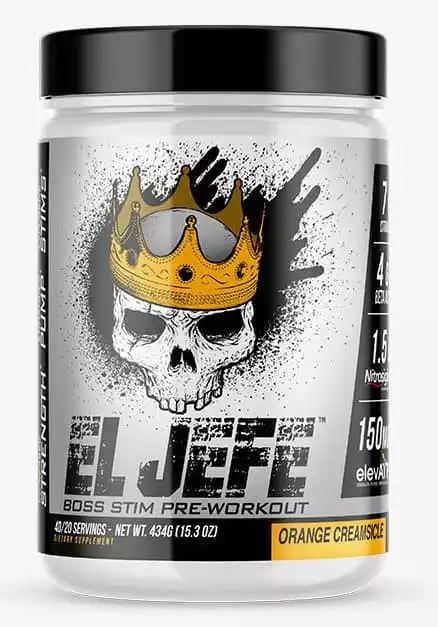 El Jefe Pre Workout
El Jefe is a powerful DMHA pre workout that delivers euphoric energy and long lasting focus.
One of my personal favorite pre workouts! Get the peach rings flavor if you can.
Discount codes:
LIFTVAULT = 15% off at ASC Supplements and Nutri Cartel
Caffeine: 400 mg
Citrulline Malate 2:1: 7,000 mg
Shop ASC Supplements
Shop Nutrition Cartel
Lift Vault earns a commission if you click this link and make a purchase at no extra cost to you.
El Jefe from ACS Supplements is a DMHA (Juglans Regia Extract) propriety blend pre workout designed for the stim junkies.
I don't usually like supplements that use a proprietary blend because I think transparency is important, especially when it comes to stuff you're putting into your body, but it's hard to argue with the effects.
From what I can tell from the ingredient list, El Jefe contains DMHA, two types of caffeine, eria jarensis, hordenine hcl, and alpha yohimbine, most notably.
El Jefe hits really nicely, providing smooth mood enhancement and a solid energy boost. It finds a sweet spot between stimmed out pre workouts that have negative side effects and ordinary daily driver pre workouts.
I feel great when I take El Jefe, mostly happy and productive, and don't have a wicked crash afterward. It also works pretty well at a half dose (1 scoop) for days when you don't need to go full tilt.
Even though its a proprietary blend, I'd definitely recommend El Jefe for those looking for a "happy pre workout" that doesn't totally burn you out.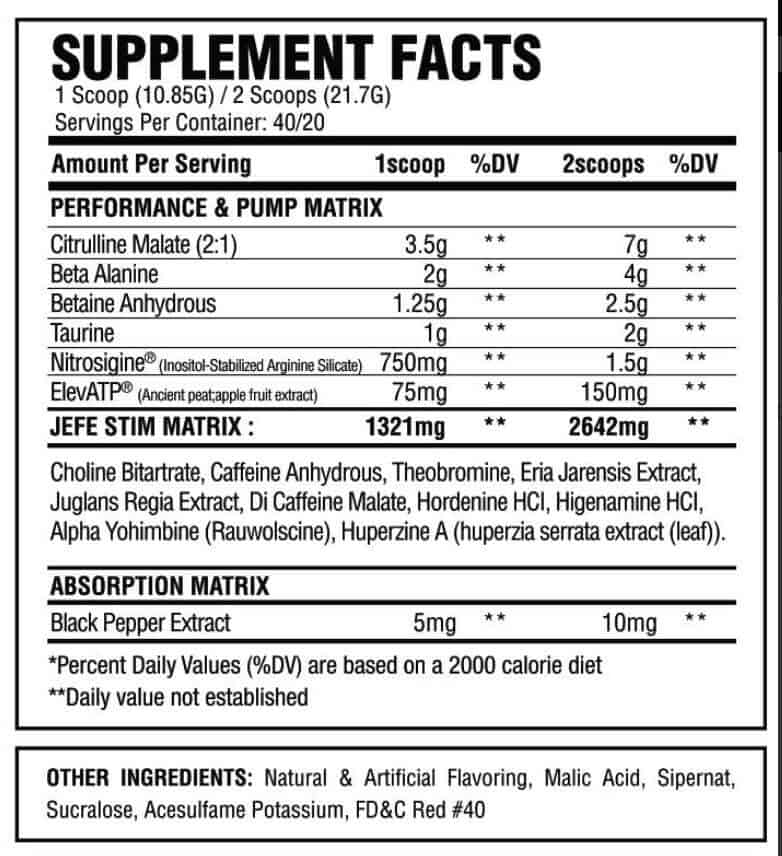 1'3 Volt Pre Workout (Euphoria + Endurance)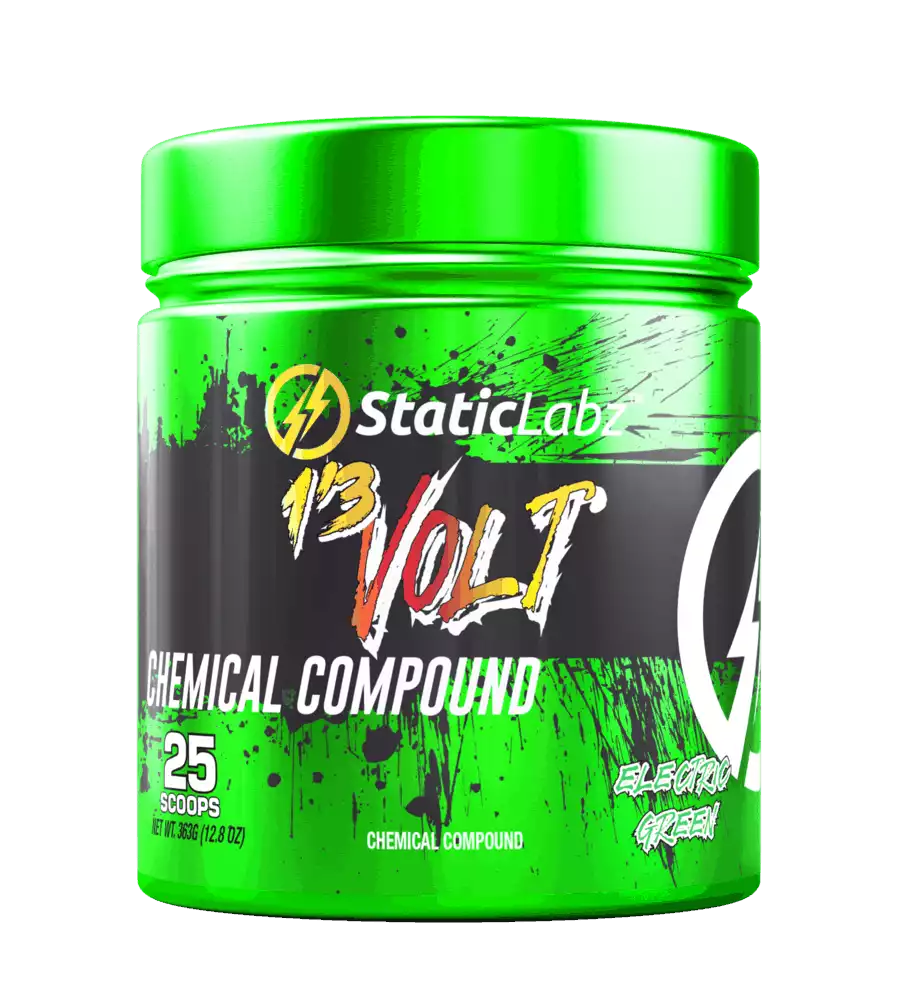 1'3 Volt pre workout is a breakout pre workout supplement of 2020 and one of the strongest DMAA pre workouts.
It came ready to take on Dark Energy for the title of top DMAA pre workout. While both contain DMAA, 1'3 Volt delivers more energy and focus, while Dark Energy is more of a mood enhancer.
If you want to kill a heavy workout, I'd go with 1'3 Volt pre workout.
If you want to feel amazing, then Dark Energy pre workout may be a better choice.
Notable ingredients in each serving of this supplement include:
6.4 grams of beta alanine (not a misprint!)
3.6 grams of citrulline malate (again, not a misprint!)
100 mg of 1,3 DMAA
300 mp of Alpha GPC
30 mg of Noopept
For a full ingredient list break down, check out my 1'3 Volt Pre Workout Review.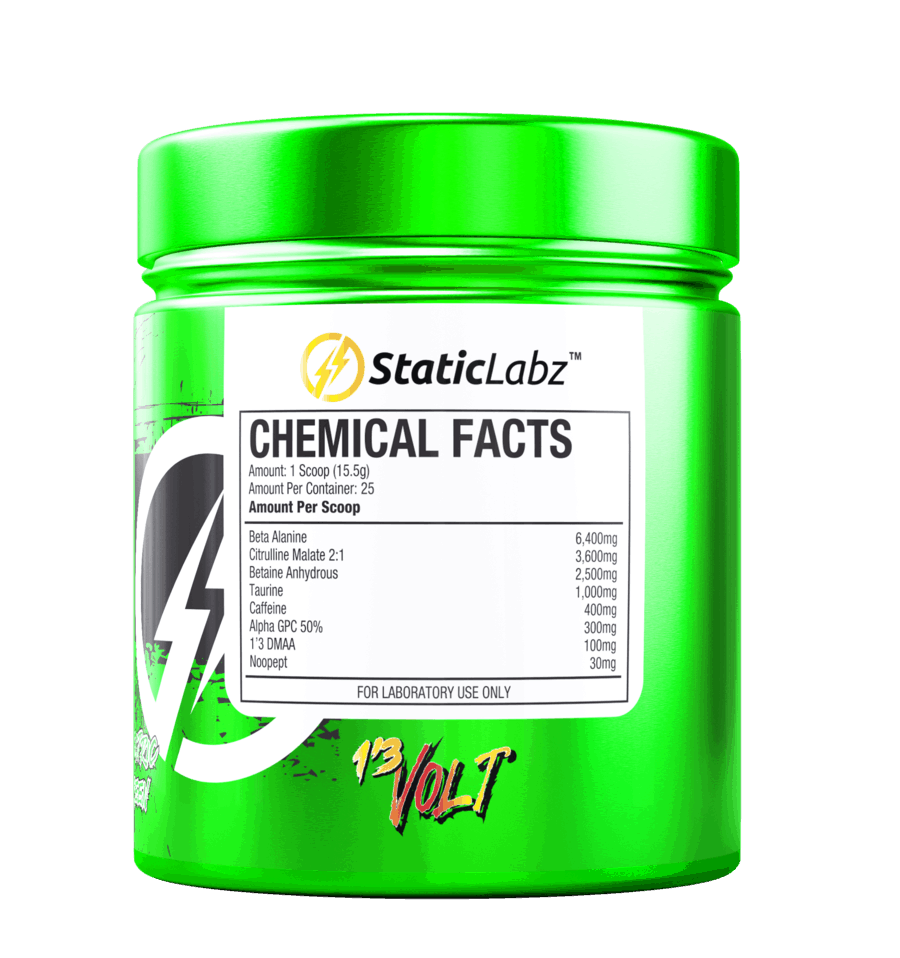 Excelsior Pre Workout (Focus + Motivation)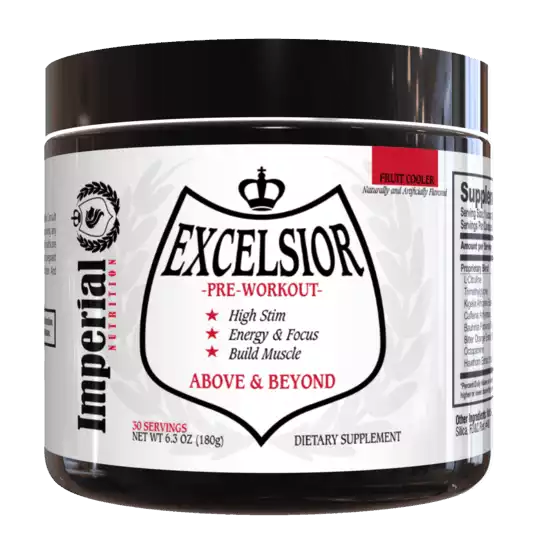 I have mixed feelings about including Excelsior on this list. On one hand, I don't take this pre workout after a disastrous experience with it that left me with significant side effects of depression, detailed in my Excelsior pre workout review. For my own health and well being, it's just a no-go.
On the other hand, it is absolutely one of the most unique pre workouts available today, providing extraordinary feelings of focus and motivation. If you are a true stim junkie, this is the one for you. In terms of pure stimulants, Excelsior is probably the strongest pre workout available right now. It's also an excellent pre workout for weight loss.
With just a 6 gram serving size, this pre workout delivers an incredibly strong experience that is reminiscent of Ritalin or other amphetamines. The only hint of this on the label, which uses a proprietary blend, is the Kigelia Africana Extract, which is a naturally occurring source of DMHA. Since this ingredient appears before caffeine anhydrous on the label, and ingredients are supposed to be listed in descending order of volume (i.e. the most prevalent ingredient is listed first, followed by the second, and so on), and most hardcore pre workouts have at least 300 mg of caffeine, it is possible Excelsior pre workout has a very large DMHA dose in it. Unfortunately, we can only speculate as to what gives this pre workout its legendary focus.
Another interesting choice in this supplement is the complete lack of any beta alanine in this product, which is unusual for a pre workout.
The downside? The crash. Lots of folks, myself included, highlight the crash that can come from just a single use of Excelsior, not to mention repeated usage. Proceed at your own risk. For me, it's not worth it, but if you're looking for something truly next level, Excelsior may be what you're looking for.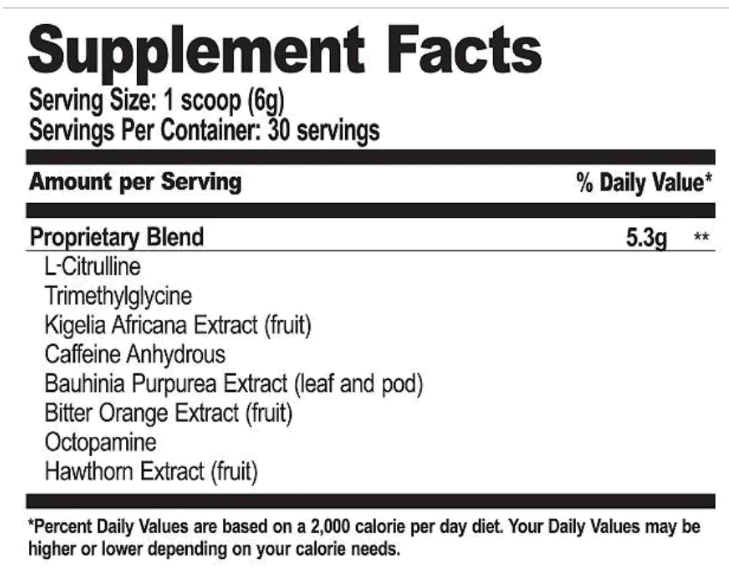 Shockwave Pre Workout (Motivation + Mood Elevation)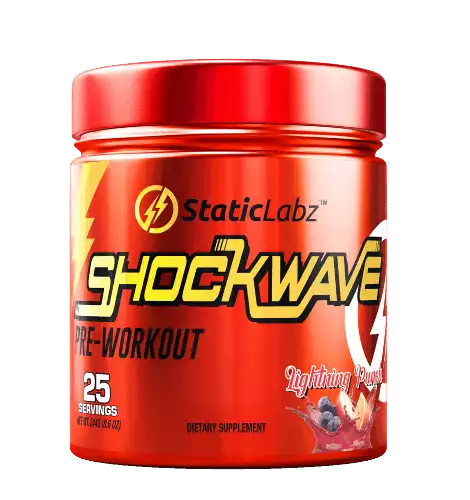 Shockwave is another high stim pre workout supplement from Static Labz. This is the "sister pre workout" to 1'3 Volt, which is another excellent pre workout on this list.
The key difference between Shockwave and 1'3 Volt is that Shockwave contains DMHA instead of DMAA and does not have any beta alanine. This is a bold choice for a pre workout, but will surely make some folks happy, as not everyone is a fan of the beta alanine tingling.
Shockwave also has more "traditional" pre workout stimulants like eria jarensis, octopamine, hordenine, and higenamine, while 1'3 Volt includes Alpha GPC and noopept, ingredients more often seen in nootropics.
Shockwave is a very nice experience, providing superior mood elevation and energy, along with excellent motivation in the weight room.
In terms of how "strong" it is, I'd say Shockwave is a bit less strong than 1'3 Volt, but as a result I'd say I'm more likely to choose Shockwave over 1'3 Volt. Simply put, I don't always need to be choosing the most powerful pre workout at all times. Both are excellent and I don't think you'll go wrong with either one.
For more info, including the full ingredient label breakdown, check out my complete Shockwave pre workout review.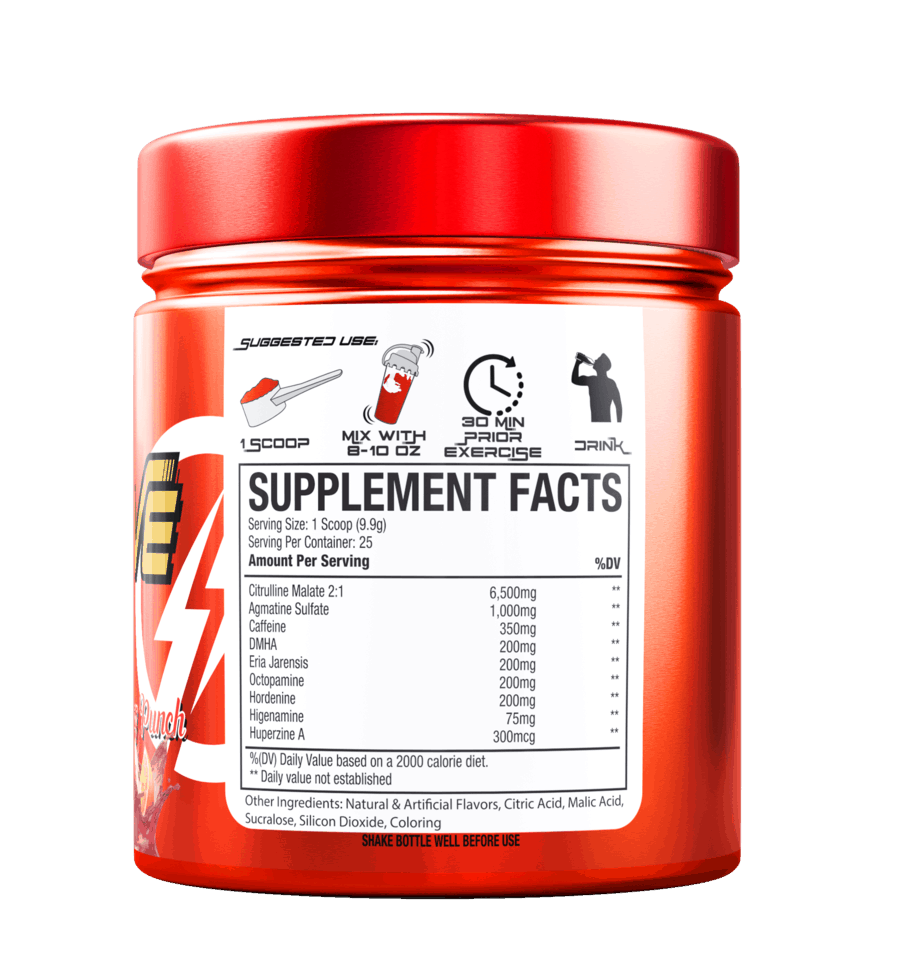 Ingredients Found in the Strongest Pre Workout Supplements
Here are a few ingredients that you'll want to pay attention to when buying a hardcore pre workout.
Caffeine Anhydrous
Caffeine anhydrous is the classic form of the caffeine known for energy, motivation, and focus.
I usually look for supplements that has between 400 mg and 500 mg of caffeine in them, though some, like Hooligan or Assassin, have 600 mg of caffeine (when counting both caffeine anhydrous and dicaffeine malate, discussed below).
Caffeine is included on our list of the best pre-workout ingredients.
Di-Caffeine Malate
Di-caffeine malate is the extended release version of caffeine. I like to see this ingredient included in pre workout because it helps the pre workout last longer and it helps smooth out "crash" effects that can occur from high doses of caffeine anhydrous.
100 mg to 133 mg of dicaffeine malate is a good amount to look for.
Tip: Dicaffeine malate yields 75% caffeine, so if you see 100 mg of dicaffeine malate on the label, that means it is equivalent to 75 mg of caffeine. The other 25% is malic acid.
DMAA
DMAA is a stimulant that provides energy, focus, and euphoric feelings by increasing the concentration of dopamine and epinephrine. DMAA made a comeback in 2019 after disappearing from the pre workout scene for a few years. There are now several different pre workouts with DMAA.
Honestly, the amount of DMAA on an ingredients label is usually pretty unreliable, which is why it is so important to read pre workout reviews to understand what the true effects are.
DMHA
DMHA is also a stimulant that behaves in a fashion similar to DMAA: energy, euphoria, focus, etc. It grew in popularity over the last several years as many pre workout manufacturers shied away from using DMAA, creating DMHA pre workout supplements instead.
DMHA is frequently included in dosages ranging from 100 mg to 200 mg.
It can also be labeled as juglans regia extract, 2-aminoisoheptane, octodrine, 1,5-dimethylhexylamine, and 2-amino-6-methylheptane.
Eria Jarensis
Eria Jarensis is a stimulant that is becoming a popular alternative to DMAA or DMHA. Sometimes you'll see those ingredients combined, like with Pre Phase. It increases levels of dopamine and noradrenaline in the user and can enhance mood, increase motivation, and dial in concentration.
A solid dose of Eria Jarensis usually ranges between 150 mg and 250 mg, with 200 mg being quite common.
L-Tyrosine
L-Tyrosine is an amino acid that increases the synthesis of dopamine and helps improve concentration and memory during stressful situations. It can help balance the effects of high caffeine doses by "smoothing out" some of the jittery effects. Since the strongest pre workouts often contain a lot of stimulants, it is important to balance them out with L-Tyrosine.
I like to see at least 500 mg of L-Tyrosine in a pre workout, with the top-tier
ones usually including between 1,000 mg and 1,500 mg.
While other ingredients like L-Citrulline and Beta Alanine are important, most high quality workout supplements will get these right.
A "Strong Pre Workout" Is Not Always Optimal
I, like many people, assumed for a while that what I needed for my workouts was the most powerful pre workout. This turned out to be a false assumption.
If you're relatively new to pre workout, check out my list of the recommended pre workout supplements for beginners. I include pre workouts with over 300 mg of caffeine on that list, so you might be surprised by my definition of beginner. 😉
It's always a good idea to save your strongest supplements for special occasions, not every training session. I take these kinds of pre workouts about once a week, maybe twice a week at most.
My favorite pre workouts for regular, daily usage are Legion Pulse and Game Day. If you are new to taking pre workout, I'd recommend checking those out first. That way you're not needlessly increasing your caffeine tolerance, exposing yourself to potent stimulants, and potentially building unhealthy habits.
Closing Thoughts
The final ranking of the strongest pre workout supplements is:
Assassin Pre Workout
Crack Pre Workout
Pre Phase Pre Workout
Hooligan Pre Workout
1'3 Volt Pre Workout
Excelsior Pre Workout
El Jefe Pre Workout
Shockwave Pre Workout
There you have it – the strongest pre workouts currently available. You can't go wrong with any of the above, it just depends on what you're looking for.
I tend to use Hooligan the most, followed by Assassin and El Jefe. Another favorite is Zeus.
I stay away from Excelsior these days, but it truly is an extraordinary experience for those seeking a high stim pre workout. The choice is yours.
Pre Workouts That Didn't Make the Cut
The pre workout supplements listed above were proven to be the strongest after extensive testing. Here are some pre workouts that were tried but did not make the final list:
Transparent Labs – Bulk
Transparent Labs – Lean
Beyond Raw – Lit
Ronnie Coleman Signature Series – Yeah Buddy
Bucked Up – Woke AF
Pro Supps – Mr. Hyde NitroX
Kaged Muscle – Pre-Kaged
Old School Labs – Vintage Blast
EVLution Nutrition – ENGN
GAT Sport – Nitraflex
Man Sports – Gameday
Legion Athletics – Pulse
Ghost – Legend
RSP Nutrition – DyNO
How to Make Any Pre Workout "Hardcore"
If you don't want to be ingesting a hardcore pre workout all the time, another option is to add your own DMAA or DMHA. These can be found online from vendors like Bulk Stimulants or ELV Bio.
This has the advantage of allowing you to fine tune exactly how frequently you're taking these ingredients and adjust the dosage.
Learn more: Where to Buy DMAA Powder and DMHA Powder Online
Frequently Asked Questions