Assassin pre workout v7 is set for release on July 5, 2021. You can see the ingredient label for it below.
Until then, check out our list of the strongest pre workouts and read my thoughts on the previous version of Assassin below.
Assassin pre workout is a pre workout supplement from Apollon Nutrition known for its stimulant-heavy ingredient profile. It contains 600 mg of caffeine, 500 mg of PEA, and 300 mg of Eria Jarensis among other ingredients. Assassin pre workout is especially popular among powerlifters.
Version 5 (with the yellow label) received incredibly enthusiastic reviews from a lot of discerning pre workout reviewers upon its release in 2019, but was removed from shelves after only a few months.
Version 6 was stellar, an absolute monster. It delivered unmatched intensity and aggression in the gym.
Version 7 made some intriguing changes to its ingredient label, including the addition of DMHA. But will v7 live up to the legacy of Assassin?
There's only one way to find out…
Hardcore Pre Workout Legend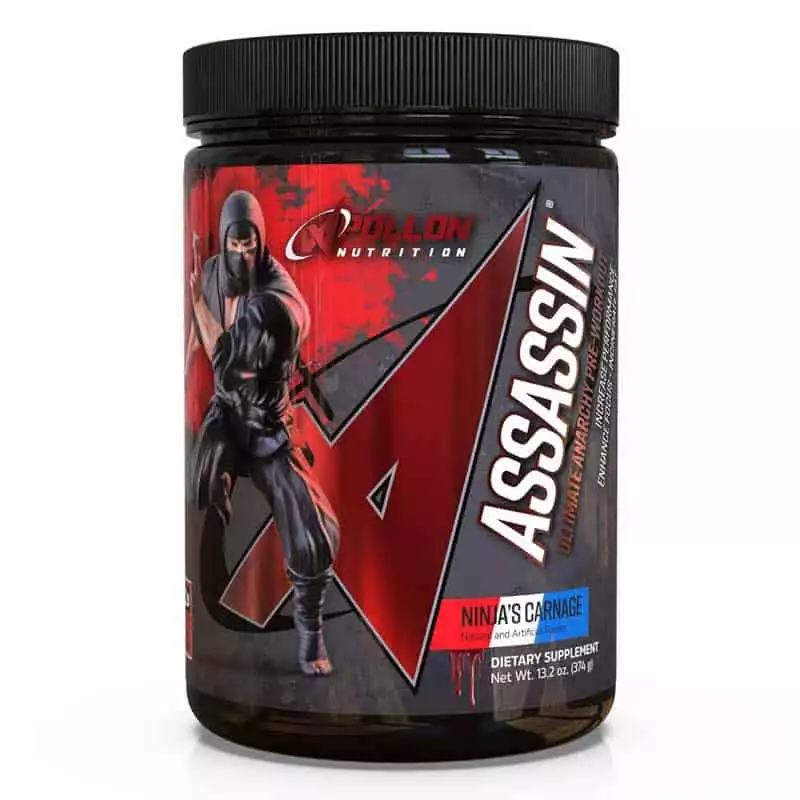 Assassin Pre Workout v7
Assassin v7 has finally arrived!
A well-rounded, but still hardcore, pre workout experience. One of the most talked about pre workouts of 2021.
Discount codes:
LIFTVAULT = 15% off at Nutri Cartel
Caffeine: 600 mg
DMHA: 200 mg
Eria Jarensis: 300 mg
Recommended Flavor: Cherry Cola
Shop Nutri Cartel
Lift Vault earns a commission if you click this link and make a purchase at no extra cost to you.
Where to Buy Assassin Pre Workout + Discount Codes
Assassin v7 is available from the following retailers:
My Experience with Assassin Pre Workout v7
I'll cut right to the chase: I didn't enjoy Assassin v7 as much as Assassin v6.
It is way, way better than Assassin v6.5 and I'm very happy that Apollon Nutrition did not continue to go in that "hard-hitting for the sake of being hard-hitting" direction.
I really enjoy Apollon Nutrition products, they make high-quality supplements, and I respect the risks they take by constantly reformulating and pushing boundaries.
For me, Assassin v7 was solid, but not excellent.
Many have said that Assassin v7 is more euphoric than v6. This is true, but the euphoria isn't astounding. It's not at the level of Flame, Crack Gold, or Wrecked Extreme.
I liked Assassin v6 because it was intense without being overwhelming (v6.5 was too intense to be enjoyable or useful, personally speaking).
It rode that line very well.
Assassin v7, for me, dials down the intensity a bit, which is fine, but I feel like it wasn't replaced with anything else to help it truly stand out. Assassin v7 has some euphoria, but it's not as notable as I was hoping for.
As a result, Assassin v7 just was a bit of a letdown for me.
I'm sure lots of folks will still love it. I still use it, but it doesn't hold the special place that v6 did for me. In a way, this kind of thing is unavoidable when you're constantly taking the risks that Apollon takes.
Scoop Size
A completely level scoop of Assassin v7 weighs about 16.5 grams. This is 83% of the full 20 gram serving.
To get a full 20 gram serving, you'll need to do a slightly heaping scoop, pictured below.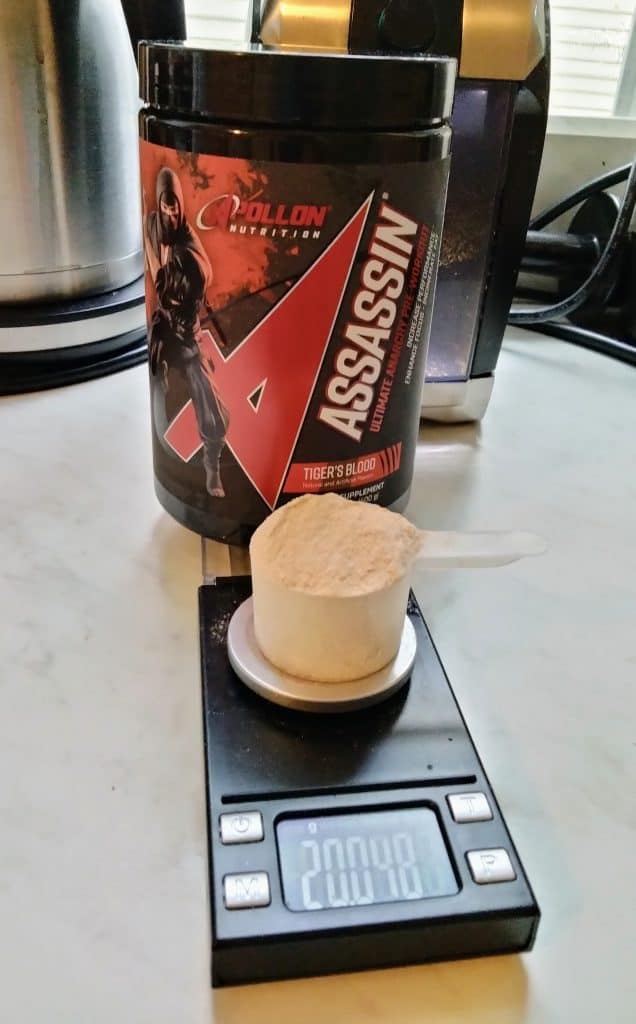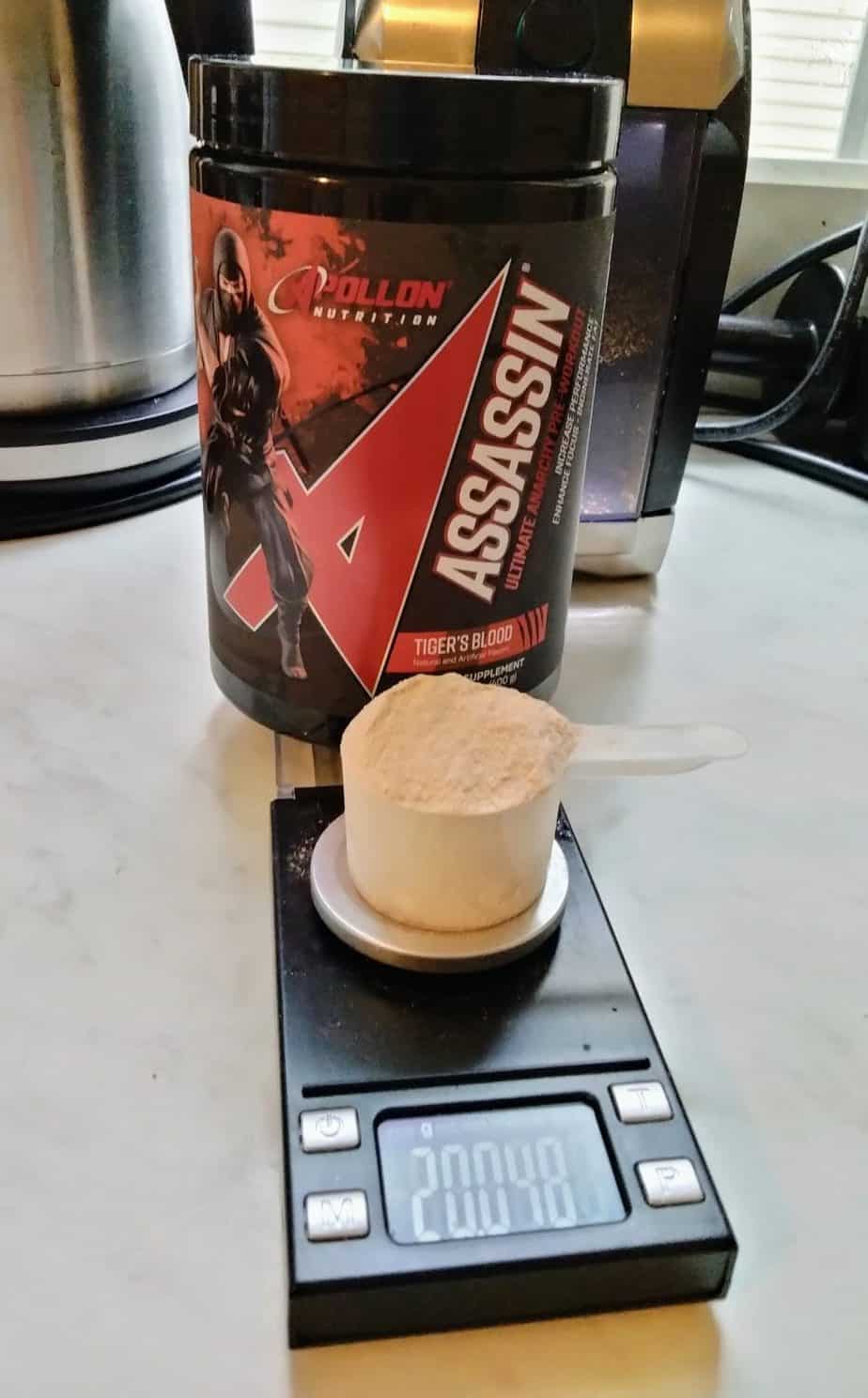 Second Opinions on Assassin V7
Review Bros loved Assassin v7, noting its increased euphoric and happy effects vs previous versions. "It's still a stim junkie, hardcore experience." If you're not already subscribed to their channel, be sure to fix that!
TJ from Fitness Deal News shared an exclusive first look at Assassin Pre Workout v7! Check it out below and if you haven't already, be sure to subscribe to his channel for excellent pre workout reviews.
Assassin Pre Workout v7 vs. v6
Some of the most significant differences between Assassin pre workout v7 and v6 are:
New ingredients in v7

300 mg DMHA (Juglans Regia Extract)
2.5 g Betaine Anhydrous
30 mg Noopept
2 mg Yohimbine HCL
75 mg Higenamine

Ingredients removed in v7

Theacrine
Isopropylnorsynephrine
DMAE

v7 has 2 g L-Tyrosine, 500 mg more than v6
v7 has 450 mg caffeine anhydrous + 150 mg di-caffeine malate yield, v6 had a 500 mg / 100 mg split
Assassin Pre Workout v7 Ingredients Label
The ingredient label for Assassin Pre Workout v7 is below. It was unveiled on July 1, 2021.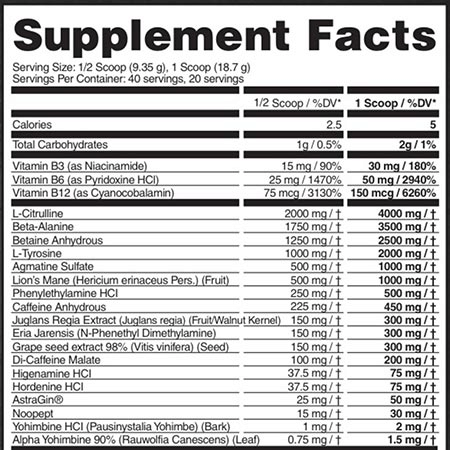 L-Citrulline – 4,000 mg
Beta Alanine – 3,5000 mg
Betaine Anhydrous – 2,500 mg
L-Tyrosine – 2,000 mg
Agmatine Sulfate – 1,000 mg
Lion's Mane – 1,000 mg
Phenylethylamine HCL – 500 mg
Caffeine Anhydrous – 450 mg
Juglans Regia Extract (DMHA) – 300 mg
Eria Jarensis – 300 mg
Grade Seed Extract – 300 mg
Di-Caffeine Malate – 200 mg (150 mg yield)
Higenamine HCL – 75 mg
Hordenine HCL – 75 mg
AstraGin – 50 mg
Noopept – 30 mg
Alpha Yohimbine – 1.5 mg
My Experience with Assassin Pre Workout v6
I took this pre workout today before a big workout and I was absolutely floored.
I took 3/4 of a scoop, not wanting to subject myself to the "full scoop experience" in case I wasn't ready, but wanting to get a taste of what Assassin had to offer.
I had the pineapple mango flavor and overall it was fine. It's definitely a little bitter, but it's not terrible.
You'll know you're drinking pre workout and not fruit juice, but that's the point, right?
At the Gym
Within 10 minutes I could feel increased alertness and focus.
Within 20 minutes, as I started my warm up sets, I felt super focused. I was also resting less in between my sets. I just wanted to rip into the weights.
Whenever I got sidetracked by talking to gym friends, I found myself cutting conversations short to get back into the weight rack. I could not be distracted.
I worked through a tough set of squats and was just feeling good, ready to keep going.
I moved on to bench press and after several warm up sets I hit a new 10RM. Was it the pre workout? Probably not, but I'm sure it didn't hurt.
I moved on to deadlifts and ground through a tough set of heavy reps. This was a tough set, but the pre workout definitely helped me keep throwing all of my effort into each heavy rep.
All in all my work out took about 2 hours and I'd say I had the super focus for about 90 minutes. After that I still had immense energy and alertness.
Mood + After the Gym
Mood wise, I felt very good.
I did not feel "elated" or "super happy" or anything like that, but I also did not feel angry as I've read in some other Assassin reviews. This suggests to me that individual experiences will probably vary a bit. Again, I'd say the biggest mood shift was a high level of focus and motivation.
I also did not need to re-dose caffeine later in the afternoon as I normally do – I just kept on going about my day. There was no crash, no jitters, no real negative side effects. Maybe a slight headache and "stimmed" feeling, but overall I'd 100% absolutely take this again.
I would recommend it for mornings though – it is very likely too much to take at night without disrupting your sleep (which is an essential part of recovery).
Final Thoughts
This is definitely one of the strongest pre workout I've ever taken. This is the real deal, folks.
I won't be able to take this during my evening workouts, but for AM workouts this is pretty great.
With that said, this is not an every day pre workout. This is like a once a week pre workout. Pay attention to your mind and body when you take it. If you notice yourself building a tolerance or not feeling great after taking it – it's probably best to take the foot off the gas for a few weeks.
Assassin Pre Workout Ingredient Label v6
If you're reading this review, you probably have one thing on your mind: what's in this pre workout?
All measurements mentioned below are of 1 full scoop, which may be more than most folks need. The experience above reflects a 3/4 scoop.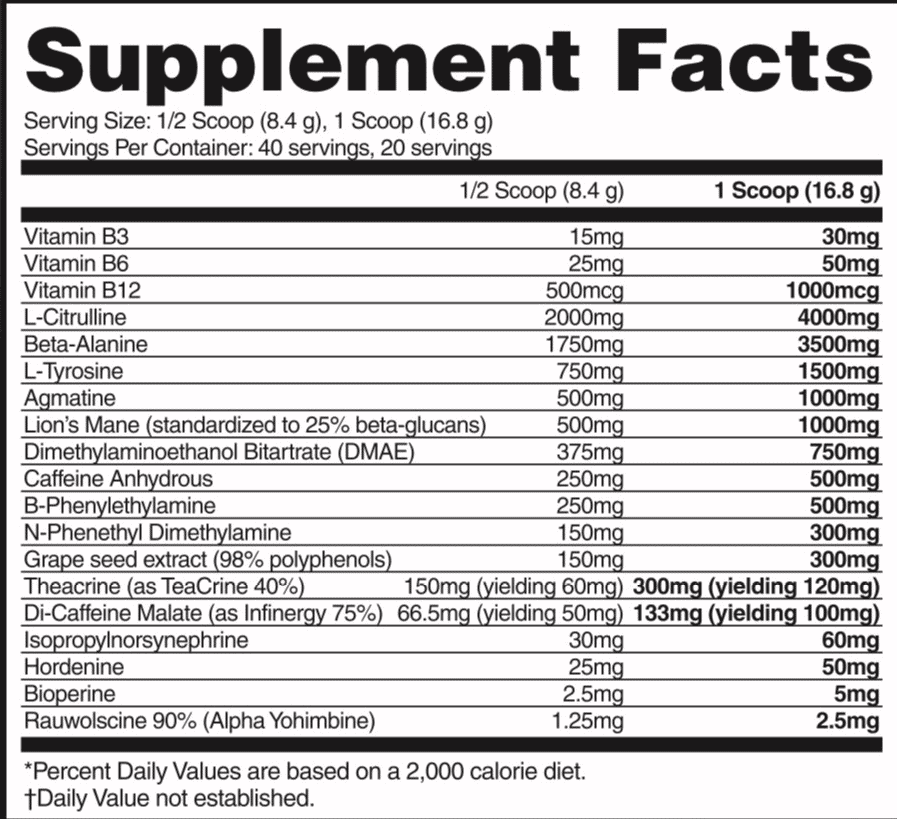 Let's walk through some of the highlights here.
Caffeine
If you like caffeine, you'll love this new version of Assassin. Between the 500 mg of caffeine anhydrous and 100 mg of di-caffeine malate, a full scoop of Assassin contains 600 mg of caffeine.
That's more than enough for even the most experienced pre workout enthusiast.
L-Citrulline
4 grams of L-citrulline is a little less than a full clinical dose, but it's not bad and will help with pumps.
Beta Alanine
Interestingly, Apollon chose to eschew the typical 3.2 gram dosage of beta alanine and increase it by 10% for a 3.5 gram dose. If you like the tingles, then this will keep you happy. Beta Alanine can help with lactic acid buffering, aiding endurance exercises.
L-Tyrosine
1.5 grams of L-Tyrosine is a hefty dose that helps offset the "crash" effect from a large caffeine dose (which Assassin certainly has). There is also promising research around its effects as a cognitive booster in stressful environments.
Agmatine
Agmatine is often looked at as a pump ingredient, though this view is somewhat controversial and you should decide for yourself. 1 gram is a standard "strong" dose in pre workouts.
Lion's Mane
Lion's Mane (yamabushitake) is a relatively new nootropic on the scene, with some research supporting anti-anxiety, cognition boosting, and well-being effects.
According to Examine, there has only been a single human study of Lion's Mane and the individuals took 1 gram orally three times a day. While that dosage appeared effective, it is unknown if this was optimal.
Assassin has 1 gram of lion's mane and there isn't enough research available to determine if this is an effective dose by itself. We're on the fringes of science here.
DMAE
Not to be confused with DMAA or DMHA, both of which have appeared in previous versions of Assassin, DMAE is the active ingredient used to treat cognitive decline in elderly patients in a pharmaceutical known as Lucidril. The 750 mg dosage in Assassin appears to be on the higher side of what most nootropic blogs recommend, but research is limited on the subject.
B-Phenethylamine (PEA)
PEA can help inhibit the re-uptake of dopamine, serotonin, and norepinephrine, though this mechanism is not understood clearly. A full dose of Assassin contains 500 mg of PEA.
N-Phenethyl Dimethylamine (Eria Jarensis)
Eria Jarensis is a stimulant that has grown in popularity with extreme pre workouts as other alternatives, like DMAA or DMHA, or have become more difficult to sell without running into legal issues.
You're getting 300 mg of Eria Jarensis in a full dose of Assassin, which is a very high dose. In my analysis of 300 pre workouts to find the best and strongest pre workouts around, that ingredient topped at 225 mg in a single dose with Kracked by Halopharm.
Combined with the 600 mg of caffeine, the 300 mg of Eria Jarensis will be like attaching a rocket to your back, then throwing some gasoline on it for good measure.
Grape Seed Extract
Grape seed extract is an antioxidant and can help improve blood flow. 300 mg is a very solid dose.
Theacrine
Theacrine is often taken to help minimize the negative effects of caffeine, like L-Tyrosine. Again, this is helpful considering the massive 600 mg caffeine dose found in Assassin. 120 mg of theacrine will help soften that landing.
Isopropylnorsynephrine
Isopropylnorsynephrine is a lipolytic agent, meaning it helps break down fat into glycerol (energy). It is a "fat burner." It may also possess energizing effects.
The 60 mg in a full scoop of Assassin is a solid dose.
Hordenine
Hordenine is similar to isopropylnorsynephrine in that it acts as a lipolytic agent and stimulant, triggering fat burning and stimulating the CNS.
A full scoop of Assassin contains 50 mg of hordenine, which is a good, honest dose.
Bioperine
Also known as black pepper extract, bioperine acts to increase the bioavailability of nutritional supplements. In other words, it helps you body absorb all the crazy stuff in Assassin.
Rauwolscine (Alpha Yohimbine)
Alpha Yohimbine, also known as "alpha yo," is a love it or hate it stimulant. Some individuals are particularly sensitive to alpha yohimbe and avoid any pre workout with it outright. Common negative side effects can include anxiety, headaches, sweating, frequent urination, and increased blood pressure.
2.5 mg is a high dose and those who are sensitive to alpha yohimbine will certainly not want to take Assassin.
Interview with Apollon Nutrition Founder, Robert Samborsky
This is a really interesting interview with the founder of Apollon Nutrition (of which Anarchy Labs is a sister company), Robert Samborsky. He begins talking about the decision to make version 6 of Assassin pre workout due to the overwhelming demand around the 7:00 mark.
Frequently Asked Questions about Assassin Pre Workout
How much caffeine does Assassin have?
Assassin has 600 mg of caffeine. This is from a combination of 500 mg of caffeine anhydrous and 100 mg of di-caffeine malate.
Does Assassin contain Alpha Yohimbine?
Yes, Assassin has 2.5 mg of Rauwolscine 90% (alpha yohimbine) in a full serving.
How many servings does Assassin have in a full tub?
A full tub of Assassin contains 20 full servings and 40 half servings. I usually take 3/4 of a scoop, so this works out to about 26 servings per tub for me.
What is the difference between Assassin v6 and Assassin v6.5?
The only difference between those two versions of Assassin are the source of the ingredients. Having tried both, I can attest that v6.5 does seem to hit harder than v6.
Assassin Pre Workout: The Hype is Real
Summary
In terms of extreme pre workouts, this is the strongest I've taken. This is the real deal and I'd be shocked if anyone was not impressed by this. 4.9 out of 5.0
Pros
Intense focus
Extreme motivation
Good mood/feeling
Long lasting
Cons
Slight headache afterward
Too strong to take in the evening/night