"The greatest feeling you can get in the gym is the pump.
It feels different.
It feels fantastic."
– Arnold Schwarzenegger
Well, who am I to argue?
If you're looking for some assistance in achieving the perfect pump, I highly recommend the pre workout supplements below.
They're all unique in their own way, but the one thing they have in common is they all deliver a skin-splitting, vein-popping pump.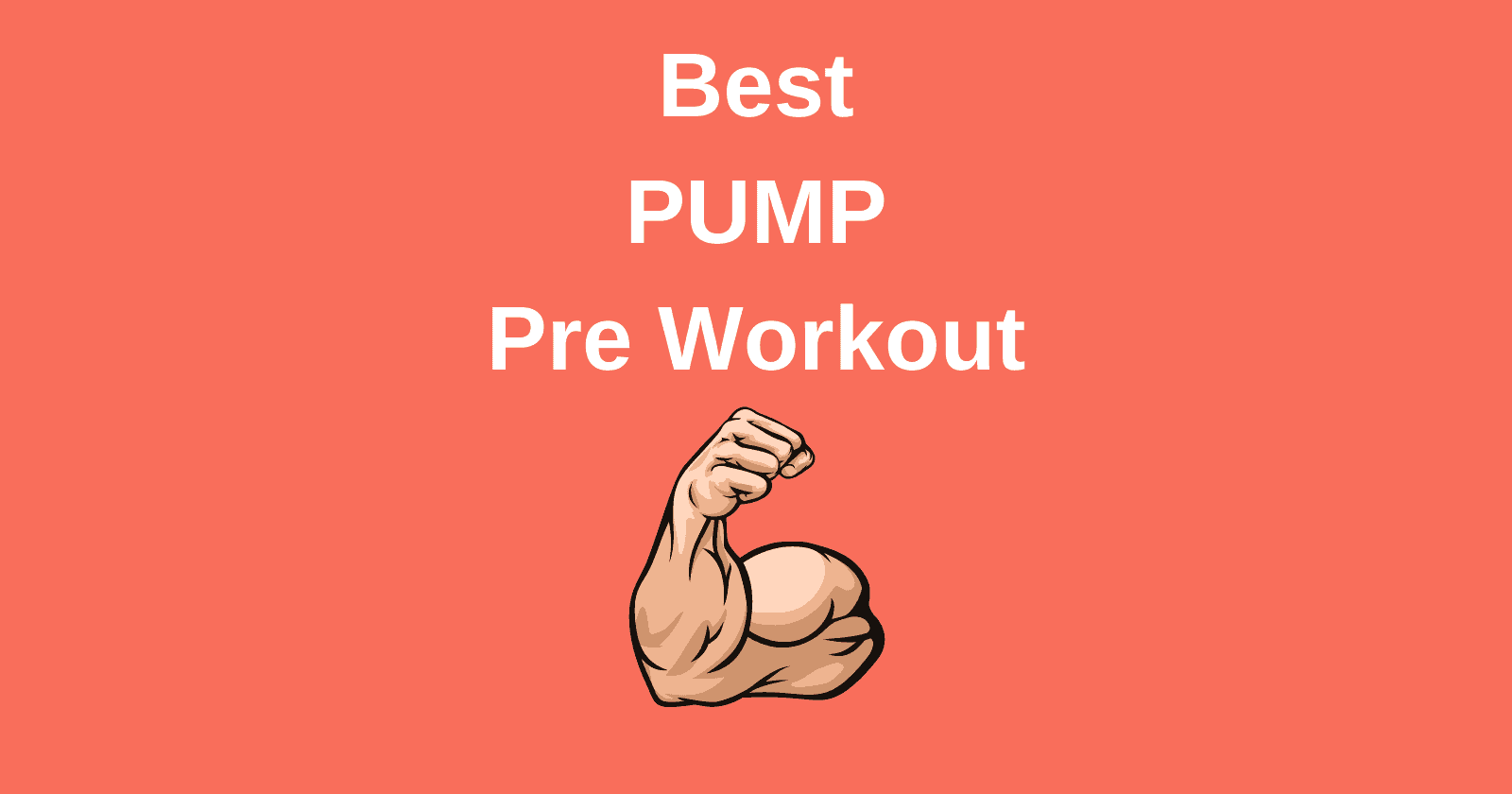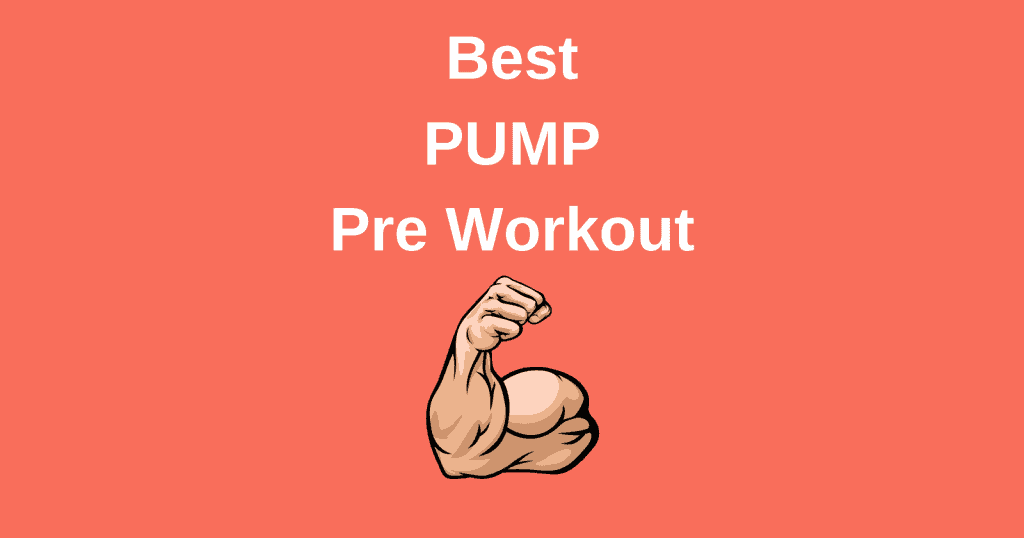 Best Pre Workout for Pump
Pump Pre Workout without Stimulants
If you're looking for a pump pre workout without caffeine or something you can stack with your favorite pre workout, here are some excellent options for you.
Superhuman Pump (Alpha Lion)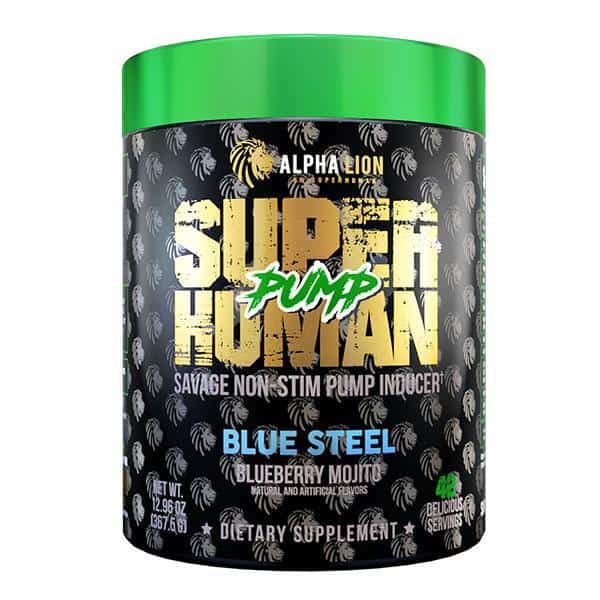 Key ingredients:
L-Citrulline Malate (2:1) – 8,000 mg
S7 – 150 mg
HydroPrime – 3,000 mg
Lion's Mane – 600 mg
Alpha GPC – 300 mg
For a great blend of pumps and focus, Superhuman Pump is nearly unbeatable.
With 8 grams of L-Citrulline Malate (2:1), 150 mg of S7, and 3 grams of HydroPrime (a less clumpy form of glycerol powder – less clumpy than GlycerSize), you're gonna get sick pumps.
On top of that you're getting 600 mg of Lion's Mane, 300 mg of Alpha GPC, and 300 mcg of Huperzine A (1%) for mental focus. If you're looking to take a break from stims, this is a great option.
It's almost like a regular pre workout with more pumps and no stimulants. And with Alpha Lion you know you're getting quality – they're never done me wrong.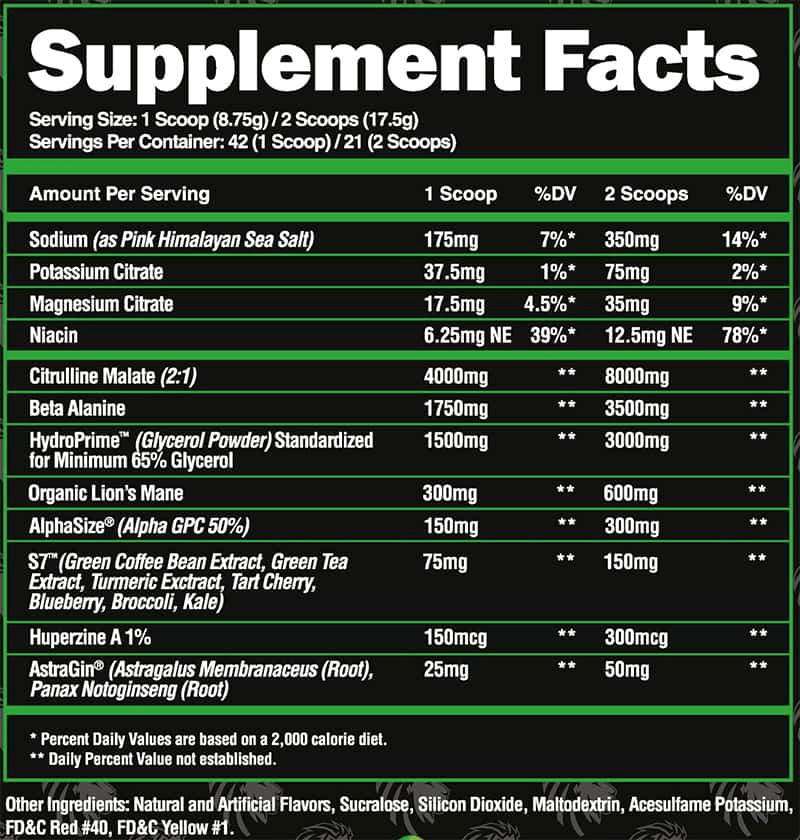 Sicario (ASC Supplements)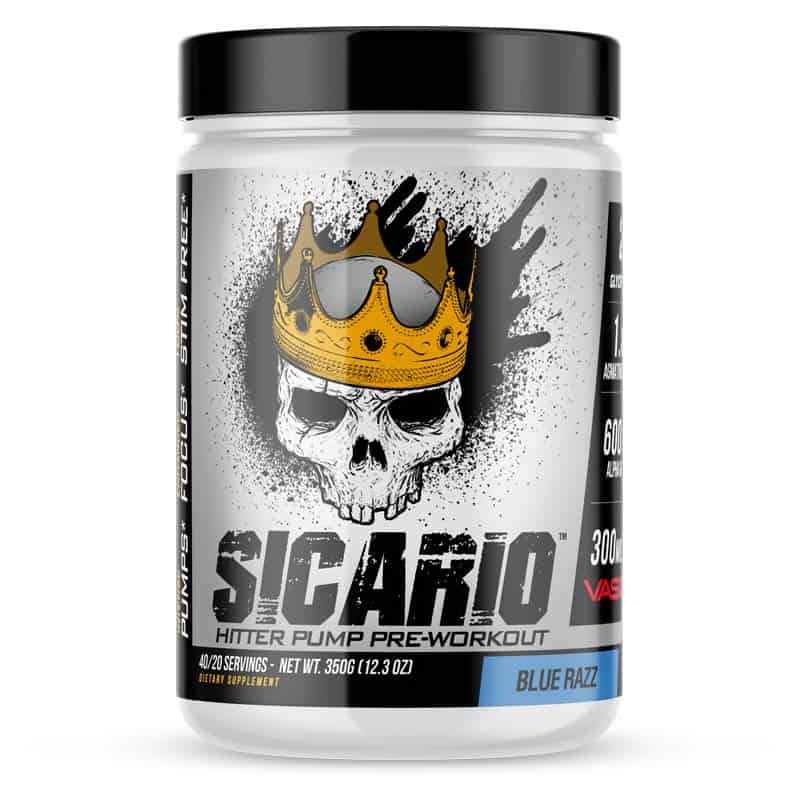 Key ingredients:
L-Citrulline – 4,000 mg
GlycerPump – 2,000 mg
Agmatine Sulfate – 1,500 mg
VASO6 – 300 mg
Pine Bark Extract – 200 mg
Sicario is an absolute monster pump pre workout from ASC Supplements. It's one of my favorites to stack with El Jefe, which is an excellent DMHA pre workout, also from ASC Supplements.
If you're looking for lots of vascularity and vasodilation, Sicario is for you. Most of the ingredients, the L-Citrulline, Agmatine Sulfate, VASO6, and Pine Park Extract, are focused on nitric oxide production, which dilates blood vessels and raises blood supply.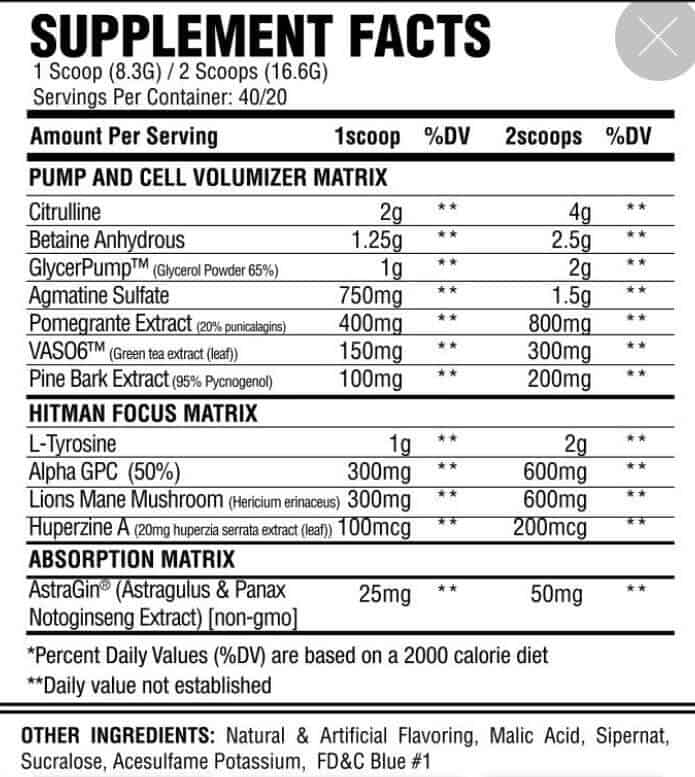 Pump Serum (Huge Supplements)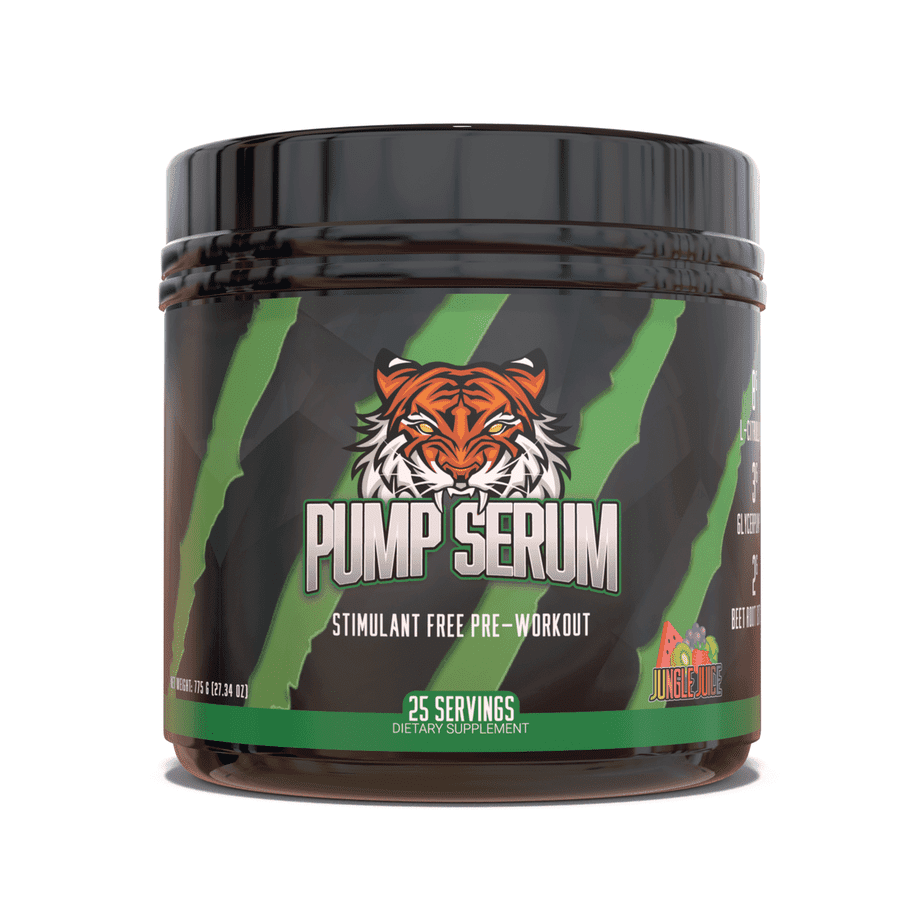 Key ingredients:
GlycerPump – 3,000 mg
Agmatine Sulfate – 1,500 mg
VasoDrive-AP – 254 mg
L-Tyrosine – 1,000 mg
As Pump Serum doesn't contain any L-Citrulline, I'd recommend stacking this one with a pre workout that does. Personally I like to stack this with Wrecked Pre Workout, which was made by the same company, Huge Supplements.
Pump Serum contains 254 mg of VasoDrive-AP, which is helpful for decreasing blood pressure and increasing nitric oxide production. This is a newer ingredient, so there isn't a ton of research around it yet.
I really like that Pump Serum includes 1,000 mg of L-Tyrosine. A lot of companies use N-Acetyl L-Tyrosine (NALT), which is not converted to L-Tyrosine easily by the body.
I did find this video describing the ingredient a bit more, linked below.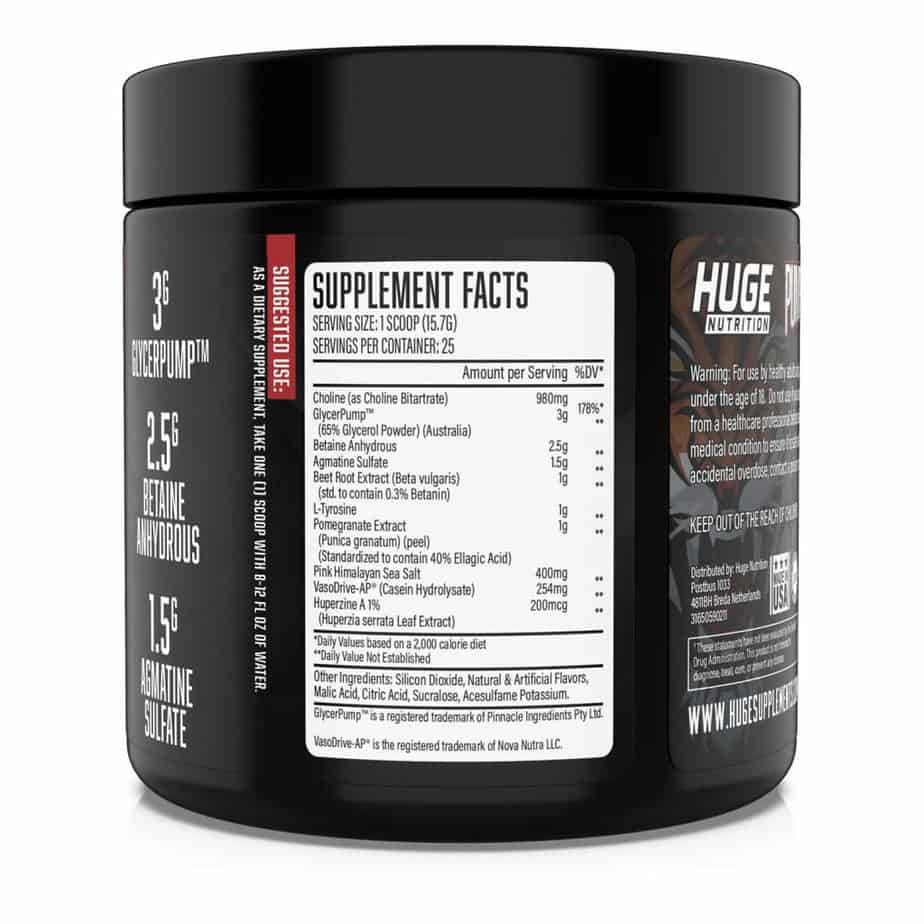 King of Pumps (Chemix)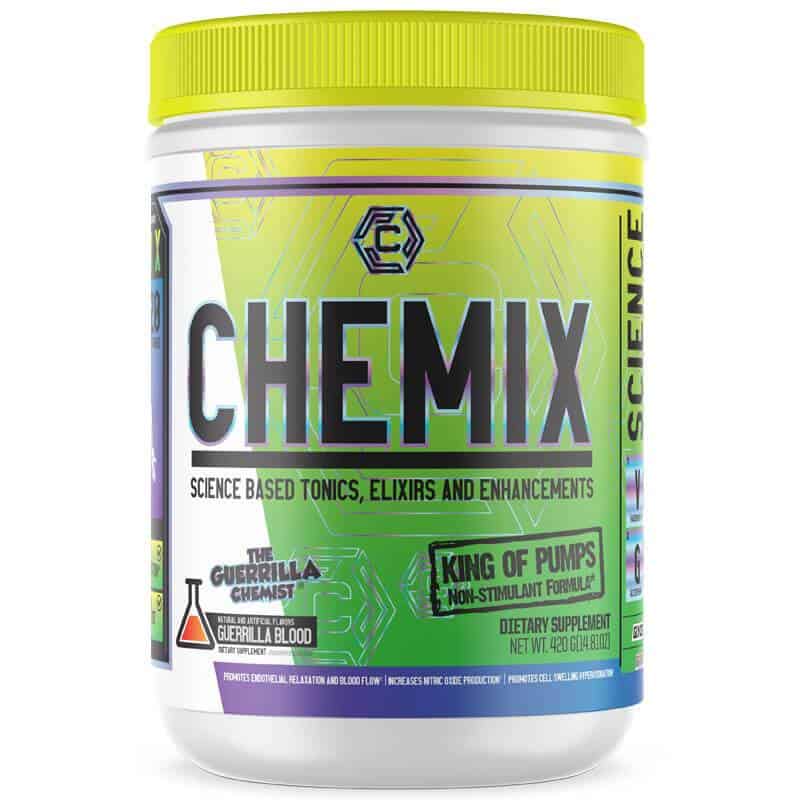 Key ingredients:
L-Citrulline – 6,000 mg
Betaine Anhydrous – 5,000 mg
Glycerpump – 3,000 mg
Endo Pump – 800 mg
VasoDrive-AP – 254 mg
S7 – 100 mg
When it comes to cutting edge ingredients, few companies are like Chemix. They're always pushing the boundaries and trying out new ingredients. King of Pumps is no different, boasting a super stacked ingredient list.
On top of 6 grams of L-Citrulline, 3 grams of GlycerPump (glycerol powder), 254 mg of the relatively new VasoDrive-AP, and 100 mg of S7 – they take things even further.
While betaine anhydrous is typically not a super exciting pump ingredient, I'm calling it out here because they're including 5 grams, which is way, way more than any other pre workout. Even if it's not a nitric oxide booster and just helps cell hydration (read: swoleness), I respect their commitment to dosage.
Gymnema Sylvestre helps with utilizing carbohydrates by shuttling them to the muscles, which can can help with pumps. If you take some carbs before you train, this can help with pumps. If you train fasted, this won't do anything for you.
But they're not done yet. On top of all of that there's Endo-Pump, a proprietary ingredient designed by Chemix. Combined, they help with vasodilation through three different mechanisms: the eNOS pathway, endothelial relaxation, and increasing cGMP.
If you're into the cutting edge, this is for you.
Here's a video breaking down the full ingredient label: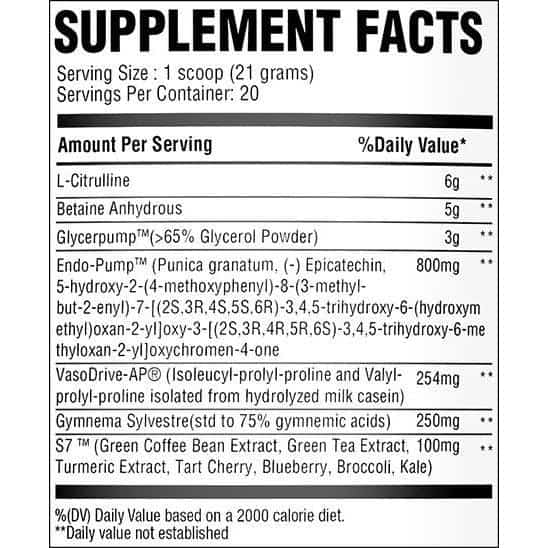 Stim-Free (Transparent Labs)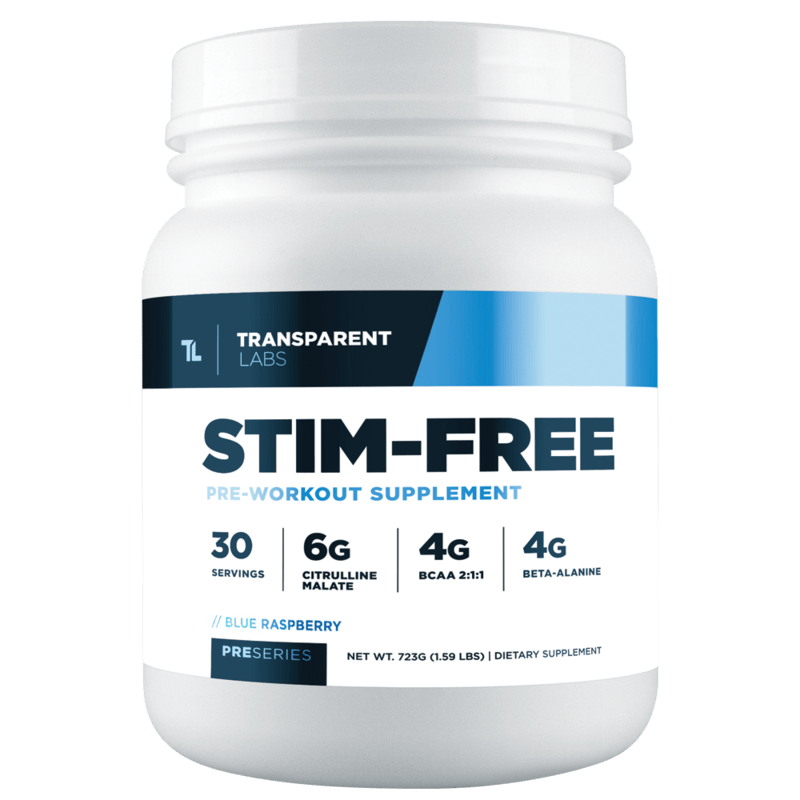 Key ingredients:
L-Citrulline Malate (2:1) – 6,000 mg
BCAAs (2:1:1) – 4,000 mg
Beta Alanine – 4,000 mg
For a well-rounded, stim free pump pre workout, Stim-Free by Transparent Labs is a solid pick.
Just like the caffeinated counterpart, Bulk Pre Workout, Stim-Free contains ingredients from several different categories. On top of the 6,000 mg of Citrulline Malate 2:1 for pumps, it also contains 4,000 mg of BCAAs for protein synthesis as well as 4,000 mg of beta alanine, 150 mg of elevATP, and 2,500 of betaine anhydrous for power output.
My only knock is that I'd love to see them replace the N-Acetyl L-Tyrosine with straight L-Tyrosine and swap the Choline Bitartrate for Alpha GPC, but it's not a bad focus package.
If you want to cover all your nutritional bases and get a great pump, check this one out. Not only will you get a pump, but it's also one of our top picks for the healthiest pre workout supplements.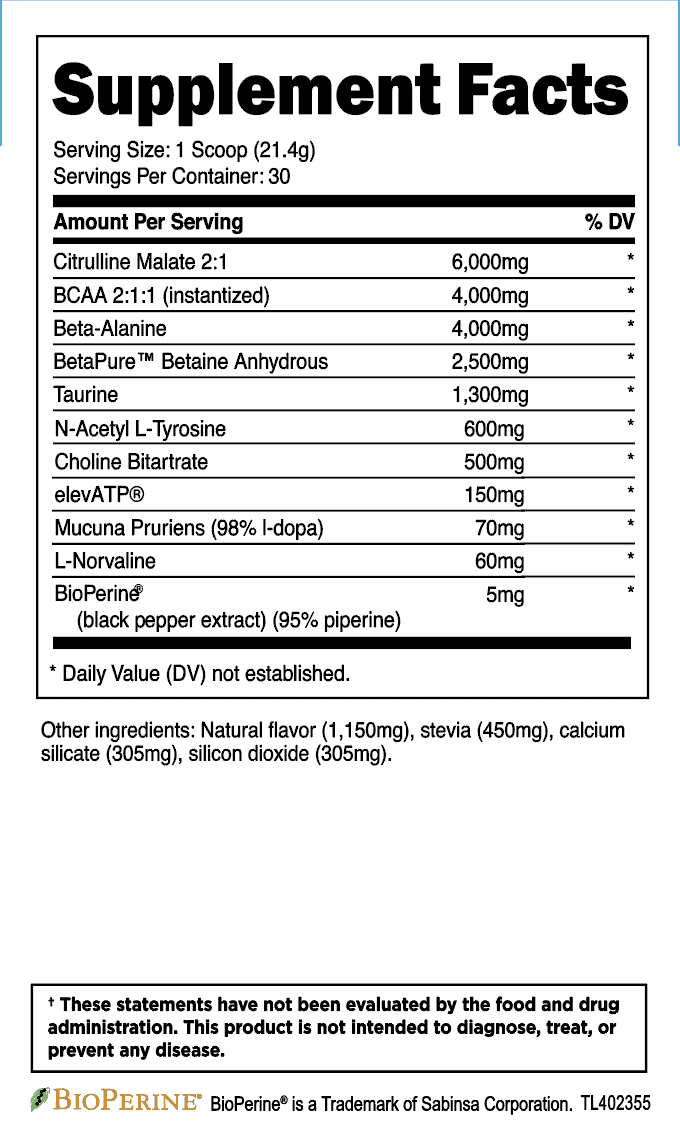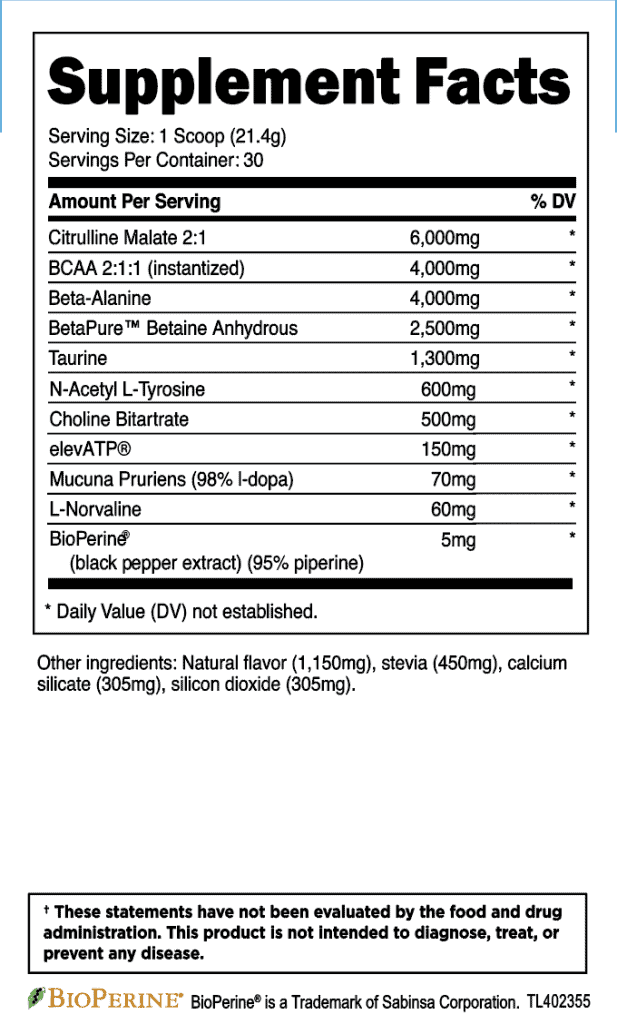 Pump Pre Workout with Stimulants
If you're looking for that rare combination of stimulants, caffeine, and pumps, few supplements can rival Hooligan and Crack.
Hooligan (Apollon Nutrition)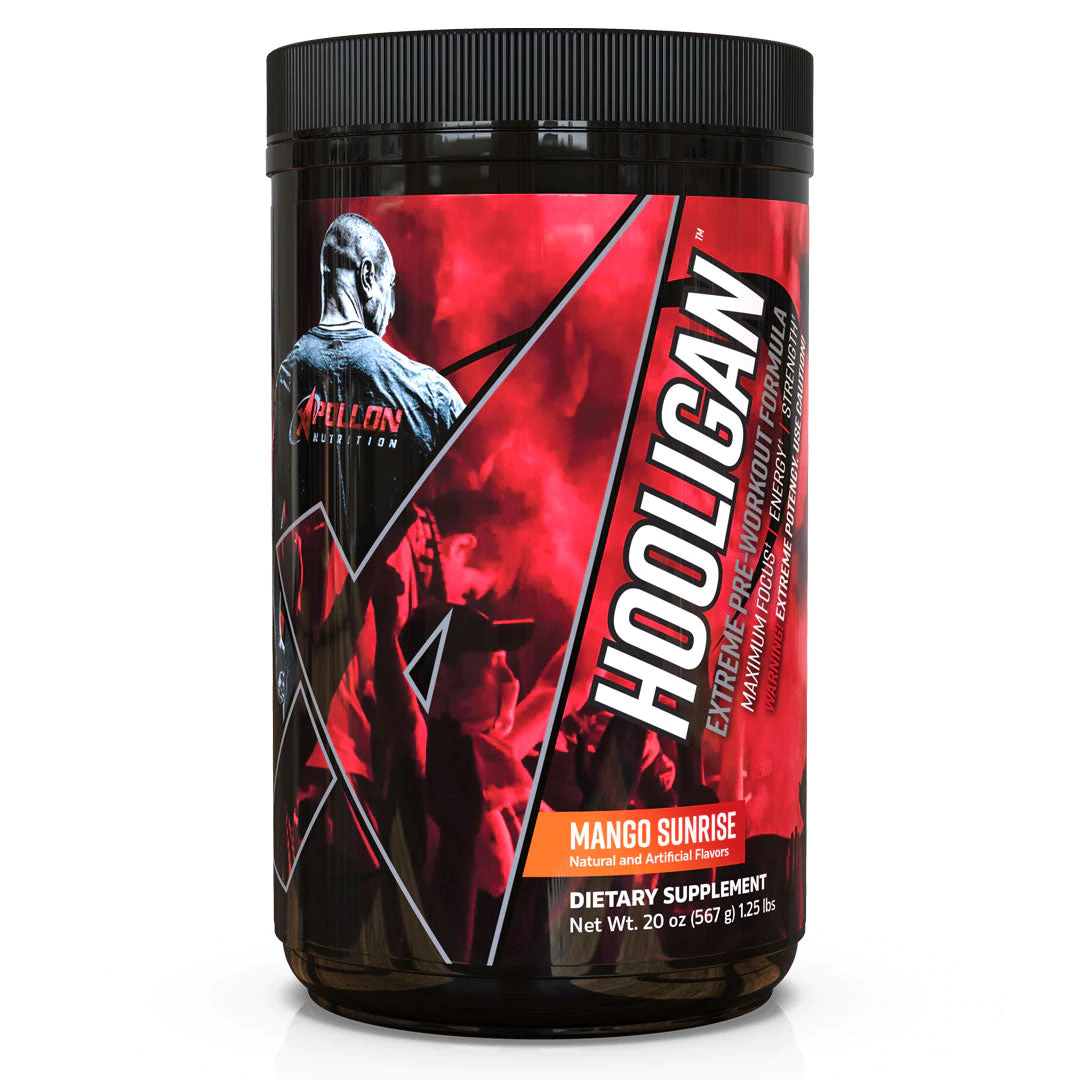 Key ingredients:
L-Citrulline: 7,000 mg
Agmatine Sulfate: 1,500 mg
Caffeine Anhydrous: 450 mg
Di-caffeine Malate: 200 mg (150 mg yield)
It's no secret I love Hooligan.
It's on my list of best pre workouts and favorite strong pre workouts.
It just delivers.
Energy? Check.
Pumps? Check.
Focus? Check.
And it doesn't have any banned ingredients, so it's safe to use for tested athletes.
I'll just say: it's as amazing as its label looks. So just check out the label. 😉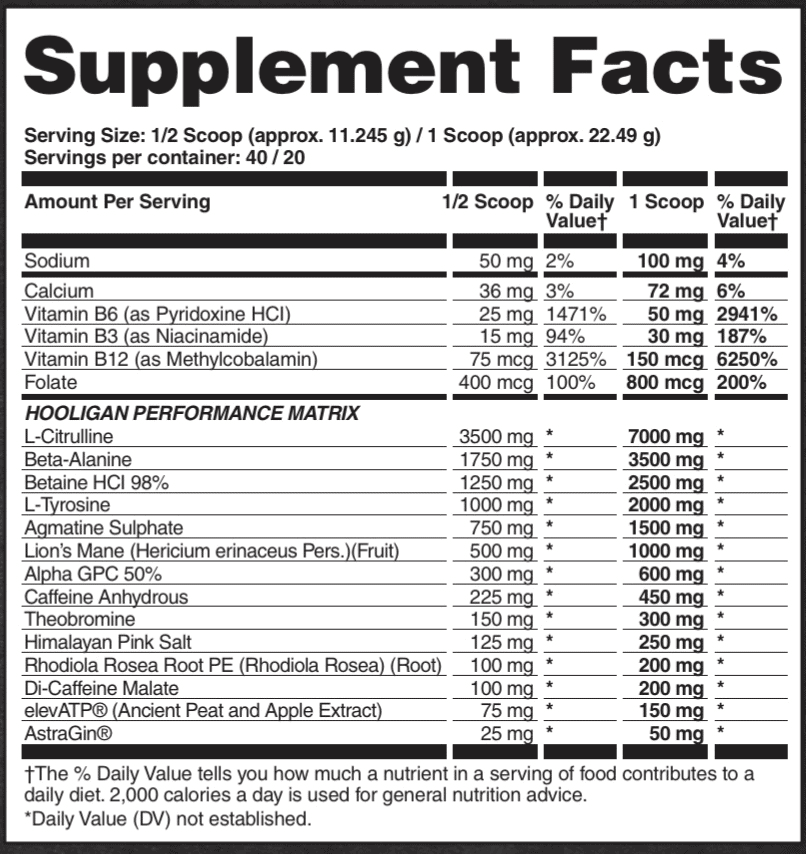 Crack (Dark Labs)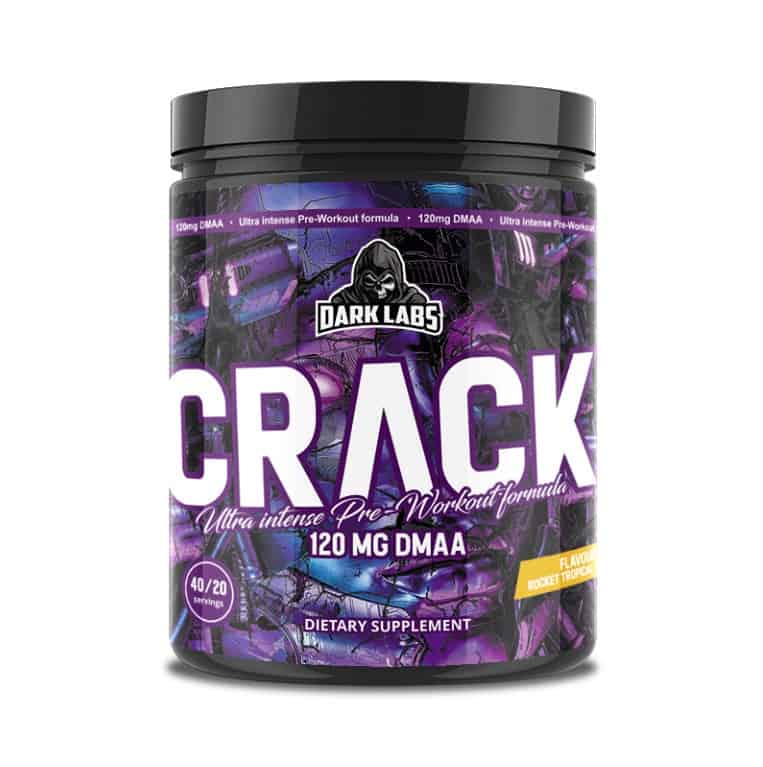 Key ingredients:
Citrulline Malate – 8,000 mg
Agmatine Sulfate – 1,500 mg
VASO6 – 300 mg
Caffeine Anhydrous – 400 mg
DMAA – 120 mg
Maybe you don't care about banned ingredients!
Maybe you just want to get that extra kick that only comes from ingredients that get a little weird.
…but you still want a rock solid pump.
Look – stims are vasoconstrictors, they make your blood vessels tighten up, so it's hard to find a stim junkie pre workout that still delivers sickening pumps.
But if you want to eat your cake and have it too, you're in luck.
CRACK delivers both excellent energy, euphoria, and focus in addition to skin-splitting pumps.
Honestly, it's not even as crazy as its label looks – so don't be scared off by it. But for two scoops, you're getting really solid energy with really good pumps.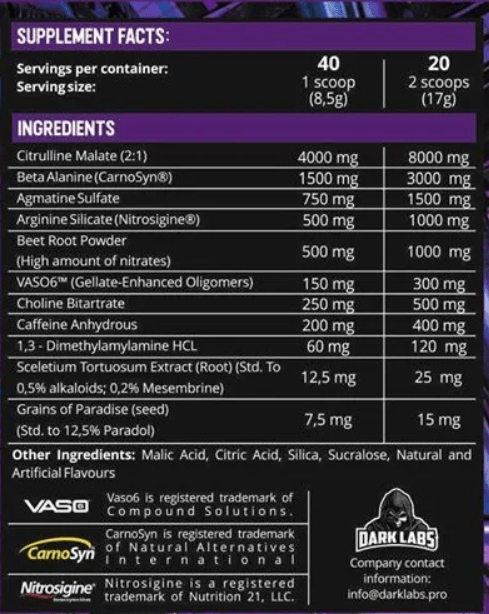 Ingredients to Look For in Pump Pre Workout Supplements
When deciding which pump pre workout supplement is right for you, be sure to look out for the following ingredients.
Make sure you're paying attention to the doses, too! A lot of low quality supplement companies will under-dose the most critical ingredients to make a few extra bucks. We provide a recommended dosage for each of the ingredients to help you make smarter purchasing decisions.
Exceeding these dosage recommendations is okay. They are not maximum dosages.
Being slightly below these doses does not necessarily mean a company is trying to rip you off, but coming in below 50% of the recommended doses should be a red flag.
L-Citrulline / Citrulline Malate
Recommended L-citrulline dosage: 4 grams
Recommended citrulline malate (2:1) dosage: 6 grams
When it comes to pumps and vascularity, L-citrulline is king, the undisputed champion. It creates a notable increase in nitric oxide, which increases blood flow, as well as a host of other training benefits.
If you're looking for pumps and this ingredient is not properly dosed or missing entirely, I would not buy it.
The difference between L-citrulline and citrulline malate is that citrulline malate is L-citrulline + malic acid. The malic acid can be used to help increase absorption of what it is attached to and can help increase energy, giving citrulline malate an edge over pure L-citrulline.
Citrulline malate is often included with a ratio like "2:1" on ingredients label. This is the ratio of L-citrulline to malic acid. 2:1 is the most common ratio used, but more importantly this ratio tells you how much L-citrulline is included, which is important. For example, 6 grams of citrulline malate 2:1 includes 4 grams of L-citrulline, which is the recommended dose. 6 grams of citrulline malate 1:1 would be 3 grams of L-citrulline, which is under-dosed.
Agmatine Sulfate
Recommended dosage: 1 gram
Agmatine sulfate assists endothelial NO synthase (eNOS), which signals vasodilation.
VASO6
Recommended dosage: 300 mg
VASO6 is a proprietary blend of green tea catechins that has shown to increase vasodilation by 50%, increasing blood flow to muscles. For additional detail on this ingredient, check out The Supplement Engineer.
S7
Recommended dosage: 50 mg
S7 is a trademarked blend of, you guessed it, seven ingredients shown to significantly increase nitric oxide production.
It is comprised of green coffee bean extract, green tea extract, turmeric extract, tart cherry, blueberry, broccoli, and kale.
While additional human research is needed, existing research suggests S7 can result in a sustained increase in nitric oxide production by as much as 230%.
Pine Bark Extract
Recommended dosage: 50-100 mg
Pycnogenol, the active ingredient in pine bark extract, has been reliably shown to create a notable increase in blood flow.
Ingredients With Potential Pump Applications
Betaine Anhydrous
Recommended dosage: 2.5 grams
Betaine anhydrous, or trimethylglycine, is often touted as a pump ingredient even though there is little evidence to support this claim. There is better, though still limited, evidence supporting its efficacy as a power-enhancing supplement. For this reason I think we will continue to see betaine featured in pre workout supplements for a while.
Betaine often finds itself included in pump formulas because it theoretically could indirectly "…enhance vasodilation and cellular swelling during resistance training."
I suspect we will see betaine featured less frequently in pump supplements as more evidence-based ingredients like S7 and VASO6 gain popularity.
Glycerol Powder
Recommended dosage: 6 grams per day (usually 2 to 3 grams in pre workout supplements)
GlycerPump is a patented form of glycerol powder. Glycerol powder assists with hydration and allows the body to absorb more water than it normally would. This obviously helps stave off dehydration and can have mild improvements on endurance.
It's worth noting that many of the studies showing these benefits provided athletes with 1 gram of glycerol powder per kg of bodyweight, or nearly 82 grams of glycerol powder for a 180 lb person. Obviously it is not dosed at nearly this amount in pre workout supplements.
But the real reason it is often included in pre workout supplements is that all of this extra water absorption can help your muscles swell up, giving you a "swole" look.
While glycerol powder certainly won't hurt anything in the quest for a sick pump, it's not the star of the show by any means.
Frequently Asked Questions
What is a pump?
A "pump" or "muscle pump" is just a gym colloquialism for cellular swelling that occurs within your muscles while working out.
What separates a pump from simply looking swole or jacked is that a pump is a temporary increase in the size of the muscles that occurs during an exercise and only lasts for a little while afterward – about 15 to 30 minutes.
Why should you care about a pump?
It looks cool and feels great.
Bro science says that flooding the muscles with blood helps them grow. In reality, muscular hypertrophy is induced to a similar degree by high rep, low intensity training training, which would hypothetically result in a pump, and low rep, high intensity training, which likely would not result in a pump.
Blood flow restriction (BFR) training, which essentially creates a massive pump at low intensities, has been shown to create larger strength gains when added to high intensity strength training vs. high intensity strength training alone. With that said, "getting a pump" is not the same as true BFR training and is not a substitute.
So, to be clear, getting a pump is not necessary for growing muscle. It might happen, it might not, and the muscle will grow as long as the intensity and volume is sufficient.
What causes a muscle pump?
While you're working out, a few things are happening:
Metabolic byproducts, like lactic acid, are building up in your muscles.
Your heart is pumping blood into your muscles to help flush out these byproducts.
This blood makes the muscles swell up.
As the muscle swells up, it is harder for the blood to flow out, causing it to build up.
This cycle continues as the exercising goes on.
Once the exercising stops, this "pump" state goes away as the heart stops pumping as much blood into the muscles and the muscle fibers return to their normal size.
This is a simplified explanation, but it will suffice for now.
What causes vascularity?
Vascularity is how visibly veins are protruding through the skin. As muscles swell, it can push veins against the skin, making the veins more visible. Further, as nitric oxide is released, it can increase the diameter of the veins, a state known as vasodilation.
What ingredients in pre workouts give you a pump?
No ingredient has more solid research supporting its ability to improve pumps than L-citrulline. It stands alone as a tier one ingredient.
Tier two ingredients include glycerol powder, S7, agmatine sulfate, VASO6, and pine bark extract.
Can pump pre workouts be mixed with regular pre workouts?
In short: yes, absolutely. Just make sure you're not accidentally taking double doses of caffeine or other stimulants.
It is safe to combine pump pre workouts with typical pre workouts. While many pre workouts will contain some pump ingredients like citrulline malate, agmatine sulfate, or S7, it is not dangerous to take a "double dose" of these sorts of ingredients.
Be careful not to accidentally take too much caffeine or other stimulants, though these are rarely found in most pump pre workouts, as they are typically stim free pre workouts.
More Pre Workout Reviews
Check out more pre workout reviews below!