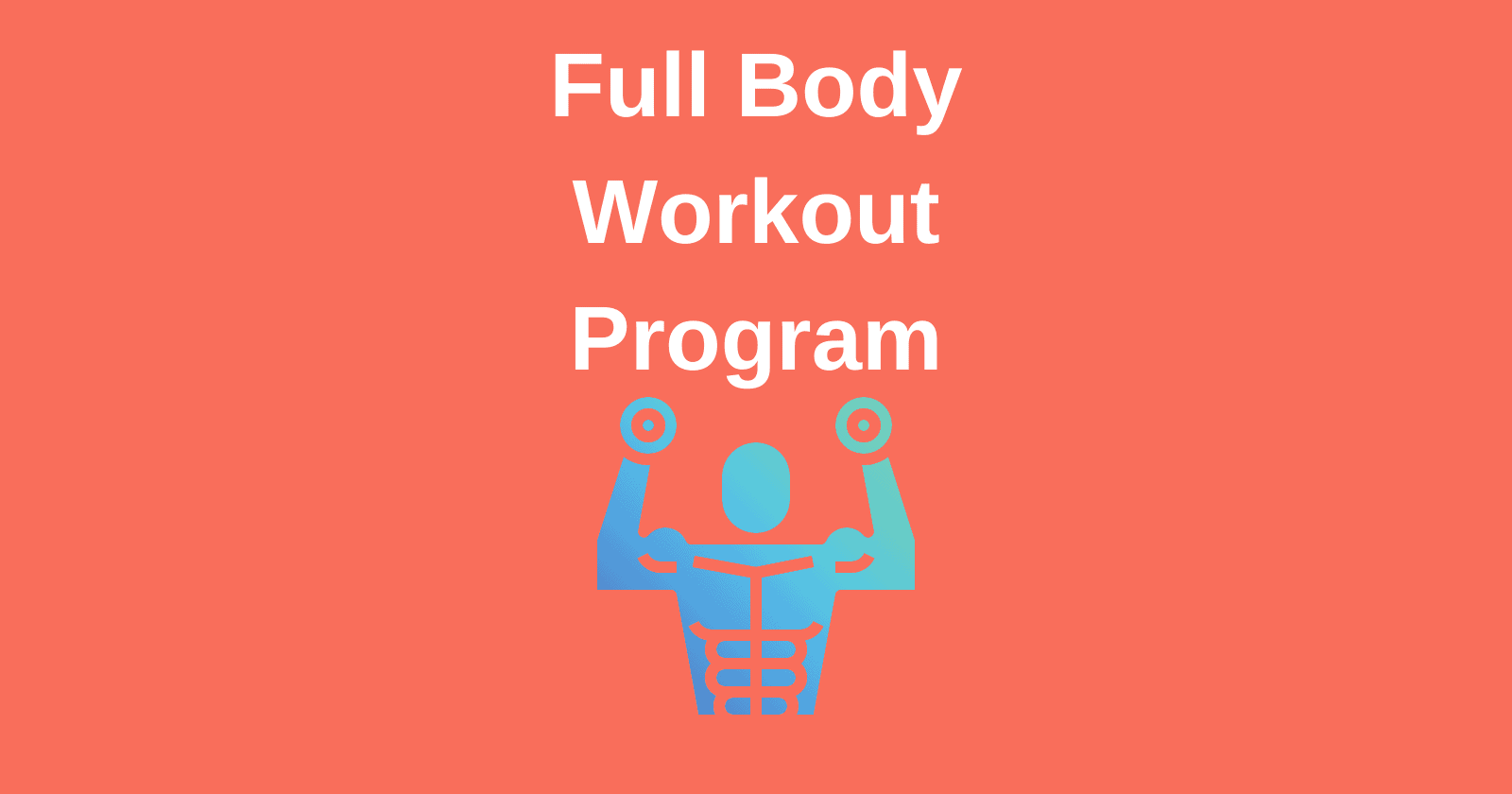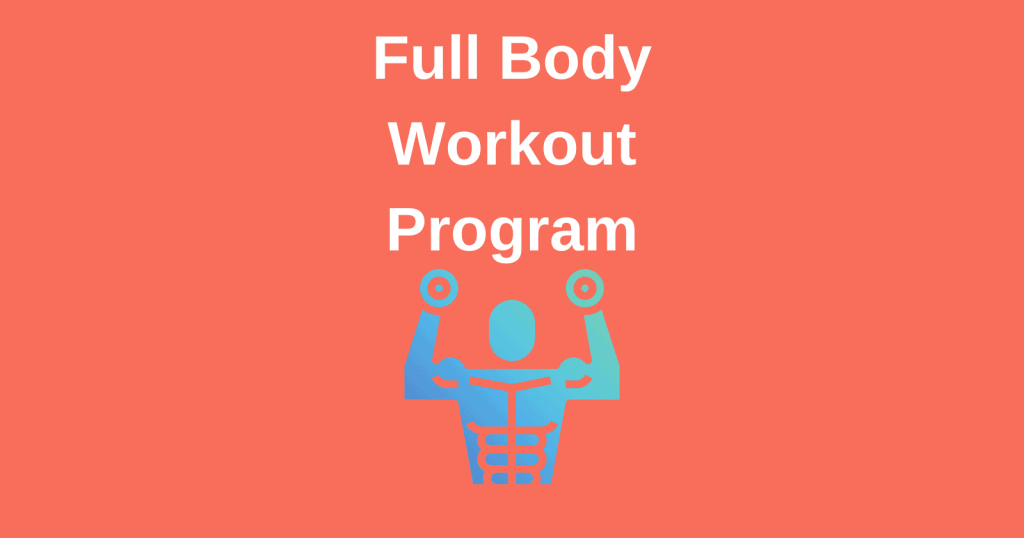 A full body workout routine is any program that works all of the major muscle groups in each training session. They are effective for building strength, gaining muscle, and losing fat. As such, they are commonly recommended for many beginner lifters, though they are also well suited for intermediate and advanced lifters.
By engaging the whole body in each training session, these routines often only need to be completed 3 days per week. This makes them one of the most efficient training methods available for those looking to get in shape.
Popular Full Body Training Routines
Below you'll find a selection of the most effective full body workout programs organized by progression level.
Novice lifters progress the faster, adding weight after each training session.
Intermediate lifters progress on a weekly basis.
Advanced lifters progress every few weeks to monthly.
Novice Full Body Workout Programs
Ivysaur 4-4-8
Ivysaur 4-4-8 is one of the most popular and effective linear progression beginner programs.
It's organized into two training weeks: Week A and Week B. Each week utilizes three training days per week.
Each training session features the bench press and overhead press.
Squats and deadlifts alternate each training session, as do chin ups and barbell rows.
The rep schemes used are:

4 sets of 4 reps
4 sets of 8 reps
3 sets of 4 reps, followed by an AMRAP (as many reps as possible) set
Ivysaur 4-4-8 makes excellent use of progressive overload, adding an average of 15 pounds to squats and deadlifts, 10 pounds to bench press and barbell rows, and 5 pounds to overhead press on a weekly basis.
While this is not exactly 5 pounds per session for each lift, this progression scheme is quite effective for novice lifters and those who are returning to lifting after a break.
I personally used this progression scheme to regain my strength in the gym after an extended break from lifting due to COVID-19 related gym closures in 2020.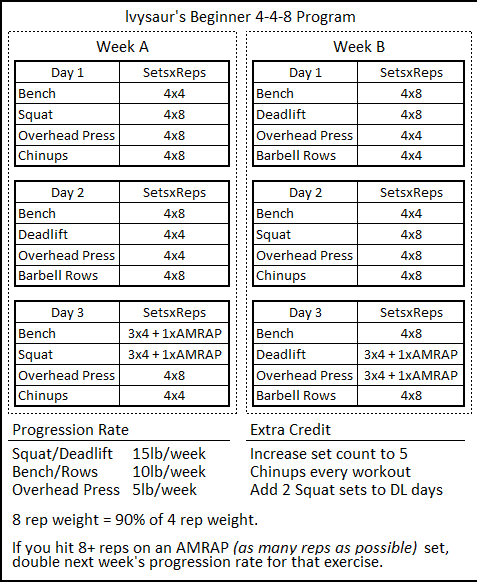 Greyskull LP
Greyskull LP is another excellent full body training program for novice lifters. It is similar to other linear progression strength programs like Starting Strength, Strong Lifts 5×5, and Ivysaur 4-4-8.
You can find a helpful overview of Greyskull LP below. The spreadsheet on Lift Vault is for the "Phrak Variation," which I think is an improvement to the original Greyskull LP.
I personally prefer Ivysaur 4-4-8 to Greyskull because Ivysaur calls for bench press and overhead press in every training session, whereas Greyskull alternates them. I have found that more volume is better for my pressing movements, so I like training both lifts 3 times per week.
If you do not want to train both bench press and OHP in each workout, then Greyskull is a good choice. Thousands of people have still made excellent progress on Greyskull. A true beginner could flip a coin and see great results with either training program.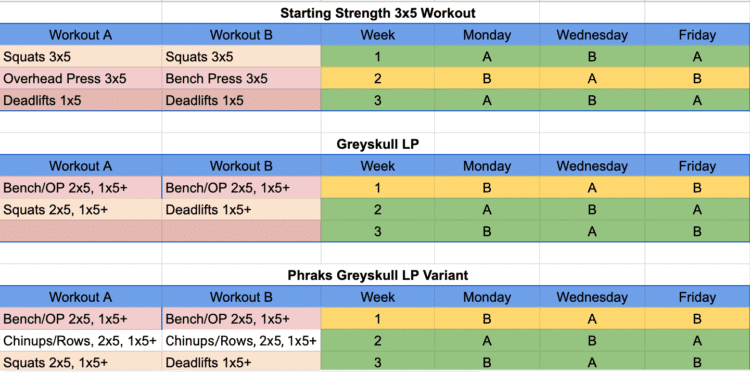 Strong Curves
Strong Curves is a beginner-friendly, effective full body workout targeted towards women and those looking to focus on glute hypertrophy. It has also been run successfully by thousands of people who have seen excellent results.
You will notice its set up is familiar: alternating training sessions, each featuring compounds lifts that target the entire body, getting progressively heavier after each successful training session.
Strong Curves is broken up into three workouts: Workout A, Workout B, and Workout C.
The program has three training sessions per week (A, B, C).
Every four weeks the exercise selection becomes slightly more challenging, e.g. moving from bodyweight glute bridges to single leg glute bridges.
The program encourages that weight be added when the recommended rep range is exceeded while maintaining proper form.
If the beginner program is too easy, a more advanced version called Strong Curves Gluteal Goddess is also available.
Intermediate Full Body Workout Programs
GZCLP
GZCLP is a linear progression version of GZCL, which generally progresses a bit more slowly. GZCLP progresses on a weekly basis, making it a great choice for intermediate lifters.
GZCLP is available in three day and four day versions, both of which are in the embedded spreadsheet.
While GZCLP programs extensively for the big four compound lifts (squat, bench press, deadlift, and overhead press), it also calls for variations and accessory exercises to be performed.
These are organized into Tier 1, Tier 2, and Tier 3 lifts. Each progress a bit differently, but use simple rules to let you know how to progress each lift. Additionally, there is helpful information to know how to change the rep schemes when reps start to inevitably be missed after continually adding weight each week.
This infographic from Say No To Bro Science provides an excellent overview:


All in all, it's a very well-documented program that has successfully gotten many people stronger with full body training.
Heavy, Light, Medium (HLM) Program
Heavy, Light, Medium (HLM) training is a simple method for organizing training so that gradual progress can be made each week. It's a great programming option for those who have already completed a program like Ivysaur 4-4-8 or Greyskull LP.
As the name suggests, this type of training consists of three training sessions per week: a heavy training session, a light training session, and a medium training session. These are manipulated to stimulate growth and allow for recovery within a given training week.
There are many, many ways to organize HLM training. Andy Baker is excellent resource if you'd like to learn more about it.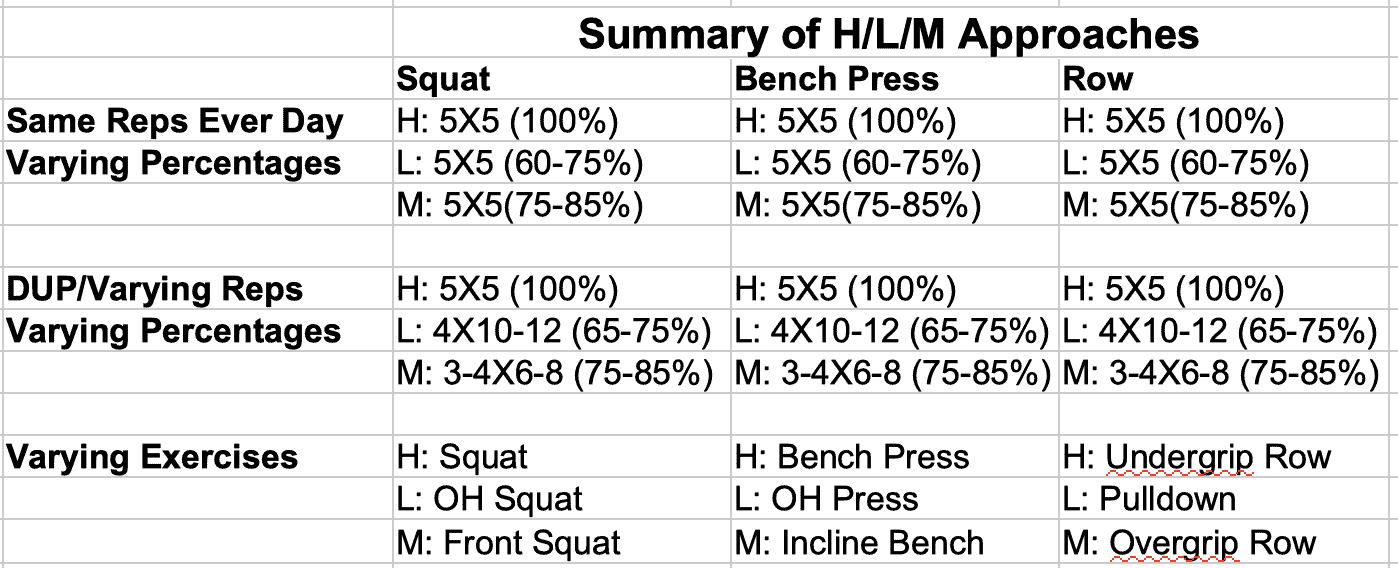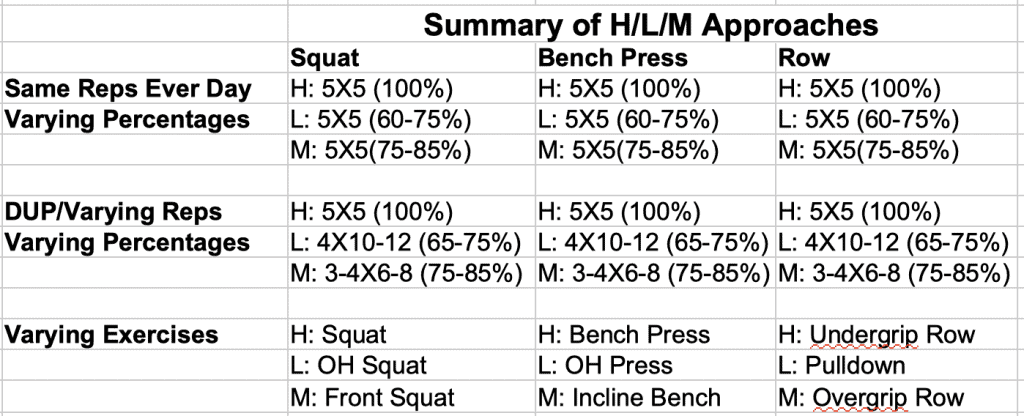 The program presented within the spreadsheet is just one example of how the training can be organized. The spreadsheet was purposefully made to be flexible enough to accommodate other HLM training configurations.
Advanced Full Body Workout Program
Madcow 5×5 Advanced
Madcow 5×5 Advanced is a 9 week program that utilizes a heavy, light, medium structure to hit a new 5RM in week 4 and a new 3RM in week 9. It is for lifters that can no longer achieve weekly progress and squeezes out gains on a monthly basis.
It is structurally similar to many novice programs, revolving around the classic "5 sets of 5 reps" while programming in more time for ramping up and recovery.
Madcow 5×5 is dirt simple with its exercise selection, relying on heavy compound movements to provide an effective full body workout.
Here's a typical training week in the first four weeks of the program (weeks 1-4):
Monday

Squat – 5 sets x 5 reps
Bench Press – 5 sets x 5 reps
Barbell Row – 5 sets x 5 reps

Wednesday

Squat – 5 sets x 5 reps
Overhead Press – 5 sets x 5 reps
Deadlift – 3 sets x 5 reps

Friday

Squat – 5 sets x 5 reps
Bench Press – 5 sets x 5 reps
Barbell Row – 5 sets x 5 reps
Week 4 culminates in setting a new 5 rep max. This is followed by a deload in week 5.
Here's a typical training week in the first four weeks of the program (weeks 6-9):
Monday

Squat – 3 sets x 3 reps
Bench Press – 3 sets x 3 reps
Barbell Row – 3 sets x 3 reps

Wednesday

Deadlift – 3 sets x 3 reps
Overhead Press – 3 sets x 3 reps
Weighted Chin Ups – 3 sets x 3 reps

Friday

Squat – 3 sets x 3 reps
Bench Press – 3 sets x 3 reps
Barbell Row – 3 sets x 3 reps
Week 9 culminates in setting a new 3 rep max.
Full Body Workout Muscle Groups
Upper Body Muscles
Chest
Back
Biceps
Triceps
Shoulders
Lower Body Muscles
Glutes
Hamstringes
Quadriceps
Calves
Core Muscles
Rectus abdominis
Transverse abdominis
Obliques
Full Body Workout Exercises
Barbell Exercise Movements
The following barbell compound movements have come to be known as the "big 3," "big 4," and "big 5," depending on whether the overhead press and barbell row, respectively, are included.
As long as equipment is not a limiting factor, these exercises should be the bread and butter of any effective full body workout program. You'll see them featured prominently in all of the programs recommended above.
Squats
The squat is one of the most effective compound exercises for your lower body and core muscles. From your upper back and lats all the way down to your lower back and calves, the squat engages your body in a way that few other exercises can.
This is why you'll see the squat programmed in just about every total body workout plan.
Muscles worked in the squat:
Quadriceps
Hamstrings
Glutes
Calves
Abdominals
Upper back
Lats
Spinal Erectors
Bench Press
When it comes to hammering the chest, it's hard to beat the bench press. On top of that, you'll also get great activation of your shoulders and triceps.
Muscles worked in the bench press:
Pectorals
Shoulders
Triceps
Deadlifts
Deadlifts are right up there with the squat in terms of the number of muscles engaged in each rep. You're getting upper body, core, legs and lower back involved in the deadlift. It truly is one of the best exercises for engaging nearly every muscle of the body.
Muscles worked in the deadlift:
Quadriceps
Glutes
Hamstrings
Spinal erectors
Lats
Trapezius
Rhomboids
Abdominals
Overhead Press
For boulder shoulders, look no further than the overhead press. Combined with the bench press, the overhead press provides a potent one-two punch in triggering hypertrophy in the delts.
On top of that, the upper pectorals and triceps are also working hard on each rep while the trapezius helps position the scapula for maximum pressing efficiency. Just about every muscle of the upper body is engaged in some way.
Muscles worked in the overhead press:
Pectorals
Deltoids
Triceps
Trapezius
Barbell Rows
When it comes to building a bigger, more defined back, if you wanna grow, you gotta row. The lats, rhomboids, posterior deltoids, and lower trapezius are all engaged in the barbell row. This doesn't even mention the stabilization that is enabled by the abdominals, glutes, hamstrings, and spinal erectors.
Muscles worked in the barbell row:
Lats
Rhomboids
Posterior deltoids
Mid & lower traps
Bodyweight Exercise Movements
Chin ups
Push ups
Burpees
Dips
Bodyweight squats
Bodyweight movements are good choices for assistance exercises performed after the main work of a training session or substitutions when certain equipment is not available.
For example, push ups, chin ups, dips, or burpees are good choices for exercises to perform at the end of a total body workout if you still have some time and energy available and it makes sense for your training goals.
Bodyweight squats are a reasonable substitution when weights are not available, though they have the downside of not being able to easily accommodate progressive overload. This can be fixed by finding a dumbbell or kettlebell to hold in order to perform a goblet squat.
Dumbell & Kettlebell Exercise Movements
The following exercises utilize either a dumbbell or a kettlebell. These are good substitutions when barbells are not available.
Goblet Squat
Dumbbell Lunge
Kettlebell Swing
Kettlebell Deadlift
Renegade Rows
Dumbbell Thrusters
Frequently Asked Questions About Full Body Workout Training Programs
What is a full body workout routine?
A full body workout is a training routine that focuses on working all of the major muscle groups in each training session. It does this by programming compound movements that work multiple muscle groups simultaneously. This differs from a body part split, which focuses on a few muscle groups per training session.
These routines typically call for three workouts per week, making them good options for those who are not able or willing to exercise more frequently.
Another advantage of full body workouts is that they are very effective at building muscle, getting stronger, and losing weight.
Do full body workouts build muscle?
The short answer is yes, you will build muscle with full body workouts.
The longer answer, in terms of the most optimal way to build muscle and increase muscular hypertrophy, is more complicated.
First we need to differentiate between strength, or the amount of force a person's musculature can generate through a movement like the squat or bench press, and the amount of lean muscle mass a person has.
Strength and lean muscle mass are correlated, but the degree to which they are correlated depends significantly on the training level of the individual.
Novice lifters get stronger primarily through strengthening their proficiency in the lifting movements, while intermediate and advanced lifters rely significantly more on muscle growth in order to achieve strength gains. And of course there will be variation within any lifting population.
The best predictor of muscular growth is volume.
A meta analysis by MASS showed that the number of sets was positively correlated with the amount of muscle mass growth.
Mike Israetel also generally provides recommendations for muscular hypertrophy measured in number of sets per muscle group. To maximize the amount of hypertrophy for certain muscle groups, a more tailored approach to volume vs. what is typically provided by a full body workout program may be beneficial.
As an example, let's say you're running a full body workout routine that programs 5 sets of bench press 3 days per week for a total of 15 sets per week on the bench press. Let's also assume that there are 5-10 sets of chin ups performed each week, depending on the week.
This may be an effective amount of volume for building strength in the bench press, but if the primary goal of the lifter was to build enormous biceps then this program would be suboptimal. Even counting the chin up sets as direct bicep work, which they're not, this would not be an optimal amount of bicep volume for hypertrophy.
Does this mean that doing bench press and chin ups won't increase arm size? No, it just would be suboptimal for bicep hypertrophy. Similarly, training for bicep hypertrophy would not be an effective method of increase the one rep max in the bench press.
So… what should a person that wants to get stronger and maybe increase the size of some vanity muscles do?
If you're untrained – follow a program as it's written. You don't know how you'll respond. After 3 to 6 months you'll have a reasonable idea of how you're recovering and how your body is responding to the training. At this point you could consider layering in some additional volume for body parts you believe are lagging. GZCLP is a good option for this type of training.
How should a full body workout be structured?
Full body training programs typically utilize three training days per week, occasionally four. This is to allow for adequate recovery between the training sessions.
Novice lifters have minimal variation in intensity between sessions in a given week, whereas intermediate and advanced lifters will have more variation in intensity throughout a week (e.g. heavy/light/medium intensity days). This manipulation in training intensity is also designed with recovery in mind.
Workouts are often comprised of heavy compound movements, often in the 65% to 90% range of a lifter's one rep max. Lower intensity ranges tend to see rep counts between 5 and 8 reps, whereas higher intensity sets often call for 3 to 5 reps.
Weekly set counts for lifters depend on the intensity of those sets, but will typically range between 9 and 15 sets per week. An exception is the deadlift, which will have fewer sets per week, often anywhere from 1 to 6 sets.
These are rough guidelines – individual programs vary.