A 5 day workout split is a lifting routine that focuses on different muscle groups or lifting movements per day. For physique or bodybuilding programs, it's common to see muscle groups targeted (these are often known as workout splits, as each day is "split" into a specific muscle group). For strength or powerlifting programs, each day is usually centered around one or two compound movements (e.g. squat, deadlift, bench press, or overhead press) and accessory movements are added as needed.
Related:
Below you'll find some of the best 5 day programs available on Lift Vault. A short summary is provided, but additional information is available by clicking through to the program's detail page.
nSuns 5 Day Linear Progression Program
nSuns is a popular variation of Jim Wendler's 5/3/1 which bases each workout around one of the "big four" lifts (squat, bench press, deadlift, and overhead press (aka OHP)) and then prescribes additional accessory volume. Many, many people have used nSuns successfully to get stronger, lose fat, and gain muscle (read nSuns Reviews + Results).
There are many different versions of nSuns, which the 4 day version being especially popular. For those looking for a 5 day program, an additional bench press day is added.
"Alt stance deadlift" is the stance that is opposite to what you normally train. So if you normally pull conventional, sumo deadlift would be your alternate deadlift stance. If you don't want to pull with an alternate stance, you could do another deadlift variation like defecit deadlifts, paused deadlifts, etc.
Program Name
nSuns 5 Day LP
Split Type
Upper/Lower
Recommended for
Primary: Strength
Secondary: Aesthetics
Day 1
Bench/OHP
Day 2
Squat/Alt Stance Deadlift
Day 3
OHP/Incline Bench
Day 4
Deadlift/Front Squat
Day 5
Bench/Close Grip Bench
nSuns Linear Progression (LP) Complete Bundle (4 Day, 5 Day, 6 Day squat, 6 Day deadlift) | LiftVault.com
GZCL 5 Day Split Program
Similar to 5/3/1, GZCL is also a flexible template that can be molded to fit many different training goals. While these programs are absolutely designed for powerlifters and strength athletes in mind, they can also be run by athletes looking to improve their physique through hypertrophy.
It's based on the following structure, though I recommend heading over the the main GZCL page to learn more: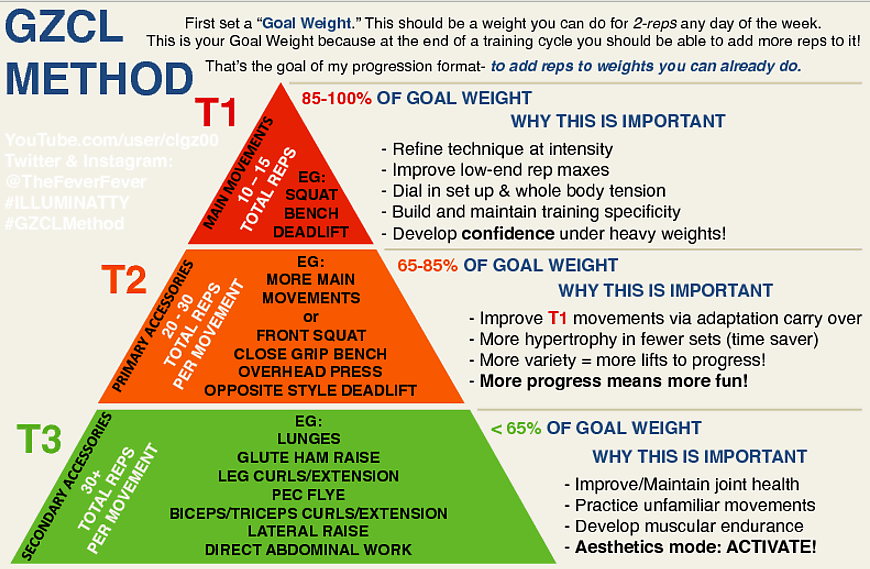 Here are some of the 5 day GZCL templates available:
GZCL VDIP (Volume Dependent Intensity Progression)
GZCL UHF (Ultra High Frequency)
GZCL himself has fantastic write ups on VDIP and UHF.
Both of these programs can be found in the GZCL Compendium spreadsheet collection below.

GZCL Free Compendium November 27th Update
Starscream 12 Week Hypertrophy Program (5 Day)
This is a high volume program with lots of accessory movements, making it ideal for hypertrophy. Since it is so high volume, it is important to start the weights very low and work your way up. This program is primarily designed to induce muscular hypertrophy, not set new maxes on your lifts.
The program has lots of notes in the spreadsheet (also available on the program detail page) that I recommend you read before starting.
Hypertrophy programs are primarily based on time under tension for the muscles and accessory volume, so many of the movements don't have weights recommended (aside from the normal squat, bench, and deadlift percentage based programming) so you'll need to proceed based on feel. This self awareness will come naturally after a few weeks and is an important aspect of training.
| Program Name | Starscream Hypertrophy Program |
| --- | --- |
| Split Type | Muscle Group |
| Recommended for | Aesthetics, Physique, Hypertrophy, Bodybuilding |
| Day 1 | chest/triceps (bench) |
| Day 2 | hamstrings/glutes (deadlift) |
| Day 3 | shoulders/triceps (incline bench press) |
| Day 4 | quads/core/abs (squat) |
| Day 5 | chest/triceps (bench press) |
Starscream (autoregulated hypertrophy program) | LiftVault.com
Greg Nuckols 28 Programs
The Greg Nuckols 28 Programs collection is one of the best free powerlifting programs made available on the internet. Outside of its legendary 3x Intermediate Medium bench press program, which I've personally used with tremendous success, the program collection is unparalleled in terms of simplicity and flexibility. On top of that, Greg is a super smart, generous guy and if you don't know about his Stronger By Science blog or podcast then definitely check those out.
Okay so 28 Programs is laid out differently than most spreadsheets you'll come across, but don't let that trip you up. It's pretty easy.
The spreadsheet collection is broken into 3 lifts (squat, bench press, deadlift), 3 frequencies (1x weekly, 2x weekly, 3x weekly), and 3 load levels (beginner, intermediate, advanced). 3*3*3 = 27 (+1 extra load variation for deadlifts and you've got 28 programs).
This lets you customize the program variation based on your individual programming needs.
You can get to a 5 day program many different ways.
Here are some ideas:
3x Bench + 2x Squat + 1x Deadlift
Day One: Bench Day One
Day Two: Squat Day One
Day Three: Bench Day Two
Day Four: Deadlift Day One + Squat Day Two
Day Five: Bench Day Three
This is great because you can increase the frequency on a lift you're trying to bring up (maybe you want to deadlift 2x weekly, for instance). While this is probably too much flexibility for someone just starting out, it's pretty easy for most folks to configure on their own.
For more detail, Greg has an accompanying program guide available for free on his site, you just need to provide an email address.
Greg Nuckols 28 Programs by Strengtheory | LiftVault.com
Brendan Tietz 5 Day Intermediate Powerlifting Program (7 Weeks)
This is a 7 week powerlifting program from Brendan Tietz. It could be used for meet preparation, though the relatively high amount of accessory work is less than ideal in the final weeks before a powerlifting meet. I wouldn't call it a strict powerlifting peaking program, but it's a great choice for getting stronger and building muscle.
This program has two blocks: a volume block and an intensity block. The volume block lasts 3 to 4 weeks (depending on if you want to repeat week 1 after week 3 as a mini deload) and the intensity block lasts 3 weeks.
Each day of a program week focuses on something different. Daily training focuses are either volume, technique, hypertrophy, or accessories. This lets the lifter focus on strength work as well muscle growth (i.e. hypertrophy).
Here's a video directly from Brendan Tietz explaining the program.
Program Name
Brendan Tietz Intermediate Powerlifting Program
Split Type
Full Body
Recommended for
Primary: Strength
Secondary: Aesthetics
Periodization
Block
Day 1
SBD Volume
Day 2
Back + Arm Accessories
Day 3
Squat and Bench Hypertrophy + Accessories
Day 4
Back + Arm Accessories
Day 5
SBD Technique
Brendan Tietz Intermediate Powerlifting Program | LiftVault.com
Brendan Tietz Submax DUP Intermediate Powerlifting Program (5 Day, 12 Weeks)
This is a 12 week daily undulating periodization program by Brendan Tietz. It is well suited for general strength training, physique goals, and off-season powerlifting training.
Program Name
Brendan Tietz Submax DUP Powerlifting Program
Split Type
Full Body
Recommended for
Primary: Strength, Off-season Powerlifting
Secondary: Aesthetics
Periodization
Block
Day 1
Squat, Bench Press
Day 2
Deadlift
Day 3
Squat and Bench variations
Day 4
Deadlift variation
Day 5
Squat, Bench Press
It uses a mix of percentage-based programming as well as RPE. I definitely recommend watching the video below to better understand how to effectively use the program.
One thing I love about this program is the amount of exercise variation. This is especially good for identifying and fixing weak points in the big 3 lifts.
Again, Brendan Tietz kindly provides a great overview video for this 12 week submax DUP powerlifting program.
GZCL / MagOrt / Deathbench Hybrid Program (5 Day, 10 Weeks)
This is a popular "hybrid program" that uses GZCL Jacked & Tan for squats, MagOrt for deadlifts, and Deathbench for bench press. It's a lot of volume. To learn more, please see the GZCL / MagOrt / Deathbench program page.
Program Name
GZCL / Deathbench / Mag Ort Hybrid Program
Split Type
Push Pull Legs (PPL)
Recommended for
Primary: Strength, High Volume Training
Secondary: Aesthetics
Day 1
Bench Press, CGBP, Skullcrushers, Dumbbell Press, etc.
Day 2
Squat, Leg Press
Day 3
Pause Bench Press, Incline Bench, Dumbbell Press, Skullcrushers, etc.
Day 4
Deadlift, Defecit Deadlift, Good Mornings
Day 5
Squat, Leg Press
Deathbench-GZCL-MagOrt-LBs | LiftVault.com
Megazord (Greg Nuckols overhead press + Brad Gillingham for bench press + Coan/Phillipi deadlift) (5 Day, 12 Weeks)
This is another hybrid program, this time combining the 2x bench press program from Greg Nuckols 28 Programs the Brad Gillingham 12 week bench press peaking program, and the Coan/Phillipi deadlift program. Like the GZCL/Deathbench/MagOrt hybrid program above, this is pretty high volume, high intensity work.
For more detail, please see the Megazord Program page.
Program Name
Megazord Hybrid Program
Split Type
Squat/Bench/Deadlift/OHP
Recommended for
Primary: Strength, High Volume Training
Secondary: Aesthetics
Day 1
Deadlifts, SLDL
Day 2
Bench Press, Incline Bench
Day 3
Rows, Dips, Underhand grip lat pulldowns, Curls, etc.
Day 4
Front squats, back squats
Day 5
OHP, Bench Press
MEGAZORD (CoanHorse Nuckingham) 2.2 | LiftVault.com