Last Update: March 7, 2018
Bred from the popular Reddit user /u/gzcl (also check out his blog and personal subreddit), these easy to use spreadsheets and calculators are based on the general "GZCL Method" for powerlifting.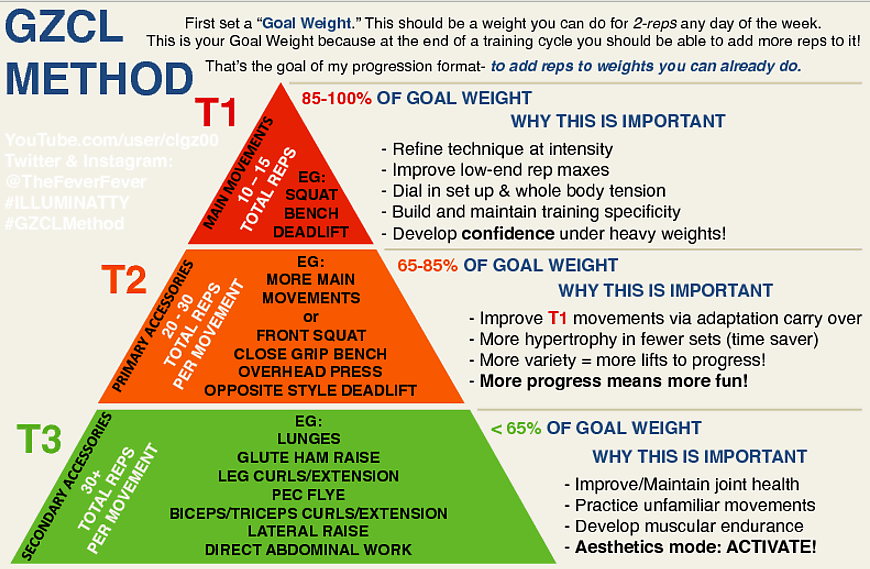 (Source: GZCL Applications & Adaptations)
As GZCL is more of a framework than a strict program, there are many ways to adapt GZCL principles to existing training and find a version that fits your needs. Still, many folks (including GZCL himself) have taken the time to create great spreadsheets worth trying out – including many that will calculate the weight required for the major lifts.
If you find any of this useful, please consider donating to GZCL.
GZCL Free Compendium (November 27 2016 Update)
The Free Compendium update was directly released by GZCL in November 2016 contains a few program templates within it (lbs and kgs):
Volume Dependent Intensity Progression (VPID)
Extended Deadlift Wave Formulas
Jacked and Tan 2.0
Ultra High Frequency
5 and 9 week programs (UHF)
The Rippler
Basic Template
The key difference between the November 2016 compendium (updated November 28th, 2016) and the July 2016 compendium is the Extended Deadlift Wave Formulas and Volume Dependent Intensity Progression (VPID) updates.
The Extended Deadlift Wave Formulas provide a much more robust set of recommendations for programming around deadlift weak points (e.g. breaking off the floor or locking out).
The VPID update focuses high effort sets across a variety of rep ranges to allow for linear-ish progression.
This is a great starting point if you're trying out GZCL for the first time, as this one workbook contains many different GZCL flavors to try.
November 28, 2016 update notes, focusing on Volume Dependent Intensity Progression (VPID) theory.
November 2016 release notes focusing mainly on the extended deadlift wave formulas.
July 2016 release notes focusing on the rest of the program.

GZCL Free Compendium November 27th Update
GZCL Free Compendium Spreadsheet (Original July 2016 Version)

GZCL Free Compendium Spreadsheet
GZCL Jacked and Flan
Created by /u/flannel_smoothie, "Jacked and Flan" is a hybrid of Jim Wendler's 5/3/1 and GZCL's Jacked and Tan, allowing the user a bit more control over volume. Includes lots of great volume and progress tracking as well!

Jacked and Flan v2.1 Spreadsheet
 GZCL Jacked and Tan 2.0
This is a 4x per week Jacked & Tan 2.0 template that makes it simple to calculate and track the various cycles and rep maxes utilized within the program.
Lots of helpful comments are contained in the cells that have a red earmark, so be sure to read those for additional context when using the spreadsheet!
Thank you to /u/steve_dc for putting this spreadsheet together. *Updated March 2018*
GZCL Flexible Jacked & Tan 2.0, March 2018 Update - LiftVault.com
GZCL Jacked and Tan (Josip Version)
An interpretation of the infamous original Jacked and Tan program by Redditor /u/JosephusBroz.

GZCL Jacked and Tan Spreadsheet (Josip version)
 GZCL Max Rep Sets (MRS) – Beta Version from Cody

GZCL MRS Beta (from Cody)
GZCL Max Rep Sets (MRS)
via /u/anonymouscrayon:
"An MRS template based on the videos Cody's been putting out lately. Using the MRS scheme where you try to get X reps in Y sets, if successful then add weight. [Calculated] for all tiers."

GZCL MRS Spreadsheet
GZCL 3 Week Cycle
via /u/gluteusofaluminum:
"Currently I'm using this custom 3 week cycle. After the third week, I check what lifts have improved and change my training max for the next cycle."

GZCL 3 Week Cycle Spreadsheet
GZCL Multi Day Cycles
This is useful if you're looking to run GZCL across two, three, four, five, or six day per week cycles.

GZCL Method Cycles Spreadsheet (Multi Day)
GZCLP Big on the Basics Version
This spreadsheet, developed by Redditor /u/TheAesir , is based off of GZCL principles with some personal tweaks that worked well for this particular lifter. "Includes templates for GZCL linear progression program and a three week GZCL-style program." Generally recommended for novice to novice/intermediate level users.
s/o to /u/youngquinn for cleaning up the spreadsheets.

GZCLP_3-week_Big on the Basics
GZCL Basic Template (circa 2012)
A straightforward, no-nonsense approach to the original GZCL methods assembled by /u/durable and edited by /u/point3edu. GZCL approved!

GZCL Template Spreadsheet (2012)
GZCL 5 Day Template
Just another spreadsheet I found. I'm missing the source, so if you're aware of it please let me know.

GZCL 5 Day Spreadsheet
Originally published in September 2016. 
Updated November 28, 2016.