Summary: If you want great energy, laser focus, and no negative side effects, then check out 4 Gauge Pre Workout and get ready to crush your next training session. Works for men and women!
Selecting a good pre workout as a beginner can be a daunting task.
I've been there, scrolling down endless pages of options.
Between the long labels, flashy marketing campaigns, and photoshopped Instagram photos, how are you supposed to know what really works?
Well, you gotta try stuff out. Labels don't always tell you the whole story.
Fortunately, I've done just that.
Below you'll find a handful of tried & true pre workouts for various levels of beginners. Everything you need to know is included.
If you've never taken a pre workout powder before and aren't much of a coffee drinker, I've got you.
If you've been slamming down coffee or Monster for years and you're looking for something with a little more punch, I've got you too.
If you've read the list and you're still not sure – shoot me an email and I'll help you decide.
Alright, let's get to it.
Here's the final list. Additional detail for each pre workout appears below. Enjoy!
How We Chose the Best Pre Workouts for Beginners
If you've never taken pre workout before, then just about anything will work decently well for you.
That's the good news.
There's no need to seek out the most intense pre workout supplements with exotic stimulants you can't pronounce.
Simple, proven ingredient lists are all you need. So what are they?
To find the best pre workout supplements for beginners, we focused on a few things:
Preference was given to products that included clinical dosages of the most well-researched ingredients: caffeine, citrulline, and beta alanine.
Products with exotic stimulants like DMAA or DMHA were excluded.
More use cases were included, like folks that want a pre workout without beta alanine tingling, prefer low caffeine dosages, or require a vegan option.
Products using proprietary blends are generally excluded. Proprietary blends hide how much of each ingredient is present in a product, which you need to know when choosing a pre workout supplement.
Every pre workout below was a chosen for a specific reason, which we'll detail below.
Best Pre Workout for Beginners in 2021
4 Gauge Pre Workout (4 Gauge)
Pre-Kaged Pre Workout (Kaged Muscle)
BULK Pre Workout (Transparent Labs)
Superhuman Pre Workout (Alpha Lion)
Superhuman Pump Pre Workout (Alpha Lion)
Wrecked Pre Workout (Huge Supplements)
Amino Energy Pre Workout (Optimum Nutrition)
4 Gauge Pre Workout
Beginner Friendly, No Beta Alanine

4 Gauge Pre Workout
With a full clinical dosage of L-Citrulline Di-Malate, plus caffeine, creatine, coconut water powder, and rhodiola rosea, 4 Gauge is a solid pick for beginners.
No beta alanine = no tingling.
Check Latest Price
Lift Vault earns a commission if you click this link and make a purchase at no extra cost to you.
Key ingredients:
Caffeine (150 mg)
L-Citrulline DL-Malate (6 g)
Creatine Monohydrate (1 g)
Acetyl L-Carnitine (500 mg)
4 Gauge pre workout is a great pre workout choice for beginners because it provides such a pleasant experience for first time users. It hits that sweet spot between delivering great results without going overboard or giving negative side effects.
The combination of 150 mg caffeine anhydrous and 200 mg L-Theanine will help keep you sharp and focused throughout your workout without any jitters or crash.
The clinical 6 gram dosage of L-Citrulline DL-Malate will help promote nitric oxide production and blood flow.
The low creatine dosage combines with coconut water powder to help promote hydration throughout your training session.
For a safe bet for beginners, 4 Gauge is a great choice.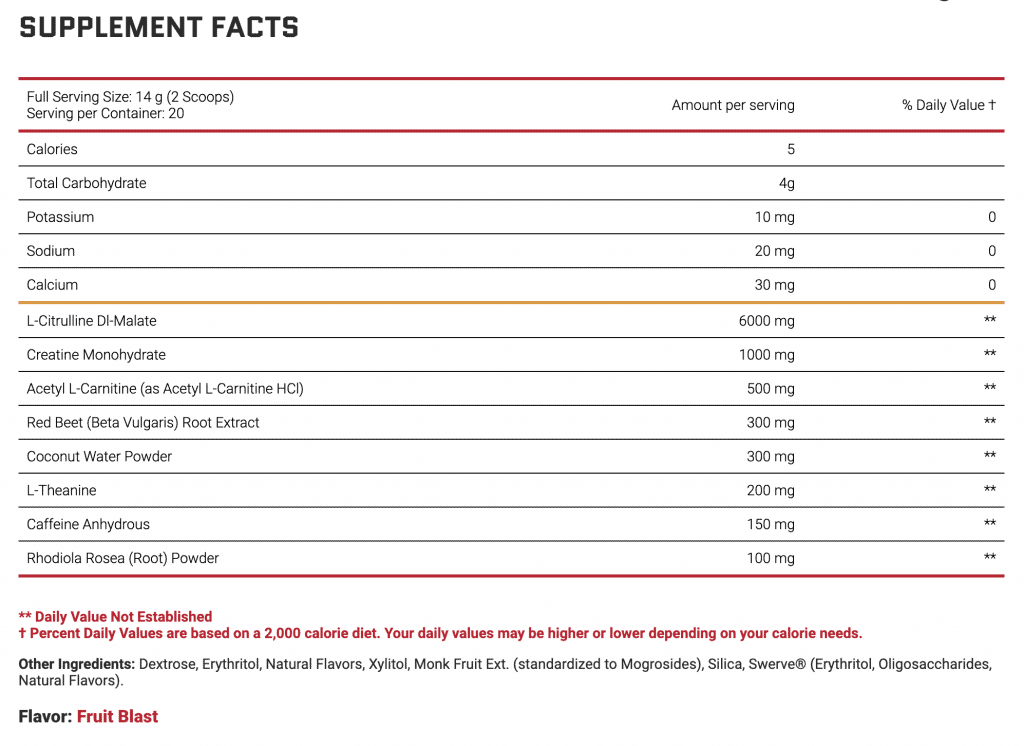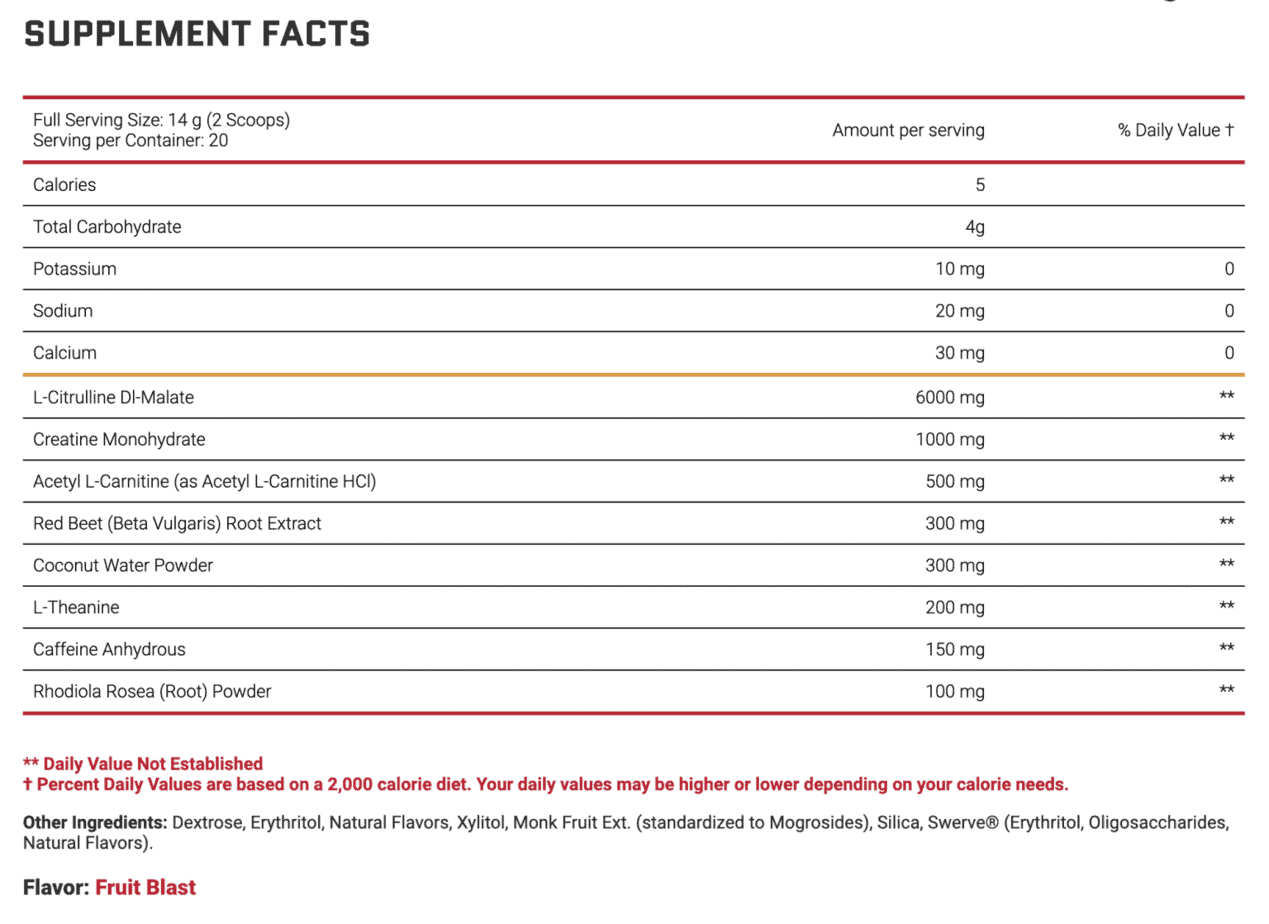 Kaged Muscle – Pre-Kaged Pre Workout
Best Medium Caffeine + Nutrition Support

Pre-Kaged Pre Workout - Kaged Muscle
With nearly 275 mg of organic caffeine, an enormous 6.5 g dose of L-Citrulline, BCAAs, creatine HCL, and a hydration matrix, Pre-Kaged has you covered from every angle.
Recommended Flavor: Cherry Bomb
Shop Kaged Muscle
Lift Vault earns a commission if you click this link and make a purchase at no extra cost to you.
Key ingredients:
Caffeine Anhydrous (274 mg)
L-Citrulline (6.5 g)
Beta Alanine (1.6g)
Similar to Bulk, Pre-Kaged pre workout is a solid choice for those looking for additional nutritional supplementation. They difference is the additional caffeine vs. Bulk, with Pre-Kaged clocking in with a decent 275 mg dose of caffeine per serving. This is a very solid dosage that will surely get you motivated to hit the gym and help you grind through long workouts.
Some of the more interesting additions made by Pre-Kaged are creatine HCL, BCAAs, and a ton of hydration ingredients to help with creatine absorption and, you know, not being dehydrated.
Kaged Muscle is another company that is very thoughtful in how they engineer their products and Pre-Kaged is no different. I have used this product extensively in the past and had some amazing workouts with it.
If you're looking for pumps and vascularity, the 6.5 grams of L-Citrulline is an absolutely massive dosage.
Transparent Labs – BULK Pre Workout
Best Low Caffeine + Nutrition Support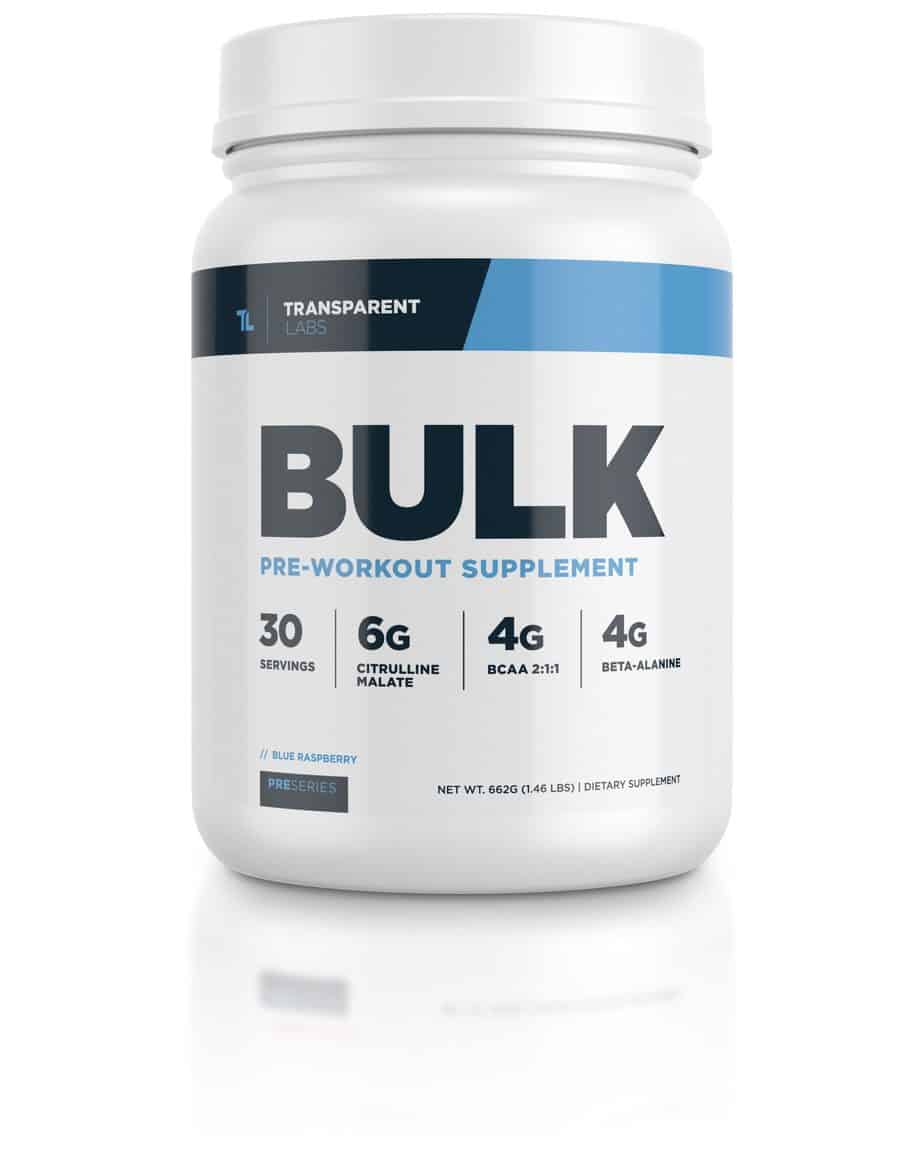 BULK Pre Workout - Transparent Labs
With just over 200 mg of caffeine, BCAAs, Vitamin D3, and Zinc, BULK is a great choice if you're looking for a normal amount of caffeine + extra nutritional support.
Shop Transparent Labs
Lift Vault earns a commission if you click this link and make a purchase at no extra cost to you.
Key ingredients:
Caffeine Anhydrous (180 mg)
Di-Caffeine Malate (30 mg, yield = 22.5 mg)
Citrulline Malate 2:1 (6 g)
Beta Alanine (4 g)
Transparent Labs are known for creating products with clean, transparent labels and ingredients backed up with research. Bulk Pre Workout is no different.
Bulk's ingredient profile casts of a bit of a wide net, using traditional pre workout ingredients like caffeine and citrulline malate with muscle building supplements like BCAAs, Vitamin D3, and Zinc. BCAAs are primarily useful if you're cutting or simply not getting enough protein from elsewhere in your diet, while Vitamin D3 and Zinc help ensure a healthy ecosystem for testosterone production.
Bulk was recently reformulated in November 2020 to include a variety of improvements, many related to enhancing mental focus, so you'll have no issues getting "in the zone" during your workouts with Bulk.
Bulk is a solid pre workout from a reputable company that is clearly invested in improving the quality of their products. This is a great choice for someone's first pre workout if they're looking for a wider array of ingredients that support general health in addition to increasing energy levels and focus.
Alpha Lion – Superhuman Pre Workout
Best High Caffeine Pre Workout for Beginners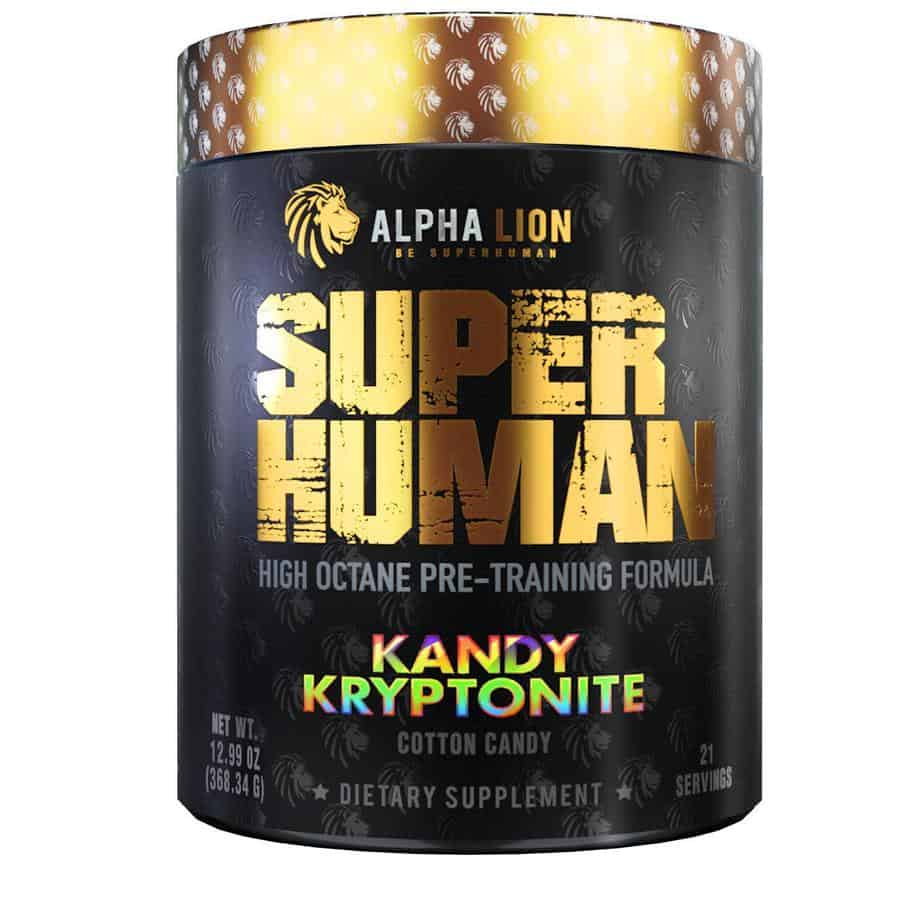 Superhuman Pre Workout – Alpha Lion
With 375 mg of caffiene from two sources, Superhuman isn't a pre workout for true beginners. Instead, it is better suited for people looking to kick it up a notch from energy drinks or coffee.
Discount codes:
LIFTVAULT15 = 15% off at Supp Kingz
Shop Supp Kingz
Lift Vault earns a commission if you click this link and make a purchase at no extra cost to you.
Key ingredients:
Caffeine Anhydrous (300 mg)
Di-Caffeine Malate (100 mg, yield = 75 mg)
L-Citrulline Malate (7 g)
Beta Alanine (3.2 g)
If you have an existing caffeine tolerance, perhaps related to lots of coffee or energy drink consumption, then Superhuman Pre Workout might be the step up you're looking for.
With 300 mg of caffeine anhydrous and 100 mg of di-caffeine malate (yielding 75 mg of caffeine), Superhuman pre workout includes an impressive 375 mg caffeine dosage per serving. The di-caffeine malate is an "extended release" version of caffeine, helping prolong workouts and offset some of the negative "crash" effects that can come from taking high doses of caffeine anhydrous.
It's worth noting that Superhuman does have 75 mg of NMT, which is technically a banned substance according to the World Anti Doping Agency (WADA). So if you compete in tested competition be aware of this. However, by most people's standards this is not a really serious stimulant and is at a very reasonable dosage in Superhuman.
Remember – Superhuman is only recommended as a first time pre workout for people that already have an existing caffeine tolerance. If that is not the case, then you'd be better off with THE Pre Workout from MyProtein, BULK Pre Workout from Transparent Labs, or Pre-Kaged from Kaged Muscle.
Alpha Lion – Superhuman Pump
Best Non-Stim Pump Pre Workout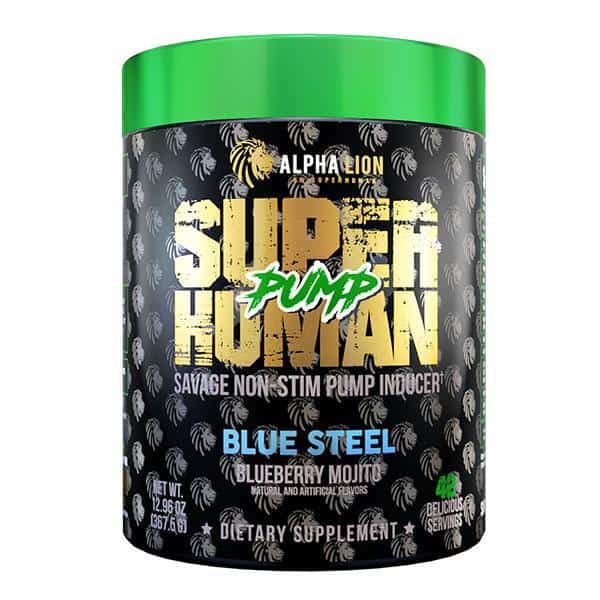 Superhuman Pump - Alpha Lion
Whether you're taking a stim break or just want absolutely insane pumps, Superhuman Pump delivers.
8 grams of Citrulline Malate, 3 grams HydroPrime Glycerol, 150 mg of S7, Alpha GPC + Lion's Mane for focus.
Discount codes:
LIFTVAULT = 15% off at Nutrition Cartel
LIFTVAULT15 = 15% off at Supp Kingz
Shop Nutrition Cartel
Shop Supp Kingz
Lift Vault earns a commission if you click this link and make a purchase at no extra cost to you.
Key ingredients:
Citrulline Malate (8 g)
Beta Alanine (3.5 g)
HydroPrime (Glyercol Powder, 3 g)
Pink Himalayan Sea Salt (350 mg)
S7 (150 mg)
Lion's Mane (600 mg)
Alpha GPC (150 mg yield)
Huperzine A 1% (300 mcg)
SuperHuman Pump is one of the best caffeine free, non-stimulant pre workout supplements around right now. If you're familiar with Komodo Pump, then you'll definitely want to check out SuperHuman Pump, which is the new version of Alpha Lion's stim free pre workout offering.
SuperHuman Pump excels in a few important categories: blood flow enhancement, water retention, and mental focus. Citrulline Malate, glycerol powder, and S7 will help with nitric oxide production + blood flow, while the pink Himalayan sea salt will boost water retention, and the Lion's Mane, Alpha GPC, and Huperzine A will improve focus.
And again, there are no stimulants or caffeine in this pre workout, which makes it great for those who are sensitive to these ingredients or work out late at night.
This is also a good choice for people looking to cycle off of stims or reduce their caffeine intake, but these are not common issues for beginners.
As far as non stimulant pre workout supplements go, Superhuman Pump is pretty much the total package. If a stimulant was added to this, it'd be indistinguishable from other heavy hitter pre workouts.
As always, Alpha Lion includes super high quality ingredients, so you can be sure you're getting your money's worth.
If you'd like to explore more caffeine-free options, check out our list of the best caffeine free pre workout supplements.
Huge Supplements – Wrecked Pre Workout
Best First High Stim Pre Workout

Wrecked Pre Workout - Huge Supplements
For those looking to get a taste of what "high stim" pre workouts are like, then Wrecked serves as a reasonable introduction.
Not really for beginners - for the curious.
Shop Huge Supplements
Lift Vault earns a commission if you click this link and make a purchase at no extra cost to you.
Key ingredients:
Caffeine – 250 mg
Di-Caffeine Malate – 100 mg (yield = 75 mg)
Citrulline Malate 1:1 – 9 g
Beta Alanine – 3.2 g
Let me be clear: Wrecked isn't exactly a beginner pre workout. I'm including it on this list because it's a good introduction to harder, more intense pre workouts. It has a lot more stimulants in than the other pre workouts on this list, but the dosages are reasonable and I haven't experienced negative side effects from using it.
Even though it has Alpha Yohimbine, the 1 mg dosage is small and I couldn't really feel its effects when taking it, so I wouldn't list that as a concern.
So if the other pre workouts on this list look too tame, give Wrecked a try. It'll provide a taste of the "stim junkie" pre workout experience without diving in head first.
Optimum Nutrition – Amino Energy
Best Low Caffeine + No Beta Alanine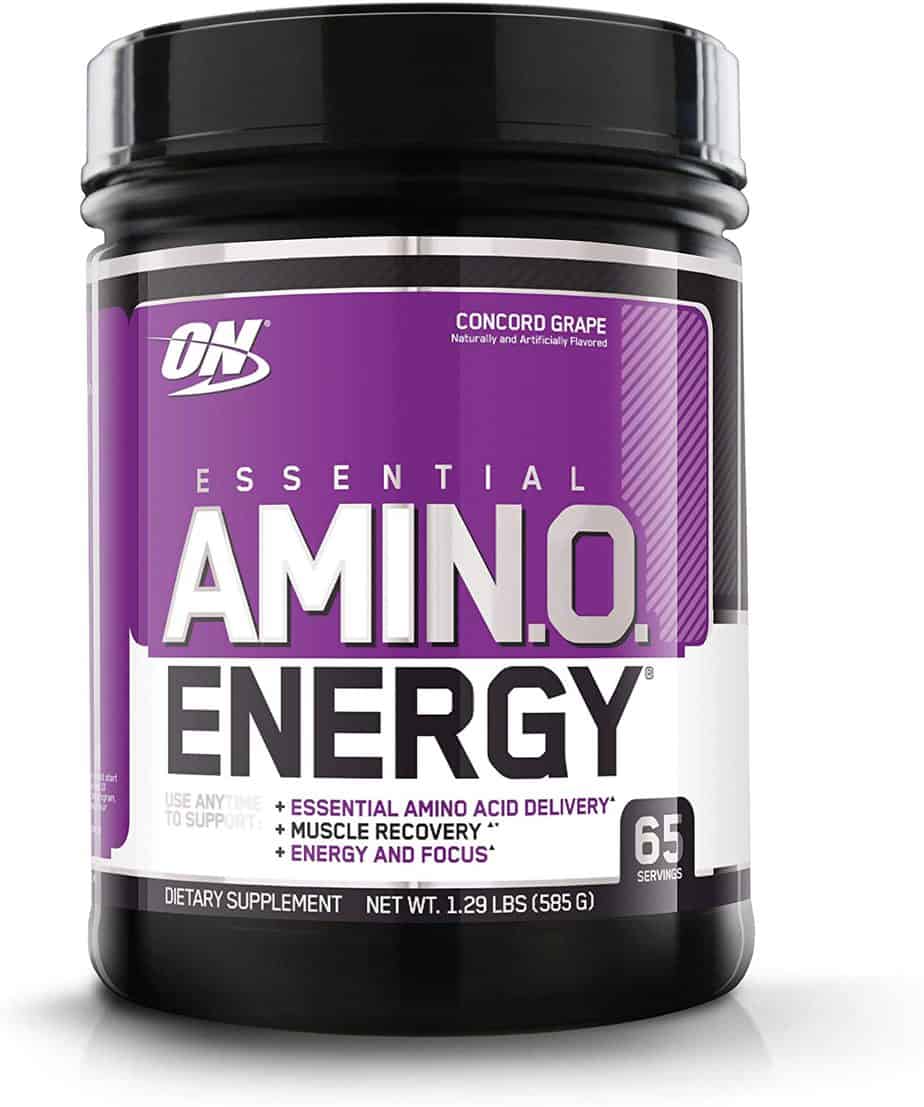 Amino Energy - Optimum Nutrition
If you're a beginner that doesn't like beta alanine tingling, then Amino Energy is a solid choice. With 100 mg of caffeine from green tea and a 5 g amino acid blend, it's a cheap energy boost that won't make you uncomfortable.
LIFTVAULT15 = 15% off at Muscle Players
Shop Muscle Players
Shop Nutrition Faktory
Lift Vault earns a commission if you click this link and make a purchase at no extra cost to you.
Key ingredients:
Caffeine Anhydrous – 100 mg
No beta alanine
No citrulline malate
Optimum Nutrition Amino Energy is a true beginners pre workout supplement, featuring a low dosage of caffeine (100 mg) and no beta alanine tingling. It contains 5 grams of amino acids per serving, but uses a proprietary blend for these ingredients and does not disclose how much of each amino acid type is included. As a result, I doubt that the recommendend 2:1:1 ratio is followed for BCAAs.
Despite this, this pre workout remains very popular for its price point (it's pretty cheap) and lack of beta alanine, which some people avoid.
Ghost – Legend Pre Workout
Best Tasting Pre Workout

GHOST Legend Pre Workout
Simply the best tasting pre workout supplement for beginners.
Shop Amazon
Lift Vault earns a commission if you click this link and make a purchase at no extra cost to you.
09/23/2021 04:45 am GMT
Key ingredients:
L-Citrulline – 4 g
Beta-Alanine – 2 g
Caffeine – 202 mg
Alpha Yohimbine – 1 mg
If you are a stickler for great flavor, then Ghost's Legend pre workout is the right choice for you. Partnering with the likes of Sour Patch Kids, Sonic, Welch's, and Swedish Fish, there is a delicious flavor for every palette.
Personally, the Sonic cherry limeade flavor was my favorite. It frankly was best tasting pre workout I've tried.
Effects-wise, Ghost is definitely designed with the beginner in mind. They're clearly positioning themselves to be their customers' first or second pre workout supplement by leveraging familiar brand names.
The ingredient profile aligns with this goal by delivering a very manageable 202 mg of caffeine and a mild 1 mg of alpha yohimbine (though to be honest I'm surprised to see alpha yohimbine/rauwolfia included at all).
There's more than enough here for the beginner to get a boost of energy and focus to complete their workout without overwhelming them with any negative side effects.
Personally, I'd like to see Ghost release a stronger version of this pre workout, but for now it's a great introductory choice.
Benefits of Pre Workout
Below are a few of the most commonly cited benefits of taking a pre workout supplement.
Energy
The most noticeable benefit of taking a pre workout supplement is an increase in energy. This energy boost is mostly the result of the caffeine content. Getting a boost of an energy can be helpful for days you may be on the verge of not going to the gym, early morning workouts, or exercising after a long day at work.
Mood
Another benefit of pre workout can be mood boosting effects. This effect is one of the most variable amongst different supplements and can be the most difficult to predict. As a result, reading pre workout reviews can help understand how a given pre workout impacts mood.
Some supplements have effects described as euphoric, like Dark Energy Pre Workout or Pre Phase Pre Workout. Others, like Assassin, evoke feelings of anger and aggression. This is part of the appeal for many regular pre workout users.
Focus & Motivation
Lastly, focus and motivation can be enhanced with pre workout supplementation. This can create an urgent need to get work done, attack the weights, and improve the mind/muscle connection. I personally find that when I am focused I am able to have more effective workout sessions, usually adding in a few extra accessory exercises because I simply want to keep exercising.
This is another effect that varies significantly between products.
Additional Nutrition Supplementation
Certain ingredients, like beta alanine, amino acids, zinc, or creatine, are only effective when taken daily. Pre workouts with a wide array of nutrients, like Pre-Kaged or Bulk Pre Workout, help achieve these daily intake goals. This can make it easier keep your body performing at its best.
Key Ingredients in Pre Workout
Below are a few of the most essential ingredients to look out for when choosing a pre workout supplement.
Caffeine Anhydrous
Caffeine anhydrous is the standard form of caffeine found in coffee, energy drinks, and soda. It helps boost energy, elevate mood, and improve focus. A negative side effect of excessive caffeine intake can be a "crash" effect that occurs several hours after consumption, where fatigue can set in.
You'll typically see caffeine dosed between 100 mg and 200 mg in beginner pre workouts and anywhere from 250 mg to 400 mg in more advanced pre workout formulations.
You individual caffeine tolerance should help you decide what you want to take here.
L-Citrulline & Citrulline Malate
Citrulline malate is one of the best researched supplements in sports. It is reliably shown to increase power output, reduce muscle fatigue, and increase nitric oxide production in the body.
Both Citrulline Malate and L-Citrulline are useful ingredients to include in a pre workout. Citrulline Malate is a combination of L-Citrulline and Malic Acid, usually in a 2:1 ratio.
For example, 6 grams of Citrulline Malate (the recommended clinical dosage) is equivalent to 4 grams of pure L-Citrulline.
There is not yet enough available research to understand differences in the effect profile between citrulline malate and L-Citrulline.
When deciding what you want to take, either is fine. Just be mindful of the dosage difference noted above.
Beta Alanine
Beta Alanine is the ingredient in pre workout that can give you a "tingling" sensation on your skin. This is completely normal and not harmful in any way. Daily consumption of beta alanine has been shown to increase strength and reduce muscular fatigue.
A clinical dosage of beta alanine will range from 3 to 4 grams.
Other Common Ingredients in Pre Workout
Here are some additional ingredients that are frequently seen in pre workouts. They are not essential ingredients, but can provide some interesting benefits.
Creatine
Creatine may just be the most well-researched supplement when it comes to increasing power output and lean mass. As it requires daily supplementation to be effective, it generally isn't included in pre workout supplements, but some "all in one" pre workouts like Pre-Kaged will include it.
The two most common forms of creatine monohydrate and creatine HCL. Both are equally effective when it come to increasing powerput, but creatine HCL requires a smaller dosage to be effective.
If you're looking for a pre workout with creatine, look for one with 5 grams of creatine monohydrate or 1.5 grams of creatine HCL.
Dicaffeine Malate
Dicaffeine malate is the extended release version of caffeine. It can help extend the amount of time where a pre workout is effective and smooth out the crash effects of caffeine anhydrous.
Dicaffeine malate is 75% caffeine, 25% malic acid, so it is important to remember to multiply the amount listed on an ingredient label by 75% to understand the effective caffeine dosage.
Branched Chain Amino Acids (BCAA)
BCAAs are three essential amino acids, leucine, isoleucine, and valine, that promote muscle growth. The available research shows a small increase in aerobic exercise capacity and modest decrease in fatigue after BCAA supplementation.
It is recommended that BCAAs be taken in a ratio of 2:1:1, meaning two parts leucine for each part of isoleucine and valine. Just about every BCAA supplement is included at this ratio, but it's a good thing to double check prior to purchasing.
In most healthy diets, daily BCAA goals are met and additional supplementation is not needed. 1 to 1.5 gram of BCAAsper kg of bodyweight is recommended each day.
L-Tyrosine
L-Tyrosine is often included in pre workouts as a focus and mood enhancing ingredient. There is a decent amount of research suggesting that 500 mg to 2,000 mg of L-Tyrosine can increase attention, reduce stress, and improve "subjective well being."
Huperzine A
Huperzine A is a cholinergic molecule that acts as a cognitive enhancer by inhibiting an enyzme that decreases the neurotransmitter acetylcholine. By increasing the relative amount of acetylcholine, huperzine A can improve focus and the mind/muscle connection.
Common huperzine A dosages range from 50 mg to 200 mg.
Alpha GPC
Alpha GPC is a cholinergic compound with some preliminary research suggesting it may improve power output and reduce cognitive decline. Additional studies are needed to help understand these effects more completely, but anecdotal evidence touting Alpha GPC as a focus-enhancing nootropic continues to be collected.
Alpha GPC is almost always included in a 1:1 ratio with silicon dioxide in order to prevent excessive clumping. As a result, the effective amount of Alpha GPC is usually 50% of the amount listed on the ingredient label.
Alpha GPC is usually included at a 600 mg dosage, yielding 300 mg of Alpha GPC.
Ingredients to Avoid in Beginner Pre Workout Supplements
The world of pre workout supplements often touts the notion of "more is better" and "more extreme = more effective," but this isn't necessarily the case. In a lot of ways, you want the minimum amount of extra supplementation needed to power your workouts. This helps reduce caffeine tolerance and other stimulant burn out that can occur from frequent usage of high stim supplements.
To put it in simpler terms, there's no need to take two scoops if one scoop gets the job done. The following ingredients should be reserved for those who know what they're getting themselves into.
DMAA
DMAA is a powerful stimulant that increases concentrations of the neurotransmitters dopamine and epinephrine. This helps provide significant boosts of energy focus, and euphoria. Naturally, this earned it a lot of attention from athletes and supplement companies.
Like most stimulants, frequent usage of DMAA can cause increased tolerance and crash side effects like negative mood and fatigue. Still, the mystique of this amphetamine derivative and its dicey legal history draw many toward DMAA pre workouts.
DMHA
When manfuacturers of nutritional supplements that included DMAA started getting cease and desist letters from the FDA, many of those companies started using DMHA instead. As the name suggests, it is chemically similar to DMAA but is slightly less potent by weight, requiring larger doses for similar effects.
DMHA is a bit easier to find in pre workouts than DMAA, but comes with many of the same general health concerns: increased tolerance, negative impact on mood, and increased blood pressure at high dosages.
High Caffeine Doses
When I started out with pre workout supplements, my mind immediately jumped to the conclusion that more caffeine was better. This is not necessarily the case, especially if you're already sensitive to caffeine.
There's no need to unnecessarily jack up your caffeine tolerance by taking 300 mg or 400 mg doses of caffeine if a 150 mg dosage of caffiene works for you. Chronic usage of caffeine has been associated with higher levels of anxiety, trouble sleeping, high blood pressure, and digestive issues.
It's a good idea idea to use the smallest caffeine dosages that still give you the desired effects. Start low and work your way up to find out what level works for you!
Alpha Yohimbine
Alpha Yohimbine, also known as Rauwolscine, is a polarizing stimulant found in some energy supplements. As a central nervous stimulant, some users report feelings of chills and anxiety, while other users don't feel these side effects to a significant degree.
1 mg of Alpha Yohimbine is generally well tolerated, while doses of 2 mg or greater are more likely to cause the aforementioned negative side effects.
Personally speaking I am fine with 1 mg to 2 mg doses, but have noticed some discomfort at the 3 mg level.
If you are unsure how you respond to Alpha Yohimbine, it would be wise to stick to doses of 1 mg or less to assess your reaction.
Pre Workout Supplements that Did Not Make the Cut
Below are some pre workout supplements that were tested, but weren't as good as the ones listed above.
Optimum Nutrition – Gold Standard Pre Workout
Cellucor – C4
Vintage Blast
Performance Labs Sports
Beyond Raw Lit
Evlution Nutrition ENGN
BSN N.O. Xplode
Bodybuilding Signature Pre Workout Powder
MusclePharm Assault
More Pre Workout Reviews
Check out more pre workout reviews below!