Pre workout brings a lot of sensations to mind: energy, focus, happiness, and for some, itchiness.
This itchiness or tingling sensation on the skin is called paraesthesia. It is caused by a pre workout ingredient called beta alanine. And although this tingling sensation is perfectly harmless and usually only lasts about 15 to 20 minutes, it can still be undesirable for some people.
Unfortunately, beta alanine is also an effective pre workout ingredient for enhancing muscular endurance. This makes it extremely common in pre workout supplements. This can be frustrating if you're trying to avoid the beta alanine tingles.
Fret not!
Below you'll find the best pre workout supplements without beta alanine. That's right: totally beta alanine free. No itchiness, no tingling sensation.
Best Pre Workout without Beta Alanine
For whatever reason, most of the lists floating around the internet for the best pre workouts without beta alanine feature otherwise weak pre workout supplements.
This list isn't like that.
All of the pre workouts on this list are otherwise solid supplements – they just don't contain beta alanine. We also include a nootropic and a fat burner in case those fit your needs a bit better.
As a result, this list will look quite different than some of the others you find.
Best Overall Pre Workout without Beta Alanine: Loco Pre Workout – Myoblox
Loco is highlighted on our best pre workout list as the best pre workout without beta alanine, so naturally it will be mentioned first.
Why do I like Loco?
It has a simple, effective ingredient profile.
400 mg of caffeine for energy? Check.
1 gram of L-Tyrosine for focus? Check.
6 grams of Citrulline Malate for pumps and power? Check.
The rest of the label I don't really sweat. I don't love that there's a proprietary ingredient blend for this product, but the smooth energy it delivers doesn't like: it's nice.
If you're looking for a strong kick of energy and focus without the beta alanine tingles, give Loco a try (especially the Cherry Cola flavor).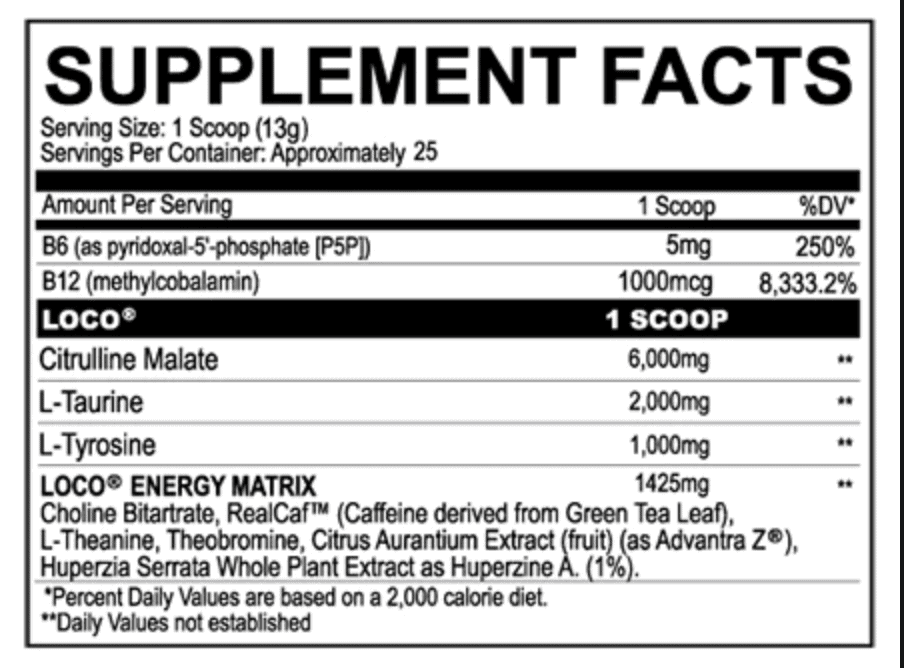 Best Beginner Pre Workout without Beta Alanine: 4 Gauge Pre Workout
4 Gauge Pre Workout is a solid choice for beginners looking for a manageable, but effective pre workout supplement without any beta alanine.
With 6 grams of L-Citrulline DL-Malate, you're getting a clinical dosage of a proven nitric oxide booster and power enhancer.
Total caffeine content per serving is just 150 mg, so you'll get a decent kick as long you don't have a substantial caffeine tolerance. If you do have a caffeine tolerance, this might be a bit too tame for you.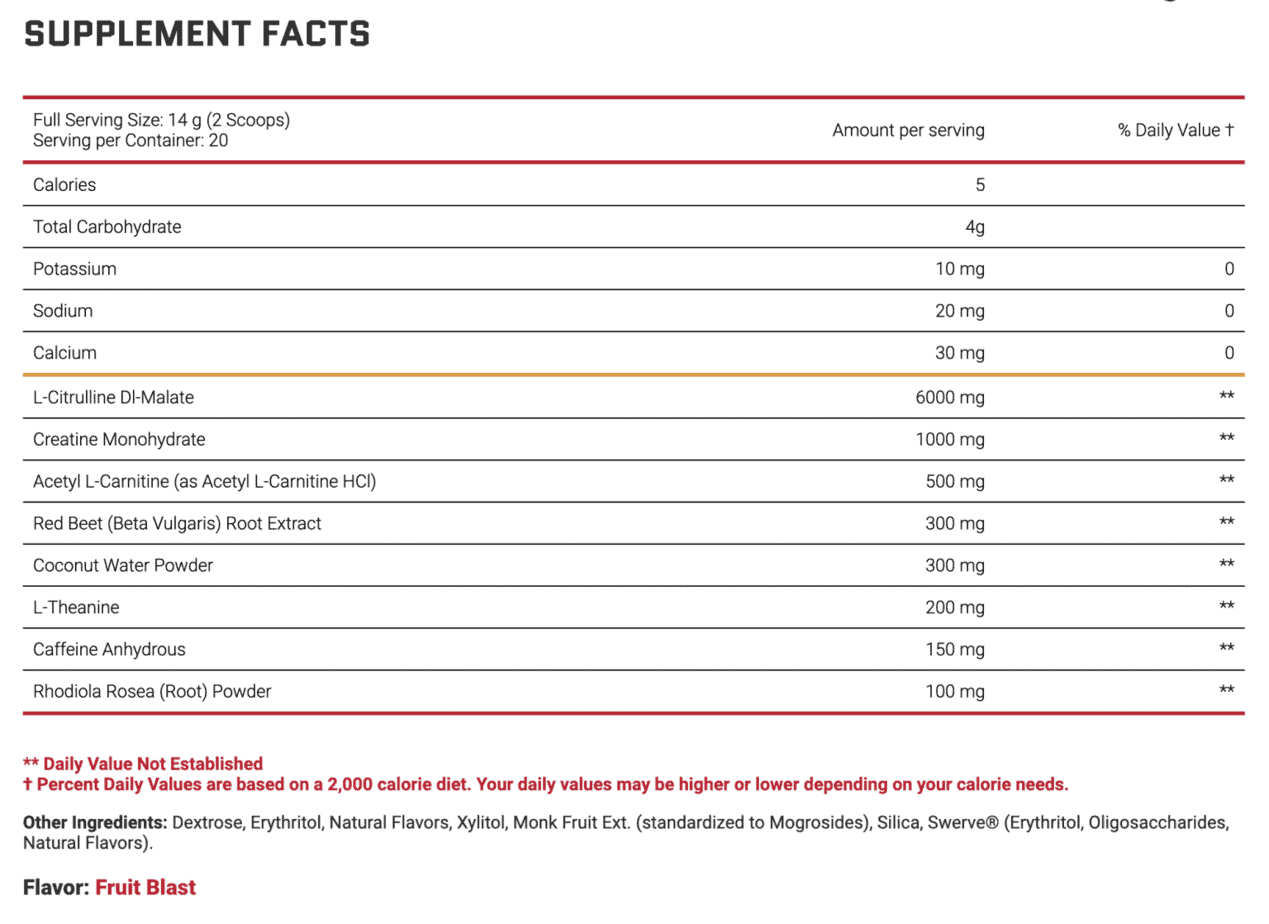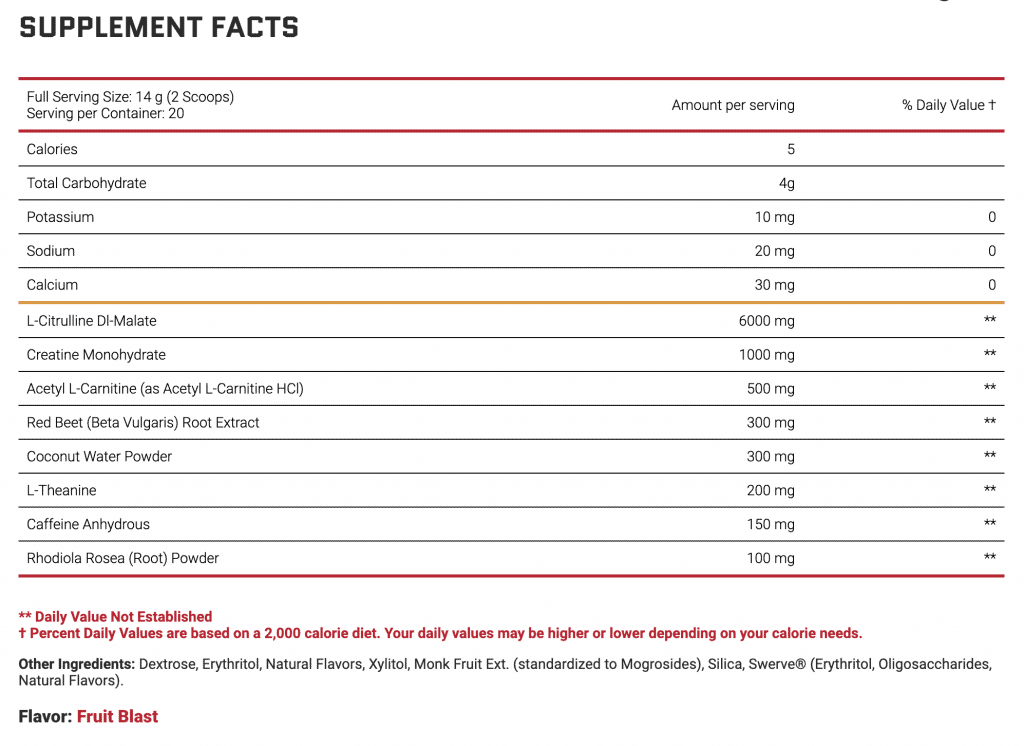 Best High Stim Pre Workout without Beta Alanine: Brain Blitz – Phase 1 Nutrition
Brain Blitz is a bit of an odd product, as it's not explicitly positioned as a pre workout supplement. Instead, it's billed as a nootropic, but then it contains pre workout ingredients like L-Citrulline Malate 2:1 and betaine anhydrous.
So really it's up to you if you'd like to use Brain Blitz as a pre workout or a study aid. It'd do fine either way.
Brain Blitz is especially nice for those who like higher stimulant products, as it contains 250 mg of caffeine anhydrous, 100 mg of di-caffeine malate (75 mg yield), 150 mg of Eria Jarensis (N-Phenethyl Dimethylamine), and 100 mg English Walnut Extract, also known as DMHA.
So you're getting a nice little stim package there, along with some focus ingredients like Alpha GPC (600 mg) and L-Tyrosine (500 mg).
I had the pleasure of trying this one out and really enjoyed it. Definitely worth checking out if you're looking for something with some exotic stimulants and no beta alanine.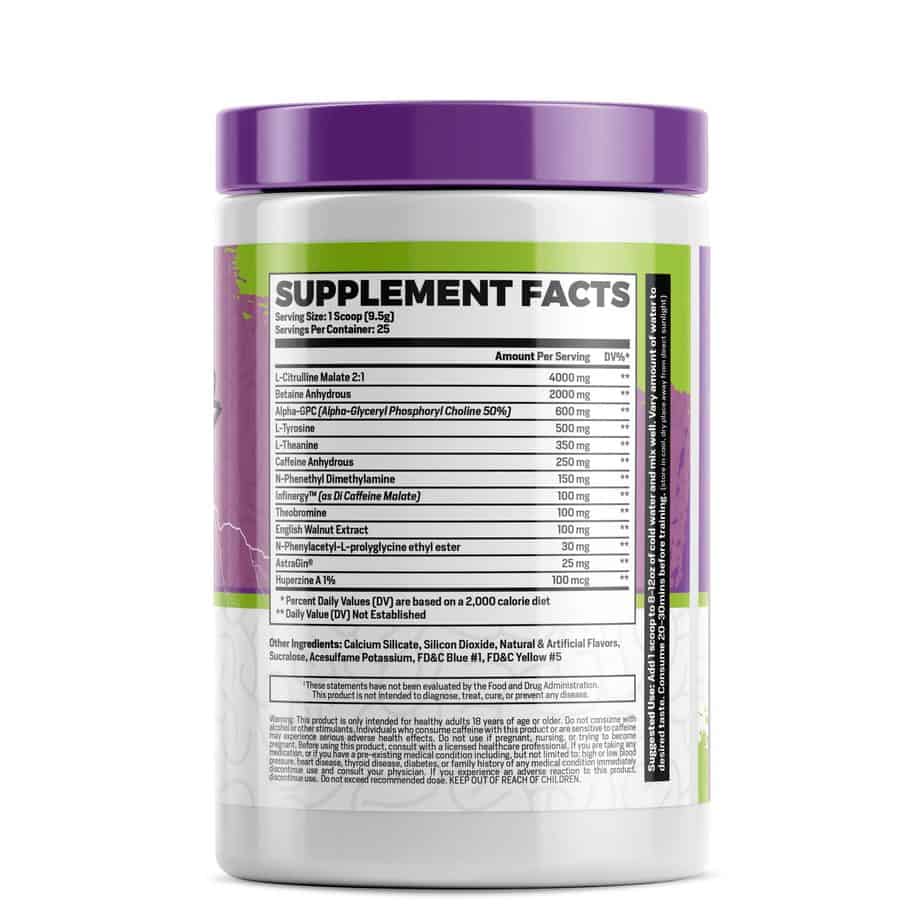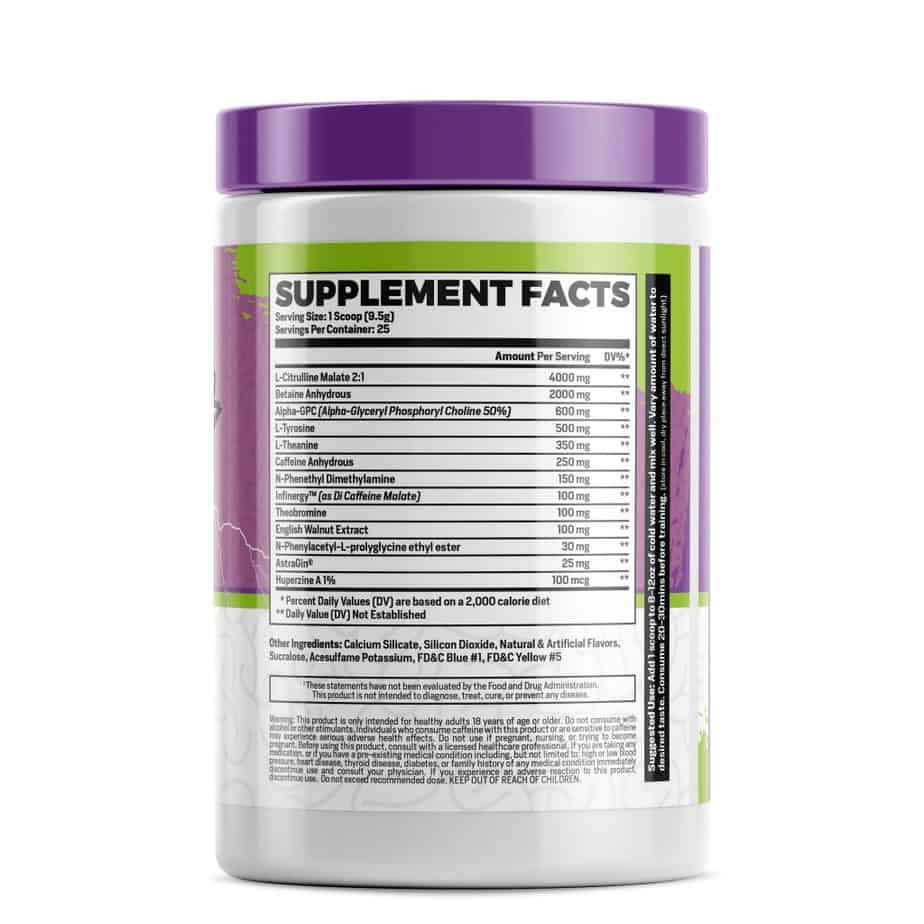 DVST8 Worldwide – Inspired Nutrition
If Loco had a bit too much caffeine for you and you're not interested in a product containing DMHA (Brain Blitz), then DVST8 Worldwide when looking for a pre workout without beta alanine.
Containing a solid 300 mg of natural caffeine sourced from green tea, DVST8 Worldwide also contains a 40 mg yield of Advantra Z (a form of synephrine, essentially) for enhanced calorie burning.
DVST8 Worldwide also contains 40 mg of Dynamine, which combines nicely with caffeine to enhance mood, focus, and energy.
Theobromine is a very mild stimulant and KannaEase is a stress reliever, rounding out this interesting ingredient profile full of high quality, patented ingredients.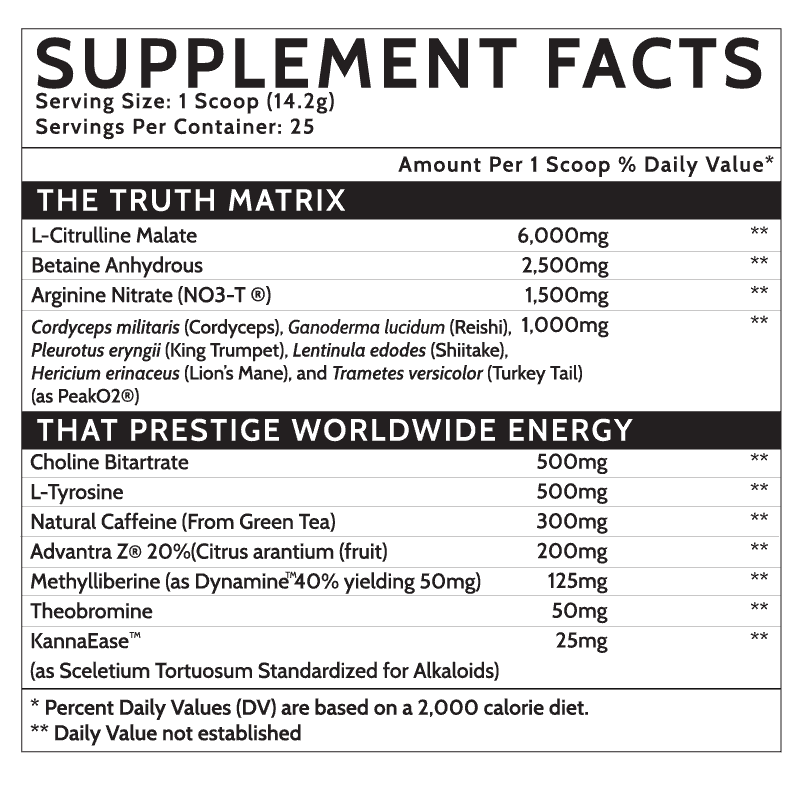 Best Beta Alanine Free Nootropic: Skywalk Nootropic – Myoblox
If you're looking for smooth hyper focus before your next workout, then Skywalk might be a good choice.
While it's not traditionally marketed as a pre workout, Skywalk does contain many of the ingredients commonly found in pre workouts that promote mental focus: L-Tyrosine, Alpha GPC, and yes, caffeine.
I am personally a big fan of this supplement and use it while I am getting work done around the house a lot. I think it could also serve as a great pre workout for those who don't care much about pumps (there are no blood flow enhancing ingredients here).
Of course, there is no beta alanine in this product. Tingle-free.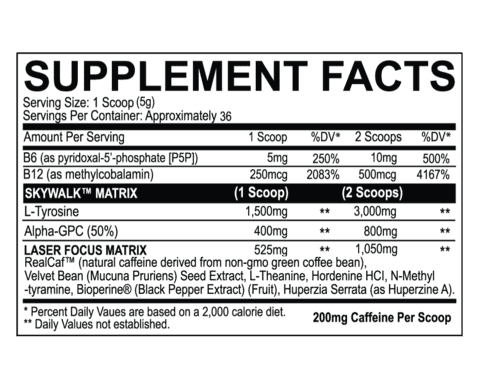 Best Beta Alanine Free Fat Burner: Chaos Fat Burner – Apollon Nutrition
I'm including this product because some folks actually like to train while taking fat burning supplements. They can provide the energy and motivation needed to have a great workout with the convenience of coming in pill form.
Plus, fat burners tend to be a better value than pricier pre workout alternatives.
Another upside to fat burners is that they almost never contain any beta alanine!
Chaos by Apollon Nutrition contains an absolutely stacked ingredient list full of research-backed fat burning ingredients.
For more information, check out our list of the strongest fat burners.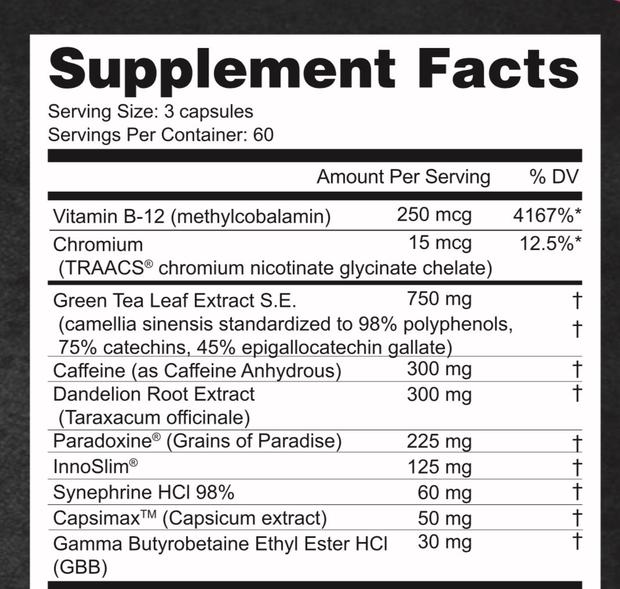 Best Stim Free Pre Workout without Beta Alanine: Hooligan Bare Knuckle – Apollon Nutrition
If you'd like an incredible stim free pre workout without beta alanine, then Hooligan Bare Knuckle is worth a look. Another excellent pre workout in this category is Sicario by ASC Supplements, which tastes much better in my opinion.
Like all Apollon products, Hooligan Bare Knuckle has a totally overloaded label. Not only is this a dream stim free pre workout formula in terms of ingredients, but they're all dosed to the max and beyond.
For pumps you've got 8 grams of L-Citrulline, 2.5 grams of betaine anhydrous, 600 mg of VASO6, and 1.5 grams of agmatine sulfate.
For stim free focus there's 2 grams of L-Tyrosine, 1 gram. of Lion's Mane, and 600 mg of L-Alpha GPC.
This is why Hooligan Bare Knuckle made our list of the best pump pre workout supplements and best pre workouts without caffeine.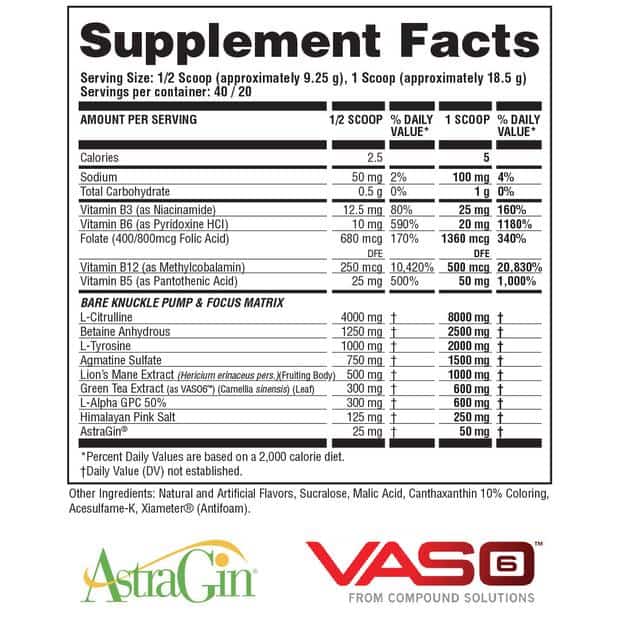 About Beta Alanine
If you have any questions about Beta Alanine, you should find the answers below. If you don't see your question answered below, shoot me a note and I'll answer it.
What is Beta Alanine?
Let's start with the basics.
Beta alanine is a non-essential amino acid. That just means that it is not used to synthesize proteins, which is the job of many amino acids, including essential amino acids.
Alright, so it doesn't synthesize proteins. What does it do?
Beta alanine combines with histidine to produce carnosine. This carnosine is then stored in the skeletal muscles.
Ugh, okay. So what is carnosine?
Carnosine is a dipeptide (i.e. two peptides) of alanine and histidine. It can buffer H+ ions in muscle cells, which helps remove lactic acid and increase ATP stores. Lactic acid is produced in muscles during intense exercise and can cause muscle soreness.
By buffering lactic acid, short term physical performance can be improved.
What are the benefits of Beta Alanine?
The primary benefits of beta alanine include:
Minor improvements in muscular endurance
Minor improvements in anaerobic running capacity
Minor reduction in fatigue
Minor increase in lean mass (i.e. building muscle)
While the benefits listed above have relatively small magnitudes, the research around these findings is very consistent.
This is noteworthy, as it is typical for the supplement industry to rally around ingredients with only one or two studies suggesting a potential set of benefits. Often these studies only apply to a certain population, like how Alpha GPC has only really been shown to reduce cognitive decline in Alzheimer's patients with dementia, not necessarily the general population.
This doesn't mean Alpha GPC can't reduce cognitive decline in the general population, we just don't know for sure yet. Nonetheless, it has quickly become a popular nootropic ingredient.
Therefore, beta alanine has become a popular sports supplement because the research around its benefits is relatively robust and consistent.
Why does Beta Alanine itch?
Beta alanine's most notable side effect is the itching or tingling sensation that can occur on the skin shortly after ingestion.
This sensation is called paresthesia. It's totally normal, harmless, and goes away within 15 to 20 minutes most of the time, but some people still find it uncomfortable and try to avoid it.
Why exactly does beta alanine cause paresthesia? Scientists are not completely sure, but they have some evidence. It seems beta alanine excites sensory neurons through G-protein-coupled receptor activation. These receptors transmit signals through your nervous system, including your skin.
Do I need Beta Alanine?
No, you can still achieve your health & fitness goals without beta alanine. It is not nearly as important as macro nutrient intake (protein, fats, and carbs), training, and recovery (sleep and rest days).
Like most sports supplements, beta alanine is an option that can provide a slight advantage on your path to achieving your goals.
More Pre Workout Reviews
Check out more pre workout reviews below!