Irate is still available from Muscle Players.
Check out other DMAA pre workout or just buy your own DMAA powder and add it to any pre workout.
Irate pre workout is a high-stimulant pre workout created by Juggernaut Nutrition. Irate is known for its inclusion of DMAA and caffeine citrate, two relatively uncommon pre workout ingredients.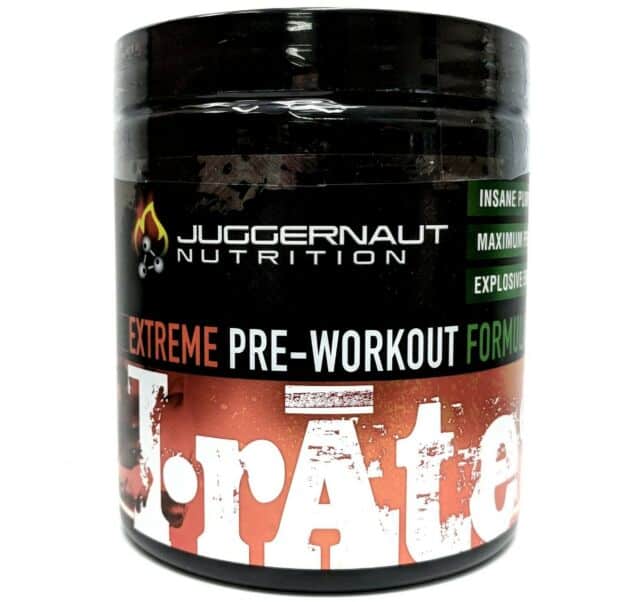 Rare DMAA Pre Workout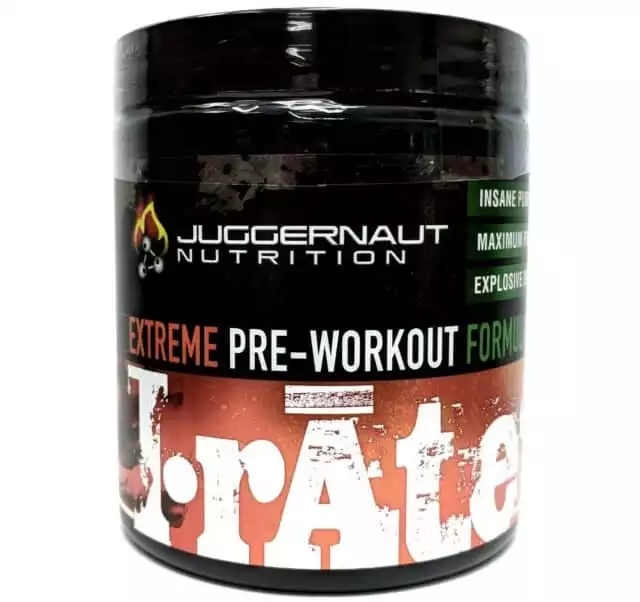 Review Summary
Irate pre workout is a good choice for individuals seeking a strong DMAA pre workout that doesn't completely overpower the user or create an unwanted post-workout crash. It absolutely delivers on energy, focus, and an overall feeling of intensity.
At 30 servings for $35 on Ebay or $40 on 2 Day Supps (LIFTVAULT10 saves 10%), Irate is a great value and I'd recommend it to anyone seeking a "special training session" pre workout.
Note: Irate is no longer being manufactured so get it while it's still available!
Experience
I took the "blue raspberry slushy" flavor and thought it tasted surprisingly good. I started to feel an increase in energy and happiness around 20-30 minutes after taking one scoop of Irate. This feeling gradually increased and peaked after around an hour.
During the course of my workout I felt significantly elevated feelings of focus, energy, and an overall intent to really push myself. These feelings lasted over the course of my entire workout, probably over two hours, so I was really happy with the longevity of this pre workout.
Irate is definitely more powerful than your average pre workout, but I didn't feel crazy, jittery, or anxious after taking it. It definitely hits a sweet spot between "strong" and "too strong." Still, I'd reserve this pre workout for big training sessions and large muscle groups like legs or back – probably once a week. I'd be concerned taking this pre workout on a daily basis due to the DMAA present in the ingredient list.
Afterward the pre workout faded away pleasantly and I didn't feel a serious crash or other negative effects. It definitely has a smooth post-workout experience.
Value + Where to Buy Irate
A tub of Irate pre workout contains 30 servings and is usually available for between $35 and $41, which is a great value for a such a strong pre workout. This is absolutely a "buy" recommendation from me.
Check it out at Muscle Players and Supp Kingz.
Ingredient Label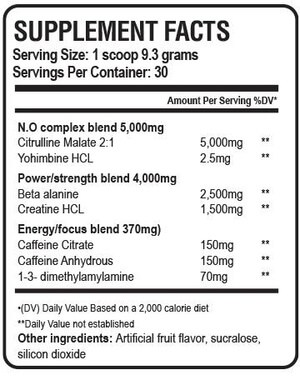 Citrulline Malate 2:1 (5 g)
Citrulline Malate is going to help you with pumps and blood flow. 5 grams is a little under a full 6 gram clinical dosage, but it's not far off and will still enhance your pumps.
Yohimbine HCL (2.5 mg)
Yohimbine HCL acts as a stimulant, increasing adrenaline levels, as well as a fat-loss aid and pump enhancer. Some individuals are quite sensitive to yohimbine and may see an increase in anxiety or get chills after taking it. 2.5 mg is a strong dose of Yohimbine HCL.
Beta Alanine (2.5 g)
Beta Alanine can help increase lactic acid buffering, aiding endurance exercises. It can also increase power output with regular usage (i.e. one single dose won't increase your power output, but daily intake could). This is the ingredient that creates the "tingles" after taking pre workout.
Creatine HCL (1.5 g)
Creatine HCL is another form of creatine monohydrate. Both are shown to increase synthesis of ATP in the body, which has been proven to help with power output after regular usage. So while it is fine to see it in a pre workout, you really need to be taking it every day to reap the well-researched rewards of this ingredient.
As creatine HCL is more bioavailable than creatine monohydrate, a 1.5 gram dose is clinical dosage.
Caffeine Citrate (150 mg)
Caffeine citrate is a faster acting version of caffeine when compared to caffeine anhydrous. As such, it also wears off more quickly. It is definitely interesting to see this ingredient included, as it is not very common in pre workouts.
Caffeine citrate provided a 50% yield when compared to caffeine anhydrous, so a 150 mg dose of caffeine citrate is equivalent to 75 mg of caffeine hydrous.
Caffeine Anhydrous (150 mg)
Good ol' fashioned, reliable caffeine anhydrous. This is the standard form of caffeine, a well-researched and reliable ingredient for boosting energy, increasing focus, and improving mood.
This brings to effective amount of caffeine in Irate to 225 mg (75 mg + 150 mg), which is a bit low compared to most "high stim" pre workouts.
DMAA (70 mg)
DMAA is a strong stimulant that has become increasingly difficult to find in pre workouts. The FDA banned DMAA from inclusion in dietary supplements back in 2013 after issuing warning letters in 2012. It is still a popular ingredient amongst lifters because it is often reported to increase energy, focus, and increase levels of dopamine in the brain (the pleasure chemical).
For more info on DMAA, check out these articles on DMAA pre workout and where to buy DMAA powder online.
Irate Pre Workout Review (Juggernaut Nutrition)
Summary
Overall Irate pre workout delivers on all key areas of a pre workout. It gives a clean burst of energy, clear-headed focus, and lack of serious negative after effects. It is available for reasonable prices and is a great value. I definitely recommend adding it to your arsenal of strong pre workouts for massive workouts. This is not an "every day" pre workout.
Pros
Massive energy
"Get work done" focus
Good longevity
Excellent value
Cons
Too strong to be taken every day
Comments Rating
( reviews)