DMAA pre workouts can be difficult to find in 2020, but some are still available if you know where to look. Here's an updated list of the strongest pre workouts you can still buy that contain DMAA. I'll also include a few recommendations for crazy strong pre workouts that are DMAA-free. Either way, these pre workouts are the real deal and ultra potent.
Let's get right to it.
DMAA Pre Workouts
Here's a quick summary of pre workouts containing DMAA and where you can buy them. Assassin and Excelsior do not contain DMAA, but I explain why I have included them below.
Use code LIFTVAULT for 5% off all Ruesco orders.
Related: Phenta 1,3 is a stim-heavy fat burner that can be stacked on top of a stimulant free pre workout like Hooligan Bare Knuckle for a great combined energy + pump effect (or taken alone if you don't care about pumps).
Dark Energy pre workout has undoubtedly been one of the most talked about pre workouts of 2019 and 2020. Take one look at its ingredient label and you'll understand why.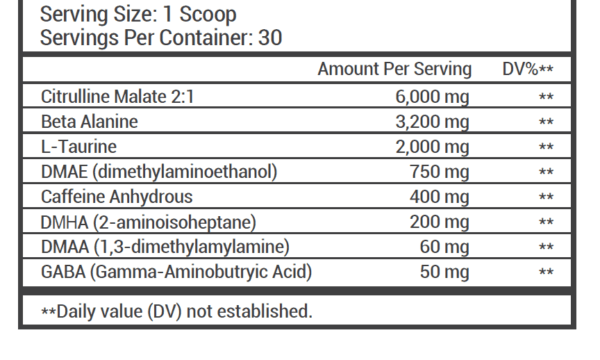 That's right: DMAA and DMHA. Dark Energy has a stim heavy label with a unique addition: GABA.  I have a theory that due to differences in how individuals react to the GABA, opinions of Dark Energy are split into two camps.
One side claims Dark Energy provides unparalleled mood elevation and a serious energy boost, making it one of the "happiest" pre workouts.  Fitness Deal News falls into this group, review below.
Did it Change!? 😮 DARK ENERGY Pre-Workout Review [NEW Flavors]
On the other side, you have some disappointment. Some individuals find that this pre workout simply "doesn't hit" for them. Others report almost calming effects. What?! How could this be?
Here are some comments from 5 Minute Supp Reviews review of Dark Energy pre workout.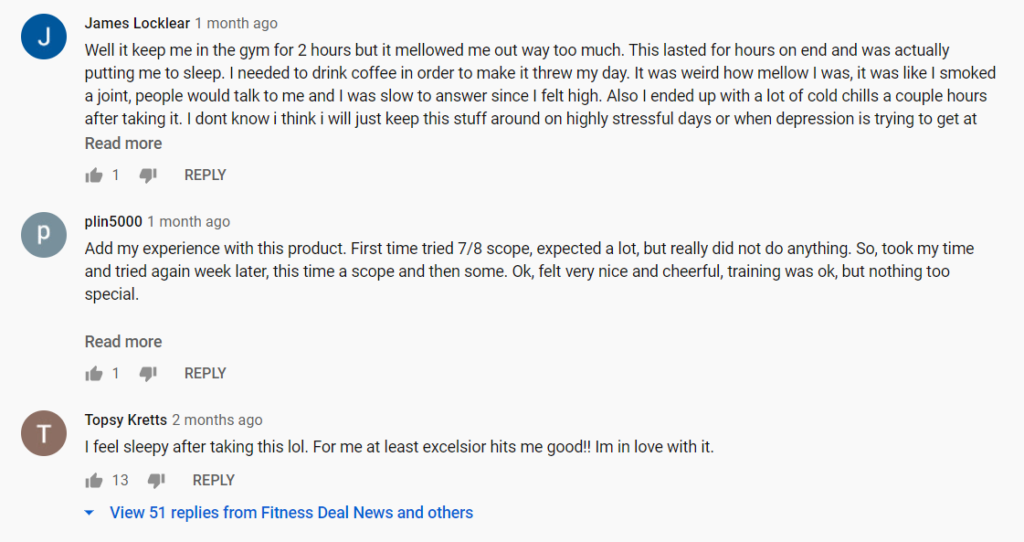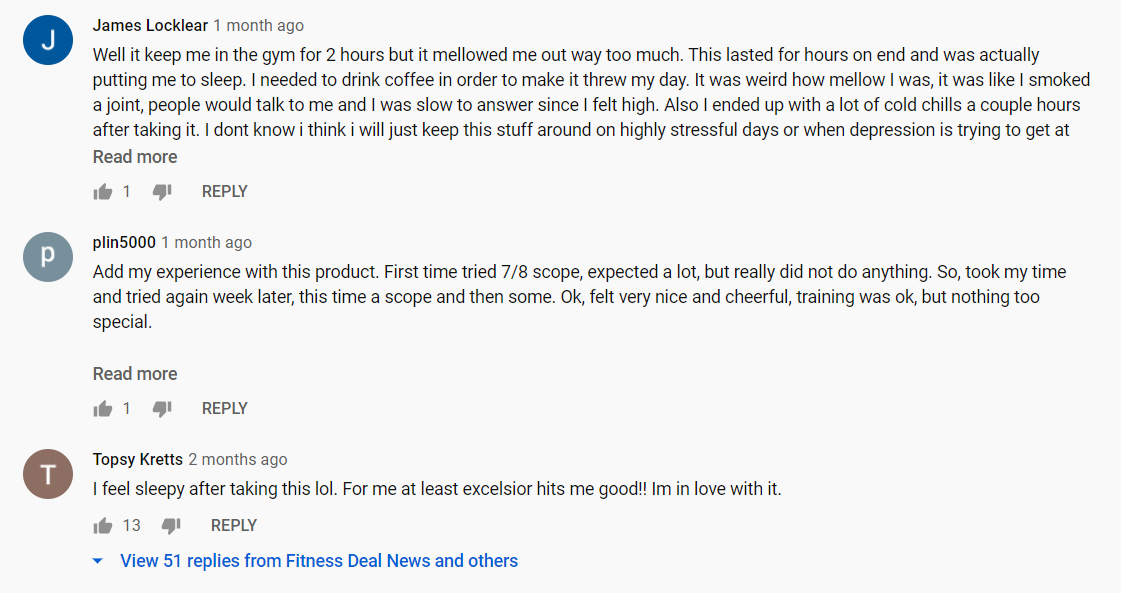 So which is it? Is this the greatest pre workout or the sleepiest?
Personally, I like to use Dark Energy as a focus booster when I'm working at home. As someone who has done a decent amount of recreational substances, this reminds me of blending an upper (amphetamines) with a downer (benzos). I had a nurse ask me why I liked blending two drugs that essentially counteracted one another. I told her that the benzos smoothed the edges of the amphetamines while still maintaining the high, mood elevation, and focus of the amphetamines. This is similar to how I feel with Dark Energy. To be clear: taking Dark Energy does not feel like taking amphetamines (although Excelsior  pre workout does, more on that later…). Taking Dark Energy makes me feel kind of calm, but also focused and energized. It's hard to describe. And I think different people react differently to the GABA (some are more sensitive than others) and that is what causes the split in opinion on Dark Energy.
Where to Buy Dark Energy
Ebay
It is also for sale for $45 + Free Shipping on eBay from a reputable vendor. This is the cheapest price I know of. They ship to most countries but the shipping is rather expensive, so I'd advise buying multiple tubs or going in a larger purchase with some friends to make it worthwhile.
Ruesco
Dark Energy is available at Ruesco.com as a "Mystery Pre Workout." (Use code LIFTVAULT at Ruesco.com to save 5%)
Supplements4U (UK)
If you're looking to buy Dark Energy in the United Kingdom, you can purchase from Supplements4U, a UK distributor.
Leatherfaze Pre Workout
Leatherfaze is another heavy hitter amongst the stimulant fans. One look at the label shows why: 45mg of DMAA, 80mg of Synepherine HCL, 500mg of N-Acetyl-L-Tyrosine, and a staggering 500mg of caffeine anhydrous combine to form a colossal wave of energy, focus, and mood enhancement.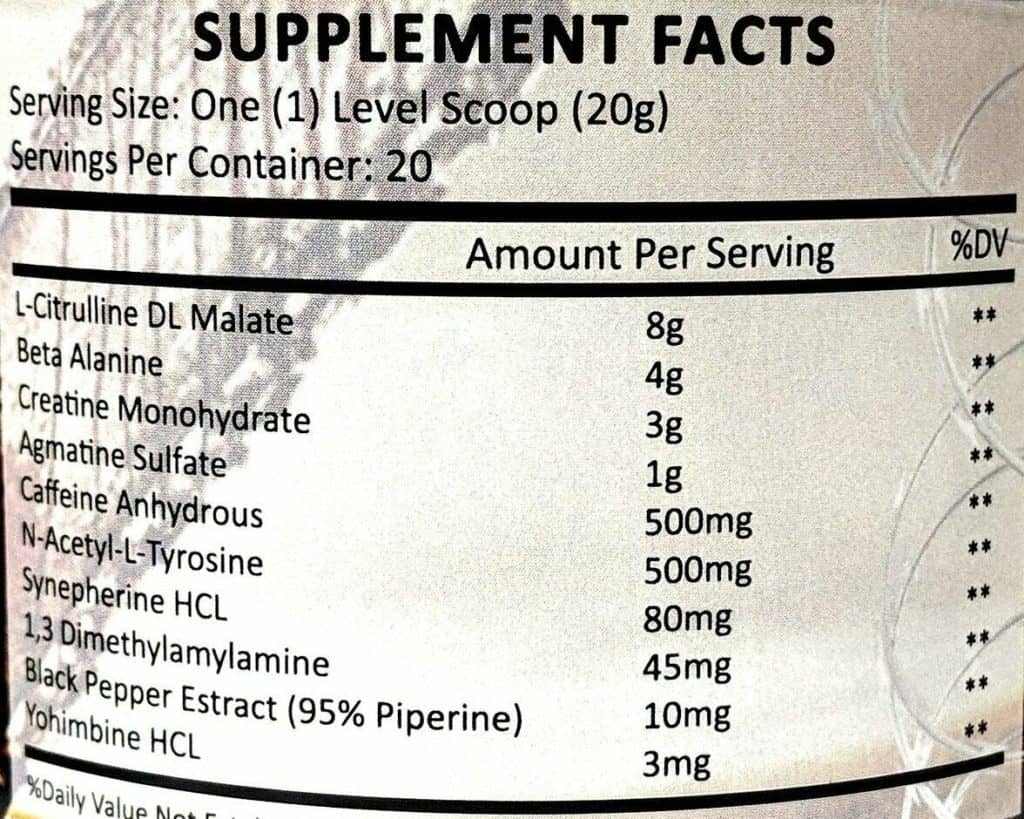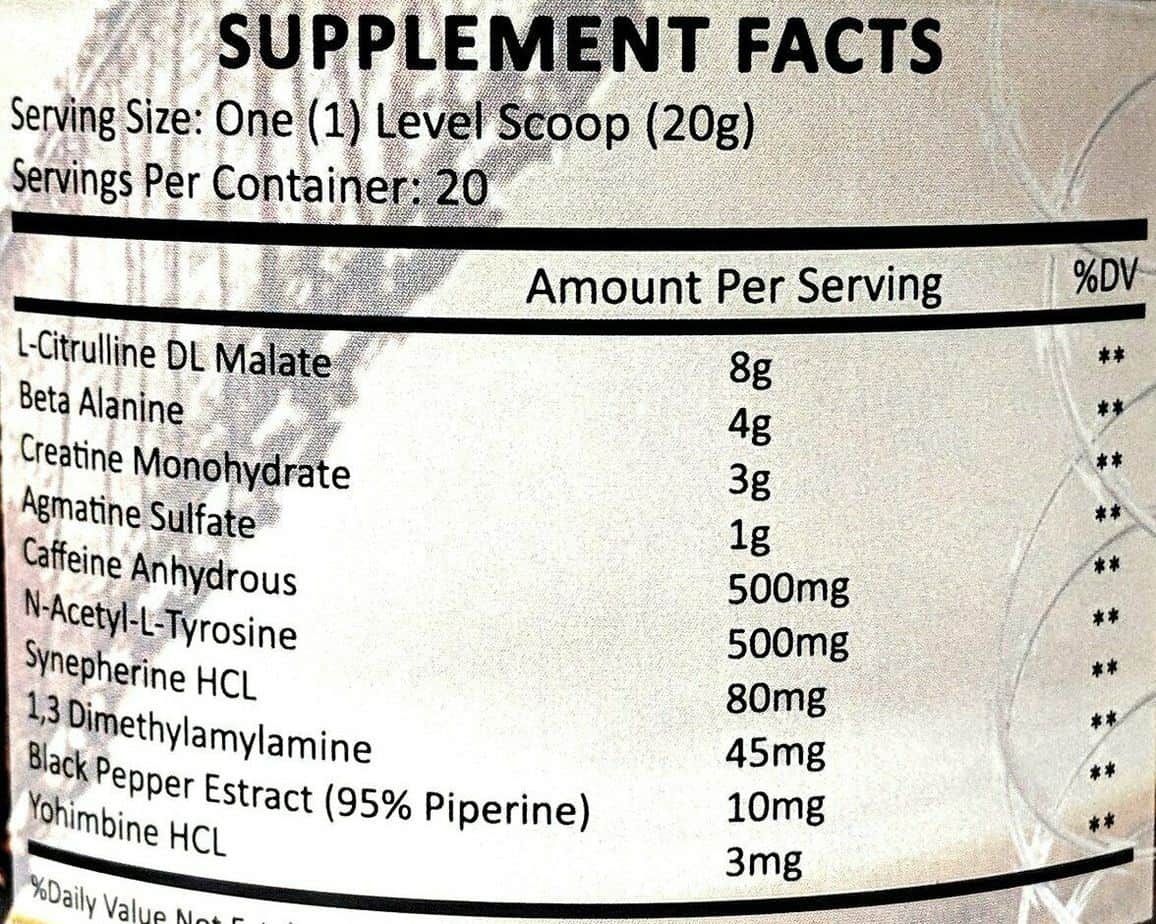 While I have not personally tried Leatherfaze yet, it has received glowing reviews from two of the most discerning pre workout critics: Fitness Deal News and Review Bros.
Fitness Deal News Review
Best DMAA Pre-Workout 2019? | Aggressive Labz LeatherFaze Review
Review Bros Review
🔴 LEATHERFAZE RAW PRE-WORKOUT REVIEW! BY AGGRESSIVE LABZ!
Where to Buy Leatherfaze Pre Workout
Leatherfaze is still available from Ruesco.com as another "Mystery Pre Workout." 😉 <-- This is the lowest price I've seen for Leatherfaze.
It's also no longer being manufactured, so get it while it's still around! (Use code LIFTVAULT at Ruesco.com to save 10%)
Irate Pre Workout
Irate pre workout by Juggernaut Nutrition is another "out of print" pre workout that is still available from a few websites (Ruesco.com and Ebay, like the others).
This is another short label. While citrulline malate (5g) and beta alanine (2.5g) are dosed a little less than most pre workouts, Irate makes up for it with Yohimbine HCL (2.5mg) and, of course, 70mg of DMAA.
The inclusion of caffeine citrate, a faster hitting version of caffeine anhydrous, is a bit interesting as well.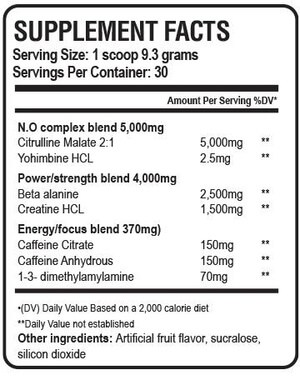 Andrew Does Life Review
"Kicks like a horse." What more do you need?
IRATE - Juggernaut Nutrition Pre Workout Review (AMAZING PRODUCT!!)
Where to Buy Irate Pre Workout
The original formula of Irate pre workout is still available from Ruesco.com and Ebay. (Use code LIFTVAULT at Ruesco.com to save 10%)
Juggernaut recently reformulated it as Irate Extreme, but this version does not contain DMAA (which was the whole point of the reformulation, I would assume).
Assassin Pre Workout
Let me clear: Assassin pre workout does not have DMAA or DMHA. It used to, but the current formula (version #6) does not.
What Assassin does have is just about every other stimulant under the sun. I would be incredibly surprised if anyone took this pre workout and didn't walk away impressed and satisfied.
Check out this massive label: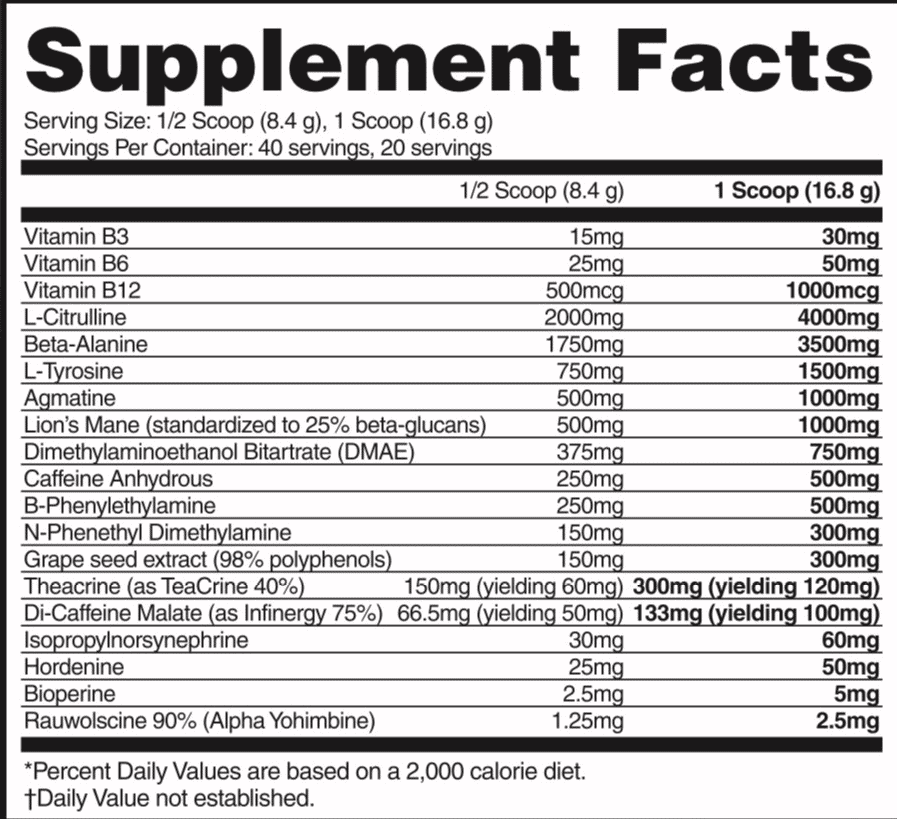 I'm not going to breakdown the entire label here, but if you're interested in that you can check out my full Assassin pre workout review. In short: this pre workout is fantastic. It gets me focused, ready to rip into weights, energized, and doesn't give me a wicked crash afterward.
Frankly, I couldn't care less about the absence of DMAA in Assassin. It's a heavy duty, hardcore pre workout that delivers every single time. That's what I care about. It's one of the strongest pre workouts I've ever tried.
Where to Buy Assassin Pre Workout
Assassin pre workout is available from Ruesco.com. (Use code LIFTVAULT at Ruesco.com to save 10%)
Excelsior Pre Workout
Last but certainly not least, we have Excelsior. This was one of the dark horse pre workouts of 2019, surprising everyone.
Why?
The label looks boring as hell, but it rips your face off. It does not have DMAA, but it definitely has something in it.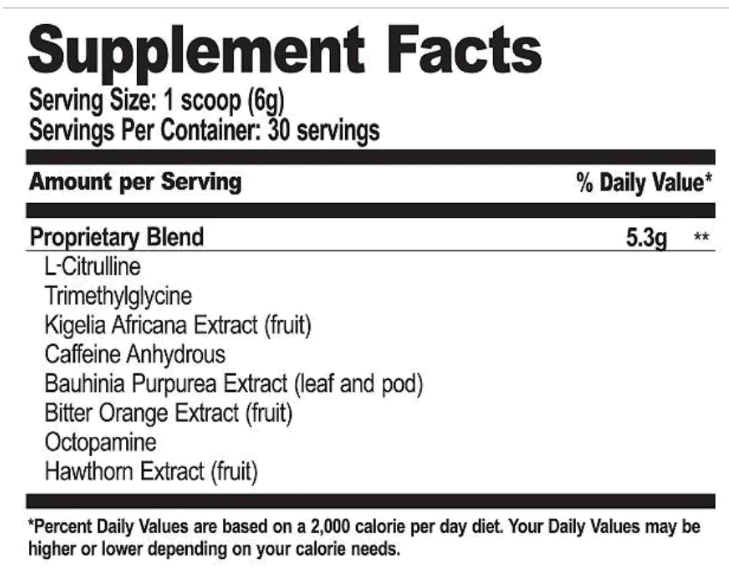 Again, I'm not going to breakdown the entire label here, but I do so on my full Excelsior pre workout review.
This pre workout is easily the closest I've felt to taking a recreational stimulant. It had the trademark effects: a euphoric high followed by a crushing, depressing comedown.
For that reason I never took Excelsior again and got rid of my tub. But if you're looking for the strongest, most "stimmed out" pre workout around right now, it is probably Excelsior. The people that love it really love it, but it was absolutely not my idea of a good time.
Here's TJ from Fitness Deal News for the full rundown.
OH MY GOD 😮 Excelsior Pre Workout Review [Imperial Nutrition]
Where to Buy Excelsior Pre Workout
If you want one of the strongest pre workouts around, one that will probably get banned sooner than later and become the stuff of legends, you can pick up a tub (or two) at Ruesco.com. (Use code LIFTVAULT at Ruesco.com to save 10%)