It's becoming increasingly difficult to find good DMAA pre-workout supplements in 2023, but it's still possible!
Here are some of the best DMAA pre-workouts that you can still buy online.
Discount code:

LIFTVAULT15 = 15% off Supps Central

Discount code:

LIFTVAULT = 15% off Nutri Cartel

Discount code:

LIFTVAULT = 15% off Nutri Cartel, LIFTVAULT15 = 15% off Supps Central
Also, here are some insanely strong pre workouts. Honestly, some of these hit harder than pre workouts that list DMAA on label.
———
DMAA pre workout is a pre workout supplement that includes the stimulant DMAA (1,3 Dimethylamylamine), an amphetamine derivative. DMAA is known for providing energy, focus, and euphoria by increasing concentrations of the neurotransmitters dopamine and epinephrine. Accordingly, DMAA pre workout is popular among hardcore bodybuilders, powerlifters, and other strength training athletes.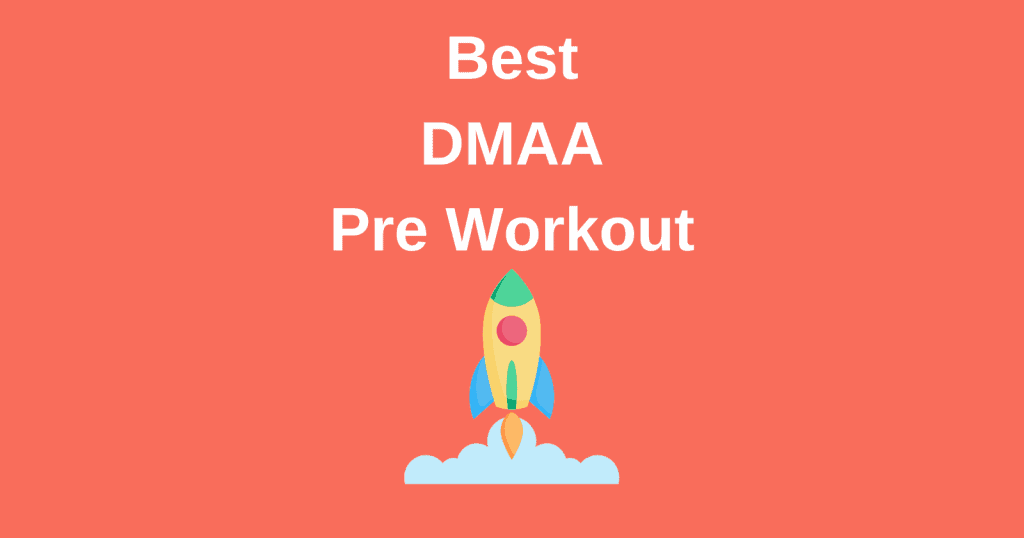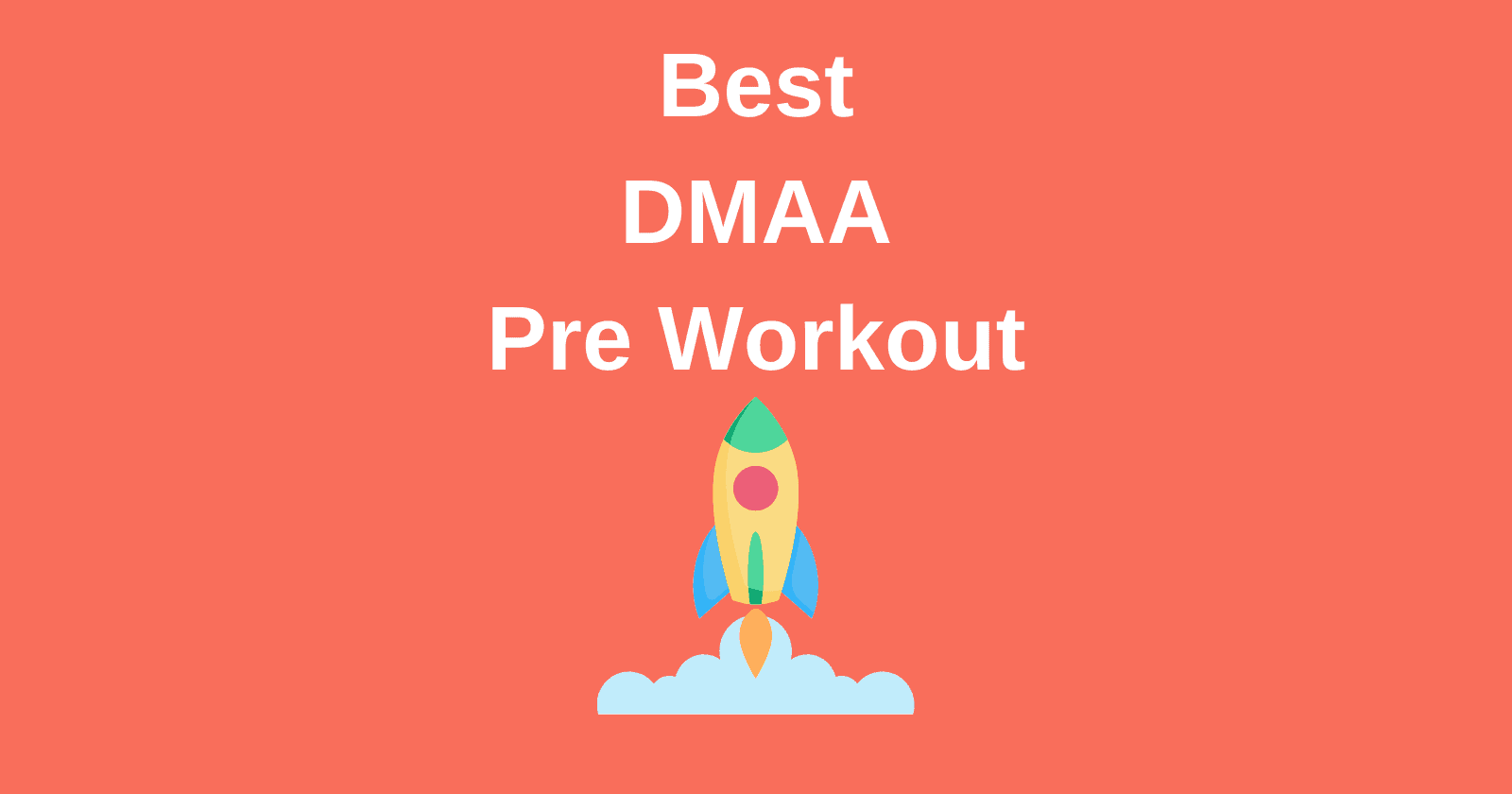 Pre workout with DMAA became more difficult to find as DMAA drew legal scrutiny in many countries, but below you'll find a few excellent pre workouts that still contain DMAA.
If you just want to know where you can still buy DMAA pre workouts in 2022, click the links below to be taken to a current online retailer.
If you're curious to learn more, keep reading.
I'll also include a two recommendations for two of the strongest pre workouts that are DMAA-free: Assassin and Excelsior. Either way, these pre workouts are the real deal and ultra potent.
Let's get right to it.
If you don't find something you like on this list, be sure to check out our list of the best pre-workout supplements of the year.
Best DMAA Pre-Workout Supplements
Crack Gold Pre Workout
Below you'll find more information on their prices and where you can buy them.
I also want to call out two other pre workouts: Assassin and Excelsior. They do not contain DMAA, but I explain why I have included them below (in short, it's because they are still insanely strong even without it).
Related:
Crack pre workout is one of the most talked about DMAA pre workouts available. Released by Polish company Dark Labs, it claims a staggering 120 mg on its ingredient label. But Cracked is not just a stim-heavy pre workout, it also has a seriously impressive pump matrix.
You'd be hard pressed to find a more comprehensive pre-workout ingredient label than Crack on any other DMAA pre workout.
It's proving nearly impossible to keep this one in stock, so if you see it available from Muscle Players, Supp Kingz, Nutrition Cartel, or Supps Central, be sure to scoop it up.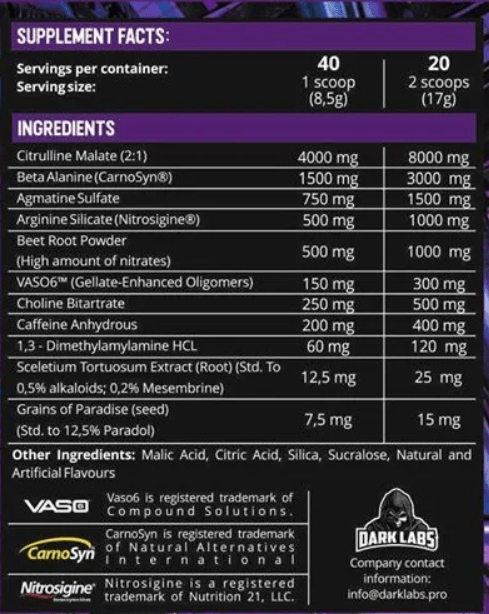 1'3 Volt DMAA Pre Workout
1'3 Volt pre workout is a brand new DMAA pre workout manufactured by Static Labz. It combines 100 mg of DMAA with an insane 6.4 gram dose of beta alanine, 300 mg of Alpha GPC and 30 mg of Noopept. It is for stim junkies that want FOCUS over everything else. It delivers more energy, focus, and power than Dark Energy, but is less euphoric. If you need to put your head down and get to work, this is probably the pre workout for you.
Full review: 1'3 Volt pre workout review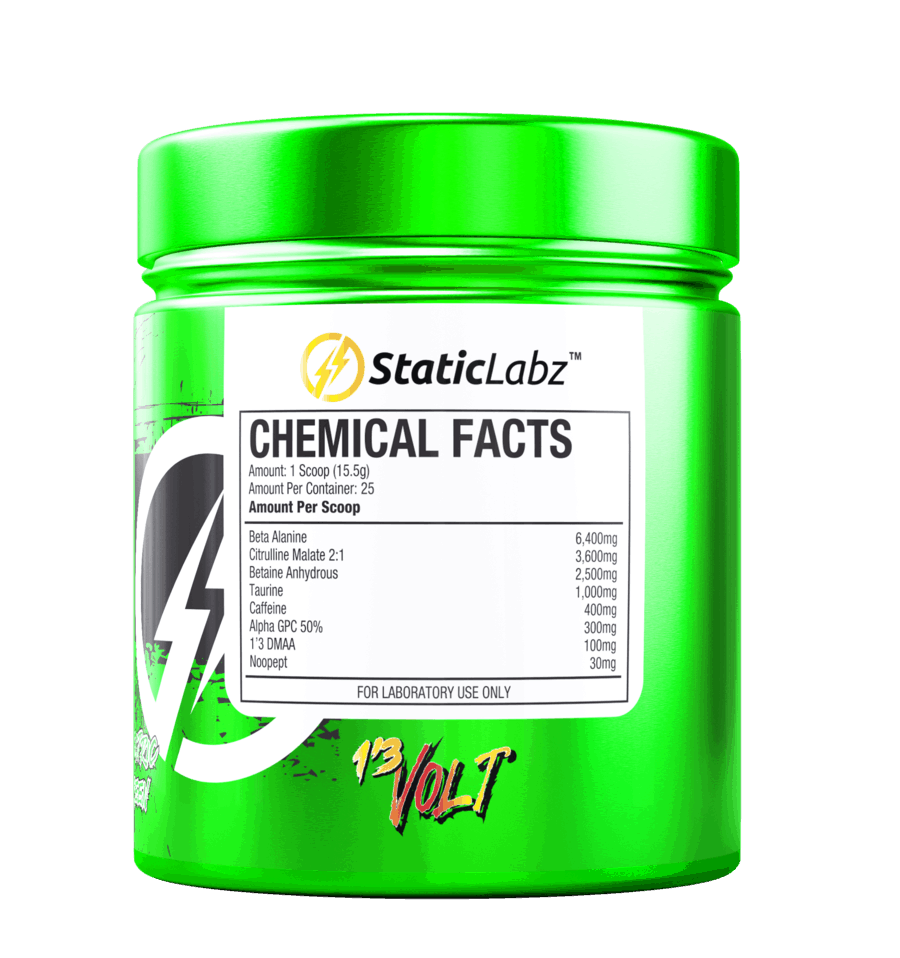 Dark Energy pre workout has undoubtedly been one of the most talked about pre workouts of 2019 and 2020. Take one look at its ingredient label and you'll understand why.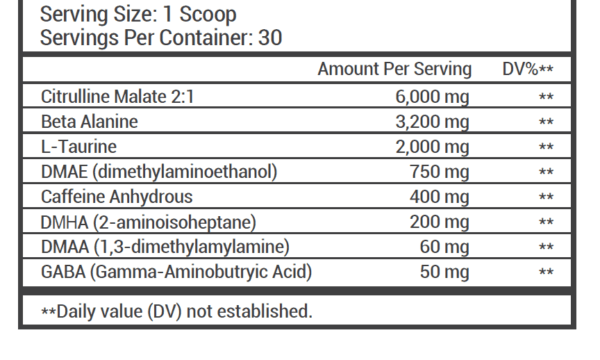 That's right: DMAA and DMHA.
Dark Energy has a stim heavy label with a unique addition: GABA. I have a theory that due to differences in how individuals react to the GABA, opinions of Dark Energy are split into two camps.
One side claims Dark Energy provides unparalleled mood elevation and a serious energy boost, making it one of the "happiest" pre workouts. Fitness Deal News falls into this group, review below.
On the other side, you have some disappointment. Some individuals find that this pre workout simply "doesn't hit" for them. Others report almost calming effects. What?! How could this be?
Here are some comments from 5 Minute Supp Reviews review of Dark Energy pre workout.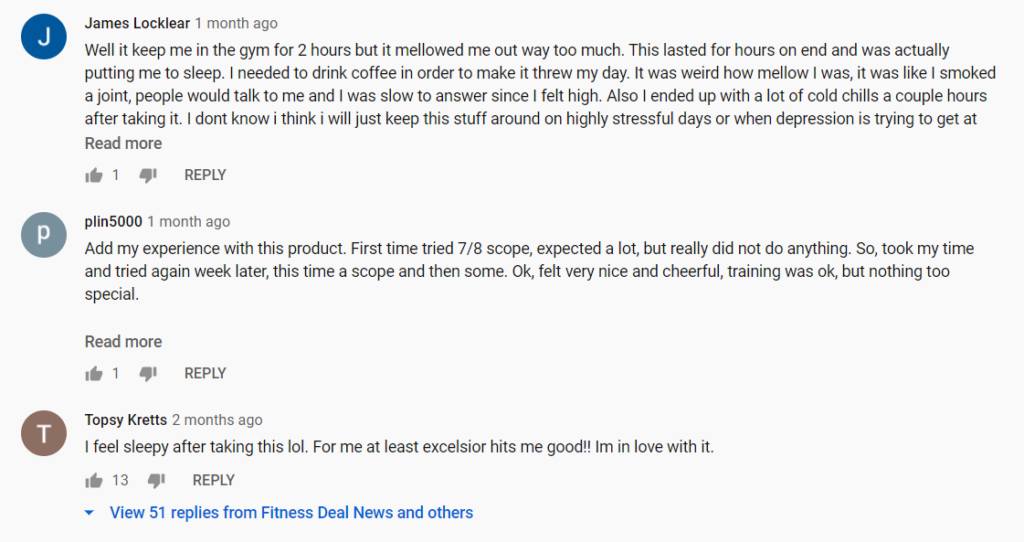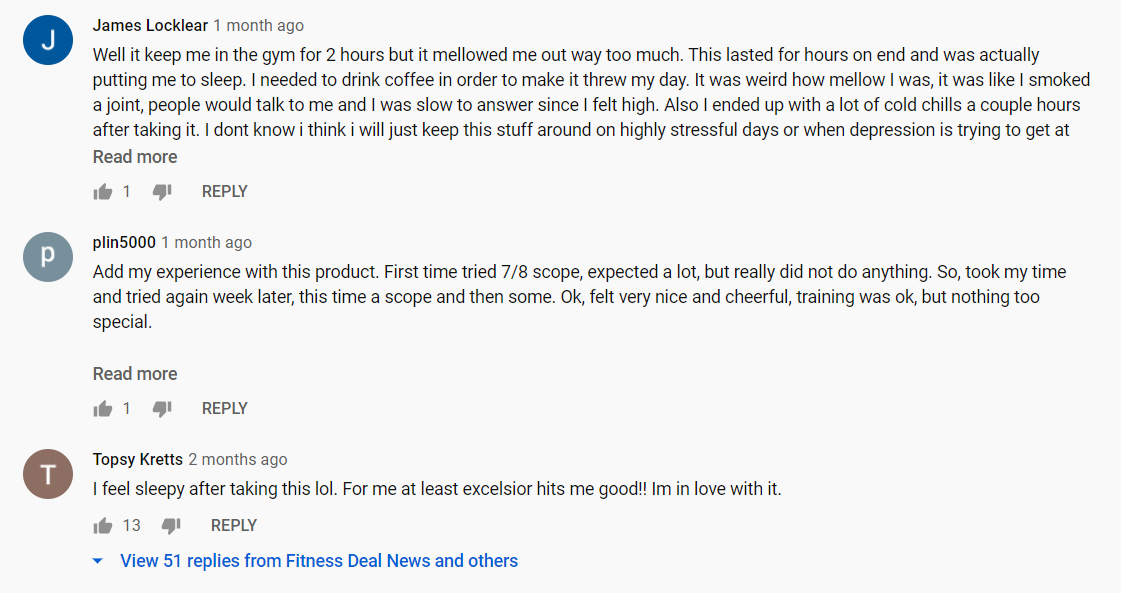 So which is it? Is this the greatest pre workout or the sleepiest?
Personally, I like to use Dark Energy as a focus booster when I'm working at home. As someone who has done a decent amount of recreational substances, this reminds me of blending an upper (amphetamines) with a downer (benzos). I had a nurse ask me why I liked blending two drugs that essentially counteracted one another. I told her that the benzos smoothed the edges of the amphetamines while still maintaining the high, mood elevation, and focus of the amphetamines. This is similar to how I feel with Dark Energy. To be clear: taking Dark Energy does not feel like taking amphetamines (although Excelsior pre workout does, more on that later…). Taking Dark Energy makes me feel kind of calm, but also focused and energized. It's hard to describe. And I think different people react differently to the GABA (some are more sensitive than others) and that is what causes the split in opinion on Dark Energy.
Related: See other excellent DMHA pre workout supplements.
Leatherfaze DMAA Pre Workout
Leatherfaze pre workout is an effective supplement known for its impressive stimulant ingredients. One look at the label shows why: 45mg of DMAA, 80mg of Synepherine HCL, 500mg of N-Acetyl-L-Tyrosine, and a staggering 500mg of caffeine anhydrous combine to form a colossal wave of energy, focus, and mood enhancement.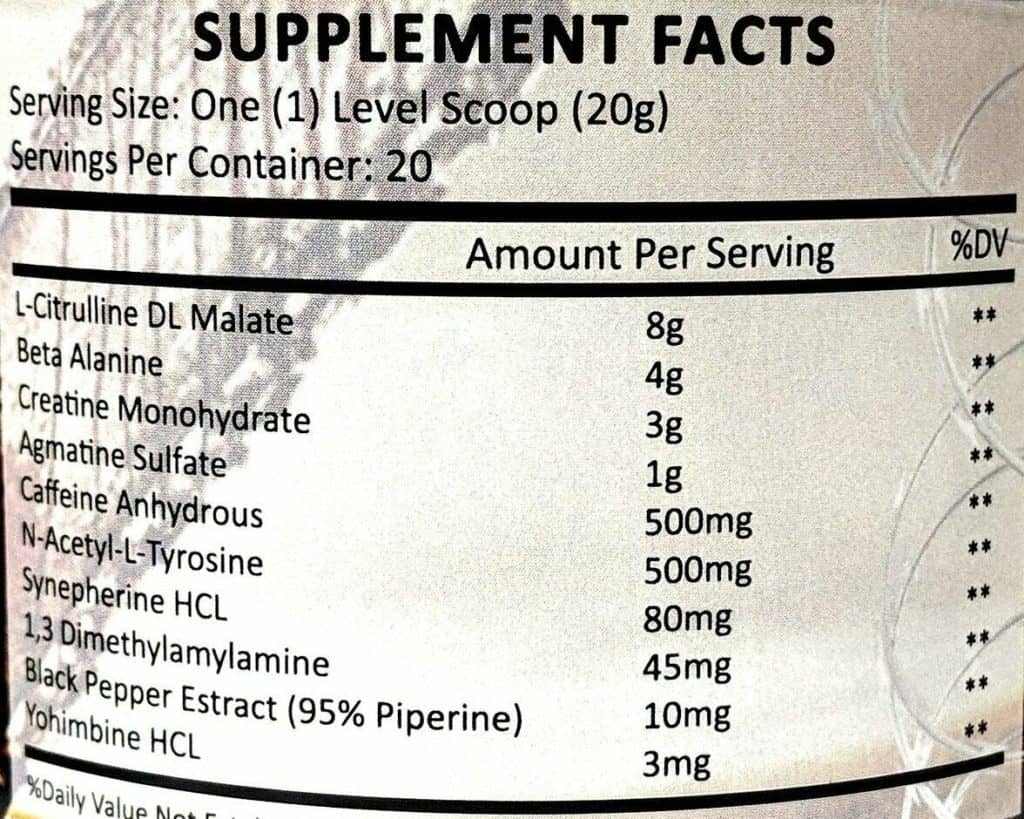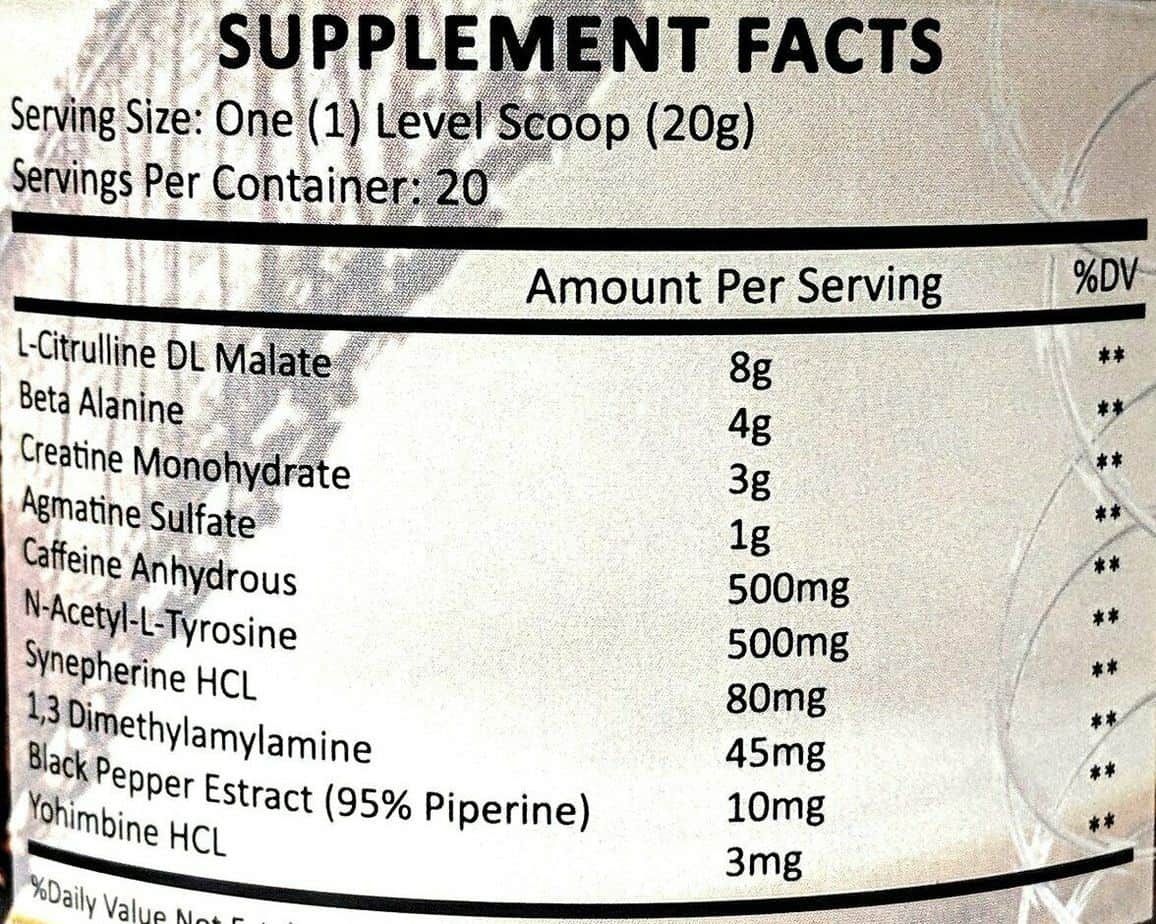 While I have not personally tried Leatherfaze yet, it has received glowing reviews from two of the most discerning pre workout critics: Fitness Deal News and Review Bros.
Fitness Deal News Review
Review Bros Review
Where to Buy Leatherfaze Pre Workout
Sadly, this one may be discontinued for now. It may be coming back in summer 2021 though…. stay tuned….
Irate pre workout by Juggernaut Nutrition is another "out of print" pre workout that is still available from a few websites (like Muscle Players).
This is another short label. While citrulline malate (5g) and beta alanine (2.5g) are dosed a little less than most pre workouts, Irate makes up for it with Yohimbine HCL (2.5mg) and, of course, 70mg of DMAA.
The inclusion of caffeine citrate, a faster hitting version of caffeine anhydrous, is a bit interesting as well.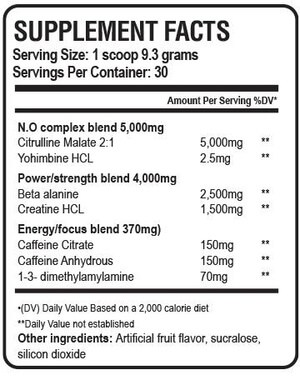 Andrew Does Life Review
"Kicks like a horse." What more do you need?
Where to Buy Irate Pre Workout
The original formula of Irate pre workout is still available from Muscle Players.
Juggernaut recently reformulated it as Irate Extreme, but this version does not contain DMAA (which was the whole point of the reformulation, I would assume).
Pure DMAA Powder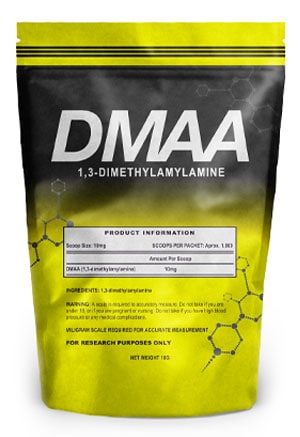 You can also purchase pure DMAA powder in bulk from Bulk Stimulants.
This can be advantageous for a few reasons
It is cheaper. You can get 10 grams for about the same price as a tub of pre workout.
You can control the dosage, allowing you to use more or less on any given day.
Recommended Pre Workouts without DMAA
Assassin Pre Workout
Let me clear: Assassin pre workout does not have DMAA or DMHA. It used to, but the current formula (version #6) does not.
What Assassin does have is just about every other stimulant under the sun. I would be incredibly surprised if anyone took this pre workout and didn't walk away impressed and satisfied.
Check out this massive label: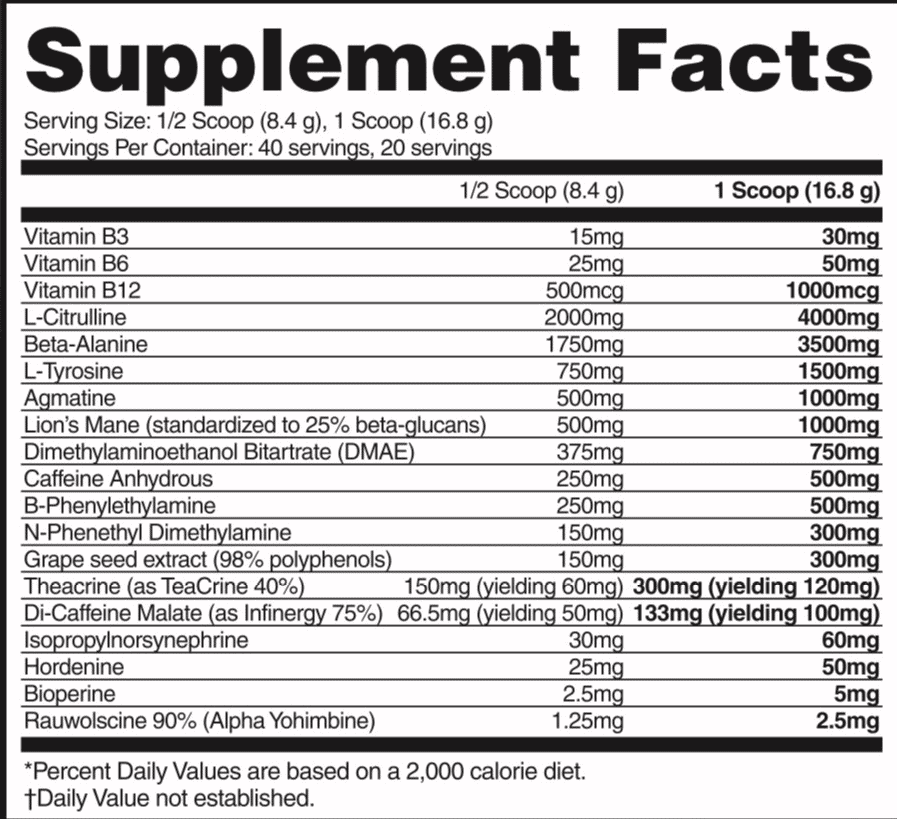 I'm not going to breakdown the entire label here, but if you're interested in that you can check out my full Assassin pre workout review. In short: this pre workout is fantastic. It gets me focused, ready to rip into weights, energized, and doesn't give me a wicked crash afterward.
Frankly, I couldn't care less about the absence of DMAA in Assassin. It's a heavy duty, hardcore pre workout that delivers every single time. That's what I care about. It's one of the strongest pre workouts I've ever tried.
Where to Buy Assassin Pre Workout
Assassin is totally sold out right now. A new version is coming in mid 2021 from Apollon Nutrition. Stay tuned.
Excelsior Pre Workout
Last but certainly not least, we have Excelsior. This was one of the dark horse pre workouts of 2019, surprising everyone.
Why?
The label looks boring as hell, but it rips your face off. It does not have DMAA, but it definitely has something in it.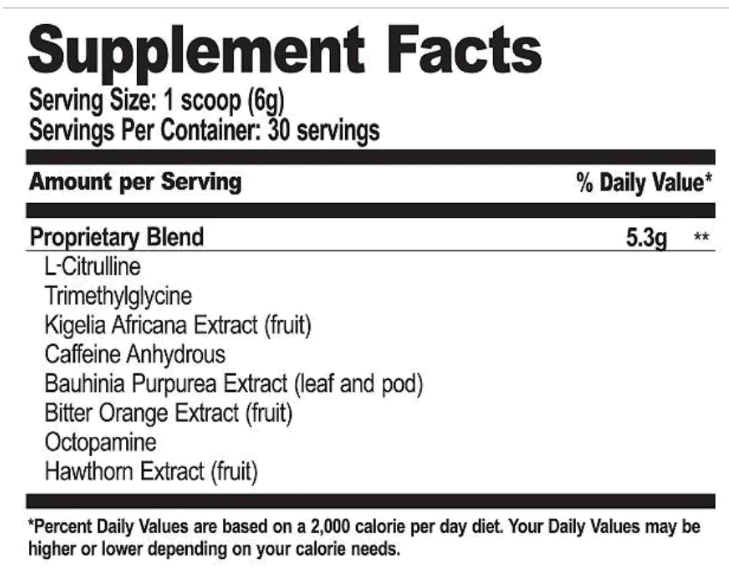 Again, I'm not going to breakdown the entire label here, but I do so on my full Excelsior pre workout review.
This pre workout is easily the closest I've felt to taking a recreational stimulant. It had the trademark effects: a euphoric high followed by a crushing, depressing comedown.
For that reason I never took Excelsior again and got rid of my tub. But if you're looking for the strongest, most "stimmed out" pre workout around right now, it is probably Excelsior. The people that love it really love it, but it was absolutely not my idea of a good time.
Another standout attribute of Excelsior is that it absolutely eliminates appetite. For that reason, it is featured on our top recommended pre workouts for weight loss.
Fitness Deal News Review of Excelsior Pre Workout
Where to Buy Excelsior Pre Workout
If you want one of the strongest pre workouts around, one that will probably get banned sooner than later and become the stuff of legends, you can pick up a tub (or two) at Supps Central.
June 2021 Update
Multiple sources have indicated that there has been another FDA crackdown on the manufacturing of some DMAA pre workout supplements and, I believe, all Static Labz products.
As a result, most DMAA pre workouts manufactured in the USA have added to the list of banned pre-workouts.
But… there are still a few pre workouts that claim to have DMAA on label that hit hard.
These are the few remaining.
To protect yourself against stuff like this, check out the DMAA Powder from Bulk Stimulants. For the price of one pre workout you get 200 servings (50 mg per serving) that you can add to any pre workout.
I recommend checking out our list of hardest hitting DMHA pre workouts. Don't get tripped up by the whole "DMAA vs. DMHA" conversation – either the pre workout slaps or it doesn't. These slap.
Crack and Crack Gold claim DMAA on label and are still available, but their availability is spotty in the USA. Basically: shipments come in from Europe and then are sold out quickly, creating a drought until the next shipment arrives.
Discontinued DMAA Pre Workout Supplements
The following supplements had DMAA, but have either been reformulated or are no longer available for purchase.
Hi-Tech Pharmaceuticals – Jack3d
Blackstone Labs – Dust Extreme
Gaspari Nutrition – Super Pump 250
Total Body Nutrition – 1,3D Nox Xtrim
APS Nutrition – Mesomorph
FAQs about DMAA Pre Workouts
To learn more about the effects of DMAA, see this study by the National Institute of Health.
Where can I buy DMAA pre workout?
Pre workout supplements containing DMAA are still available for purchase, despite murky legal status.
An updated list is available at the top of this post.
Are pre workouts with DMAA safe?
Pre workouts containing DMAA are generally taken without seriously adverse effects, but they are riskier than typical pre workout supplements.
For more information, please see the US Department of Defense review of DMAA's safety.
What is the most popular pre workout with DMAA?
The most popular pre workout that is still being made is Crack by Dark Labs.
Are pre workouts with DMAA still being manufactured? I thought that stopped?
Pre workout with DMAA has been manufactured on and off for the last several years. When a pre workout gets too big, it gets busted, and then there's a drought. Eventually, someone comes along with a new DMAA pre workout, the drought is over, and the cycle repeats.
2019 and 2020 was somewhat of a renaissance period for DMAA pre workouts, with new ones seemingly coming out every few months. Unfortunately, there was a crack down in March 2021 and as a result Dark Energy, 1'3 Volt, Shockwave (DMHA), and Krak'n stopped being manufactured.
At the moment, Dark Labs appears to be the biggest producer of DMAA supplements. I suspect their Polish homeland helps maintain this status a bit, keeping them out of the FDA's reach.
Is DMAA illegal?
It is illegal to sell DMAA in the US as a dietary supplement. It is not illegal to possess DMAA in the US. This is why pre workouts with DMAA are so difficult to find.
More Pre Workout Reviews
Check out more pre workout reviews below!