Final Call is a hardcore DMAA pre workout supplement from BS Supplements. This is an "underground" pre-workout, so underground that they don't seem to have a website. Notable ingredients include 600 mg Alpha GPC, 300 mg Caffeine, 115 mg DMAA, 25 mg Ephedra Extract, and many others.
Although I've only tried it 2 times, I absolutely love this product. Final Call is recommended for experienced users as a pre-workout that can be taken once a week.
More frequent use may lead to the development of a significant pre workout tolerance due to the significant amount of stimulants in this product.
For other hard-hitting pre workouts, check out our list of DMAA pre workouts.
Read on for additional details of my experience, the best prices for the Final Call pre workout, and a breakdown of its ingredient label. 
Underground DMAA Pre Workout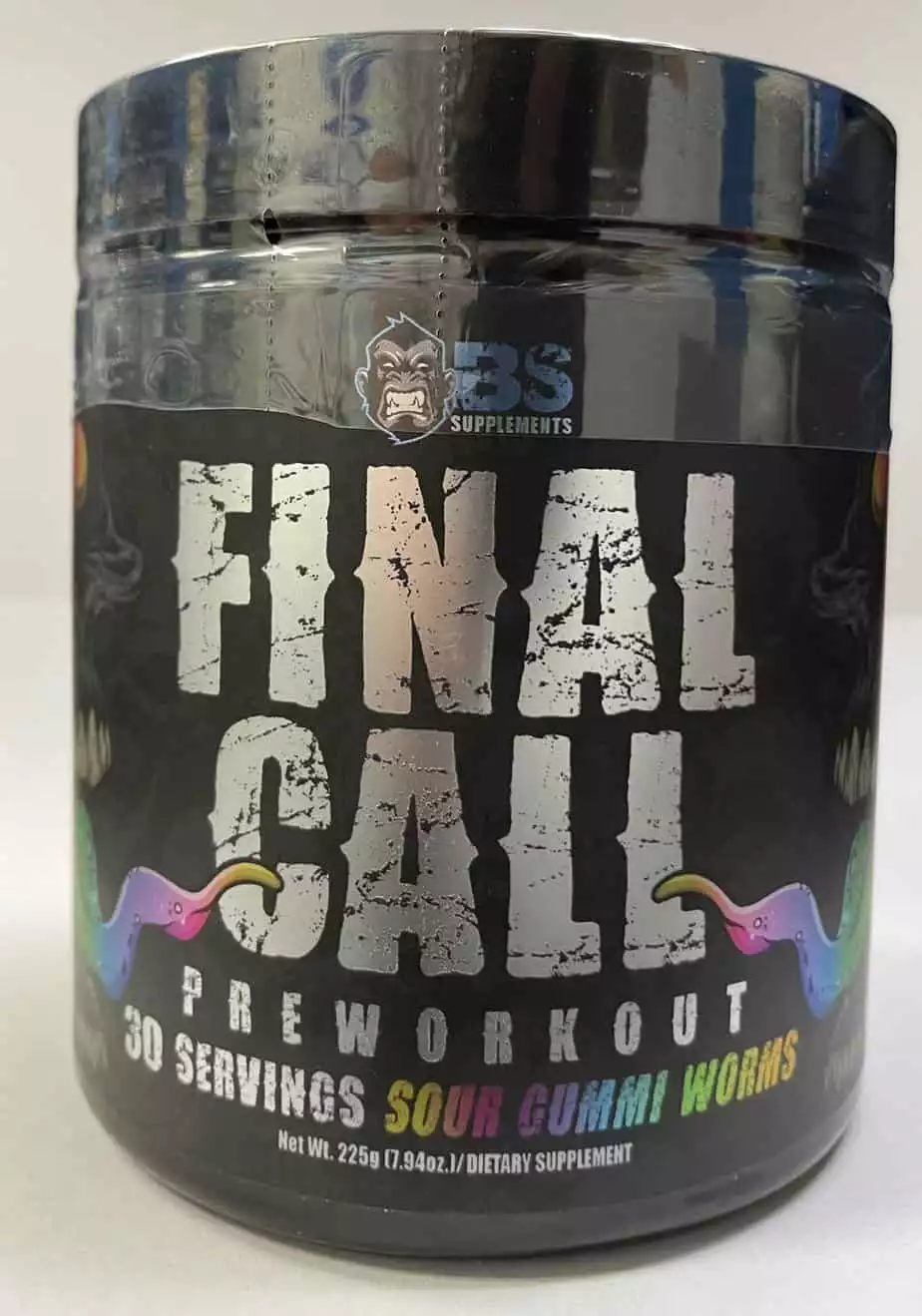 Final Call Pre Workout - BS Supplements
Final Call by BS Supplements is a hyper focus, mood-elevating, energy-increasing supplement that delivered wonderfully.
Final Call definitely hits hard but also delivers focus, a good mood, and energy.
Discount code:
LV15 = 15% off at Muscle Factory
Caffeine: 300 mg
DMAA: 115 mg
Alpha GPC: 600 mg
Shop Muscle Factory
Lift Vault earns a commission if you click this link and make a purchase at no extra cost to you.
Where to Buy Final Call Pre Workout
As of September 2021, Final Call Pre Workout is a bit tricky to track down.
It was available from Planet Supplements, but that's no longer the case. As of now, I'm not aware of any online retailers for Final Call.
My Experience with Final Call
I was incredibly surprised by Final Call as I thought there would be a SERIOUS crash after taking it. I was very skeptical that this was going to be any good at all.
Fortunately, I was wrong!
Effects
The main effects for Final Call are focus and energy with good mood elevation.
Even without a digestion aid like black pepper extract or Astragin, the Beta Alanine tingles begin within 7-10 minutes. Like most Beta Alanine tingles, it gets you motivated to start moving and begin your workout. These last until about 30-40 minutes or so into your workout. The tingles were fairly strong with Final Call.
With the 1,3 Dimethlyamine (DMAA) and Alpha GPC my focus was incredible.
The only thing lacking in this formula are the pumps, with just 1,500 mg Agmatine Sulfate and 500 mg L-Norvaline. If it had 4 grams of L-Citrulline, then it would probably be a solid pump formula.
The sense of urgency from the beta alanine, DMAA , and 300 mg caffeine propels you into your workout session. No heart-beating-out-of-your-chest feeling, just a smooth energy that lasts well after your workout with no crash either.
On top of the urgency and focus, The combination of 1,3 DMAA and Hordenine gave me a sense of great euphoria. The euphoria feels even stronger after my workout.
Flavor
The flavor I tried was Watermelon. It's fairly mild, not a strong watermelon flavor that is more similar to the fruit than candy watermelon.
Surprisingly there was no chemical or bitter taste at all. 6.5 out of 10 for flavor, at least in my opinion, as I like a slightly stronger flavor profile.
I'm unsure if there are any other flavors available. Since it's a fairly new product, it's possible more flavors will be released later if Final Call gains some more popularity.
Scoop Size
A full serving is only 7.5 grams. Kudos to BS Supplements, it is a dead flat scoop for a full 7.5 gram serving.
Final Call Ingredients
Beta Alanine – 3,200 mg
This is the standard dosage for beta alanine, which, taken consistently, has been shown to improve muscular endurance by acting as a lactic acid buffer in muscles. This is the ingredient that gives you the "tingles." They usually start about 7-10 minutes after you consume it and last for 30-40 minutes.
Agmatine Sulfate – 1,500 mg per serving
Agmatine is included as a "pump" ingredient, but research is more limited on this ingredient vs. the classic L-Citrulline. This is within the range you'd typically see in a pre-workout supplement with Agmatine Sulfate which occasionally ranges between 500 mg and 1,500 mg, putting Final Call in the upper-end of the range.
Alpha GPC – 600 mg
Alpha GPC is a cholinergic compound that is produced within the body. It is used for enhancing cognition and increasing power output. It's usually a 50% yield of actual GPC.
For athletic purposes, doses tend to range from 300 mg to 600 mg. Doses for reducing the effects of cognitive decline are much higher, around 1,200 mg per day.
L-Norvaline – 500 mg
L-Norvaline is a unique amino acid and a form of the BCAA valine. It is an arginase inhibitor, which means that it helps prevent the breakdown of arginine in the body. This makes the nitric oxide production of citrulline more effective.
Some sources suggest that a common dose of L-norvaline is between 100 mg and 200 mg or even up to 400 mg, but I am not sure how well supported this claim is (source, source). So at 500 mg, it's well above in comparison to similar products with L-Norvaline.
Caffeine – 300 mg
The Grand-Daddy of stimulant supplements. One of the most studied sports compounds. 300 mg is roughly the average for pre-workout supplements, but it was smooth-sailing with this.
1,3-dimethylamylamine – 115 mg
1,3-dimethylamylamine, aka DMAA, is a stimulant that induces feelings of energy, euphoria, and motivation in its users. After coming under scrutiny from the FDA around 2015, there were a few years where DMAA disappeared from pre workouts. 115 mg is a fairly high dosage.
I've taken quite a bit of DMAA pre-workouts before and this felt more akin to 60-70 mg. The effects were still there, though.
Hordenine – 10 mg
Hordenine (N,N-dimethyltyramine) is a stimulant that is often included in recent "nootropic" products. It is not widely researched, so much of the information available comes from anecdotal accounts. Typically dosed between 10 mg and upwards of 150 mg, the 50 mg is still in the range. There is one study that shows that Hordenine is an MAO (monoamine oxidase) inhibitor which may lengthen the feeling of energy and mood elevation.
Isopropylnorshynephrine – 30 mg
Isopropylnorsynephrine is a lipolytic agent, meaning it helps break down fat into glycerol (energy). It is a "fat burner." It may also possess energizing effects and is considered stronger than synephrine (bitter orange extract).
There is not a lot of research around dosage, but 30 mg should be enough to get you going.
Juniper Berry – 30 mg
Juniper Berry is included to help increase the effectiveness and absorption of stimulants in the body. It is not an exceptionally well researched ingredient and I am not aware of any dosage guidelines for this ingredient.
Ephedra Extract – 25 mg
Ephedra, also known as ma huang, combined with 1,3 DMAA, is arguably the most enticing and provocative ingredient in Final Call.
This is because it can contain ephedrine alkaloids, which were banned by the FDA in April 2004 due to adverse health effects associated with ingestion. These side effects include high blood pressure, heart palpitations, fatal arrhythmia, and others.
It is unlikely that Final Call contains these ephedrine alkaloids. We cannot say for sure, though. Most ephedra fat burners remove the ephedrine alkaloids during the manufacturing process to stay within FDA guidelines.
After the ruling by the FDA, supplement manufacturers began removing the ephedrine alkaloids from the ephedra extract, leaving the remaining compounds.
Here's what else is in ephedra extract other than ephedrine alkaloids:
epicatechins
polyphenols
catechins
ephedrans (glycans)
tannins
Some of these ingredients, in particular the epicatechins, polyphenols, and catechins, can have mild weight loss benefits. Unfortunately it's unlikely that the 25 mg of ephedra extra in each serving of Lipodrene will contain clinical dosages of these ingredients to achieve weight loss effects. It's likely on the label for "shock value."
Final Call Pre Workout Review
Summary
Final Call by BS Supplements is a hyper focus, mood-elevating, energy-increasing supplement that delivered wonderfully. Powered by 600 mg Alpha GPC, 300 mg Caffeine, 115 mg 1,3 DMAA, and 50 mg Hordenine, it definitely hits hard but also delivers focus, a good mood, and energy.. Recommended for experienced users as a supplement that can be taken maybe once a week to prevent stimulant overload.
Pros
Long lasting (6 hours) 

No side effects

Incredible focus 

Amazing energy 

Open and transparent label 

30 Full Servings

No crash

A mild suppression of my appetite