You've finished the main work of your training session, just completed your first accessory set, and then it happens.
The mid workout fatigue sets in.
Suddenly the three accessory movements you planned on training seem like a tall order. Maybe you should have double scooped your pre workout after all.
Or, instead of blowing out your adrenal glans, you could have been sipping on some carbs to help you finish your workout with just as much effort as you started it with.
This is where the intra workout supplement shines.
If you have long training sessions or frequently train fasted, the additional kick of amino acids and carbohydrates provided by an intra workout can help you keep training when it matters most.
Below you're find the best intra workout supplements for a variety of use cases. Whether you want amino acids for muscle growth, carbs for long lasting energy, or caffeine for a mid-workout boost, we've got you covered.
We also have a bunch of background information on intra workouts: which ingredients to look for, what they do, and some frequently asked questions.
To your continued gains!
Best Intra Workout Supplements
Enigma – Apollon Nutrition (best amino acid based intra)
If you're looking for an amino acid intra workout, it's impossible to beat Enigma from Apollon Nutrition. Not only does it taste great, but it's an absolutely overloaded label full of high quality ingredients.
When Apollon produces a product, you can expect them to come correct. They release premium products, but you get what you pay for. Their intra workout supplement, Enigma, continues to deliver on this promise.
There are 10 grams of branched chain amino acids (BCAAs) for aiding muscle protein synthesis and some light energy support.
On top of that, there are 4.5 grams of the other essential amino acids: L-Lysine, L-Threonine, L-Histidine, L-Phenylalanine, L-Methionine, and L-Tryptophan. This helped land Enigma on our list of the best EAA supplements.
5 grams of L-Glutamine is included for endurance support.
1 gram of coconut water powder is combined with calcium, potassium phosphate, sodium phosphate, and di-magnesium malate (about 1 gram of electrolytes altogether) for hydration support.
Key ingredients:
BCAA – 10 g
non-BCAA EAA – 4.5 g
Betaine Anhydrous – 2 g
Coconut Water Powder – 1 g
L-Glutamine – 5 g
Electrolytes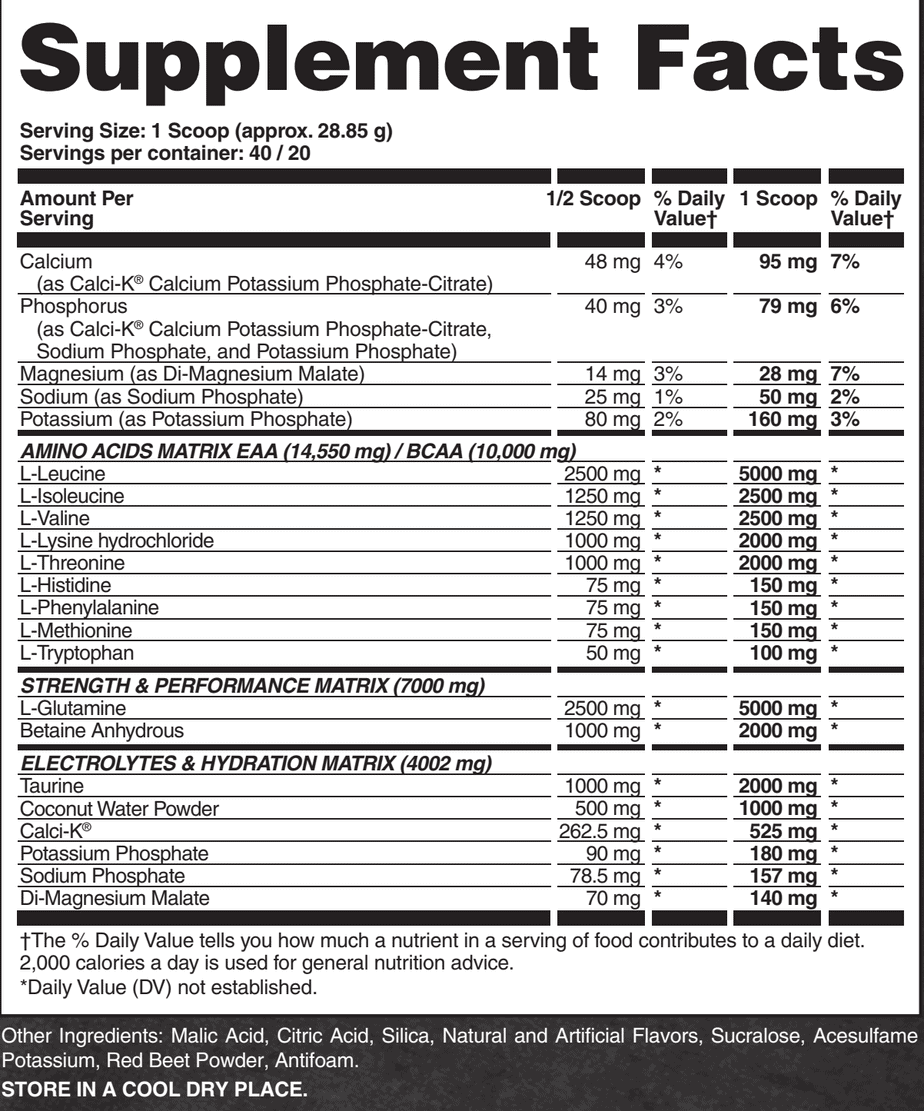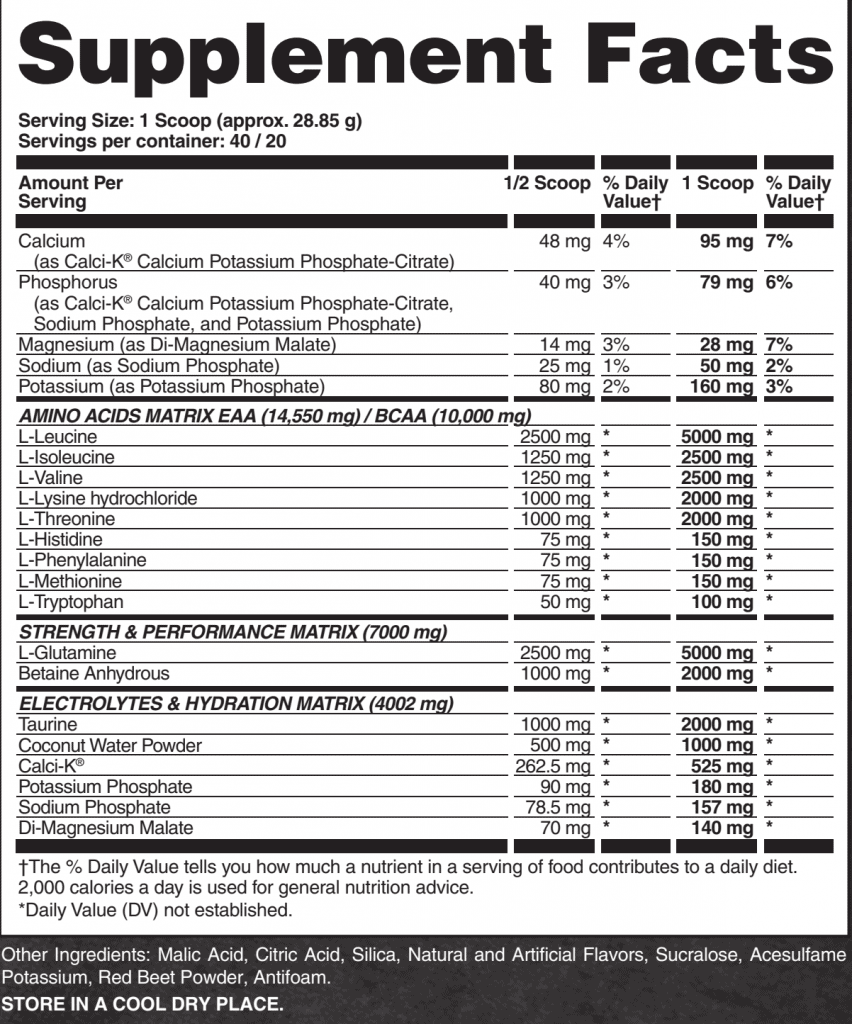 Bomba – ASC Supplements (Best Intra with Peak02)
If you're looking for a solid dose of BCAAs with some more cutting edge ingredients, then Bomba might be the intra workout for you.
Delivering 7 grams of EAAs (6 grams of BCAAs + 1 gram of non-BCAA EAA), 500 mg of coconut water powder, and electrolytes (magnesium, sodium, potassium) – Bomba has a respectable ingredient panel of "traditional" intra workout ingredients.
What sets it apart from other amino acid intra workout supplements is the inclusion of two high quality, patented ingredient blends: Peak02 and Spectra.
Peak02 is a blend of six organic adaptogenic mushrooms. It helps improve oxygen utilization and reduce lactate with the goal of helping athletes train longer.
Spectra is a blend of 29 fruits, vegetables, and herbs that has been shown to support antioxidant activity within the body, inhibit free radicals, and support efficient cellular oxygen consumption.
Key ingredients:
BCAA – 6 g
non-BCAA EAA – 1g
Spectra – 100 mg
Peak02 – 1 g
Electrolytes
Coconut Water Powder – 500 mg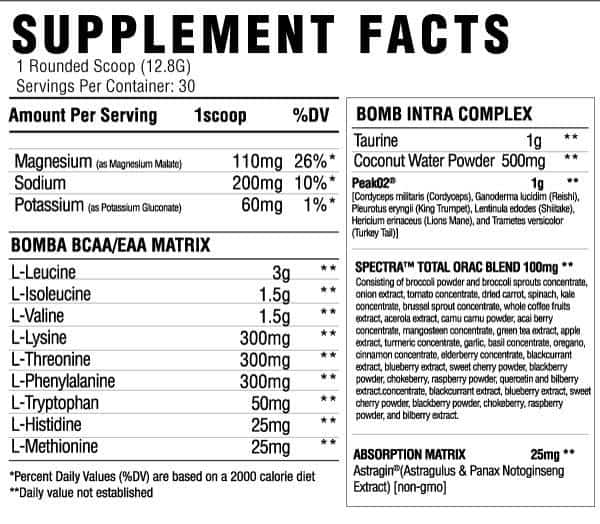 Intra – Transparent Labs (best w/ elevatp)
Transparent Labs has been incredibly consistent for several years now, reliably delivering solid products that are backed up by scientific research.
Their intra workout supplement, simply called Intra, is quite similar to Bomba is several ways. What separates the two products is the "extra" ingredient they add as the cherry on top. For Intra, that ingredient is elevATP.
elevATP is a patented form of ancient peat and apple skin extracts. Unlike creatine, which takes weeks to properly saturate your muscle, elevATP can elevate the blood's ATP levels within an hour. And as we know, ATP can help increase power output for short periods of high-intensity activity like sprinting or lifting weights.
As you'd expect, Transparent Labs includes elevATP at the clinical dosage of 150 mg in Intra.
Intra contains 5 grams of BCAAs, with an additional 1.7 grams of non-BCAA EAAs.
1 gram of Coconut Water Powder is included for hydration support, along with sodium chloride, potassium chloride, and magnesium bisglycinate chelate.
Key ingredients:
BCAA – 5 g
non-BCAA EAA – 1.7 g
Betaine Anhydrous – 1.25 g
Coconut Water Powder – 1g
ElevATP – 150 mg
Electrolytes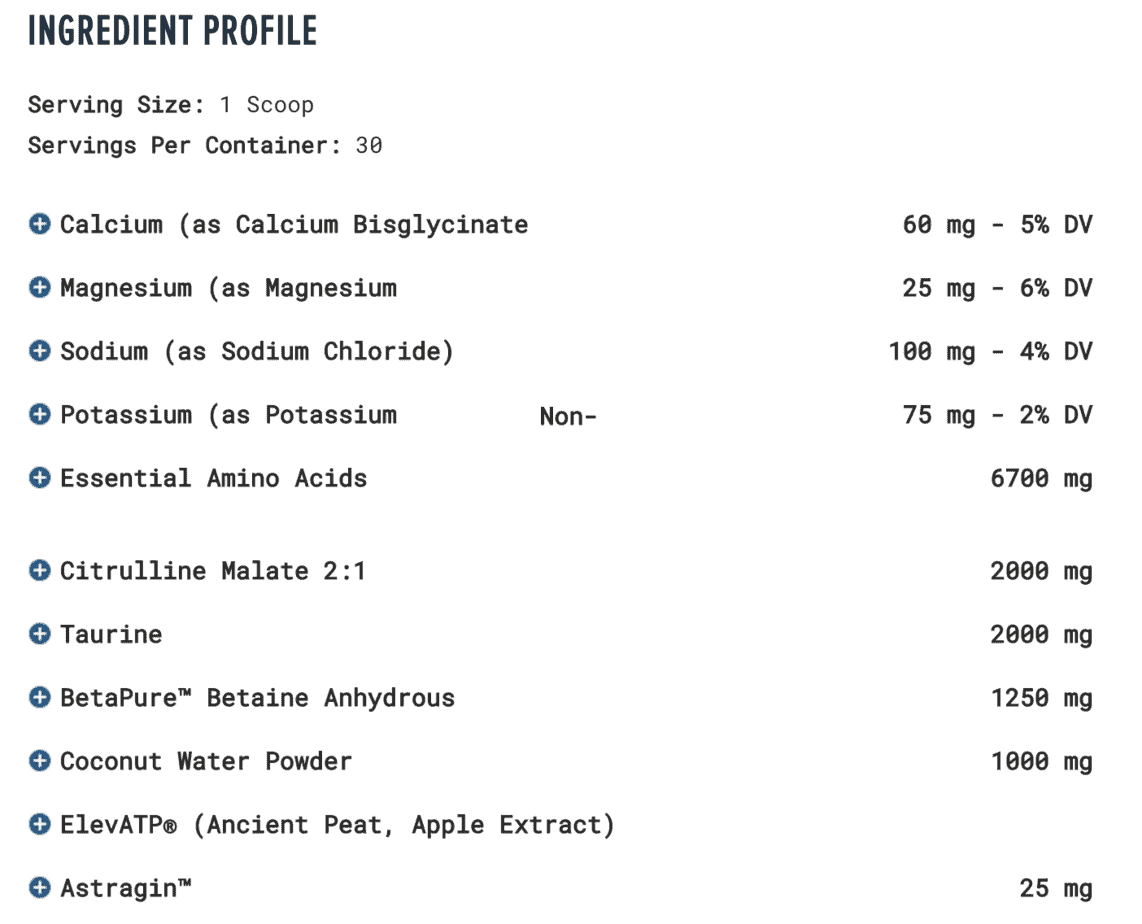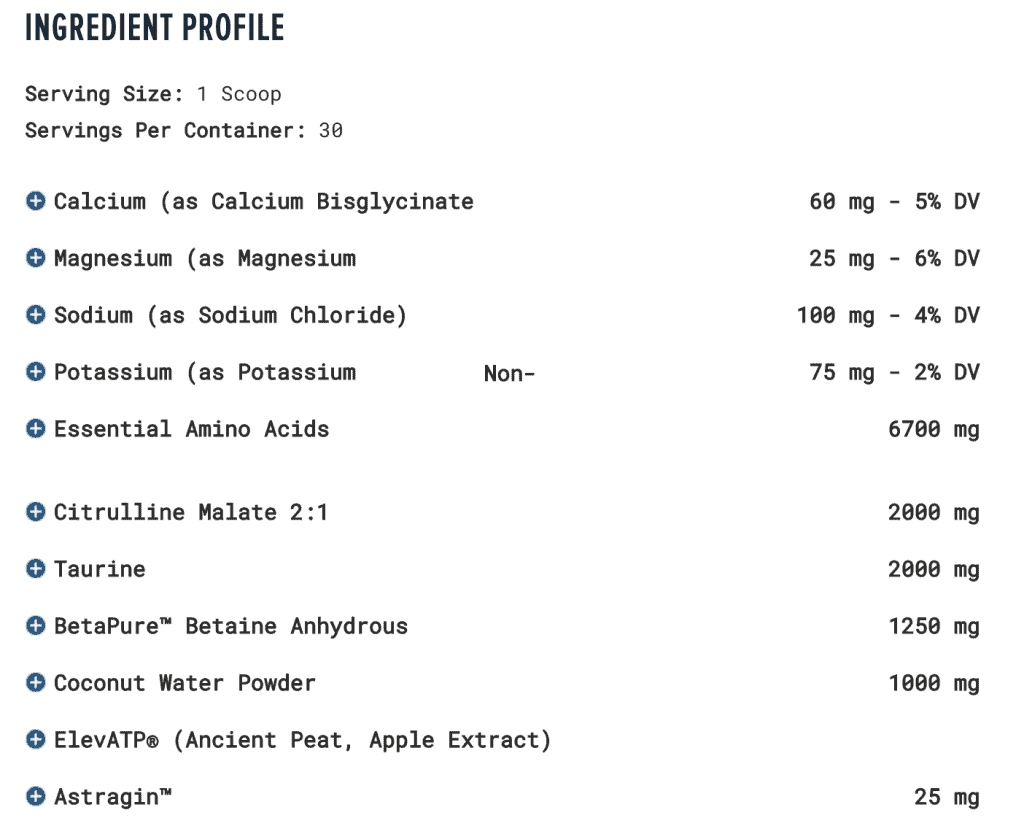 Formula XII – Huge Supplements (Recommended Carb Intra Workout)
Formula XII from Huge Supplements is an excellent choice for a carb-based intra workout supplement. It also included proven ingredients like creatine monohydrate and betaine anhydrous.
One of the many key ingredients in Formula XII is Cluster Dextrin, a patented form of highly branched cyclic dextrin. This is an easily absorbed carbohydrate that helps provide sustained energy throughout long workouts.
Additional carbs include ModCarb, a blend of oats, amaranth, buckwheat, chia, millet, and quinoa, and D-Ribose, which is basically sugar and great for a short burst of energy and replenishing ATP. D-Ribose is a bit underdosed, with a daily dose of 4-6 grams recommended daily for improved exercise performance.
Some other great ingredients include classics like creatine monohydrate and betaine anhydrous, both of which can aid power output after regular supplementation.
A more interesting ingredient that is not seen every day is Orinthine HCL. Ornithine is an amino acid that helps dispose of ammonia through the urea cycle.
Ammonia can accumulate throughout a workout from the breakdown of AMP, which is a byproduct of ATP. This accumulation can increase the production of GABA, a neurotransmitter that can lead to feelings of fatigue.
Key ingredients:
Cluster Dextrin – 10 g
ModCarb – 5 g
Creatine Monohydrate – 5 g
Beta Alanine – 3.2 g
Betaine Anhydrous – 3 g
Orinthine HCL – 2 g
D-Ribose – 1 g
Potassium Citrate – 150 mg
Magnesium Citrate – 40 mg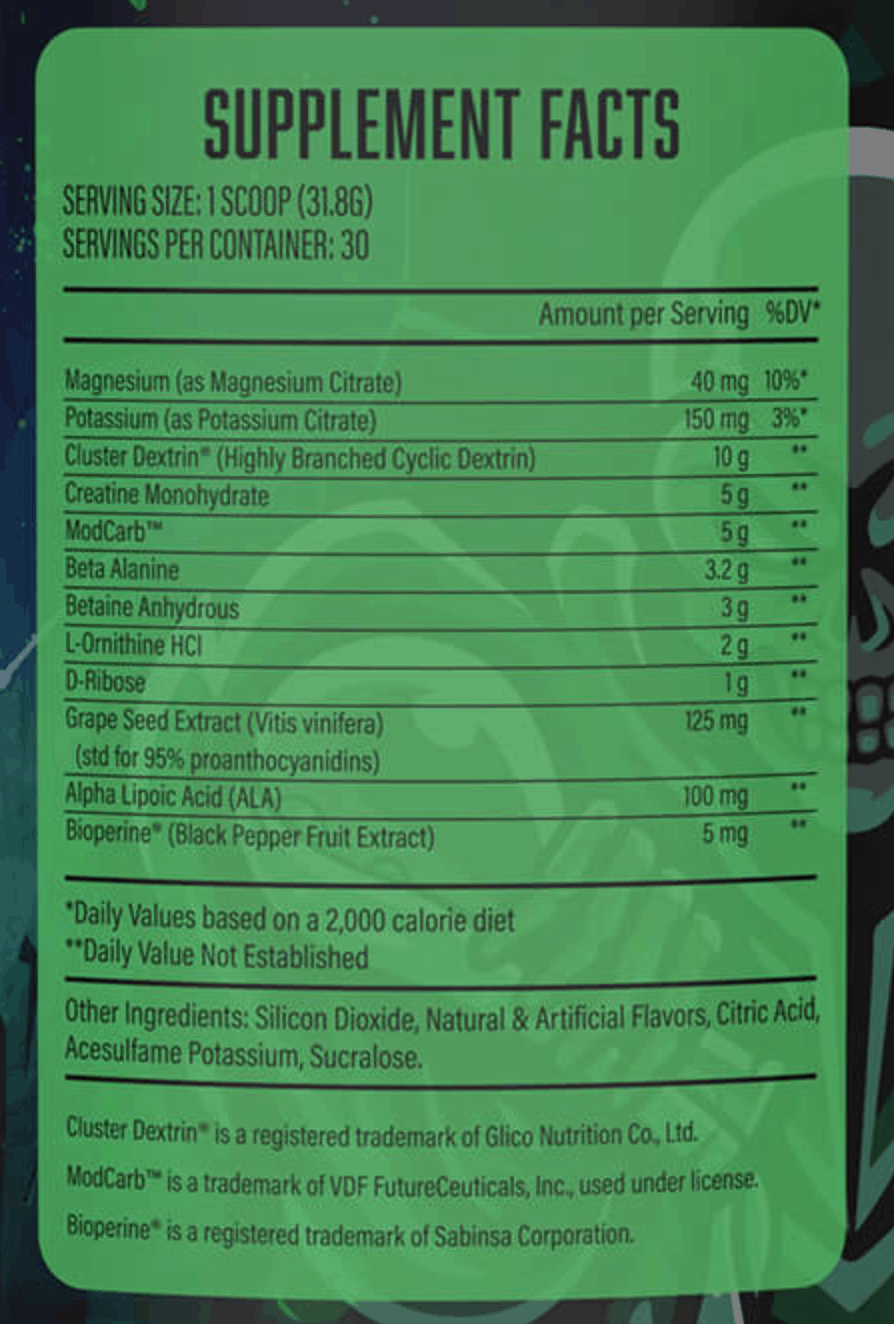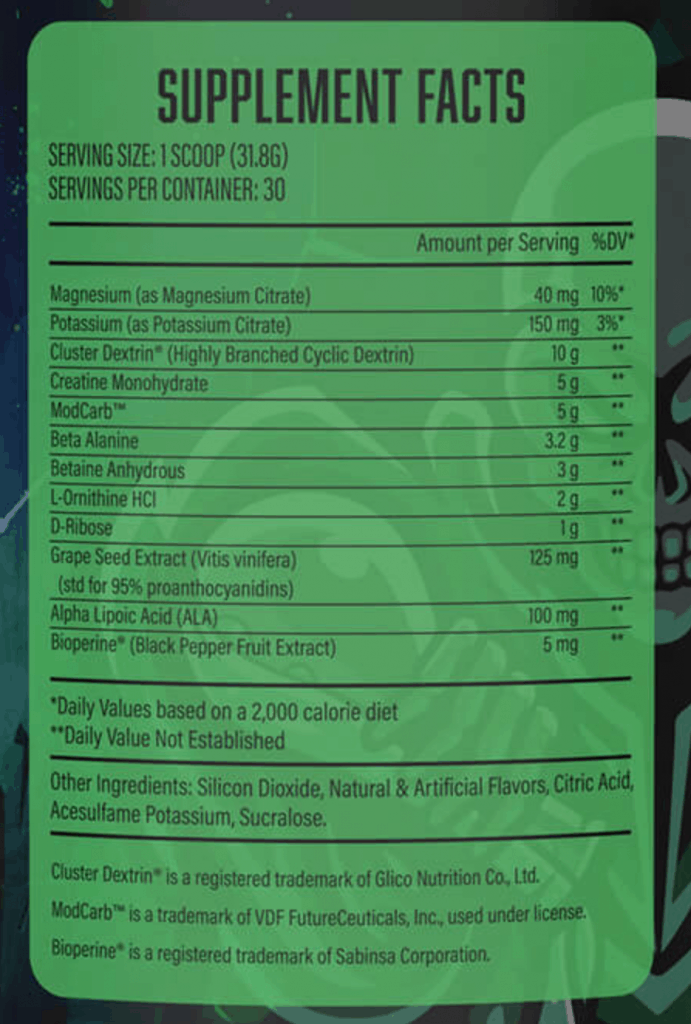 In-Kaged – Kaged Muscle (best with caffeine)
While In-Kaged from Kaged Muscle doesn't have quite as long of an ingredients label as some of the other intra workouts on this list, it contains some unique ingredients amongst intra workouts: caffeine and L-Citrulline.
If you're a caffeine fiend like me, then you won't mind sipping on some extra caffeine through your workout. On top of that, the 3 grams of L-Citrulline can help increase blood flow and power output, helping with pumps and extra reps.
Key ingredients:
BCAA – 5 g
L-Citrulline – 3 g
Coconut Water Powder – 500 mg
Caffeine – 124 mg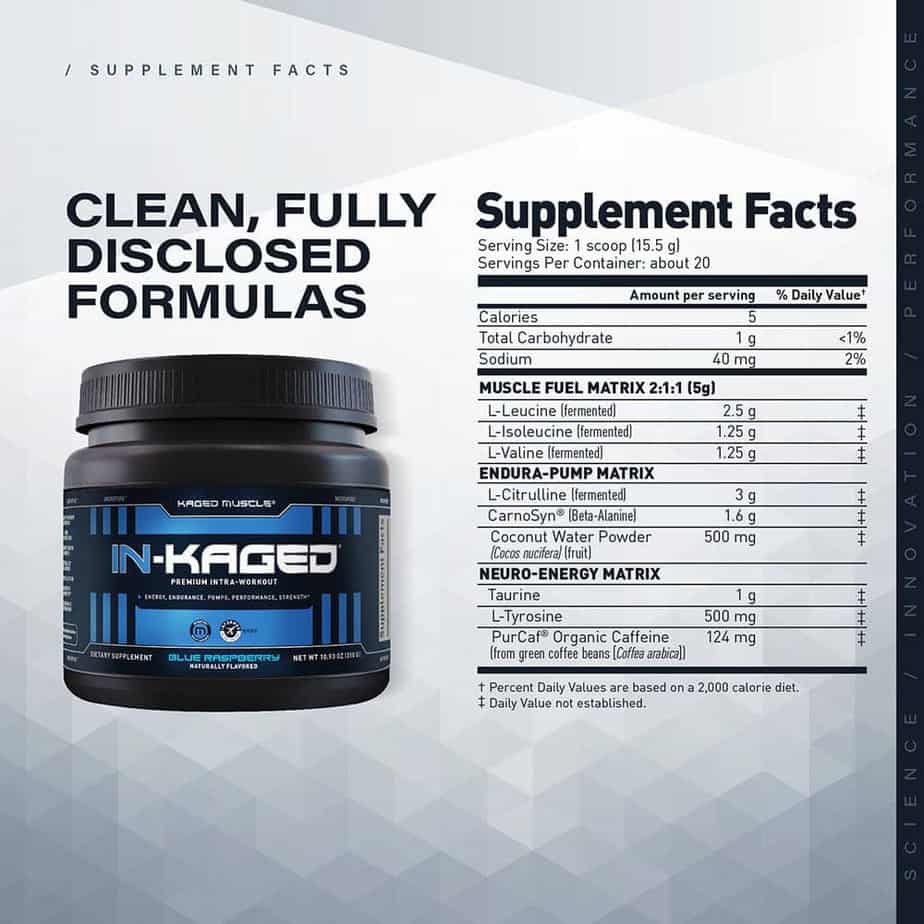 Superhuman Intra – Alpha Lion (best tasting)
Alpha Lion's Superhuman Intra is right up there with Enigma in terms of overloaded, high quality ingredient labels.
Is it quite as stacked as Enigma? No, but Superhuman Intra certainly has a more than respectable label delivering massive doses of key ingredients.
And while Enigma tastes great, Superhuman Intra is a bit better in my opinion. With pineapple, grape watermelon, and sour lime, there's something for every palette.
Key ingredients:
BCAA – 6 g
non-BCAA EAA – 4 g
Coconut Water Powder – 1 g
Electrolytes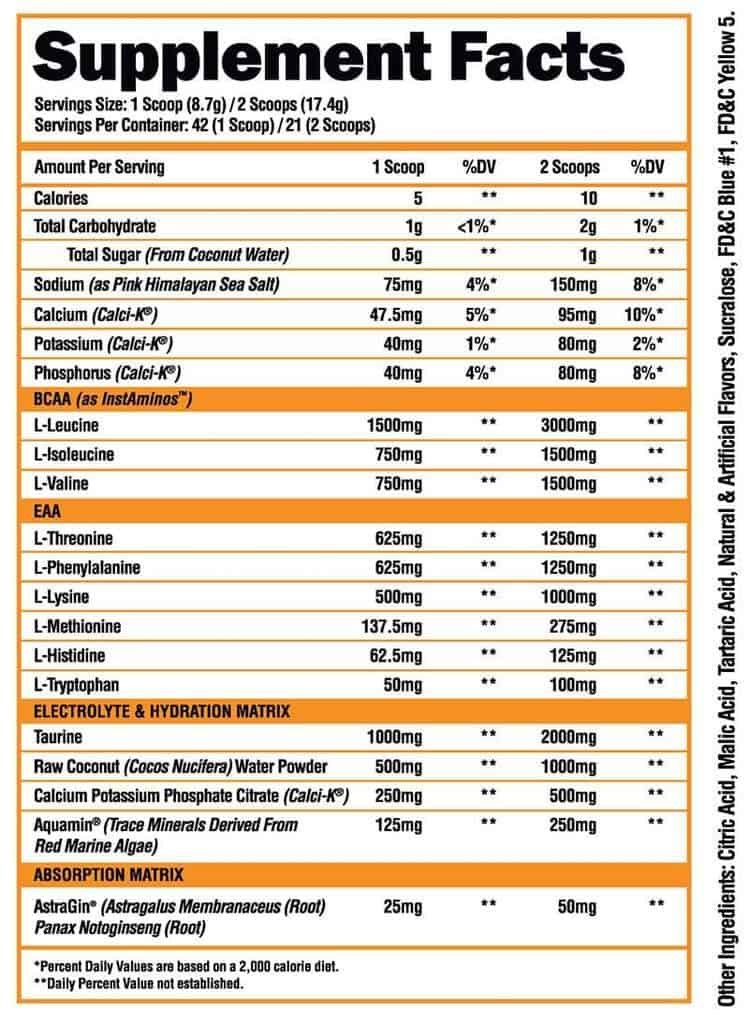 Intra-Workout – Chemix (most cutting edge carbs)
As usual, Chemix is coming out with overdosed, cutting edge ingredients. You'll notice a lot of similarities between this ingredients in Chemix's intra workout and Formula XII by Huge Supplements. As Chemix's product came out in 2019, it's possible that Formula XII was inspired by Chemix.
Both are excellent products, with Chemix's intra workout delivering 5 grams more Cluster Dextrin, but does not have Mod Carb, which is included at a dosage of 5 grams in Formula XII (read: both have 15 grams of complex carbs).
The inclusion of 10 grams of Dextrose in Chemix's product is another big difference. Dextrose is included as a simple carbohydrate for rapid energy. If you're training in a fasted state, this could be especially helpful.
It's also worth noting that D-Ribose is included within the recommended range of 4 to 6 grams, whereas Formula XII falls a bit short there. The same could be said of Ornithine HCL, which is included at the recommended 4 gram dosage in Chemix's intra workout, but only at a 1 gram dosage in Formula XII.
So, in terms of what you're getting in each serving, Chemix comes ahead here in the carb-based intra workout category. And this is to be expected: Chemix, like Apollon Nutrition, is known for overloaded labels and nearly exclusively delivering every single ingredient at clinical doses.
So yes, if you want the true best of the best, top of the line, Cadillac of carbohydrate intra workouts, Chemix's Intra Workout is the best option there.
But it's worth noting that the Chemix Intra Workout retails for $3.50 per serving, while Huge Supplements' Formula XII comes in at a more reasonable, but still hefty, $2.17 per serving. That's a 61% increase from Formula XII to the Chemix Intra Workout.
Whether or not that's worth it is up to you, but if it were my money I'd go with Huge Supplements due to price.
Key ingredients:
Cluster Dextrin – 15 g
Dextrose – 10 g
Creatine Monohydrate – 5 g
D-Ribose – 5 g
Ornithine HCL – 4 g
Betaine Anhydrous – 3 g
Electrolytes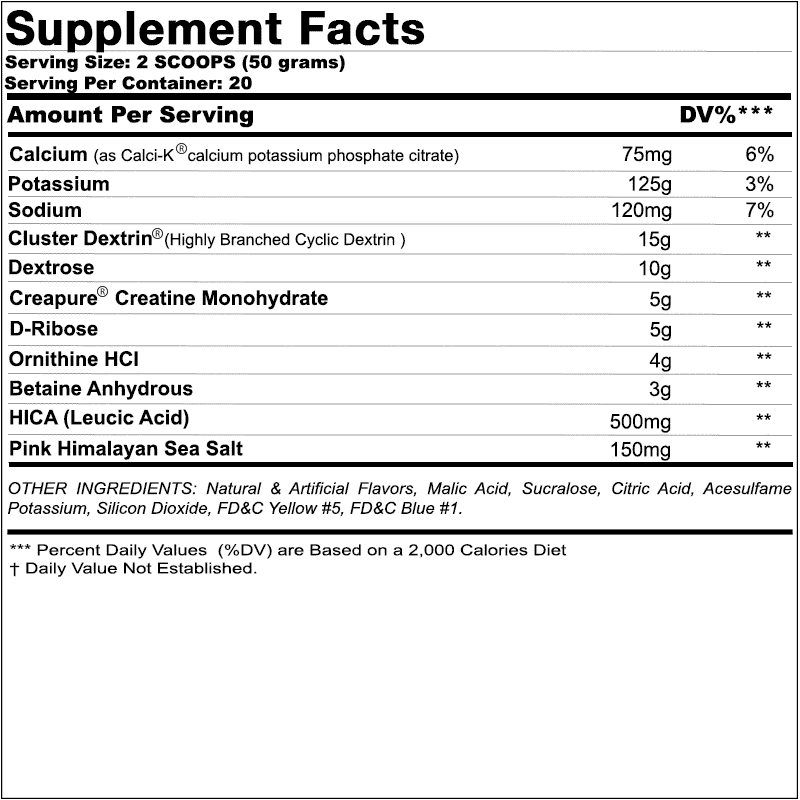 Real Carbs – 5% Nutrition (best real food-based intra)
Founded by the late Rich Piana, 5% Nutrition is known for doing things a little bit differently and its intra workout, Real Carbs, is no different.
Unlike every other product on this list, Real Carbs is derived from natural, high quality food sources like sweet potatoes, oats, yams, and blueberry fruit powder.
It's just real complex carbohydrates, delivered conveniently at a reasonable price of about $1 per serving.
Key ingredients:
Carbs – 22 g
Dietary Fiber – 2.5 g
Sugar – 2 g
Sodium – 120 mg
Potassium – 180 mg
Magnesium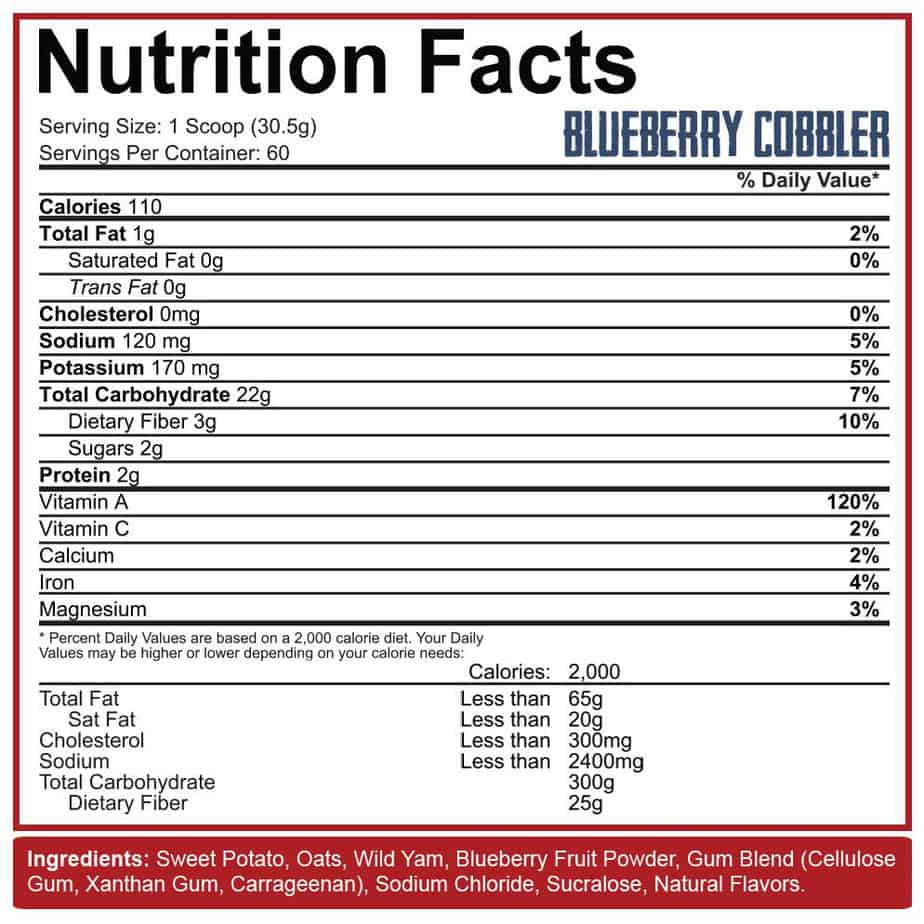 Intra Workout Supplement Benefits
What do intra workout supplements even do?
That's a great question.
Since intra workouts can contain a lot of different ingredients, it depends on what type of intra workout we're talking about.
There are two main types of intra workout supplements: carb-based and amino acid-based.
Intra workouts with carbohydrate ingredients like Dextrin can be helpful for improving energy and endurance during long workouts or while training fasted.
On the other hand, intra workouts with BCAAs or EAAs are better for improving muscle protein synthesis and preventing muscle breakdown. They can also be used as an energy source, though not with the same efficacy as carbs. These can also be a solid choice when training fasted, as you're unlikely to have these amino acids provided by your diet in that case.
Related: Best EAA Supplements
Both of these types of intra workouts (carb-based and amino acid-based) can also contain ingredients to help hydration, including electrolytes like sodium and potassium.
Here are some of the most common benefits, along with the ingredients that may provide them.
Energy & Endurance
Intra workouts can help increase energy, reduce fatigue, and build endurance. In fact, this is the primary benefit used in their marketing.
Fatigue reduction can come from the amino acid valine, which competes with tryptophan for entry into the brain. Less tryptophan into the brain means less serotonin synthesized, leading to a reduction in fatigue.
Both BCAAs and carbs can be used for energy production, helping you train longer, especially in a fasted state. Carbs are the body's preferred energy source of course, with carbohydrate sources like dextrose, highly branched cyclic dextrin (HBCD), and D-Ribose being common ingredients in intra workout supplements.
Hydration
Intra workouts that contain electrolytes like magnesium, potassium, calcium, and sodium can help retain fluids while you training, fighting off dehydration. Of these electrolytes, sodium is the most important.
Muscle Protein Synthesis
Essential amino acids have been shown to support muscle protein synthesis when combined with whey protein more than just whey protein alone.
While BCAAs have also shown to support muscle protein synthesis, emerging research is suggesting that essential amino acid supplementation is preferable to BCAAs alone, as together they can sustain muscle protein synthesis for a longer period of time.
Reduced Muscle Breakdown
Supplementing with amino acids during workouts has been shown to help prevent muscle loss. This can be useful for those who are cutting and need an additional protein source to complement their dietary intake.
Intra Workout Ingredients to Look For
Amino Acids
Amino acids primarily aid in muscle protein synthesis (muscle growth), while also providing some assistance in reducing muscle soreness and overall fatigue.
Below you'll find the difference between BCAAs and EAAs, both of which are commonly found in intra workouts. The summary is that if you have the choice, go for EAAs.
Branched Chain Amino Acids (BCAAS)
BCAAs have been shown to have a number of benefits, including:
So, speaking practically, you're most likely to see some reduced soreness and perhaps some teeny, tiny improvement in muscle growth by supplementing an otherwise healthy diet with BCAAs while you exercise.
The three amino acids categorized as BCAAs are:
L-Leucine
L-Isoleucine
L-Valine
Essential Amino Acids (EAAs)
Remember: essential amino acids are BCAAs + six other amino acids. So naturally they include all of the benefits of BCAAs noted above.
So what's the difference?
Basically, for BCAAs to be most effective, and we're mainly talking about leucine's ability to signal muscle protein synthesis, a complete set of essential amino acids is needed. And while these can come from other sources, like the diet or cells within the body, supplementing them directly with an intra workout is another option.
Further, muscle protein synthesis can be sustained for a longer period of time with EAAs than BCAAs. So if you're taking BCAAs, there's really no reason not to switch to EAAs.
The nine amino acids categorized as EAAs are:
L-Leucine*
L-Isoleucine*
L-Valine*
L-Histidine
L-Lysine
L-Methionine
L-Phenylalanine
L-Threonine
L-Tryptophan
*Branched chain amino acids (BCAAs)
Carbohydrates
Carbohydrates are the body's fuel. As such, it makes sense that they'll appear in many intra workout products. There are a few different types of carbohydrates to look out for when selecting an intra workout supplement that's right for you. These include highly branched cyclic dextrin (HBCD), dextrose, and D-ribose.
Highly Branched Cyclic Dextrin (HBCD)
Highly branched cyclic dextrin is a form of dextrin that can be easily absorbed in the stomach and provide sustained energy. This makes it effective as an energy source to consume while working out. It also means no bloated feeling occurs after consumption, another important benefit for intra workout supplementation.
Dextrose
Dextrose is chemically identical to glucose, or blood sugar. It is the primary molecule needed by the body to produce ATP during glycolysis. It provides a quick shot of energy, but does not last as long as HBCD.
D-Ribose
D-ribose plays an essential role in ATP synthesis and it can be a limiting reagent in the process. In other words, if you don't have enough of it, your body's ability to produce energy can be reduced. Your body can still make its own ribose, but not always as rapidly as other parts of the body are ready to use it for further ATP synthesis.
elevATP
While creatine is typically supplemented to help ensure the body is able to maximize ATP production, a faster acting supplementation option exists.
elevATP is a patented form of ancient peat and apple skin extracts. Unlike creatine, which takes weeks to properly saturate your muscle, elevATP can elevate the blood's ATP levels within an hour. And as we know, ATP can help increase power output for short periods of high-intensity activity like sprinting or lifting weights.
Electrolytes
Electrolytes like sodium, magnesium, potassium, and calcium can help your cells retain water and stave off dehydration while you exercise. Even a water loss as slight as 1-2% of your body weight can result in declines in focus, speed, and strength.
Betaine Anhydrous
Betaine is included to help increase your power output. However, research is pretty inconsistent around this claim.
Betaine often finds itself included in pump formulas because it theoretically could indirectly "…enhance vasodilation and cellular swelling during resistance training." It can also enhance phosphocreatine replenishment if creatine is already being taken daily, which helps replenish energy stores.
Examine recommends a daily dosage of 2.5 to 6 grams of betaine in order to potentially see performance benefits. Intra workout supplements like Chemix's Intra Workout and Huge Supplements' Formula XII Intra Workout hit this range.
Ornithine
Ornithine is an amino acid that helps dispose of ammonia through the urea cycle.
Why does this matter?
Ammonia can accumulate throughout a workout from the breakdown of AMP, which is a byproduct of ATP. This accumulation can increase the production of GABA, a neurotransmitter that can lead to feelings of fatigue. As little as 4 grams of Orinthine HCL has been shown to significantly lower the amount of ammonia circulating in the blood.
L-Glutamine
L-Glutamine is a conditionally essential amino acid that can benefit the body by acting as an energy source during prolonged exercise.
The standard dosage of glutamine is about 5 grams.
Other Popular Intra Workout Supplements
Other popular intra workout supplements for improving athletic performance and boosting endurance include the following.
Scivation Xtend
MuscleTech Amino Build Next Gen
Gaspari SizeOn
Cellucor COR
Controlled Labs Purple Wrath
Jacked Factory IntraSurge
Xtend BCAAs
Huge Supplements BCAA
Steel Supplements Adabolic
NutraBio Intra Blast
Old School Labs Vintage Blast
Magnum Opus Intra Workout
Animal Juiced Aminos
BCAA Max Pump
Frequently Asked Questions
Do I need an intra workout supplement?
No, I would not classify intra workout supplements as essential nutritional supplements. You could get much of the same benefit from simply eating some carbs and protein prior to working out.
I think intra workouts have a place in the supplement regiment of those who train fasted, those who train for several hours, or those who train in such a way where eating before working out is not practical.
What are the benefits of an intra workout supplement?
Generally speaking, the benefits of intra workouts can include:
Improved muscle protein synthesis and muscle recovery
Prolonged endurance
Hydration
Increased energy from carbohydrates
Marginally increased energy from amino acids
However, these benefits are only marginally better than what could be achieved from eating carbs and protein before and after a training session.
How is an intra workout different from a pre workout supplement?
Pre workout supplements tend to deliver increased energy, power output, mood elevation, and blood flow. They achieve this by including ingredients like caffeine, L-citrulline, beta alanine, and other similar ingredients. Most notably, you can "feel" a pre workout working within 30-60 minutes.
An intra workout is typically comprised of amino acids or carbohydrates. These are designed to improve muscle protein synthesis while you workout and provide sources of energy to fuel your training session. It is also much more difficult to "feel" an intra workout supplement working, at least when compared to pre workout.
Pre workout usage is much more common amongst gym goers vs. intra workout usage. I personally suspect this is because it's easier to "feel" a pre workout working, the energy of caffeine is more appealing vs. the energy provided by carbs or amino acids, and the benefits of intra workout supplements are easier to replicate through a normal diet.
How is an intra workout different than a post workout supplement?
There can be a lot of overlap between intra and post workout supplements depending upon the two you're comparing.
Common ingredients you'll find in both include BCAAs, L-Glutamine, Beta Alanine, Betaine Anhydrous, and Creatine. The goals are similar: improve muscle protein synthesis, prevent muscle breakdown, and replenish energy stores.
Honestly, for most people, it's sufficient to drink a high quality protein shake after a workout to make sure your body is able to adequately repair muscle. High quality protein will includes EAAs (including BCAAs), making sure your body has the tools it needs to recover from a training session. Of course, there are some fancy ingredients that might be able to provide marginal benefit to the most advanced users, but that discussion is out of this answer's scope.