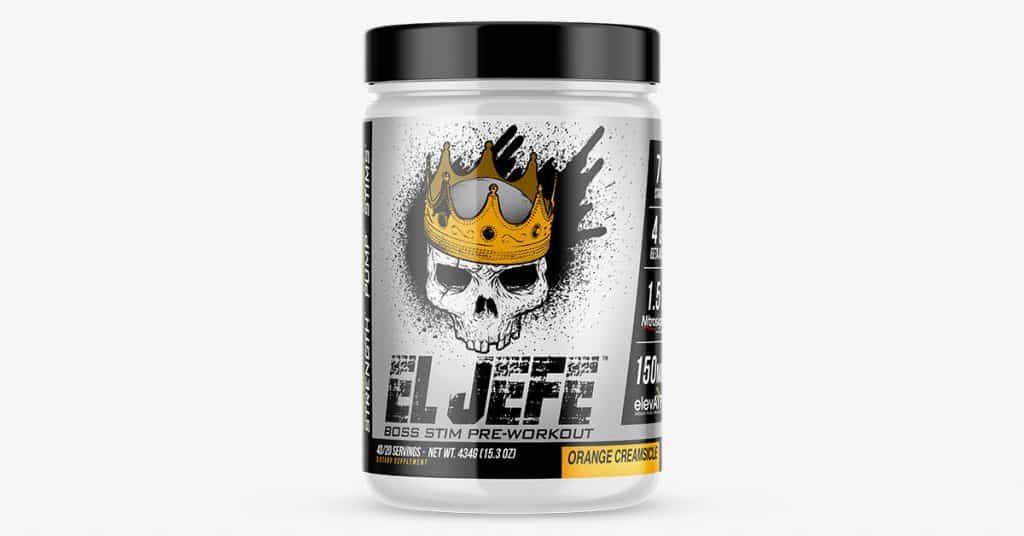 El Jefe pre workout is a pre workout supplement known for its powerful stimulant ingredient matrix. Notable ingredients include two types of caffeine, DMHA, eria jarensis, and alpha yohimbine. On the effect side, focus and mood elevation are most notable and the overall experience is pleasant and well balanced.
My friend over at Nutrition Cartel was kind enough to send me over a sample to review for Lift Vault readers.
Spoiler alert: I really enjoyed it. It's one of my favorite strong pre workouts and one of the best DMHA pre workouts I've come across.
August 2, 2022 Update:
ASC Supplements has released a 3rd version of El Jefe Limited Edition (v3).
It absolutely slaps and is a noticeable step up from El Jefe and the previous Limited Edition (v2).
If you're seeking energy and aggression with long-lasting focus, check out El Jefe Limited Edition v3.
God Tier Pre-Workout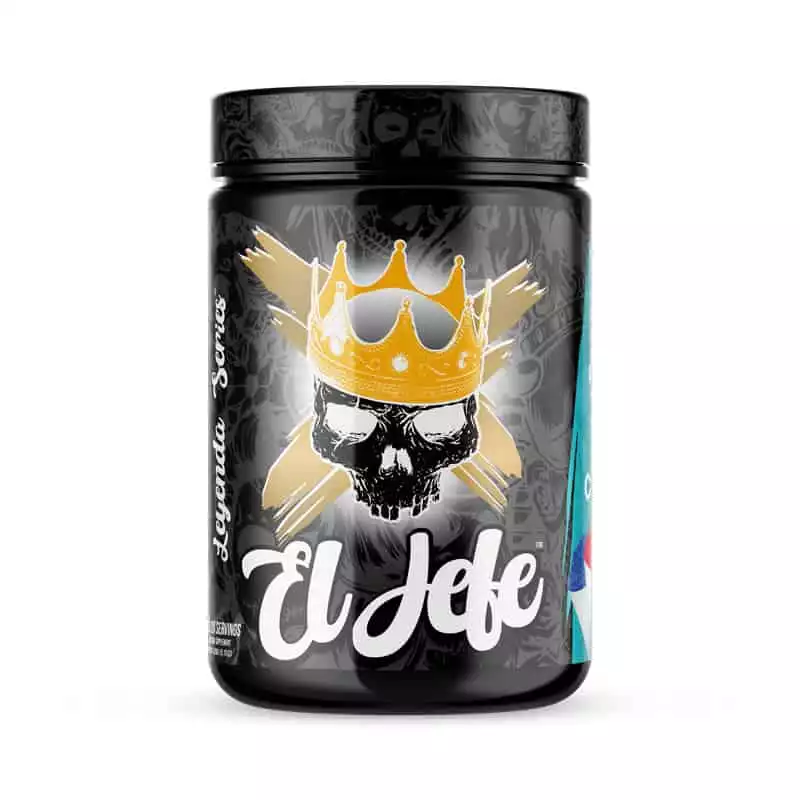 Hardcore Pre-Workout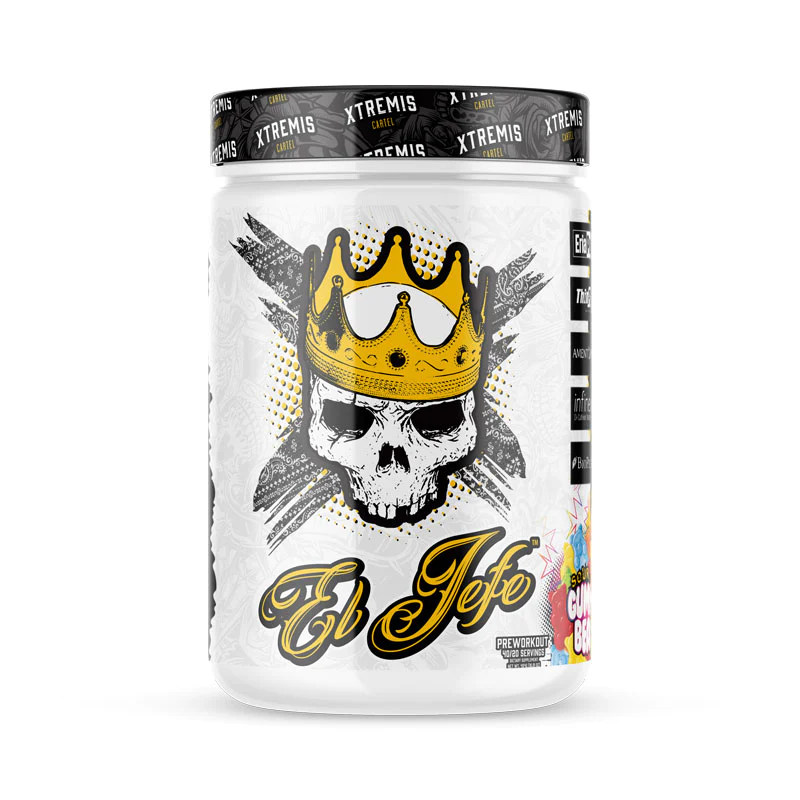 El Jefe Pre-Workout
El Jefe is a powerful pre-workout that delivers euphoric energy and long lasting focus.
One of my personal favorite pre-workouts! Get the peach rings flavor if you can.
Discount codes:
LIFTVAULT = 15% off at ASC Supplements and Nutri Cartel
Caffeine: 425 mg
L-Citrulline: 8,000 mg
Shop ASC Supplements
Shop Nutrition Cartel
Lift Vault earns a commission if you click this link and make a purchase at no extra cost to you.
Let's get to it!
El Jefe Limited Edition v3
This is the latest version of El Jefe Limited Edition as of July 2022. If you're considering purchasing a limited edition of El Jefe, this is the one you're looking at.
I'm gonna keep this short: this is the best version of El Jefe yet.
I complained a bit that the prior Limited Edition of El Jefe (v2) didn't seem all that different from the regular El Jefe. That was fine with me, as I like El Jefe, but it sort of seemed like a letdown since I was expecting something special.
Let me say that El Jefe Limited Edition v3 definitely hits harder than the regular El Jefe.
If you're looking for a nice blend of aggression and energy, then I absolutely recommend El Jefe Limited Edition v3.
El Jefe Limited Edition v2 (Archived Review)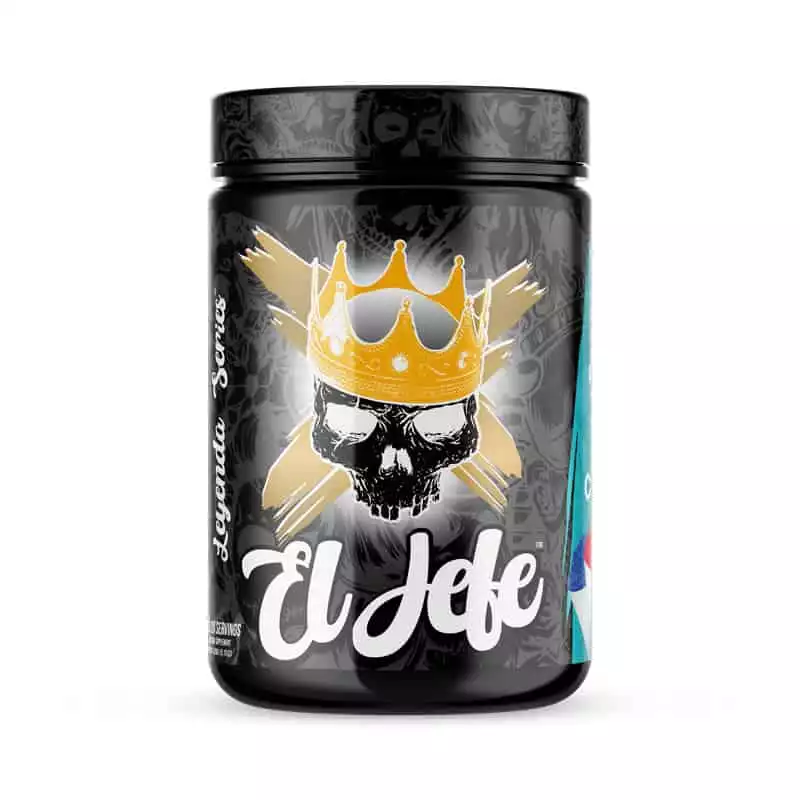 My Experience
I tried the limited edition El Jefe this morning before squats. I took two level scoops, which weighed out to a nearly perfect full serving size of 21.4 grams.
ASC really nailed the scoop size here. One level scoop aligns with the estimated scoop size weights on the ingredient label.
I don't recall feeling many beta-alanine tingles, which is surprising since there are 4 grams of the ingredient in a full serving. They were there, just not super intense.
The caffeine citrate kicks in pretty quickly, which is one of the critical differences for the new limited edition version. The original version used di-caffeine malate, which is an extended-release version of caffeine. This version, caffeine citrate, kicks in faster.
From there, it built slowly over the next 30-40 minutes. This doesn't hit you like a truck, but does build nicely until about 45 minutes in when it starts to peak. At this point, the caffeine, DMHA, and alpha yohimbine blend and create heightened focus, a bit of aggression, and an excellent kick of energy.
There is a decent amount of mood elevation, buzziness, and euphoria from the DMHA, but that takes a bit of a back seat.
Energy, aggression, and focus were the most prominent effects to me.
Bottom line?
Despite getting not-so-great sleep last night, I still crushed my workout. Thanks, El Jefe!
El Jefe Limited Edition vs. Original El Jefe
This is probably the first question on everyone's mind whenever a limited edition version of a pre workout is released: how does it compare to the original?
To put it simply, they're both great.
El Jefe Limited Edition is quite similar to El Jefe Original in most respects. I'd say this is my biggest complaint about the new version: it doesn't seem to change a whole lot when compared to the original.
The limited-edition version kicks in a bit faster and has a bit more edge from the added yohimbine HCL, but they're generally pretty similar.
Now, don't get me wrong. I really like El Jefe and I'll continue to recommend it.
If you've never tried El Jefe, pick up this limited edition. You won't be disappointed.
If you already have a tub of El Jefe at home and you're on the fence about picking this one up, my 100% honest advice is that this probably won't be a "must buy" product for you. Not because it isn't good (it is), but because it's so similar to the original version.
Ingredient Label
Here's the El Jefe limited edition ingredient label.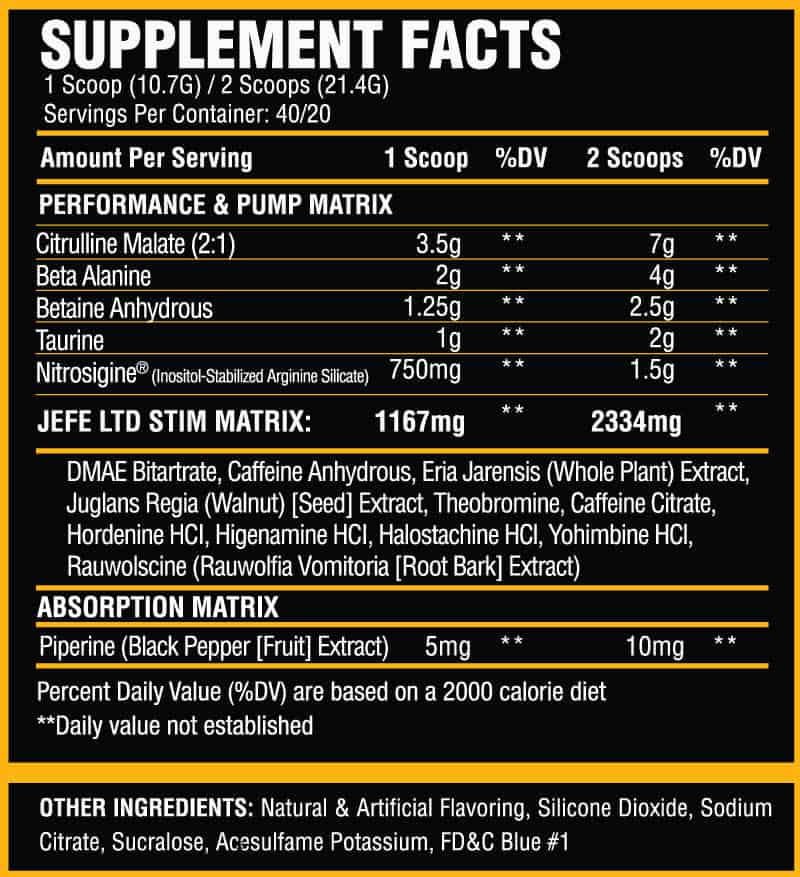 It's a little tricky to compare the ingredients in the limited edition of El Jefe to the original version, as the differences are contained in the proprietary ingredient blend.
Still, I will do my best to point out some important distinctions.
Caffeine Citrate
Both versions of El Jefe yield 400 mg of caffeine in a full serving. I've confirmed with ASC that the limited edition contains 350 mg of caffeine anhydrous and 100 mg of caffeine citrate (50 mg yield).
The result here is that you'll get a bit quick onset with the limited edition of El Jefe.
DMAE Bitartrate
DMAE replaces choline bitartrate on the limited edition El Jefe, presumably as a different focus ingredient.
Halostachine HCL
Halostachine is an alkaloid that is structurally similar to β-PEA, which is a bit more commonly seen in pre workout supplements. It acts as a stimulant and can enhance focus and mood.
Yohimbine HCL
Yohimbine HCL is structurally similar to alpha yohimbine, but a bit less potent. The potential benefits and side-effects are similar too: fat burning, stimulation, appetite suppression, sweating, and anxiety can results from ingestion of Yohimbine HCL.
I would say that, like the original El Jefe, the limited edition version does have a bit of "edginess" to it, but it's not overwhelming. It's not nearly as overpowering as Herolean Fat Burner, which basically was so intense I had to take breaks during my workout to catch my breath.
I found the Yohimbine HCL and Alpha Yohimbine combination in limited edition El Jefe to be quite manageable.
Ingredients removed
Choline bitartrate, ElevATP, huperzine A, and di caffeine malate were all removed from the original El Jefe ingredient list.
Flavor
I tried the Snowcone flavor. I know this is a "classic" flavor in the pre workout industry, but this is one of the few times I've tried it.
It's pretty tasty. I don't know if it is better than the original Peach Rings flavor, but it's still pretty good.
I don't think there will be any complaints about the snowcone flavor. Thumbs up!
My Experience with El Jefe Pre Workout
I have had an enjoyable experience with El Jefe and it has become one of my go-to pre workout supplements. I find its effects to be a great balance of euphoria and energy without any nasty side effects.
Although a full serving of El Jefe is 2 scoops, I've taken 1.5 scoops and even 1 scoop (in the evening) with positive effects. I'd recommend starting at 1.5 scoops, as that may be all you need and that will give you 30 servings instead of 20 servings.
El Jefe kicked in pretty quickly, probably within 20 to 30 minutes. Energy, focus, and mood elevation were all apparent by that point.
From there, I had really solid energy and an excellent mood for the remainder of my two hour workout. I didn't feel jittery or tweaked out, but definitely felt dialed in and focused with a happy mood.
I cruised through my workout and even did a few extra sets of accessories because I was feeling so good.
The best part, in my opinion, is how smooth El Jefe feels afterward. There is no noticeable crash effect. Mood and energy stay upbeat!
All in all, this was a great experience. I was pleasantly surprised by El Jefe, as I was a bit turned off by its proprietary blend ingredient label (one of the few downsides it has).
Where to Buy El Jefe Pre Workout
You can get El Jefe from the following retailers:
El Jefe Ingredient Label
This breakdown of the ingredient label will not include the dosages of each ingredient because El Jefe uses a proprietary blend formula. This means it lists each ingredient, typically in descending order by amount, but doesn't disclose the amount of individual ingredients.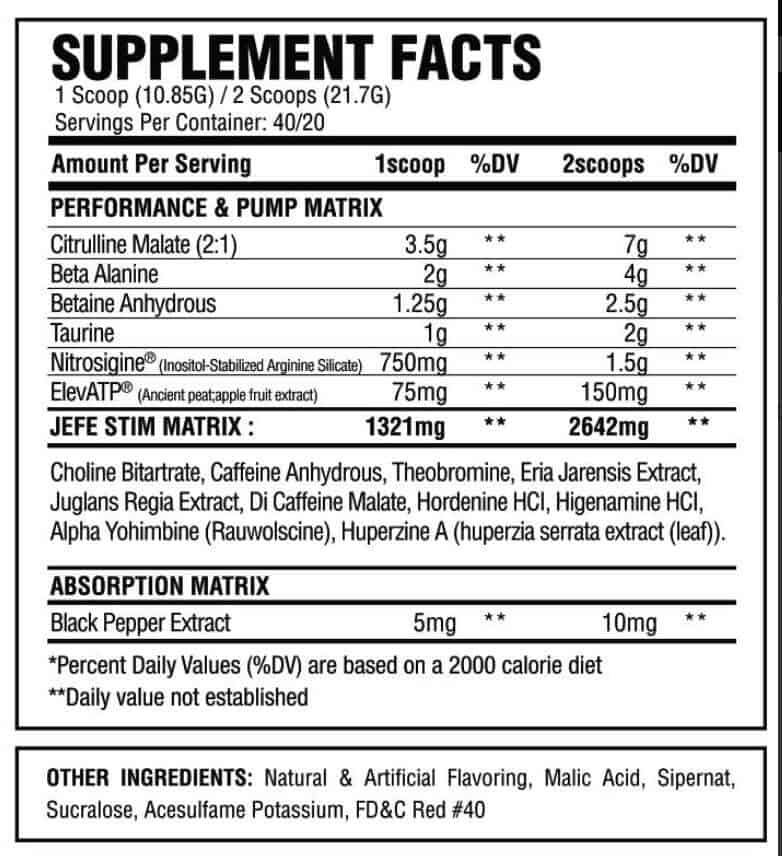 Citrulline Malate – 7 grams
Citrulline Malate is one of the best-researched pre workout ingredients, consistently demonstrating increases in power and nitric oxide alongside decreases in fatigue (Examine).
7 grams is a clinically effective dosage.
Beta Alanine – 4 grams
Beta alanine has consistently shown to support muscular endurance and can act as an a lactic acid buffer. Regular intake of beta alanine is required in order to achieve these benefits, but 4 grams is in line with recommended dosages.
Betaine Anhydrous – 2.5 grams
Betaine is included to help with power output. Research is inconsistent on this claim, but it is a popular ingredient nonetheless.
2.5 grams is within the range of recommended daily dietary supplementation on Examine.
Taurine – 2 grams
Taurine is kind of a "miscellaneous" pre workout ingredient with a range of potential, albeit limited, physical benefits. It can aid in blood flow, reduce cramping, and act as a booster to anti-oxidant defense systems (Examine). It's a pretty insignificant ingredient in pre workout compared to other ingredients, but doesn't hurt anything either.
2 grams is a solid dosage of taurine to achieve any effects it has to offer.
Nitrosigine – 1.5 grams
Nitrosigine is an ingredient that helps increase nitric oxide levels, muscle size, and mental acuity (source).
1.5 grams is a clinical dosage of Nitrosigine.
ElevATP – 150 mg
This is a proprietary blend comprised of ancient peat and apple extract that is shown to increase ATP, leading to increases in maximal power output (source).
150 mg is a clinical dosage of ATP.
Choline Bitartrate
Choline is often included in doses ranging from 1 to 2 grams to help boost mental focus as a nootropic. However, it is often included in Alpha GPC form for this purpose and Choline bitartrate may not be as effective for nootropic purposes (source).
Caffeine Anhydrous – 300 mg
Caffeine anhydrous is the typical form of caffeine, well known for increasing energy, power, and focus.
El Jefe contains 300 mg of caffeine anhydrous, which is a solid dose.
Theobromine
Theobromine is a stimulant that is sort of a "caffeine light" ingredient.
Eria Jarensis Extract
Eria Jarensis is a stimulant that is commonly seen alongside DMHA in high stim pre workouts.
Juglans Regia Extract
DMHA is a stimulant, similar to DMAA, known for boosting energy, focus, and mood. It comes in many different forms, of which Juglans Regia Extract is one. Others include 2-aminoisoheptane and kigelia africana.
Related: Where to Buy DMHA Powder Online, Best Pre Workout with DMHA
Di Caffeine Malate
This is the "extended release" version of caffeine, which helps extend the effects of the pre workout and provide a smooth "come down" instead of a rapid drop in energy, which can occur with large doses of caffeine anhydrous.
Hordenine HCL
Hordenine (N,N-dimethyltyramine) is a stimulant that is often included in recent "nootropic" products. It is not widely researched, so much of the information available comes from anecdotal accounts.
Higenamine HCL
Higenamine is thought to have similar mechanisms to ephedrine, which has led to usage as a fat burner, though this is not well researched.
Alpha Yohimbine (Rauwolscine)
Alpha Yohimbine, also known as "alpha yo," is a polarizing stimulant. Some individuals are particularly sensitive to alpha yohimbine and will always avoid any pre workout containing it. Common negative side effects can include anxiety, headaches, chills, sweating, frequent urination, and increased blood pressure.
Personally, I did not feel any of these negative side effects with El Jefe, so I don't think the dosage of Alpha Yohimbine is too high. I have felt chills and some anxiety from high doses of Alpha Yo, so I am not immune to them, but El Jefe did not give me any of those side effects.
Huperzine A
Like Alpha GPC, Huperzine A is a cholinergic that acts as a cognitive enhancer.
Conclusion
El Jefe impressed me and it is a pre workout I'd recommend. It is strong, but not insanely strong, which is honestly all I need most days.
If you've never had a strong pre workout before, El Jefe will be more than enough.
If you're a grizzled pre workout veteran, I think you'll appreciate the pleasant effects of the pre workout on days you only need to be going 90 mph instead of 100 mph. 😉
El Jefe Pre Workout Review
El Jefe Pre Workout Review
El Jefe is a great "high stim" pre workout from ASC Supplements. It provides powerful, clean energy + focus and great mood enhancement. It doesn't have any serious side effects and fades out nicely with minimal crash. This is quickly becoming one of my favorite pre workouts despite its proprietary ingredient blend.
Pros
Excellent mood enhancement
Great energy + focus effects
No negative side effects
Effective at 1.5 scoops (vs. 2 scoops)
Cons
Proprietary blend ingredient formula
20 full servings per tub