November 2021 Update:
Dark Energy pre workout may be returning soon.
There are rumors circulating that Dark Energy may be under new ownership and returning in November 2021.
Here's a picture of the new label: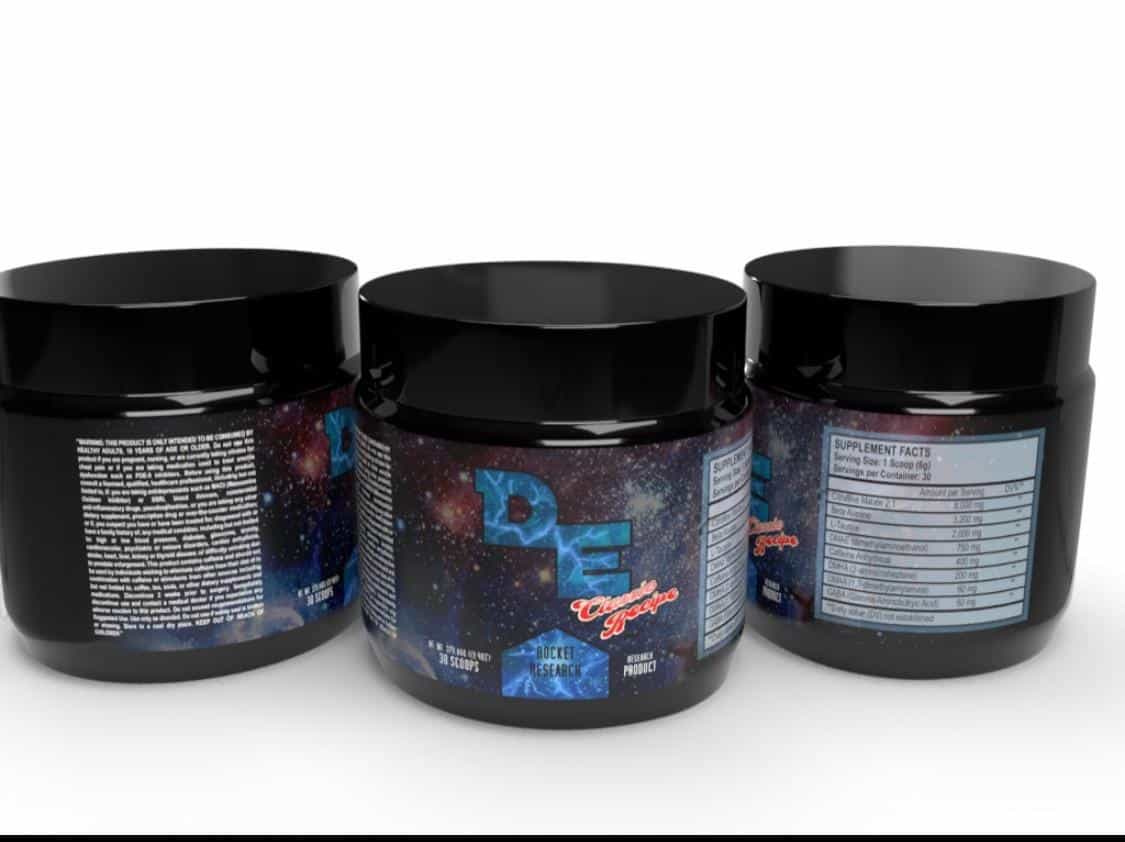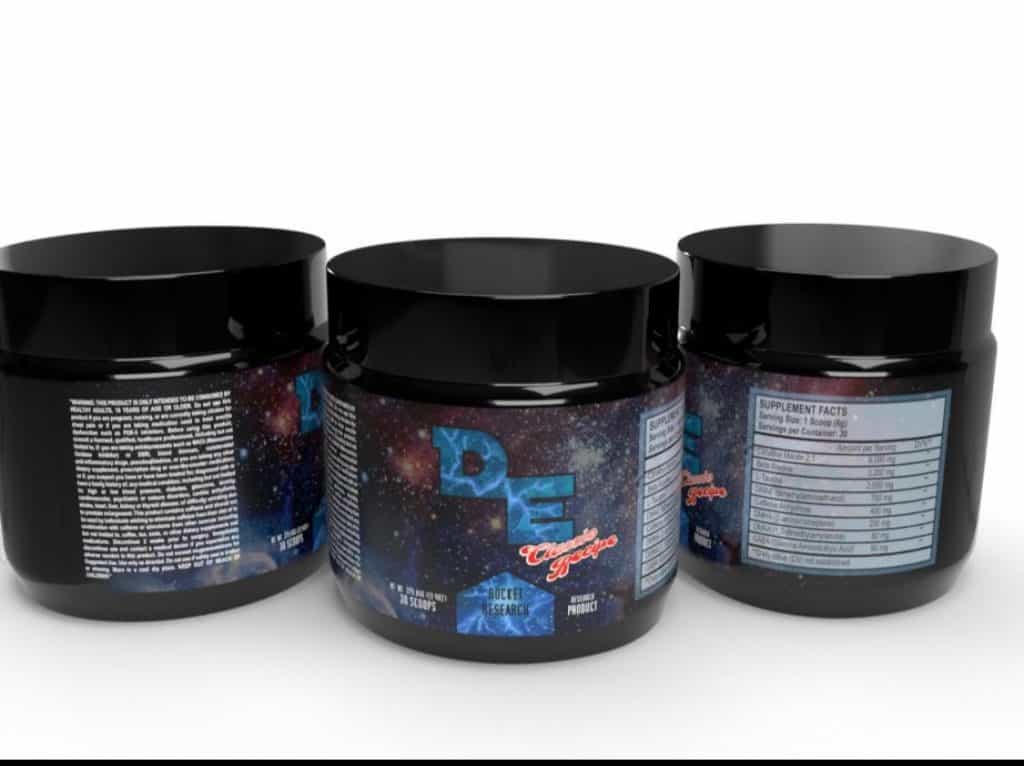 It remains to be seen if this version of Dark Energy will feel the same as the old version. The ingredient label is identical.
Here are some other options to consider until Dark Energy returns:
Dark Energy pre workout is a controversial pre workout supplement known for containing DMAA and DMHA. These ingredients are stimulants and prohibited for sale as a dietary supplement by the FDA. As a result, Dark Energy is marketed as a "research product" by its manufacturer, Magnitude Life Sciences.
Dark Energy is not a rage-inducing pre workout, but is great for smooth energy, focus, and mood elevation. It doesn't make me feel anxious or negatively impact my mood after taking it. I suspect Dark Energy's relative lack of negative side effects is because of its GABA ingredient.
Discontinued (RIP)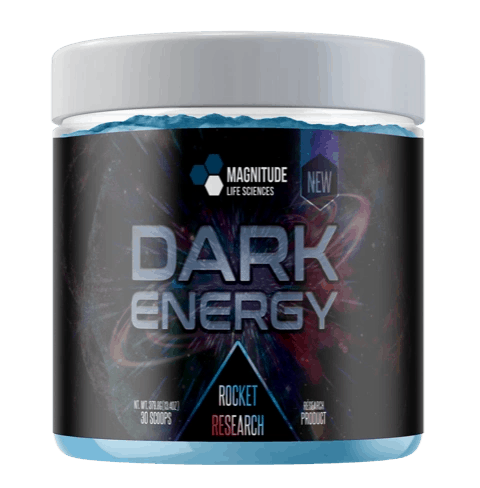 Dark Energy Pre Workout
April 11 Update:
Dark Energy is out of stock just about everywhere. It was a good run.
Check out other DMAA pre workouts below.
See Other DMAA Pre Workouts
Lift Vault earns a commission if you click this link and make a purchase at no extra cost to you.
Below you'll find the best price for Dark Energy, my complete experience with the pre workout, and a complete ingredient label breakdown.
Dark Energy is sometimes misspelled as Dark Matter pre workout. Make no mistake – it's Dark Energy!
April 11, 2021 Update (What Happened to Dark Energy)
Alright folks, listen up.
Here is what happened to Dark Energy pre workout.
Sometime in late March 2021, the manufacturing facility that produced Dark Energy got shut down. This was presumably done by the FDA, but I was not able to find a public announcement on the FDA site.
As a result, Dark Energy Pre Workout is no longer being manufactured. This also impacted other DMAA pre workout supplements manufactured in this facility, including all Static Labz products and some God Status Labz products like Krak'n Pre Workout.
That's pretty much all of the information I've been able to gather on the situation.
Dark Energy = Split Opinions
Some reviewers, like Fitness Deal News (video below), claim the pre workout "makes you fly" and provides "amazing mood elevation." And coming from TJ, a trustworthy fellow who knows his stuff, this is high praise indeed.
Other reviewers, like 5 Minute Supp Reviews, were disappointed after 3 attempts with the pre workout. He reports a decent energy boost, which would be expected with the 400 mg of caffeine, and a slight mood elevation, but nothing quite as dramatic as what TJ experienced.
So with these split opinions, I wanted to see for myself and compare it to my recent hardcore experience with Assassin pre workout by Apollon Nutrition.
Dark Energy Pre Workout Review
At the Gym
I took Dark Energy in the morning after a good night's rest and a breakfast of eggs with a protein shake. This is all standard operating procedure for my Saturday workouts.
I went with one full scoop of the rocket research flavor, which is the standard serving size. After about 15 minutes I felt an energy boost kicking in along with some nice mood elevation. This peaked after 30 minutes with what I'd call 7/10 energy and 9/10 mood. I had a great workout lifting in some high intensity percent ranges for me. I probably could have kept going a bit, but I was on a schedule and had to leave. So yeah, it gave me a good energy boost and a solid workout. This is to be expected.
Afterward
I can see why TJ from FDN refers to this as one of his favorite happiness pre workouts. There's some genuine mood elevation going on, but frankly I was disappointed with this pre workout. I felt nice and energized, but there was no intensity, no hunger to attack the weights. It would seem that my expectations were just not in line with what Dark Energy delivers.
If you want to feel hyped up, ready to lift everything in the gym, and kill your workout – go with Assassin (Apollon Nutrition), hands down. I was fully expecting to come away from my experience with Dark Energy and Assassin and say "yeah, go with either, they're both really good," but really there is no comparison between the two.
Dark Energy is very smooth, mood elevating, and energizing, but I barely noticed a difference vs. something like Game Day, which has an entirely legal ingredient profile. If I'm taking something that's "not for human consumption," then I don't want to feel like a human after I take it. This just isn't the pre workout for that kind of experience. Dark Energy is better for uplifting energy and mood elevation.
Summary
This pre workout has decent energy boosting and mood enhancing effects, but there is something missing in it. Given the ingredient label, I feel crazy saying "decent energy boost" for a product with DMAA and DMHA, but here we are. I suspect the GABA may be having unintended effects and taking too much of an edge off of the pre workout.
If you're looking for something different that will improve your energy and mood in the gym, Dark Energy may be what you're looking for. If you're looking for an intense pre workout that will hit you like a rocket and make you lift like a maniac, this ain't it, chief. It's one of the last few pre workouts with DMAA and DMHA (although you can always buy your own DMAA and DMHA).
Edit: After several more weeks of using Dark Energy on and off, I've actually come to quite enjoy it as a nootropic/focus enhancing productivity booster. I take a half scoop in the afternoon as a pick-me-up and it gets the job done.
For this reason I've increased my rating from 3 to 3.5 stars.
Dark Energy Ingredients Label
Let's walk through the ingredients label for Dark Energy.

DMAA (60 mg)
If you're reading this, you want to know about the stims. The label says that one serving of Dark Energy contains 60mg of DMAA, a strong dose. I won't contest that. DMAA is a powerful stimulant that is banned by the FDA. It is difficult to find in most pre workouts, which is part of what makes Dark Energy so enticing. I have taken "pure" (according to the sources) DMAA from NutraVita Shop and ELV Bioscience. I felt a bigger energy surge after taking those, but I suspect this has to do with GABA interaction.
DMHA (200 mg)
DMHA is also a stimulant and is quite similar to DMAA in terms of effects, it just requires a larger dosage. This made it a popular pre workout ingredient for replacing DMAA. Of course, nothing lasts forever and the FDA began issuing warning letters to companies that included DMHA in their products in April 2019. The fact that Dark Energy has both DMAA and DMHA on its ingredient label is a huge middle finger to the FDA and, in my opinion, a large part of why it has received so much attention.
Related: Best DMHA pre workout (2020)
GABA (50 mg)
Here's where things get interesting.
I suspect GABA is the ingredient that may be causing the controversy over Dark Energy.
GABA is an amino acid that behaves as a neurotransmitter, attaching to your brain's GABA receptors and depressing the central nervous system (CNS).
Yes, depressing the central nervous system. It chills you out.
It's also worth noting that not everyone responds the same way to oral GABA supplementation. Some people feel the effects more than others.
These GABA receptors are the same types of receptors that benzodiazepines (aka "benzos") like Xanax or Ativan attach to, producing a calming effect on the CNS.
To be clear: GABA and benzos attach to similar receptors, but they are not the same classification of drug. Benzos have a well documented effect.
Oral GABA supplementation effects are less well documented, but they been reported anecdotally. Nitric oxide has also been shown to help GABA cross the blood brain barrier (i.e. make it effective instead of just swimming around in the body, where it can't attach to GABA receptors in the brain), which citrulline malate helps with.
My armchair pharmacologist POV is that people that are underwhelmed by Dark Energy, even feeling calm on it, are overly sensitive to the GABA. The GABA is doing too good of a job at taking the edge off of the stimulants and is resulting in a pre workout that feels lacking. I suspect it's also one of the reasons others feel "happy" while taking it.
I think that is what is leading to comments like this: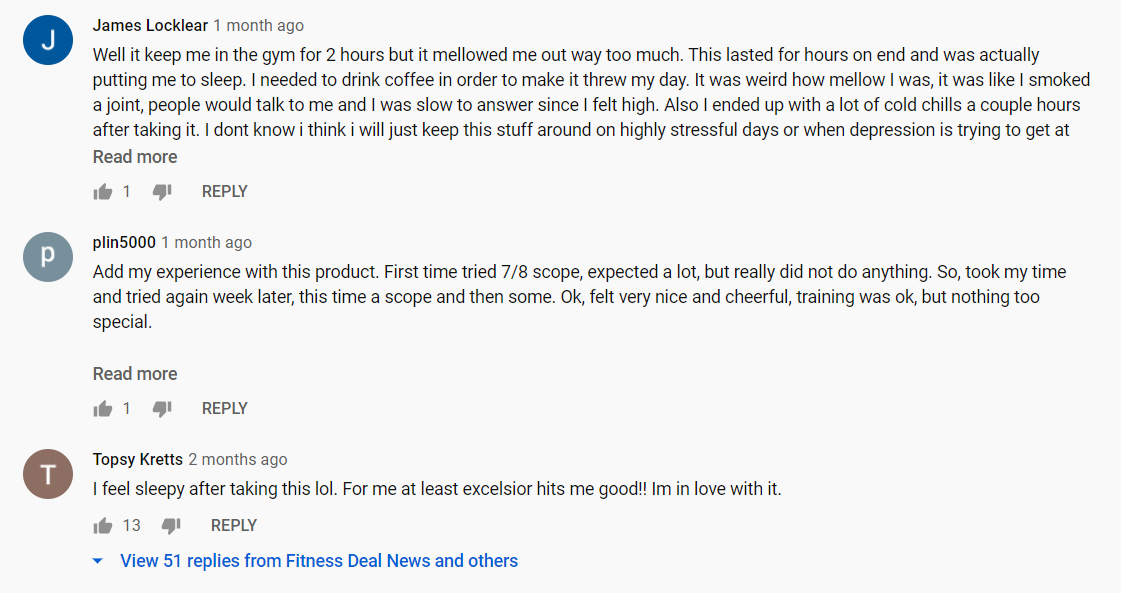 There is also some research that GABA may increase production of human growth hormone (HGH), although this effect is not well understood and it's not clear if this achieves a performance enhancing effect. It's worth noting that the World Anti Doping Agency (WADA) has not banned GABA, which I would suspect they would if it led to increased growth hormone production.
DMAE (750 mg)
DMAE is a choline molecule used to treat cognitive decline in elderly patients. It is included in pre workouts to promote focus and feelings of well being. Dosing guidance for performance enhancement is not especially well understood, but 750 mg is a pretty large dose compared to other pre workouts that contain DMAE.
Caffeine Anhydrous (400 mg)
I personally love a good 350 mg to 400 mg caffeine dose. Big fan of this.
L-Citrulline Malate (6 g)
6 grams of citrulline malate is a nice strong pump ingredient dosage. Standard stuff, but nice to see nonetheless.
Beta Alanine (3.2 g)
Again, standard dosage of beta alanine, power output enhancer and bringer of the "tingles."
Taurine (2 g)
One of the star ingredients of Red Bull so many years ago, taurine achieves a number of different effects on the body. It's likely included here as a small blood flow enhancer, but this is a minor effect and is hardly worth talking about.
Frequently Asked Questions
Is Dark Energy available to buy on Amazon?
No. It's not available anywhere anymore.
How much DMAA and DMHA does Dark Energy have?
Dark Energy has 60mg of DMAA and 200mg of DMHA.
Was Dark Energy reformulated?
No. The Dark Energy label changed in late 2019 to include the word 'research,' but the ingredients and overall product did not change.
Is Dark Energy banned?
Yes. It is no longer being manufactured.
Dark Energy on Reddit
There are a few mentions of Dark Energy on Reddit.


Dark Energy Pre Workout Review
Summary
Overall, Dark Energy has decent energy boosting and mood enhancing effects. Given the ingredient label, I feel crazy saying "decent energy boost" for a product with DMAA and DMHA, but here we are. I suspect the GABA may be having unintended effects and taking too much of an edge off of the pre workout. If you're looking for something different that will improve your energy and mood in the gym, Dark Energy may be what you're looking for. If you're looking for an intense pre workout that will hit you like a rocket and make you lift like a maniac, you'd probably be better off with Assassin.
Pros
Decent energy boost
Good mood lift
No "crash" or negative side effects
Nice as a nootropic/focus enhancer for productivity
Cons
No intensity or extreme focus/urgency
Expensive