This is a review of my personal experience using Man Sports Game Day pre workout.
To learn more about the best pre workouts, check out my analysis of over 300 different pre workouts.
Review Summary
Overall, I am really impressed with Man Sports' Game Day pre workout. I've used it on several occasions and plan to continue using it.
If you're on the fence or looking for a great pre workout – I'd say go for it. It's a solid "daily driver" pre workout that is strong enough to help me with tough workouts but not too intense that I need to cycle it on/off.
I'd say I like it more than Citadel Nutrition's Tier 1+, but not quite as much as Legion's Pulse. It's worth noting that Pulse is nearly twice as expensive though, which makes Game Day a great pound for pound pre workout. It's damn hard to beat at this price point.
Pros
I love the 350 mg of caffeine and 3.2 grams of beta alanine. I feel energized, focused, and nice overall when I take Game Day pre workout.
I also am a big fan of the value here: you're getting 30 doses for about $1.15 a serving, though I've seen it advertised on Amazon and Muscle & Strength for as low as $27 (less then $1.00 per serving).
In a product category where there are a lot of rip offs, Man Sports is providing a real product at a sensible price.
Pound for pound, this is a top 5 value pre workout (and I've seen a lot of labels).
Cons
It'd have been great if they used citrulline malate instead of L-citrulline, as citrulline malate has a greater body of scientific research backing up its efficacy.
They also included a few ingredients that I don't personally care about, like creatine HCL, taurine, and juniperus communis. The creatine HCL is fine, but I personally don't look for creatine in my pre workout since I take creatine daily anyway (and it doesn't matter when you take creatine with respect to an individual training session).
These are minor points of criticism, but I think if they focused their ingredient label a bit and switched to citrulline malate they could make this very solid pre workout even better.
Second Opinion: Fitness Deals News
But don't just take my word for it. The "stim junkie" himself, TJ, also gives Game Day his stamp of approval!
Better than Total War? | MAN Sports GAME DAY Review (Pre Workout)
REVIEW: Man Sports Game Day Pre Workout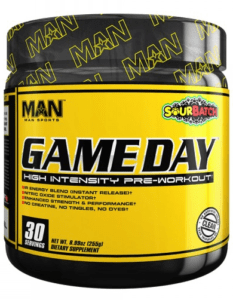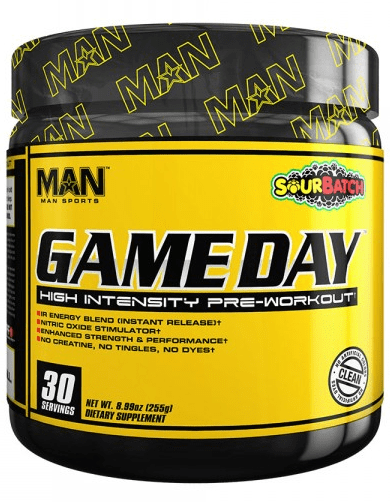 Product Name: Game Day Pre Workout
Product Description: Version 2 of Game Day's flagship pre workout, Game Day.
Brand: Man Sports
Offer price: 26.68
Currency: USD
Availability: InStock
Summary
This is a fully loaded, clinically dosed pre workout. With 6 grams of L-citrulline, 3.2 grams of beta alanine, and 350 mg of caffeine, this pre workout is clear attempt from Man Sports for title of best all-around pre workout.
Pros
350 mg caffeine
3.2 grams beta alanine
$1.15 per serving (GREAT value)
Cons
Uses L-citrulline instead of citrulline malate
Has a few ingredients of that most likely provide little benefit to the user
Flavor is meh (but who cares, really?)