This post was made possible through my analysis of the best pre workouts. If you find this useful, you may also enjoy the original post.
While blocked chain amino acids (BCAAs) are not essential to create an effective pre workout, some people like to use a pre workout that kills two birds with one stone.
Here are the strongest and best value pre workouts that include BCAAs.
The Winner: Nutrex Research – Outlift
The same pre workout actually earned the #1 spot for both strength and value: Nutrex Research's Outlift.
Taking a look at the label, there's a lot to like.
BCAAs: 6g

Outlift has more BCAAs than a lot of protein powder supplements out there.

Caffeine: 350mg

This is a huge blast of caffeine, sure to satisfy even the most stimmed out lifter.

Citrulline Malate: 8g

Again, Outlift is delivering a massive dose here. 8 grams of Citrulline Malate will be sure to deliver massive pumps during your workout.

Beta Alanine: 3.2g

This is the standard full dosage of beta alanine.

Creatine: 3g

Personally I don't care much about creatine in pre workout because I supplement  it separately, but it doesn't hurt.

N-Acetyl-L-Tyrosine: 150mg

I suspect NALT is mainly on the label as a shiny bell and whistle, but there is some evidence to suggest is has positive impacts on cognition, stress reduction, and subjective well-being.
While NALT is a more soluble form of L-Tyrosine, 150mg is still a relatively small dose, leading to my suspicion this is mainly window dressing.
At $44.99 for 30 servings, or $1.50/serving, this is an extremely solid pre workout with BCAA. You're getting a ton of effective, fully dosed ingredients at a reasonable price. When it comes to pre workouts with BCAA, you'd be hard pressed to find a better deal.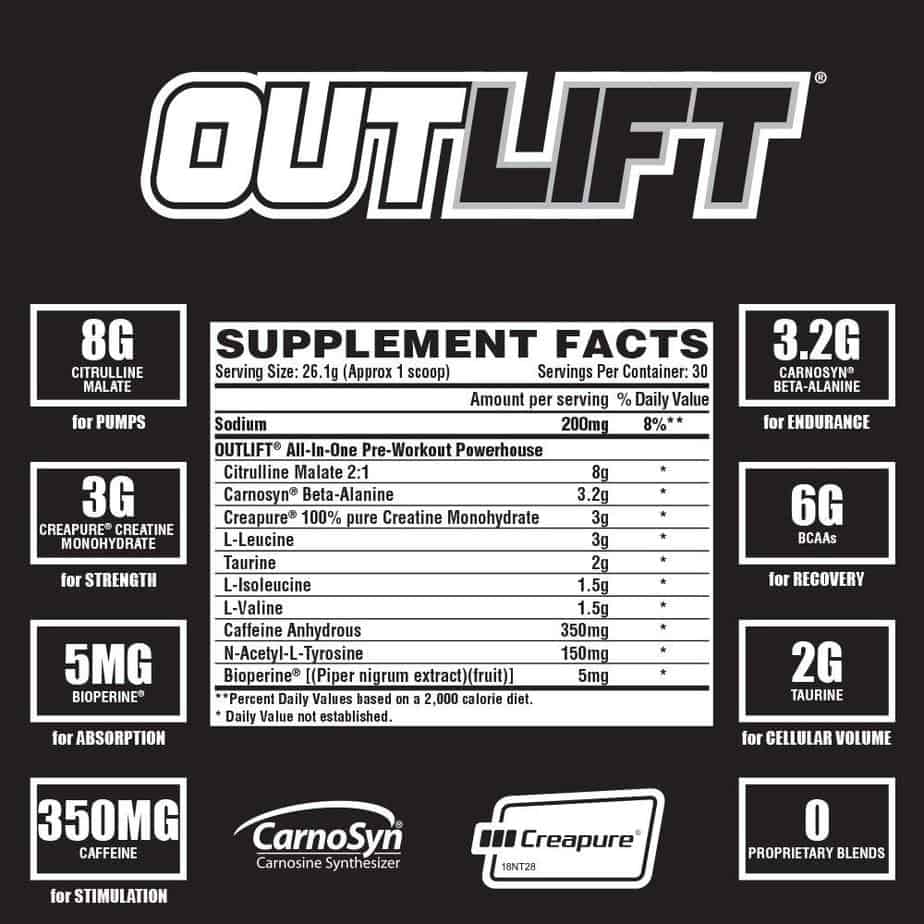 Best Value Pre Workouts with BCAAs
The following pre workouts also deliver phenomenal value along with a strong dose of BCAAs.
JYM Supplement Science – Pre JYM ($1.30/serving)

This is slightly less expensive (and slightly less jam packed) than Outlift.
You're still getting 6 grams of BCAAs along with 300mg of caffeine, 6 grams of Citrulline Malate, and just 2 grams of beta alanine.
2 grams of creatine HCL (different than monohydrate, requiring a much smaller dose to be effective) is fully dosed (and then some), covering your daily creatine needs.
Outlift is the best bang for your buck, that's why it was the #1 value pre workout with BCAAs, but this is a very solid option too.
Personally, I'd just go with Outlift since Pre JYM isn't weak enough to be considered a good pre workout for those sensitive to caffeine, nor does it have the same amount of value as Outlift. It's just a solid pick and better than most of the junk out there.

Wild Card Supplements – Wild Card Pre Workout ($1.60/serving)

Clocking in with 7 grams of citrulline malate, 4 grams of beta alanine, and 275mg of caffeine, this is a pretty solid choice for those looking for a pump.
4 grams of BCAAs is a relatively standard dose.
1.5 grams of creatine HCL is a full daily dose.
I'd prefer Pre JYM over this for the extra caffeine provided by Pre JYM, but if you're a pump chaser then Wild Card might be a good choice for you.

Nutrex Research – Outlift Natural ($1.75/serving)

This is a more expensive version of Outlift, but with natural sweeteners and flavors. Otherwise they're precisely the same. For an extra $0.25 per serving (it's $1.75/serving), this may be worth it to some people.
Even still, it's a better value than most of the pre workouts with BCAA out there.
Strongest Pre Workouts with BCAAs
Since pre workouts with BCAAs isn't a very crowded category, the best value choices also turned out to be the strongest pre workouts. This isn't necessarily surprising: delivering packed ingredient labels at a reasonable price is the name of the value game. And these ingredient labels are solid.
Again, Outlift really delivers the full package here.