Welcome workout buddies to our roundup of the best pre-workout supplement ingredients. We're discussing the most effective and evidence-based ingredients you should be looking for in your pre-workout supplement.
The whole point is to help you find ingredients you can genuinely benefit from. The only way to do that is to break things down and have a closer look.
So, that's what we've done to make finding the best ingredients for pre-workout a little easier for you.
So, grab your measuring cups, and let's get into it.
The 10 Best Pre-Workout Ingredients
Caffeine
L-Citrulline
Glycerol
VASO6
Pine Bark Extract
Betaine Anhydrous
Creatine
Beta-Alanine
Electrolytes
Alpha GPC
Best pre-workout ingredients for energy
Caffeine
Primary purpose: Energy, focus, endurance, strength
Core ingredient: Yes
Evidence: Very strong evidence to support efficacy.
Recommended dose: 100 mg to 400 mg, depending on tolerance. Most people will be happy with 200 mg.
Budget-Friendly Energy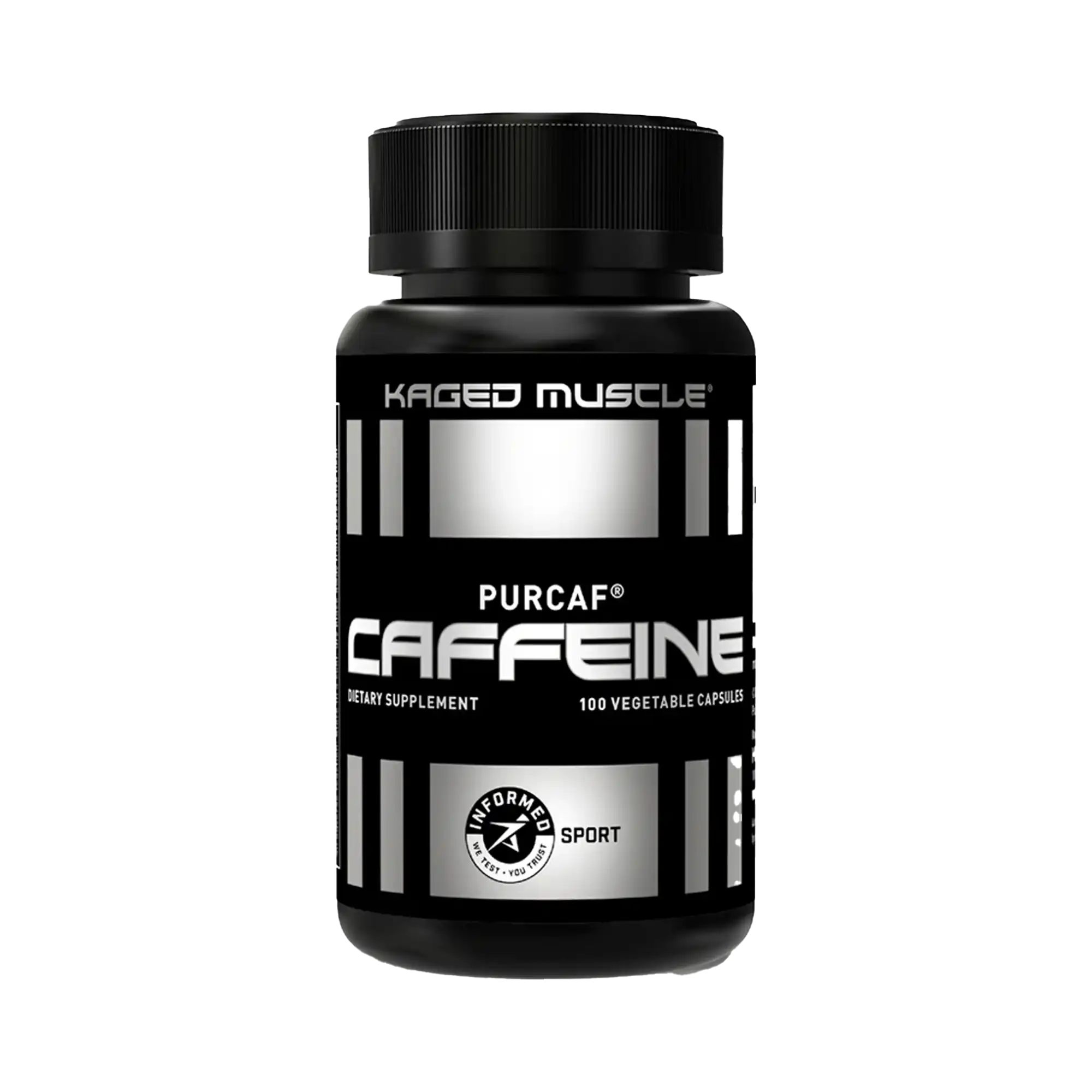 Purcaf Caffeine Pills - Kaged
Each capsule of Purcaf Caffeine contains 200 mg of pure organic caffeine.
There are no artificial sweeteners, fillers, or coloring - just the energy you need to get the job done.
Servings: 100
Caffeine Anhydrous: 200 mg
Shop Kaged
Take Kaged Supplement Quiz
Lift Vault earns a commission if you click this link and make a purchase at no extra cost to you.
Caffeine is a well-known ergogenic aid commonly used during endurance activities. Studies suggest caffeine has a minor effect on endurance performance; and while small, it is something.
Caffeine is ultimately a stimulant, so it will increase your energy levels throughout your workout. Additionally, it can also improve focus which always helps when you're getting a good pump session on.
Many pre-workout supplements with caffeine as a core ingredient have between 200-400 mg per serving. The general consensus is to limit yourself to 400mg of caffeine daily, but it's all down to your personal tolerance.
Best pre-workout ingredients for pump
L-Citrulline
Primary purpose: Commonly taken as a pump ingredient, but may also delay fatigue and enhance endurance
Core ingredient: Yes
Evidence: Moderate evidence to support its efficacy.
Recommended dose: At least 4,000 mg for L-Citrulline and at least 6,000 mg forCitrulline Malate 2:1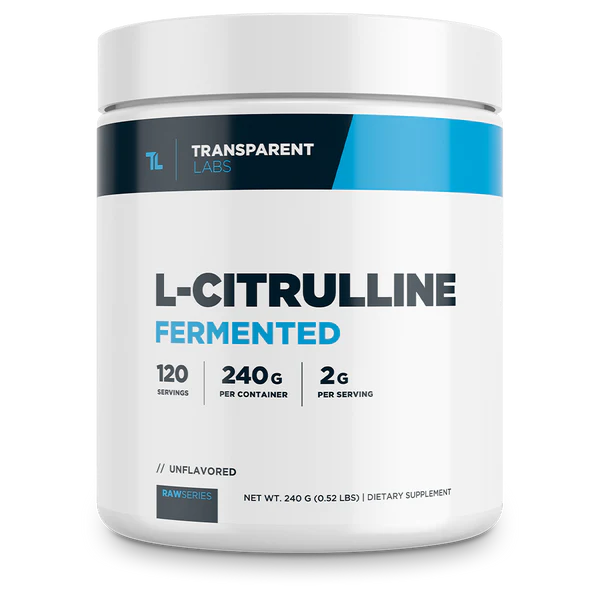 Pure L-Citrulline 2,000 mg - Transparent Labs
L-Citrulline is a single ingredient product from Transparent Labs.
It features 120 servings at 2 grams of pure L-Citrulline per serving or 60 servings at 4 grams per serving.
This is perfect for adding a pump to any pre-workout.
Servings: 60
L-Citrulline: 4 g
Flavors: Unflavored
Shop Transparent Labs
Lift Vault earns a commission if you click this link and make a purchase at no extra cost to you.
L-Citrulline is an amino acid that occurs naturally in the body. It is a core ingredient in pre-workout for its increase in blood flow to muscles; this can help with muscle performance during a big pump session.
Studies suggest that taking L-Citrulline before a workout can improve stamina while maintaining a higher weight lift. Citrulline comes in two forms; both work well to improve blood flow and pump up muscle.
We recommend at least 4,000 mg of L-Citrulline or 6,000 mg of Citrulline Malate 2:1.
If you're feeling a little tired, L-Citrulline is also an excellent fatigue buster.
Glycerol
Primary purpose: Helps the body absorb water, which can improve endurance and give muscles a "fuller" look.
Core ingredient: No
Evidence: Modest evidence of efficacy, and endurance benefits require a large dosage.
Recommended dose: 2 grams for muscle fullness, 1.2 g per kg of body weight for endurance benefits.
Glycerol is used in pre-workout because it aids the body in looking fuller. It absorbs water in the body, placing more water into muscles to create a full look.
Glycerol doesn't do very much to help with endurance, but it will help fill out the muscles if you remain hydrated while using it.
Since the Glycerol absorbs the water you put in, it hydrates the cells, making you retain more water.
You should use about two grams per 1.2kg of body weight, but it is not a core ingredient in pre-workouts.
VASO6
Primary purpose: Increase nitric oxide product; relaxes blood vessel walls
Core ingredient: No
Evidence: modest
Recommended dose: 300 mg
VASO6 is an extract from green tea that increases nitric oxide production in the body. This increases the vasodilation of blood vessels, which gives you a serious pump when used correctly.
VASO6 can improve vasodilation by as much as 50% when used in a pre-workout supplement. The pump ingredient also relaxes the blood vessel walls to give you a naturally full look.
Scientific studies are modest, but prove that some sort of vasodilation occurs, particularly within the first fifteen minutes of taking pre-workout supplements with VASO6.
The recommended dose is 300 mg, but it isn't a core ingredient in pre-workouts.
Pine Bark Extract
Primary purpose: Vasodilation
Core ingredient: No
Evidence: Moderate evidence proving efficacy
Recommended dose: 200 mg
Pine Bark Extract comes from the French maritime pine. It is a popular non-core ingredient in pre-workouts because it increases vasodilation.
While it's relatively new for the sports scene, Pine Bark Extract has been used by the medical profession for years. It helps to support those with cardiovascular health issues.
Studies suggest that using 180 mg of Pine Bark Extract as a pre-workout increases nitric oxide, a known advantage when getting your pump on. The extract may also be suitable for increasing focus, which, let's be honest, we could all use a little more of in the gym.
The recommended dose is 200 mg within your pre-workout supplement.
Best pre-workout ingredients for strength
Betaine Anhydrous
Primary purpose: Increasing exercise performance in resistance training
Core ingredient: No
Evidence: Moderate evidence supporting efficacy
Recommended dose: 2.5 g
Betaine Anhydrous, also known as trimethylglycine, is an amino acid found in beetroot. It also naturally occurs in the body, helping regulate cellular fluids and homocysteine levels.
Along with that, Betaine Anhydrous helps with other body functions like urine output, blood pressure regulation, and the replication of DNA. So it's pretty much an all-rounder, but what does it do for strength training?
According to studies, it increases your performance when it comes to resistance training, enabling you to lift more for longer periods of time.
We recommend a 2.5 g dose in your pre-workouts. It isn't a core ingredient in pre-workout, so you may need to add it yourself or find a pre-workout that contains it.
Creatine
Primary purpose: Increasing power output
Core ingredient: Yes (but can also be taken separately)
Evidence: Very strong proof of efficacy
Recommended dose: 3-5 g daily for creatine monohydrate
Best Bulk Creatine Monohydrate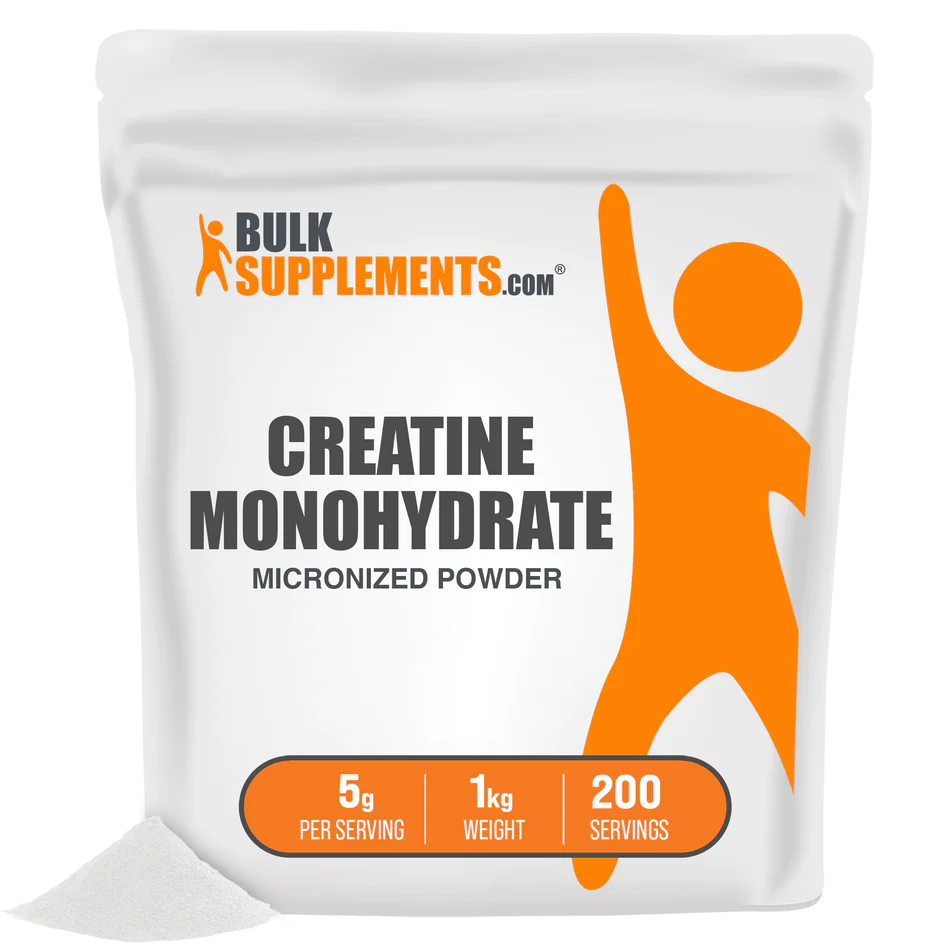 Creatine Monohydrate - Bulk Supplements
Just a big bag of creatine monohydrate at a reasonable price. If only everything could be this easy.
Servings: 200
Creatine Monohydrate: 5 g
Shop Bulk Supplements
Lift Vault earns a commission if you click this link and make a purchase at no extra cost to you.
Creatine occurs naturally in your muscles; it gives you the power to lift weights. So, it's no surprise that adding a little extra of this core ingredient to your pre-workout will help in the weightlifting department.
Multiple studies suggest that using creatine helps to increase muscle growth and enhance strength, which is what we're after when lifting weights. However, recently it's been found that using caffeine may decrease the effectiveness of creatine, so we're keeping an eye on this to see what science has to say about it.
The daily recommended dose is 3-5 g, and you can take it at any point in the day, not just before your workout.
Beta-Alanine
Primary purpose: Reduces lactic acid build-up; can improve endurance
Core ingredient: Yes
Evidence: Strong evidence backing the efficacy
Recommended dose: 3-4 g per day
Beta-Alanine is an amino acid (although not one of the nine essential amino acids) that helps reduce lactic acid in muscles and reduces muscle fatigue.
It is best used in a pre-workout taken close to the time of your workout to notice the full effect. This is because this core pre-workout ingredient increases endurance, focus, and strength for one minute or more of short-interval training.
It can help with longer training sessions, but it's more noticeable with shorter exercise routines. Studies suggest Beta-Alanine works better for sessions of 25 minutes or less to reduce muscle fatigue.
Beta-Alanine might not be one of the branched-chain amino acids that helps with muscle protein synthesis (BCAAs: leucine, isoleucine, and valine) but it is still valuable in a pre-workout.
We recommend 3-4 g daily to improve endurance during strength training.
Hydration ingredients
Electrolytes (sodium, potassium, magnesium)
Primary purpose: Hydration, endurance
Core ingredient: No
Evidence: Strong evidence supporting the efficacy
Recommended dose: Highly dependent on how many electrolytes you're consuming from other sources and how much you're sweating and losing electrolytes throughout the day or your workout session.
High-Quality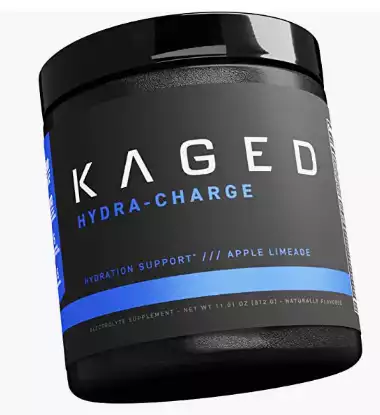 Hydra Charge by Kaged
The purpose of Hydra Charge by Kaged is to replenish essential electrolytes lost during exercise or supplement electrolytes missing in your diet. It is specially formulated with 351 mg of all five main electrolytes (sodium, chloride, potassium, calcium, and magnesium), with additional performance-boosting ingredients and key antioxidants.
Taurine: 1 g
Sodium: 115 mg
Potassium: 107 mg
Shop Kaged
Take Kaged Supplement Quiz
Lift Vault earns a commission if you click this link and make a purchase at no extra cost to you.
Staying hydrated throughout your workout is vital to not damage your muscles and other critical bodily processes.
We know the temptation is there to avoid hydration, so as to not affect muscle fullness, but this will eventually catch up to you.
Adding sodium, potassium, and magnesium to your pre-workouts can help you avoid dehydration and improve your endurance.
It is scientifically proven that electrolytes are an absolute must for remaining hydrated. The only tricky part is the recommended dosage because it depends on how many electrolytes you lose throughout the day and during your workout.
If you're doing high intensity, you will obviously sweat more, which affects how much of the non-core pre-workout ingredients you should take to reduce the risk of muscle fatigue.
Generally, 300 mg sodium, 100mg potassium, and 100 mg magnesium are recommended.
Focus ingredients
Alpha GPC
Primary purpose: Focus
Core ingredient: No
Evidence: Minimal evidence backing claims
Recommended dose: 600 mg
Alpha GPC is a supplemental choline that is produced in the body in small amounts. It is essential for many body processes, but most notably brain functioning.
While the supplement is not a core pre-workout ingredient. It is fantastic at improving mental accuracy and can boost exercise performance.
Choline forms a vital part of creating neurotransmitters, but unfortunately, it isn't available in the modern diet. So much so that in a study, more than 90% of adult participants lacked enough choline.
Studies suggest evidence of an increase in focus similar to caffeine, but without the jittery, anxious feeling, which is a big plus.
So, if we're honest, regardless of whether you're looking to improve focus in the gym, you should take a choline supplement for your everyday mental needs.
The recommended dose is 600 mg.
FAQ
What is the most important ingredient in pre-workouts? 
This depends on what you're looking for. Whether you want a pump, rehydration, focus, or strength during your workout will tell you what ingredient is most important. In our opinion, electrolytes are a must regardless of your workout regime. You need to remain hydrated and replace what you're sweating out. 
What is unhealthy in pre-workout supplements? 
It depends on the pre-workout powder you take and what you're looking for. Some prefer to avoid caffeine as it is classified as a stimulant and can cause unwanted side effects like diarrhea and jitters. But caffeine is not inherently bad for you as long as you stay within the recommended dosage. 
Is a pre-workout supplement healthy? 

It can be if pre-workout formulas are made with the right ingredients for your needs. That's why knowing what ingredients are in your pre-workout and what they do is so important. We will never recommend picking a pre-workout without having all the nutritional facts to make the best decision for yourself. It's also best to start off slow to monitor any effects.
Our Final Thoughts
Pre-workout supplements are a fantastic way to give your body what it needs to succeed in the gym. The added ingredients are there to help you along without having to make mountains of food to supplement your diet.
There is a range of pre-workout ingredients; we've only covered the top ten best ingredients in our book and what we think they are best for.
In our opinion, electrolytes is the most essential ingredient to have in a pre-workout, even though it is not a core ingredient. Staying hydrated throughout your workout will enhance athletic performance and stamina.
L-Citrulline is also important as a core ingredient, as it can enhance your endurance and prevent you from getting tired in tough sessions.