Gulag Pre-Workout is a pre-workout supplement manufactured by Just Vibes. Containing the powerful DMHA stimulant, It's marketed to those who prefer high-stim pre-workouts.
The most notable effect of Gulag is mood elevation. If you like to feel good during and after your workout, Gulag is worth checking out. The energy is smooth and not overwhelming.
Because it contains DMHA, I would not recommend Gulag to beginners. Instead, I'd recommend checking out the top pre-workouts for beginners. However, this is a nice starting point if you want to try your first DMHA pre-workout.
Continue reading below for the full review and links where you can purchase Gulag.
Thank you to Supps Central for sending us this product to review.
Euphoric + Happy Pre-Workout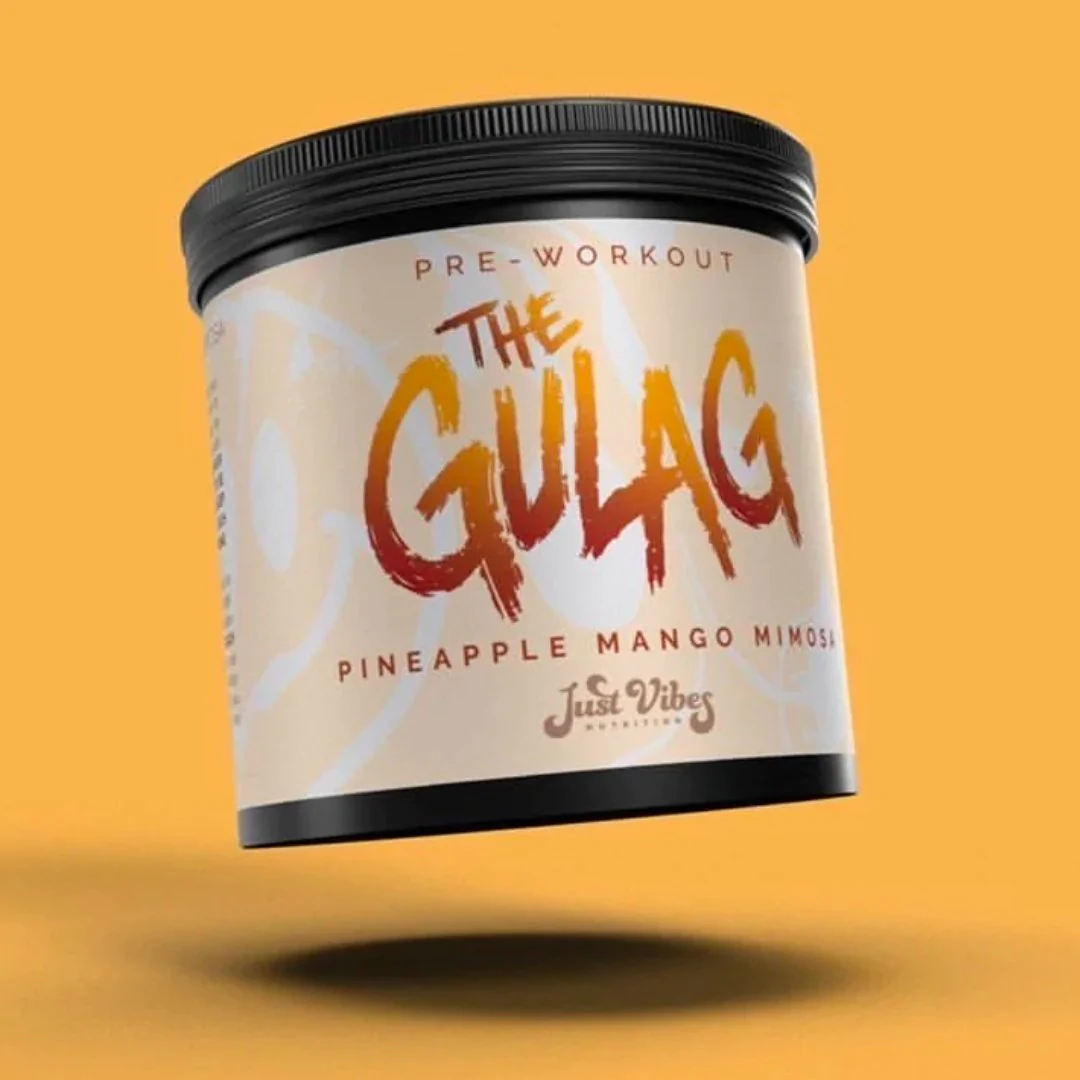 The Gulag Pre Workout – Just Vibes
Gulag is a euphoric DMHA pre-workout from Just Vibes. It contains between 250 mg and 300 mg of caffeine and is energizing without being overwhelming.
If you like to feel that happy buzz - check it out!
Discount codes:
LIFTVAULT15 = 15% off at Supps Central
Caffeine: 250 mg - 300 mg
DMHA: unknown
Servings: 25
Shop Supps Central
Lift Vault earns a commission if you click this link and make a purchase at no extra cost to you.
Where to Buy
You can buy Gulag from the following retailers:
My Experience with Gulag Pre-Workout
Effects
The effects of Gulag hit several sweet spots without being too overpowering.
The most noticeable effects of Gulag are focus and mood elevation. The mood elevation is pleasant without being too intense and lasts for a few hours, long after the workout is finished. The focus had me enjoying my workout and moving with purpose around the gym!
The energy is smooth, coming on within 20 minutes, peaking nicely after about 35 minutes, and lasting for about 2-3 hours before tapering off. Like the focus and mood elevation, the energy is noticeable without being overpowering.
If you're looking to try out a DMHA pre-workout that won't have you in survival mode or have your heart beating all over the place, Gulag is a great choice!
Side Effects
I didn't get any negative side effects from Gulag. Even though alpha yohimbine is on the label, I didn't get any significant side effects from that ingredient so I wouldn't let that dissuade you from trying it out.
Flavor
I had the pineapple mango mimosa and it was decent. The flavor is pretty light and not too strong.
It's also available in rocket pop and tiger's blood, but I didn't try those flavors.
Scoop Size
The scoop that is included with Gulag is larger than the serving size. To get a correct serving of Gulag you'll need to have the scoop about 90% full.
Here's what the looks like on the scale.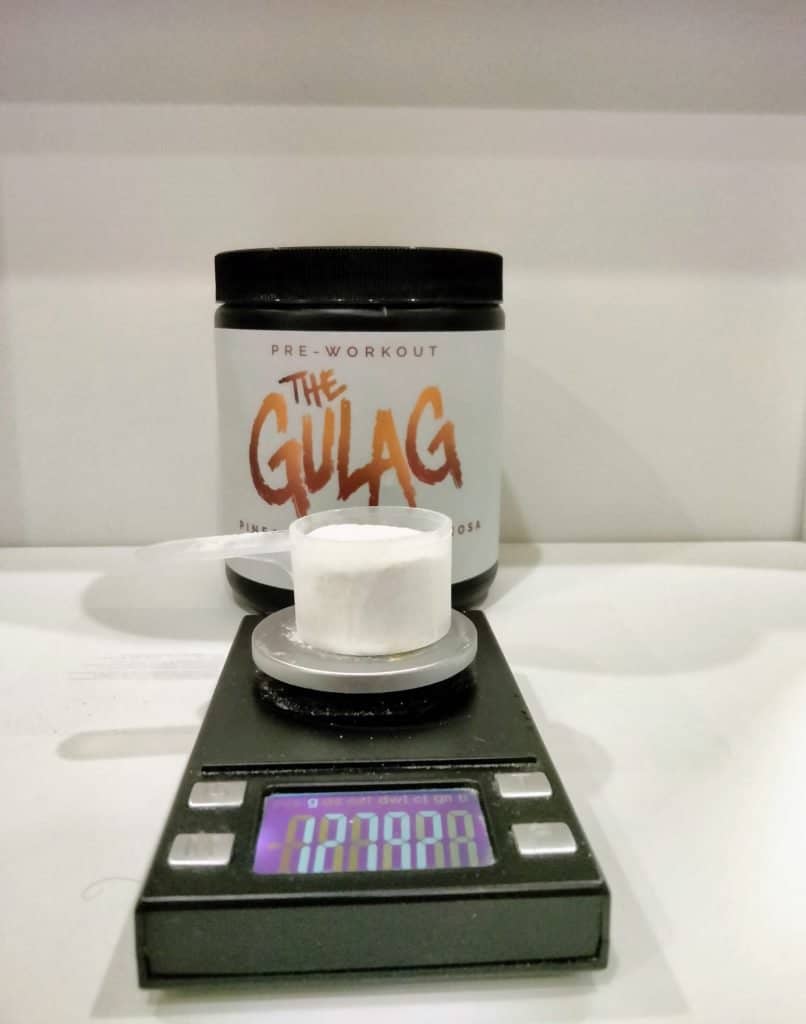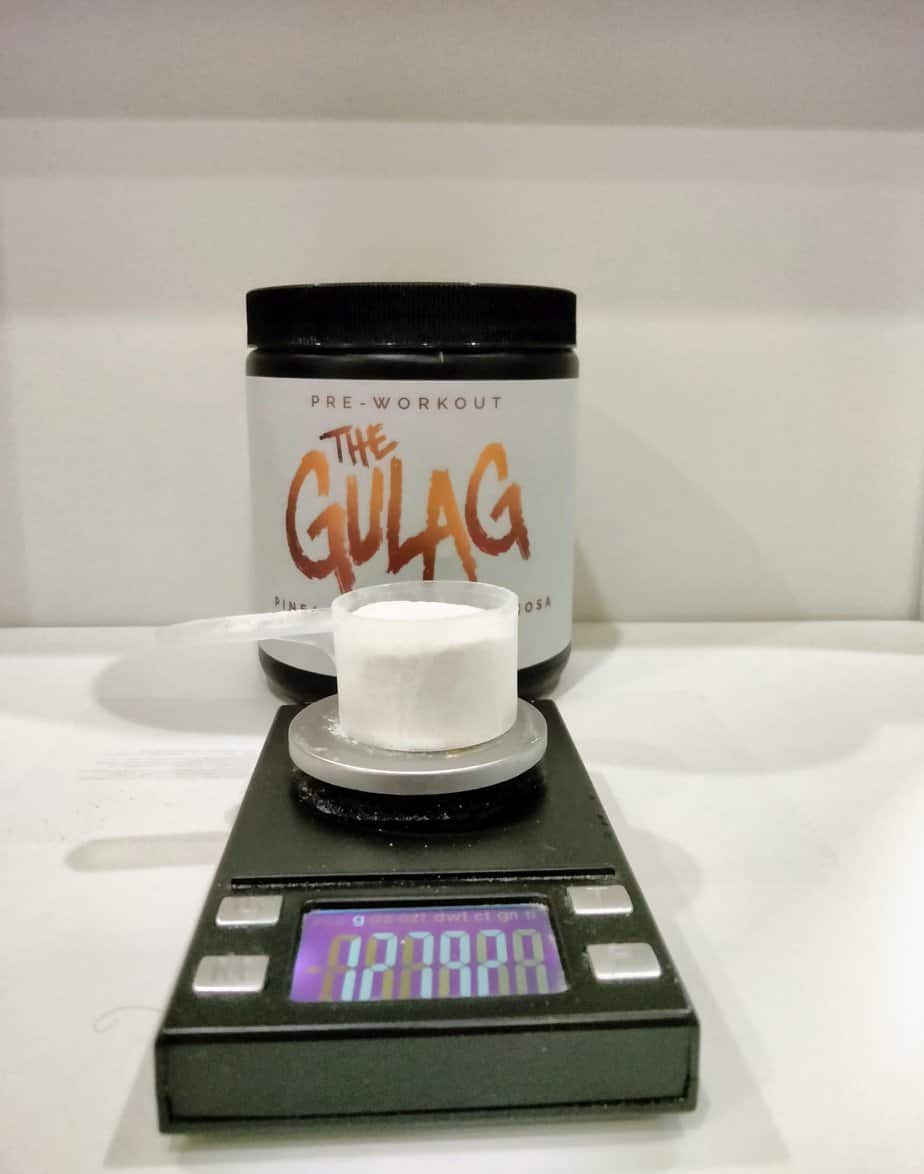 And here's another view of a full serving size in the scooper: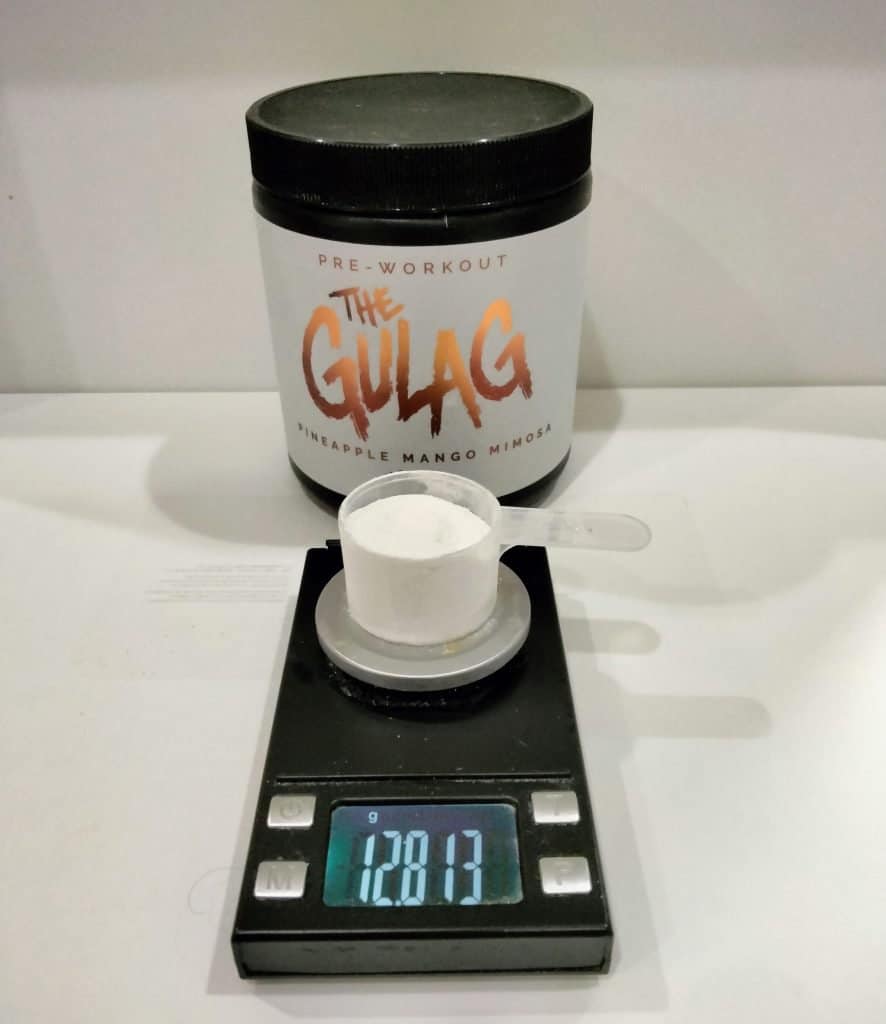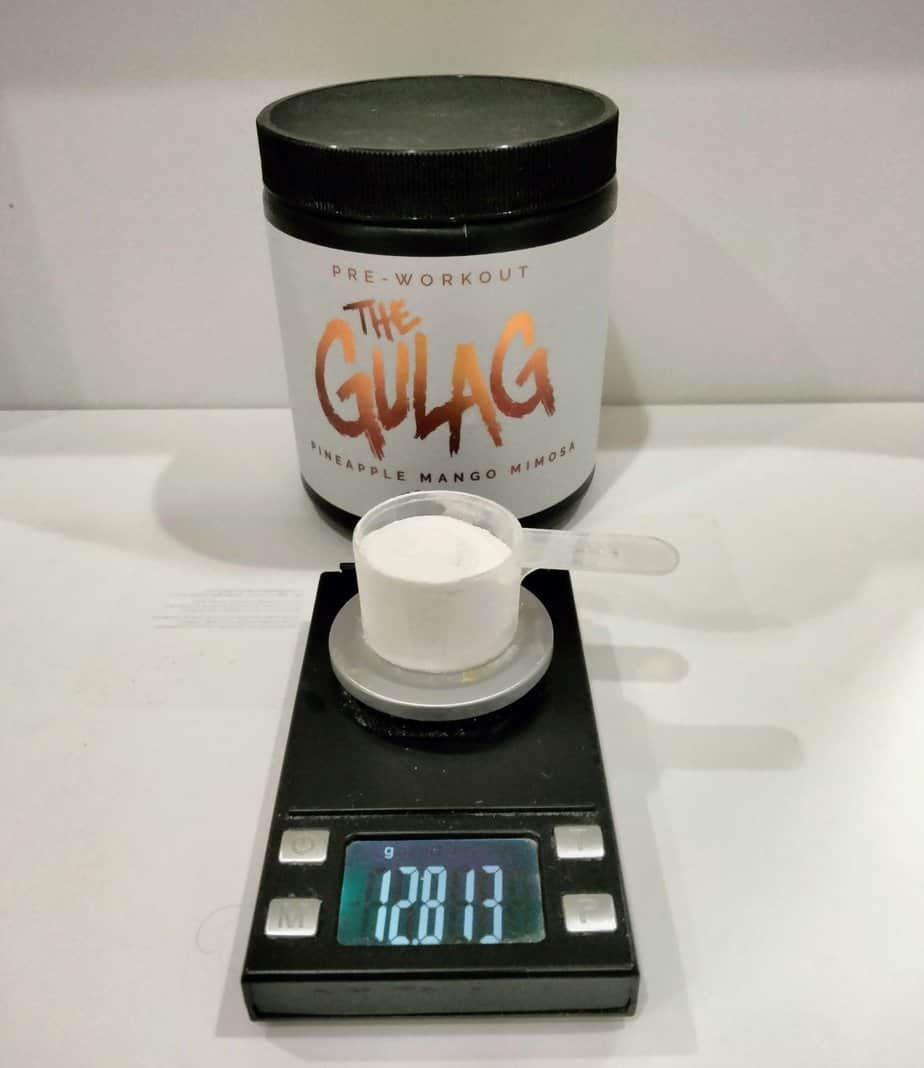 Ingredients
Here are the ingredients for Gulag Pre-Workout.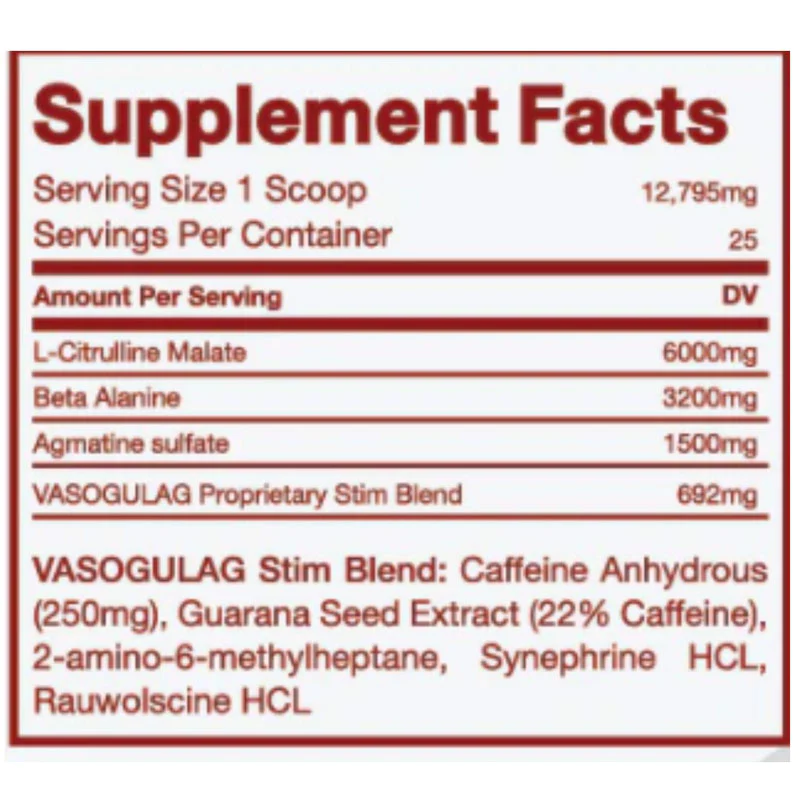 L-Citrulline Malate – 6,000 mg
Beta-Alanine – 3,200 mg
Agmatine Sulfate – 1,500 mg
VASOGULAG Proprietary Stim Blend – 692 mg
Caffeine Anhydrous – 250 mg
Guarana Seed Extract (22% Caffeine)
2-amino-6-methylheptane (DMHA)
Synephrine HCL
Rauwolscine HCL
Second Opinions
Check out what other reviewers thought of Gulag Pre-Workout!
Fitness Deal News
"This is just very good focus, great energy. This is a happy pre-workout."
Review Bros
"We do like this pre-workout, but it's not a hard hitter. It's almost a daily-driver level of energy. To me, the strong suit of this pre-workout is the focus and the endurance. It's not a hardcore pre-workout."
Gulag Pre-Workout Review
Summary
Gulag Pre-Workout is a solid choice for anyone seeking above-average focus and mood elevation. It delivers these effects without making the user feel anxious or jittery. If you're looking for a super high-energy or aggressive experience, then Gulag probably isn't for you. If you want smooth energy with focus and a happy afterglow, Gulag is worth trying.
Pros
Great euphoria
Post-workout buzz
25 servings
No crash