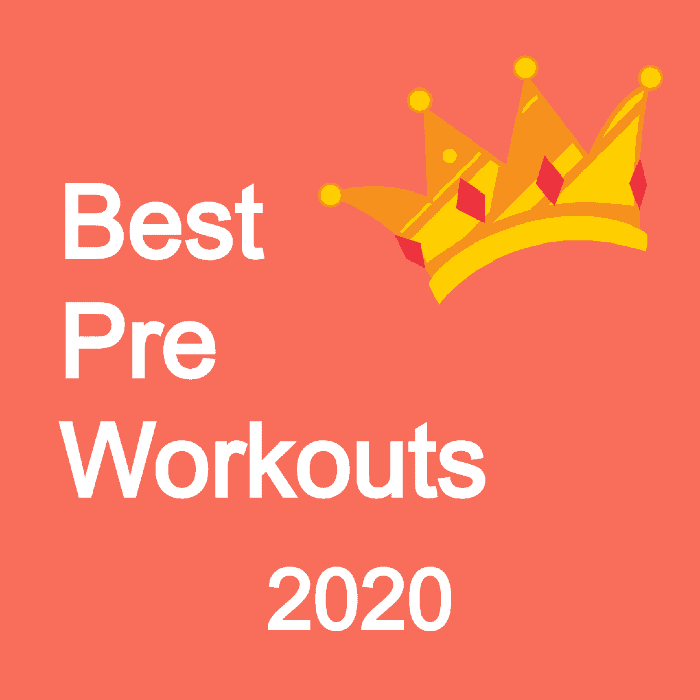 The best pre workout is the one that meets an individuals needs for one or more training sessions. Beyond that, it is a matter of opinion. Different athletes are seeking different effects, whether they be focus, energy, endurance, or mood enhancing effects.
To that end, I've identified what I consider to be the most effective pre workouts for a variety of different categories. I hope you find something that helps you achieve your goals.
| Name | Image | Notes | Link |
| --- | --- | --- | --- |
| Hooligan Pre Workout | | Best pre workout with no banned substances. | Check Price |
| Assassin Pre Workout | | Best pre workout with banned substances. | Check Price |
| ESP Extreme Pre Workout | | Best value pre workout (high stim). | Check Price |
| Legion Pulse Pre Workout | | Best pre workout for daily usage | Check Price |
| Hooligan Bare Knuckle Pre Workout | | Best Stim Free Pre Workout (No Caffeine) | Check Price |
Best Pre Workout without Banned Substances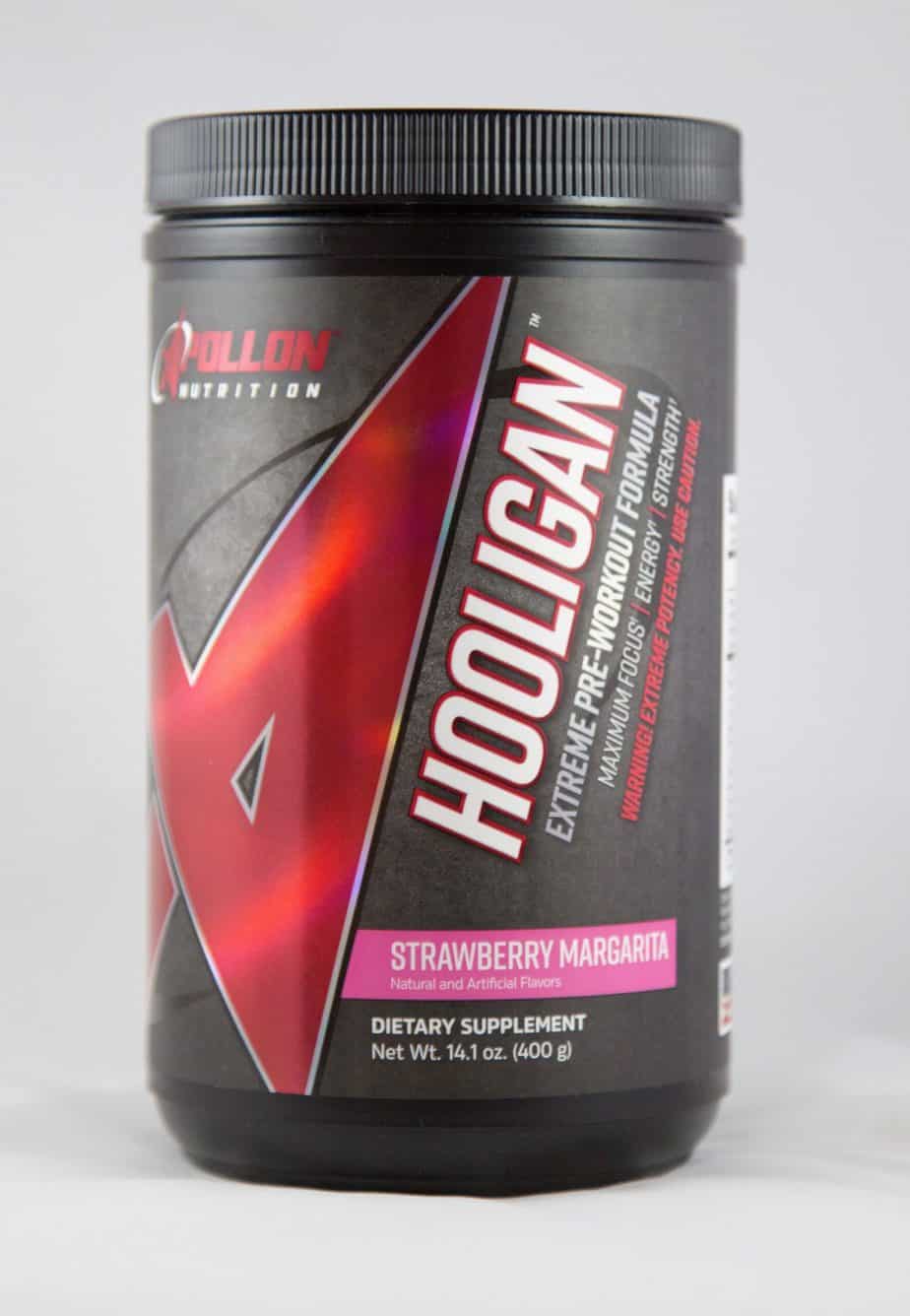 Winner: Hooligan by Apollon Nutrition
Let's be honest: pre workouts can have a shady reputation. Part of this is because they can include stimulants that are banned in sports competition, which can lead to concerns about the safety of the pre workout.
But the good news is that it is not necessary to include banned ingredients in order to create an amazing pre workout.
Want proof? Try Hooligan by Apollon Nutrition.
Hooligan contains fully dosed ingredients, clearly displaying all amounts on the supplement facts label. The star of the show here is the caffeine, coming in at a whopping 700 mg for a full scoop. If that sounds like a lot (and it is), then starting with a half scoop still delivers a punch.
This is one of my favorite pre workouts ever. Massive energy, clean ingredients, and no crash. While it is not for beginners, it also does not contain any ingredients banned by sports federations, making it safe for athletes to take.
For a full ingredient breakdown, check out my Hooligan pre workout review.
For similar pre workout supplements, check out the list of the strongest pre workouts for 2020.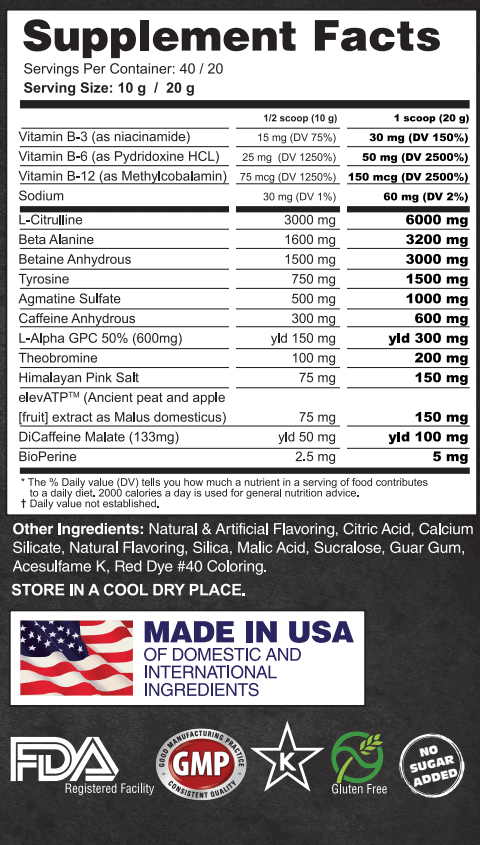 Best Pre Workout with Banned Substances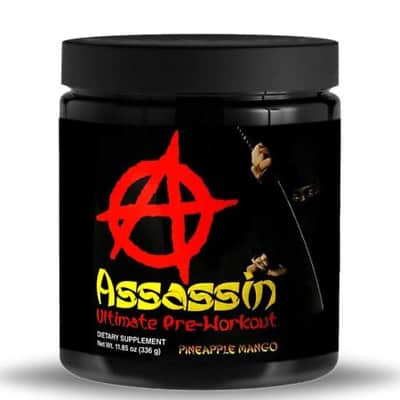 Winner: Assassin by Apollon Nutrition
If taking ingredients prohibited by tested sports federations is not an issue for you, then Assassin is a pre workout you need to experience.
The first thing I noticed when trying Assassin was just this overwhelming focus and aggression. This pre workout was practically made for heavy squats or intense deadlifts. When you need to summon every ounce of focus and muscle you have, Assassin gets the job done.
In short, Assassin is the most intense pre workout I've tried that didn't make me feel crazy, messed up, or give me a terrible crash. It hits the sweet spot between being powerful and not making me feel like crap.
On top of clinical doses of the typical pre workout ingredients like L-Citrulline, Beta-Alanine, L-Tyrosine, and caffeine (600 mg worth), Assassin also contains some more exotic stimulants.
B-Phenylethylamine (BPEA) and N-Phenethyl Dimethylamine (aka Eria Jarensis) are two stimulants with significant amounts of anecdotal evidence suggesting their efficacy. BPEA has even been suggested as a safer alternative to amphetamines to treat disorders like ADHD.
For a full breakdown, check out my Assassin pre workout review.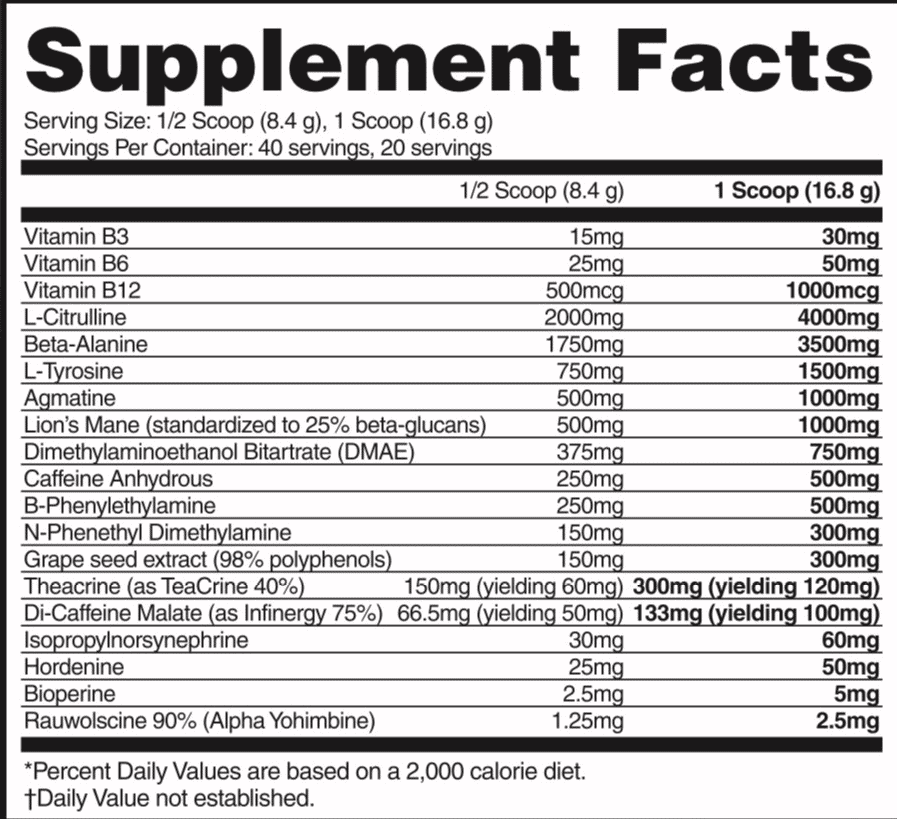 Best Value Pre Workout
Winners: ESP Extreme by Metabolic Nutrition and Pre (++) by Ouroboros Nutrition
If you're looking for the best bang for your buck, then be sure to check out ESP Extreme by Metabolic Nutrition and Pre (++) by Ouroboros Nutrition.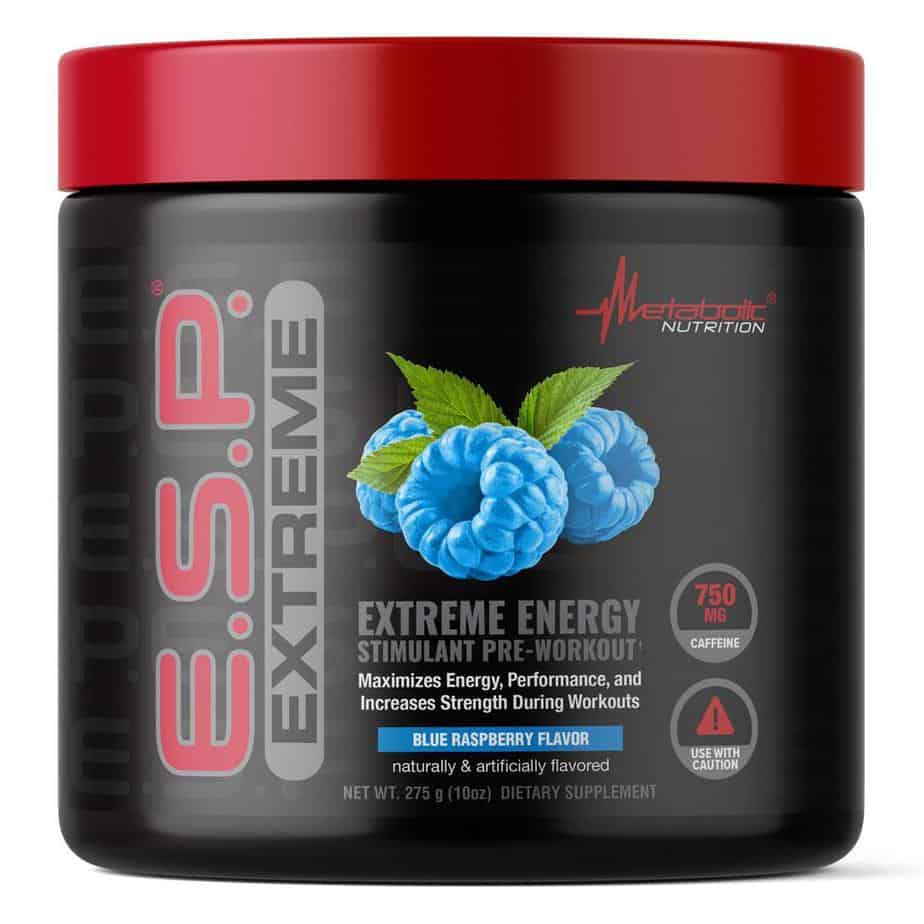 ESP Extreme is a great choice for those looking for energy. Dosed at a scoop and a half, ESP Extreme provides over 375 mg of caffeine and 150 mg of Eria Jarensis. There is essentially nothing delivered in the pump category here, so this is really for the energy seekers. In terms of energy and stimulation there may be no better value out there. At 37 servings (1.5 scoops per serving), ESP Extreme comes in under $1.00 per serving.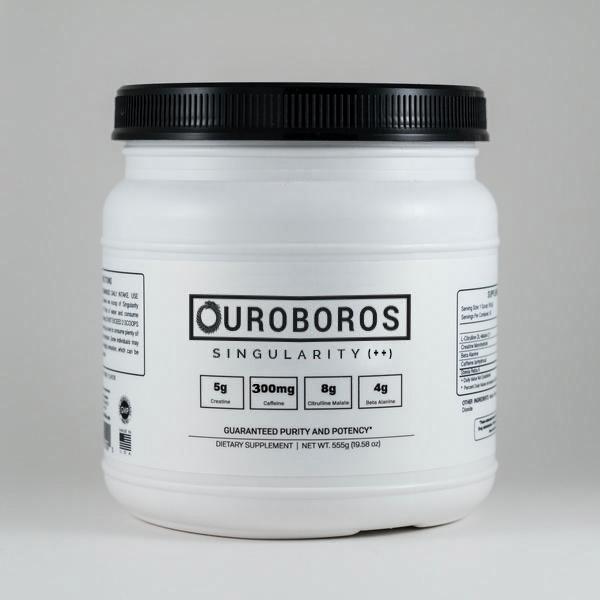 For those looking for a more well-rounded pre workout with great value, check out Pre (++) by Ouroboros Nutrition. This is a very simple label that makes it great for those who are beginners or simply not looking for anything fancy in their pre workout. What Pre (++) does include, which is caffeine (300 mg), citrulline malate (8 g), beta alanine (4 g), and creatine (5 g), is all clinically dosed. It's a great all around pre workout at about $1.00 per serving.
Best Pre Workout for Daily Use
Winner: Pulse Pre Workout by Legion Athletics (Full Review)
Using a pre workout every day can become problematic if it contains potent stimulants like DMAA or DMHA. Even using a ton of caffeine each day can increase a person's tolerance more than they may want.
This is where the "daily driver" pre workout can be a great choice. A daily driver pre workout is one which can reasonably be taken on a daily basis without adverse side effects while still getting the job done.
Enter: Pulse pre workout by Legion Athletics.

I really enjoy Pulse because it hits that sweet spot in terms of intensity and effects – not too strong, not too weak.
At 350 mg of caffeine, Pulse hits me just right in terms of energy.
Each serving has a massive dosage of 8 grams L-Citrulline DL-Malate at the proper ratio to help with endurance and pumps.
The 3.6 grams of beta alanine is right on the money, as is the 2.5 grams of betaine anhydrous – both of which have been shown to help with power output.
L-Theanine (350 mg) helps smooth out the caffeine dosage, acting in a synergistic manner with the stimulant.
The Alpha GPC, included for focus and brain health, may be a little underdosed but I can let this slide given the other ingredient doses in each serving.
Overall, it's just a really thoughtfully designed pre workout that isn't overly reliant on heavy stimulants.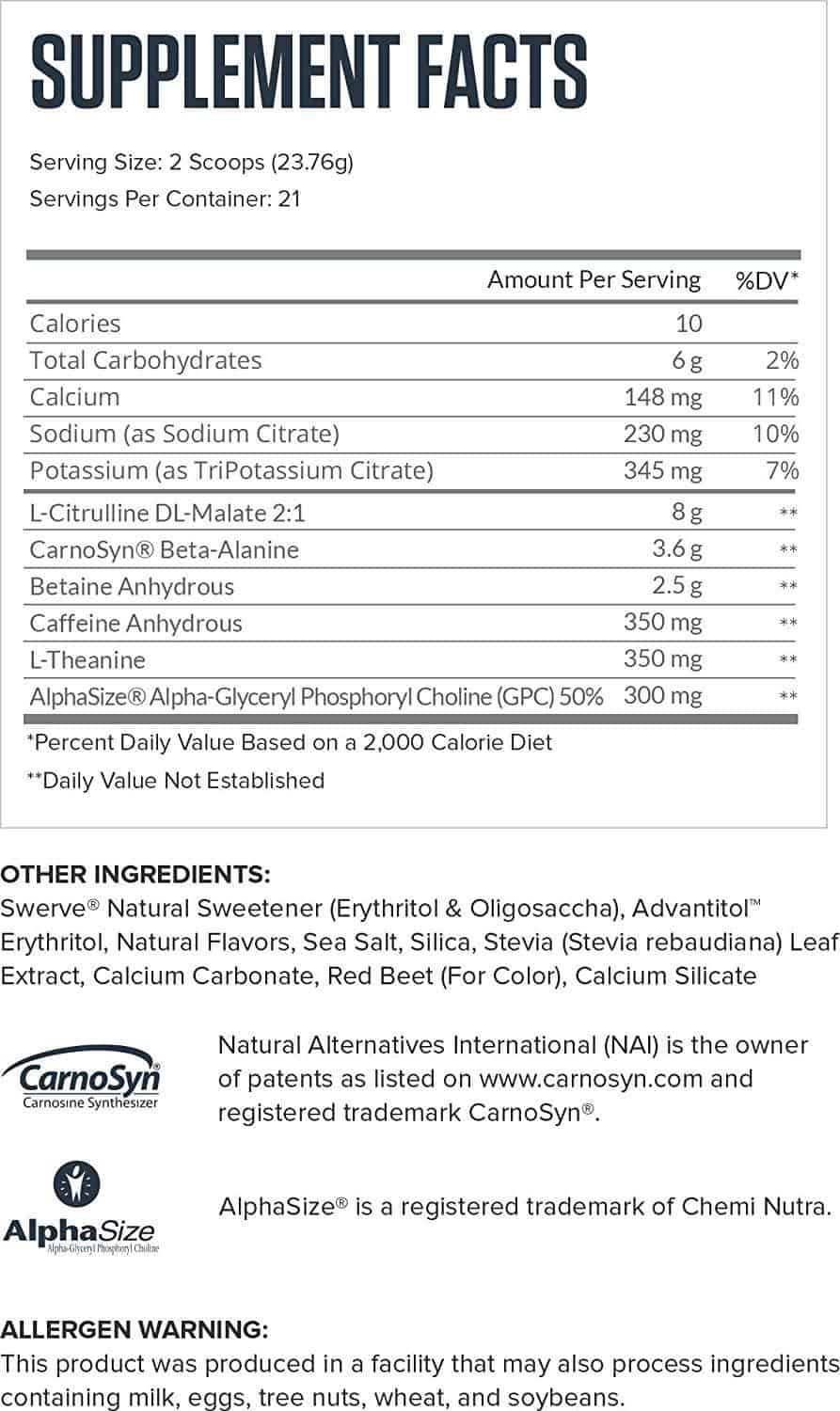 Best Pre Workout without Caffeine
Winner: Hooligan Bare Knuckle by Apollon Nutrition
If you're looking for insane pumps but don't want any caffeine, look no further than Hooligan Bare Knuckle by Apollon Nutrition.
Just like all Apollon Nutrition products, Hooligan Bare Knuckle contains massive doses of all its ingredients.
You can see the full ingredient list below, but most notable are the 8 grams of L-Citrulline DL-Malate, 5 grams of glycerol powder, and 1.5 grams of agmatine sulfate. These are sure to give you a great pump.
If you want more, check out the full list of the best pre workouts without caffeine.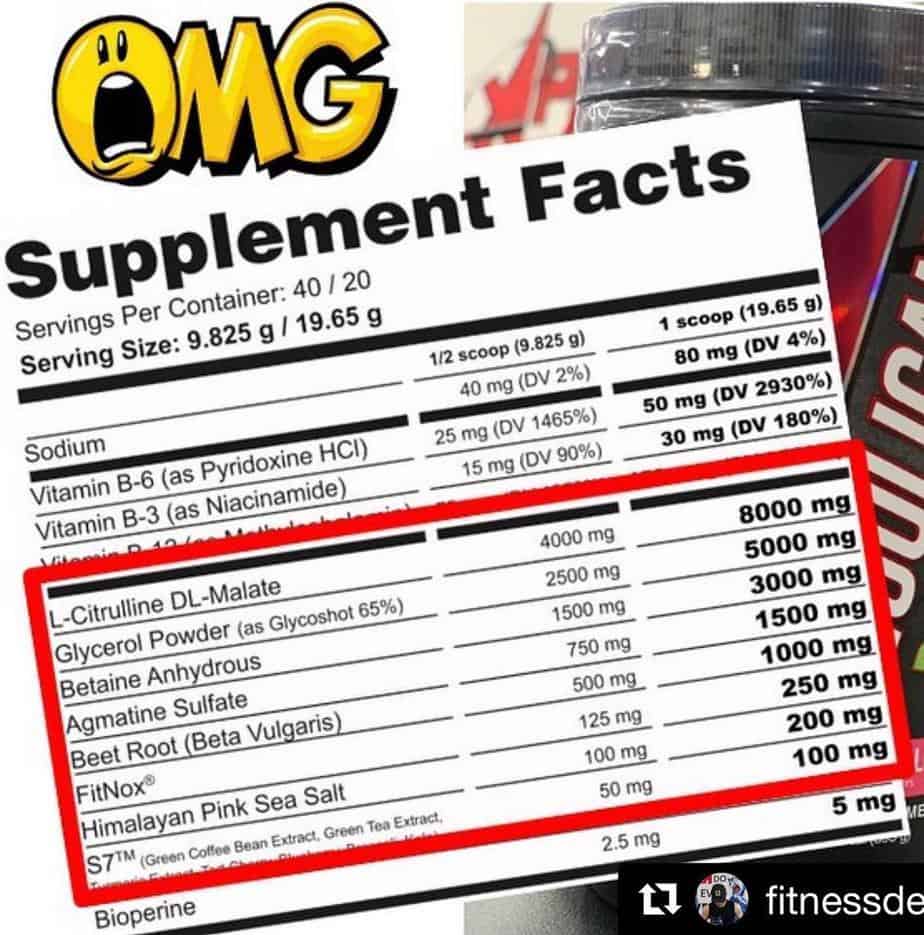 A Word on Proprietary Blends in Pre Workout Supplements
I purposefully omitted any pre workout from this list if it uses a proprietary blend on its label. Far too often these are used by manufacturers to mask under dosed ingredients, allowing them to overcharge customers.
I'm sure there are great pre workouts that use proprietary blends, but it's a practice that I simply don't agree with on principle. Pre workouts are expensive enough as it is – the consumer deserves to know what they're paying for.
Related: