Many women have found that pre workout supplements are an excellent way to prepare for a workout. The reason pre workout supplements are a great addition to your routine is the fact that they anticipate your needs both during and after high-intensity exercise. Mentally, you can feel them helping with focus and energy; physically, they may help build muscle, burn fat, and aid your recovery.
These products can increase your results and help you do more in each workout. However, not all supplements are equal, and some are better for achieving your workout goals than others.
Sometimes it feels like you need a degree in biochemistry to understand a pre workout ingredient label! That's why we've done the hard work for you by testing out these pre workout supplements to find which ones really work.
In this article, we'll look at the best pre workout supplements for women, whether your goal is weight loss or high-intensity training.
If you don't find something you like here, be sure to check out our list of the absolute best pre-workout supplements.
The 8 Best Pre Workout for Women in 2021
All of these pre workout supplements are great products filled with fully disclosed, natural ingredients that will provide a much-needed energy boost.
Still, they all have different strengths that you should weigh against your individual needs. We do our best to recommend who each product is right for.
Transparent Labs – Lean (Best Overall pre workout for Women)
Key Ingredients:
Citrulline Malate (2:1) – 6,000 mg
BetaPure™ Betaine Anhydrous – 2,500 mg
BCAA (2:1:1) – 2,500 mg
Beta-Alanine – 2,000 mg
Caffeine Anhydrous – 180 mg
Synephrine HCL – 50 mg
Infinenergy (DiCaffiene Malate) – 40 mg
Transparent Labs, as their name would suggest, take the obligation to share what's in their formula with their customers. Their supplements contain a significant number of fully-dosed ingredients, which means you'll feel their effects instead of just reading about them on the bottle.
For instance, the 6,000 mg dose of Citrulline Malate is high enough to help you achieve enhanced blood flow, endurance, and power output as soon as you start using the product.
With 180 mg of caffeine anhydrous (the typical kind of caffeine) and 40 mg of dicaffeine malate (75% caffeine, 25% malic acid) adds up to 210 mg of total caffeine, which is about two cups of coffee. This is a great energy boost for most people without causing jitters.
At 2 grams of beta alanine, this pre workout will provide a slight "tingling" sensation for about 15-20 minutes, but it's not overwhelming and will go away pretty quickly. If you really don't like the beta alanine tingling sensation, check out 4 Gauge, which does not contain beta alanine.
The 2,500 of BCAAs help ensure your body is properly fueled for toned, lean muscle growth. Plus, the 50 mg of synephrine HCL is a clinically dosed ingredient shown to help assist with weight loss. Nice!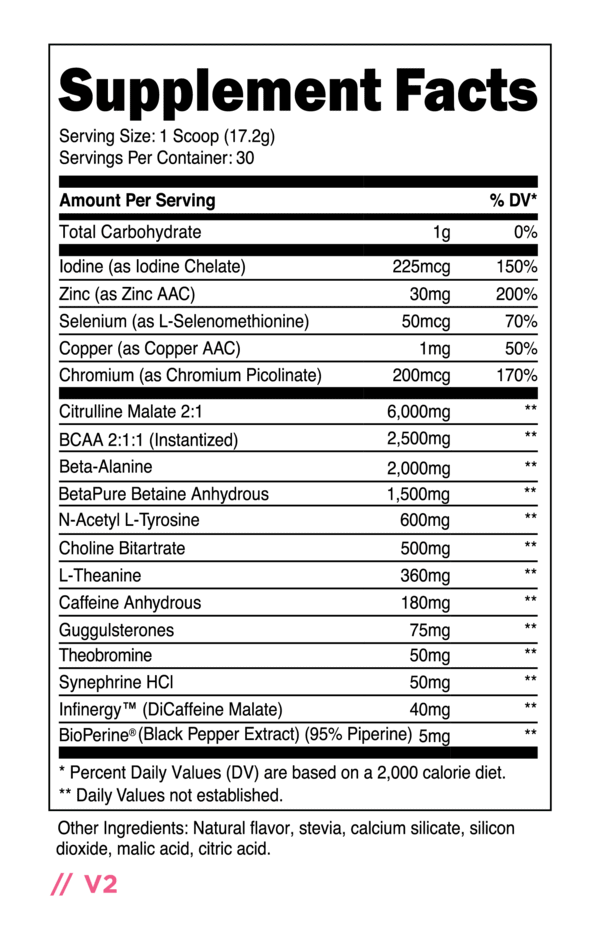 Alani Nu – Pre Workout (Best Tasting pre workout for Women)
Key Ingredients:
L-Citrulline Malate (2:1) – 6000 mg
Beta-Alanine – 1600 mg
L-Tyrosine – 500 mg
Caffeine – 200 mg
L-Theanine – 200 mg
The people working at Alani Nu have spent a lot of time working out how to make their pre workout supplements taste great.
The wide array of flavors they've put out are very exotic and include Island Crush, Hawaiian Shaved Ice, and Carnival Candy Grape. If those don't pique your interest, check out our list of the best tasting pre-workouts for other delicious options.
But they didn't just spend all their time on flavor. The label is also thoughtfully designed to include ingredients that can enhance endurance, focus, and energy.
Plus, with a decent dosage of Caffeine and L-Theanine, you'll be sure to stay focused throughout your workout.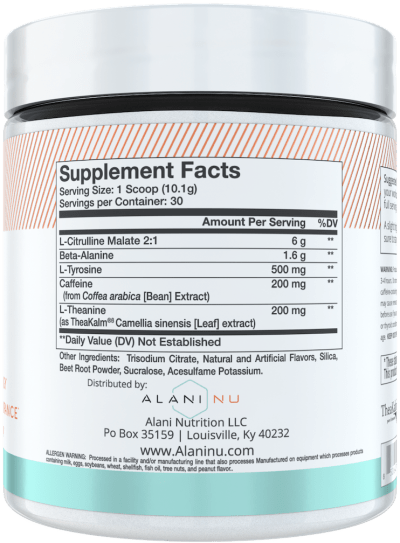 Kaged Muscle – Pre-Kaged (Best Higher Caffeine pre workout for Women)
Ingredients:
L-Citrulline (fermented) – 6,500 mg
BCAAs (fermented) – 6,500 mg
BetaPower® (Betaine) – 2,500 mg
CarnoSyn® (Beta-Alanine) – 1,600 mg
L-Tyrosine – 850 mg
PurCaf® Organic Caffeine (from green coffee beans) – 274 mg
Kaged Muscle's Pre-Kaged supplement is a serious one, both high in caffeine and designed to help build lean muscle, assist hydration, and boost mental focus.
The big doses of Betaine, Beta-Alanine, and creatine hydrochloride can support fast and substantial gains in lean muscle mass without looking bulky.
The combination of caffeine and L-Tyrosine gives you both energy and focus without the jittery feeling that would come with a pure caffeine pill.
Plus, Pre-Kaged has a 100% fully transparent label and no banned ingredients. That's why we recommend it on our list of healthy pre workout options and our list of the top pre-workouts for athletes.


Alpha Lion – Superhuman Woman (Best Hormonal Support pre workout for Women)
Key Ingredients:
L-Tyrosine – 500 mg
KSM-66 Ashwagandha Root Extract – 200 mg
EnXtra Alpinia Galanga Rizome Root Extract – 200 mg
Acetyl-L Carnitine – 500 mg
Cocoabuterol – 100 mg
Myo-Inositol – 2000 mg
Vitex Angus Cactus Extract (4:1) – 250 mg
3,3-Diindolylmethane – 350 mg
Potassium Gluconate – 400 mg
AquaMin (Red Marine Algae) – 250 mg
Magnesium Bisglycinate Chelate – 250 mg
Calci-K – 250 mg
If you're one of those athletes whose reproductive cycle interferes with their training, a supplement like Alpha Lion's Superhuman Woman designed with hormonal balance in mind is worth considering.
Ingredients like chaste berry, Diindolylmethane, and Folate help manage issues like bloating, cramps, and mood swings, ensuring your workouts won't be interrupted by your period.
Their list is so long because the company has a policy of listing every ingredient their product contains rather than hiding them behind proprietary blends.
Notably, the supplement doesn't skimp on the standard ingredients needed for an ideal workout. It still contains L-Tyrosine and Acetyl-L carnitine, both of which are performance and weight loss-focused compounds.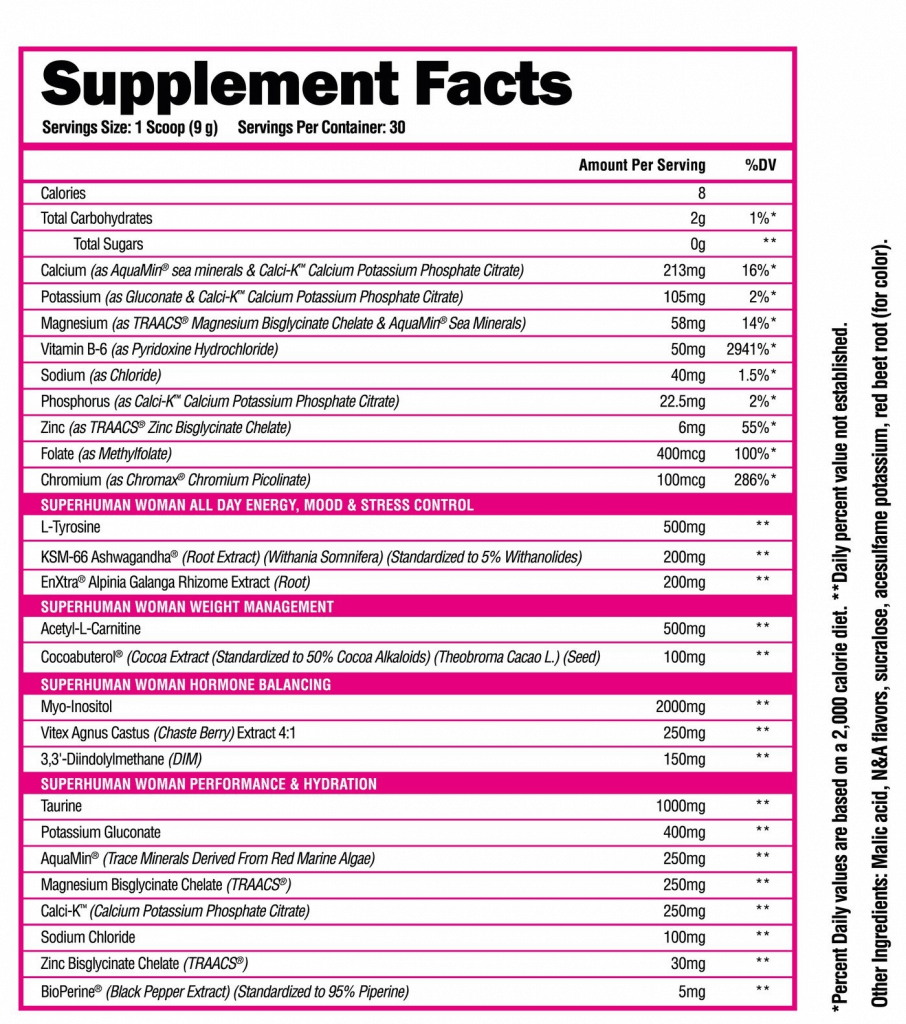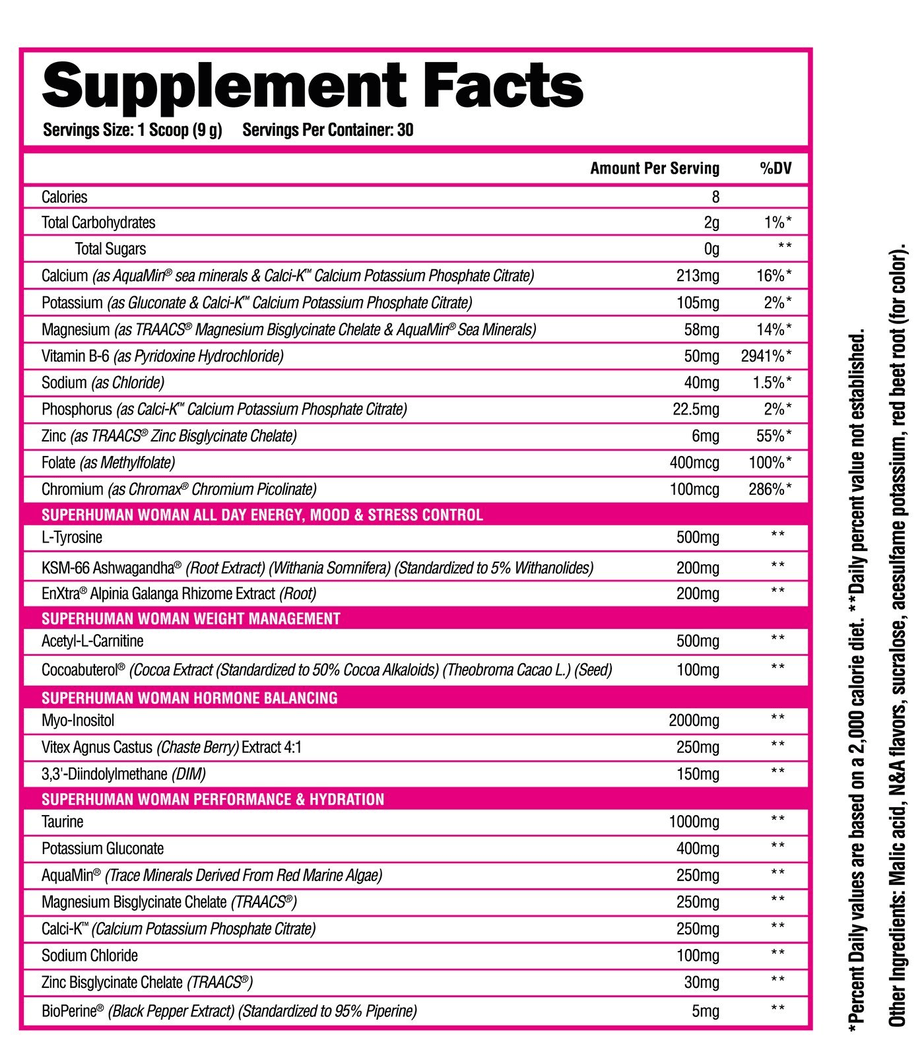 Alpha Lion – Superhuman Pump (Best Caffeine Free pre workout without Creatine for Women)
Key Ingredients:
Citrulline Malate (2:1) – 4000 mg
Beta-Alanine – 1750 mg
HydroPrime Glycerol Powder – 1500 mg
Organic Lion's Mane – 300 mg
AlphaSize (GPC 50%) – 150 mg
S7 (Green Tea Extract, Green Coffee Bean Extract, Turmeric Extract, Blueberry, Tart Cherry, Broccoli, and Kale) – 150 mg
Not everyone likes the feeling that caffeine gives them, so it's a good thing that caffeine free pre workout supplements like Superhuman Pump exist.
For folks looking to avoid creatine, either because of possible digestive issues or in order to avoid gaining water weight, this is a good option.
Rather than relying on caffeine, this supplement uses a blend of energy-giving substances like Alpha GPC and Huperzine that won't leave you feeling overstimulated. This makes it a good choice for evening workouts.
The supplement also goes the extra mile in its ingredients' quality, sourcing pink sea salt and organic lion's mane.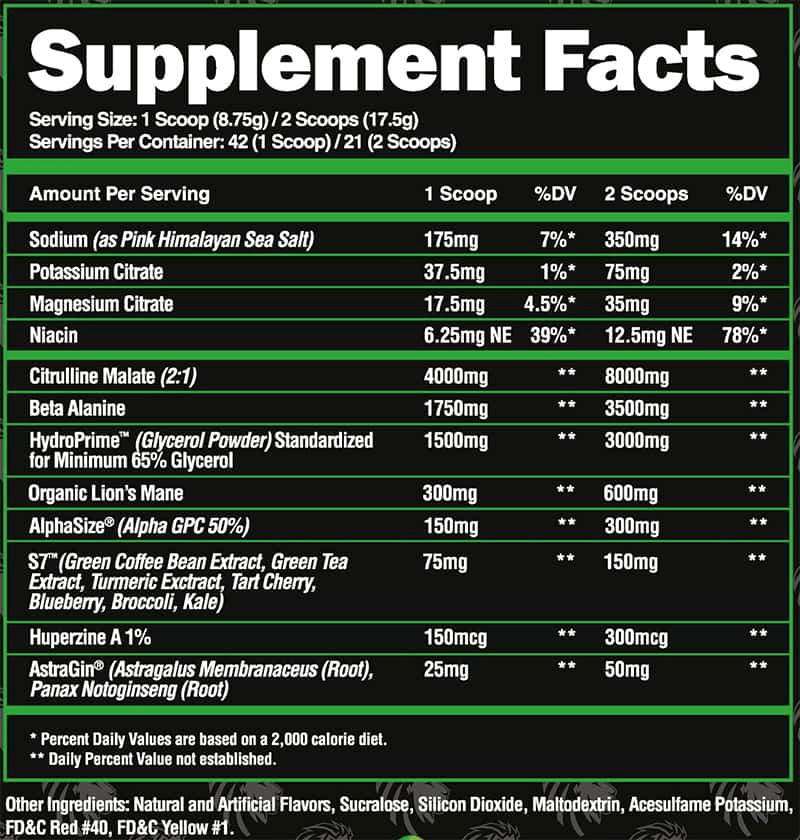 Axe & Sledge – Hydraulic (Best Caffeine Free pre workout with Creatine for Women)
Key Ingredients:
L-Citrulline – 5,000 mg
Glycerol Powder – 3,000 mg
Beta-Alanine – 2,400 mg
Magnesium Creatine Chelate (Creatine MagnaPowder) – 1,500 mg
Agmatine Sulfate – 1,000 mg
L-Tyrosine – 1,000 mg
Also stimulant-free, Axe & Sledge's Hydraulic pre workout concentrates on providing all the materials your body needs to have a killer workout. Huge doses of L-Citrulline, Glycerol Powder, and Magnesium Creatine Chelate (5 grams, 3 grams, and 1.5 grams, respectively) mean that you'll be set up to achieve the gains you're looking for.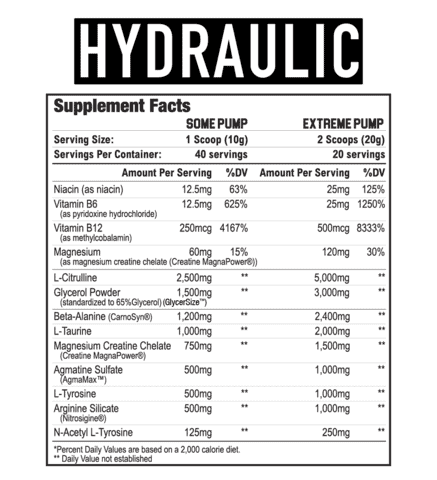 Powher Pre Workout (Best Beginner pre workout for Women with Beta-Alanine)
Key Ingredients:
L-Citrulline Malate – 2,000 mg
Beta-Alanine – 1,000 mg
RedNite (Beta Vulgaris Root) – 500 mg
Lysine – 500 mg
Tyrosine – 500 mg
Coconut Water Powder – 500 mg
OxyJun (Terminalia Arjuna Bark) – 400 mg
EnXtra (Alpinia Galanga Rizomes) – 300 mg
Natural Caffeine – 100 mg
Powher Pre Workout is intentionally light on the ingredients that contribute to muscle growth instead of focusing on those that bring energy and focus to workouts.
It's especially good for those with a minimal caffeine tolerance or are sensitive to caffeine, delivering just 100 mg of natural caffeine for a pleasant buzz. The EnXtra is a nice touch for energy too – it has a much "cleaner" feel than more powerful stimulants while still delivering a noticeable energy boost.
While we personally would like to see a larger dosage of L-Citrulline Malate, the rest of the label provides an unique blend of ingredients that deliver focus and hydration, staying away from stimulants that can cause a "crash" or other unwanted side effects.
Here's a great review of the product from Natalie's Nightstand.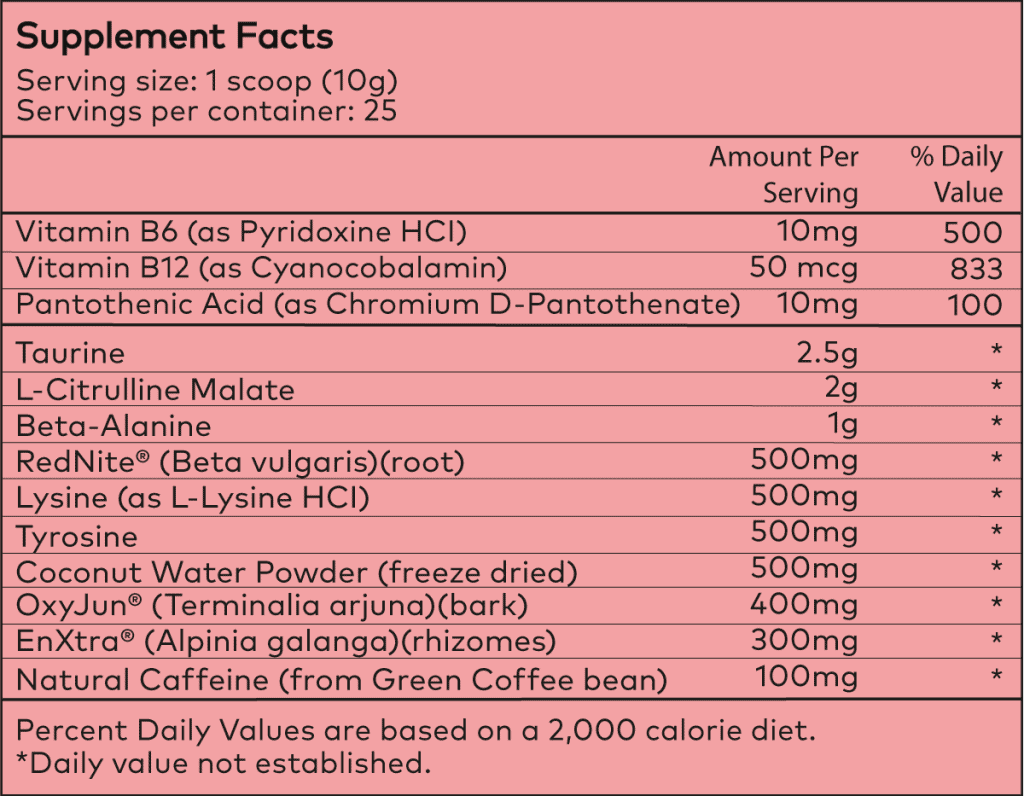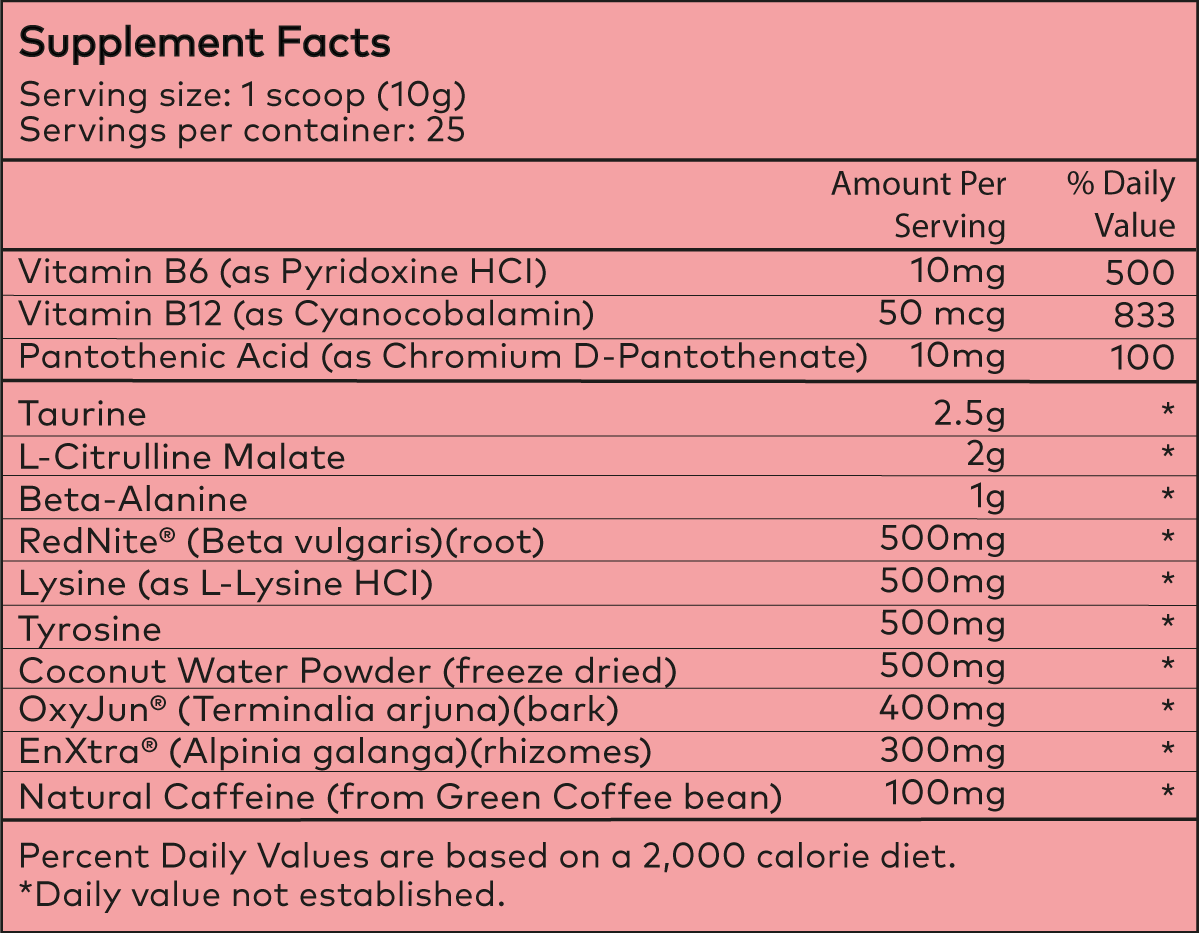 4 Gauge (Best Beginner pre workout for Women without Beta-Alanine)
Key Ingredients:
L-Citrulline Dl-Malate – 6,000 mg
Creatine Monohydrate – 1,000 mg
L-Theanine – 200 mg
Acetyl L-Carnitine – 500 mg
Red Beet (Beta Vulgaris) Root Extract – 300 mg
Caffeine Anhydrous – 150 mg
Coconut Water Powder – 300 mg
Rhodiola Rosea (Root) Powder – 100 mg
If you hate the feeling of beta alanine tingling (formally known as paraesthesia), then 4 Gauge is a great option.
4 Gauge's formula is built around proven ingredients like L-Citrulline Di-Malate, creatine monohydrate, and caffeine anhydrous. It increases blood flow to your muscles while they're working while also giving them the stamina to work for longer.
With light doses of caffeine and L-Theanine, it will keep you energized and sharp for your entire workout.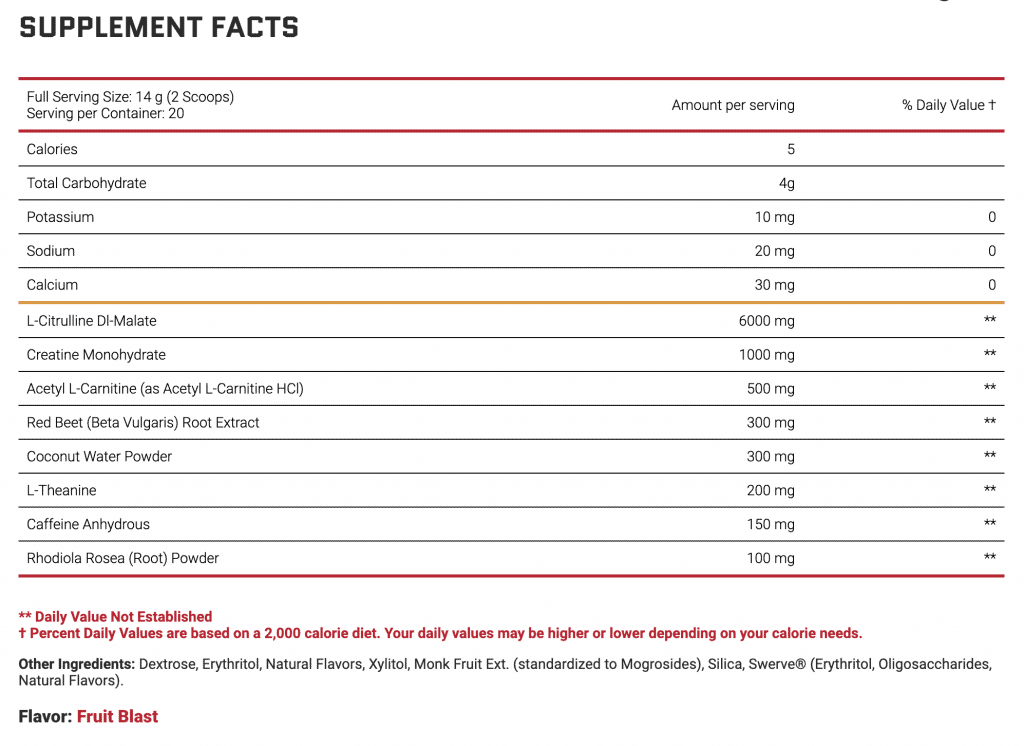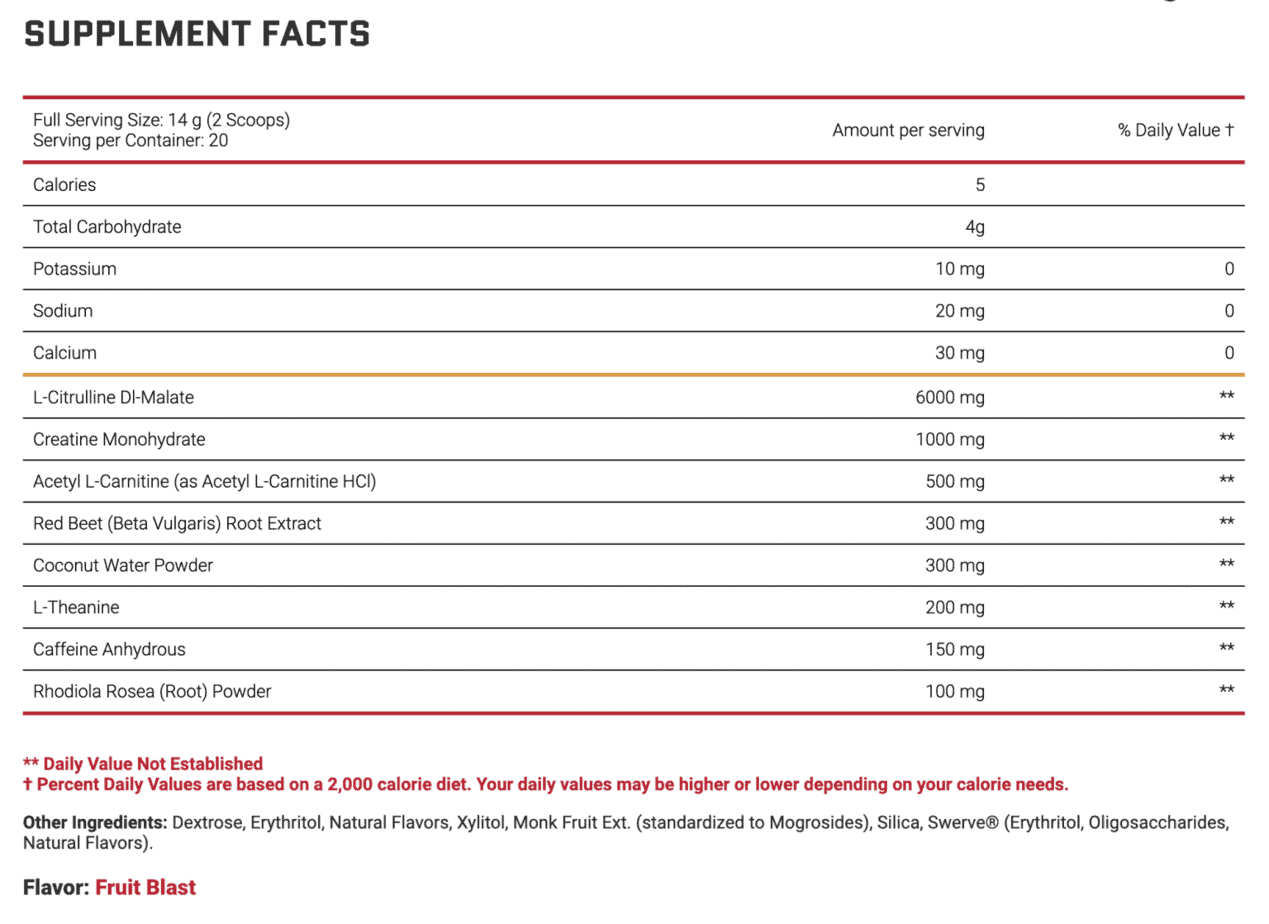 Buyers' Guide: What to Look for in Pre Workout Supplements
Although the long nutritional labels on pre workout supplements can be confusing and intimidating, knowing what benefits you can expect from different ingredients can make them much easier to read. This section will cover the most common ingredients in these supplements so that you know what to look for when shopping.
Essential Ingredients to Look for
These ingredients are crucial for the effectiveness of pre workout supplements, so be sure to check the label for them.
Citrulline Malate
Citrulline Malate is a compound comprised of L-Citrulline, an amino acid, and malic acid. It is broken down into L-arginine in the kidneys, increasing nitric oxide production in the body.
Benefits:
Moderate decrease in fatigue
High increase in nitric oxide production within the body
Notable boost in training volume
Small improvement in power output
Beta-Alanine
Beta-Alanine is an amino acid that the body produces naturally, but people who perform regular and intense physical activity can take it as a supplement. When it combines with histidine in your body, it produces carnosine to be stored in skeletal muscles.
Benefits:
Increase in physical performance
An increase in the amount of exercise one is capable of
Decreases acid buildup in muscles during exercise
Caffeine
Caffeine is a stimulant found in many plants that increases one's energy level and awareness by blocking adenosine, which is the neurotransmitter that builds up over the day to make one feel tired. Since it functions by affecting the brain, caffeine is a psychoactive compound.
Some scientists also believe that caffeine causes greater fat burning during workouts, particularly those that are more sustained and cardio-focused.
Benefits:
Large decrease in sleepiness and fatigue
Increases awareness and concentration
An increase in the amount of fat burned
Mild weight loss
Optional Ingredients to Consider
These ingredients have a wide range of effects that aren't essential but might be useful for some people facing specific workout challenges.
Branched Chain Amino Acids (BCAA)
Of the twenty different amino acids that build protein in the human body, three of them have a chemical structure that classes them as Branched Chain: leucine, isoleucine, and valine. All three are essential amino acids, which means that our body doesn't produce them on its own.
Benefits:
Increase in muscle growth
Decrease in soreness
A decrease in fatigue after exercise
Prevents muscles from breaking down
Essential Amino Acids (EAA)
There are nine kinds of amino acids that our bodies don't make on their own: histidine, isoleucine, threonine, methionine, phenylalanine, leucine, lysine, tryptophan, and valine. They're called 'essential' because you need to ingest them through the foods you eat; if you aren't getting enough of one or more of them in your diet, supplements containing them might be necessary.
Benefits:
Increase in strength performance
Faster muscle recovery
A decrease in fatigue after exercise
Prevents muscles from breaking down
L-Tyrosine
Tyrosine is a non-essential amino acid that helps form important compounds like dopamine, adrenaline and noradrenaline, thyroid hormones, and melanin. All these compounds are essential for healthy brain function, and some, like adrenaline and noradrenaline, directly impact athletic performance.
Benefits:
Prevents significant acute stress on your muscles
Greater adrenaline production
Greater cognitive flexibility for complex workout routines
L-Theanine
Theanine is an amino acid that affects mental function through its structural similarities with glutamate, another amino acid that's naturally produced in humans and involved in transmitting nerve impulses to the brain.
Benefits:
Greater ability to focus
When combined with caffeine, helps people mentally switch between different tasks
Greater ability to relax post-workout
Acetyl L-Carnitine
L-Carnitine is an amino acid that transports fatty cells to mitochondria so they can be used to generate energy. The body stores 98% of its L-carnitine in muscle tissues because these cells need the most power.
Benefits:
More fat burning during exercise
Enhanced recovery post-workout
Less muscle fatigue
KSM-66 Ashwagandha
One of the most common natural ingredients in pre workout supplements, Ashwagandha is a herb native to Northern Africa and India that's been in use as a medicine for thousands of years. KSM-66 refers to the fact that the ingredient comes from the root of the plant, meaning it has the highest concentration of full-spectrum extract.
Benefits:
Greater cardiorespiratory endurance (VO2 max)
More muscle growth
Stress relief
Taurine
Taurine is a naturally-occurring amino sulfonic acid that has several functions in areas of the body as diverse as the brain, heart, eyes, and muscles. It helps the central nervous system function properly, regulates the immune system, and aids in water and electrolyte retention in cells.
Benefits:
Reduction in the waste products that cause muscle fatigue
Increase in fat burning
Increase in muscle strength
Less post-workout muscle soreness
Creatine Monohydrate (Creatine HCL)
Creatine is a type of molecule that's not an amino acid but is similarly structured. The body uses them in energy production and the formation of other proteins. Creatine Monohydrate performs those functions and also increases the water content in muscle cells.
Benefits:
A large increase in muscle strength
A large increase in muscle building
More water retention during and after workouts
EnXtra
EnXtra is a stimulant that has similar effects as caffeine. It's derived from a Southeast Asian type of ginger called Alpinia galanga. Interestingly, the ingredient increases calmness while it increases energy, which is why some people have come to prefer it to caffeine.
Benefits:
Large decrease in sleepiness and fatigue
Increases awareness and concentration
Greater calmness
Coconut Water Powder
Coconut water is a liquid found on the insides of coconuts and is both hydrating and full of nutrients. In fact, coconut water is better at restoring hydration after the end of a workout than water and is equivalent to sports drinks like Gatorade. Also, it contains many of the electrolytes your body loses during exercise, including potassium, magnesium, sodium, and calcium.
Benefits:
Greater hydration recovery
Replenished electrolytes
Rhodiola Rosea
A herb that's native to the mountain ranges of Europe and Asia, Rhodiola Rosea is a traditional medicine that healers have used to treat depression, anxiety, and fatigue for a very long time. It also decreases your perception of the effort you've put into working out, allowing you to keep going longer.
Benefits:
Decreased fatigue during workouts
Less mental fatigue after workouts
Greater ability to concentrate
Conclusion
The exact supplement that's best for a specific woman depends on the issues that she faces in her fitness life. If you have trouble burning fat, some supplements are tailored to that purpose, while those that fatigue quickly might try one that's high in caffeine, EnXtra, or Rhodiola Rosea.
All things being equal, the best pre workout for women is Transparent Labs' Lean. It ticks the most boxes by having high quantities of a large range of ingredients to alleviate most workout issues for most women.
Frequently Asked Questions
Is pre workout safe?
Yes, for healthy individuals most pre workout supplements are generally considered safe. It's always recommended to speak with your doctor or physician before starting a new exercise or nutrition routine.
Can pre workout cause weight gain?
Not really, though pre workouts that contain creatine may lead to gaining some "water weight." This water weight is dropped once the creatine supplementation ends.
As creatine is one of the best researched strength-enhancing supplements, this is a trade off most people are willing to make, especially since the weight gain is temporary.
What is a proprietary ingredient blend?
A blend of ingredients on a product label where the amounts of each ingredient are not disclosed. Only the cumulative amount of all the ingredients are included. Some manufacturers use these to underdose their products and deceive consumers.
When should I take pre workout?
It varies a bit, but 30 minutes before working out is a good rule of thumb.
Can I take pre workout every day?
Always read the ingredient label, but usually yes. Some pre workouts with lots of stimulants need to be cycled on and off, but none of those pre workout supplements are on this list.
Other Popular Pre Workout Supplements for Women
Optimum Nutrition – Gold Standard Pre-Workout
Women's Best – Pre Workout Booster
PE+ Nutrition – Performance Pre Workout
Optimum Nutrition – Amino Energy
Innermost – The Energy Booster
Bulk – Complete Pre Workout
MyProtein – The Pump
Pre Jym – Pre Workout
IdealLean – Pre Workout
Cellucor – C4 Pre Workout
More Pre Workout Reviews
Check out more pre workout reviews below!