You may not be the fastest or strongest but with a little something-something, reaching peak performance could be more attainable than you might have thought. Athletes and anyone who gives a damn about reaching optimum fitness levels have turned to creatine monohydrate to go the extra mile, do the extra rep, or simply improve their metabolic function.
There is so much goodness packed in creatine monohydrate supplements that bodybuilders, powerlifters, "crossfitters", and even endurance trainers can't resist! How can you choose the best creatine supplement for your specific needs? Here is a roundup of the best creatine monohydrate supplements, including pills and shakes.
Pros:

Good quality

Reasonably priced

Volume discounts available

Pros:

Convenient pills

Easy to manage dosages

Pros:

10 epic flavors available

Includes HMB to help increase strength
Best Bulk Creatine Monohydrate
Pros:
Good quality

Reasonably priced

Volume discounts available
Best Creatine Monohydrate Pills
Pros:
Convenient pills

Easy to manage dosages
Best Flavored Creatine Monohydrate
Pros:
10 epic flavors available

Includes HMB to help increase strength
The Best Creatine Monohydrate Supplements
Creatine Monohydrate – Bulk Supplements
Creatine Monohydrate Pills – Huge Supplements
Loco ATP – ASC Supplements
Creatine HMB – Transparent Labs
Creatine Monohydrate – Naked
Creatine Monohydrate – Jacked Factory
Creatine Monohydrate – MyProtein
Micronized creatine monohydrate supplement options are galore! There are hundreds of brands that offer pure creatine monohydrate in micronized form. On the other extreme, other types of creatine supplements, such as pills, might be more effective for some than micronized creatine.
Here are our top 7 selections of the best creatine supplements for muscle mass and optimum nutrition for a range of fitness objectives.
Creatine Monohydrate – Bulk Supplements
Best Bulk Creatine Monohydrate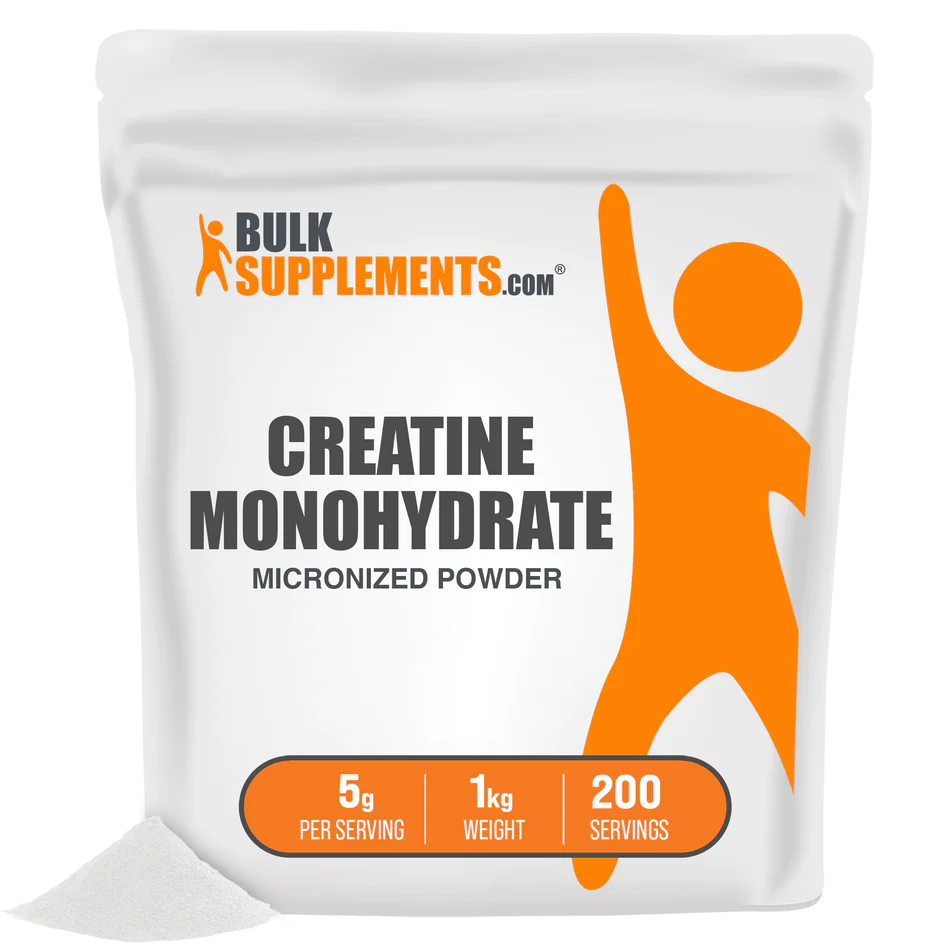 Creatine Monohydrate - Bulk Supplements
Just a big bag of creatine monohydrate at a reasonable price. If only everything could be this easy.
Servings: 200
Creatine Monohydrate: 5 g
Shop Bulk Supplements
Lift Vault earns a commission if you click this link and make a purchase at no extra cost to you.
Bulk Supplements prides itself on being one of the few supplement companies that prioritize pure micronized creatine monohydrate. If you are allergic to some additives that are added by other brands, this option provides the best value for your money. Since the powder is pure creatine, it is more versatile as to what you mix it with, be it water, juice, or almond milk.
Manufactured in FDA approved facility
Manufactured to cGMP standards
ISO 17025 certified
Third-party tested
Quality inspected
Key Ingredients
Pure creatine monohydrate – 5g
Free of additives, gluten, yeast, dairy, soy, and sugar
Creatine Monohydrate Pills – Huge Supplements
Huge Supplements pills are the best overall capsules on the market with great benefits and the least adverse side effects. As a result, these pills can be taken all year round. Lifters can use it throughout bulking and cutting seasons. The focus of Huge Supplements Pills is more precision-focused on lean muscle mass as opposed to weight gain, which is one of the side effects of other creatine supplements.
5g of creatine per serving
5 capsules amount to one serving
Key Ingredients
Pure creatine – 5g
Titanium Dioxide
Microcrystalline Cellulose (MCC)
Magnesium Stearate
Loco ATP – ASC Supplements
Loco ATP by ASC Supplements is a supercharged creatine with some ingredients that improve all the benefits of micronized pure creatine. All the added ingredients are engineered to improve the ability of muscles to maintain a high level of ATP at a cellular level. The absorption rate of Loco ATP is also very impressive, making it one of the most resistant in this product roundup. It is the best creatine monohydrate blend on our list.
Good Manufacturing Practices and Satisfaction Guarantee
Route Shipping Insurance
Owned by veterans and 15% of profits are donated
Key Ingredients
Creatine powder – 5g
Betaine anhydrous – 2.5g
ElevATP (Ancient Peat and apple fruit extract as Malus domesticus) – 150mg
SenActiv (Extracts Root Panax Notoginseng and Fruit Rosa Roxburghii) – 50mg
AstraGin (Non-GMO Astralugus & Panax Notoginsing Extract) – 50mg
Silicone dioxide
Sucralose
Creatine HMB – Transparent Labs
Best Overall Creatine for Bulking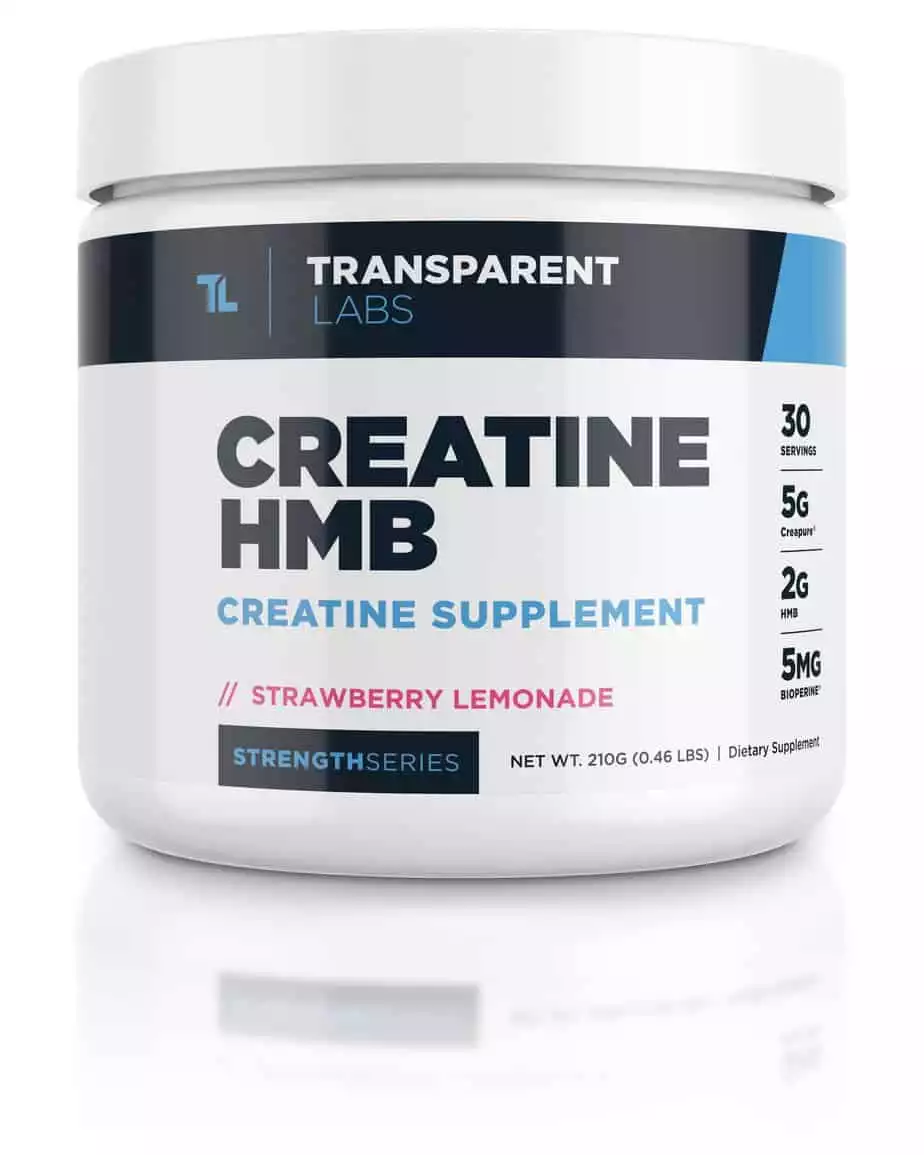 Creatine Monohydrate HMB - Transparent Labs
Combining a clinical dosage of the tried and true creatine monohydrate with β-Hydroxy β-Methylbutyrate (aka HMB), Transparent Labs delivers a cutting edge supplement for bulking.
Creatine Monohydrate: 5 g
HMB: 1.5 g
Flavors: Sour Grape, Peach Mango, Fruit Punch, Watermelon, Black Cherry, Blue Rasperry, Orange, Tropical Punch, Hawaiian Splash, Strawberry Lemonade, Unflavored
Shop Transparent Labs
Lift Vault earns a commission if you click this link and make a purchase at no extra cost to you.
Transparent Labs came up with a powerhouse of a supplement in developing their Creatine HMB supplement. This supplement provides the best value for creatine with HMB since it has a high absorption rate due to the proprietary formula. Adding Bioperine to the formula increases the bioavailability and absorption rate of this supplement. The best part is that there are no artificial sweeteners, coloring, or preservatives added to the Creatine HMB range developed by Transparent Labs.
Manufactured following FDA GMP standards
UDAF GMP Facility Certification
Key Ingredients
Creatine Monohydrate – 5g
Vitamin D – 12.5mcg (500IU)
ß-Hydroxy ß-Methylbutyrate (HMB) -1.5g
Bioperine (Black Pepper (Fruit) Extract) – 5mg
Tartaric Acid
Malic Acid
Natural Flavors
Stevia Extract
Grape (fruit) Powder (for color)
Creatine Monohydrate – Naked
All the additives and other ingredients concocted in some creatine supplement brands can be useful at times. That said, nothing beats good old-fashioned pure creatine. Unmolested creatine has immense effects, and not to mention it doesn't bloat up the price tag for sweet nothing. Naked Nutrition strips away all the additives and other ingredients to feature one simple yet highly effective ingredient – creatine monohydrate! It definitely deserves a notable mention on our list!
Tested for heavy metals
No artificial additives
Best overall supplement that is vegan-friendly
Keto-diet friendly and free from dairy products and soy
Key Ingredients
Creatine Monohydrate – Jacked Factory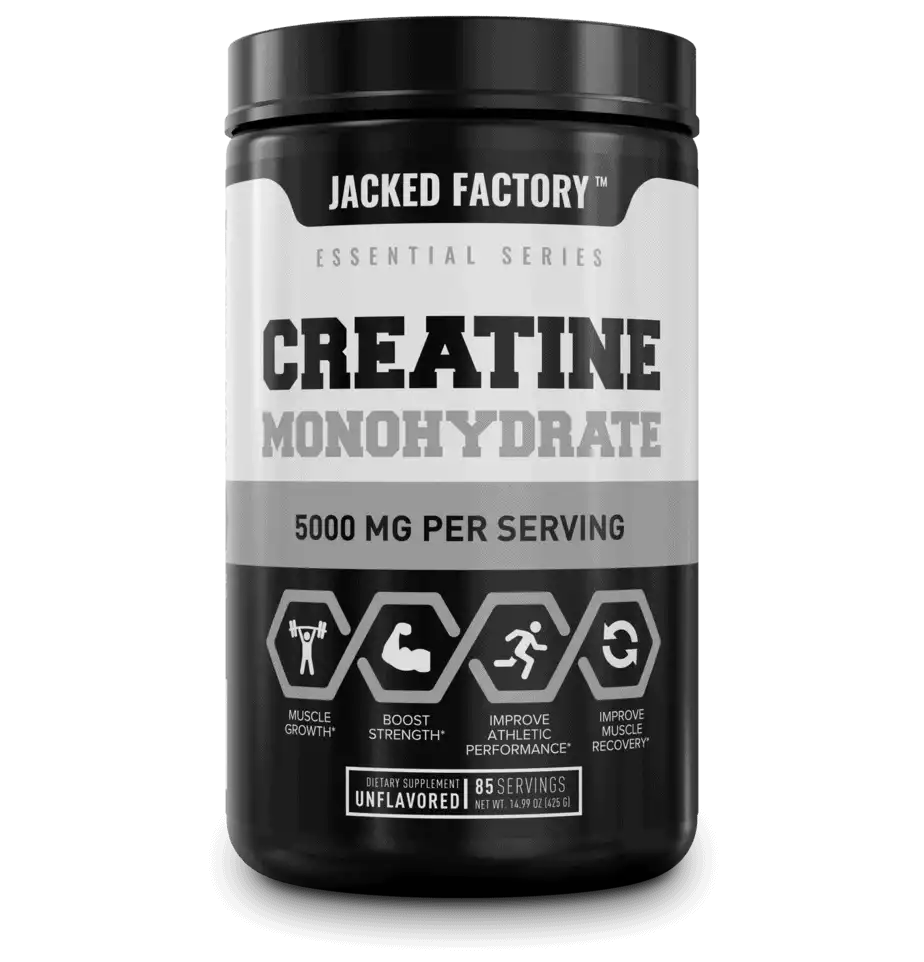 Creatine Monohydrate | Jacked Factory
Jacked Factory's creatine monohydrate is a great choice for anyone seeking a pure, simple creatine supplement.
Creatine Monohydrate: 5,000 mg
Shop Jacked Factory
Lift Vault earns a commission if you click this link and make a purchase at no extra cost to you.
Would you like a supplement that is the best budget option but still offers a hassle-free 100% money-back guarantee for unsatisfied customers? Meet Jacked Factory's Creatine Monohydrate which is also purely creatine without extra additives and added ingredients. Similarly to Naked Nutrition's creatine supplement, this powder focuses on the sheer power of creatine that can be stacked with BCAAs or pre-workout protein shakes for lean muscle mass.
Vegan-friendly supplement
Optimum nutrition micronized creatine
Manufactured in a cGMP-certified facility with potency, safety & quality concerns in mind
Key Ingredients
Creatine Monohydrate – MyProtein
MyProtein is also one of the best budget options that have some variety to choose from. For example, you can opt for the pure version of this supplement with nothing but creatine or a flavored creatine supplement of your choice. There are primarily two flavored options: Berry Burst and Blue Raspberry. The ingredients of each of these flavored options are detailed below.
Gluten-free and vegan-friendly
Informed-Sports Batch Tested for any substances banned by sports science
European Specialist Sports Nutrition Awards Recipient – 2019 Best Sports Nutrition Product
Key Ingredients
Berry Burst:
Flavoring
Acid (Citric Acid)
Beetroot Concentrate
Sweetener (Sucralose)
Blue Raspberry:
Flavoring, Acid (Citric Acid)
Spirulina Extract
Trehalose dihydrate (Trehalose is a glucose source)
Sweetener (Sucralose).
Creatine Supplement Buyer's Guide
There are different variations of creatine supplements, including Creatine Ethyl Ester (CEE), Creatine Magnesium Chelate, and so forth. How do you know which type to buy? Quite frankly, micronized creatine powder is the best. For optimum nutrition, micronized creatine monohydrate is the best bet.
This creatine powder is versatile, safe, and generally way more effective than other forms of creatine supplements. Don't sweat it if your creatine supplement does not have added electrolytes; these do not add more efficiency or boost the effects of creatine monohydrate.
Get pure micronized creatine whenever possible since creatine capsules also require you to pop a lot of pills in one day to reach the desired effects.
Which creatine supplements are safe to buy?
The first thing that might come to mind when buying creatine is the safety and purity of the product you are buying. This is especially important when you are an athlete and have to conform to strict regulatory standards. To get creatine to boost your athletic performance, check out if the packaging has an "NSF certified for sport" seal.
This seal ensures that no chemical compounds or contaminants that are banned by most athletic organizations globally have been added. At the same time, this seal assures you that the product you are taking is made in a facility that is audited bi-annually to ensure the manufacturing process is up to global standards.
What To Consider Before Using Creatine Supplementation
First of all, it is always important to remember that creatine is a naturally occurring amino acid in the body. It can be obtained from foods such as beef and seafood, whereas some organs produce this amino acid naturally. The purpose of this amino acid is to recycle ATP, which is the source of energy at a cellular level.
As a result, it is responsible for muscle mass, just as most creatine supplements aid with muscle growth. It is always important to remember that this supplement aids preexisting creatine. As a result, this should affect your dosage per serving. If you get a lot of creatine from your diet, your creatine supplementation dosage won't be as high.
Benefits of creatine monohydrate supplements
Higher exercise performance
The core purpose of creatine is to dramatically improve exercise performance. Since creatine supplementation helps muscles store more energy, this boosts exercise performance to a great extent. Exercises that require bursts of high energy, such as CrossFit and weightlifting, are the prime candidates for creatine supplement use.
Some studies have indicated that creatine can also boost endurance, which could greatly help athletes engage in endurance exercises and/or sports.
Muscle recovery
Creatine expedites the process of muscle recovery and thus minimizes the risk of injury when engaging in high-intensity training exercises. Although this supplement is effective in this regard, it does not replace the importance of warming up and cooling down after such exercises.
Lean muscle mass gains
Depending on what creatine is stacked with, bodybuilders and weightlifters can get lean muscle mass gains, depending on the amount of work they get done in the gym as well as their diet. That includes eating just the right amount of carbs and stacking with other supplements that build lean muscle growth such as BCAAs.
Also, if the creatine is altered in some way, either by adding additives or being turned to Creatine Ethyl Ester or another variation, this could also contribute to lean muscle gains when done right. It all boils down to understanding your body and its metabolic rate when supplementing with creatine, or any other supplement for that matter.
This benefit is supported by quick muscle recovery and the performance boost creatine provides for bodybuilders, weightlifters, CrossFit athletes, and fitness enthusiasts.
Health benefits of creatine
Several studies have been conducted associating moderate creatine use with improved health benefits for patients suffering from several health complications. Some of the conditions that showed positive results in these studies include Parkinson's disease.
This condition leads to muscle weakness. Taking creatine supplements can help patients suffering from Parkinson's improve their exercise ability. At the same time, creatine reportedly improves the mood of patients suffering from this condition.
Although more research is needed regarding the use of creatine for medical purposes, this supplement has proven to be effective for at least some participants in the different studies that have already been conducted.
For example, some studies have manifested positive results in slowing down the muscular degradation related to muscular dystrophy and Amyotrophic Lateral Sclerosis (ALS).
How to accentuate the benefits of your creatine supplementation
Accentuating the benefits of creatine supplementation hinges on the form of creatine supplements being used. For example, eating an adequate amount of carbohydrates could be a game changer when taking micronized creatine monohydrate.
Creatine is effectively transported to the muscles through carbs. You can easily add some carbs when mixing creatine powder with a sports drink with some carbohydrates.
At the same time, improving your diet to feature at least 40g of carbohydrates will play a tremendous role, especially in improving muscle mass. Although the desired carbs range is between 80-100g, 40g will do for athletes and bodybuilders who want fewer carbs.
The powder form of creatine is also absorbed more effectively into the body than creatine capsules or other alternative creatine supplements. This contributes greatly to muscle growth and muscle recovery.
dOSAGE DURING LOADing phase
The appropriate loading phase dosage is 5g taken four times daily, amounting to a total of 20g every day. This process can be repeated for about 2 to 5 days. From then, you can take 2g to 3g daily to maintain the supplementation process. Loading dosages are recommended for exercise and athletic performance.
What are some of the side effects of creatine supplements?
Some side effects of creatine might be triggered by an interaction with any medication being taken. Ensure that any medication you might be taking does not have an adverse effect when mixed with creatine. Creatine is safe to use but might trigger some of the following minor side effects in some people:
Muscle cramps – Drinking plenty of water is very important for creatine efficacy. Without sufficient water in the body, you might suffer from muscle cramps after heavy workout days.
Muscle strains & pulls – Creatine supercharges your muscles for high-intensity exercise performance and allows you to push your muscles to the max. If workouts are done unsafely, quite easily there is a risk of straining or pulling a muscle. To prevent this from happening, implement safe lifting practices and include warm-ups and cool-downs in all workouts.
Gaining weight – Immediately after using creatine, you might start noticing some weight gains. The main cause for this is higher fluid retention in your muscles caused by creatine. This side effect is generally taken care of by some patience, dedication at the gym, and drinking plenty of water. The latter solution promotes urination which gets rid of the excess fluids.
Other precautions:
Although teens are actively joining the fitness community, creatine is not recommended for young adults under the age of 19 years old. The side effects of creatine supplementation could be exacerbated in children and teens. Therefore, from a medical point of view, younger age groups should refrain from this particular supplement.
"At-risk" people suffering from chronic medical conditions should consult with their doctor before using creatine supplements. In this case, doctors will prescribe the adequate dosage for optimum nutrition and fitness goals. It might be recommended for at-risk individuals to use more pure products than those mixed with other additives and ingredients.
If you suffer from high blood pressure, liver dysfunction, or kidney damage, refrain from using creatine due to the risk factor involved that could exacerbate the symptoms and cause further complications.
Frequently Asked Questions
What is creatine monohydrate?
This is a nutritional supplement that aids the production of Adenosine Triphosphate, which is a biochemical responsible for muscle energy stores in the body. Some parts of the body, like the liver and pancreas, manufacture creatine in small quantities. Supplementing with this form of creatine helps attain greater results when engaging in high-intensity workouts.

In the long run, this supplement also helps build lean muscle mass by enhancing recovery and fueling better athletic performance in the gym or track sports events.
Do I need a loading phase for creatine monohydrate?
The loading phase of creatine is imperative when seeking to achieve muscle mass goals. Although it might seem a bit overrated, the 5-7 days of the loading phase supersaturate your muscles and increase muscle stores of creatine. As a result, results can be manifest in a shorter time.

However, it is not mandatory to go through the loading phase. The results will take significantly longer, depending on your body type and metabolic rate. To reap maximum results, 5-7 days of loading is recommended. From then, you can take the recommended dosage of creatine a day to maintain the supplement intake.
What is the recommended daily dosage of creatine monohydrate?
Throughout the loading phase, you have to take more creatine than normal. The recommended dosage to take daily is 20g. As mentioned above, this process has to go on for 5-7 days, and then you can switch to the maintenance dosage. The maintenance dosage is not that hectic since it is anywhere between 2-3g.

You might need to alter these dosages according to your specific needs but ensure that a dietician or healthcare professional approves of any adjustments. Also, if you suffer from certain health conditions, your doctor should advise the dosage safe enough for your consumption.
Do I need to cycle creatine monohydrate?
Creatine does not cycled. It's perfectly fine to take creatine on a consistent basis.

Some people do go through a cycling process to avoid building a tolerance to it. This claim has not been scientifically founded. Those who prefer to cycle creatine go through the week-long loading phase and proceed to the maintenance dosage.

From there, there is a rest period, and the process is repeated. The maintenance period can take up to three weeks; the rest period could be anywhere between one and two weeks. However, this is a redundant process and doesn't seem to have any significant effect that is evidence-based.
Final Thoughts
Creatine monohydrate is one of the best natural supplements, especially when taken in its purest form. The positive results surrounding creatine have boosted the confidence of millions of athletes, weightlifters, and fitness enthusiasts.
You can count on the creatine manufactured by Naked Nutrition and MyProtein due to its purity and no additives that could cause allergic reactions from vegans and others. Using these products following the tips detailed in the guide above, you are bound to see real results in no time!