If you're trying to build your muscles, get stronger, improve your performance in the gym, and boost your brain function – creatine will be your best friend.
But with all the thousands of supplements on the market, how do you choose the best one?
We've got you covered!
This guide has everything you need to know about creatine, from the best creatine supplements for teens to tips for choosing the right supplement.
Read on!
If you just want to know what the best creatine for teenagers is, that would be Creatine HMB by Transparent Labs. Not only is it clinically dosed and tested by 3rd parties for purity, it's available in 12 yummy flavors (and unflavored, of course).
Best Creatine for Teens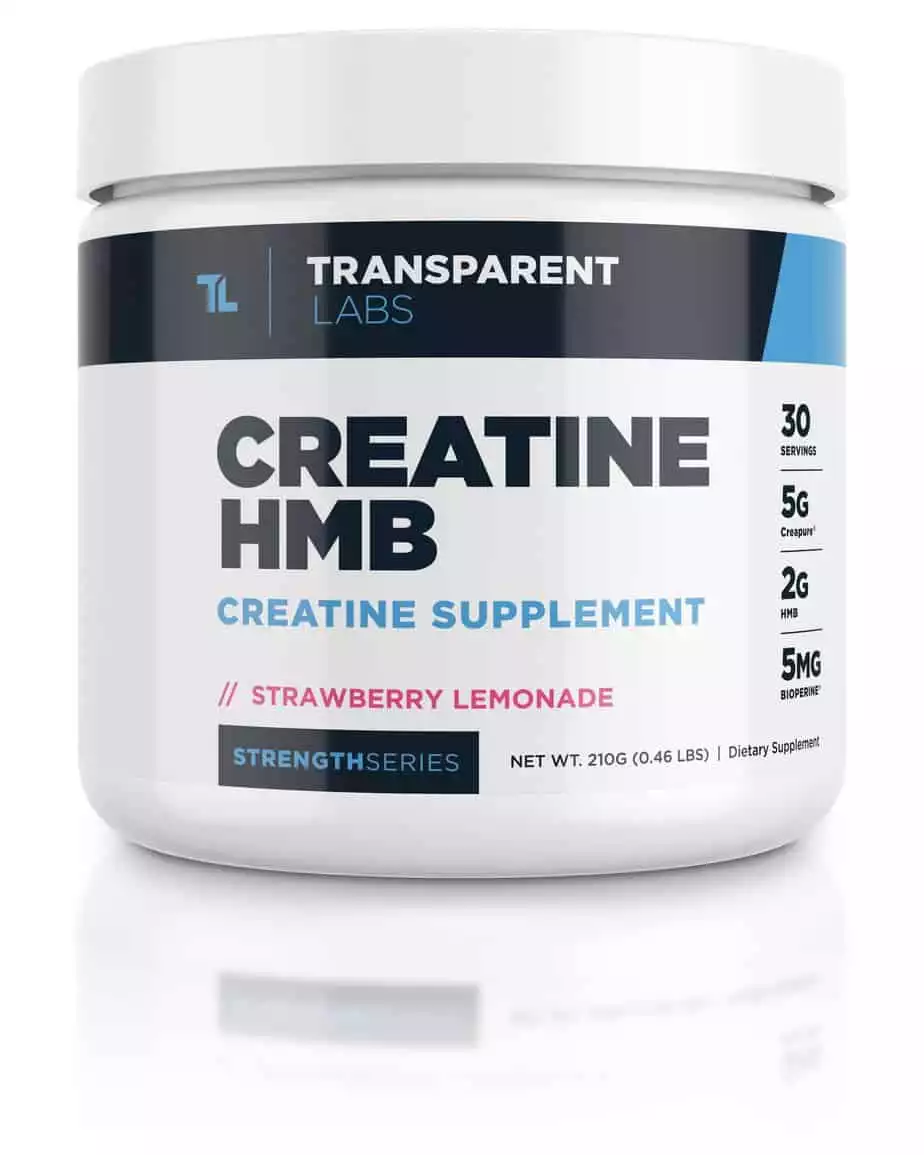 Creatine Monohydrate HMB - Transparent Labs
Combining a clinical dosage of the tried and true creatine monohydrate with β-Hydroxy β-Methylbutyrate (aka HMB), Transparent Labs delivers a cutting edge supplement.
Creatine Monohydrate: 5 g
HMB: 1.5 g
Flavors: Sour Grape, Peach Mango, Fruit Punch, Watermelon, Black Cherry, Blue Rasperry, Orange, Tropical Punch, Hawaiian Splash, Strawberry Lemonade, Unflavored
Shop Transparent Labs
Lift Vault earns a commission if you click this link and make a purchase at no extra cost to you.
Other recommended supplements for teens: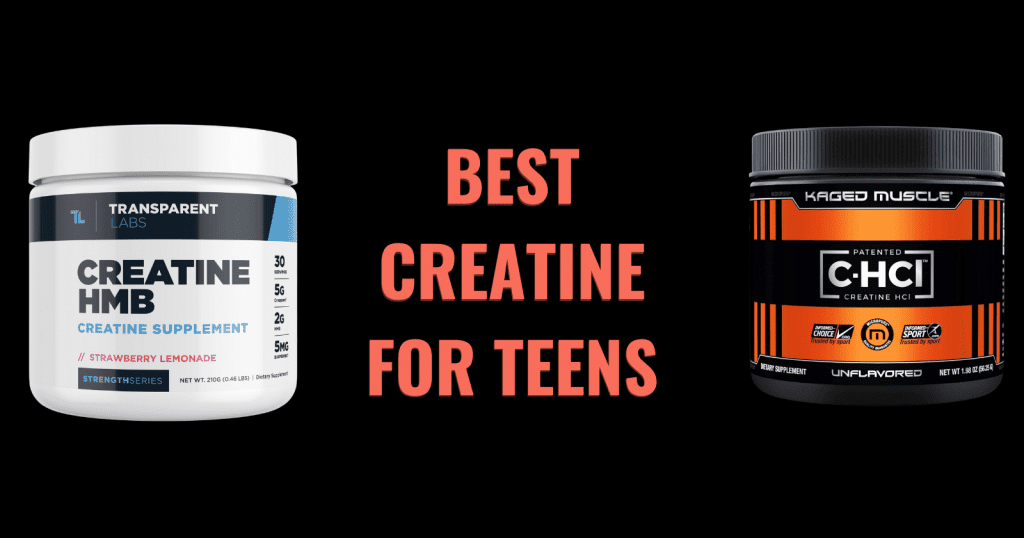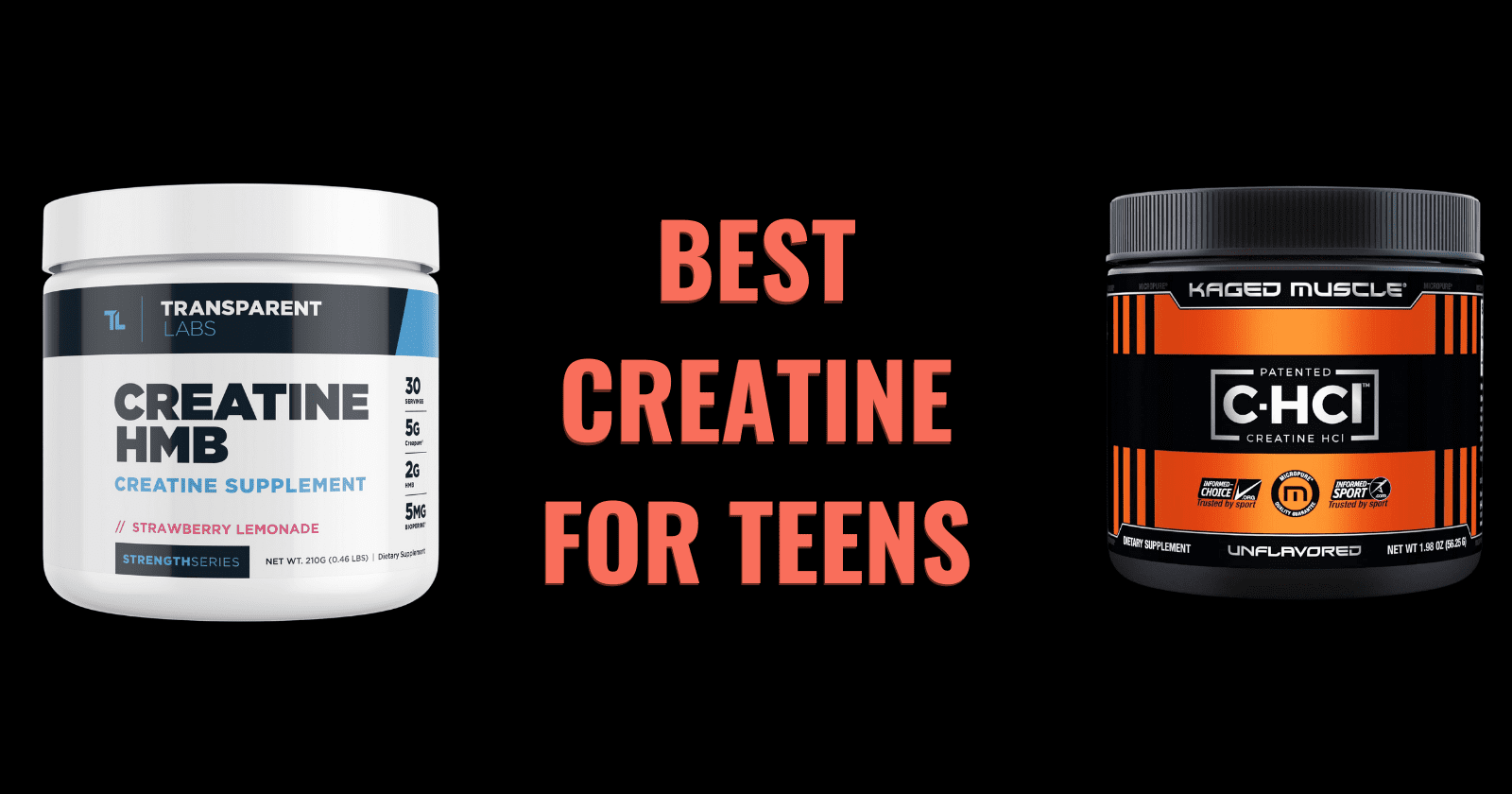 Best Creatine Supplements For Teens
Creatine HMB – Transparent Labs
Creatine HCL – Kaged
Creatine Monohydrate – Jacked Factory
LIFT – XWerks
Creatine Capsules – Huge Supplements
Creatine HMB – Transparent Labs
Best Flavored Creatine for Teens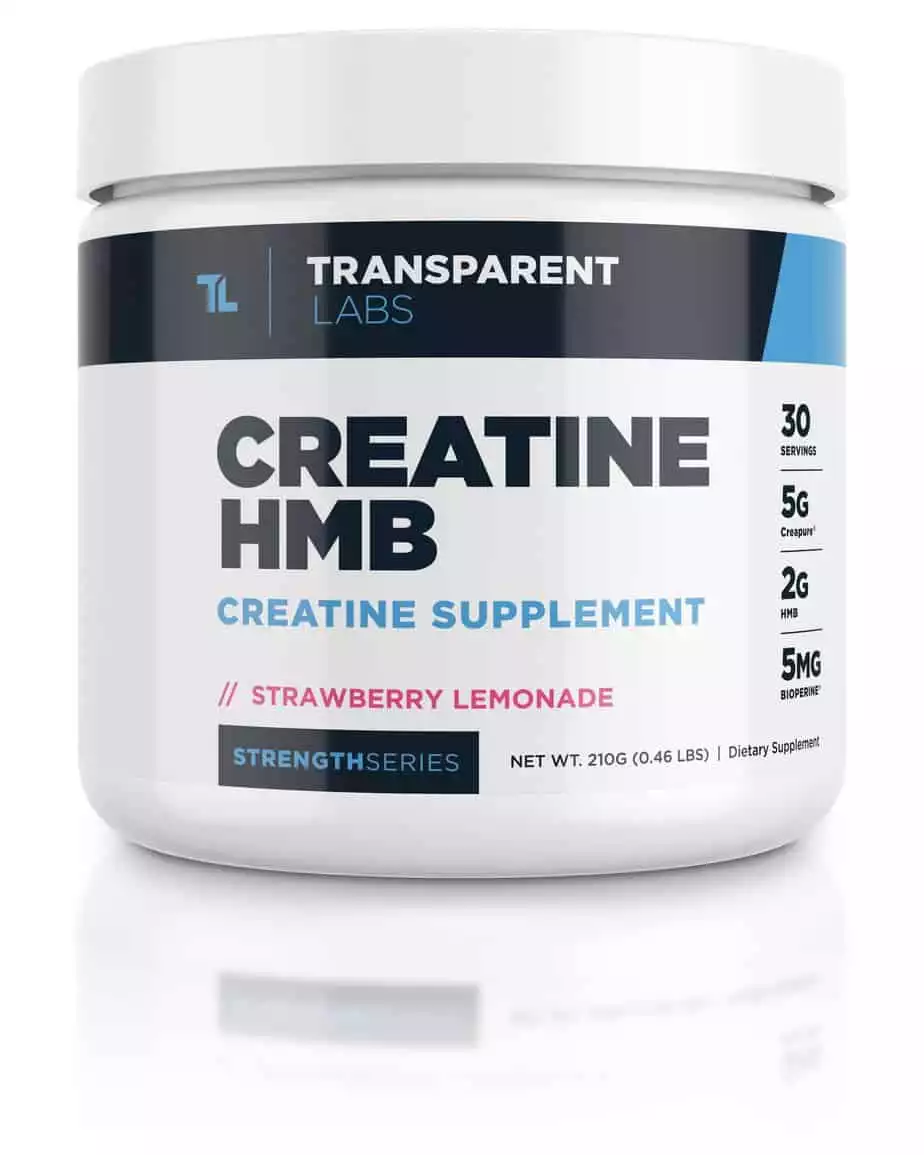 Creatine Monohydrate HMB - Transparent Labs
Combining a clinical dosage of the tried and true creatine monohydrate with β-Hydroxy β-Methylbutyrate (aka HMB), Transparent Labs delivers a cutting edge supplement.
Creatine Monohydrate: 5 g
HMB: 1.5 g
Flavors: Sour Grape, Peach Mango, Fruit Punch, Watermelon, Black Cherry, Blue Rasperry, Orange, Tropical Punch, Hawaiian Splash, Strawberry Lemonade, Unflavored
Shop Transparent Labs
Lift Vault earns a commission if you click this link and make a purchase at no extra cost to you.
With 10 insanely delicious flavors to choose from, Transparent Labs has brought out the best-flavored creatine supplements you can get your hands on!
Choose from the following natural flavors: Sour Grape, Tropical Punch, Peach Mango, Strawberry Lemonade, Orange, Watermelon, Black Cherry, Fruit Punch, Blue Raspberry, and Hawaiian Splash.
The combination of clinically-effective doses of Creatine Monohydrate and HMB has been proven to boost performance through enhanced strength and stamina while retaining muscle mass and promoting fat loss.
You can train harder, for longer, and more effectively to reach your fitness goals with this high-quality creatine supplement. In fact, it's also featured as one of the best creatine supplements for cutting.
Key ingredients:
Vitamin D – 12.5 mcg (500IU)
Creatine Monohydrate – 5000 mg
Beta-Hydroxy Beta-Methylbutyric Acid (HMB) – 1500 mg
BioPerine (Black Pepper Extract) – 5 mg
Creatine HCl – Kaged
Best Creatine HCL Supplement for Teenagers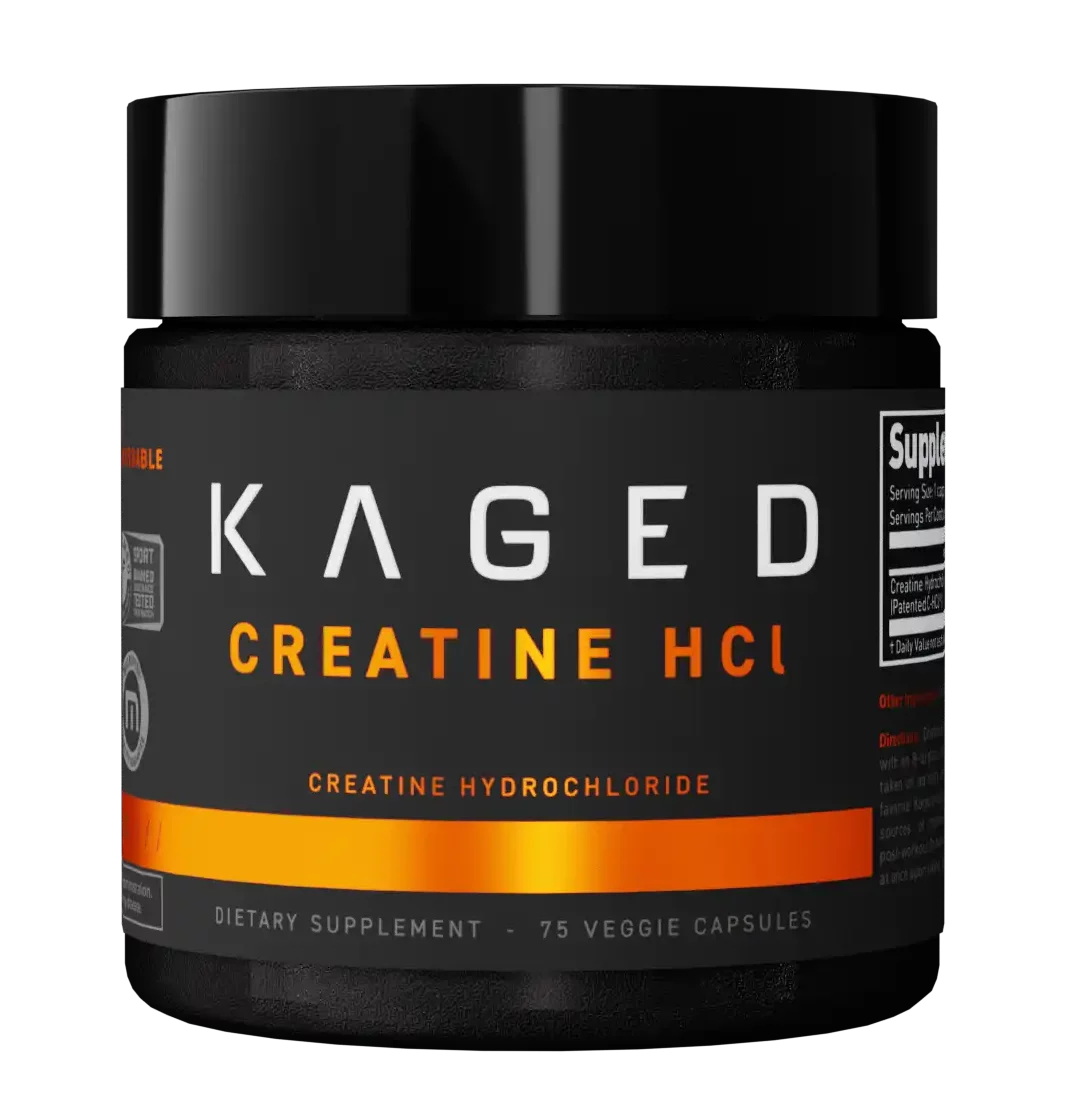 Creatine HCL - Kaged
High quality, patented, pure creatine HCL with zero fillers.
Available in unflavored powder (for mixing into other drinks), lemon lime powder, or vegetable capsules (vegan).
Creatine HCL: 750 mg
Servings: 75
Shop Kaged
Take Kaged Supplement Quiz
Lift Vault earns a commission if you click this link and make a purchase at no extra cost to you.
Kaged is a health-forward brand, so it comes as no surprise that they've provided us with the absolute best overall Creatine HCl for teens.
If you want to build muscle mass and speed up your recovery times without needing a loading phase, this creatine supplement is NEXT LEVEL!
Whether you choose the powder or convenient pill form, this premium patented Creatine HCl supplement is easy to digest (no bloating), highly absorbable (maximize your gains), and banned substances-free.
Kaged is also the manufacturer of Pre-Kaged Sport, one of the best pre-workouts for teens.
Key ingredients:
Creatine Hydrochloride (Patented C-HCl) – 750 mg
Creatine Monohydrate – Jacked Factory
Best Creatine Monohydrate for Teens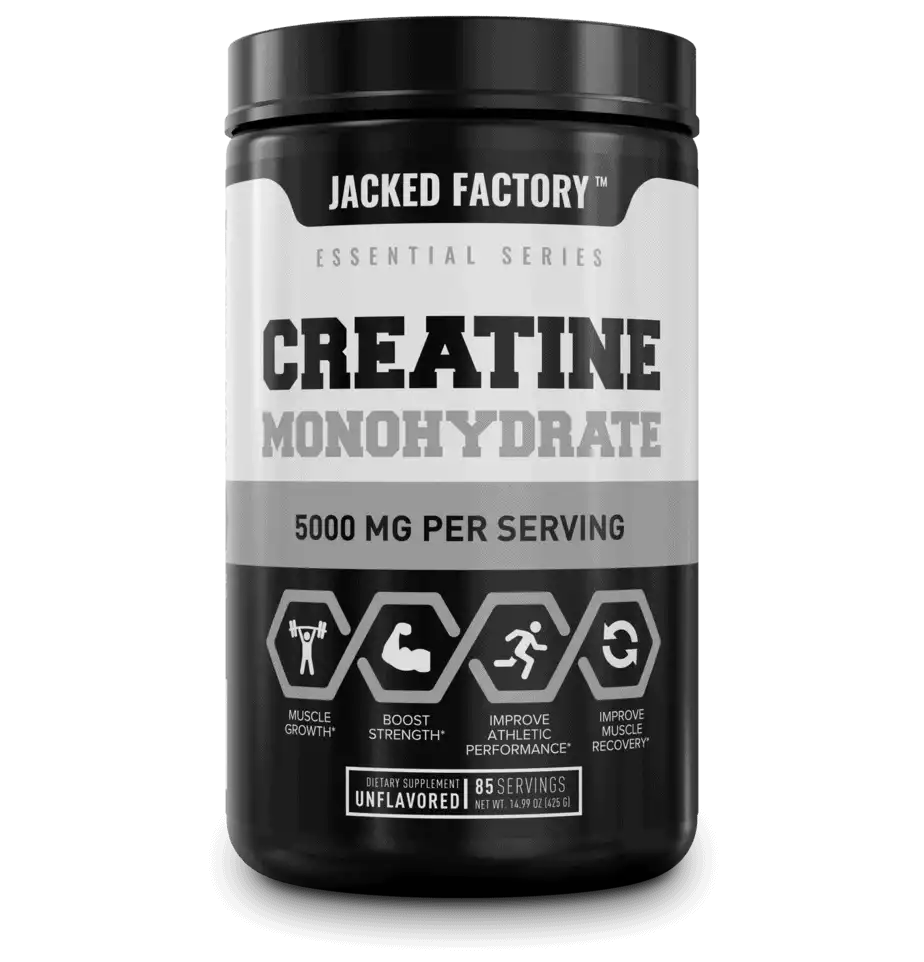 Creatine Monohydrate | Jacked Factory
Jacked Factory's creatine monohydrate is a great choice for anyone seeking a pure, simple creatine supplement.
Creatine Monohydrate: 5,000 mg
Shop Jacked Factory
Lift Vault earns a commission if you click this link and make a purchase at no extra cost to you.
Next up is the best overall creatine monohydrate for teens byJacked Factory – a brand that prides itself in using totally transparent, science-backed ingredients without harmful ingredients, artificial fillers, or dyes.
With each scoop, you'll be getting nothing but gold-standard, pure creatine monohydrate powder (and an impressive 5g of it!).
This must-have sports supplement is highly effective at naturally increasing strength, power, endurance, and muscle growth.
Key ingredients:
Creatine Monohydrate – 5000 mg
LIFT – XWerks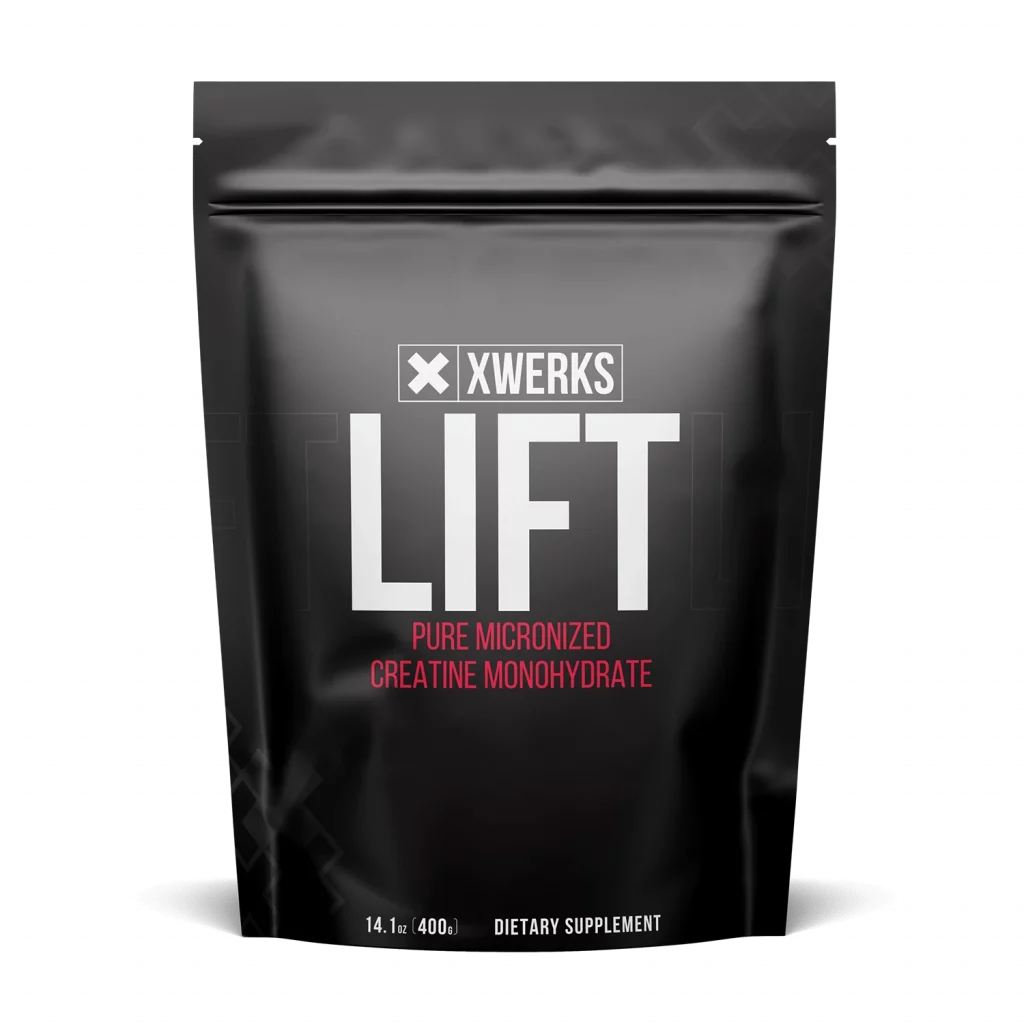 If you're searching for a pure, basic, but effective creatine supplement that won't give you stomach cramps (that sometimes occur when taking creatine), LIFT is an excellent option!
It's made from only clean micronized Creatine Monohydrate, meaning that the creatine is broken down even further to aid in optimal absorption and prevent stomach discomfort.
And since it's just pure, flavorless creatine, it's perfect for mixing into your favorite drink!
Key ingredients:
Creatine Monohydrate – 5000 mg
Creatine Capsules – Huge Supplements
Do you travel regularly or prefer not to haul a shaker bottle around the gym?
Huge Supplements offers the best creatine pills for the most convenient way to take your creatine supplements on the go!
This straightforward, high-quality supplement contains only pure Creatine Monohydrate in the ideal dosage for maximum muscle gains.
The only catch is that you'll need to take 5 capsules as a single serving – which may seem like a lot for some. (But that's no big deal for the reward of convenience!)
Key ingredients:
Creatine Monohydrate – 5000 mg
Is Creatine Supplementation Safe For Teens?
There's an overwhelming amount of research and evidence that suggests creatine is fine for adolescents to take as long as it's used correctly.
Studies performed on younger individuals and teenagers have consistently reported ergogenic benefits with no significant side effects.
Creatine supplements have been shown to have therapeutic benefits and to improve the overall health and wellness of all age groups – whether trained or untrained.
What To Look For In A Creatine Supplement
Fully disclosed ingredient label
When it comes to choosing dietary supplements, a transparent ingredient label is make-or-break.
The best creatine supplements will have fully disclosed ingredients (exact ingredients included and their individual doses) and not be hiding anything under a shady "proprietary blend".
You can verify the authenticity of the ingredient and the claims made by the supplement company by checking for third-party testing certificates, like GMP or FDA certification.
Choose between unflavored and flavored creatine
When supplementing creatine, pure unflavored is great for adding to your favorite drinks or combining with your other workout shakes.
On the other hand, flavored creatine is awesome for simply mixing with water and enjoying it as is.
If you prefer flavored creatine supplements, you'll want to make sure it contains no harmful artificial flavors, colors, or sweeteners. Natural is the way to go!
Do you want Creatine Hydrochloride (HCl) or Creatine Monohydrate?
Creatine Monohydrate has long been the most common form of creatine taken by gym-goers and athletes, but recently Creatine Hydrochloride has gained popularity.
In terms of effectiveness, there is no known difference between the two. However, Creatine HCl is said to be absorbed better by the body and doesn't need a loading phase. (Though more research is needed.)
Expert tip: If you decide to go for a Creatine HCl supplement, you need to make sure you're getting the real deal through a patented form. The label should say Patented C-HCl™, Vireo Systems Inc. and include PATENT #8, 962, 685/#8, 354, 450/#8, 026, 385/#7, 608, 641. If the above isn't listed on the label, it's a generic creatine HCl – not the real deal!
Decide between creatine powder or creatine pills
Creatine powder VS creatine pills?
One is not better than the other; it simply comes down to your preference.
Do you prefer the convenience of taking pills? They can be a much easier option for those who are always on the go.
Or, do you enjoy adding the powder to your drink? Powders can be cheaper, they can be flavored, and can easily be added to your pre-workout or post-workout supplement shakes. If you don't want to add creatine yourself, there are plenty of great pre-workout supplements with creatine already added.
Go with a brand you trust
When it comes to choosing sports supplements, it's essential to pick a reliable, trustworthy brand that ticks the following boxes:
There are several positive reviews online
The brand has an official website with easy ways to contact them
The products are available at a variety of retailers
They are recommended by sports or health professionals
What Are The Benefits Of Creatine?
Boost power output
Creatine has been proven to be effective in assisting the body with producing ATP (adenosine triphosphate) production. This is the key energy molecule for performing numerous functions in the body.
More ATP means more energy and more power. (From 5% and up to 15% more, to be precise!)
This is especially useful for getting through those extra-intense workouts that require full effort, for example, the bench press, sprints, medicine ball slams, and those dreaded box jumps.
Enhance strength
A big reason why athletes and bodybuilders swear by taking creatine is that it's highly effective at increasing strength and muscle size.
Initially, the gains you'll see will be thanks to water retention (additional water being pulled into the muscle cells). But after extended consistent supplementation, creatine helps to activate the specific processes involved in muscle tissue growth and building strength.
Increase lean muscle mass
Besides creatine being praised for boosting athletic performance, many studies also show that it can aid in muscle building.
This is partly due to the fact that creatine increases your ability to train harder for longer, which over a period of time, leads to increased muscle growth.
Research also suggests that creatine can support increased IGF-1 (insulin-like growth factor 1) levels, which aids in the body's production of lean tissues. This is an excellent long-term benefit of supplementation.
A study was performed using 3 different groups of males (a control group, a creatine group, and a placebo group) who adhered to 42 days of strength training. Results showed that the control and placebo groups didn't show any differences in their lean muscle mass. On the other hand, the creatine group showed gains of 4.4lbs (2kg) of muscle mass!
Aid muscle recovery
Creatine has the potential to accelerate muscle recovery time after intense exercise.
Regular supplementation can enhance muscle glycogen synthesis after prolonged exercise or repeated bouts of endurance training. Simply put, it means that your muscles will need less time to recover between training.
Improve brain function
Did you know that creatine can have positive effects on cognitive functioning and overall neurological health?
Just like your muscles, your brain produces and relies on ATP for energy – especially when it comes to completing complex tasks.
As mentioned, creatine is excellent for increasing ATP production.
Besides that, it can also aid in boosting dopamine levels – which reduces the symptoms of mental and physical fatigue.
FAQs About Creatine Supplements
What are the negative side effects of creatine?
Creatine is generally considered a safe and gentle supplement for most people, but some users have reported the following side effects:
Digestive issues like bloating, nausea, and excessive gas
Dehydration (it's essential to up your water intake when taking creatine)
Weight gain (from water retention)
Take note: Those with diabetes, kidney disease, or liver conditions should avoid taking a creatine supplement. It may interact with certain medications.
Can women take creatine?
Absolutely – creatine isn't only for men!
It can provide amazing benefits for women, such as increasing athletic performance, building lean muscle, and sustaining energy levels through intense training (especially HIIT or sprints).
When should I take creatine?
The exact time of day that you take creatine isn't important. Taking it consistently every day matters more than when you take it.
Pick a time that's most convenient for your routine, so you don't end up skipping it.
In addition, avoid taking creatine supplements on an empty stomach, as it may cause digestive discomfort.
Is creatine vegan?
Creatine powders are almost always vegan, but if it's an important factor to you, it's best to choose a brand that confirms their supplement is vegan-friendly.

For instance:
LIFT by Xwerks
Creatine HMB by Transparent Labs
Creatine HCl by Kaged (powder and capsules)

If you're leaning towards using creatine capsules, you'll need to confirm whether they are vegetarian or if they contain gelatin (not vegan).
Is creatine gluten-free?
Yes, pure creatine is naturally gluten-free. (Including all the products listed above).
If there are other ingredients added to the supplement, you'll need to verify with the manufacturer whether they contain gluten.
How much creatine should I take?
The ideal dosage depends on what form of creatine you choose to take:
Creatine Monohydrate: 3 to 5 g per day
Creatine HCL: 750 mg per 100 pounds of body weight
Do I need to go through a loading phase?
Creatine HCl doesn't require a loading phase, and it's not entirely necessary when taking Creatine Monohydrate either.
But, a loading phase can help to give you the results you desire faster.
Here's how to load:
1. Take 20 grams of creatine monohydrate daily spread across four separate doses (5 grams each time).
2. Continue this for 5 to 7 days.
3. After that, take the normal dose of 3 to 5 grams of creatine per day.
Does creatine actually work?
You bet it does! It's among caffeine, protein, and BCAAs on the list of "Things That Actually Work".
Extensive research has gone into proving the effectiveness of taking a creatine supplement for exercise performance, muscle growth, and the other health benefits that come as a result.
Conclusion
If you're looking for the ultimate best creatine supplement for teens, you can't go wrong with any of the fantastic recommendations in this guide.
Our top two picks are:
Creatine HCL by Kaged
Creatine Monohydrate by Jacked Factory
And if you'd rather take a pill form, Creatine Capsules by Huge Supplements will get the job done!
Each of these brands offers everything you could possibly need in a top-class creatine supplement:
An effective dose of 5g or more of creatine monohydrate (or 750mg for creatine HCl)
A fully disclosed ingredient label with no harmful additives
Third-party tested certification
Brand reliability
All that's left to do is decide which one on this list suits you best, and hit the gym!