If you're looking for some extra help in your weight loss journey, then a thermogenic pre workout can give your metabolism a boost.
A thermogenic pre workout can help you in a few ways:
Increase your metabolism and fat burning efficiency
Boost your energy, helping you work out harder
Suppress your appetite, helping you eat fewer calories
There is no magic here. You still need to do the work. These products just help you get there.
Best Thermogenic Pre Workouts for 2021
Superhuman Burn Thermogenic Pre Workout
Excelsior Thermogenic Pre Workout
Chaos Fat Burner
Herolean Thermogenic Pre Workout
Demonio Fat Burner
Lean Phase Fat Burner
Below you'll find a variety of fat burning pre workout supplements that are all useful in their own special way. Based on your own unique needs, some of them will be better than others for achieving your fitness and weight loss goals.
Alpha Lion – Superhuman Burn Fat Burner Pre Workout
Superhuman Burn is the best pre workout for weight loss and thermogenic ingredients with limited side effects. It's also the best pre workout for cutting.
If you're looking for a pre workout that will help you add a fat burning edge to your regular pre workout supplement, then Superhuman Burn is a great choice.
Superhuman Burn is the best thermogenic pre workout for those who are looking for a two-in-one supplement solution. It essentially takes two products, a thermogenic fat burner and a traditional pre workout supplement, and combines them for a powerful one-two punch.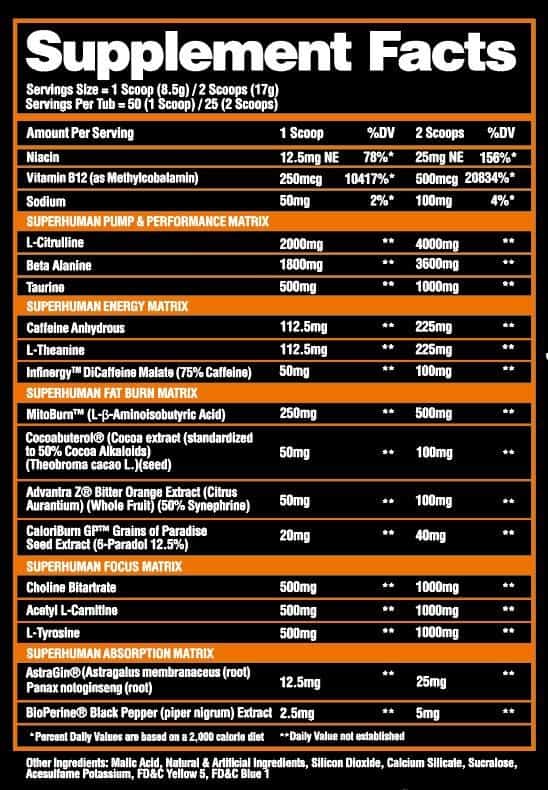 It also have no negative side effects, which I love. You'll notice that many pre workouts and fat burners on this list come with a warning about mood crashes, cold sweats, or anxiety. You won't need to worry about that with Superhuman Burn.
On the weight loss side, Superhuman Burn contains the trademarked ingredient MitoBurn, which helps convert fat into energy more efficiently. It also contains Synephrine, which provides energizing effects on top of a metabolic boost.
On the pre workout side, Superhuman Burn borrows heavily from its sister product, Superhuman Pre Workout. In fact, Superhuman Burn is basically Superhuman with the added fat burning ingredients and a little less caffeine, which is understandable since Synephrine, one of the ingredients unique to Superhuman Burn, is also a stimulant. So this means you'll also be getting the increased nitric oxide production, mood elevation, and energy that comes with a typical Alpha Lion supplement.
All in all, Superhuman Burn delivers the goods, making it the best pre workout for weight loss without negative side effects.
Imperial Nutrition – Excelsior Thermogenic Pre Workout
Excelsior is the best thermogenic pre workout for appetite suppression, focus, and mood elevation. Advanced users only.
If you're looking for truly exceptional focus and appetite suppression in your thermogenic pre workout, then Excelsior Pre Workout is precisely what you're looking for.
Excelsior will undoubtedly become the stuff of legends once it is no longer available. I do not say this lightly: it is a serious, serious high stimulant experience and it is for advanced users only. If you are new to thermogenic pre workout supplements, start with Superhuman Burn.
What you get in return are serious focus, a "high" like stimulation, and a massive reduction in appetite. Frankly, it could be abused in a drug-like manner.
I say this because Excelsior has repeatedly shown to cause mood drops after it wears off. I personally experienced this (see my Excelsior Pre Workout review) and I have seen many other people note negative side effects.
Excelsior contains thermogenic ingredients like Bauhinia Purpurea Extract, Synephrine, and Octopamine.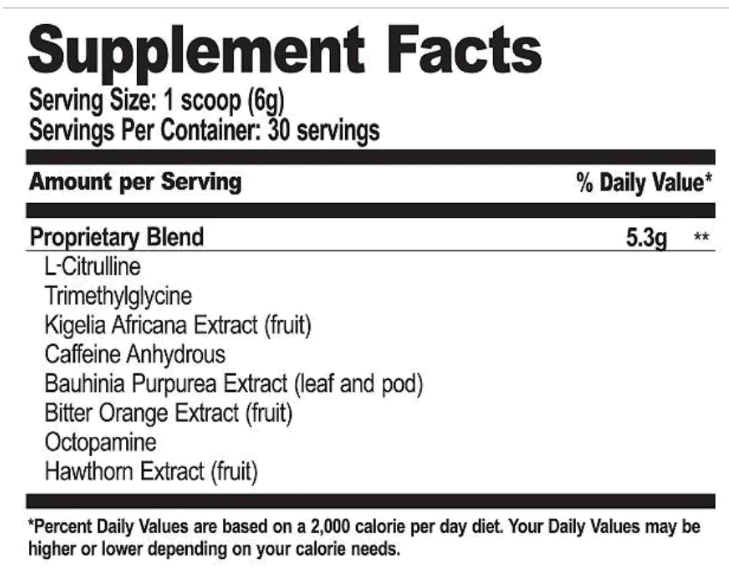 Bauhinia purpurea extract is included as a metabolic booster. I has been shown in at least one study to increase concentrations of T3 and T4 hormones, which are produced by the thyroid. Among other things, these hormones help control metabolism.
Synephrine's fat burning effects are documented below in the thermogenic ingredient section.
Octopamine is a stimulant that may also have minor fat burning properties (Examine). It is a metabolite of synephrine.
You can tell Excelsior is a serious thermogenic pre workout because its manufacturer, Imperial Nutrition, also makes a standalone fat burner product called Thermal Spark. Its formula is nearly identical to Excelsior, just without a few pump ingredients.
Apollon Nutrition – Chaos Fat Burner
Chaos is the best value fat burning supplement. It can also be used as an effective pre workout and was selected as one of the strongest fat burners.
Apollon Nutrition is notorious for making hard hitting, high quality supplements. If Apollon makes something, you know they did it correctly. In a world of wannabes and grifters, Apollon is legit.
Their fat burning product, Chaos, is no different. It is the best all around thermogenic pre workout, perfect for those that are primarily looking for something tried and true with limited side effects.
What is somewhat surprising is that Apollon products are usually expensive, but worth it. Chaos is quite reasonably priced, making it even more attractive. With the Lift Vault discount code (see the box above), you should be able to get it for about $35 at Nutrition Cartel, which is a really good deal.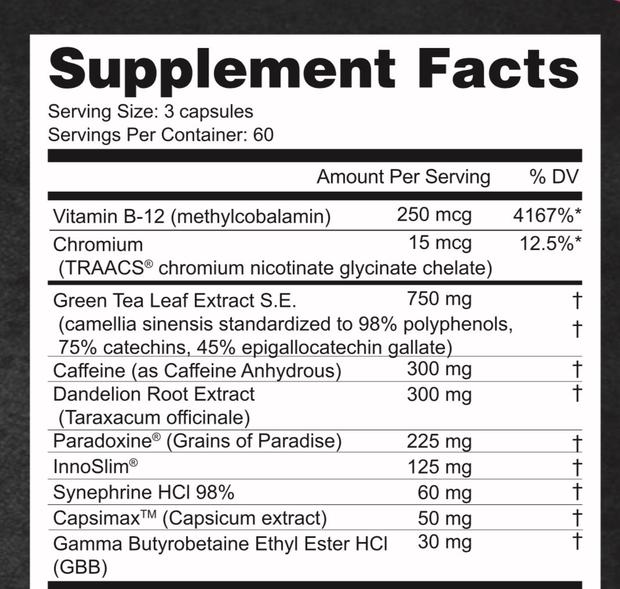 With 300 mg of caffeine anhydrous and 60 mg of synephrine, Chaos is sure to give you a hefty energy kick for the gym.
On top of that, green tea leaf extract, grains of paradise, and InnoSlim combine for a powerful combination of thermogenic ingredients.
As usual with Apollon products, all ingredients are fully dosed so you are getting the full benefits. At just under $1 per serving, it's also one of the best value thermogenic pre workout supplements out there.
Dark Labs – Herolean Fat Burner Thermogenic Pre Workout
Herolean is the best thermogenic pre workout for those looking for an intense Yohimbine experience. There really isn't any other way to put it.
Herolean is the best thermogenic pre workout for those looking for a hardcore experience. It not only contains 10 mg of Yohimbine HCL and 3 mg of Alpha Yohimbine, but it also contains DMAA and DMHA, exotic stimulants that are rarely seen in today's supplements.
While Herolean doesn't have the same mood drop side effects as Excelsior, it does contain a lot of Yohimbine. And even though Yohimbine is a proven to be one of the best fat burning ingredients available, high doses come with negative side effects ranging from chills to cold sweats and anxiety.
For similar fat burners, check out our list of the best DMAA fat burners.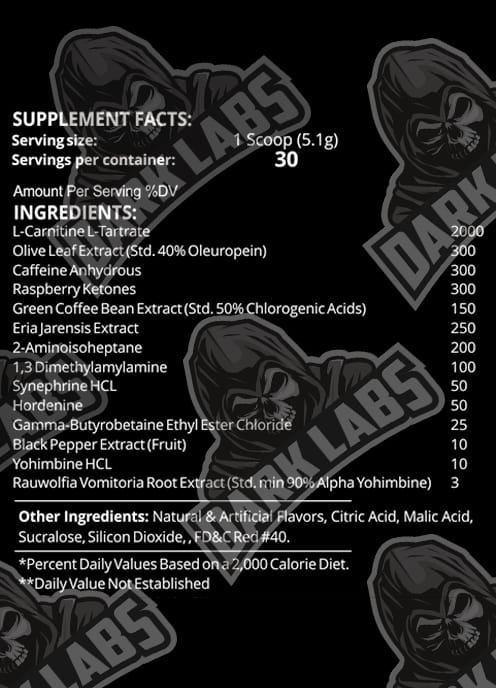 Those who are sensitive to Yohimbine should skip trying out Herolean. However, those who enjoy Yohimbine will be in heaven with Herolean.
While Herolean is marketed as a straight forward thermogenic supplement, the energy boost it provides is more than enough to power through a monster training session, making it an effective pre workout as well.
ASC Supplements – Demonio Fat Burner
Demonio is the best fat burner for those looking for a long last burst of energy. This makes it an excellent choice for taking as a pre workout before hitting the gym.
Demonio Fat Burner falls into the "strong, but not too strong" category of fat burners.
It's great for those who are looking for a more traditional fat burner product like Chaos, but also want Yohimbine and a slew of energy boosting stimulants. If energy is what you're after, Demonio delivers.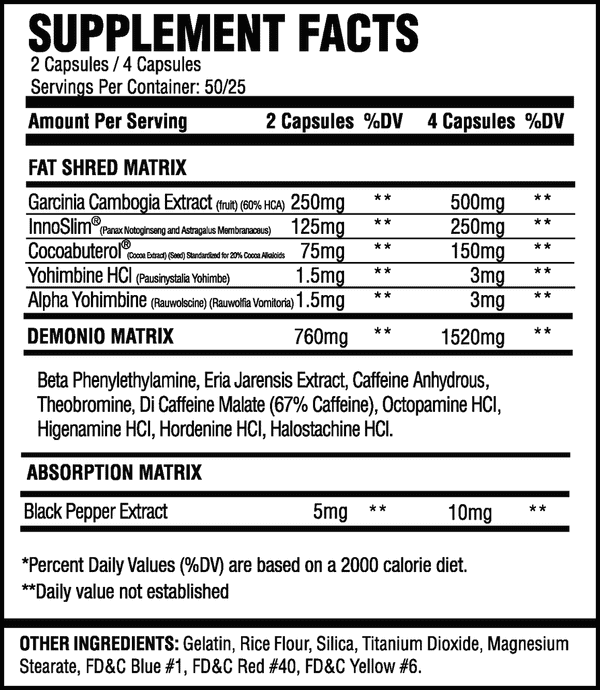 While it does contain some ingredients that have limited research around their efficacy for thermogenesis, like Cocoabuterol or Garcinia Cambogia Extract, it does contain other proven ingredients like InnoSlim and the aforementioned Yohimbine.
As a result, you will sweat and see appetite suppression, which are all good signs. Energy wise, it will kick your butt, making it an excellent choice for taking before a pre workout. Demonio combines caffeine anhydrous, di-caffeine malate, eria jarensis, hordenine, and beta PEA for a significant energy rush.
Even though its a little pricier than some of the other products on this list, you'll likely only need a "half serving" of two pills, giving you 50 servings per container.
Phase One Nutrition – Lean Phase Fat Burner
Lean Phase is a great choice for those looking for a thermogenic pre workout that includes DMHA but has significantly fewer side effects than Excelsior or Herolean. It's a sort of "DMHA-lite" thermogenic pre workout.
That doesn't mean it's a weak or underdosed product. Hardly. It just has a more balanced effect profile than the aforementioned fat burners, which are more hardcore.

The stars of the show are the 300 mg of caffeine anhydrous, 150 mg of DMHA (2-aminoisoheptane), 10 mg of bitter orange, and 3 mg of Yohimbine HCL.
Weight Loss Ingredients to Look For
The following supplements have been shown to aid in losing weight, either through raising body temperature with thermogenic ingredients, reducing carbohydrate cravings, or other fat loss properties.
You do not need all of these ingredients to be included in a product for it to be effective. But generally speaking, the more of these ingredients you see, the more confident you can be in the efficacy of a weight loss supplement.
Mitoburn
Mitoburn is the patented form of L-beta-Aminoisobutyric Acid (aka L-BAIBA or simply BAIBA). Oral supplementation of L-BAIBA, which is what we're doing when taking any kind of fat loss nutrition supplement) has been shown to increase fatty acid oxidation in the liver, reduce fat gain, and improve glucose tolerance.
Generally speaking, a 500 mg daily dosage is recommended for L-BAIBA. This can be taken as 250 mg twice per day or 500 mg once prior to working out.
Synephrine
Synephrine is a well-researched ingredient that has been shown to aid in weight loss. It will also appear on ingredient labels as bitter orange extract.
"In general, bitter orange extract alone (p-synephrine) or in combination with other herbal ingredients did not produce significant adverse events as an increase in heart rate or blood pressure, or alter electrocardiographic data, serum chemistry, blood cell counts or urinalysis. p-Synephrine alone as well as in combination products were shown to increase resting metabolic rate and energy expenditure, and modest increases in weight loss were observed with bitter orange extract/p-synephrine-containing products when given for six to 12 weeks."
Grains of Paradise
Grains of Paradise has some promising research around it, but still needs additional evidence to support its fat loss effects. With that said, there is some interesting research that shows it can activate brown adipose tissue, which can help increase a body's metabolism, burning more calories in the process.
Different ingredient sources will use Grains of Paradise that have different percentages of 6-Paradol, the active ingredient in Grains of Paradise with metabolic effects. Clinical trials used 40 mg at 12.5% purity, so you should use that as a guide when seeing how much is present in a given product.
5-HTP
5-HTP is a precursor to serotonin. Serotonin is a neurotransmitter that has been linked to emotions like happiness. Supplementing with 5-HTP can increase levels of serotonin in the brain, which can lead to increased feelings of satiet, or feeling full. So while it is not an appetite suppressant, if taken with a meal it can lead to eating less overall and feeling satisfied.
These effects of overall reduction in appetite are supported by very consistent research with a notable magnitude of effect.
An effective dosage of 5-HTP usually ranges between 300-500 mg.
EGCG
EGCG, also known as epigallocatechin gallate, is a plant-based compound called catechin. Catechins are natural phenols and antioxidants with a variety of effects and they can be found in a variety of sources, with white tea extract and green tea extract being excellent sources.
EGCG acts as a fat burner by inhibiting catechol-0-methyltransferase (COMT), an enzyme that degrades catecholamines. By inhibiting COMT, catecholamine levels elevate.
Why do you care?
Because catecholamines help break down fat stores. By inhibiting COMT, EGCG allows catecholamines to do their thing for longer periods of time, leading to increased levels of fat removal.
You should aim for 400 to 500 mg of EGCG per day.
Yohimbine
Yohimbine is noted for its ability to reduce fat mass in both lean and obese individuals. Unfortunately, it can also cause anxiety in some individuals.
Yohimbine aids in fat loss by interacting with catecholamines, similar to EGCG. Yohimbine binds to Alpha-2 receptors instead of the catecholamines, which frees up the catecholamines to bind to beta receptors and help burn more fat cells.
Clinical doses are 0.2 mg of Yohimbine per kg of bodyweight, which is a pretty large dosage. While Yohimbine is not uncommon to see in pre workout supplements, it is rarely included at such a high dosage. Additional supplementation would be needed for optimal results.
InnoSlim
InnoSlim is a proprietary metabolic nutraceutical blend of Panax notoginseng and Astragalus membranaceus. While InnoSlim triggers many different reactions in the body, the end result is a reduction in the number of calories absorbed by the body and more efficient usage of the remaining calories.
While human trials of InnoSlim are limited, there has only been one, it does seem to be a promising ingredient.
Capsaicin
Capsaicin, an active compound found in chili peppers, has been shown to help reduce bodyweight by reducing appetite, though results are not consistent.
White Willow Bark
As a plant source of salicin, which is metabolized into salicyclic acid, white willow bark may act synergistically with caffeine and synephrine to burn fat.
120 mg of salicin is the recommended daily dosage.
Frequently Asked Questions about Thermogenic Pre Workout Supplements
What is the difference between a fat burner and a pre workout?
A pre workout is any nutritional supplement that increases energy, blood flow, and motivation during a workout. As the name suggests, it is taken before working out. Fans of pre workout report more effective training sessions after taking pre workout, though this evidence is anecdotal.
A fat burner is any nutritional supplement that assists the body in burning more calories or removing more fat cells.
While burning calories is an obvious outcome of exercising, pre workout supplements without fat burning ingredients are not referred to as fat burners. However, it is not uncommon for individuals to take fat burning supplements prior to working out, as many will provide energizing effects than can be beneficial while exercising.
Most products market themselves as either a pre workout or fat burner, but some products identify as thermogenic pre workouts, which fit in both categories.
Can I use a fat burner as a pre workout?
Yes, a fat burning or thermogenic supplement can taken prior to working out. Since many fat burners contain caffeine and other stimulants, the energy they provide can make them useful pre workouts.
What is the strongest thermogenic fat burner?
This depends on what you mean by strongest.
For the most appetite suppression, focus, and mood elevation, that would be Excelsior Pre Workout.
For the strongest Yohimbine experience, then Herolean Thermogenic Pre Workout is probably what you're looking for.
For long lasting energy, check out Demonio Fat Burner.
Is it better to drink pre workout before or during workout?
It is better to take a pre workout supplement before working out. This is because it can take between 30 to 60 minutes for pre workouts to fully "kick in."
Do pre workout supplements help burn fat?
Many pre workouts help burn fat indirectly by allowing the user to work out longer or more aggressively than they otherwise would have. However, most pre workouts do not contain ingredients that are specifically linked to fat burning.
An exception is Superhuman Burn by Alpha Lion, which is a hybrid thermogenic pre workout.
Is green coffee bean extract a good fat burning ingredient?
No, green coffee bean extract is not an effective choice if you're looking for fat burning ingredients. The lone study that suggested it may be a promising fat loss enhancer has been retracted and the results have not been replicated in other studies.
Other Popular Pre Workouts for Weight Loss
Below you will find some other pre workout supplements popular for their potential weight loss benefits.
Evlution Nutrition Engn Shred
Cellucor C4 Ripped
Transparent Labs Preseries Lean
Nitrosurge Shred
Six Star Explosion Ripped
MuscleTech VaporX5
ThermoPre 2-in-1 Pre Workout Thermogenic