Lean Pre Workout is a pre workout supplement manufactured by Transparent Labs that is designed for athletes that are cutting. Cutting is slang for a caloric deficit; the goal is to drop fat, maintain muscle mass, and lean out.
Lean Pre Workout is part of the PreSeries by Transparent Labs. It is similar to Bulk Pre Workout, which is designed for athletes that are bulking. For a full breakdown, check out my Lean vs Bulk pre-workout comparison.
They also make a non-stim pre workout featured on my list of best stim free pre workout supplements.
Transparent Labs was nice enough to send me a tub of Lean to review. This is my experience with the pre workout, an analysis of the label, and who I think this pre workout is right for.
Related: Best Pre Workout Supplements for Weight Loss & Fat Burning
Where to Buy Lean Pre Workout
Lean Pre Workout is exclusively available from Transparent Labs as part of their PreSeries.
Great Nutrition Support + Every Day Pre Workout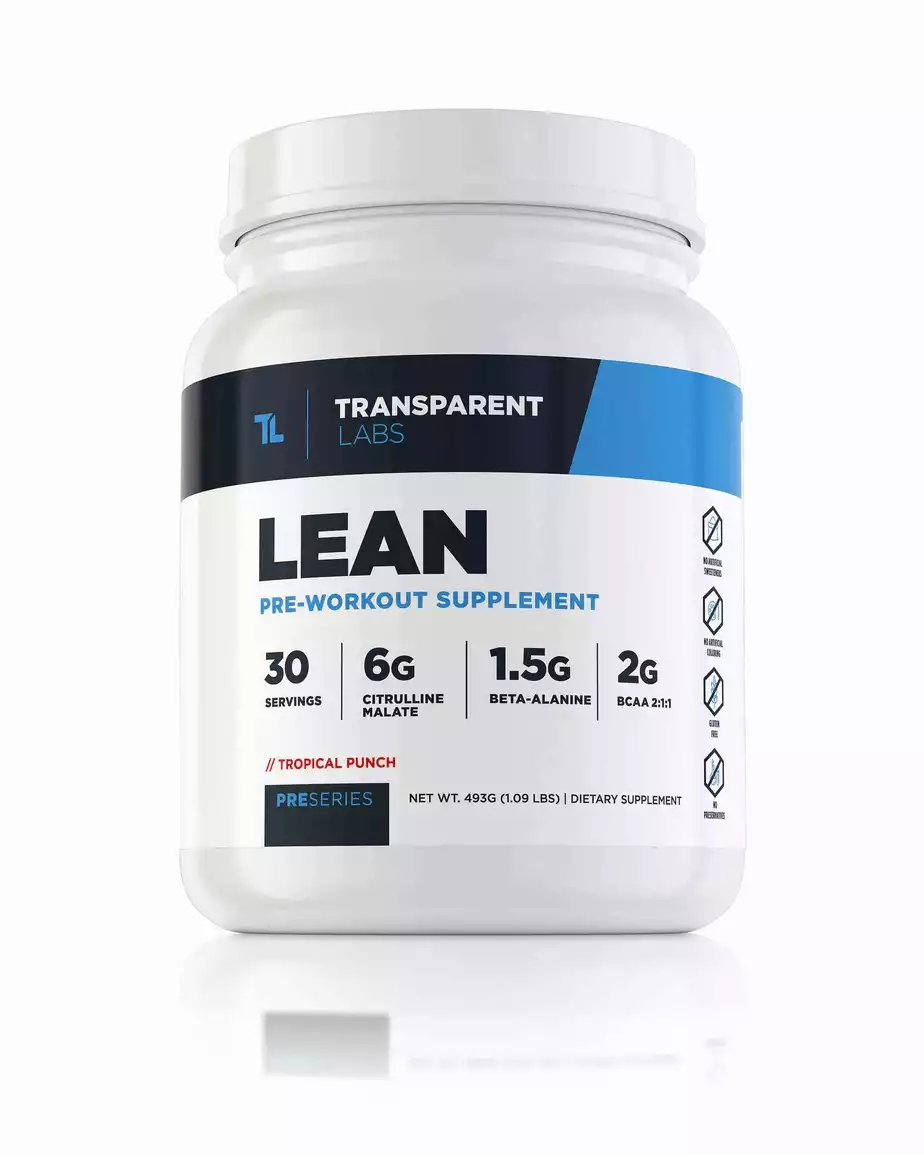 Lean Pre Workout - Transparent Labs
Lean Pre-Workout is a great choice for those seeking all-around nutrition support and a little extra fat-burning help. It's a well-rounded pre-workout that can be good choice for lots of different use cases.
Discount Codes:
LV10 = 10% off your entire order
Caffeine: 210 mg
Citrulline Malate 2:1: 6,000 mg
Sweetener(s): Stevia Extract
BCAA 2:1:1: 2,500 mg
Shop Transparent Labs
Lift Vault earns a commission if you click this link and make a purchase at no extra cost to you.
You can use the discount code LIFTVAULT10 to save 10% on your order if you decide to try it out.
Bulk Pre Workout vs. Lean Pre Workout
Bulk and Lean are both produced by Transparent Labs. Bulk is designed for athletes on a bulk, while Lean was created for athletes on a cut.
I would generally recommend Bulk Pre Workout over Lean Pre Workout, as it contains more clinically dosed ingredients, specifically beta alanine and BCAAs.
Aside from that, each pre workout contains a handful of ingredients to support either testosterone production (Bulk) or thyroid function (Lean), but both pre workouts are best suited for individuals that are currently deficient in these supporting ingredients. For example, individuals already receiving an adequate amount of zinc in their diet will not get an incremental benefit from the zinc found in Bulk or Lean.
If you think you may be deficient in some of the ingredients provided in these pre workouts, then they could benefit you. Otherwise they won't do much good.
My Experience with Lean Pre Workout
In my experience, Lean Pre Workout delivers on what it promises on the label. The pumps, focus, and energy are what you'd expect for a pre workout with 180 mg of caffeine and no "exotic stimulants" or multi-ingredient pump package.
It's a solid pre workout for folks that have not tried pre workout before or anyone that doesn't want a ton of caffeine in their supplements.
Did it completely overpower me and blow my expectations away? No. But it didn't let me down either. The energy, motivation, and focus felt like a good energy drink. Nothing insane, but definitely noticeable and a step up from coffee.
Pumps wise, Lean is okay. The only pump ingredient is L-Citrulline Malate, so don't expect to see veins all over your body or anything, but again, I doubt anyone is buying this for a mind-blowing pump experience.
If you are, I'd recommend stacking this pre workout with a dedicated pump supplement like Hooligan Bare Knuckle or Sicario Pump Pre Workout.
In summary, Lean is a solid pre workout for those choosing their first pre workout or folks who want a great workout without a ton of caffeine.
Lean Pre Workout Ingredients Label
Lean is definitely a clean pre-workout supplement. It discloses all ingredients, doesn't use artificial sweeteners, and doesn't include artificial preservatives.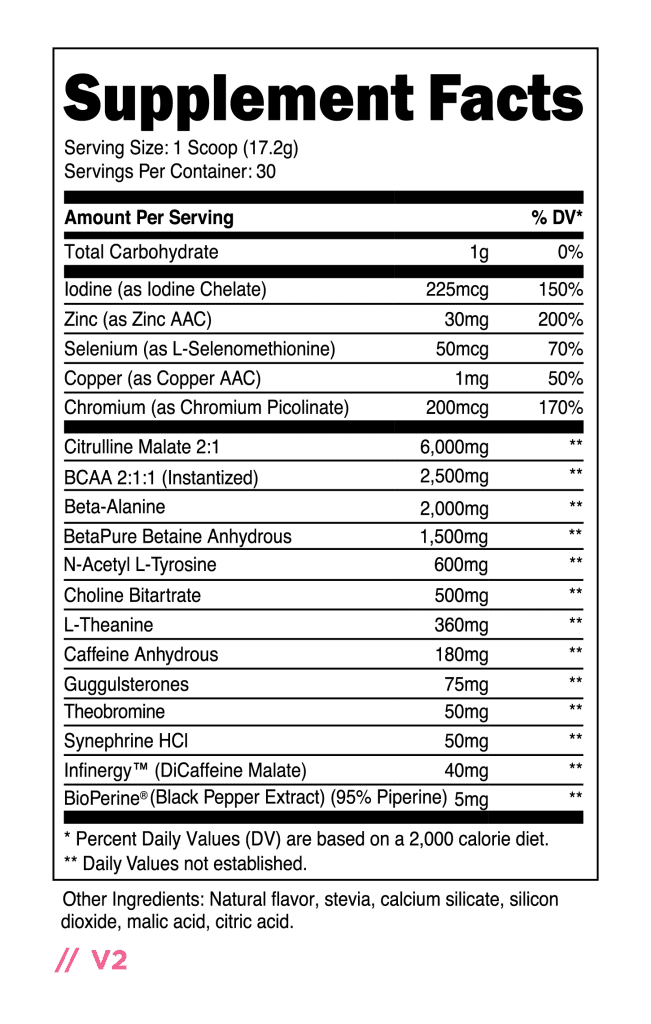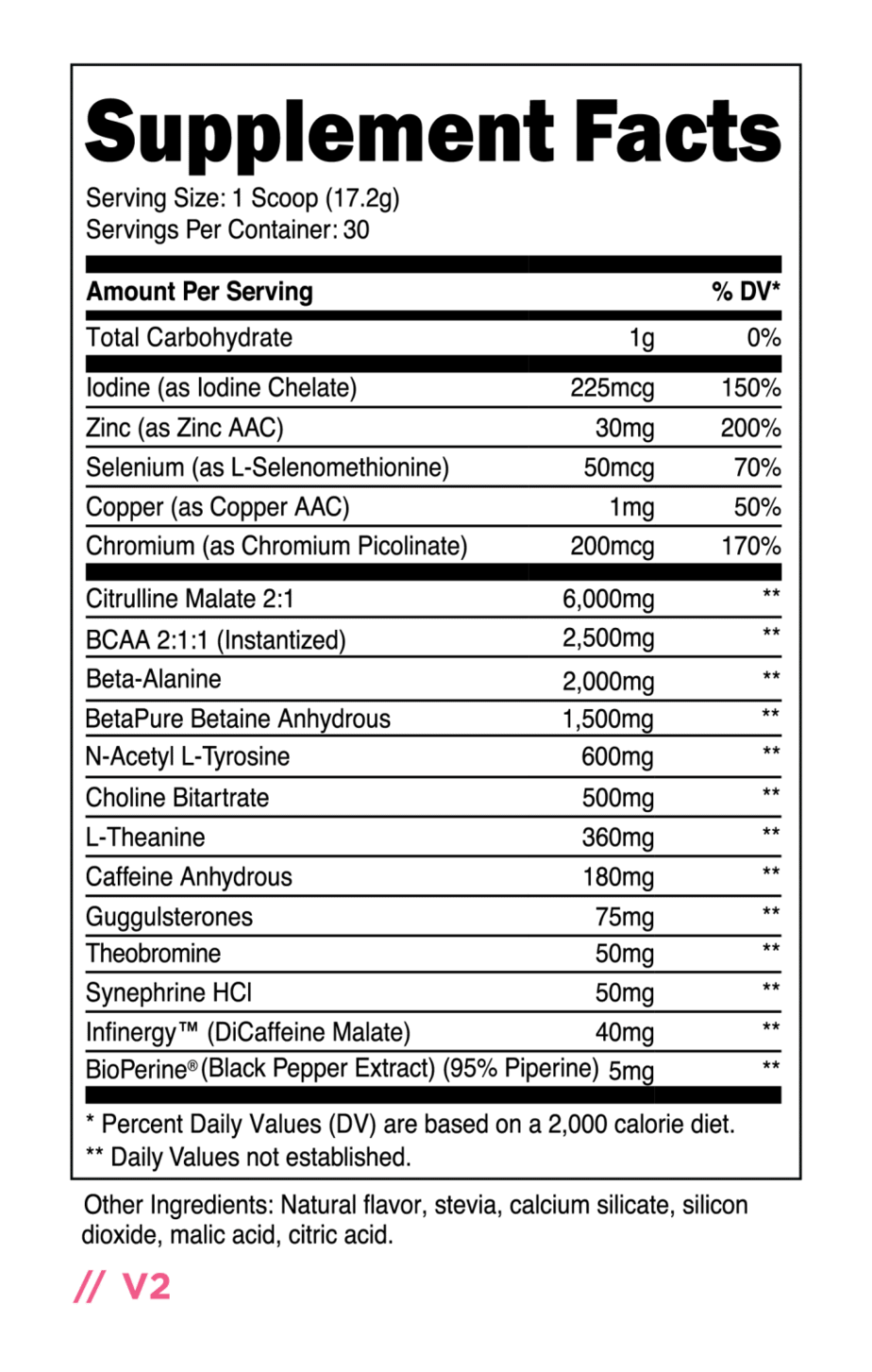 Citrulline Malate 2:1 – 6 grams
Citrulline malate is included as a pump and power ingredient, helping improve endurance, reduce fatigue, and increase production of nitric oxide.
6 grams is a clinical dose.
Beta Alanine – 2 grams
Regular usage of beta alanine has been shown to increase power output. That means it must be taken daily, not just with a pre workout.
3 grams to 4 grams is a clinical dosage for beta alanine, so Lean is coming in at a sub-clinical dosage here. I'm a bit surprised by this, as just about every pre workout comes in around 3.2 grams.
BCAA 2:1:1 – 2.5 grams
BCAAs are typically supplemented when they aren't already being provided through normal diet. For example, if an individual is cutting then they may need to supplement BCAAs in order to maintain muscle mass.
Typical doses range from 3 grams to 5 grams, so the 2.5 grams included here are a little light. Surprisingly, Bulk contains 4 grams of BCAAs, which likely aren't needed on a bulking diet. I wonder why there are not 4 grams of BCAAs in Lean?
Betaine Anhydrous – 1.5 grams
Betaine is included to help increase your power output and reduce fatigue. However, research is pretty inconsistent around these claims.
1.5 grams is a fine dose of this ingredient. (More info: Examine)
N-Acetyl L-Tyrosine (NALT) – 600 mg
This is one of the missteps of Lean, which was also made by Bulk. While L-Tyrosine is a great ingredient for enhancing focus and reducing stress, NALT is less bioavailable then pure L-Tyrosine.
Transparent Labs claims that "…the acetylation improves the absorption and effective period of L-Tyrosine…", but Examine claims there is "limited practical evidence on NALT as an alternative to L-Tyrosine."
Choline Bitartrate – 500 mg
Choline is included as a focus ingredient. Compared with Alpha GPC, choline bitartrate may not be as effective as a nootropic (source). This is another potential area of improvement for the product formula.
Still, the 500 mg of choline bitartate will help with focus, it's just not as well researched.
L-Theanine – 360 mg
Theanine is a stimulant, similar to caffeine, but is most effective when combined with caffeine. Combined, theanine can work synergistically and help reduce some of the negative side effects of high caffeine dosages like jitters.
360 mg is a solid dose of L-Theanine.
Caffeine Anhydrous – 180 mg
Not much to say here – it's caffeine.
180 mg is a pretty low dosage compared to most pre workouts, let's be honest. However, combined with the other stimulants in here, it's less of a concern. But if you're looking for a high-stim pre workout, this is not for you. If you're looking for a solid pre workout that can hold up to daily or regular usage, then Lean should satisfy you.
Theobromine – 50 mg
Synephrine HCL – 50 mg
Synephrine, also known as bitter orange extract, is a stimulant.
50 mg is a relatively light dosage.
It's worth noting that this ingredient is banned by the NCAA, so if you compete in the NCAA I would avoid this pre workout. No other significant drug testing bodies (e.g. powerlifting federations, weightlifting federations, etc.) have banned this ingredient though, nor are they likely to. It's been around for quite a while and is not considered "exotic" by any stretch of the imagination.
Di-caffeine Malate – 40 mg
Di-caffeine malate is a combination of caffeine anhydrous and malic acid. It's a "extended release" version of caffeine.
Di-caffeine malate is 75% caffeine, 25% malic acid, so 40 mg is equivalent to 30 mg of caffeine, bringing the total amount of caffeine in Lean up to 210 mg.
BioPerine – 5 mg
BioPerine is included for ingredient absorption.
5 mg is standard for a supplement like this.
Chromium Picolinate – 200 mcg
Chromium is an essential mineral that regulates the metabolism of glucose. It also plays a role in regulating insulin sensitivity.
It has been shown to create a minor reduction in blood glucose in diabetics, but this effect is not observed in people without diabetes (National Institute of Health).
200 mcg is enough to be an effective dosage, but again, only for individuals with diabetes.
Thyroid Support – 156.5 mg
Lean pre workout also contains a matrix of ingredients for thyroid support. The thyroid plays a major role in a body's metabolism, so keeping it healthy is important.
Iodine Chelate – 225 mcg
Iodine is required for thyroid hormones T3 and T4. A deficiency in iodine could lead to the thyroid producing less of them.
Supplementing with iodine is only beneficial for individuals that are deficient, which is not very common in most developed countries.
Zinc AAC – 30 mg
Similar to iodine, zinc is only beneficial for thyroid function when supplemented by individuals that already have a zinc deficiency. It has similar benefits for testosterone production: it helps maintain maximal testosterone levels and can help boost testosterone production in individuals with a zinc deficiency.
Selenium – 50 mcg
Selenium is required in the thyroid for antioxidant function and the metabolism of thyroid hormones.
Adequate supplementation of selenium "…is a prerequisite to prevent thyroid diseased and preserve overall health." (Ventura et al) With that said, like other thyroid supporting nutrients here, the main benefits are seen by individuals experiencing thyroid deficiencies. Still, selenium can help keep the thyroid healthy, so that is one benefit for those with a properly functioning thyroid.
Copper AAC – 1 mg
Copper plays a key role in thyroid hormone and production. With that said, supplementation seems to be unnecessary for most healthy individuals (Examine).
Guggulsterones – 75 mg
Guggulsterone is a chemical component of guggul, a yellow resin derived from the Commiphora mukul tree.
While Guggulsterone has been shown to increase iodine uptake and metabolic activity of the thyroid gland, it was at a dose of 10mg/kg bodyweight (equivalent to 820 mg for a 180 lb person or 450 mg for a 100 lb pound). There is not any clinical evidence that I am aware of that shows lower dosages achieving a similar effect.
Final Thoughts
Lean Pre Workout by Transparent Labs is a solid pre workout for beginners, but I wouldn't purchase it for the benefits it claims to offer for individuals on a cut. You'd get similar benefits from taking a multivitamin and eating a healthy diet.
This is not a knock against Lean – I think it's a good pre workout for the right person (beginners and those looking for a well balanced pre workout without a lot of caffeine).
Transparent Labs PreSeries Lean Pre Workout Review
Summary
Lean Pre Workout by Transparent Labs is a solid pre workout for beginners, but I wouldn't purchase it for the benefits it claims to offer for individuals on a cut. You'd get similar benefits from taking a multivitamin and eating a healthy diet.
Pros
Good energy and focus for beginners
No negative side effects
Clean, transparent ingredient label
Cons
May not have enough caffeine for more experienced users
Only has 1.5 grams of beta alanine
Thyroid support ingredients will only benefit individuals that are currently deficient