BAMF Pre Workout is a nootropic pre workout designed to increase energy and focus for the toughest workouts. It includes some unique ingredients, such as Alpha GPC, hordenine, ActiGin, and deer antler velvet extract, to set itself apart from other other high-stimulant pre workouts. It is manufactured by Das Labs under the Bucked Up brand.
Good Pre Workout for Daily Use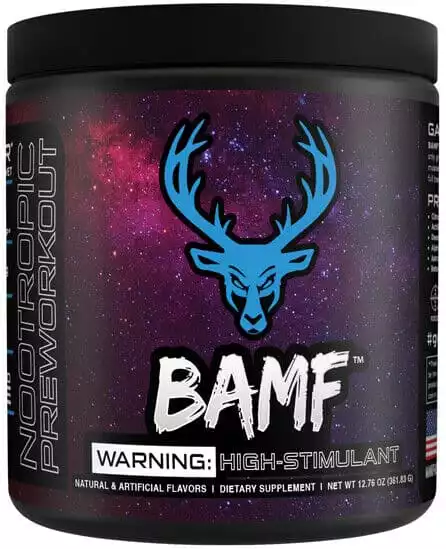 BAMF Pre Workout - Bucked Up
A solid "every day pre workout." Not overwhelming in terms of energy or focus, but also has no negative side effects.
Discount codes:
LV15 = 15% off Muscle Factory SC
Shop Muscle Factory SC
Lift Vault earns a commission if you click this link and make a purchase at no extra cost to you.
But does it deliver? Let's find out.
Review Summary
I took Bucked Up BAMF a few times and overall it's a solid pre workout for regular usage. It definitely delivers on energy and focus – I'd probably give it a 4/5 for energy and a 3/5 for focus. Nothing crazy, but it's good, consistent, and lasts for 3-4 hours.
There were no negative feelings (chills, anxiety, etc.) or crash after taking it. All smooth.
I personally roll my eyes a bit at the "BAMF" name and "warning" label – it's a strong pre workout, but to describe it as "high-stimulant" is a stretch.
Is this a bad thing? No! Not at all, as long as you know what you're getting.
Why?
I don't always want to take an intense, 10/10 pre workout like Assassin pre workout. That's a great way to desensitize yourself to taking pre workouts and build a massive tolerance. To avoid this, I like to mix up the pre workouts I take between "regular use" pre workouts and "intense" pre workouts that I take once or twice a week. One category is not better than the other; they both serve as important tools.
BAMF is a solid contender in the "regular use" category to me. I would recommend BAMF pre workout as long as the price is right.
Alternatives to BAMF Pre Workout
If you're looking for something similar, but on the stronger end of "every day pre workouts," then I'd recommend Wrecked Pre Workout or one of our recommended strongest pre workouts.
Where to Buy Bucked Up BAMF Pre Workout
There's a ton of branding and marketing going around the Bucked Up brand and these costs can often be passed on to the consumer.
Luckily, it seems there are some places where BAMF can be purchased for a reasonable price.
Muscle Players
You can find BAMF in a variety of flavors at Muscle Players.
Use code LIFTVAULT15 to save 15% on your order.
Muscle Factory SC
Muscle Factory SC carries BAMF Pre Workout regularly.
Use code LV5 to save $5 on your order!
BAMF Pre Workout Ingredient Label
Here's the ingredient label for Bucked Up BAMF pre workout. An ingredient breakdown is provided below.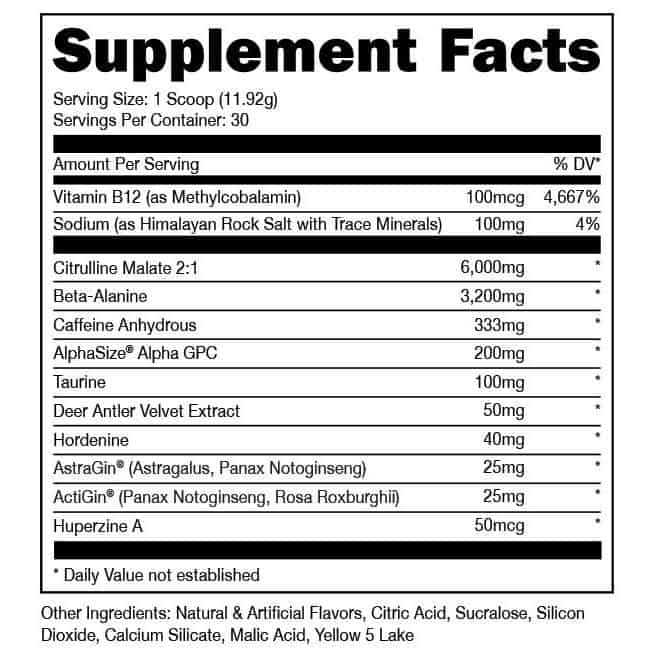 Citrulline Malate 2:1 (6 g)
Citrulline Malate helps with pumps and blood flow. 6 grams is a clinically effective dose.
Beta-Alanine (3.2 g)
Beta Alanine helps increase strength output when taken regularly. It also provides the "tingles." 3.2 grams is a clinically effective dose.
Caffeine Anhydrous (333 mg)
Caffeine anhydrous, also known as regular caffeine, is a stimulant that provides energy and focus. 333 mg is a strong dose and is honestly one of the best things this pre workout has going for it, in my opinion.
AlphaSize Alpha GPC (200 mg)
L-Alpha GPC creates choline, a molecule associated with increased cognition found naturally in eggs. This is the special ingredient found in the newest generation of Legion's Pulse pre workout (300 mg) and Apollon Nutrition's Overtime Nootropic (300 mg). Some early research suggests a notable increase in power output is achieved from Alpha GPC supplementation. (More info: Examine)
It is less clear if 200 mg is a sufficient dose to achieve cognitive improvements, as a 2015 study using doses of 250 mg and 500 mg did not observe any measurable cognitive improvements in healthy test subjects.
Taurine (100 mg)
Taurine is often included in energy drinks and pre workouts after gaining notoriety from its inclusion in Red Bull. It can aid in blood flow, reduce cramping, and act as a booster to anti-oxidant defense systems (Examine). It's a pretty insignificant ingredient in pre workout, but doesn't hurt anything either.
100 mg is not a clinically significant dose, however, so I am not sure why BAMF pre workout includes it at all.
Deer Antler Velvet Extract (50 mg)
This ingredient is most likely included as part of the whole "bucked up" marketing scheme ("buck" is slang for a male deer).
50 mg is not a clinically significant dose (Examine).
Hordenine (40 mg)
Alright, now we're talking about something interesting.
Hordenine (N,N-dimethyltyramine) is a stimulant that is often included in recent "nootropic" products. It is not widely researched, so much of the information available comes from anecdotal accounts.
According to those account, "effective" doses start around 20 mg, so the 40 mg included in BAMF should be plenty to feel the focus effects touted by proponents of Hordenine.
AstraGin (25 mg)
Like bioperine, AstraGin helps with the absorption of nutrients.
ActiGin (25 mg)
ActiGin is a patented ingredient that "increases exercise to exhaustion times, reduces inflammation, and replenishes aged muscle cells," according to its manufacturer, NuLivScience.
Huperzine A (50 mcg)
Like Alpha GPC, Huperzine A is a cholinergic that acts as a cognitive enhancer. It tends to be taken in doses of 50 mcg to 200 mcg, so the dose found in BAMF does fall within the clinically effective range (Examine).
Frequently Asked Questions about BAMF Pre Workout
What is the difference between BAMF and Woke AF?
BAMF and Woke AF are very similar. Each one has two ingredients that the other does not have.
BAMF contains hordenine and huperzine A, while Woke AF contains dendrobium and synephrine. Hordenine, dendrobium, and synephrine are all stimulants of one type or another, while huperzine A is a focus ingredient.
Ultimately, there is little difference between the two. This is explained in more detail in our Woke AF vs BAMF pre-workout comparison.
How much caffeine is in BAMF pre workout?
BAMF contains 333 mg of caffeine anhydrous.
Is BAMF pre workout good?
Honestly, I didn't find BAMF to be all that remarkable. It's just fine. If you're looking for something strong, I'd recommend checking out the list of strongest pre workout supplements.
Bucked Up BAMF Pre Workout Review
Summary
BAMF pre workout is a good choice for those seeking a high caffeine pre workout for regular use. It does not have too many exotic stimulants in it (with the exception of Hordenine), which makes it better suited for daily or near-daily use without unpleasant side effects. It has a smooth comedown with no negative side effects. If it can be purchased for about $40, then I think it is a worthwhile pre workout to check out, but I wouldn't pay $50+ for this.
Pros
Solid energy (4/5)
Good focus (3/5)
Clinically effective doses for most ingredients
No negative side effects
Cons
Has a few underdosed ingredients
Can be expensive depending on where it is purchased
Comments Rating
( reviews)