Bucked Up Woke AF is a pre workout supplement manufactured by DAS Labs. It is quite similar to its sister product, BAMF Pre Workout. Woke AF and BAMF are nearly identical products, with Woke AF containing dendrobium and synephrine while BAMF contains hordenine and huperzine A.
Muscle Factory SC was kind enough to send me over a sample to review.
Overall, Woke AF is an extremely similar experience to BAMF. If you like BAMF, you'll likely enjoy Woke AF. Both are solid daily drivers, but don't really deliver anything special either.
They're both marketed and priced as premium products, but I'm not convinced they're worth of that distinction. With the discount codes listed below it becomes a bit more reasonably priced.
For more detail on my experience and a full ingredient breakdown, continue reading.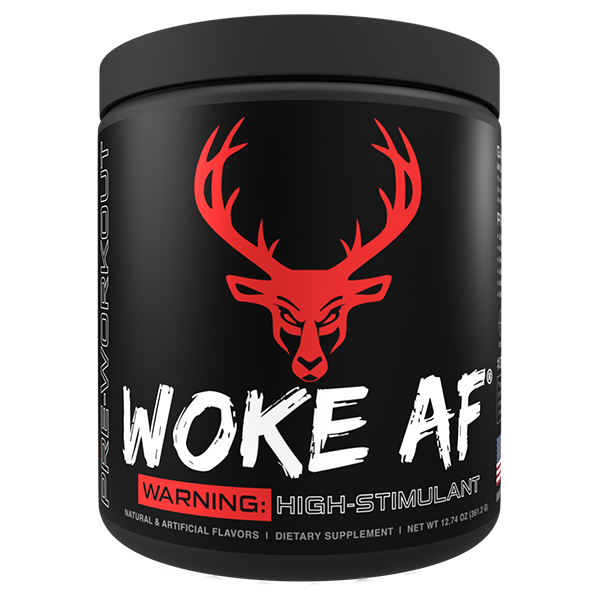 WOKE AF Pre Workout - Bucked Up
Woke AF delivers solid energy and is a decent "intermediate" pre workout for those seeking a higher caffeine experience without exotic stimulants.
Discount codes:
LV10 = $10 off
Shop Muscle Factory SC
Lift Vault earns a commission if you click this link and make a purchase at no extra cost to you.
Where to Buy Woke AF
You can buy Woke AF from most online retailers, including the following:
My Experience with Woke AF
Effects
I took Woke AF before a morning workout. Within 10 minutes or so I felt the beta alanine tingling start, along with a decent buzz of energy from the caffeine.
This energy peaked within 30 minutes and carried me nicely through my workout. There was not much focus or mood elevation to speak of, aside from the typical boost I get from caffeine.
Honestly, it felt mostly like a good energy drink than an excellent pre workout. It didn't really enhance my workout, it just gave me the energy to get it done. This definitely is not one of those pre workouts where I never wanted to leave the gym.
All in all, nothing to write home about. I'd say it's nothing special for experienced users, but beginners may really enjoy it if they have an existing caffeine tolerance.
Related: Best Pre Workouts for Beginners
Now I mostly take Woke AF when I'm working from home and need an afternoon pick-me-up. It does a nice job in that context.
Scoop Size
The scoop size included in my Woke AF tub is way smaller than the recommended serving size. A level scoop was a little under 9 grams, whereas a full serving is 12.8 grams.
Here's what a full serving looks like in the scooper: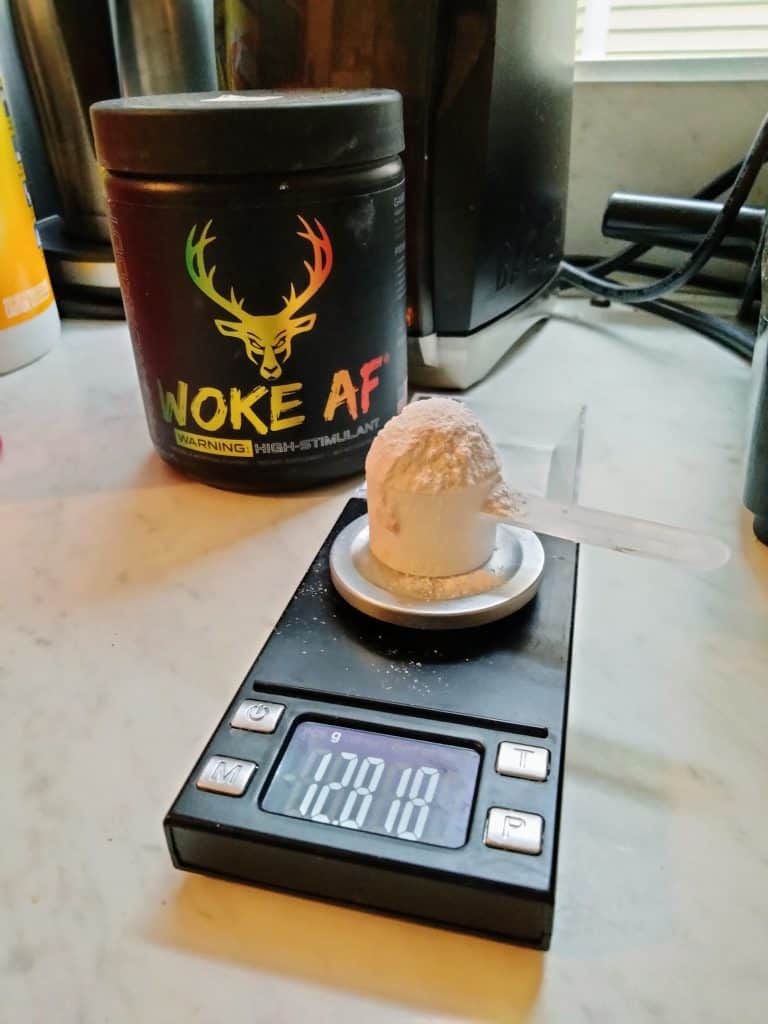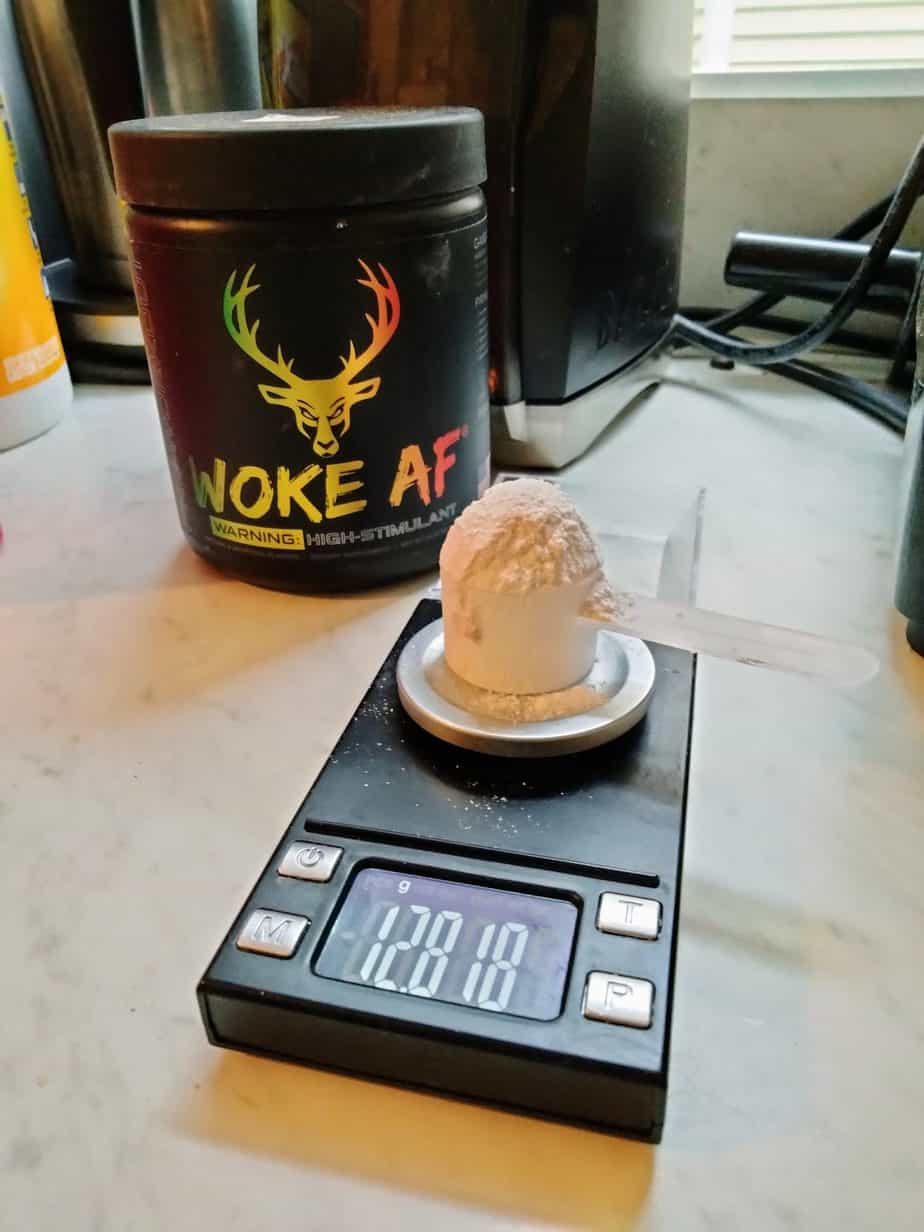 Side Effects
Woke AF did not cause any negative side effects in my experience.
Flavor
I tried the sour gummy flavor, which was not bad. I'm not a huge fan of sour flavors, but I thought it was fine.
One upside of Woke AF is that is available in a pretty wide array of flavors, so you'll probably be able to find one you like.
Woke AF vs BAMF Pre Workout
Here are the main similarities and differences between Woke AF and BAMF:
They have similar effects, delivering decent energy and little else.
Their ingredient profiles are nearly identical.
Each product has two unique ingredients.
The unique ingredients for Woke AF are dendrobium extract and synephrine.
The unique ingredients for BAMF are hordenine and huperzine A.
I suspect most people would be unable to tell the difference between the two if given a blind test.
Woke AF Ingredients
Below you'll find the ingredient label for Woke AF pre workout as well as a description of each ingredient and its dosage.
Generally speaking, the ingredient label does an okay job on the standard ingredients (citrulline malate, beta alanine, caffeine anhydrous, and AstraGin), but tends to underdose some of the more interesting ingredients (Alpha GPC and dendrobium extract).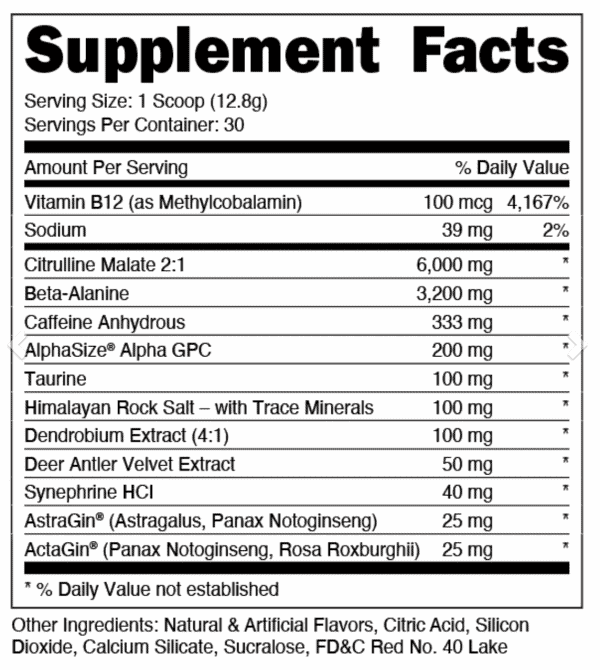 Citrulline Malate 2:1 (6 g)
Citrulline Malate helps with pumps and blood flow. Woke AF uses the standard 2:1 ratio between L-citrulline and malic acid, which is nice to see.
6 grams is a clinically effective dose, delivering 4 grams of pure L-citrulline and 2 grams of malic acid.
Beta-Alanine (3.2 g)
Beta Alanine helps increase strength output when taken regularly. It also provides the "tingles." 3.2 grams is a clinically effective dose.
Caffeine Anhydrous (333 mg)
Caffeine anhydrous, also known as regular caffeine, is a stimulant that provides energy and focus. 333 mg is a strong dose and is honestly one of the best things this pre workout has going for it, in my opinion.
AlphaSize Alpha GPC (200 mg)
L-Alpha GPC creates choline, a molecule associated with increased cognition found naturally in eggs. This is the special ingredient found in the newest generation of Legion's Pulse pre workout (300 mg) and Apollon Nutrition's Overtime Nootropic (300 mg). Some early research suggests a notable increase in power output is achieved from Alpha GPC supplementation. (More info: Examine)
It is less clear if 200 mg is a sufficient dose to achieve cognitive improvements, as a 2015 study using doses of 250 mg and 500 mg did not observe any measurable cognitive improvements in healthy test subjects.
Himalayan Rock Salt (100 mg)
Salt helps retain water, which helps you achieve a great pump during your workout. It also contains important electrolytes! (More info: Supplements in Review)
Dendrobium Extract (4:1) (100 mg)
Once dubbed "DMAA's replacement," dendrobium extract is a Chinese herb tradtionally used to boost the immune system and provide energy.
Dendrobium is rich in PEA, a central nervous stimulant and reuptake inhibitor of norepinephrine. This helps increase focus and motivation.
100 mg is a bit light, as typical doses range from 200 mg to 600 mg is most pre workout supplements. 100 mg is a somewhat disappointing dosage.
Taurine (100 mg)
Taurine is often included in energy drinks and pre workouts after gaining notoriety from its inclusion in Red Bull. It can aid in blood flow, reduce cramping, and act as a booster to anti-oxidant defense systems (Examine). It's a pretty insignificant ingredient in pre workout, but doesn't hurt anything either.
100 mg is not a clinically significant dose, however, so I am not sure why BAMF pre workout includes it at all.
Deer Antler Velvet Extract (50 mg)
This ingredient is most likely included as part of the whole "bucked up" marketing scheme ("buck" is slang for a male deer).
Unfortnately, you're not getting any actual benefit from this ingredient in your workout.
50 mg is not a clinically significant dose (Examine).
Synephrine (40 mg)
Synephrine – 50 mg
Synephrine is a well-researched ingredient that has been shown to aid in weight loss.
"In general, bitter orange extract alone (p-synephrine) or in combination with other herbal ingredients did not produce significant adverse events as an increase in heart rate or blood pressure, or alter electrocardiographic data, serum chemistry, blood cell counts or urinalysis. p-Synephrine alone as well as in combination products were shown to increase resting metabolic rate and energy expenditure, and modest increases in weight loss were observed with bitter orange extract/p-synephrine-containing products when given for six to 12 weeks."

Synephrine Meta Analysis
40 mg of synephrine is a decent dosage for fat burning effects.
AstraGin (25 mg)
Like bioperine, AstraGin helps with the absorption of nutrients.
25 mg is a standard dosage for this ingredient.
ActiGin (25 mg)
ActiGin is a patented ingredient that "increases exercise to exhaustion times, reduces inflammation, and replenishes aged muscle cells," according to its manufacturer, NuLivScience.
Huperzine A (50 mcg)
Like Alpha GPC, Huperzine A is a cholinergic that acts as a cognitive enhancer. It tends to be taken in doses of 50 mcg to 200 mcg, so the dose found in BAMF does fall within the clinically effective range (Examine).
Woke AF Pre Workout Review
Summary
Woke AF is an average, over-priced pre workout with cool marketing. It's extremely similar to BAMF, so if you're torn between the two it doesn't really matter which one you pick. It gets the basics right, but underdoses some of the more interesting ingredients. I think there's a lot of room for improvement in the formula and hope the company revisits it in the future.
Pros
No serious side effects
Nice caffeine dosage (333 mg)
Good selection of flavors
Cons
Alpha GPC and dendrobium extract appear to be under-dosed
No significant improvement in focus or mood
Expensive and over-priced