Apollon Nutrition Overtime is a nootropic nutritional supplement designed to increase energy, focus, and productivity. It is different from a pre-workout in that it does not contain any ingredients designed to increase blood flow or strength – its only goal is energy, motivation, and productivity.
I'll get into my experience with this product and whether I think it's a good choice for those looking for an edge in their daily routine.
Plus, as I discuss more in my full review, since a full dose is 6 pills, it is very easy to add a couple extra pills to your regular coffee or pre-workout to give it an "extra kick." This is how I've ended up enjoying Overtime the most: as an enhancer, not a main driver. Just be careful to keep track of the total dosage when combining multiple products.
Best Nootropic Supplement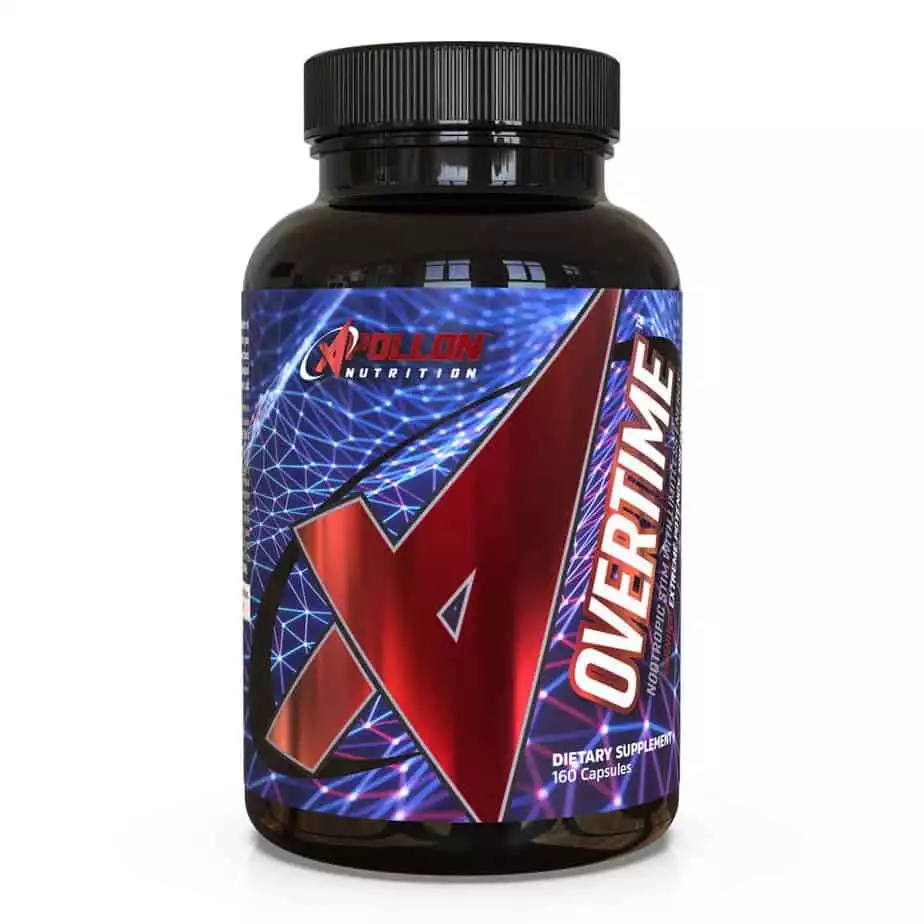 Overtime Nootropic v3 - Apollon Nutrition
Version 3 available in October 2021!
So potent, I only use half a serving. Overtime is an absolutely stacked nootropic, featuring L-Tyrosine, Lion's Mane, Noopept, Alpha GPC, and more.
Discount codes:
LIFTVAULT15 = 15% off at Supp Kingz
Shop Supp Kingz
Lift Vault earns a commission if you click this link and make a purchase at no extra cost to you.
Where to Buy Overtime
You can buy Overtime at the following retailers: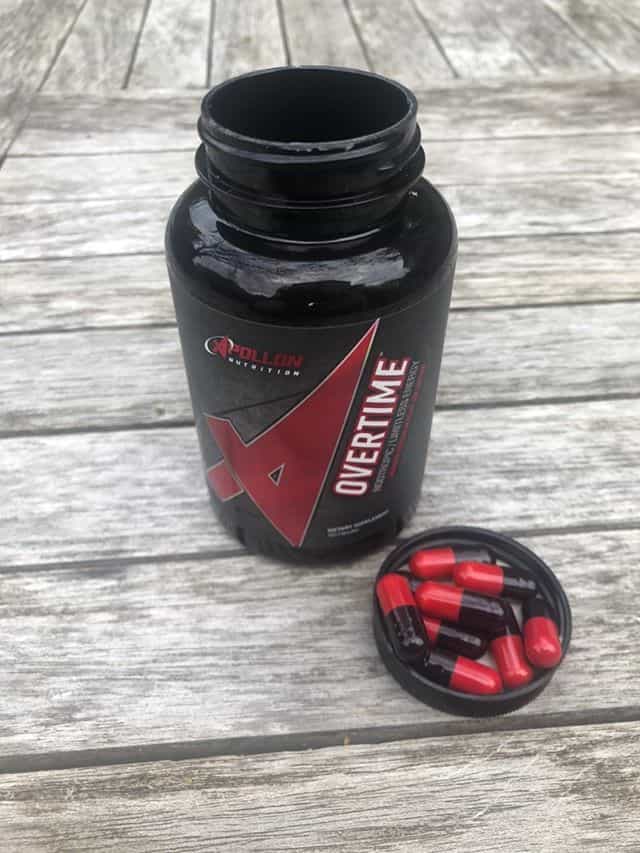 Overtime v2 Nootropic Review
What makes Overtime v2 different from Overtime v1?
Apollon Nutrition announced a reformulation of Overtime in February 2020, marking the second version of Overtime (v2). The only significant different in Overtime v2 is that it adds 30 mg of noopept (N-phenylacetyl-L-prolylglycine ethyl ester), a synthetic nootropic ingredient with cognitive boosting and psychostimulatory effects. It also has displayed neuroprotective effects, but only in individuals experiencing cognitive trauma.
That's pretty much it in terms of differences in the new version of Overtime (aside from a teeny tiny increase in the Alpha Yo dose in v2). I cover the rest of the ingredients later on.
Now on to my experience with Overtime…
Dosage
A full dose of Overtime is 6 pills. I took 4 pills (2/3 of a full dose) around 7:30 AM as I went through my morning routine. Honestly, I typically prefer to drink my caffeine because I feel the effects more quickly and "fully," but I wanted to give Overtime a fair shot by not taking any other caffeine or stimulants.
By 8:15 AM (45 minutes after dosing) I could definitely feel the stimulant effects. I started getting into my daily workload at my desk (I work from home these days) and by 8:45 AM I was fully in "go" mode – I was sharp, motivated, and sailing through my to-do list. My mood was feeling nice as well.
Peak + Redose
By 12:30 (5 hours after dosing) I was still feeling good, but knew from general experience that 4 pills, which contained an effective dose of 333 mg of caffeine, would not be enough to last me for the entire day. I then took an addition 2 pills which, when added to my initial morning dose, equaled one full daily dosage.
This is one thing I love about Overtime: since a full dose is split across 6 pills, it is very easy to take a partial dose. This makes it great for stacking 1-3 pills on top of your regular morning coffee or pre workout. This also helps increase the longevity and value of a single bottle, which contains 20 full doses, 40 half doses, and so on. I've started taking partial doses in the AM and PM and have found that to be great.
I ate lunch afterward and then continued answering emails and working on my projects through 5:30 PM.
Energy, motivation, and focus continued to remain high.
Overall Experience = 4/5
I definitely felt like my energy levels were stronger and more consistent with Overtime vs. coffee. I took Overtime a few more times during the week combined with my normal coffee intake and felt like it gave me additional focus and smoother energy levels when compared to coffee alone.
There was no crash and I had no issues with sleep at night, which is a huge plus. I really don't like crashing and try to avoid it whenever possible so this is important to me.
I definitely plan on enjoying the rest of my Overtime bottle and give this nootropic a very solid 4 out of 5 stars.
Why not 5 stars? Pills take a little too long to kick in for my taste (not their fault, this is all pills) and it's a little too expensive for me to take on a daily basis. This is a great "special occasion" booster though!
Overtime was chosen as one of our favorite nootropic pre workout supplements.
How I Plan to Take Overtime
For me, Overtime is not going to become part of my daily routine. However, I think it is a great addition for extra long work days, important study sessions, or times when caffeine alone is not going to cut it.
It makes sense as a supplement for your day, but probably not the main course. I don't see myself abandoning my coffee, but I'm keeping my bottle of Overtime close for any big work days ahead.
Compared to Amphetamines or Modafinil
Just to set expectations, Overtime is not going to feel like Adderall or Modafinil.
It does not contain amphetamines so you're not going to get anything resembling a high from this. If that's what you're after, I'd recommend either buying real drugs or trying Excelsior pre workout.
Compared to Modafinil, I'd say Overtime is like, 15% to 20% as effective. Modafinil is a personal favorite nootropic of mine and in my limited experience it's the gold standard against which other non-amphetamine stimulants are measured.
Best Nootropic Supplement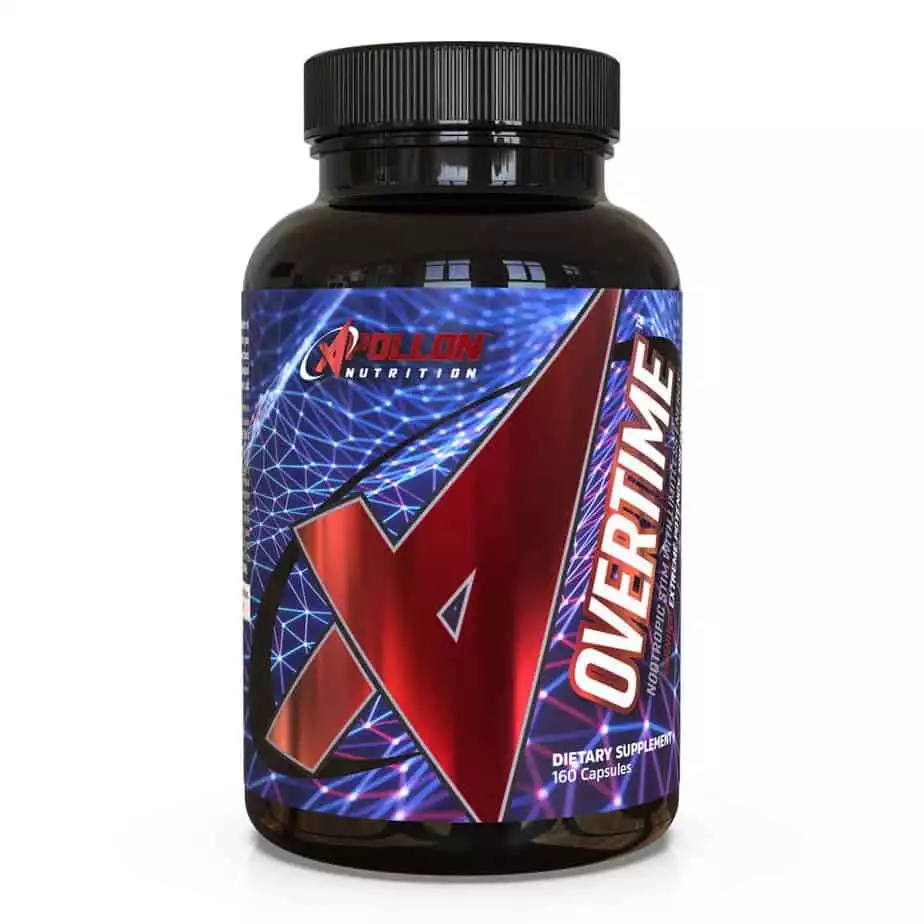 Overtime Nootropic v3 - Apollon Nutrition
Version 3 available in October 2021!
So potent, I only use half a serving. Overtime is an absolutely stacked nootropic, featuring L-Tyrosine, Lion's Mane, Noopept, Alpha GPC, and more.
Discount codes:
LIFTVAULT15 = 15% off at Supp Kingz
Shop Supp Kingz
Lift Vault earns a commission if you click this link and make a purchase at no extra cost to you.
Overtime Ingredient Label
Here's a breakdown of the Overtime v2 ingredient label, which is pretty impressive. All ingredients are included at their clinical dosage (or above), which I absolutely love to see. As usual, Apollon Nutrition absolutely delivers in terms of quality. They are the antithesis of shady supplement companies, using an FDA-inspected facility and adhering to Good Manufacturing Practices (GMP).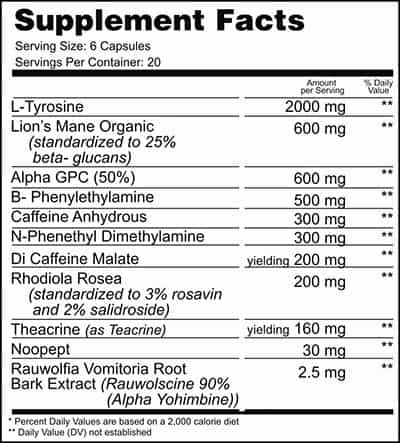 L-Tyrosine (2000 mg)
2 grams of L-Tyrosine is a pretty large dose that helps offset the "crash" effect from a large caffeine dose. As Overtime has an effective dose of 500 mg of caffeine in a full dose, this is quite helpful for helping smooth that out. There is also promising research around L-Tyrosine's effects as a cognitive booster in stressful environments.
Lion's Mane Organic (600 mg)
Standardized to 25% beta-glucans
Lion's Mane (yamabushitake) is a relatively new nootropic on the scene, with some research supporting anti-anxiety, cognition boosting, and well-being effects.
According to Examine, there has only been a single human study of Lion's Mane and the individuals took 1 gram orally three times a day. While that dosage appeared effective, it is unknown if this was optimal.
Overtime contains 600 mg of lion's mane and there isn't enough research available to determine if this is an effective dose. More research is needed for this particular ingredient, but it is promising.
Alpha GPC (50%) (600 mg, 300 mg yield)
L-Alpha GPC creates choline, a molecule associated with increased cognition found naturally in eggs. This is the special ingredient found in the newest generation of Legion's Pulse pre workout. Some early research suggests a notable increase in power output from Alpha GPC supplementation. (More info: Examine)
It is less clear if 300 mg is a sufficient dose to achieve cognitive improvements, as a 2015 study using doses of 250 mg and 500 mg did not observe any measurable cognitive improvements in healthy test subjects.
B – Phenylethylamine (500 mg)
B-Phenylethylamine is a neurotransmitter that inhibits uptake and efflux (i.e. removal) of dopamine, norepinephrine, and serotonin levels (2008 study). It is included here for the purpose of increasing focus and motivation.
This ingredient is not well understood and needs additional research.
Caffeine Anhydrous (300 mg)
It's caffeine. You know what it is. 🙂
N-Phenethyl Dimethylamine (300 mg)
N-Phenethyl Dimetylamine is also known as Eria Jarensis. Eria Jarensis is a stimulant that has grown in popularity with extreme pre workouts as other alternatives, like DMAA or DMHA, or have become more difficult to sell without running into legal issues.
300 mg is a pretty hefty dose on top of the already substantial caffeine dosage.
Di Caffeine Malate (yielding 200 mg)
This is essentially the "extended release" form of caffeine. This helps achieve two things: longer lasting effects of the pre workout and a smoother ride on the energy train with less crash.
Rhodiola Rosea (200 mg)
Standardized to 3% rosavins and 2% salidroside
Rhodiola rosea has consistently shown to reduce fatigue, increase cognition, and somewhat improve subjective well-being (more info: Examine). The extract included in Overtime, 3% rosavins and 2% salidroside, is in line with clinical potency.
Dosages as low as 50 mg have been shown to be effective when taken daily for fatigue, so the 200 mg included in Overtime is generally in line with clinical dosages, though acute (i.e. one-off, not taken daily) dosages may be slightly better between 288 mg and 680 mg.
Theacrine (yielding 160 mg)
as Teacrine
Theacrine is often taken to help minimize the negative effects of caffeine, like L-Tyrosine.
This is helpful considering the large 500 mg caffeine dose found in a full dosage of Overtime. 160 mg of theacrine will help soften that landing.
Noopept (30 mg)
As I stated above, noopept is a synthetic nootropic ingredient with cognitive boosting and psychostimulatory effects.
30 mg is a very solid dose. As usual, no corners cut here.
Rauwolfia Vomitoria Root Bark Extract (2.5 mg)
Rauwolscine 90% (Alpha yohimbine)
Alpha yohimbine, also known as "alpha yo," is a central nervous system stimulant. It can be quite divisive, with some individuals reporting anxiety, headaches, sweating, chills, and increased blood pressure.
I didn't notice any adverse side effects from taking Overtime, but individuals who have had adverse effects from alpha yohimbine in the past will likely want to steer clear of Overtime.
Apollon Nutrition Overtime Review