Legion Pulse pre workout is a pre workout supplement known for its simple but strong ingredient profile. Its ingredients include 350 mg of caffeine anhydrous, 8 grams of L-Citrulline Malate, and 300 mg of Alpha GPC among others. Pulse Pre Workout is popular as a "daily driver" pre workout that can be taken every day without significant side effects.
Legion Pulse is one of the best clinically-dosed, banned substance free pre workouts available today and a personal favorite of mine.
Best Pre Workout for Daily Use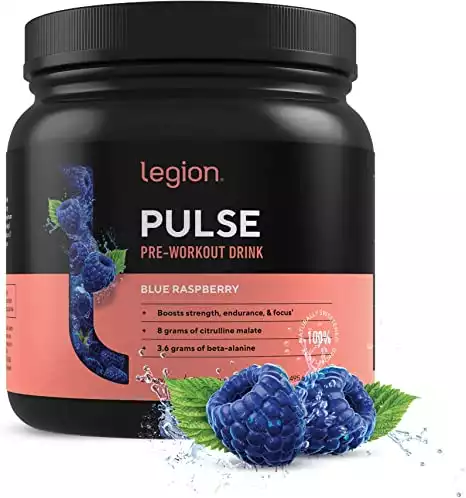 Legion Pulse Pre Workout
Pulse by Legion Athletics is an excellent choice for daily users of pre workout supplements.
Great energy + pumps without burning you out on intense stimulants!
Shop Amazon
Lift Vault earns a commission if you click this link and make a purchase at no extra cost to you.
12/05/2023 04:17 am GMT
It's great for people seeking a high-caffeine, pump inducing pre workout supplement without a lot of unnecessary fluff. Personally, Legion Pulse, along with Man Sports Game Day, are my go-to pre workouts for regular use.
I'm going to briefly take you through Pulse's ingredient label along with my personal experience with this pre workout.
Personal Experience
I regularly use Legion Pulse and love the energy and slight mood boost it gives me. It helps me attack each workout and perform my best without feeling jittery or crashing later on.
I mean, as you'll see below, there's not a lot of fancy footwork going on with this pre workout. It's taking ingredients that work, dosing them heavily, and that's about it. And really, that's all you need. There are a few ingredients that are on the fringes of what I'd consider evidence-backed (e.g. Alpha GPC), but even these are pretty solid.
I also frequently work out in the evening after work and don't want to necessarily take a massive 350 mg dose of caffeine that late in the day. For that, I take 1 scoop of Pulse instead of 2. This helps me still crush the workout and fall asleep at a reasonable hour later. I like being able to fine tune my dosage of Pulse this way. Of course, you can do this with any pre workout, but being able to take 1 full scoop and not have to ask myself "hm, is this a half scoop?" is an extra bonus I enjoy.
My only gripe with Pulse is the price.
If you're taking the full 2 scoop serving, there are 21 servings per tub. Each tub is $40, or $2 per dose (unless you get Fruit Punch, which is $35 on Amazon). As you can see in my analysis of 300 pre workouts, $2 per serving is a little steep. It's not an outrageous price, it's just a little high. There are better "bang for your buck" pre workouts out there, like Game Day. To be fair, Game Day also doesn't have 8 grams of citrulline malate, but it does have a little more caffeine. It ultimately comes down your preference and what works for you.
Bottom line: Pulse is a great pre workout and, as evidenced by the number of empty tubs I've thrown out over the years, worth the price tag in my opinion.
Also, since I frequently take 1 scoop instead of 2, that brings the price per serving down to $1/serving, which is excellent. Experiment and see what works for you – you may need less than you think.
Ingredients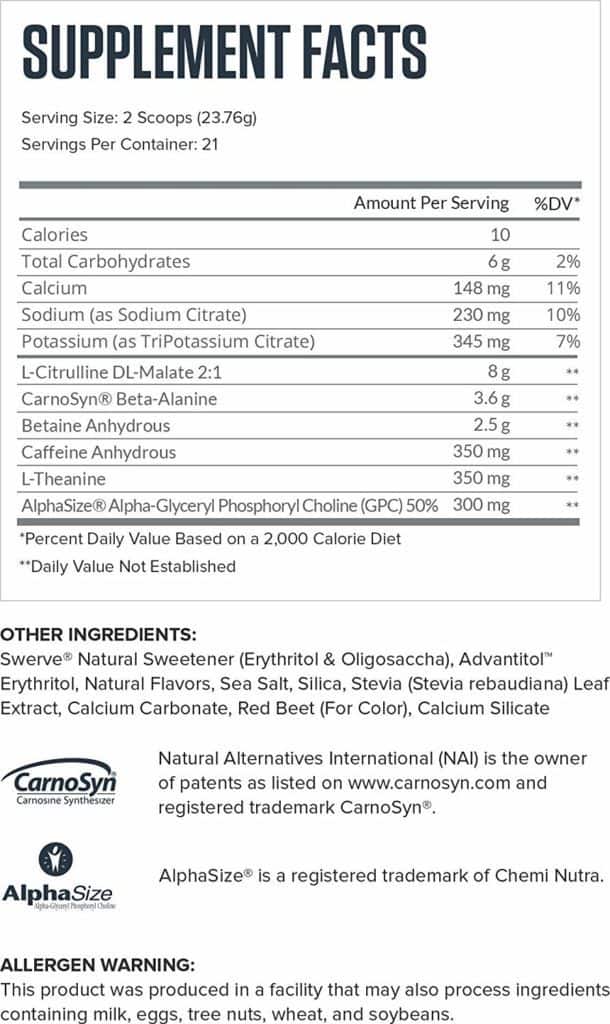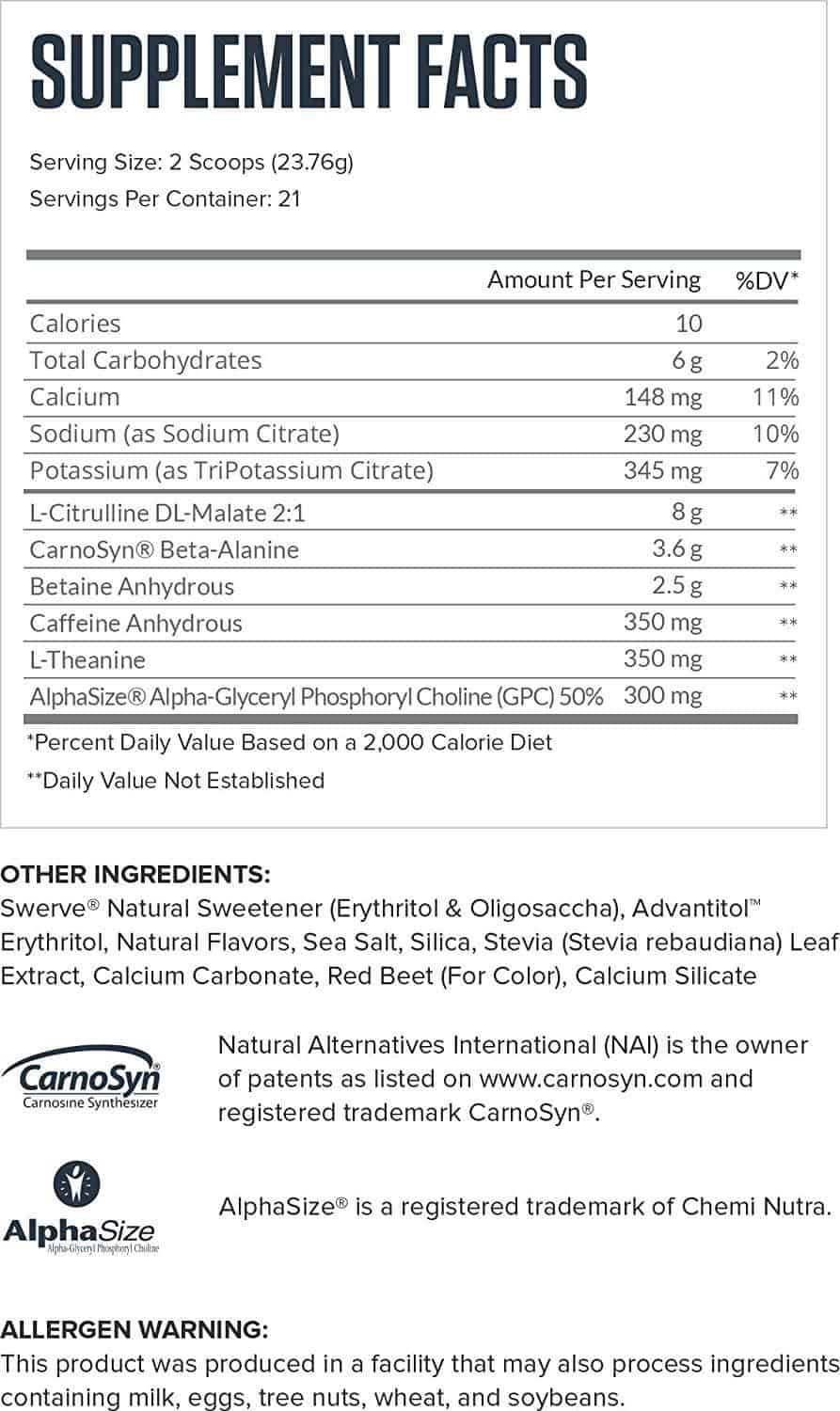 Caffeine (350 mg)
Let's start off with the big one: caffeine. Pulse's serving size calls for 2 scoops, delivering a total of 350 mg of caffeine. This is a hefty dose and is definitely not for anyone that is sensitive to caffeine (if so, check out Best Low/No Caffeine Pre Workouts).
I love caffeine and am very happy with the buzz that Pulse delivers.
L-Citrulline Malate (8 g)
Pulse really went above and beyond here, delivering a massive 8 gram dose of L-Citrulline Malate. This is on the upper end of a clinically effective dose and higher than the typical 6 gram dose seen in many of the best pre workouts.
There is some disagreement amongst supplement companies regarding the efficacy of L-Citrulline vs. Citrulline Malate. I personally haven't tested this enough on myself to see if I notice a difference (maybe worth considering for a future article).
Regardless of which is better, I can confirm Pulse gives great pumps.
Beta Alanine (3.5 g)
Beta Alanine, the tingle ingredient. If you hate it, then I'd steer clear of this pre workout (if that's you, see Best Pre Workouts without Beta Alanine).
Beta alanine has been shown to support muscular endurance and can act as an a lactic acid buffer. Nice.
However, beta alanine requires regular intake in order to be effective, akin to creatine. Daily supplementation of beta alanine is recommended, with a loading period of three to five weeks needed to be effective. This makes me question why it's in a pre workout and not supplemented separately, much in the same way that most people supplement creatine separately and not as a part of their pre workout. I suspect it may be because the beta alanine "tingles" gives the impression that the pre workout is "working," but hey, whatever. At least it's a research-backed ingredient.
Betaine Anhydrous (2.5 g)
Betaine is included to help with power output. Research is inconsistent on this claim, but it is a popular ingredient nonetheless. 2.5 grams is within the range of recommended daily dietary supplementation on Examine.
L-Theanine (350 mg)
L-Theanine is an amino acide that helps improve focus and relaxation, making it popular to pair with caffeine to "smooth out" any potentially adverse stimulant effects. These effects have been observed at L-theanine to caffeine ratios of 2:1 and 1.5:1, so I am unsure if the efficacy is maintained at the 1:1 ratio used in Pulse, but I can say that I do feel good when I take Pulse! I'm also a regular caffeine user and am not bothered by larger caffeine doses.
Alpha GPC (300 mg)
This was new ingredient that separated the old version of Legion Pulse from the new, current version discussed here. Alpha GPC is of significant interested because it creates choline, a molecule known for its cognitive boosting properties. Very early research also suggests a notable increase in power output stemming from alpha GPC supplementation.
It is less clear if 300 mg is a sufficient dose to achieve these sought after power output improvements, as the single study that showed power improvement was using a 600 mg dose.
Happy lifting!
Legion Athletics Pulse Pre Workout Review
Summary
Overall, a very solid "daily driver" pre workout the checks off just about every box. While it's a little pricey, it's ultimately a great pre workout.
Pros
Massive 350 mg caffeine dose
Huge 8 gram citrulline malate dose
Strong 3.5 beta alanine dose
Cons
Only 21 servings per tub
Kind of expensive
Includes some ingredients that may not be totally necessary (e.g. Alpha GPC).
Comments Rating
( reviews)