Hooligan pre workout, manufactured by Apollon Nutrition, the same folks who made the truly insane Assassin Pre Workout, is another excellent pre workout that is worth checking out. It stands heads and shoulders above literally every other pre workout in terms of caffeine content and doesn't have any banned ingredients, so it's actually safe for powerlifting competition.
For the fastest shipping, order from 2 Day Supps. You can use code LIFTVAULT10 to save 10% at checkout.
| Name | Image | Notes | Link |
| --- | --- | --- | --- |
| Hooligan Pre Workout | | Good for: the longest workouts, all day energy. 2DaySupps Discount = LIFTVAULT10 | Check Price |
Read on the learn more about the newest version of Hooligan and my experience with it.
The Newest Version of Hooligan Pre Workout
As far as I can tell, this is the 4th generation of Hooligan, but to makes things confusing it is sometimes known as "Hooligan v2." Here's a quick breakdown of what's new in this version of Hooligan.
The most recent prior version of Hooligan, generation 3 (ingredients label), upped the ante in a serious way, packing a staggering 600mg of caffeine anhydrous. If you're pre workout history buff and you'd like to see what I think is the original Hooligan formula, that is here.
Generation 4 (this version) took things even further by taking the 600mg of caffeine anhydrous and adding 133mg of dicaffeine malate, which has an effective yield of 100mg caffeine for a total of 700mg of caffeine in a full serving.
Dicaffeine malate has the added advantage of being "time released" more slowly than caffeine anhydrous, extending the energizing effects of Hooligan. The end result is a massive wallop of energy that just doesn't quit. The new version also removed Yohimbe, which is a "love it or hate it" stimulant within the pre workout community.
On April 27th, Apollon Nutrition announced that a 5th generation of Hooligan will be released sometime in 2020. Stay tuned…
Here's my experience with the 4th generation of Hooligan pre workout.
My Experience with Hooligan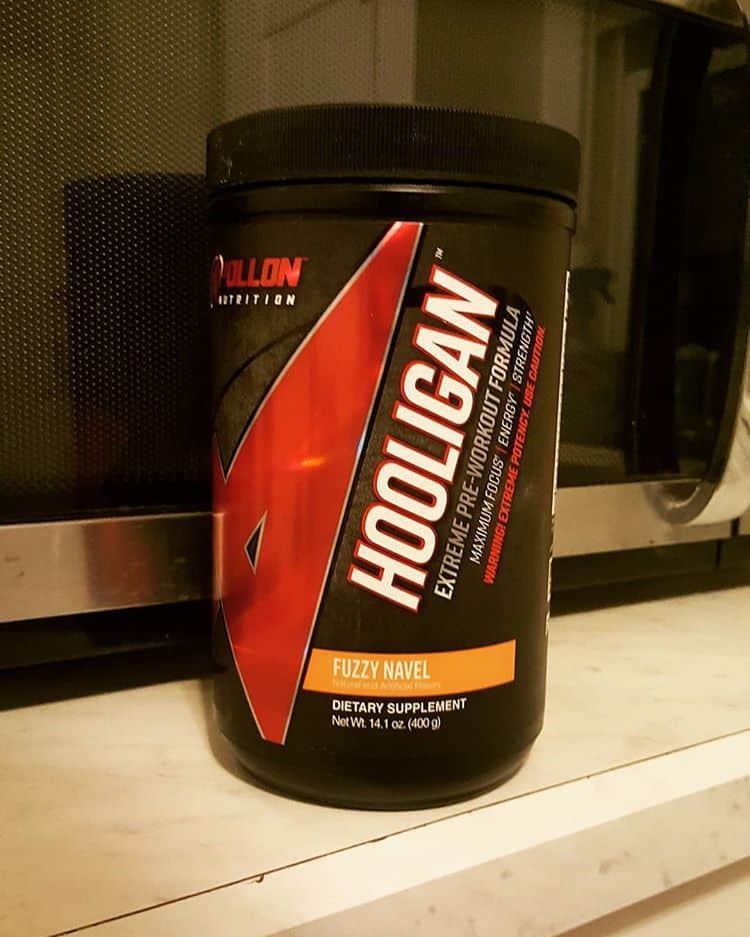 I took a full serving of Hooligan pre workout, which is a massive 20 gram scoop. I had the "fuzzy navel" flavor, which has a nice orange taste and mixed well. Within 10 to 15 minutes I noticed a clean boost of energy that continued to build over the next 30 minutes or so. I had a solid workout – energy, focus, and mood were all on point. I felt dialed in without feeling tweaked or on edge.
Long Lasting Effects
What stood out to me most about this pre workout is how long it lasts. I'd say I felt the energy and focus enhancement for a solid 4 or 5 hours. This is to be expected with the huge 700mg of caffeine I consumed, but I think the dicaffeine malate helped stretch things out nicely.
This is a must have for long workouts.
No Crash
I have to commend the folks at Apollon Nutrition here. Despite the huge caffeine dosage, I didn't feel a significant crash with Hooligan. Nothing you wouldn't normally get from a large dose of caffeine, at least. I think this is due in large part to the lack of "exotic" stimulants and the extended release of the dicaffeine malate. As I said above, there are no banned substances in Hooligan – more on the individual ingredients below.
Overall, I had a very good experience with Hooligan. I was surprised by how not insane I felt on 700 mg of caffeine. Just a super strong, clean pre workout.
Hooligan Ingredients Label
Here's a breakdown of the ingredients in Hooligan pre workout.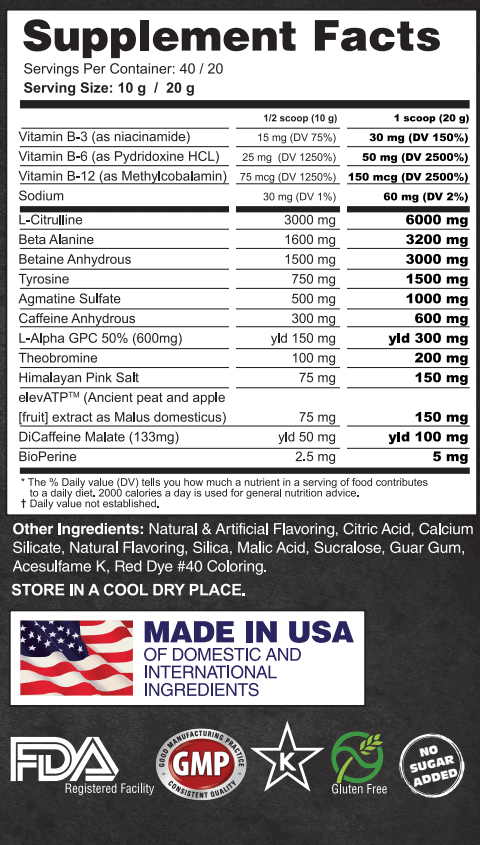 L-Citrulline – 6,000 mg
L-Citrulline is an amino acid that turns into L-arginine in the kidneys. Consuming L-Citrulline improves nitric oxide metabolism, increasing endurance for aerobic and anaerobic exercise, along with reducing fatigue. It is a classic "pump" ingredient and 6 grams is a great dosage. (More info: Examine)
Beta Alanine – 3,200 mg
This is the standard dosage for beta alanine, which, taken consistently, has been shown to improve muscular endurance by acting as a lactic acid buffer in muscles. This is the ingredient that gives you the "tingles."
Betaine Anhydrous – 3,000 mg
Betaine is included to help increase your power output. However, research is pretty inconsistent around this claim. 3 grams is a strong dose of this ingredient. (More info: Examine)
Tyrosine – 1,500 mg
Tyrosine helps smooth out and offset any "crash" from the massive caffeine dose in Hooligan. There is also some interesting research into its effect as a cognitive booster in stressful situations.
Agmatine Sulfate – 1,000 mg
Agmatine is included as a "pump" ingredient, but research is more limited on this ingredient vs. the classic L-Citrulline.
Caffeine Anhydrous – 600 mg
Caffeine anhydrous is the "standard" type of caffeine found in coffee, energy drinks, etc. 600 mg is a huge dose, but not an unsafe dose. If you're new to pre workouts or sensitive to caffeine, I would recommend starting with a 1/3 scoop of Hooligan.
L-Alpha GPC 50% – yld 300 mg
L-Alpha GPC creates choline, a molecule associated with increased cognition found naturally in eggs. This is the special ingredient found in the newest generation of Legion's Pulse pre workout. Some early research suggests a notable increase in power output from Alpha GPC supplementation. (More info: Examine)
It is less clear if 300 mg is a sufficient dose to achieve these sought after power output improvements, as the single study that showed power improvement was using a 600 mg dose. This is the same dosage found in Pulse.
Theobromine – 200 mg
Theobromine is a compound, structurally similar to caffeine, naturally found in dark chocolate, coffee beans, and guarana berries. It lowers blood pressure, acts as a milder, longer lasting stimulant than caffeine, and may positive impact mood (source, source).
Himalayan Pink Salt – 150 mg
Salt helps retain water, which helps you achieve a great pump during your workout. It's also an important electrolyte! (More info: Supplements in Review)
elevATP – 150 mg
This is a proprietary blend of ancient peat and apple polyphenols shown to increase the body's ability to produce ATP, the most basic form of energy within your body's cells. Creatine supplementation is so popular because it reliably increases stores of phophocreatine, which is used to create ATP. This helps increase power output.
150 mg is the standard dosage and has been shown to "enhance performance adaptations" (source).
DiCaffeine Malate – yld 100 mg
This is essentially the "extended release" form of caffeine. This helps achieve two things: longer lasting effects of the pre workout and a smoother ride on the energy train with less crash.
BioPerine – 5 mg
This is included to help activation and absorption of the other ingredients in Hooligan.
Where to Purchase + Discount Code
Hooligan is available from 2 Day Supps and Ruesco. Get 10% from 2 Day Supps with code LIFTVAULT10.
If you live in the UK, you can purchase Hooligan pre workout at Unique Health Supplements.
Second Opinions
Video Review: Fitness Deal News
The Strongest Pre-Workout Ever? 🤯NEW Apollon Nutrition Hooligan Review
Video Review: Review Bros
🟠 HOOLIGAN PRE-WORKOUT REVIEW BY APOLLON NUTRITION - LETS GO CRAZY!
Hooligan Pre Workout Review
Summary
Hooligan pre workout by Apollon Nutrition is a worthy contender for "strongest pre workout" in the non-banned substance pre workout category. It has a variety of well-dosed ingredients to boost energy, improve focus, and increase endurance. It does this without making you feel tweaked or crash hard. Plus, it lasts a long time (several hours) and is great for lengthy workouts or long days.
Pros
STRONG
Long lasting
Great energy boost
Good focus
No negative impact on mood
All legal ingredients for competition
Cons
Only 20 full servings, so it's a little pricey (though in terms of caffeine content, a half serving of Hooligan is even stronger than some pre workout's full serving).
Comments Rating
( reviews)