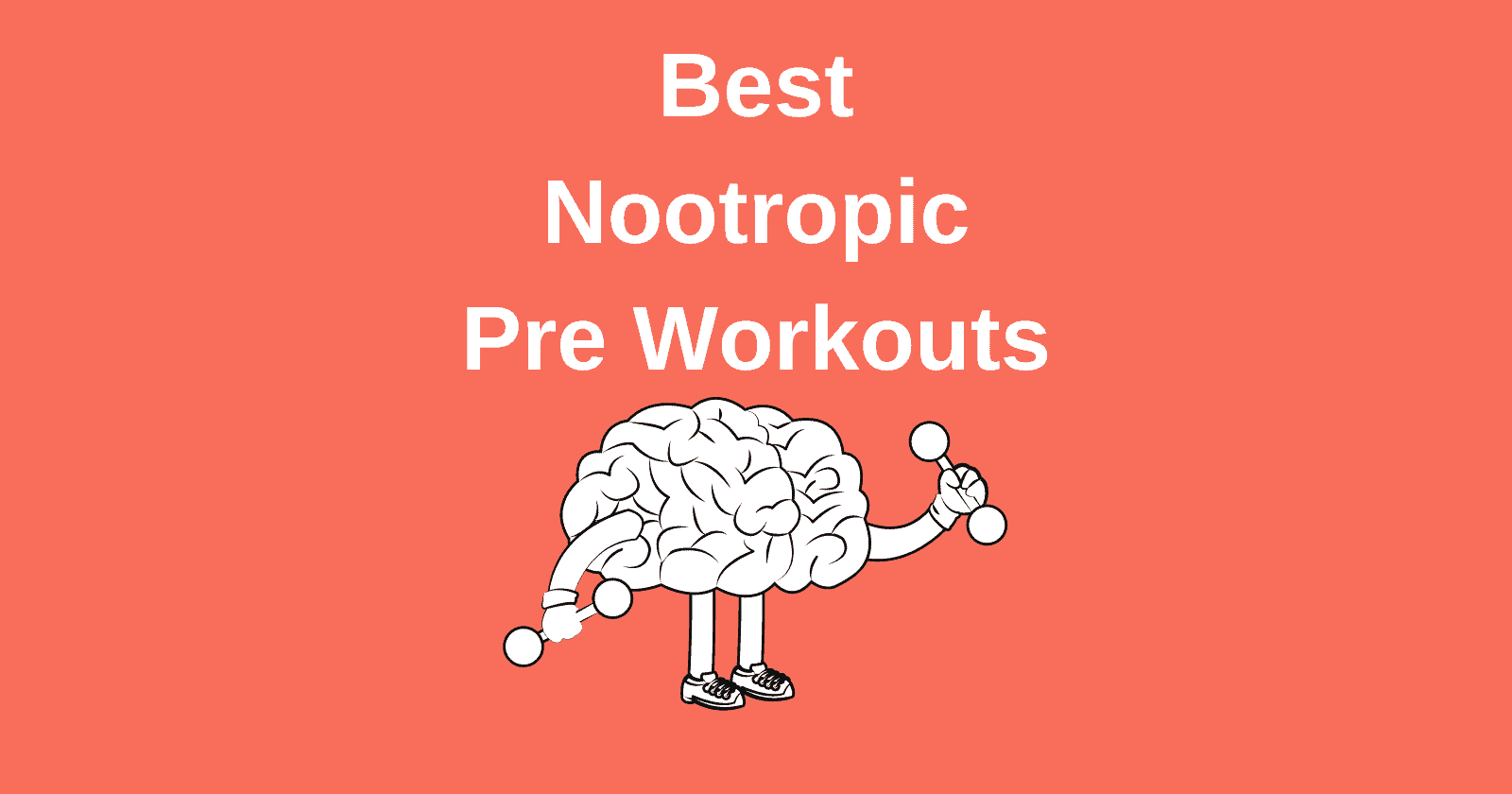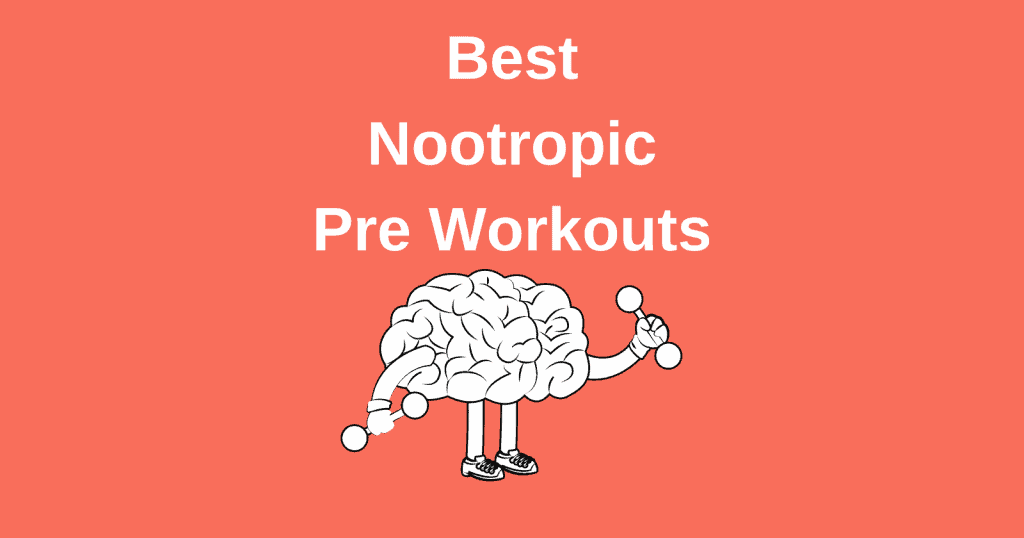 Best Nootropic Pre Workout Supplements
The list of best nootropic pre workouts is a pretty short one, because frankly there aren't a lot of good products out there.
Here's the 5 best nootropic pre workout supplements, based on my personal experience:
Best Nootropic Pre Workout: Hooligan (Apollon Nutrition)
Best Nootropic Capsules: Overtime (Apollon Nutrition)
Best Nootropic Pre Workout with DMHA: Brain Blitz (Phase One Nutrition)
Most Euphoric Nootropic: Brain Waves (Black Magic Supply)
Best "Sweet Spot" Nootropic: Skywalk (Myoblox)
Hooligan Pre Workout
Hooligan is truly a masterclass in supplements. It is rated as one of the best pre workout supplements, one the strongest pre workout supplements, and also can be an excellent nootropic.
Even though Hooligan is not marketed as a nootropic, it does contain a lot of focus and energy ingredients: caffeine anhydrous, di-caffeine malate, Lion's Mane, and Alpha GPC.
When I'm working from home, I'll often take a half scoop of Hooligan to help plow through a long to do list.
Just a half serving of Hooligan still has:
300 mg of caffeine (anhydrous + di-caffeine malate)
500 mg of Lion's Mane
1,000 mg of L-Tyrosine
300 mg of Alpha GPC
100 mg of Rhodiola Rosea
And obviously a full serving has twice the amount of each ingredient, but I don't usually need or want that much caffeine. If I'm working out, I might take closer to 3/4 of a serving.
Related: Hooligan Pre Workout Review
Here's the complete ingredients label: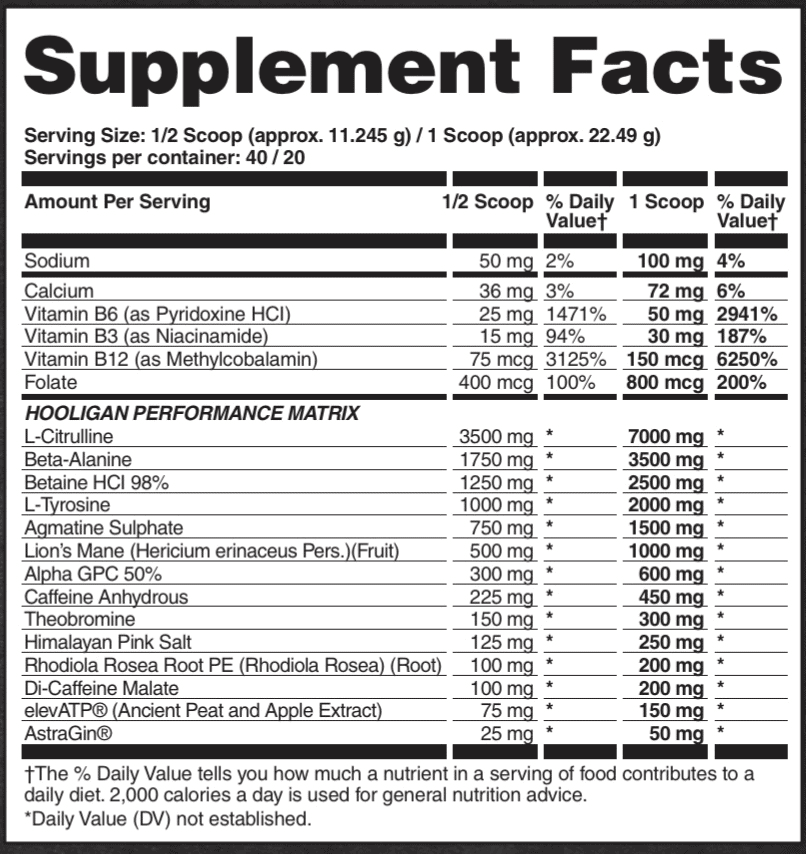 Brain Blitz Nootropic Pre Workout
Brain Blitz is an intriguing and effective pre workout and nootropic hybrid supplement from Phase One Nutrition. It's definitely a more stimulant-focused supplement which also has nootropic ingredients.
Unlike Hooligan, Brain Blitz was always positioned as a nootropic supplement in addition to being a pre workout supplement.
I really enjoyed the smooth energy, long lasting mental focus, and mild euphoric effects from the DMHA. It had me locked in the zone for several hours of work.
There are two versions of Brain Blitz available: the original and the remix'd version. My experience has been with the original version, which is the one I'm recommending here.
The main difference between the original and remix'd versions of Brain Blitz are:
There is no di caffeine malate in the remix'd version. Instead, caffeine citrate is used, which actually is a quicker release version of caffeine.
There is no DMHA (aka English Walnut Extract) in the remix'd version.
The remix'd version uses a proprietary ingredient blend for most of its ingredients.
A full serving of the current "standard" Brain Blitz formula most notably contains:
Alpha GPC – 600 mg
L-Tyrosine – 500 mg
L-Theanine – 350 mg
Caffeine Anhydrous – 250 mg
Di Caffeine Malate – 100 mg
N-Phenethyl Dimethylamine (Eria Jarensis) – 150 mg
English Walnut Extract (DMHA) – 100 mg
Related: Brain Blitz Nootropic Pre Workout Review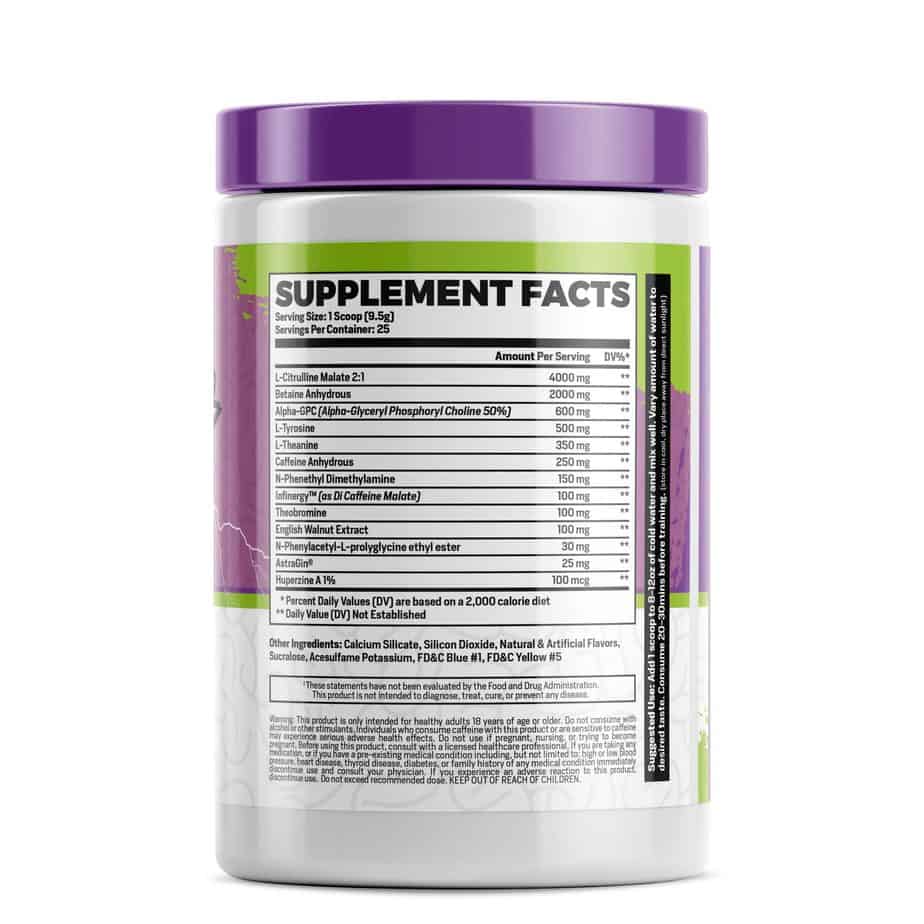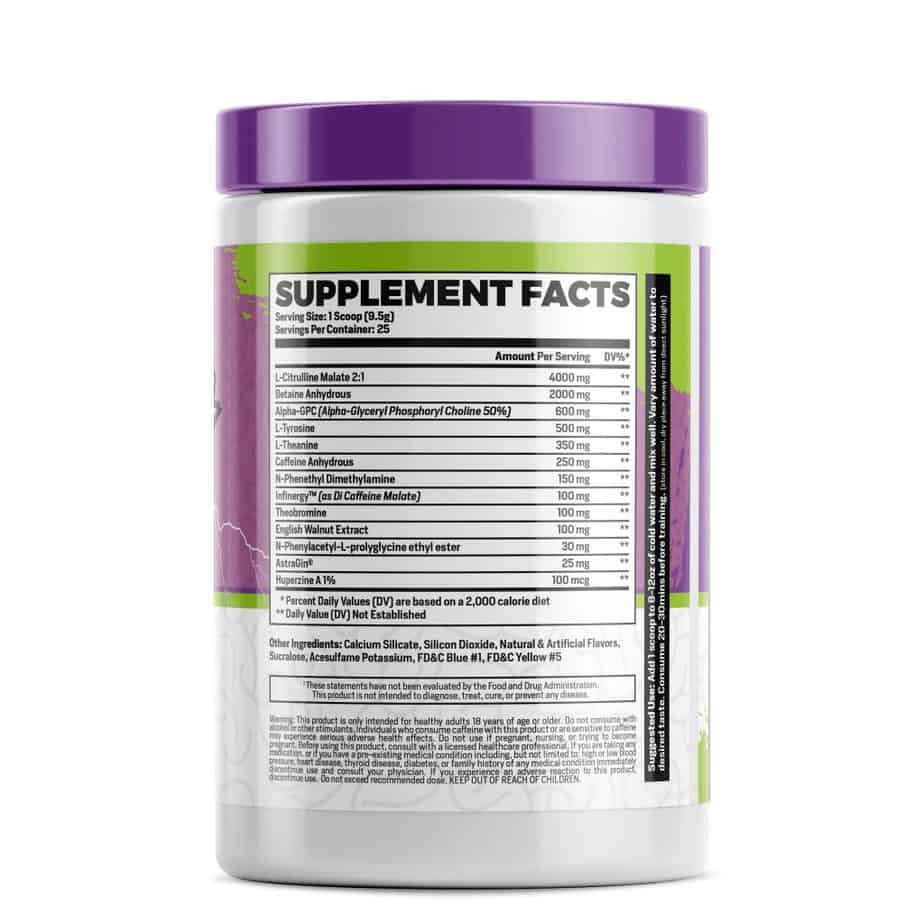 Overtime Nootropic
Overtime is another product from Apollon Nutrition, who truly do not mess around when it comes to high quality nutritional supplements.
Overtime is more of a "pure" nootropic supplement and contains mostly stimulants or nootropic ingredients. For that reason, there is no citrulline malate or beta alanine to be found in Overtime.
But does it deliver energy, focus, and mental clarity? Absolutely. It's one of my favorite afternoon pick-me-ups while I'm working from home.
I usually take just a half dose (3 capsules) and still notice great effects. I've only taken 6 capsules once and frankly I realized I simply didn't need to take that many to achieve optimal effects.
This is great for me, as it means each bottle gives me about 40 servings, which works out to about $1 per serving. That's an excellent value for such a high quality product.
Notable ingredients include:
L-Tyrosine – 2,000 mg
Lion's Mane – 600 mg
Alpha GPC – 600 mg
Rhodiola Rosea – 200 mg
Theacrine – 160 mg
Noopept – 30 mg
Related: Overtime Nootropic Review
I mean, jeez, just look at that stacked label. Here's the whole ingredients list: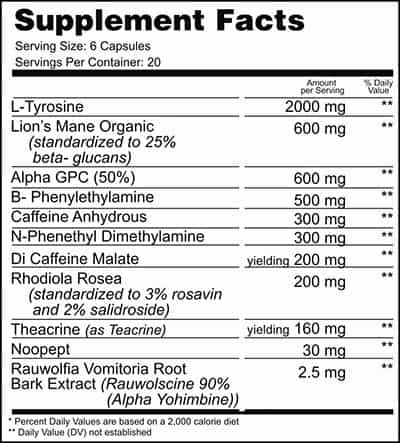 Brain Waves Nootropic
Brain Waves feels like a more euphoric version of Overtime thanks to the inclusion of the stimulant DMHA (2-aminoisoheptane). For this reason I take it more sparingly than Overtime, but do enjoy the pleasant effects of Brain Waves.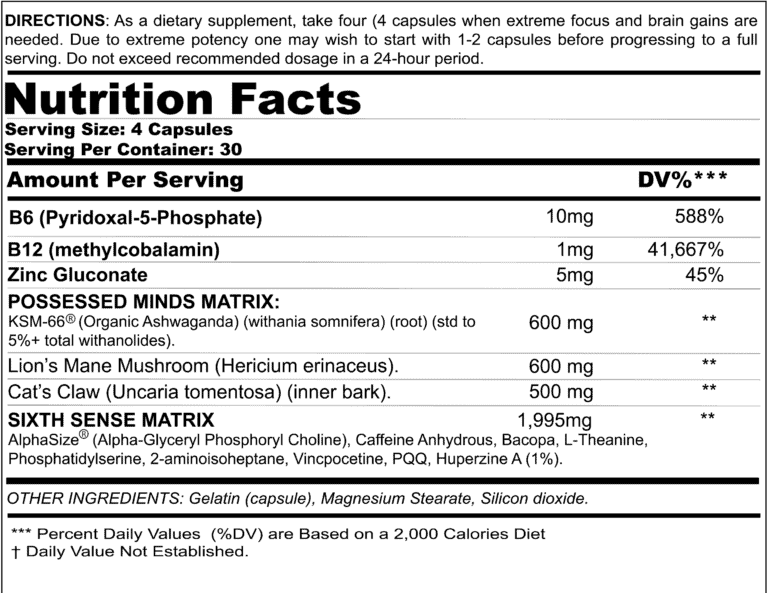 Skywalk Nootropic
When I don't want to take a ton of caffeine, but still want a boost of focus and mental concentration, Skywalk is my go-to nootropic supplement.
With just 200 mg of caffeine per scoop, Skywalk still delivers 1.5 grams of L-Tyrosine and 400 mg of Alpha GPC. If you bump that up to one and a half scoops, then you have 300 mg of caffeine, 2.25 grams of L-Tyrosine, and 600 mg of Alpha GPC.
Either way, it's an excellent experience of prolonged focus, clarity and overall enhanced productivity.
I must say that the RealCaf, caffeine derived from green coffee beans, does seem to hit a bit different than the typical caffeine anhydrous. Placebo effect? I don't know – maybe. But Skywalk feels similar to how Myoblox's other popular product, Loco pre workout, has smooth, pleasant energy.
If you're looking for a nootropic supplement with fewer stimulants than some of the other products on this list, give Skywalk a try. You won't regret it.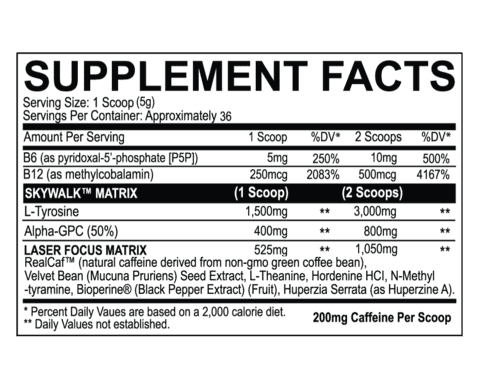 Nootropic Pre Workout Ingredients
Here are some of the most effective ingredients to look out for when deciding which nootropic supplement is right for you.
Alpha GPC
Alpha GPC is a cholinergic compound that is produced within the body. It is used for enhancing cognition and increasing power output.
For athletic purposes, doses tend to range from 300 mg to 600 mg. Doses for reducing the effects of cognitive decline are much higher, around 1,200 mg per day.
Lion's Mane
Lion's Mane are a type of mushroom, also known as yamabushitake or hou tou gu.
They have a wide range of potential benefits, including reduction of anxiety and cognitive decline.
Unfortunately, there has only been one human study completed so far. As this study used a daily dosage of 3,000 mg of Lion's Mane split into three dosages throughout the day, there is limited understanding of what constitutes an optimal dosage.
L-Theanine
L-Theanine is an amino acid often found in green tea, black tea, Bay Bolete mushrooms. It acts as a mild sedative.
It is often used in nootropics in combination with caffeine. This is because it can help "take the edge off" of caffeine, smoothing out some of the unpleasant side effects of caffeine like anxiety.
When combining L-Theanine and caffeine, the ratio is important. A common rule of thumb is a 1:2 ratio between caffeine and L-Theanine (e.g. 100 mg of caffeine + 200 mg of L-Theanine).
L-Theanine is commonly used in pre workout supplements with a lot of stimulants or significant caffeine content in order to help reduce anxiety.
In these situations, the caffeine to L-Theanine ratio is often flipped in favor of caffeine. For example, Superhuman Supreme Pre Workout uses a 2.5:1 ratio between caffeine and L-Theanine (375 mg caffeine + 150 mg L-Theanine).
L-Tyrosine
Tyrosine helps smooth out your mood, which can be helpful when taking large doses of caffeine and other stimulants.
There is also some interesting research into its effect as a cognitive booster in stressful situations. It does this by aiding the production of noraderenaline and dopamine, the former of which is typically reduced in stressful situations.
When taken before exercise, dosages typically range from 500 mg to 2 g.
Caffeine
While caffeine, a relatively mundane but immensely popular supplement, is typically not classified as a nootropic supplement, its effect profile carries all the hallmarks of one. Improved focus and energy, enhanced mood, and heightened concentration are all typical effects of caffeine supplementation.
Small, moderate, and larger dosages are around 100 mg, 200 mg, and 300 mg, respectively.
Rhodiola Rosea
Rhodiola rosea has consistently shown to reduce fatigue, increase cognition, and somewhat improve subjective well-being.
Rhodiola rosea contains important flavinoids: rosavins and salidroside. These should be standardized to at least 3% rosavins and 1% salidroside to make sure you're getting rhodiola rosea of sufficient quality.
Dosages as low as 50 mg have been shown to be effective for reducing fatigue when taken daily. When taken once, dosages between 290 mg and 680 mg may be optimal, though additional human research would be useful for confirming this.
Noopept
Noopept, also known as N-phenylacetyl-L-prolylglycine ethyl ester, is a synthetic nootropic ingredient with cognitive boosting and psychostimulatory effects. It is similar to Piracetam, which has been shown to boost cognitive function.
Daily dosages of Noopept range from 10 mg to 30 mg, for no longer than 56 days at a time.
Theacrine
Theacrine is an alkaloid molecule that is similar to caffeine. At small doses it can act as a sedative, but larger doses it can increase energy and improve mood.
It is found naturally in the Camellia assamica var.kucha tea leaf, coffee, and some exotic fruits.
Dosages as low as 100 mg of Theacrine have been shown to improve perceived levels of energy and mood when taken with 150 mg of caffeine. Other clinical trials of Theacrine have used dosages between 200 mg and 300 mg.
Frequently Asked Questions about Nootropic Pre Workout Supplements
What is a nootropic pre workout supplement?
A nootropic pre workout is a pre workout supplement that combines the effect profile of both supplement types: nootropics and pre workouts. This tends to mean elevated energy levels, improved focus and concentration, and increases in nitric oxide production and blood flow.
How is a nootropic pre workout different than a typical pre workout or nootropic?
A nootropic will typically improve mental clarity, energy, focus, and motivation. They are usually taken prior to activity that requires significant cognitive function, such as studying, paperwork, or an important social interaction.
A pre workout supplement typically increases energy and nitric oxide production for enhanced athletic performance. They are usually taken prior to exercising or athletic competition.
A nootropic pre workout is a supplement that is useful when taken prior to exercising that also improves focus and cognitive functioning. It can be taken prior to exercising as well as before a task that requires mental acuity.