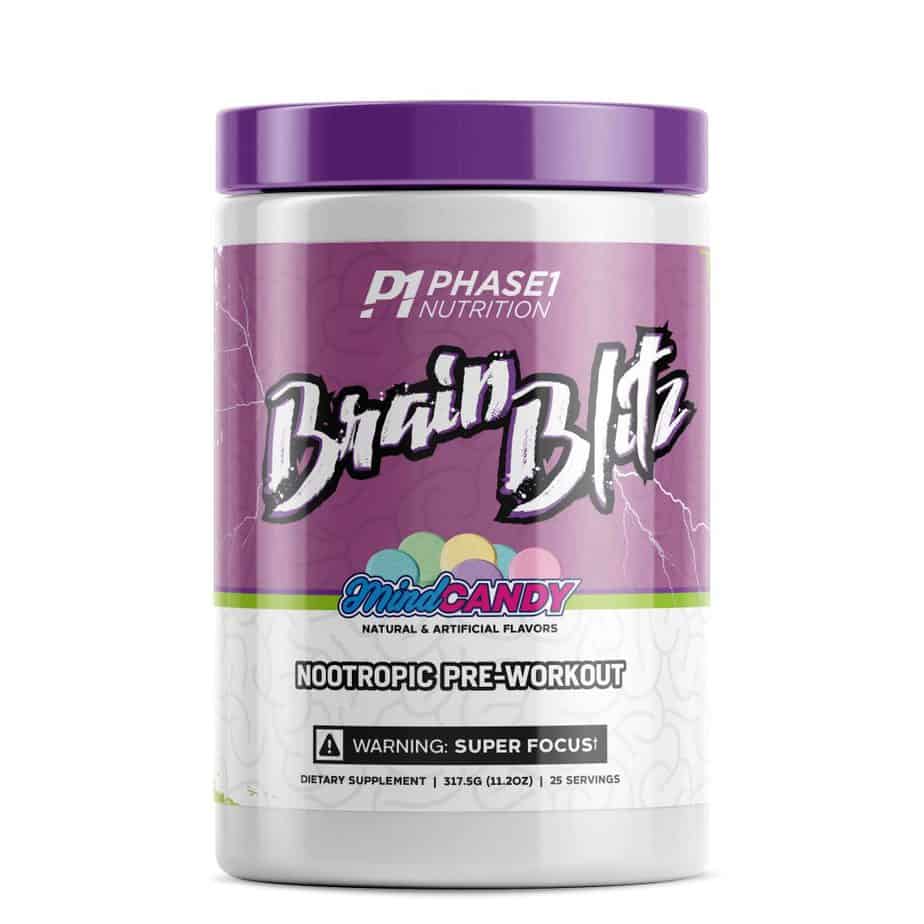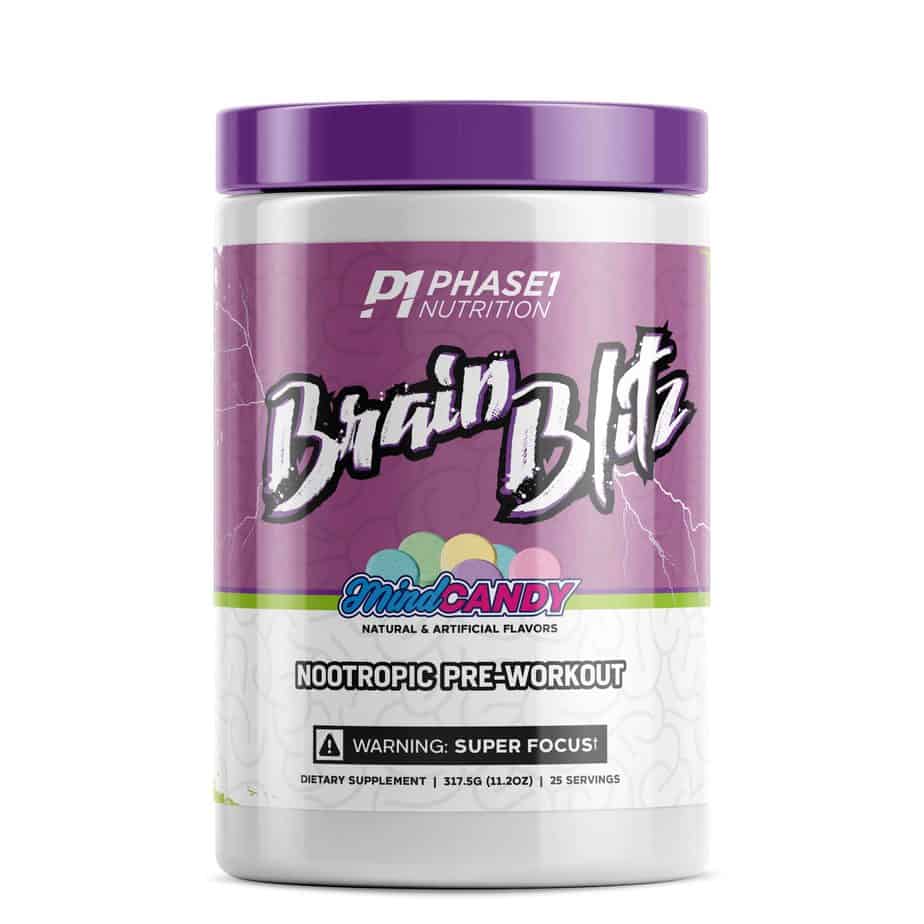 Brain Blitz pre workout is a nootropic and pre workout hybrid supplement designed to help increase focus and energy in the gym. It is known for having a combined 325 mg of caffeine, 600 mg of Alpha GPC, 100 mg of English Walnut Extract (DMHA), and 30 mg of Noopept. It is manufactured by Phase 1 Nutrition (P1N).
Along with other ingredients, this delivers an interesting blend of focus, long lasting energy, and some euphoria.
I really enjoyed Brain Blitz and think it's a good midway point between daily driver pre workout and hardcore, stim-heavy pre workout supplements. It steps on the gas a little bit without going totally crazy, while still delivering clinical doses of some serious focus ingredients.
DMHA Nootropic Pre Workout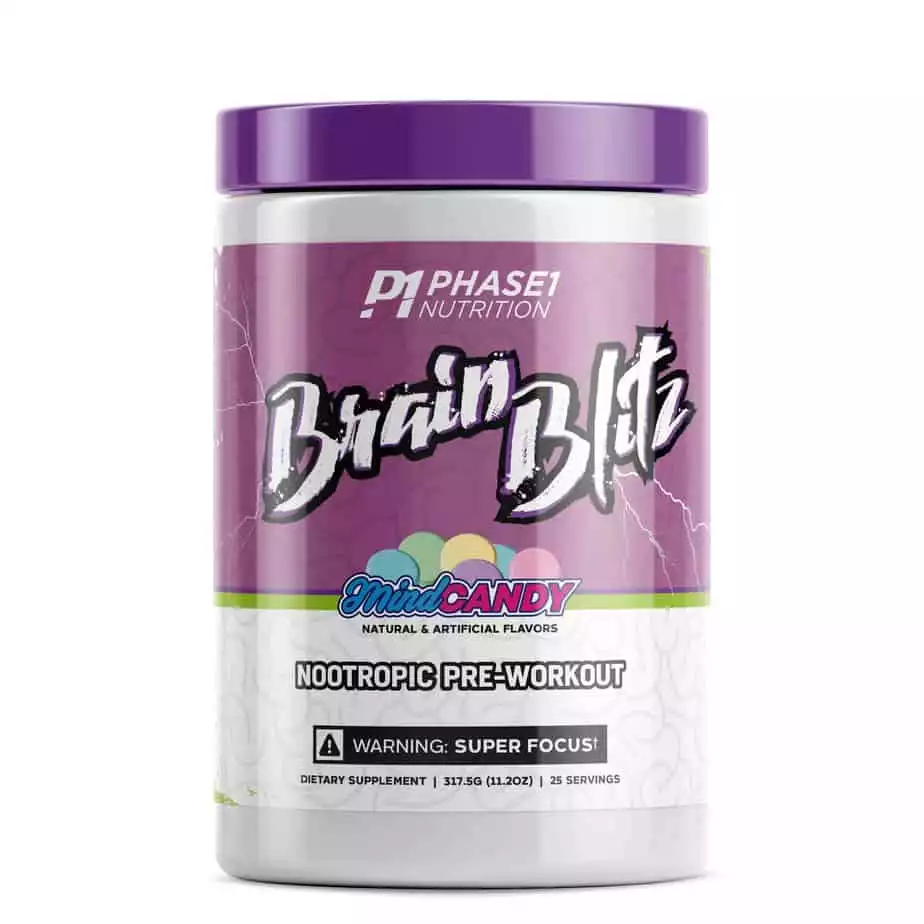 Brain Blitz Pre Workout - Phase One Nutrition
Excellent "middle ground" pre workout between daily drivers and extreme, high-stim pre workouts. Very smooth, long lasting energy and focus.
Great nootropic too!
Discount codes:
LIFTVAULT = 10% off at Phase 1
Shop Phase 1
Lift Vault earns a commission if you click this link and make a purchase at no extra cost to you.
My Experience with Brain Blitz Pre Workout
I was really curious to try Brain Blitz, as I haven't taken a pre workout before that only used di caffeine malate, which is essentially an extended release version of caffeine. Often you'll see them used together, like in Hooligan or Assassin, but rarely will di caffeine malate be included by itself.
Of course, there are other stimulants like DMHA and Eria Jarensis to help kick things into gear as the di-caffeine malate revs up.
Muscle Players was kind enough to send me a Brain Blitz sample of the "Mind Candy" flavor, which tasted fine. No complaints there.
Anyway, I didn't notice a slower kick in with Brain Blitz vs. other pre workouts. Within 30 minutes I could feel an enhanced focus and the start of beta alanine tingling.
By 50 minutes I had an enhanced sense of motivation, desire to get stuff done, and strong focus. Energy felt good too – smooth and not overwhelming, but definitely still noticeable.
Things wore off after about 3 hours and tapered off nicely without a significant crash.
Overall I'd say I'm a fan of Brain Blitz and would absolutely be interested in taking it again. I think it's a really good pre workout for those looking for mental focus + energy and don't want to take a totally stim-heavy pre workout like Pre Phase, a stronger pre workout made by the same company as Brain Blitz (Phase 1 Nutrition).
Does that mean Brain Blitz is weak?
Absolutely not.
Frankly, there are probably a lot of scenarios where I'd rather take Brain Blitz instead of Pre Phase since it has a somewhat more "tame" ingredient label while still dabbling in some exotic stims, just at slightly lower doses.
In fact, Brain Blitz was selected as one of our favorite nootropic pre workouts.
Brain Blitz Ingredients Label
You can see the full Brain Blitz ingredient label below. I also briefly describe each ingredient and its dosage below.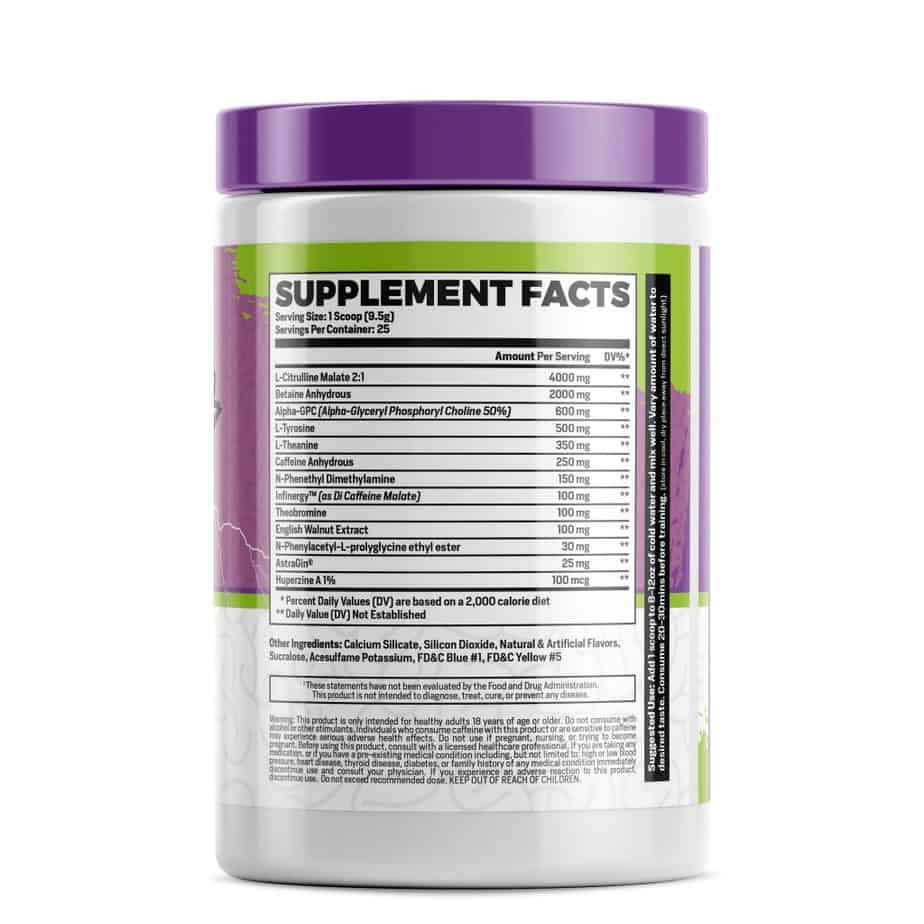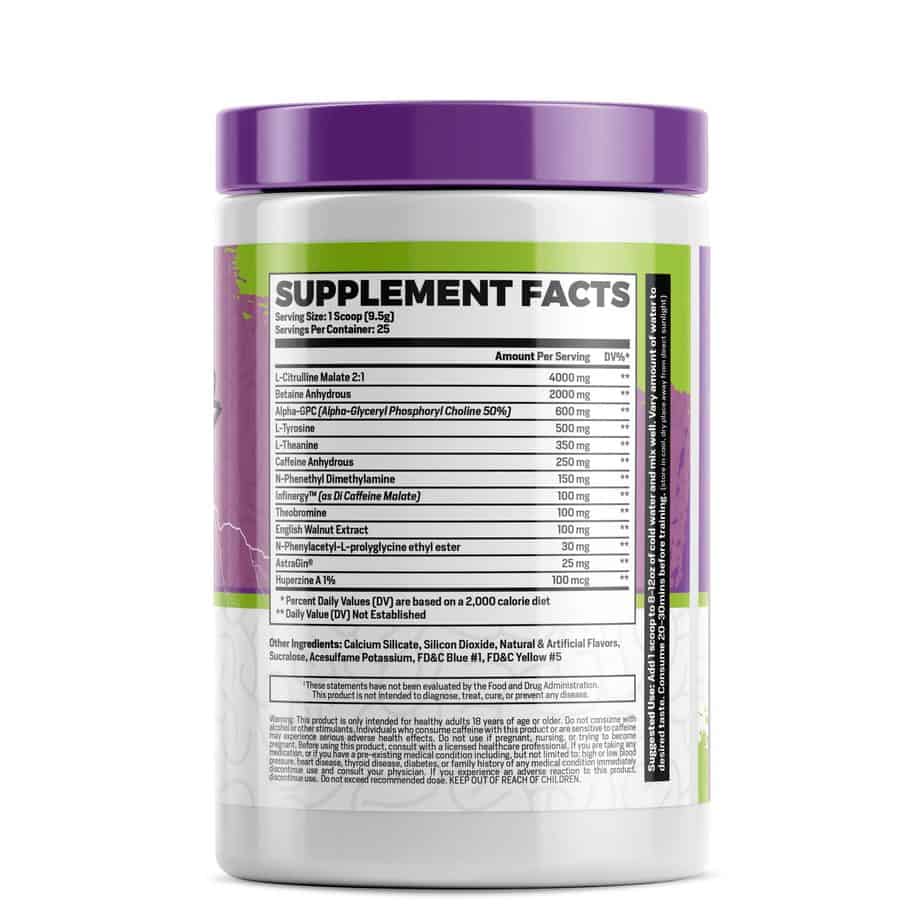 Citrulline Malate – 4 g
Citrulline malate is included as a pump and power ingredient, helping improve endurance, reduce fatigue, and increase production of nitric oxide.
4 grams is lower than the recommended dose, which is in the 6 gram to 8 gram range.
Betaine Anhydrous – 2 g
Betaine is included to help increase your power output and reduce fatigue. However, research is pretty inconsistent around these claims.
2 grams is slightly below the recommended range of 2.5-6 grams of this ingredient, but it's not a big deal – betaine is not the star of the show for Brain Blitz. (More info: Examine)
AlphaSize (Alpha GPC) – 600 mg
Alpha GPC is a focus ingredient, included for enhancing cognition.
600 mg is the exact dosage you want to see for Alpha GPC, the same dosage used in some of the (very few) studies on the supplement.
L-Tyrosine – 500 mg
L-Tyrosine is known for its synergistic effects when taken with caffeine, enhancing the positive effects of caffeine while reducing the negative effects like anxiety.
500 mg just squeaks into the recommended 500 mg to 2,000 mg range (Examine).
Theanine – 350 mg
Theanine is another ingredient that works really well with caffeine, helping take some of the edge off high caffeine doses (Examine).
Caffeine Anhydrous – 250 mg
Caffeine anhydrous is the standard form of caffeine. It is commonly associated with improved focus, concentration, energy, and motivation.
250 mg is a pretty typical dosage, but it is worth noting that Brain Blitz also contains 100 mg of Di Caffeine Malate. Combined, this adds up to a total 325 mg of caffeine content in Brain Blitz (Di Caffeine Malate is 75% caffeine, 25% malic acid).
Eria Jarensis – 150 mg
Eria Jarensis is a stimulant. 150 mg is a little lower than what you see in "high stim" pre workouts (typically 200 mg to 300 mg), but it's nothing to sneeze at.
Infinergy (Di Caffeine Malate) – 100 mg
Di caffeine malate is an extended release version of caffeine. While it is usually combined with the "instant release" version of caffeine, caffeine anhydrous, it is much less common to see it by itself. This was one of the things that first interested me in Brain Blitz.
Di caffeine malate is 75% caffeine, making this dosage 75 mg of caffeine.
Theobromine – 100 mg
Theobromine is a compound, structurally similar to caffeine, naturally found in dark chocolate, coffee beans, and guarana berries. It lowers blood pressure, acts as a milder, longer lasting stimulant than caffeine, and may positive impact mood (source, source).
100 mg is likely a little low for a theobromine dosage, but may still have some stimulation effects. Researched doses usually range between 200 and 400 mg (source).
English Walnut Extract (DMHA) – 100 mg
DMHA is a stimulant that is known for enhancing energy, motivation, and mood.
100 mg is a little lower than what is frequently seen in most pre workouts (200 mg to 250 mg) but it's not terrible.
Noopept – 30 mg
Noopept, also known as N-Phenylacetyl-L-prolyglycine ethyl ester, is a synthetic nootropic ingredient with cognitive boosting and psychostimulatory effects.
30 mg is a very solid dose of noopept.
Astragin – 25 mg
Astragin helps enhance the absorption of ingredients in the body.
25 mg is the standard dosage.
Huperzine A – 100 mcg
Like Alpha GPC, Huperzine A is a cholinergic that acts as a cognitive enhancer. It tends to be taken in doses of 50 mcg to 200 mcg, so the dose found in Brain Blitz pre workout does fall within the clinically effective range (Examine).
Brain Blitz Nootropic Pre Workout Review
Summary
Brain Blitz provides smooth, long-lasting energy thanks to its unique combination of di caffeine malate, DMHA, eria jarensis, and other nootropics. I definitely recommend this pre workout to those looking for more energy and focus in the gym without some of the negative side effects of stim-heavy pre workouts.
Pros
Smooth energy
Great focus
No crash
Stronger than "every day" pre workouts
Cons
May not have enough caffeine for some users
May be considered "too weak" by those looking for the absolute strongest pre workouts