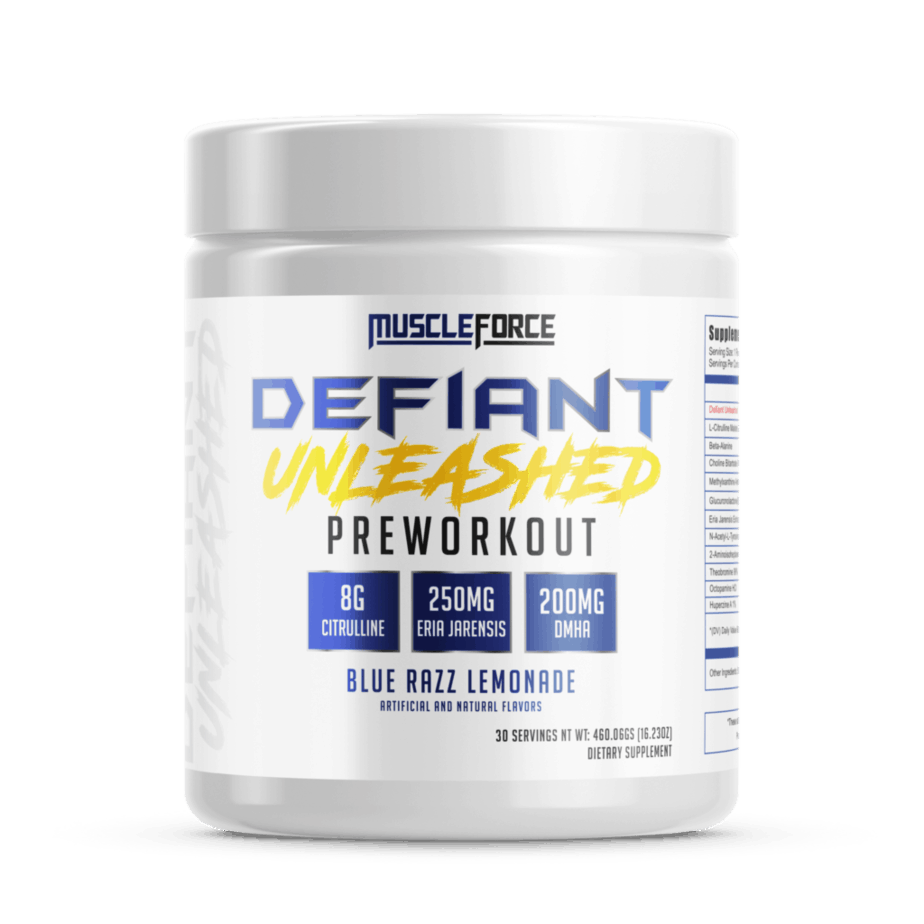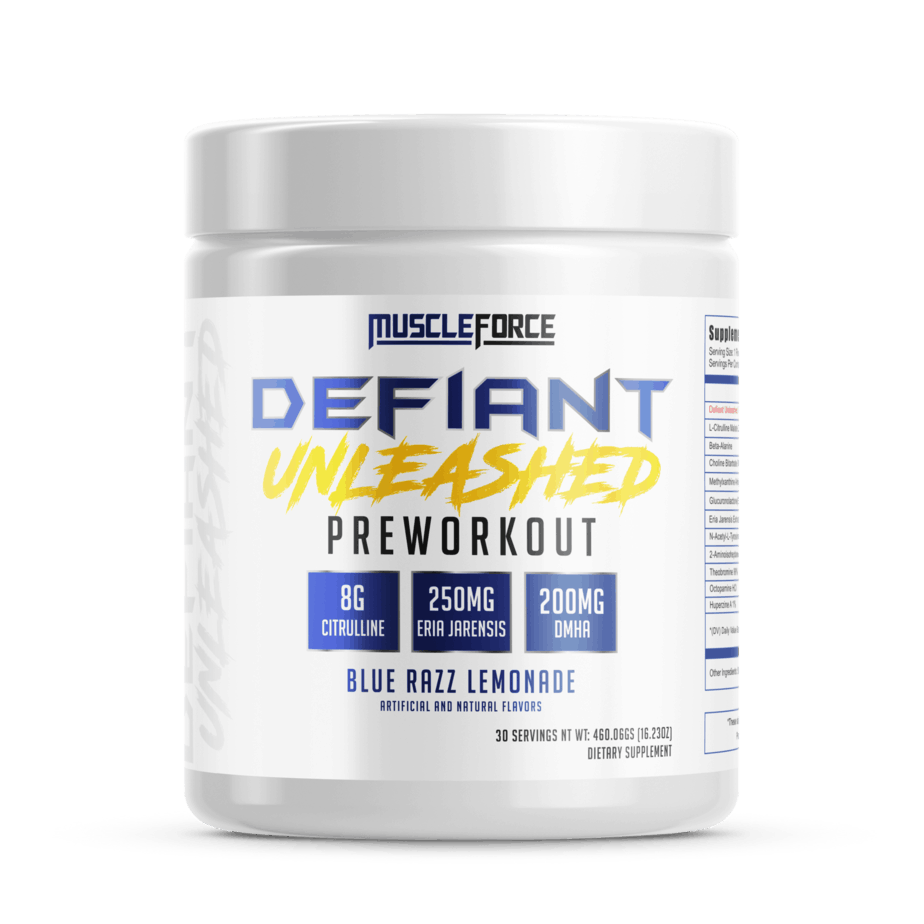 Defiant Unleashed is a hardcore DMHA pre workout supplement manufactured by Muscle Force. It notably contains 200 mg of DMHA, 250 mg of Eria Jarensis, and 100 mg of Octopamine.
While this pre workout has received rave reviews from fans of high-stim pre workouts, I personally get nauseous when I take this. I'm not sure what ingredient causes it, but it has happened on multiple occasions for me.
You may want to check out another option from my list of strong pre workouts or my list of other pre workouts with DMHA.
DMHA Powerhouse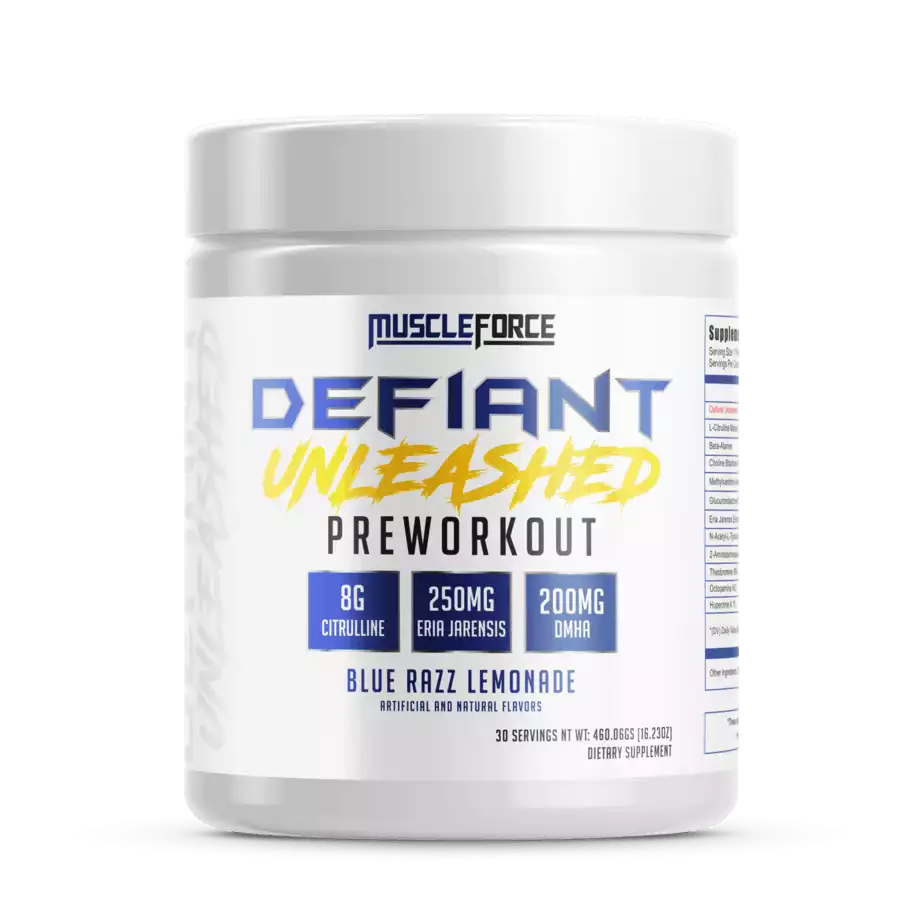 Defiant Unleashed Pre Workout
Defiant Unleashed boats a fully loaded label with loads of caffeine, eria jarensis, and yes, DMHA. Be careful - only for experienced users.
Discount codes:
LIFTVAULT = 15% off at Nutri Cartel
Shop Nutri Cartel
Lift Vault earns a commission if you click this link and make a purchase at no extra cost to you.
My Experience
My experience with Defiant Unleashed pre workout has been mixed.
The first time, I took a half scoop to assess tolerance and felt a nice boost in energy, focus, sweat, and motivation. Not much euphoria, but definitely a lot of motivation.
The second time, I took a measured 15 gram scoop and, as expected, experienced significantly more of the above effects. I took this pre workout mixed with a protein shake, so it was essentially on an empty stomach. After 4 or 5 hours I felt a wave of nausea come over me that lasted for several hours. I vomited to try to expedite the unpleasant experience, but still felt pretty nauseous for several hours after vomiting.
Several weeks later, I went back for a third time (don't say I never did anything for you!) to see if my unpleasant experience was a one-off. I took a half scoop around mid day after eating breakfast (four eggs and a yogurt) and lunch (PB&J and a protein shake). I felt a middling level of nausea, enough to be a little distracting and cause a lot of burping. 
Honestly, I have enough pre workouts on hand that do not cause any nausea so I don't see a reason to take Defiant Unleashed again. This was definitely disappointing, as I'd heard good things and was looking forward to this. 
I'd recommend Assassin Pre Workout, Pre Phase Pre Workout, 1'3 Volt Pre Workout, and Hooligan Pre Workout for those looking for a hardcore pre workout.
Defiant Unleashed Ingredient Label
Defiant Unleashed has a loaded ingredient label that garners a lot of excitement. Let's take a look at the individual ingredients.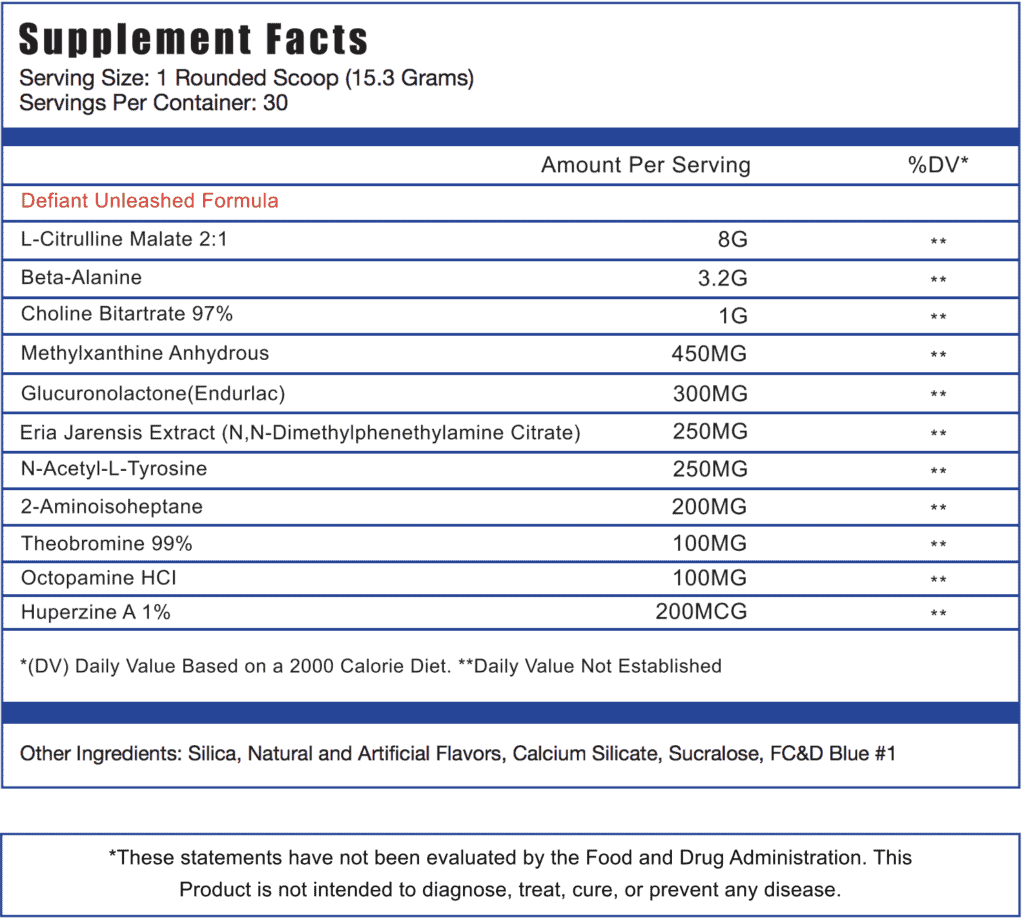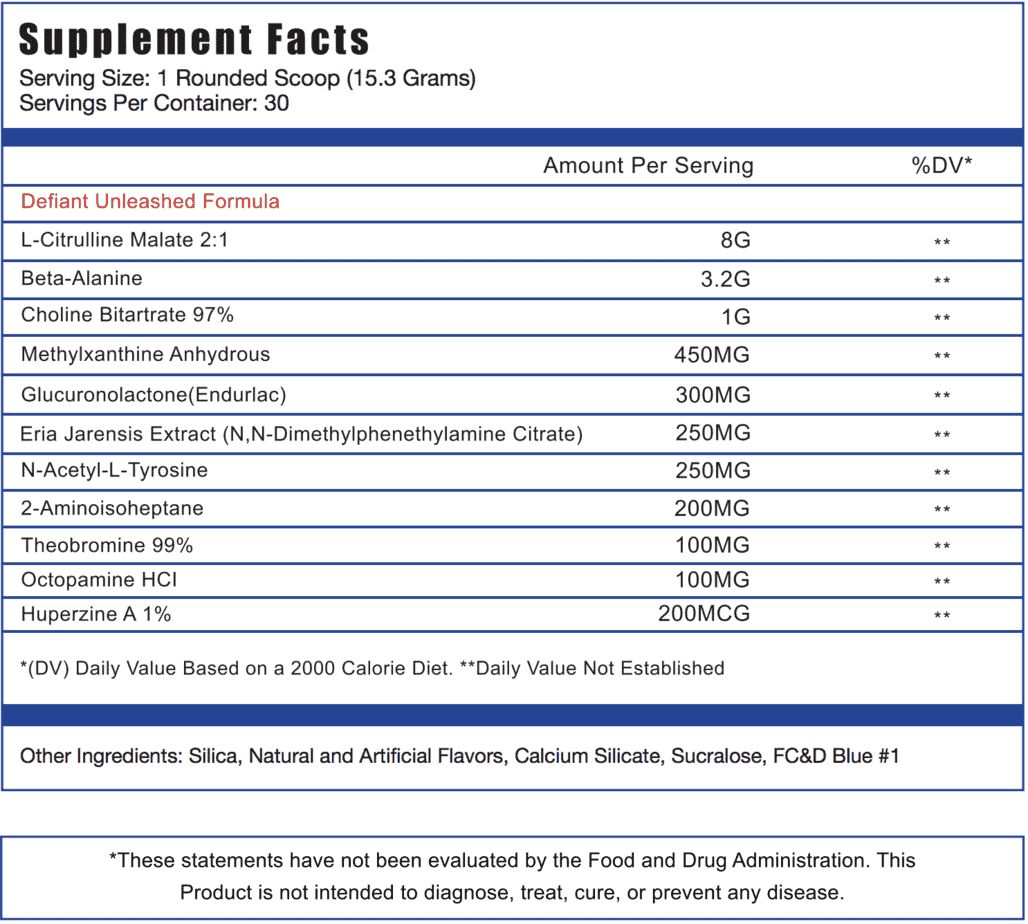 L-Citrulline Malate 2:1 – 8 g
This is a massive dose of Citrulline Malate, coming in at the proper 2:1 ratio. This exceeds the generally recommended 6 gram dosage and will help with endurance, power production, and recovery.
Beta Alanine – 3.2 g
Regular intake of beta alanine has been shown to enhance endurance, aerobic capacity, and reduce fatigue. 3.2 grams is in the recommended dosage range of 3 to 4 grams.
Choline Bitartrate 97% – 1g
Choline is often included in doses ranging from 1 to 2 grams to help boost mental focus as a nootropic. However, it is often included in Alpha GPC form for this purpose and Choline bitartrate may not be as effective for nootropic purposes (source).
While 1 gram is an okay dosage, there really is not enough research around Choline to reliably predict effects.
Methylxanthine Anhydrous – 450 mg
This is caffeine anhydrous (standard caffeine). 450 mg is a high dosage and should be avoided by those sensitive to caffeine. For advanced users, this is a great dosage.
Glucuronolactone (Endurlac) – 300 mg
Glucuronolactone is often included for detoxification and energizing purposes, though there frankly is not much research available on this ingredient.
The Muscle Force site claims that glucuronolactone helps extend the effects of caffeine.
Eria Jarensis Extract – 250 mg
Eria Jarensis is a stimulant that is becoming more common in pre workouts, frequently combined with high doses of caffeine, DMHA, and theobromine it help create a powerful blend of energy and focus.
250 mg is a very solid dosage of Eria Jarensis; it typically ranges from 200 mg to 300 mg in pre workout supplements.
N – Acetyl L Tyrosine – 250 mg
L-Tyrosine is a great ingredient that has synergistic properties with caffeine, helping offset some of the negative effects of large caffeine doses. Unfortunately, N-Acetyl L-Tyrosine (NALT) has a significantly lower bioavailability vs. pure L-Tyrosine, meaning less of it is actually "usable" by the body.
On top of that, you usually want to see a dosage between 1 gram and 1.5 grams in high stimulant pre workouts. So the 250 mg of NALT here is probably the biggest miss in this formulation.
2-aminoisoheptane (DMHA) – 200 mg
DMHA is a stimulant that provides energy, focus, and euphoria. It became a popular alternative to DMAA as regulatory agencies began cracking down on manufacturers that included DMAA in their supplements.
200 mg is a solid dose of DMHA.
Related: How to Buy DMHA Online
Theobromine – 100 mg
Theobromine is a stimulant that is sort of a "caffeine light" ingredient. 100 mg is a common, solid dosage.
Octopamine HCL – 100 mg
This is a stimulant that may also have minor fat burning properties (Examine). It is a metabolite of synephrine.
Huperzine A – 200 mcg
Like Alpha GPC, Huperzine A is a cholinergic that acts as a cognitive enhancer. It tends to be taken in doses of 50 mcg to 200 mcg, so the dose found in Defiant Unleashed pre workout does fall within the clinically effective range (Examine).
Defiant Unleashed Pre Workout Review