Buying DMAA powder and DMHA powder is still relatively easy to do at a few online supplement retailers. This is despite the rocky relationship the FDA and other regulatory agencies have with DMAA and DMHA.
Pure DMHA Powder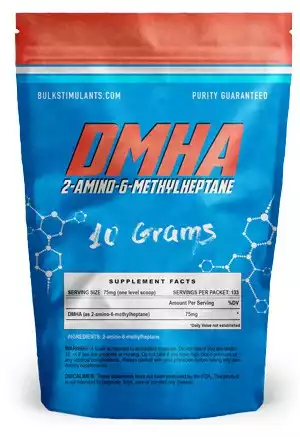 DMHA Powder
10 grams of pure DMHA powder from Bulk Stimulants.
An easy and cost effective way to add energy + euphoria to any pre workout. Your own DMHA stash!
Shop Bulk Stimulants
Lift Vault earns a commission if you click this link and make a purchase at no extra cost to you. DMHA should not be used as a dietary supplement. This is not medical or nutritional advice.
Your Personal DMAA Stash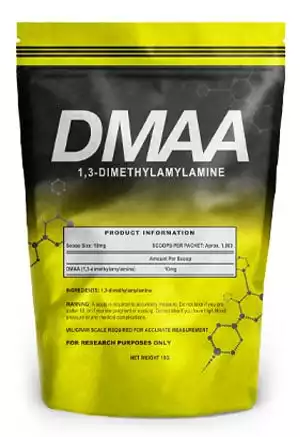 DMAA Powder (1,3 DMAA)
Turn any pre-workout into a DMAA pre-workout with 10 grams of pure DMAA from Bulk Stimulants.
Get insane energy, drive, and focus.
Contains 200 servings (50 mg per serving).
Buy it once, have your own personal DMAA stash for years.
Shop Bulk Stimulants
Lift Vault earns a commission if you click this link and make a purchase at no extra cost to you. DMAA should not be used as a dietary supplement. This is not medical or nutritional advice.
In addition to where you can buy DMAA powder and DMHA powder, I'll break down what these stimulants do, my personal experience, and their legal history in various countries.
Where to Buy DMAA and DMHA Supplements
Due to these stimulants' evolving legal status, DMHA powder and DMAA powder retailers tend to "pop up" and then go away. This can make it tricky to figure out where to buy pure DMAA, DMHA or supplements containing these ingredients.
I'll keep this list updated with current trusted sellers that have powdered forms of DMAA and DMHA for sale online as well as other related products.
If you're interested in learning the difference between these two stimulants, that is covered in our DMAA vs DMHA guide.
Buy DMAA Powder Online
Pure DMAA powder (1,3 dimethylamylamine) can be bought online at the following retailers.
I've tried and tested both brands and has positive experiences.
A milligram scale is recommended for accurate measurements.
Also known as: Methylhexaneamine, methylhexamine, geranamine, geranium extract, geranium oil, 2-amino-4-methylhexane, dimethylamylamine, 1,3-DMAA, 1,3-dimethylpentylamine, 4-methyl-2-hexanamine, 4-methyl-2-hexylamine
Buy DMAA Pills & Capsules Online
Unfortunately, it is pretty difficult to find good DMAA pills or DMAA capsules for sale.
But don't despair, I've got you covered.
Your best bet is to go with Thermal Spark fat burner pills by Imperial Nutrition.
They do not have DMAA, but they do have DMHA, and they are insanely strong. And that's really what counts, right?
Best Appetite Suppression Fat Burner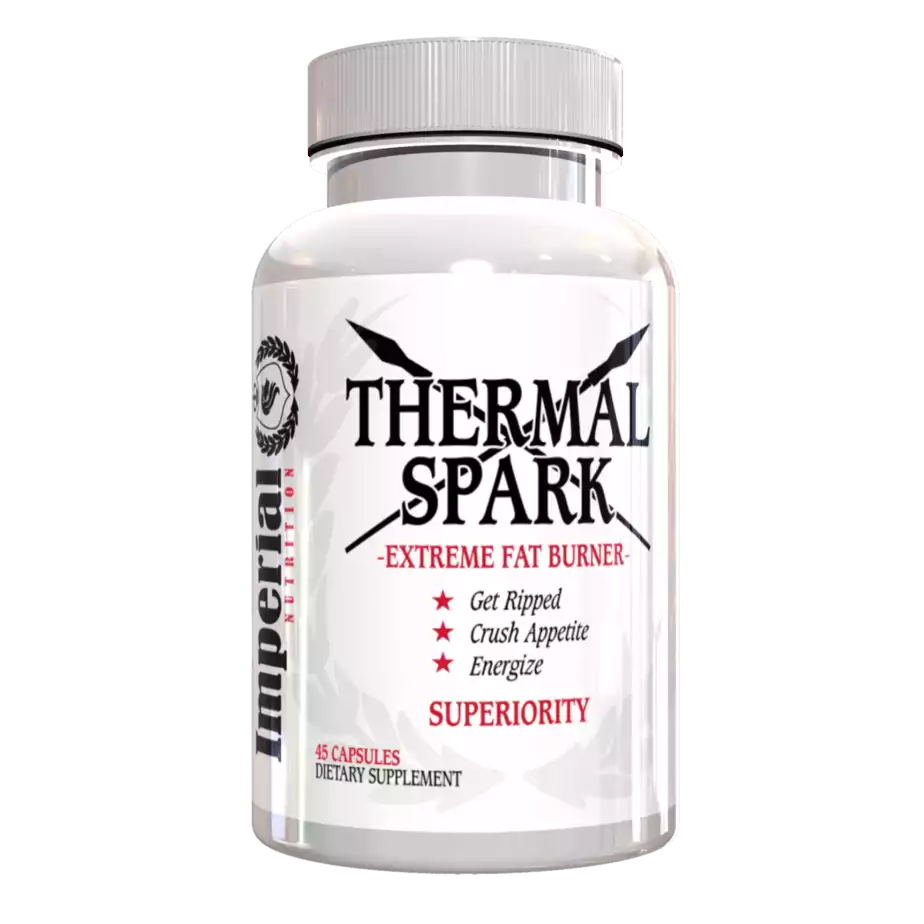 Thermal Spark Fat Burner Pills
Hard to find. If you see 'em, buy 'em.
Extremely potent hardcore fat burner pills from Imperial Nutrition.
DMHA and (maybe) secret ingredients combine to create insane focus, mood elevation, and appetite suppression.
See the Strongest Fat Burners
Lift Vault earns a commission if you click this link and make a purchase at no extra cost to you.
Imperial Nutrition is the company that makes Excelsior pre workout, which feels like an amphetamine. Thermal Spark capsules feel the same way.
But don't just take my word for it. Here's a review from TJ at FDN.
Buy DMHA Powder Online
Pure DMHA powder (2-amino-6-methylheptane) can be bought online at the following retailers.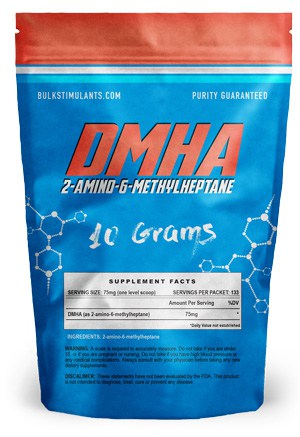 A milligram scale is recommended for accurate measurements if you buy DMAA or DMHA powder.
Related: DMHA Pre Workouts
Also known as: Ottodrina; Vaporpac; Amidrine; 2-Amino-6-methylheptane; 1,5-Dimethylhexylamine; 6-Methyl-2-heptylamine; 6-Methyl-2-heptanamine
Pre Workouts Containing DMAA and/or DMHA
There are still a few pre workouts that contain DMAA or DMHA. The most popular, by far, is Dark Energy (though it as marketed as being only for research purposes). You can read my Dark Energy pre workout review or check out some other pre workouts with DMAA or DMHA below.
Dark Energy (60 mg 1,3 DMAA + 200 mg DMHA per serving)
Leatherfaze (45 mg DMAA per serving)
Zeus (200 mg DMHA per serving)
Full list: DMAA Pre Workout
Note: sometimes DMAA will be shown as 1,3 DMAA or 1,3 dimethylamylamine on an ingredient label.
Comparing Effects of DMAA vs. DMHA
RealJoshTV reviewed the DMAA and DMHA from Bulk Stimulants. He ended up preferring DMHA for its euphoric effects. You can get the full results of his research in the video below.
Simon's Reagent Test: Bulk Stimulants vs. ELV Bio (DMAA)
I wanted to compare how DMAA from Bulk Stimulants and ELV Bio performed in a Simon's Reagent Test. I also looked at some DMAA I had bought from Nutrivita Shop in 2016.
All three turned into a very dark purple, which is what you want to see. Everyone seems legit as far as I can tell. While this does not provide conclusive evidence that what these companies sell is in fact DMAA (other compounds can produce similar colors), it is a supporting piece of evidence alongside the experienced effects.
Compare the color in the photo below to the reference video uploaded to YouTube by Bunk Police, linked below.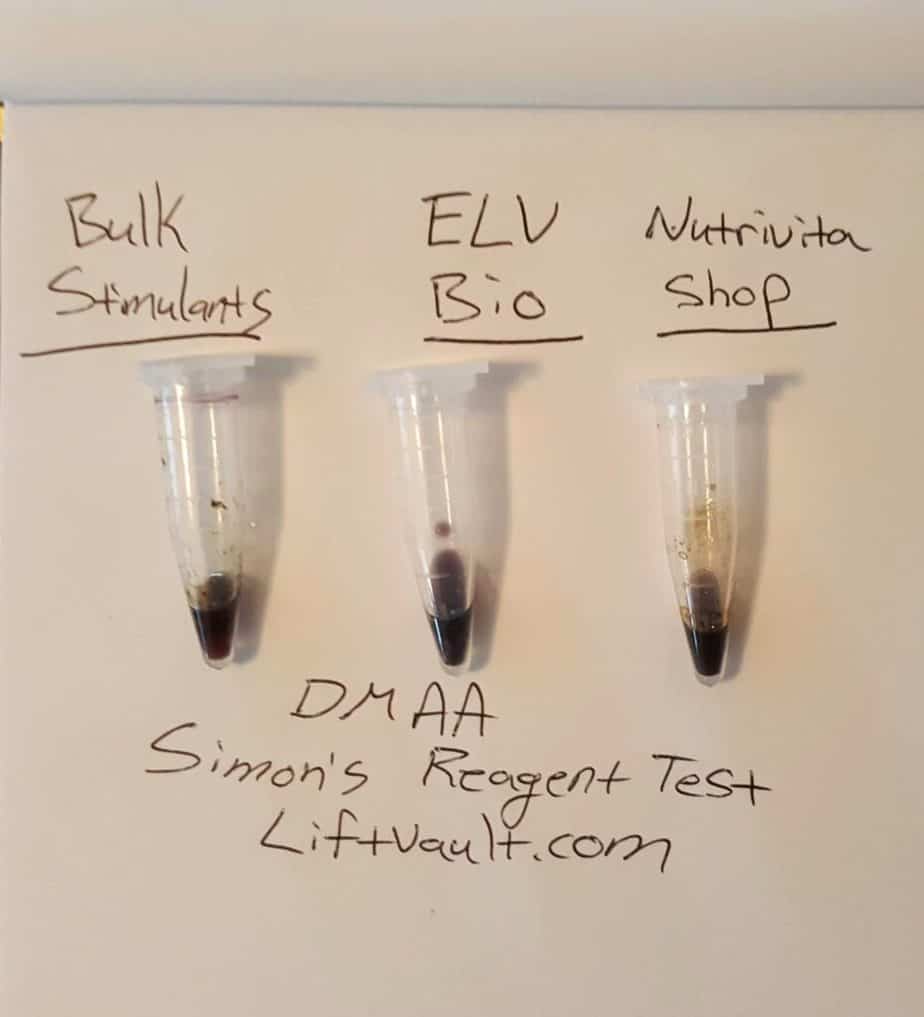 Here is a reference video uploaded by Bunk Police:
Reference entry from SafeTest4 for DMAA:

How to Take DMAA
Dosage information is pretty sparse for DMAA (aka geranium extract). General recommendations from anecdotal reports suggest starting around 25 mg to see how you react before potentially increasing the dose. Many users eventually find that a dose between 25 mg and 75 mg works for them (use a milligram scale).
One study on the effects of DMAA on humans used a 25 mg dose and noted no significant increase in heart rate, blood pressure, or body temperature.
How to Take DMHA
Like DMAA, DMHA dosages are not well defined due to lack of research.
Most pre workouts that contain DMHA use dosages between 100 mg and 200 mg.
Starting at 75 mg to 100 mg to monitor effects is a reasonable starting point.
Remember: you can always take more, but never take less.
Effects of DMAA and DMHA
DMAA is a sympathomimetic drug, acting on epinephrine, norepinephrine, and dopamine in the nervous system. This impacts things like adrenaline, motivation, and pleasure.
In short, it is a stimulant that stimulates the hormones and neurotransmitters listed above, creating energy, motivation, and mood elevation in the user. This makes it relatively obvious why it would be appealing to athletes, especially lifters. It can also suppress appetite, which can make it helpful for weight loss.
DMHA, also known as Octodrine, behaves in a similar fashion to DMAA at roughly 70% to 80% of the potency.
My Personal Experience with DMAA
I first purchased DMAA for personal research in 2015 from NutraBio, who no longer sells it. I added small amounts (~30 mg) to my normal pre workout before going to the gym and found this to be an effective way to dial up the intensity of my workout.
It absolutely added focus and motivation in the gym, helping me tackle my toughest training sessions.
I only used the DMAA in the mornings or mid day, never in the evening. I also only used it 1-2 times per week for my longer workouts. Under these conditions, I didn't notice any significant adverse effects on my mood or sleeping patterns.
I have never used DMHA in this manner (supplementing it myself), though I have experienced it by taking Dark Energy, which contains DMHA and DMAA.
Legal History of DMAA and DMHA
DMAA has been under legal scrutiny in a number of countries dating back to at least 2011 when Health Canada declared it was not a dietary supplement, but a drug, effectively banning the sale of it in supplements.
Much of the controversy stemmed from the popularity of the original Jack3d pre workout, which contained DMAA and sparked warning letters from the FDA in 2013. While the FDA cites 5 deaths where DMAA was present in the individual's system, it has not been able to prove that the DMAA was the cause of death.
A 2012 review of risks associated with taking DMAA by the US Department of Defense ruled that:
"The existing evidence does not conclusively establish that DMAA-containing substances are causally-associated with adverse medical events. However, a consistent theme among the studies is that DMAA use potentially affects cardiovascular function, just as other sympathomimetic stimulants. Without further rigorous study designs developed to evaluate the safety of DMAA, especially in patients with concomitant use of other substances, co-morbid conditions and high frequency use, the magnitude of the association of DMAA with adverse medical events is uncertain. Widespread use of DMAA-containing products by tens of thousands of Service members – often in combination with other substances – increases the likelihood of observing serious adverse events, even if the overall risk of a DMAA-related event is low, resulting in consequential impact to some Service members and other beneficiaries. DMAA should be further studied to evaluate its safety. Data from the case control study suggest that the frequency and amount of DMAA use and risk of specific [acquired medical events], particularly heat injuries and rhabdomyolysis, need to be examined in greater detail. … The Safety Review Panel recommended … to continue the prohibition of sales of DMAA-containing products in Exchanges and concessions. The Panel judged that the evidence supports sufficient risk, even if very low, of another death or catastrophic illness of a Service member who has used DMAA-containing products, without any offsetting benefit of these products."
Ultimately it is up to the individual what risks they are willing to tolerate when purchasing and consuming dietary products.
None of what is shared on this page should be construed as diet, nutrition, of health advice. Consult a licensed medical physician before taking any substance, including DMAA and DMHA.
A full list of the legality of DMAA (and products that contain it) in various countries is available on Wikipedia.
Frequently Asked Questions about DMAA
Do any pre workouts still have DMAA in them?
Yes, there are still a few pre workout products with DMAA available. Dark Energy, Irate, and Leatherfaze are some of the last pre workouts available that still include DMAA.
See the full list of DMAA pre workouts.
Is it possible to buy DMAA powder online?
Yes, an updated list of retailers that have DMAA pre workouts and bulk DMAA powder for sale is maintained on this page.
Bulk Stimulants is a popular choice for DMAA powder.
Is it possible to buy DMHA powder online?
Yes, many retailers that sell DMAA also sell DMHA, including the retailers listed on this page.
Bulk Stimulants is a popular choice for DMHA powder.
Is DMAA legal?
In the US it is illegal for DMAA to be sold as a dietary supplement. That is why some products, like Dark Energy, are sold for research purposes only.
However, it is legal to buy and possess DMAA in the US. A list of laws for other countries is linked above.