Fat burners almost sound too good to be true.
So here's the straight talk: if you want a magic pill that will help you lose weight while you eat pizza & ice cream on the couch, fat burners won't be effective for you.
If you're not training, dieting, and recovering to support weight loss, then even the best fat burners won't do anything to help you.
If you're already doing everything right, a high quality, research-backed fat burner can help give you an extra edge.
Here are the strongest fat burners with the most potent ingredients. Read on for a full breakdown of each product, along with its full supplement facts label and a list of key ingredients.
Each has been hand-picked after extensive testing and personal experience.
The 7 Strongest Fat Burners in 2022
Chaos Fat Burner
Key Ingredients:
Caffeine Anhydrous – 300 mg
Green Tea Extract – 750 mg
Paradoxine (Grains of Paradise) – 225 mg
InnoSlim – 125 mg
Synephrine HCL – 60 mg
Capsicum Extract – 50 mg
If you're looking for the best fat burner that has a powerful, well-rounded ingredient label backed by research, Chaos Fat Burner is a great choice. Including thermogenic ingredients like Green Tea Extract , Synephrine, and Capsicum Extract with a massive 225 mg dose of Paradoxine makes this the most loaded label on the entire list.
If the Apollon Nutrition name sounds familiar, it's because they regularly appear on our "best of" product roundups. Their name is synonymous with transparent, over-dosed labels. They have multiple products on our list of the best pre-workout supplements and the strongest pre-workouts available.
But really, that's what we've come to expect from Apollon Nutrition.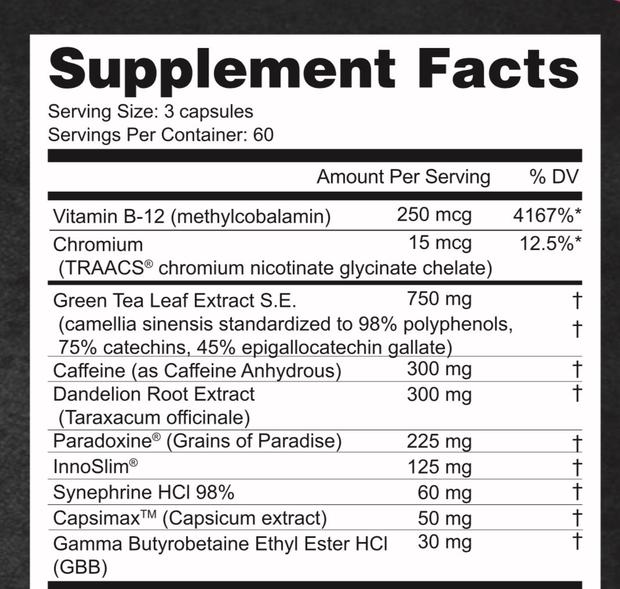 Thermal Spark Fat Burner
Key Ingredients:
Bitter Orange Extract (Synephrine)
If you want intense focus and appetite suppression, then Thermal Spark is the fat burner for you. Although its ingredient label may not look like much, it is an absolute juggernaut in disguise.
You will eat less after taking Thermal Spark. There's no way around it.
Also be warned: there's most likely something in this that is not declared on the label. It feels like an amphetamine high and can produce significant mood crashes after taking it.
If you want something that will surely get banned at some point and be hailed as one of the legendary fat burners, this is for you.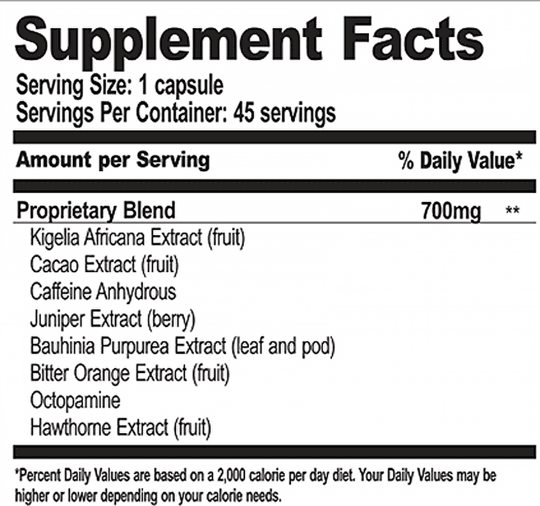 Herolean Thermogenic Fat Burner
Key Ingredients:
Caffeine Anhydrous – 300 mg
Green Coffee Bean Extract – 150 mg
DMHA – 200 mg
DMAA – 100 mg
Synephrine HCL – 50 mg
Yohimbine HCL – 10 mg
Rauwolfia Vomitoria Root Extract (Alpha Yohimbine) – 3 mg
If you're simply looking for a hardcore fat burner with the most alpha yohimbine, then Herolean is the answer. With a whopping 10 mg of Yohimbine HCL, 3 mg of Alpha Yohimbine, DMAA, DMHA, Synephrine, and 300 mg of caffeine – it has a nice stack of proven fat burning ingredients and powerful stimulants.
Herolean is also an excellent choice for those looking for a fat burner powder. No pills here.
Be warned, this is not for beginners or even intermediates. Advanced users only.
As I mentioned in my full Herolean review, a full scoop was too much for me. I'd definitely recommend starting with a half scoop and only if you know you can handle alpha yohimbine.
Related: Best DMAA Fat Burners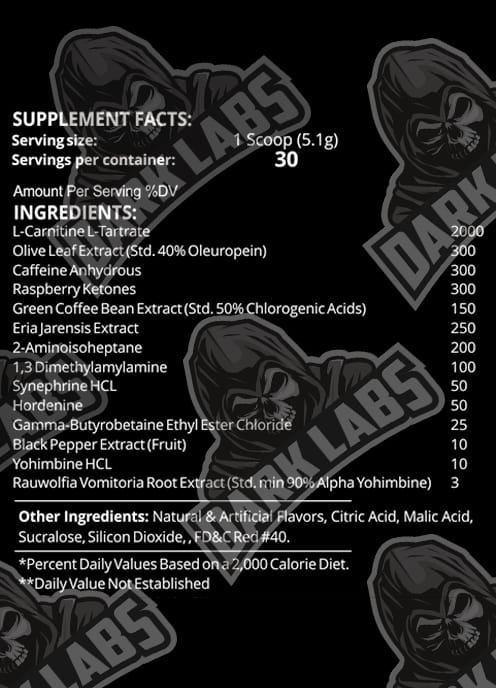 Demonio Thermogenic Fat Burner
Key Ingredients:
Caffeine – 450 mg
InnoSlim – 250 mg
Yohimbine HCL – 3 mg
Alpha Yohimbine – 3 mg
Demonio Thermogenic Fat Burner from ASC Supplements is a great, well-rounded choice for those looking for a strong boost of energy without a ton of negative side effects.
Like Vanquish, Demonio is a great choice as a pre workout replacement, possibly paired with a great non-stim pump pre workout.
While it does have 3 mg of Alpha Yohimbine in a full 4 pill serving, I find that taking 2 pills is enough to get me movin' and burnin'.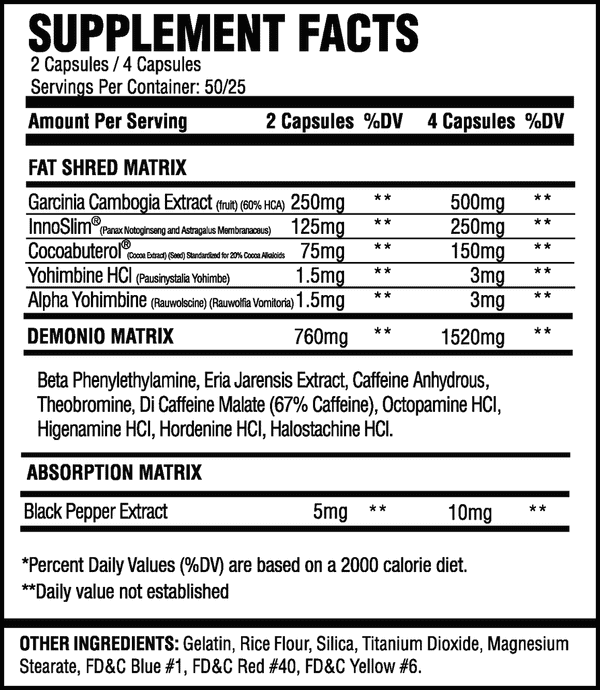 Vanquish Thermogenic Fat Burner
Key Ingredients:
Caffeine Anhydrous – 250 mg
DMHA – 100 mg
Paradoxine – 30 mg
Alpha Yohimbine – 1.5 mg
3,5-diiodo-L-thyronine – 200 mcg
Vanquish Hardcore is a solid fat burner supplement from MuscleForce.
This is a good choice for those who want a fat burner that packs a powerful stim punch that lasts about three hours. It peaks quickly and within an hour of taking it, you'll definitely feel a strong sense of stimulation and urgency. I think this would be a great fat burner to take before working out and could replace a strong pre workout.
I'd look at this as a providing a bit more "stimulation" than Demonio, but in a shorter timeframe. Demonio is longer lasting, while Vanquish is more of a short-lived effect. Both have strong energizing and stimulation effects.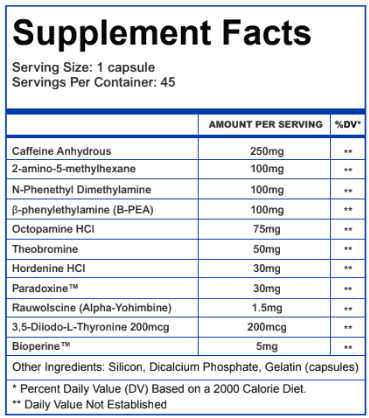 Eliminate Fat Burner
Key Ingredients:
Green Coffee Bean Extract – 402 mg
5-HTP – 300 mg
Caffeine Anhydrous – 201 mg
Di-Caffeine Malate – 51 mg
Paradoxine (Grains of Paradise) – 51 mg
Yohimbine HCL – 2 mg
Eliminate Fat Burner from Huge Supplements is a great choice for those looking for an effective fat burner without alpha yohimbine or a lot of caffeine.
Why?
You're only getting ~230 mg of caffeine between the caffeine anhydrous and di-caffeine malate. On top of that, there is no alpha yohimbine; there is yohimbine HCL, but that's not the same and doesn't carry the same negative side effects.
This is not to say it's weak. It's not weak. To quote Garage Gym Homie: "It hits. It's a hitter."
Eliminate also has an impressive combination of proven fat burning ingredients like Green Coffee Bean Extract, Paradoxine, and Yohimbine HCL, plus 5-HTP, which can help you eat a bit less.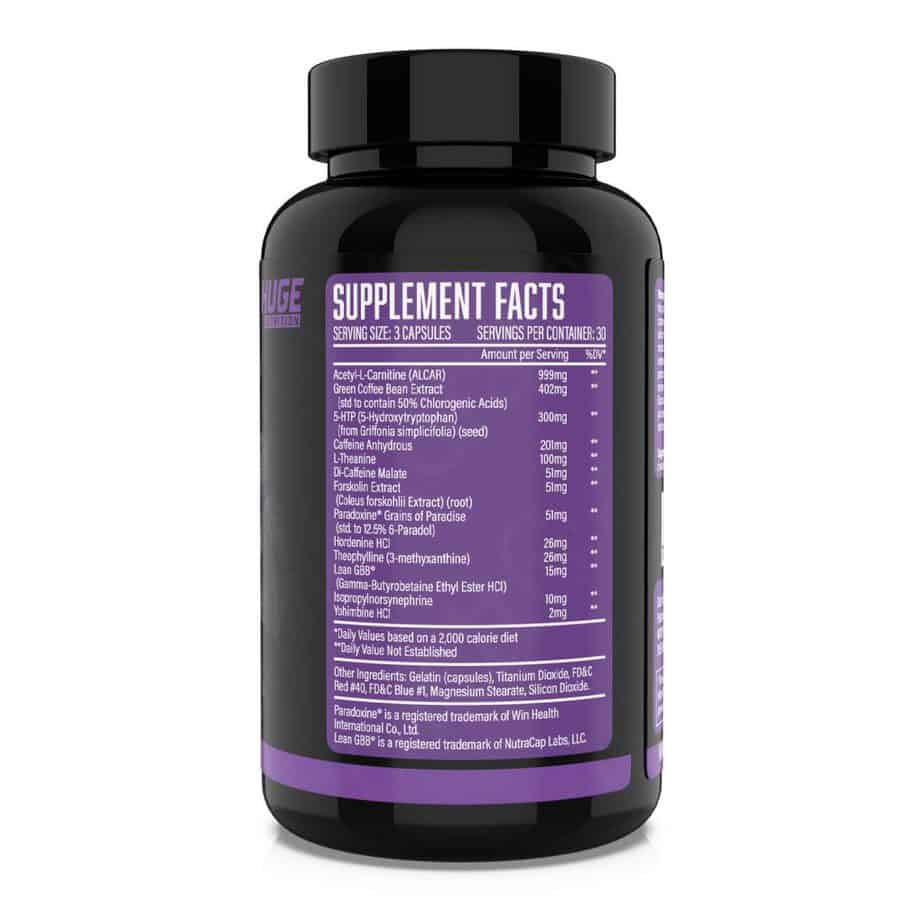 Superhuman Burn Pre Workout + Fat Burner
Key Ingredients:
MitoBurn – 500 mg
Synephrine – 100 mg
CaloriBurn GP (Grains of Paradise Seed Extract, 6-Paradol 12.5%) – 40 mg
Caffeine Anhydrous – 250 mg
Di-Caffeine Malate – 100 mg
L-Citrulline – 4 g
Beta Alanine – 3.6 g
L-Tyrosine – 1 g
Superhuman Burn is an excellent choice for those looking for a strong fat burner that doubles as a pre workout. In fact, it was selected for our list of the best thermogenic pre-workouts.
By combining great fat burning ingredients like MitoBurn, Synephrine, and Grains of Paradise with L-Citrulline, Beta Alanine, and L-Tyrosine, you're getting an excellent weight loss aid with a powerful pre workout.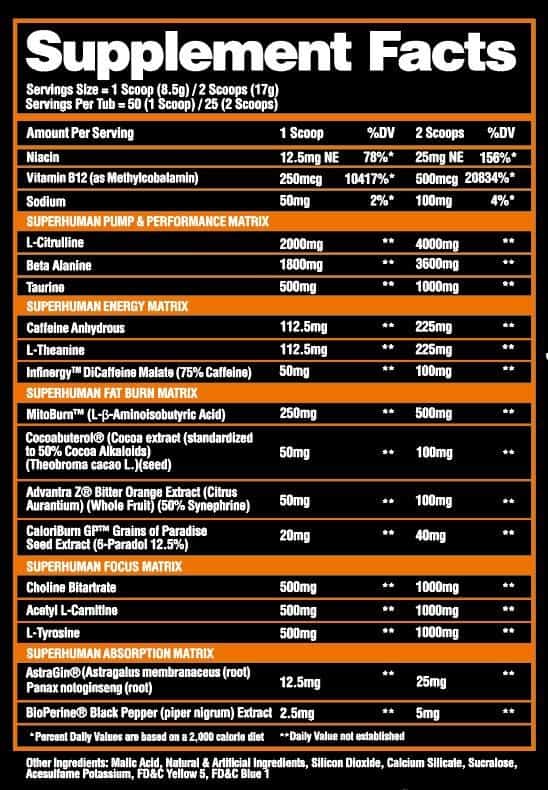 How Do Fat Burners Work?
Fat burning supplements use three distinct mechanisms to help you burn fat & lose weight: appetite suppression, thermogenesis, and fat oxidation.
These can be used in conjunction with diet and exercise to help you burn additional calories throughout the day. This can help you achieve your weight loss goals.
Appetite Suppression
Eating fewer calories is the single most effective thing you can do in order to lose weight. In fact, it could be the only thing you do in order to lose weight.
And the best part?
It costs you nothing to eat less. You even save money if you factor in the cost of food.
But eating less is hard. I love to eat. I get it. So some fat burners help you lose weight but helping you consume fewer calories.
This is crucial.
Remember: you can eat more than any fat burner will help you burn through fat oxidation or thermogenesis.
Eating less and exercising is 90% of the battle. Thermogenesis and fat oxidation are the extra 10%.
But hey? Who doesn't want to be 10% better?
Thermogenesis
Thermogenesis is the process of creating heat. When the body burns calories it is creating heat, so supplements that increase metabolism (calorie burning) can be labeled as thermogenic fat burners.
As an example, each milligram of caffeine consumed leads to an additional 0.1 calories burned for the day. Don't get too excited: 300 mg of caffeine would translate to 30 calories per day – but the example is useful for understanding how thermogenic fat burners work.
Other thermogenic ingredients include green tea extract (EGCG), capsaicin, yohimbine, and synephrine.
Fat Oxidation
Fat oxidation is the process by which fatty acids are broken down into carbon dioxide. The most promising supplement that assists the fat oxidation process is EGCG (i.e. green tea extract).
Fat Burning & Thermogenic Ingredients to Look For
The world of weight loss is notorious for shady products that don't really work.
Here are some ingredients with proven research that demonstrate their efficacy for helping individuals lose weight.
The best fat burners should contain some of these ingredients. If they don't – I'd avoid them.
If you want the strongest fat burner supplements available to help you achieve your weight loss goals, make sure they have some of these ingredients at the proper dosages.
Grains of Paradise
Grains of Paradise has some very promising research around it, but still needs additional evidence to support its fat loss effects. With that said, there is some interesting research that shows it can activate brown adipose tissue, which can help increase a body's metabolism and lead to increased weight loss.
Different ingredient sources will use Grains of Paradise that have different percentages of 6-Paradol, the active ingredient in Grains of Paradise with metabolic effects.
Clinical trials used 40 mg at 12.5% purity, so you should use that as a guide when seeing how much is present in any thermogenic fat burners you're comparing.
If you see Paradoxine listed, that is a patented form of Grains of Paradise that is standardized to 12.5% 6-Paradol.
Yohimbine
Yohimbine has been shown to reduce fat mass in both lean and obese individuals. Unfortunately, it can also cause unwanted side effects like anxiety, chills, and cold sweats.
Yohimbine aids in fat loss by interacting with catecholamines, similar to EGCG. Yohimbine binds to Alpha-2 receptors instead of the catecholamines, which frees up the catecholamines to bind to beta receptors, burning more fat cells.
Clinical doses are 0.2 mg of Yohimbine per kg of bodyweight, which is a pretty large dosage.
While Yohimbine is not uncommon to see in pre workout supplements, it is rarely included at such a high dosage in thermogenic fat burners. Additional supplementation would be needed for optimal results.
Yohimbine sensitivity varies significantly from person to person, so it is recommended you start a low dosage and gradually work up to assess your tolerance.
Mitoburn
Mitoburn is a patented form of L-beta-Aminoisobutyric Acid (aka L-BAIBA or BAIBA). Oral supplementation of L-BAIBA has been shown to increase the oxidation of fatty acids within the liver, decrease fat gain, and enhance glucose tolerance. This assists with weight loss.
In general, a 500 mg daily dosage is recommended for L-BAIBA. This can either be taken as two 250 mg doses throughout the day or one 500 mg dose before working out.
5-HTP
5-HTP is a precursor to serotonin. Serotonin is a neurotransmitter that has been linked to emotions like happiness.
Intake of 5-HTP can increase levels of serotonin in the brain, which can lead to feelings of fullness and reduced cravings for food.
So while 5-HTP is not an appetite suppressant in the traditional sense, if taken with a meal it can lead to eating less overall and still feeling satisfied. And really, eating less is one of the most effective weight loss methods available.
I can also personally attest to the mood-boosting effects of 5-HTP. I have noted significant improvements in mood within 30-45 minutes of taking it.
These effects of overall reduction in appetite are supported by very consistent research with a notable magnitude of effect.
An effective dosage of 5-HTP ranges between 300-500 mg.
EGCG (Green Tea Extract)
EGCG (epigallocatechin gallate) is a plant-based compound called catechin. Catechins are natural phenols and antioxidants with a wide array of effects. Common sources include white tea extract and green tea extract. In fact, it's often simply referred to as green tea extract.
So how does green tea extact work?
EGCG acts as a fat burner by inhibiting catechol-0-methyltransferase (COMT), an enzyme that degrades catecholamines. By inhibiting COMT, catecholamine levels elevate.
Why do you care?
Because catecholamines help break down fat stores. By inhibiting COMT, EGCG allows catecholamines to do their thing for longer periods of time, leading to increased levels of fat removal.
In terms of dosage, most people should try to aim for 400 to 500 mg of green tea extract per day.
InnoSlim
InnoSlim is a trademarked metabolic nutraceutical blend of Panax notoginseng and Astragalus membranaceus. It's starting to appear in more and more weight loss supplements, like Chaos and Demonio.
Although InnoSlim triggers many different reactions in the body, the end result is a reduction in the number of calories absorbed by the body and more efficient usage of the remaining calories.
While human trials of InnoSlim are limited, there has only been one, it does seem to be a promising ingredient.
Recommended dosages range from 250 mg to 500 mg daily.
Capsaicin
Capsaicin, an active compound found in chili peppers, has been shown to help reduce bodyweight by reducing appetite, though results are not consistent.
It has also been shown to help increase fat oxidation rates in untrained male subjects and may induce heat production via neuronal stimulation.
A common form of capsaicin supplementation is through cayenne pepper. In this form, a daily dosage of 30-120 mg is recommended up to three times per day (one dose with each meal).
Synephrine
Synephrine is a well-researched ingredient that has been shown to aid in weight loss. It is a pretty common ingredient in many reputable weight loss supplements.
It may also appear on ingredient labels as bitter orange extract. You may also see iso-norsynephrine, which is also a lipolytic agent and is generally considered to be a stronger version of synephrine.
"In general, bitter orange extract alone (p-synephrine) or in combination with other herbal ingredients did not produce significant adverse events as an increase in heart rate or blood pressure, or alter electrocardiographic data, serum chemistry, blood cell counts or urinalysis. p-Synephrine alone as well as in combination products were shown to increase resting metabolic rate and energy expenditure, and modest increases in weight loss were observed with bitter orange extract/p-synephrine-containing products when given for six to 12 weeks."
Synephrine can also increase energy and improve appetite control.
White Willow Bark
White will bark is a plant source of salicin, which is metabolized into salicyclic acid. It may possess synergistic properties when combined with caffeine and syneprhine to burn fat.
120 mg of salicin is the recommended daily dosage.
Popular Stimulants & Nootropics in Powerful Fat Burners
Stimulants are popular ingredients in both fat burners and pre workouts for their ability to increase energy, enhance mood, and improve motivation. This can be crucial for fat burners, as diets can lead to decreased energy and, let's face it, grumpiness.
Stims can carry you over this hump and help you achieve your dieting goals.
Here are some stimulant ingredients to look for when deciding which fat burning supplement is right for you.
It's worth noting that some ingredients possess both fat burning and stimulant properties, like synephrine and yohimbine. These are included in the "fat burning ingredients" section above.
Caffeine Anhydrous
Good ol' caffeine, my all-time favorite supplement. You know what it is: a energizer, mood enhancer, and motivation provider. And for some of us: a reason to wake up in the morning.
Anywhere from 200 mg to 400 mg is a solid dose, depending on your individual tolerance.
Di-Caffeine Malate
Di-caffeine malate is the "extended release" version of caffeine. It can help offset some of the crashing effects of caffeine anhydrous and extend the benefits.
Anywhere from 100 mg to 200 mg of di-caffeine malate is what I personally like to see in my supplements.
As di-caffeine malate is bound to malic acid, it is usually 75% caffeine, 25% malic acid, so 100 mg of ci-caffine malate is effectively 75 mg of caffeine.
DMHA
DMHA is a stimulant that increases energy, feelings of euphoria, and general motivation. It is also included on ingredient labels as 2-aminoisoheptane, Juglans Regia Extract, and octodrine.
Related: Best DMHA Pre Workout Supplements
DMAA
DMAA is a stimulant, structurally similar to DMHA, that sharply increases focus, energy, and motivation.
Related: Best DMAA Pre Workout Supplements
Rhodiola Rosea
Rhodiola Rosea has been shown to reliably create a notable reduction in fatigue, which can help you complete more intense training. By training more intensely, you can burn more calories.
Doses as low as 50 mg have been shown to be effective against fatigue when taken daily. If taken once for immediate effect, doses need to be increased to 290 mg or greater.
Frequently Asked Questions
What is the best fat burner for appetite suppression?
The best fat burner for appetite suppression is Thermal Spark from Imperial Nutrition.
How long does it take to see results from using a fat burning supplement?
First of all, weight loss is the result of a proper diet and exercise routine. There's no way around that fact. Fat burners are simply an additional "oomph" in the right direction.
Generally speaking, if you cut 500 calories from you diet and keep everything else the same, you'd lose about one pound per week. If we assume fat burners help you burn an additional 100 calories per day, then you'd lose about one extra pound every five weeks.
So, over the course of a year, they might help you drop an additional 10 pounds, assuming your diet and exercise routines align with these goals.
Do fat burners increase muscle mass?
No, not directly, though losing weight and reducing body fat can help your muscles look more defined.
Is L-Carnitine an effective weight loss ingredient?
Generally speaking, studies on L-Carnitine as a fat burning aid "do not show very good results." It is possible that increased energy levels from L-Carnitine could lead to increased calorie expenditure.
This does not mean L-Carnitine is a bad ingredient, but we probably would not recommend purchasing a product based on the inclusion of this ingredient.
Fat Burners Considered
The following fat burners were considered, but did not make the list of strongest fat burners. This does not mean they are low quality fat burners, they just were not amongst the strongest considered in Lift Vault's opinion.
Burn Lab Pro Fat Burning Support
PhenGold Fat Burner
Jacked Factory Burn-XT
Leanbean Fat Burner
Transparent Labs Fat Burner
Legion Phoenix
PhenQ Fat Burner
Instant Knockout Fat Burner
Trimtone
Hunter Burn
EVlution Trans4orm