Red Sky is a hardcore thermogenic fat burner supplement from Chaos and Pain.
Supp Kingz was kind enough to hook me up with a sample to review this for you all. And damn, Red Sky absolutely gave me something to talk about.
In short – if you want something to raise your body temperature, increase your energy, and bring down your appetite, definitely check out Red Sky.
Ultimately, I probably won't be finishing my bottle of this product, as it didn't make me feel great, but it might be right for you if you're looking for a fat burner with extremely strong stimulants effects. I don't say that lightly.
If you want an energy kick with solid fat burning ingredients and decent appetite suppression, check out Demonio by ASC Supplements. I'd also recommend checking out my list of the strongest fat burners.
For more detail on Red Sky, read on below!
Hardcore Thermogenic Fat Burner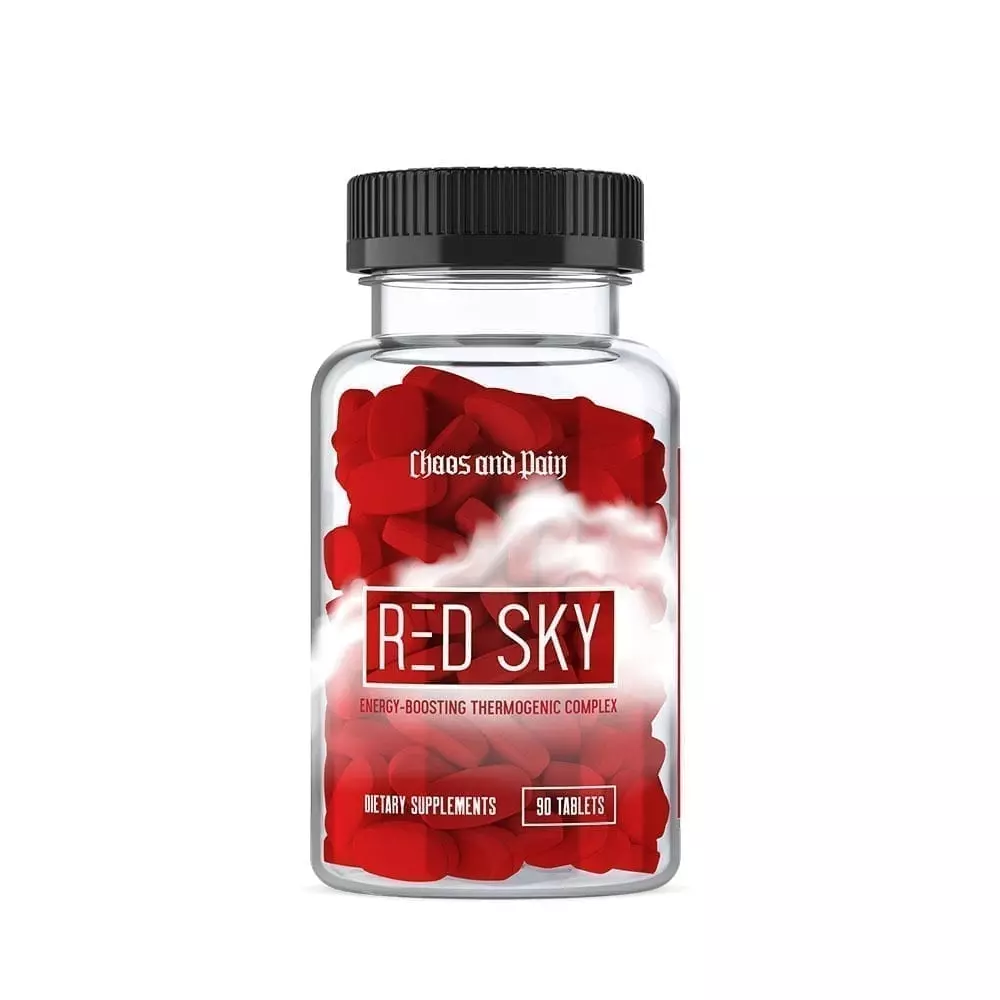 Red Sky Fat Burner - Chaos & Pain
Hardcore thermogenic fat burner from Chaos & Pain. Experienced users only!
Discount Codes:
LIFTVAULT = 15% off at Chaos & Pain
Shop Chaos & Pain
Lift Vault earns a commission if you click this link and make a purchase at no extra cost to you.
Where to Buy
You can pick up Red Sky fat burner from the following retailers:
My Experience
3 Pill Experience
I'll be honest: I overdid it.
I took a full 3 capsule serving of Red Sky right out of the gate and this was a mistake. I tried again with 1 capsule and had a much better experience, but I'll get to that later.
3 capsules was too much, man. I was wired. Within 45 minutes my hands were shaking and my skin was flushed. My girlfriend asked what was wrong with me, as I just looked off.
Mentally I was amped up, but also scattered. Like it was hard to think straight.
After about two hours I started to come back down to Earth and was able to act like a normal person again.
Appetite suppression was decent, but not overwhelming. I was still able to eat three or four hours after taking a full serving, which seemed normal.
I also didn't notice much mood elevation. Personally the most noticeable effects were energy, stimulation, increased heart rate, cold sweats, and increased body temperature.
If I had been working out I would have been sweating a ton, but since I was just going about my daily business I wasn't sweating that much. Even then, I did notice a significant increase in heart rate. If I had been exercising I probably would have had to stop every few minutes to catch my breath, like I did with Herolean.
1 Pill Experience
Taking 1/3 of a full serving (1 pill) was way more tolerable and productive for me. I still noticed an increase in stimulation, energy, and body temperature, but felt significantly more comfortable. This dosage could probably be used as a thermogenic pre-workout, but only by experienced users.
My hands were not shaking and my heart was jumping out of my throat, which is always a plus.
Overall, I'd definitely recommend starting with 1 pill and assessing from there. Don't be a hero.
Overall
After trying Red Sky at 3 pills and at 1 pill, I'd have to say that it's just a little too strong for me. Even at 1 pill there was some discomfort and for me that's just not worth it, especially when fat burners make such a small difference in the total number of calories burned in a day.
I do think Chaos and Pain assembled a strong ingredient profile here, so if you're looking for a strong fat burner this might be up your alley. Everyone's a little different and for me Red Sky just wasn't a great fit.
Red Sky Ingredients Label
I'm still working on tracking down an image of the Red Sky ingredients label, so I might just need to take a photo of my bottle.
But fear not, a full list is below for now.
Acetyl-L-Carnitine – 650 mg
L-Carnitine is a compound made in the body, composed of lysine and methionine. Once acetylated, it becomes Acetyl-L-Carnitine and is able to cross the blood-brain barrier much more easily.
While it is often included in fat burner products, like Herolean or Superhuman Burn, the research around its fat burning efficacy is mixed, with some positive effects shown for weight loss in obese subjects.
Acetyl-L-Carnitine also has potential in other areas, such as reducing depression, reducing fatigue in older adults, and helping with recovery from exercise.
650 mg falls within the standard dosage for this ingredient.
Caffeine Anhydrous – 300 mg
Caffeine anhydrous is the standard form of caffeine found in coffee, energy drinks, etc. It's what you expect when you hear "caffeine": the energy, focus, and mood boost.
300 mg is a very solid dose for caffeine. For the caffeine-naive it is an extremely strong dosage and for the caffeine-tolerant it is still a great, impactful dosage.
Eria Jarensis – 200 mg
Eria Jarensis is a stimulant that is becoming a popular alternative to DMAA or DMHA. Sometimes you'll see those ingredients combined, like with Pre Phase. It increases levels of dopamine and noradrenaline in the user and can enhance mood, increase motivation, and dial in concentration.
A solid dose of Eria Jarensis usually ranges between 150 mg and 250 mg, with 200 mg being quite common.
Senegalia Berlandieri extract – 250 mg
Senegalia berlandieri extract is supposed to increase metabolism by as much as 22% in as little as 45 minutes. Aside from this one study, there is not much research available on this ingredient's efficacy that I'm aware of.
250 mg appears to be the same dosage used in the study.
Green Coffee Bean Extract – 100 mg
Green coffee bean extract is a concentrated source of dietary chlorogenic acid. It is often used for promoting heart health and aiding fat loss.
There is some limited research suggesting that green coffee bean extract can provide minor reductions in weight and fat mass. More human studies are needed to corroborate these claims.
Assuming the green coffee bean extract in Red Sky has been standardized to 50% chlorogenic acid content, a clinical dosage of it would start at 240 mg and go as high as 600 mg. As such, this ingredient appears to be underdosed in Red Sky.
However, the precise standardization percentage has not been explicitly declared on the ingredients label, so this is speculative.
Thermo-V – 100 mg
Thermo-V is a blend of three ingredients: stearoyl vanillylamide, capsaicin, and zingerone.
Stearoyl vanillylamide and capsaicin work together to provide a sustained increase of lipolysis via β-adrenoreceptor activation (i.e. fat oxidation is improved, as well as thermogenesis).
Zingerone is included to act as a potentiator of the above two ingredients.
Paradoxine (std to 12.5% 6-paradol) – 60 mg
Grains of Paradise (i.e. paradoxine) has some promising research around it, but still needs additional evidence to support its fat loss effects. With that said, there is some interesting research that shows it can activate brown adipose tissue, which can help increase a body's metabolism, burning more calories in the process.
Different ingredient sources will use Grains of Paradise that have different percentages of 6-Paradol, the active ingredient in Grains of Paradise with metabolic effects. Clinical trials used 40 mg at 12.5% purity, so you should use that as a guide when seeing how much is present in a given product.
Therefore, the 60 mg of paradoxine included in Red Sky is an effective dosage.
ProGBB
ProGBB is converted by the body into L-carntine, which, as we covered above, can assist with weight loss by assisting with the metabolic process that converts fat into energy.
GABA – 30 mg
GABA is an amino acid that behaves as a neurotransmitter, attaching to your brain's GABA receptors and depressing the central nervous system (CNS).
It's also worth noting that not everyone responds the same way to oral GABA supplementation. Some people feel the effects more than others.
These GABA receptors are the same types of receptors that benzodiazepines (aka "benzos") like Xanax or Ativan attach to, producing a calming effect on the CNS.
To be clear: GABA and benzos attach to similar receptors, but they are not the same classification of drug. Benzos have a well documented effect.
Oral GABA supplementation effects are less well documented, but they been reported anecdotally. Nitric oxide has also been shown to help GABA cross the blood brain barrier (i.e. make it effective instead of just swimming around in the body, where it can't attach to GABA receptors in the brain), which citrulline malate helps with
30 mg of GABA is not a super high dosage and from experience I can tell you that I felt anything but chilled out after taking Red Sky.
Theophylline Anhydrous
This is a branchodilator. It opens up the airways in your lungs to make it easier to breath.
This is a pretty unusual ingredient, though it is also found in Chemix's pre workout.
Higenamine – 50 mg
Higenamine is thought to have similar mechanisms to ephedrine, which has led to usage as a fat burner, though this is not well researched.
Examine says it is typically taken in doses of 20 mg to 30 mg two to three times daily, so 50 mg is effectively a full daily dose delivered all at once.
Hordenine – 50 mg
Hordenine (N,N-dimethyltyramine) is a stimulant that is often included in recent nootropic pre workouts. It is not widely researched, so much of the information available comes from anecdotal accounts.
According to those account, "effective" doses start around 20 mg, so the 50 mg included in Red Sky should be enough to feel the focus effects touted by proponents of Hordenine.
Evodiamine – 25 mg
Evodiamine is a compound extracted from plants that is believed to act similarly to capsaicin. While it acts as a themogenic, serotonin reuptake enhancer, and stimulant, human research is needed to prove its efficacy.
Synephrine HCL – 25 mg
Synephrine is a well-researched ingredient that has been shown to aid in weight loss. It will also appear on ingredient labels as bitter orange extract.
"In general, bitter orange extract alone (p-synephrine) or in combination with other herbal ingredients did not produce significant adverse events as an increase in heart rate or blood pressure, or alter electrocardiographic data, serum chemistry, blood cell counts or urinalysis. p-Synephrine alone as well as in combination products were shown to increase resting metabolic rate and energy expenditure, and modest increases in weight loss were observed with bitter orange extract/p-synephrine-containing products when given for six to 12 weeks."
Bioperine – 10 mg
Bioperine, also known as black pepper extract, is an absorption agent. It helps your body properly absorb all of the ingredients within the supplement.
Yohimbine HCL – 75 mg (std to 8%)
Yohimbine is noted for its ability to reduce fat mass in both lean and obese individuals. Unfortunately, it can also cause anxiety in some individuals.
Yohimbine aids in fat loss by interacting with catecholamines, similar to EGCG. Yohimbine binds to Alpha-2 receptors instead of the catecholamines, which frees up the catecholamines to bind to beta receptors and help burn more fat cells.
Clinical doses are 0.2 mg of Yohimbine per kg of body weight, which is a pretty large dosage. While Yohimbine is not uncommon to see in pre-workout supplements, it is rarely included at such a high dosage. Additional supplementation would be needed for optimal results.
Alpha Yohimbine – 1.5 mg
Alpha Yohimbine, also known as "alpha yo," is a polarizing stimulant. Some individuals are particularly sensitive to alpha yohimbine and will always avoid any pre-workout containing it. It is very common in fat burners and is one of the most effective legal fat-burning ingredients.
Common negative side effects can include anxiety, headaches, chills, sweating, frequent urination, and increased blood pressure.
The 1.5 mg dosage of Alpha Yohimbine in Red Sky is certainly significant, but not overwhelming on paper. With that said, in terms of effects, a full serving of Red Sky (3 pills) feels like 3 mg of alpha yohimbine, so either this is very high-quality alpha yohimbine or some of the other ingredients in Red Sky act similarly.
If you don't like this ingredient I absolutely would not recommend Red Sky. It comes through in spades.
FAQs About Red Sky Fat Burner
Is Red Sky Fat Burner available from Amazon?
No, Red Sky is not available from Amazon.
For a list of retailers that sell Red Sky, please see our "Where to Buy Red Sky" section.
Red Sky Fat Burner Review
Summary
Overall, Red Sky is a loaded fat burner with a promising ingredient profile, but was too strong for my liking. Some of the jittery, cold sweat side effects where too much for me. For those seeking a high stim fat burner, this might be perfect.
Pros
Includes several proven fat burner ingredients at clinical doses.
Since one or two pills are probably all you will need, includes anywhere from 45 to 90 servings, which is an excellent value.
Cons
Has several unpleasant side effects at three pills: jitters, cold sweats, and rapid heart beat. 
One pill may still have some discomfort: chills, elevated heart beat.