Chemix pre workout is a pre workout supplement that has garnered a lot of mixed reactions from the supplement review community. Some folks love it, while others report feelings of nausea.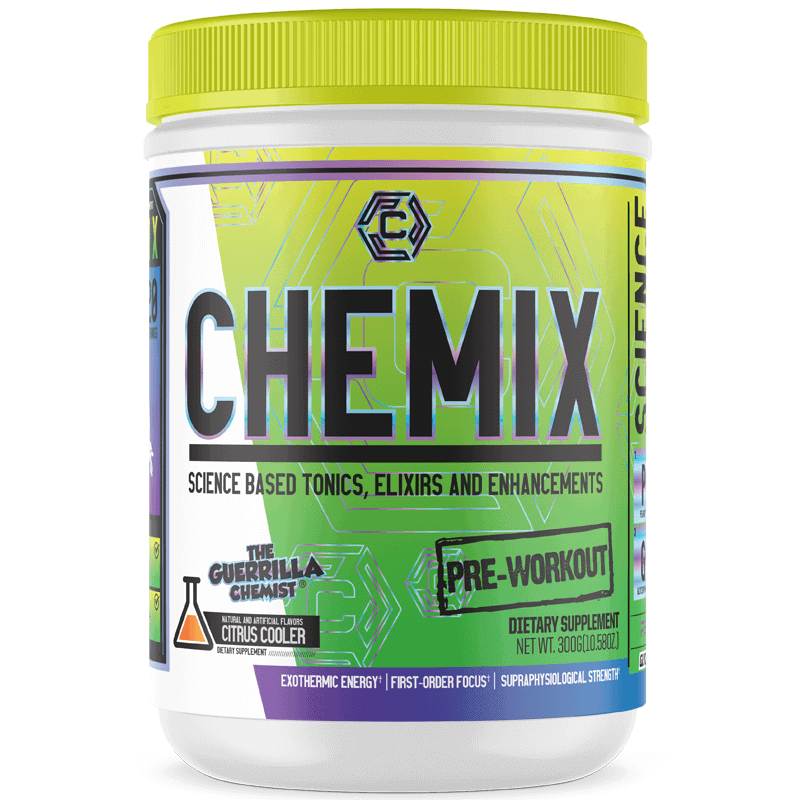 This surprised me, because honestly I didn't feel much of anything after taking this pre workout. A bit of energy and focus, but nothing that intense. I have experienced nausea from pre workout before (especially Defiant Unleashed), but not with Chemix.
Nutrition Cartel sent me a few samples to try out and review for you all, so let's get down to it.
Still, since there are so many better pre workouts out there (Hooligan, DVST8 of the Union, or Wrecked come to mind) I am not recommending Chemix pre workout.
A full review is below, along with a discount code if you'd like to try out Chemix for yourself.
Where to Buy
You can find Chemix pre workout from the following retailers:
My Experience
Honestly, Chemix just wasn't a very memorable pre workout for me.
As it doesn't contain any beta alanine, there are obviously no beta alanine tingling.
Another odd exclusion is the lack of L-citrulline or Citrulline Malate. None of that either.
We are in strange territory, indeed.
I did feel the caffeine kicking in pretty quickly, within 25-30 minutes. This lasted for a few hours, which was solid.
I didn't notice any significant effects on mood other than perhaps some mild mood elevation.
Focus was enhanced slightly, but nothing all that noteworthy.
And that's it. It honestly felt like I took a decent energy drink – that's it, and I'm not trying to sound like a tough guy or anything.
This one just did not click for me.
Chemix Pre Workout Ingredients Label
Below you can find the Chemix pre workout ingredient label along with a full breakdown of each ingredient.
Unfortunately, Chemix uses a proprietary blend on its ingredient label, so we won't know the exact dosage of many ingredients.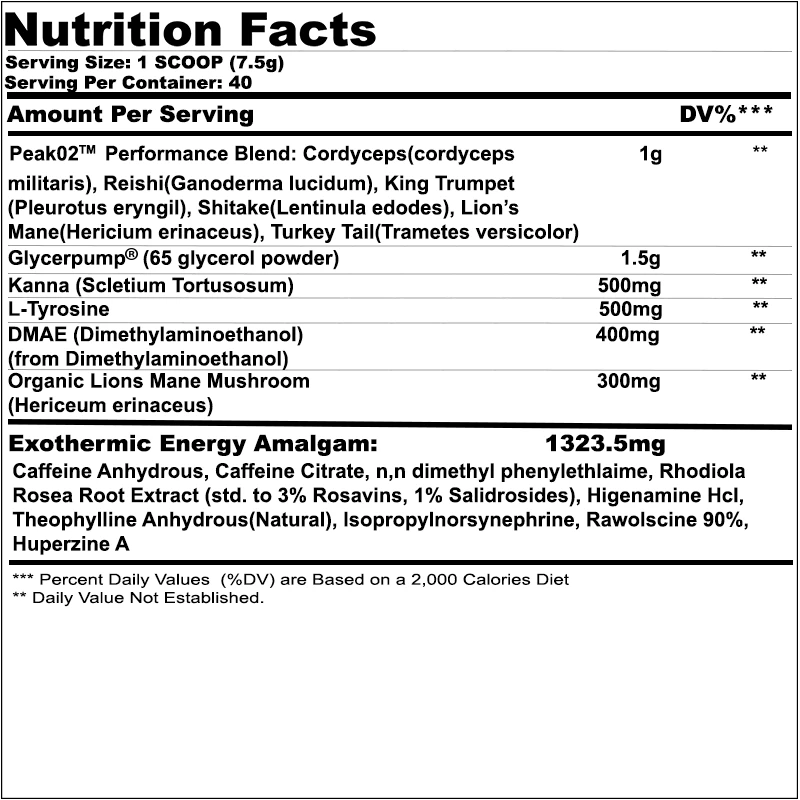 Peak02 (1 g)
Peak02 is a blend of six different mushrooms designed to improve athletic performance. It's obviously a proprietary, trademarked blend of ingredients. Specifically, they are designed to promote oxygen consumption during exercise, support ATP production, and increase time to fatigue.
In one study demonstrating the efficacy of Peak02, members of the test group were given 4 grams of Peak02 per day (1.3 grams, three times per day).
As such, while it's an interesting ingredient, I am not sure what the acute effects of the 1 gram included in Chemix are.
Glycerpump (65% glycerol powder, 1.5 g)
GlycerPump is a patented form of glycerol powder. Glycerol powder assists with hydration and allows the body to absorb more water than it normally would. This obviously helps stave off dehydration and can have mild improvements on endurance.
But the real reason it is often included in pre workout supplements is that all of this extra water absorption can help your muscles swell up, giving you a "swole" look.
1.5 grams is a slightly low dosage for GlycerPump. It usually ranges from 2 to 3 grams per serving in good supplements.
Kanna (500 mg)
Sceletium tortusoum is a traditional herb that was commonly chewed prior to stressful events that required focus, such as hunting. While there is limited scientific evidence around the claims of relaxation and stress reduction, preliminary research is generally supportive of these claims.
500 mg of pure sceletium tortusoum would be a pretty big dosage, so I suspect some percentage of 500 mg is the effective ingredient, though I am not sure how much. A little Kanna goes a long way, which anecdotal evidence suggesting doses as low as 16 mg of dry leaf can be effective.
L-Tyrosine (500 mg)
L-Tyrosine has been shown to boost cognitive performance in stressful environments.
500 mg is a decent dosage of L-Tyrosine for achieving any anti-stress effects. I usually like to see this dosed at 1 gram or greater, but I'm glad to see L-Tyrosine included here and not n-acetyl l-tyrosine, which is significantly less effective.
DMAE (400 mg)
DMAE is a choline molecule used to treat cognitive decline in elderly patients. It is included in pre workouts to promote focus and feelings of well being.
Dosing guidance for performance enhancement is not especially well understood, but 400 mg is in line with some of the dosages studied.
Organic Lions Mane Mushroom (300 mg)
Lion's Mane (yamabushitake) is a relatively new nootropic on the scene, with some research supporting anti-anxiety, cognition boosting, and well-being effects.
According to Examine, there has only been a single human study of Lion's Mane and the individuals took 1 gram orally three times a day. While that dosage appeared effective, it is unknown if this was optimal.
Chemix contains 300 mg of lion's mane and there isn't enough research available to determine if this is an effective dose. More research is needed for this particular ingredient, but it is promising.
Exothermic Energy Amalgam (1,323.5 mg)
This is a proprietary blend, which means we do not know the individual dosage of the ingredients within the blend. However, they generally are listed in descending order by volume, meaning the first ingredient is included at a higher dosage than the second ingredient, and so on.
Caffeine Anhydrous
Caffeine anhydrous is the typical form of caffeine, well known for increasing energy, power, and focus.
Typical dosages in strong pre workout supplements range from 300 mg to 400 mg.
Caffeine Citrate
Caffeine citrate is a faster acting version of caffeine when compared to caffeine anhydrous. As such, it also wears off more quickly. It is definitely interesting to see this ingredient included, as it is not very common in pre workouts.
N,N-Dimethylphenethylamine (Eria Jarensis)
Eria Jarensis is a stimulant that is fairly commonly included in "hardcore" pre workout supplements. While it's usually not super effective by itself, when combined with other stimulants it can culminate in nice effects.
Rhodiola Rosea Root Extract (std. to 3% rosavins, 1% salidrosides)
Rhodiola rosea has consistently shown to reduce fatigue, increase cognition, and somewhat improve subjective well-being (more info: Examine). The extract included in Chemix, 3% rosavins and 1% salidroside, appears to differ somewhat vs. clinical potency, which often pegs salidrosides at 2%. I am not entirely sure how this could impact the efficacy of this ingredient.
Dosages as low as 50 mg have been shown to be effective when taken daily for fatigue, though we do not know what the dosage in Chemix is.
Higenamine HCL
Higenamine is thought to have similar mechanisms to ephedrine, which has led to usage as a fat burner, though this is not well researched.
Theophylline Anhydrous
Theophylline anhydrous is a bronchodilator that treats the symptoms of asthma, bronchitis, and emphysema by making it easier to breath. It achieves this by opening up the airways in your lungs.
I have never seen in this ingredient included in a pre workout before. Interesting.
Isopropylnorsynephrine
Isopropylnorsynephrine is a lipolytic agent, meaning it helps break down fat into glycerol (energy). It is a "fat burner." It may also possess energizing effects.
Rauwolscine 90%
Alpha Yohimbine, also known as "alpha yo," is a love it or hate it stimulant. Some individuals are particularly sensitive to alpha yohimbe and avoid any pre workout with it outright. Common negative side effects can include anxiety, headaches, sweating, frequent urination, and increased blood pressure.
Huperzine A
Huperzine A is a cholinergic that acts as a cognitive enhancer. 
Chemix Pre Workout Review
Summary
Chemix pre workout provided unremarkable effects for me. It had some decent energy and a bit of mood elevation, but honestly it just did not "deliver the goods" for me. I was still able to have a fine workout with it, but this just did not provide the energy, focus, and mood elevation I was hoping for.
Pros
No significant negative side effects
Good energy
Cons
Average focus
Average mood elevation
Overall felt flat