Wrecked Pre Workout is a pre workout supplement by Huge Supplements. It is known for its powerful stimulant ingredients and unique blend of pump enhancers.
Heads up! A stronger, limited edition version of Wrecked will be available in April 2021. Check out Wrecked Extreme Pre Workout.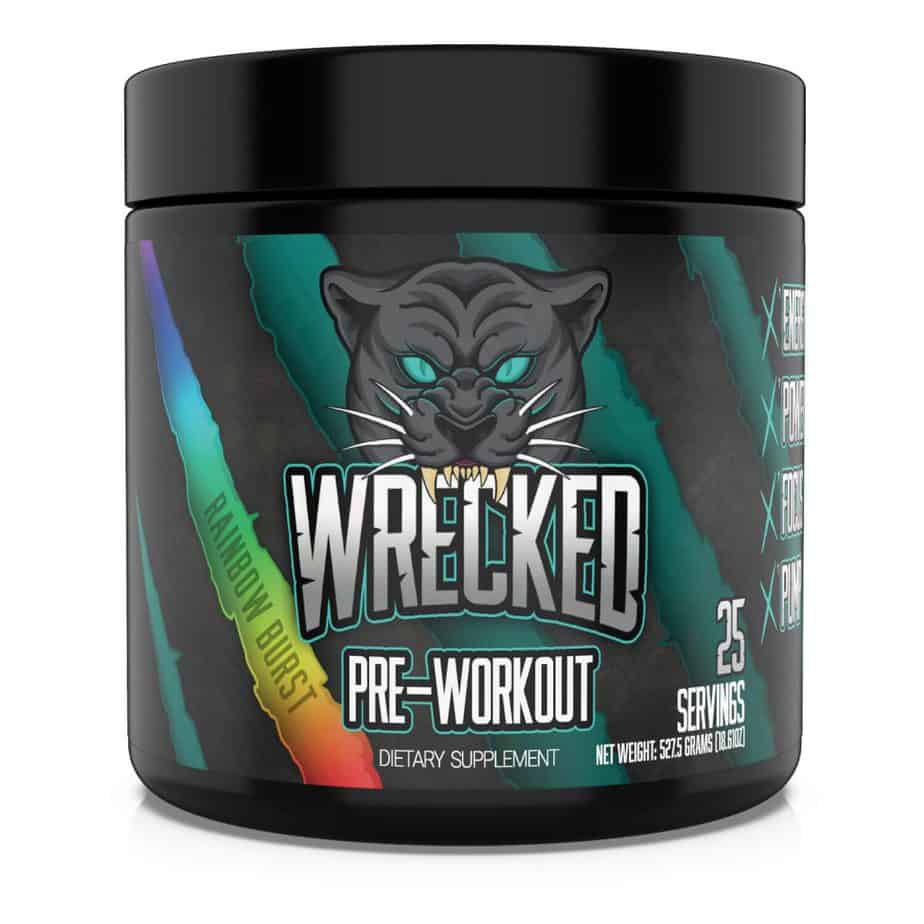 Wrecked is a relative newcomer on the pre workout scene, but has been getting a bit of buzz going around it recently.
Huge Supplements were kind enough to send me over a sample for me to try out and review for all of you.
Wrecked pre workout is a solid choice for folks looking for a strong pre workout supplement that is not too aggressive with exotic stimulants. It delivers enough energy and focus to be a true step up from standard pre workouts, but does not include so many hardcore stimulants that negative side effects creep in. This would be a good choice for someone's first stronger-than-usual pre workout supplement.
Excellent Energy + Pump Package

Wrecked Pre Workout
Wrecked has a stacked label of stims + pump enhancers that make it a great choice for someone looking for a strong pre workout without negative side effects.
Shop Huge Supplements
Learn More
Lift Vault earns a commission if you click this link and make a purchase at no extra cost to you.
Where to Buy Wrecked Pre Workout
Wrecked pre workout is exclusively available from Huge Supplements.
They shipped out quickly from the USA and provided me with tracking information for my package.
My Experience with Wrecked Pre Workout
All in all, Wrecked is a very solid pre workout supplement.
I don't always finish the samples that I am sent, but I'm sure I'll go through my entire tub of Wrecked.
Flavor
I was sent the "Rainbow Burst" flavor of Wrecked, which I'm pretty sure is their only one. It doesn't taste great, but it's fine! If you want something delicious, get the Ghost Legend Pre Workout – it's just not as strong as Wrecked.
Scoop Size
The first thing I noticed when taking Wrecked is that this is a freaking huge scoop. At 21 grams per serving, you're getting a ton of different ingredients here. If you want to get the full serving, you'll really need to use one and a half flat scoops. Even a rounded scoop is only about 18 grams. A flat scoop will get you like 70% of a full serving (which may be enough for some folks).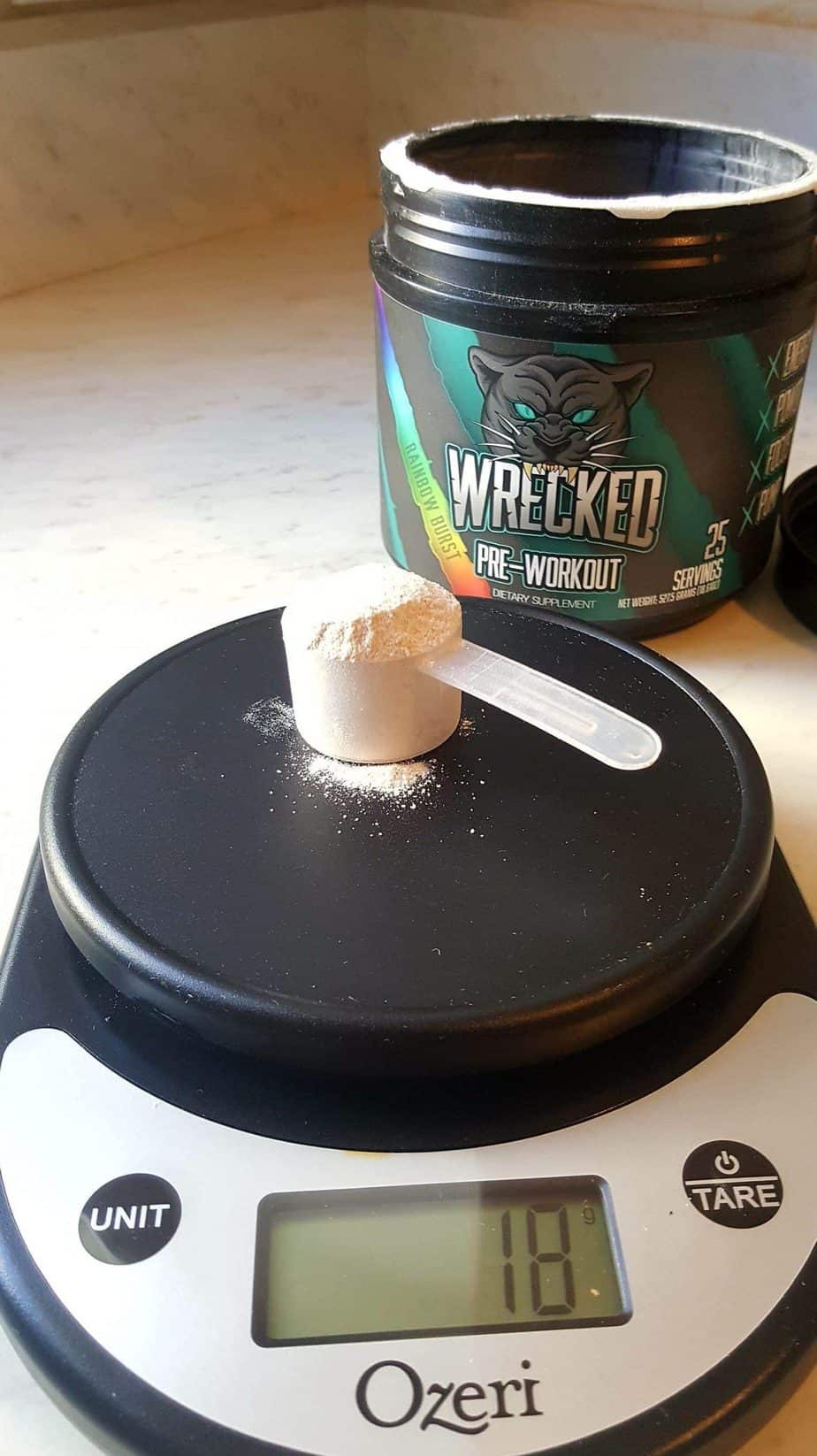 Effects
If you like Beta Alanine tingling then you'll definitely enjoy Wrecked. I feel tingles within 20 minutes or so of taking this.
It's a little show to ramp up, but after about an hour I definitely feel a serious increase in energy and overall motivation. This isn't a "tunnel vision" focus type of pre workout, but for energy and getting work done in the gym, Wrecked delivers.
I've taken this several times and Wrecked always hits. It's not so strong that I can't take it daily, but it still has enough stims to get me going – it's a real sweet spot. I think stim junkies will like this as a daily driver and noobs will like this as their first strong pre workout.
In terms of side effects, I haven't noticed any. That's why I personally feel fine taking this on a daily basis. Definitely a plus for me.
Stacking
I've taken Wrecked by itself and stacked with the Pump Serum from Huge Supplements and both methods provided a great workout experience.
When I know I'll be doing extra accessory work of having a longer workout on the weekends, that's when I toss in a scoop of Pump Serum.
Wrecked Ingredients Label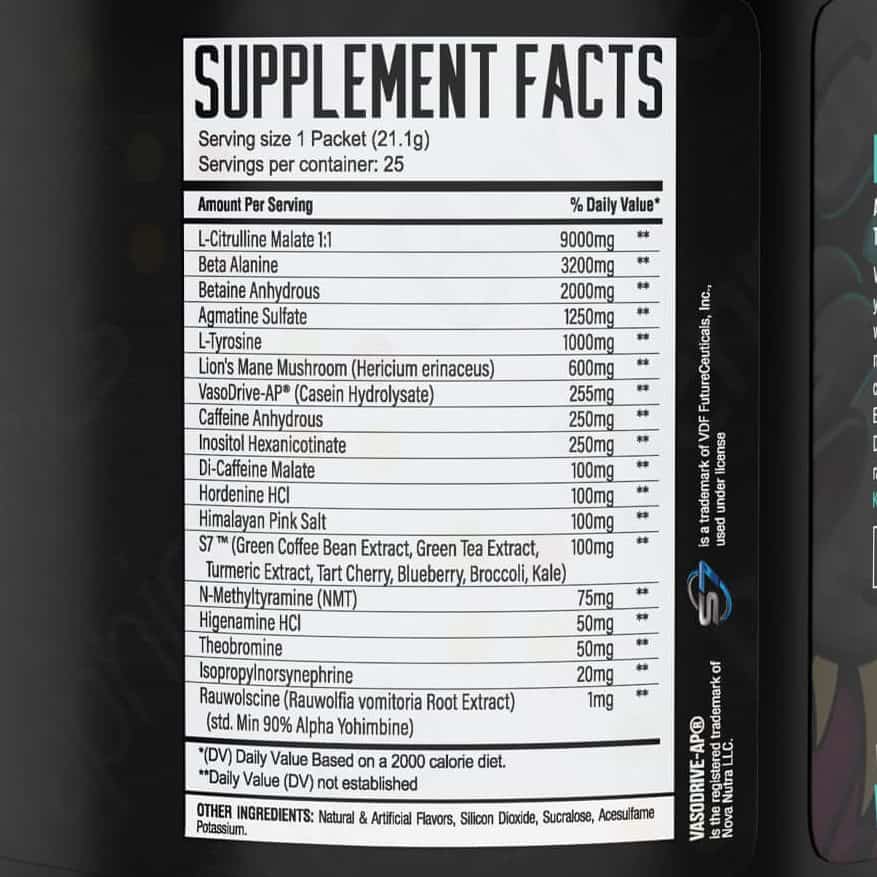 L-Citrulline Malate 1:1 (9 g)
A bit of an odd start to the ingredients label, Wrecked uses L-Citrulline Malate 1:1, not the standard 2:1 ratio. But since you're getting 9 grams of it, you're still getting 4.5 grams of L-Citrulline. This is a bit more than the 4 grams of L-Citrulline you'd be getting in the standard 6 gram dosage of L-Citrulline Malate 2:1 (2/3 of 6 grams = 4 grams L Citrulline).
The other difference is you're getting 4.5 grams of malic acid instead of 2 grams, which is the amount in 6 grams of L-Citrulline Malate. As malic acid acts as an intermediate in the Krebs Cycle and plays a role in reducing the build up of lactic acid, the extra malic acid could have marginal benefits.
Otherwise, Citrulline Malate is a well-documented booster of endurance and nitric oxide, helping deliver more power and pumps during your workout.
Beta Alanine (3.2 g)
Taken regularly, beta alanine has been shown to reliably improve power output.
3.2 grams is a standard clinical dosage.
Betaine Anhydrous (2 g)
Betaine is included to help increase your power output and reduce fatigue. However, research is pretty inconsistent around these claims.
2 grams is slightly below the recommended range of 2.5-6 grams of this ingredient, but it's not a big deal – betaine is not the star of any show. (More info: Examine)
Agmatine Sulfate (1.25 g)
Agmatine is often included in pre workout supplements as a pump ingredient, but more research is needed to understand how reliable these claims are.
As it can increase endothelial nitric oxide, theoretically agmatine can help boost nitric oxide in the body.
L-Tyrosine (1 g)
Tyrosine helps smooth out your mood, which can be helpful when taking large doses of caffeine and other stimulants.
There is also some interesting research into its effect as a cognitive booster in stressful situations.
1 gram is within the clinical dosage range.
Lion's Mane Mushroom (Hericium erinaceus, 600 mg)
Lion's Mane is a nootropic for well-being, cognition enhancement, and anti-anxiety relief.
Lion's Mane has not been studied well enough to have a set recommended dosage. One human study has been conducted and it used a 1,000 mg dosage, delivered 3 times per day for a daily intake of 3,000 mg.
VasoDrive-AP (Casein Hydrolysate, 255 mg)
Derived from casein, VasoDrive is helpful for decreasing blood pressure and increasing nitric oxide production.
Caffeine Anhydrous (250 mg)
Caffeine anhydrous is the standard form of caffeine, known for increasing energy, alertness, motivation, and mood.
250 is a solid dose of caffeine for most people, but on the lower side for stim junkies. Fortunately, there is a another source of caffeine included in Wrecked: di-caffeine malate, detailed below.
Inositol Hexanicotinate (250 mg)
Inositol hexanicotinate, also known as "flush free niacin," is being studied as a possible alternative to niacin with fewer side effects.
Niacin, also known as vitamin B-3, has a wide array of benefits ranging from increasing HDL cholesterol (the "good" cholesterol) concentrations, reducing LDL cholesterol concentrations, and reducing the concentration of triglycerides.
Neat! So… why is it in a pre workout? I can't say for sure, but it's probably because there is some research showing that niacin can increase blood flow through a variety of mechanisms. It's worth noting that the research around this effect is limited and conflicted, which is probably why niacin is rarely included in pre workouts.
Di-Caffeine Malate (100 mg)
Di-caffeine malate is the extended release version of caffeine, which can lengthen how long a pre workout lasts and help offset crash effects from caffeine anhydrous.
At the standard 3:1 ratio, 100 mg of di-caffeine malate has an effective dose of 75 mg of caffeine. This brings the total amount of caffeine in Wrecked up to 325 mg, which isn't bad.
Hordenine HCL (100 mg)
Hordenine (N,N-dimethyltyramine) is a stimulant that is often included in recent "nootropic" products. It is not widely researched, so much of the information available comes from anecdotal accounts.
According to those account, "effective" doses start around 20 mg, so the 100 mg included in Wrecked pre workout is more than enough to feel the focus effects touted by proponents of Hordenine.
Himalayan Pink Salt (100 mg)
Salt helps retain water, which helps you achieve a great pump during your workout. It also contains important electrolytes! (More info: Supplements in Review)
S7 (100 mg)
S7 is a patented blend of seven plant-based ingredients (green coffee bean extract, green tea extract, turmeric extract, tart cherry, blueberry, broccoli, and kale) that has been shown to increase nitric oxide production, aiding pumps in athletes.
100 mg is twice the clinical dosage, so you're getting a very decent amount in each serving of Wrecked.
N-Methyltyramine (NMT, 75 mg)
NMT, also known as hordenine, is a focus enhancer and stimulant, similar to synephrine, and is banned by the World Anti-Doping Agency (WADA). It is also used for weight loss.
75 mg is a solid dosage, similar to what is found in Alpha Lion Superhuman Supreme Pre Workout.
Higenamine HCL (50 mg)
Higenamine is thought to have similar mechanisms to ephedrine, which has led to usage as a fat burner, though this is not well researched.
Theobromine (50 mg)
Theobromine is a compound, structurally similar to caffeine, naturally found in dark chocolate, coffee beans, and guarana berries. It lowers blood pressure, acts as a milder, longer lasting stimulant than caffeine, and may positive impact mood (source, source).
50 mg is a bit low for a theobromine dosage, but may still have some stimulation effects. Researched doses usually range between 200 and 400 mg (source).
Isopropylnorsynephrine (20 mg)
Isopropylnorsynephrine is a lipolytic agent, meaning it helps break down fat into glycerol (energy). It is a "fat burner." It may also possess energizing effects and is considered stronger than synephrine (bitter orange extract).
There is not a lot of research around dosage, but 20 mg should be enough to get you going.
Rauwolscine (Rauwolfia vomitoria root extract, 1 mg)
Also known simply as Alpha Yohimbine or "Alpha Yo," rauwolscine is a "love it or hate it" stimulant.
Some folks are particularly sensitive to alpha yohimbine and will always avoid any pre workout supplement containing it.
Common negative side effects can include anxiety, headaches, chills, sweating, frequent urination, and increased blood pressure.
Personally, I did not feel any of these negative side effects with Wrecked, so I don't think the dosage of Alpha Yohimbine is too high. It's really not noticeable.
—
Wrecked pre workout is available exclusively from Huge Supplements.
Wrecked Pre Workout Review
Summary
Wrecked pre workout is a solid choice for folks looking for a strong pre workout that is not too aggressive with exotic stimulants. It delivers enough energy and focus to be a real step up from standard pre workouts, but does not include so many hardcore stimulants that negative side effects creep in. This would be a good choice for someone's first stronger-than-usual pre workout supplement.
Pros
Great energy 
Good focus
Can be used regularly 
No negative side effects
Cons
Taste is not great
Not an extreme pre workout (this can be a "pro" too)