Wrecked Extreme pre workout is a limited edition release from Huge Supplements. It's also a collaborative release with Review Bros, an excellent supplement review YouTube channel.
You might remember Huge Supplements from such products as Wrecked Pre Workout or Hibernate Sleep Aid, both products that I'm a big fan of.
I've tried Wrecked Extreme Pre Workout twice now and I can confidently say that it is absolutely on another level than the original Wrecked.
In terms of potency and effects, it is reminiscent of Pre Phase Pre Workout, which is high praise. There's definitely a strong sense of urgency and motivation with this pre workout. I'd recommend starting with a level scoop or slightly less, which should give you about 80-85% of a full serving.
Right now all we know about Wrecked Extreme is the ingredients label, shared below.
Where to Buy
Wrecked Extreme is available exclusively from Huge Supplements. Supplies are limited, so act fact!
My Experience
I'll do a longer write up soon, but I'll just say this definitely gets a thumbs up from me! Wrecked Extreme delivers strong urgency and motivation in the gym and hits that sweet spot between intensity and productivity.
In terms of feeling, I'd compare this to Pre Phase by Phase 1 Nutrition.
Wrecked Extreme Ingredients
Here's a look at the ingredients for Wrecked Extreme. This is a very stacked label.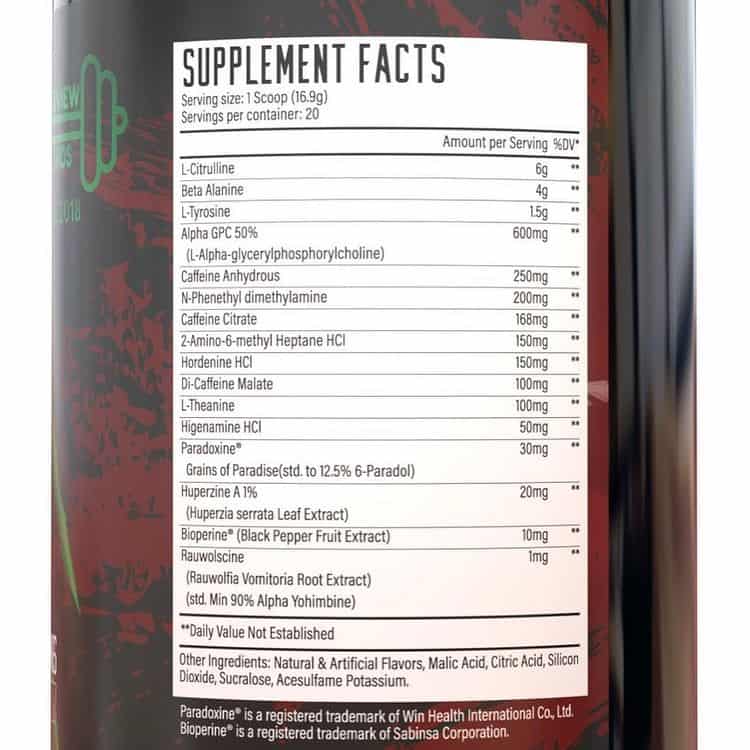 L-Citrulline (6,000 mg)
L-Citrulline is one of the most common pre workout ingredients. It has extensive evidence supporting its effects on increasing nitric oxide production, power output, and endurance.
Although most research uses a variation known as L-Citrulline Malate (2:1), anecdotal evidence supports that L-Citrulline delivers much of the same benefit.
When included as pure L-Citrulline, we like to see 4 grams as the dosage. Wrecked Extreme exceeds this by 50%, including a massive 6 grams of L-Citrulline.
Beta Alanine (4,000 mg)
Beta alanine has been shown to support muscular endurance and can act as an a lactic acid buffer. Nice.
However, beta alanine requires regular intake in order to be effective, akin to creatine. Daily supplementation of beta alanine is recommended, with a loading period of three to five weeks needed to be effective.
3 to 4 grams is the recommended daily dosage for beta alanine. Wrecked Extreme nails this, delivering a heavy 4 gram dosage of beta alanine in each serving.
L-Tyrosine (1,500 mg)
L-Tyrosine helps "smooth out" some of the harsher effects of stimulants and increase focus. Some limited research also shows it can act as a cognitive booster in stressful environments.
1.5 grams is an excellent dosage and lands within the range recommend for use in an exercise setting (source).
Alpha GPC (600 mg)
Alpha GPC is a cholinergic compound that is produced within the body. It is used for enhancing cognition and increasing power output.
For athletic purposes, doses tend to range from 300 mg to 600 mg. Doses for reducing the effects of cognitive decline are much higher, around 1,200 mg per day.
600 mg is a very solid dosage. Nicely done.
Caffeine Anhydrous (250 mg)
This is the standard form of caffeine. You know what it is. It delivers all of the expected benefits: mental focus, energy, motivation, a will to live, etc.
250 mg is a somewhat low dosage, but keep in mind that caffeine anhydrous is just one of three sources of caffeine in Wrecked Extreme.
When the caffeine citrate and di-caffeine malate is also taken into account, Wrecked Extreme has 409 mg of caffeine in total.
Eria Jarensis (200 mg)
Eria Jarensis (N-Phenethyl Dimethylamine) is a stimulant that is becoming a popular alternative to DMAA or DMHA. Sometimes you'll see those ingredients combined, like with Pre Phase or Flame pre workout. It increases levels of dopamine and noradrenaline in the user and can enhance mood, increase motivation, and dial in concentration.
A solid dose of Eria Jarensis usually ranges between 150 mg and 250 mg, with 200 mg being quite common.
Caffeine Citrate (168 mg)
Caffeine citrate is a faster acting version of caffeine when compared to caffeine anhydrous. As such, it also wears off more quickly. It is definitely interesting to see this ingredient included, as it is not very common in pre workouts.
Caffeine citrate provided a 50% yield when compared to caffeine anhydrous, so a 168 mg dose of caffeine citrate is equivalent to 84 mg of caffeine hydrous.
2-Amino-6-Methyl Heptane HCL (150 mg)
2-Amino-6-Methyl Heptane HCL, more commonly referred to as DMHA, is a hard hitting stimulant known for providing energy, euphoria, and motivation.
DMHA is quite similar to DMAA in terms of effects, it just requires a larger dosage. This made it a popular pre workout ingredient for replacing DMAA.
As the purity and source of these types of ingredients varies considerably, the dosage is less important. You really never know what you're getting. With that said, 150 mg falls within the 100 mg to 200 mg range we typically see in pre workout with DMHA.
Hordenine HCL (150 mg)
Hordenine (N,N-dimethyltyramine) is a stimulant that is often included in recent "nootropic" products. It is not widely researched, so much of the information available comes from anecdotal accounts.
According to those account, "effective" doses start around 20 mg, so the 150 mg included in Wrecked Extreme pre workout is more than enough to feel the focus effects touted by proponents of Hordenine.
This is a 50% increase from the original version of Wrecked, which included 100 mg of Hordenine.
Di-Caffeine Malate (100 mg)
Di-caffeine malate is the extended release version of caffeine, which can lengthen how long a pre workout lasts and help offset crash effects from caffeine anhydrous.
At the standard 3:1 ratio, 100 mg of di-caffeine malate has an effective dose of 75 mg of caffeine.
L-Theanine (100 mg)
L-Theanine is a somewhat sedative amino acid, noted for promoting relaxation and taking the edge off of caffeine.
100 mg is a decent dosage of L-Theanine and should be enough to realize some of the synergistic effects it has with caffeine without taking too much of the stim edge away.
Higenamine HCL (50 mg)
Higenamine is thought to have similar mechanisms to ephedrine, which has led to usage as a fat burner, though this is not well researched.
50 mg is the same amount contained in the original version of Wrecked.
Paradoxine (Grains of Paradise, 30 mg)
Grains of Paradise has some very promising research around it, but still needs additional evidence to support its fat loss effects. With that said, there is some interesting research that shows it can activate brown adipose tissue, which can help increase a body's metabolism and lead to increased weight loss.
Different ingredient sources will use Grains of Paradise that have different percentages of 6-Paradol, the active ingredient in Grains of Paradise with metabolic effects.
Clinical trials used 40 mg at 12.5% purity, so you should use that as a guide when seeing how much is present in any thermogenic fat burners you're comparing. Wrecked Extreme falls a bit short of this amount and frankly I was a bit surprised to see this ingredient included.
Paradoxine is a patented form of Grains of Paradise that is standardized to 12.5% 6-Paradol.
Huperzine A (20 mg)
Like Alpha GPC, Huperzine A is a cholinergic that acts as a cognitive enhancer. It tends to be taken in doses of 50 mcg to 200 mcg (Examine). I am not sure if "20 mg" is a misprint (perhaps they meant 20 mcg) – if not, it's the most amount of Huperzine A I've seen in any supplement.
Bioperine (10 mg)
Bioperine is a patented form of black pepper extract. It helps with ingredient absorption.
10 mg is a solid dose for Bioperine.
Alpha Yohimbine (1 mg)
Also known simply as Alpha Yohimbine or "Alpha Yo," rauwolscine is a "love it or hate it" stimulant.
Some folks are particularly sensitive to alpha yohimbine and will always avoid any pre workout supplement containing it.
Common negative side effects can include anxiety, headaches, chills, sweating, frequent urination, and increased blood pressure.
For most folks, 1 mg falls within the "tolerable" range. Negative side effects tend to become more prominent within the 2-3 mg range. I think 1 mg was a good call for Alpha Yohimbine dosage in Wrecked Extreme.
Second Opinions
Here are some other reviews of Wrecked Extreme from around the web.
Garage Gym Homie
NoFate247