Excelsior is quite hard to find these days and is usually out of stock.
Instead, check out our strongest pre workouts or the best DMHA pre workouts.
Excelsior pre workout is a nutritional supplement manufactured by Imperial Nutrition. It is known for having a 5.3 gram proprietary blend that is mysteriously powerful. It has been compared to legendary pre workout supplements of the past like Craze and Jack3d.
Excelsior is a high stim pre workout with incredibly unique effects. When it is gone, I guarantee it will be talked about for years to come.
Many reviews have commented on the relatively short label, the small scoop size (a measly 5.3 grams vs. Assassin's 16.8 grams, comparison below), and then the insane stimulant effects.
Intrigued, I picked up a tub. And in a way, it a delivered, but the results were not at all what I was expecting.
Best High Stim Pre Workout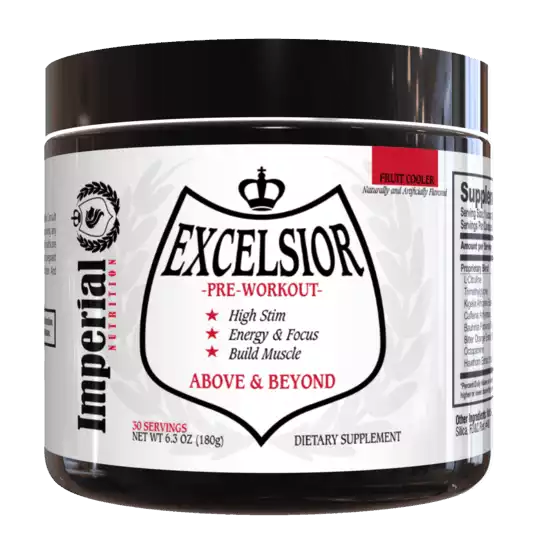 Excelsior Pre Workout
Hard to find. If it's in stock, buy it.
This pre workout honestly feels quite illicit. It will become the stuff of legends after it inevitably gets banned.
If you want something completely bonkers, this is it.
Shop My Supplement Plug
Lift Vault earns a commission if you click this link and make a purchase at no extra cost to you.
Where to Buy Excelsior Pre Workout
You can buy Excelsior from a number of USA retailers, including the following:
In the UK, Europe, and other countries, Predator Nutrition is your best bet for finding Excelsior.
If you're interested in it, I recommend acting quickly. I don't expect this one to be around for long.
Review Summary
Excelsior provides an extremely powerful stimulant effect, significant appetite suppression, laser focus, euphoric high, and massive motivation in the gym. Unfortunately, it also was very detrimental to my mood and negatively impacted the rest of my day. This is not a sensible trade off for me and I don't plan to take Excelsior again. This is reflected in my personal review score.
I'd only recommend this pre workout to individuals that have used stim heavy pre workouts before and are not susceptible to depression. I also must highlight that you should be aware of and comfortable with the appetite suppression this pre workout triggers.
In fact, Excelsior was chosen as one of the best fat burner pre workouts for weight loss based on its appetite suppression capabilities.
Even if you like stim heavy pre workouts, I think something like Assassin does a much, much better job of giving a smooth experience. Excelsior was unlike anything I've ever experienced, but it's not something I'm interested in repeating due to the difficult crash after taking it.
My Experience with Excelsior Pre Workout
At the Gym (Great)
I took one and a half scoops of Excelsior after eating breakfast (pancakes) and drove over to the gym. The fruit cooler flavor was actually really tasty – not bad at all. Within 15 to 20 minutes I felt it kicking in and it was indeed intense, as advertised. As someone that as dabbled in illicit stimulants in the past, I have to say that the feeling from Excelsior was pretty similar. To be clear: I'm only relaying my personal experience and how I felt. I have no proof any of what I'm saying is true.
The workout itself went really well. Tons of energy, extreme focus, very motivated. Pretty good mood elevation was experienced as well. At this point, I'd say this is a similar feeling to Assassin, with Excelsior providing more of a "tweaked" feeling and more of a euphoric "high" with laser focus. Again, it felt quite illicit.
For the first two hours, this is not that bad.
After the Gym (Awful)
Then the crash came.
About 3 hours after taking Excelsior, I felt a massive drop in mood. It reminded me of crashing after a long night of partying. I've taken DMHA many times before and didn't have this type of crash effect, so I don't think it's the DMHA (unless the dosage is just very high; I always took "normal" doses of DMHA).
On top of that, the appetite suppressants made it difficult to eat. I still managed to get in a protein shake and then some food a few hours later, but this didn't do much to pick me back up. As I took the pre workout around 11:00 AM, I was able to fall asleep without much issue.
This crash lasted into the next day, where I had no trouble eating but still felt depressed. I have not experienced anything like this from a pre workout before and have no intention of taking Excelsior again.
Excelsior Scoop Size
The only reason I'm including the scoop size is to highlight how unusually small it is. It certainly proves that powerful things can come in small packages.
Here's the Excelsior pre workout scoop inside of an Assassin pre workout scoop (quarter shown for size reference).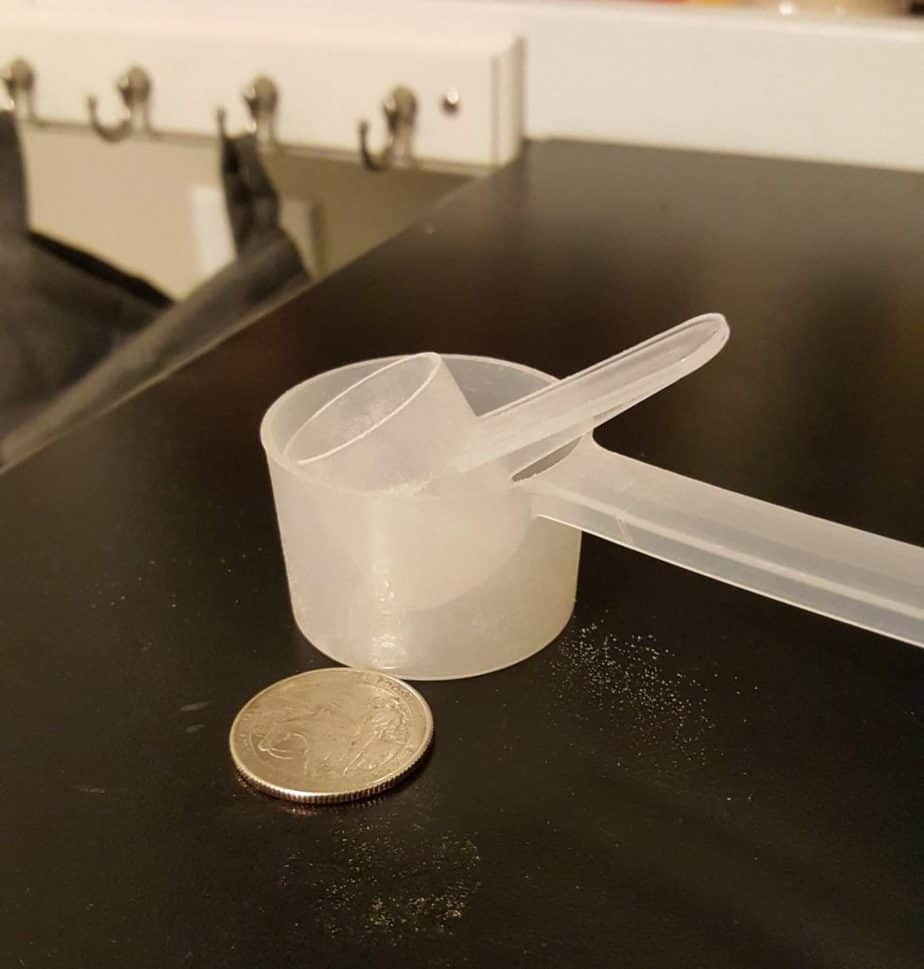 Excelsior Pre Workout Ingredient Label
Below are the ingredients listed on Excelsior's label. Because it uses a proprietary blend, I am unable to provide amounts for each ingredient.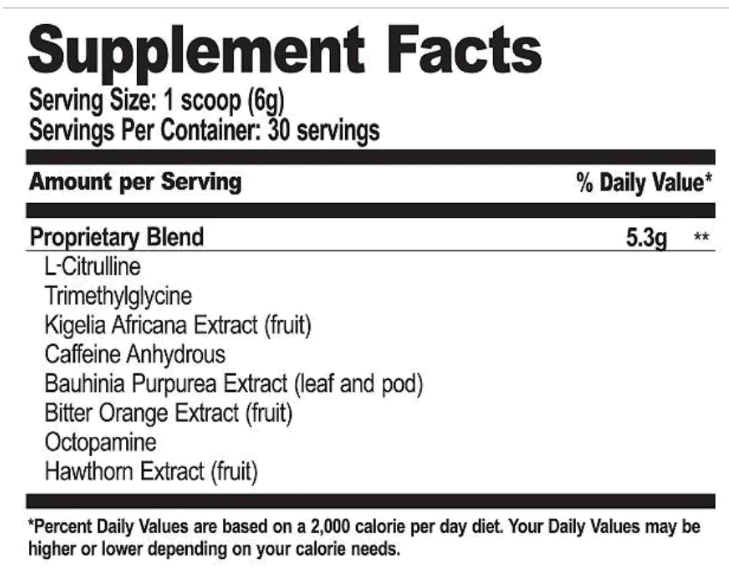 L-Citrulline
A classic pre workout ingredient, L Citrulline helps with pumps, blood flow, etc.
Trimethylglycine (Betaine)
Also known as betaine, this has some evidence suggesting it improves power output.
Kigelia Africana Extract
Also known as the "sausage tree," Kigelia Africana is sometimes included in pre workouts as a central nervous system stimulant. It is a naturally occurring source of DMHA.
Caffeine Anhydrous
Caffeine needs no introduction, right? Energy, focus, increased performance, etc. are all delivered by caffeine.
Bauhinia Purpurea Extract
Bauhinia purpurea extract is included here as a metabolic booster. This is an anti-ulcer ingredient traditionally used as an anti-ulcer treatment. However, it has been shown in at least one study to increase concentrations of T3 and T4 hormones, which are produced by the thyroid. Among other things, these hormones help control metabolism.
Bitter Orange Extract (Synephrine)
This is a minor stimulant frequently seen in pre workouts.
Octopamine
This is a stimulant that may also have minor fat burning properties (Examine). It is a metabolite of synephrine.
Hawthorn Extract
This is used to treat heart disease and blood pressure issues, including low and high blood pressure. I'm guessing this is included to help take some edge off of the stimulants included here.
Second Opinions on Excelsior
Now, I don't want to come off as trashing Excelsior. It just was very unpleasant for me.
Here are some people that had a better experience.
Review Bros
Here's a fresh review of the latest batch of Excelsior from the Review Bros.
5 Minute Supplement Reviews
Fitness Deal News
Excelsior, like most hardcore pre workouts, is available from 2 Day Supps and Supp Kingz. If you're interested in it, I recommend acting quickly. I fully expect this pre workout to be reformulated or disappear entirely soon. This is likely going to become a mythical pre workout that used to exist, talked about for years to come.
Excelsior Pre Workout Review Summary
Summary
Excelsior is a stim-heavy pre workout that absolutely delivers on that promise. If you have a high tolerance for stimulants and are looking for a new thrill, this will certainly satisfy that itch. If you're at all prone to negative mood impact from stimulants, then this pre workout is not for you. If you're not looking for significant appetite suppression, then this pre workout is not for you.
Pros
Insane focus
Relentless energy
Cons
Horrible crash
Negative impact on mood
Too much appetite suppression