Loco Pre Workout is a pre workout supplement from Myoblox. It is notable for its lack of beta alanine, smooth energy, and pleasant mood elevation.
It's a solid choice for those looking for clean energy and light mood enhancement without any intense stimulants.
For stim junkies, this could be a daily driver or just a pre workout for when you're looking to take your foot off of the pedal a bit.
For regular folks, Loco will likely hit the sweet spot of productive energy that is not overpowering or uncomfortable.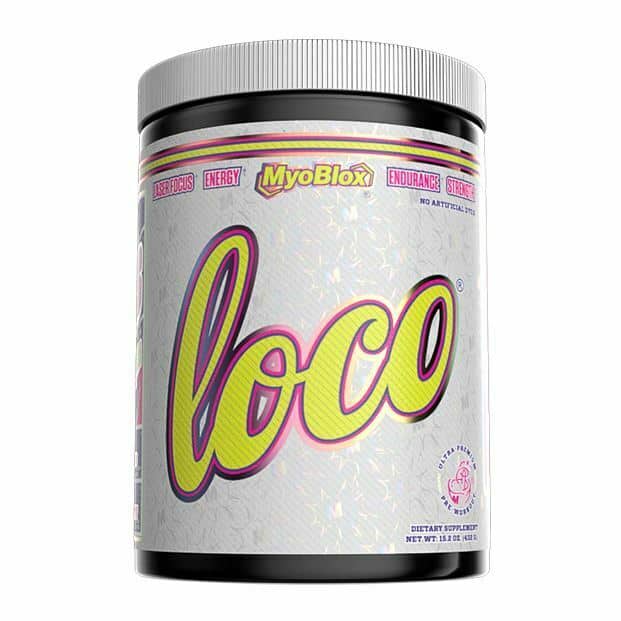 My friends as Nutrition Cartel sent me Loco Pre Workout to sample and review for all of you. You can find the full review below, along with links where you can learn more about Loco.
No Beta Alanine + Smooth Energy

Where to Buy Loco Pre Workout
You can buy Loco Pre Workout from the following retailers:
My Experience
Overall, I really liked Loco more as an energy drink than a pre workout supplement. It just puts me in a nice mood, ready to take care of work around the house.
As a pre workout, it's certainly not bad, but it's not anything remarkable either.
But for some reason I just keep coming back to it when I'm looking for a pick me up while I work from home. I suspect it has something to do with the RealCaf ingredient source, but I am just speculating.
I'd recommend this to people looking for energy for work or those who are taking a break from high stim pre workouts.
I also included this pre workout only my list of the best pre workouts without beta alanine.
Flavor
I tried the sour cherry cola flavor and it is one of the best tasting pre workouts I've ever had.
It's delicious.
Effects
Loco gives smooth, clean energy and a nice mood boost. For some reason it seems to hit just a little different than regular caffeine. I actually really enjoy using this as a nootropic during the day, as well.
There is no beta alanine, so obviously there are no tingling effects.
I had a decent workout with Loco, but didn't notice remarkable pumps. Pumps were average, not bad.
After
Loco's effects are smooth and pleasant. There were no negative side effects after taking it.
Ingredients
Below you'll find the ingredients label for Loco Pre Workout and a complete breakdown of what each ingredient does.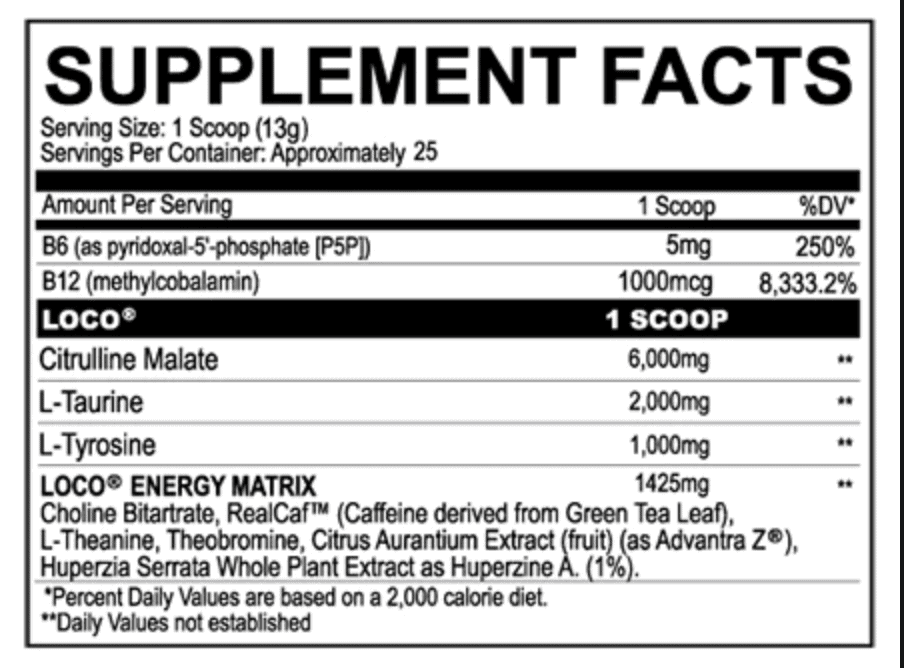 Citrulline Malate (6,000 mg)
L-Citrulline Malate is one of the most common pre workout ingredients. It has extensive evidence supporting its effects on increasing nitric oxide production, power output, and endurance.
Loco doesn't specify what the ratio of citrulline to malic acid is. 2:1 is the typical ratio you want to see – I'm a bit surprised they don't declare that on the label.
6 grams is the clinical dosage of l-citrulline malate, so it's good to see Loco getting that right. But without knowing the ratio of citrulline to malic acid, it's impossible to say if this is a clinical dosage.
L-Taurine (2,000 mg)
Taurine is kind of a "miscellaneous" pre workout ingredient with a range of potential, albeit limited, physical benefits. It can aid in blood flow, reduce cramping, and act as a booster to anti-oxidant defense systems (Examine). It's a pretty insignificant ingredient in pre workout compared to other ingredients, but doesn't hurt anything either.
2 grams is a solid dosage of taurine to achieve any effects it has to offer. It's more than most other pre workouts.
L-Tyrosine (1,000 mg)
L-Tyrosine helps "smooth out" some of the harsher effects of stimulants, which frankly is probably not necessary for Loco. But hey, maybe the Tyrosine is part of what makes this pre workout so pleasant!
Some limited research also shows it can act as a cognitive booster in stressful environments.
1 grams is a decent dosage and lands within the recommended range for use in an exercise setting, which is 500 mg to 2 grams.
Loco Energy Matrix
Unfortunately, Loco uses a proprietary ingredient blend for some of its ingredients. This makes it impossible for me to determine exact dosages, though you can still get a decent idea of what's in this pre workout.
Choline Bitartrate
Choline is included as a focus ingredient. Compared with Alpha GPC, choline bitartrate may not be as effective as a nootropic (source). This is another potential area of improvement for the Loco formula.
RealCaf (Green Tea Leaf Caffeine, 400 mg)
So this ingredient is disclosed at 400 mg. This means there's likely 400 mg or more worth of Choline Bitartrate in Loco, as ingredients are listed in descending order of volume on the label.
L-Theanine
L-Theanine is a somewhat sedating amino acid, noted for promoting relaxation and taking the edge off of caffeine.
Dosage of L-Theanine is pretty important, as it can reduce the longevity of a pre workout if the dosage is too high. Unfortunately, we cannot be sure how much is in here.
Theobromine
Theobromine is a stimulant that is sort of a "caffeine light" ingredient.
Advantra Z
Advantra Z is a patented form of synephrine. Synephrine has been shown to increase metabolic rate and energy expenditure as a mild stimulant.
Huperzine A
Like Alpha GPC, Huperzine A is a cholinergic that acts as a cognitive enhancer. It tends to be taken in doses of 50 mcg to 200 mcg.
No Beta Alanine + Smooth Energy

Loco Pre Workout Review
Summary
Loco Pre Workout is a great choice for those seeking smooth energy, nice mood enhancement, and no negative side effects. It does not contain beta alanine, so if that's a requirement for you then I'd suggest looking elsewhere. I really enjoy this as an energy drink replacement. 
Pros
Smooth energy
Nice mood elevation
No negative side effects
Cons
Not very intense
Not much focus enhancement
No beta alanine
Comments Rating
( reviews)