Superhuman Supreme pre workout is a pre workout supplement made by Alpha Lion. It is known for providing a well-rounded, pleasant stimulant experience with two types of caffeine, eria jarensis, and the patented pump ingredient blend S7.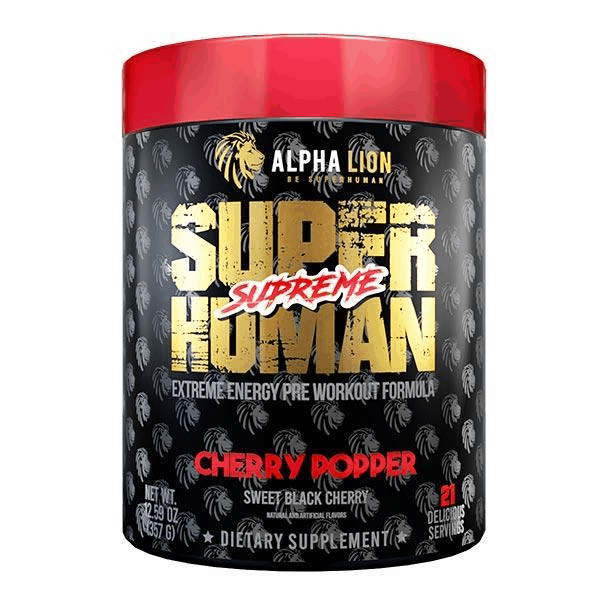 A friend over at Nutrition Cartel was nice enough to send me over a sample of this pre workout and I've been trying it out over the last couple weeks. I would recommend this pre workout as a daily driver for experienced stim junkie pre workout users OR a strong pre workout for someone looking to "level up" their pre workout supplementation.
Stim Junkie Daily Driver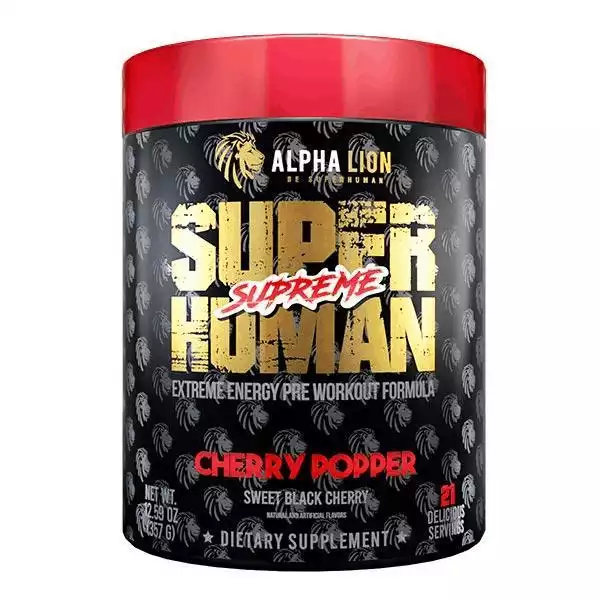 Super Human Supreme Pre-Workout by Alpha Lion
This is a solid daily driver for stim junkies or a great introduction to stronger pre workouts for newcomers.
Discount codes:
LIFTVAULT = 15% off at Nutri Cartel
Shop Nutri Cartel
Lift Vault earns a commission if you click this link and make a purchase at no extra cost to you.
Related: SuperHuman Burn Pre Workout + Fat Burner Review, Superhuman Pre Workout Review
My Experience with Superhuman Supreme Pre Workout
I tried Superhuman Supreme prior to a few different training sessions with consistent results.
It's a solid pre workout, but doesn't go too far into "extreme" territory. As I often say, this is not necessarily a bad thing.
Superhuman Supreme delivers good energy, good focus, and decent motivation. Each time I tried it, I was enjoying my workouts, in the zone, and feeling good. While I wasn't throwing in extra sets or anything crazy, I wasn't dragging either.
I could see this pre workout filling one of two roles:
For a stim junkie looking for hard hitting, stimulant-heavy pre workouts, this could be a solid daily driver.
For someone looking to try stronger pre workouts, Superhuman Supreme could be a good introduction to "hardcore" pre workouts without negative side effects.
So that's it. This is a solid pre workout. It's not super hardcore, but it's solid and delivers.
Where to Buy Superhuman Supreme + Discount Codes
Nutrition Cartel (Discount Code!)
Nutrition Cartel has Superhuman Supreme available for $42.99. You can save an additional 10% with the discount code LIFTVAULT.
This is the best price I'm aware of.
Nutrition Faktory
Nutrition Faktory has the standard Superhuman Supreme flavors available for $45.99.
Limited Edition DMHA Version of Superhuman Supreme
2DaySupps has a rare version (the "Santa Sauce" version) of this pre workout still available. This uses an older formula of the pre workout that still includes the coveted stimulant DMHA.
Get it while it's still available at 2DaySupps.
Superhuman Supreme Alternatives
If you want something to dial up to maximum levels, check out Hooligan, Assassin, or Pre Phase. If you want something happier, try El Jefe or Dark Energy.
Superhuman Supreme Ingredients Label
Here's a look at the ingredient label for Superhuman Supreme. I'll breakdown each ingredient and its dosage below.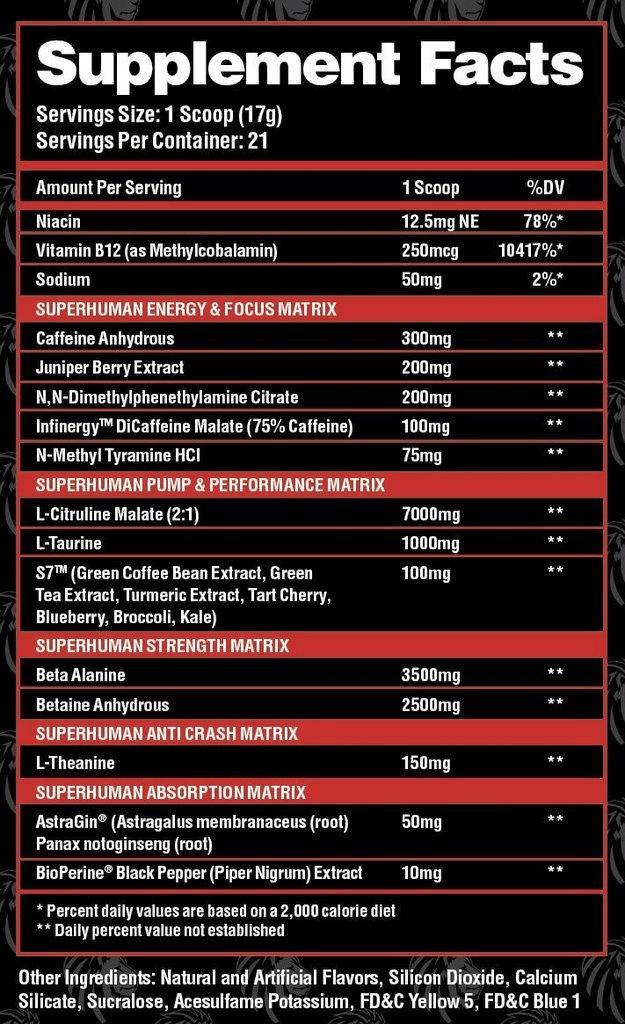 Niacin – 12.5 mg
Niacin, also known as vitamin B-3, has a wide array of benefits ranging from increasing HDL cholesterol (the "good" cholesterol) concentrations, reducing LDL cholesterol concentrations, and reducing the concentration of triglycerides.
Neat! So… why is it in a pre workout? I can't say for sure, but it's probably because there is some research showing that niacin can increase blood flow through a variety of mechanisms. It's worth noting that the research around this effect is limited and conflicted, which is probably why niacin is rarely included in pre workouts.
Niacin also helps your body produce optimal amounts of ATP, which is the source of energy for muscle contraction. Thus, making sure you have enough Niacin seems like a worthwhile endeavor for a pre workout supplement.
12.5 mg of niacin is a reasonable dose. It is slightly below the recommended daily dosage for men (16 mg per day) and women (14 mg per day), but you should be able to get the rest from a healthy diet. Good sources of niacin include fish, beef, chicken, turkey, mushrooms, and brown rice.
Vitamin B12 (Methylcobalamin) – 250 mcg
The production of red blood cells is assisted by vitamin B12. This helps deliver oxygen and nutrients to muscle, boosting energy levels and muscle growth.
Sodium – 50 mg
Sodium can assist with a number of different functions while working out, including delivering massive pumps and helping increase creatine uptake in muscles.
Caffeine Anhydrous – 300 mg
Caffeine anhydrous is the standard form of caffeine. It is one of the quintessential pre workout ingredients and creates feelings of energy, focus, mood enhancement, and motivation. It has also been shown to increase power output and endurance in trained athletes.
300 mg is a very solid dosage of caffeine anydrous.
Note: DiCaffeine Malate is also present in this pre workout (100 mg, yielding 75 mg of caffeine), meaning the total amount of caffeine in Superhuman Supreme is 375 mg.
Juniper Berry Extract – 200 mg
Juniper Berry Extract is included to help increase the effectiveness and absorption of stimulants in the body. It is not an exceptionally well researched ingredient and I am not aware of any dosage guidelines for this ingredient.
N,N-Dimethylphenethylamine Citrate – 200 mg
N,N-Dimethylphenethylamine Citrate, more commonly known as eria jarensis, is a stimulant that has grown in popularity in recent years. It will deliver enhanced energy and focus, especially when combined with large dosages of caffeine.
200 mg is a standard, solid dosage for eria jarensis.
Infinergy DiCaffeine Malate – 100 mg
DiCaffeine malate is the "extended release" version of caffeine. Combined with caffeine anhydrous, this helps extend the effects of a pre workout and helps offset crash effects high caffeine doses.
100 mg of dicaffeine malate is a very solid dosage.
N-Methyl Tyramine HCL – 75 mg
NMT is a stimulant, typically included at a dosage around 200 mg in supplements.
L-Citrulline Malate (2:1) – 7 grams
L-Citrulline Malate is one of the most common pre workout ingredients. It has extensive evidence supporting its effects on increasing nitric oxide production, power output, and endurance.
7 grams exceeds the standard 6 gram clinical dosage of l-citrulline malate. It is included at the proper 2:1 ratio in Superhuman Supreme pre workout.
L-Taurine – 1 gram
Taurine is kind of a "miscellaneous" pre workout ingredient with a range of potential, albeit limited, physical benefits. It can aid in blood flow, reduce cramping, and act as a booster to anti-oxidant defense systems (Examine). It's a pretty insignificant ingredient in pre workout compared to other ingredients, but doesn't hurt anything either.
1 gram is a somewhat light dosage for Taurine, but it's not really a big deal. It's not really a standout ingredient for pre workout supplements.
S7 – 100 mg
S7 is a patented blend of seven plant-based ingredients (green coffee bean extract, green tea extract, turmeric extract, tart cherry, blueberry, broccoli, and kale) that has been shown to increase nitric oxide production, aiding pumps in athletes.
100 mg is twice the clinical dosage, so you can expect decent pumps from Superhuman Supreme.
Beta Alanine – 3.5 grams
Beta Alanine has been repeatedly shown to increase maximal strength levels when taken regularly.
3.5 grams is a standard beta alanine dosage, so you're all set here.
Betaine Anhydrous – 2.5 grams
Betaine is included to help with power output. Research is inconsistent on this claim, but it is a popular ingredient nonetheless.
2.5 grams is within the range of recommended daily dietary supplementation on Examine.
L-Theanine – 150 mg
Theanine is a stimulant, similar to caffeine, but is most effective when combined with caffeine. Combined, theanine can work synergistically and help reduce some of the negative side effects of high caffeine dosages like jitters.
150 mg is a solid dose of L-Theanine. Higher doses can actually shorten the longevity of a pre workout (though multiple variables can impact this – there is no single perfect dose of L-Theanine), so 150 mg is within the sweet spot for Superhuman Supreme.
AstraGin – 50 mg
AstraGin is a patented ingredient that aids the absorption of pre workout ingredients.
BioPerine (Black Pepper Extract) – 10 mg
BioPerine is also a patented ingredient, this time its black pepper extract, that helps aid in the absorption of nutrients in the body.
You don't often see BioPerine combined with AstraGin, but I suppose Alpha Lion didn't want to cut any corners here.
And there you have it! You can check out Superhuman Supreme Pre Workout from Nutrition Cartel.
Alpha Lion Superhuman Supreme Pre Workout Review