Hooligan Bare Knuckle pre workout is a stim free pump and focus pre workout supplement from Apollon Nutrition.
True to Apollon's legacy as a hardcore supplement brand, Hooligan Bare Knuckle has an absolutely overloaded ingredient label. Notable inclusions are 8 grams of L-Citrulline, 1.5 grams of Agmatine Sulfate, 2 grams of L-Tyrosine, 1 gram of Lion's Mane, 600 mg of VASO6, and 600 mg of Alpha GPC.
Like I said, it's an insane label. So I was very excited when Supp Kingz sent me over a tub to review.
The short version? It does not taste good, but it delivers on the promise of its label. In fact, it made our lists of best pump pre workouts and best caffeine free pre workouts.
It also delivers surprisingly great focus, despite being a non-stim pre workout.
Stim Free - Crazy Pump + Focus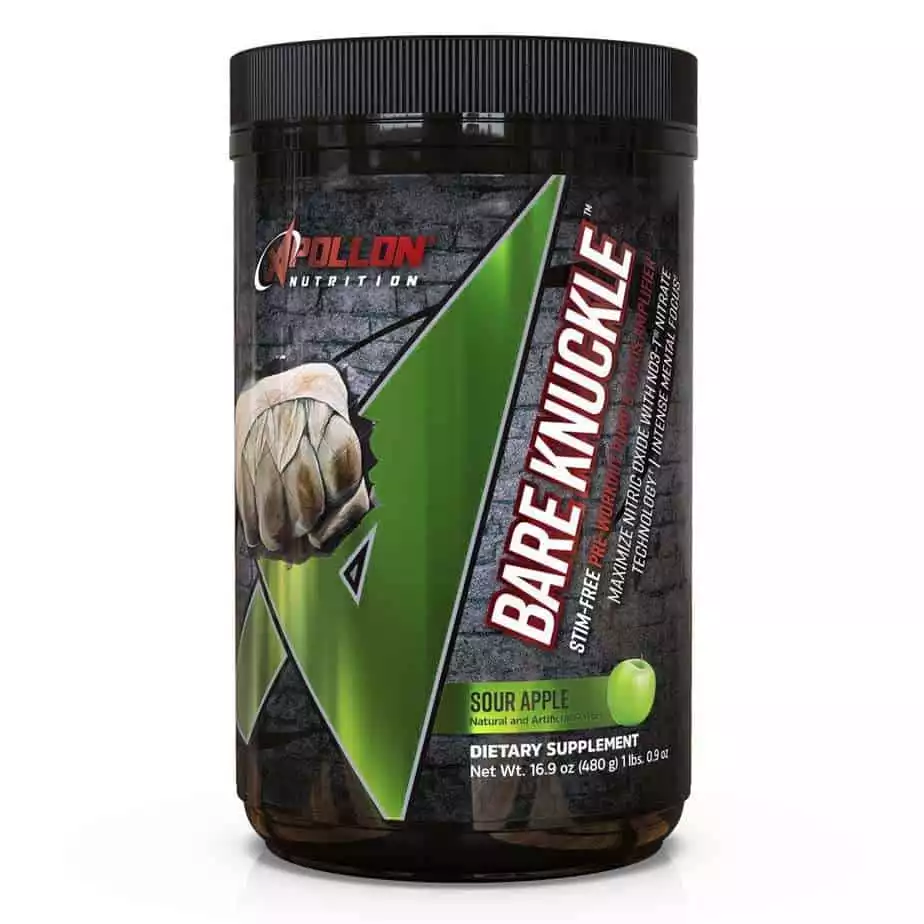 Bare Knuckle v4 - Apollon Nutrition
With 8 grams of L-Citrulline, 1 gram of Lion's Mane, 2 grams of L-Tyrosine, 1.5 grams of Agmatine Sulfate, 600 mg of Alpha GPC, 600 mg of VASO6... this is definitely one of the most loaded STIM FREE pump + focus formula of 2024.
Discount Codes:
LIFTVAULT = 15% off at Nutri Cartel
Shop Nutri Cartel
Lift Vault earns a commission if you click this link and make a purchase at no extra cost to you.
Where to Buy
You can buy Hooligan Bare Knuckle from many places, including the following retailers:
My Experience
Full write up of my experience with Hooligan Bare Knuckle is coming soon, but I enjoyed and recommend this product.
Pros:
Nasty pumps
Excellent non-stim focus
No caffeine (if you want that)
Cons:
Does not taste good at all (I rarely call this sort of thing out… but it's pretty bad even by Apollon standards. I had Peach Iced Tea.)
If you want caffeine, go with the regular Hooligan Pre Workout, which I absolutely love.
Hooligan Bare Knuckle Ingredients
Here's the ingredients label for Hooligan Bare Knuckle.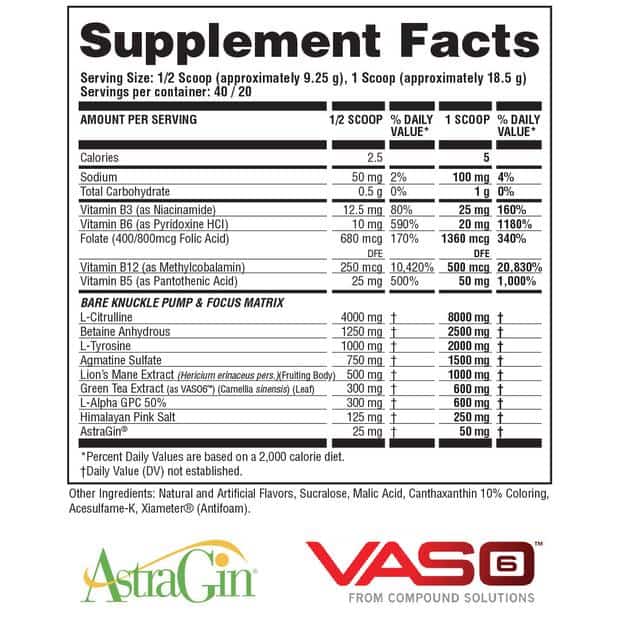 L-Citrulline (8,000 mg)
L-Citrulline is one of the most common pre workout ingredients. It has extensive evidence supporting its effects on increasing nitric oxide production, power output, and endurance.
Although most research uses a variation known as L-Citrulline Malate (2:1), anecdotal evidence supports that L-Citrulline delivers much of the same benefit.
When included as pure L-Citrulline, we like to see 4 grams as the dosage. One full scoop of Hooligan Bare Knuckle delivers 8 grams of L-Citrulline, which is the largest dosage of pure L-citrulline I've ever seen in a pre workout.
When stacking this product, I'll often just take a half scoop, as many of my pre workouts already contain pump ingredients, including citrulline malate.
Betaine Anhydrous (2,500 mg)
Betaine is often included in pre workout supplements to help increase your power output. However, research is pretty inconsistent around this claim.
Betaine is also included in pump formulas because it theoretically could indirectly "…enhance vasodilation and cellular swelling during resistance training."
2.5 grams is a pretty strong dose of this ingredient. (More info: Examine)
L-Tyrosine (2,000 mg)
L-Tyrosine helps "smooth out" some of the harsher effects of stimulants and increase focus. Some limited research also shows it can act as a cognitive booster in stressful environments.
2 grams is an excellent dosage and lands within the range recommend for use in an exercise setting (source).
Agmatine Sulfate (1,500 mg)
Agmatine sulfate assists endothelial NO synthase (eNOS), which signals vasodilation.
1.5 grams is an excellent dosage for this ingredient. You usually want to see at least 1 gram.
Lion's Mane Extract (1,000 mg)
Lion's Mane are a type of mushroom, also known as yamabushitake or hou tou gu.
They have a wide range of potential benefits, including reduction of anxiety and cognitive decline.
Unfortunately, there has only been one human study completed so far. As this study used a daily dosage of 3,000 mg of Lion's Mane split into three dosages throughout the day, there is limited understanding of what constitutes an optimal dosage.
Green Tea Extract as VASO6 (600 mg)
VASO6 is a proprietary blend of green tea catechins that has shown to increase vasodilation by 50%, increasing blood flow to muscles.
300 mg is the recommended dose for VASO6. For additional detail on this ingredient, check out The Supplement Engineer.
Hooligan Bare Knuckle goes above and beyond, essentially delivering a double dosage of this blood flow enhancer.
L-Alpha GPC 50% (600 mg)
Alpha GPC is a cholinergic compound that is produced within the body. It is used for enhancing cognition and increasing power output.
For athletic purposes, doses tend to range from 300 mg to 600 mg. Doses for reducing the effects of cognitive decline are much higher, around 1,200 mg per day.
Himalayan Pink Salt (250 mg)
Salt helps retain water, which helps you achieve a swole look during your workout.
250 mg is a good dosage for this ingredient.
It also contains important electrolytes! (More info: Supplements in Review)
AstraGin (50 mg)
AstraGin is a patented ingredient that aids the absorption of pre workout ingredients.
It usually ranges between 25 mg and 50 mg.
Second Opinions
Here are some other views of Hooligan Bare Knuckle Pre Workout from around the web.
Review Bros
"The pumps were disgustingly good."
Fitness Deal News
Hooligan Bare Knuckle Review
Summary
If you're looking
Pros
Great focus
Insane pumps
Fully transparent label, clean ingredient list
Non-stim for late workouts or stim breaks
Cons
Tastes bad (I tried the Peach Iced Tea flavor)
Expensive