In a world where Dark Energy no longer exists, SoCal shines through the fog with Wild Fire! Warning, this is an illicit, hardcore, stimulant-based pre-workout as it contains DMHA/DMAA, not recommended for beginners.
Otherwise, I highly recommend this product, and tie it for first place on my personal favorite pre-workout. If you are looking for the training intensity you have been missing, this is your product. And if you are looking for a euphoric, Dark Energy-like experience, this is one of the closest to hitting the nail on the head.
Thank you, Jake from Nutricartel, for sending this full product for review!
Top Rated Pre-Workout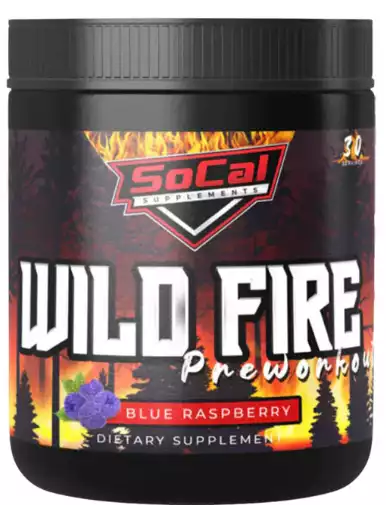 Wild Fire Pre Workout - SoCal Supps
If you are looking for the training intensity you have been missing, this is your product. Not recommended for beginners.
Discount Codes:
LIFTVAULT = 15% off at Nutri Cartel
DMAA: 100 mg
DMHA: 200 mg
DMAE: 500 mg
Huperzine: 350 mcg
Shop Nutri Cartel
Lift Vault earns a commission if you click this link and make a purchase at no extra cost to you.
Related:
Where to Buy Wild Fire by SoCal Supplements
You can buy Wild Fire by SoCal Supplements from the following retailers:
Experience
My experience was very consistent and potent. Within the first five minutes, I could feel the paresthesia tingles around my lips eventually spreading down my neck. By 20 minutes, I had a noticeably energized feeling with emerging tunnel focus. Those feelings ramped up until the 40-minute mark, when euphoria set in. I could feel the floating head, elevated mood, and nootropic head high, feeling 8.5/10.
The thermogenic effect rivaled the strongest products. I felt so comfortable sitting in my car, as the focus and euphoria were so strong that I could just sit there and enjoy the ride. When training, I had an intensity that reminded me what mind-to-muscle connection is and why you take a product like this. I developed pectoral muscle contraction control back in the days of DMAA, and I think products like this helped isolate it for me.
Improved breathing was excellent, but I wasn't taking the breaths I needed for some lifts a few times. I had to remember to take those extra breaths, although there weren't any negatives like lightheadedness. The endurance helps you push through with great intensity. The pumps were minimal, butthe increased movements added to muscle fullness. The focus and energy lasted more than 5 hours without a noticeable crash. The day after, I would feel the DOMS (delayed onset of muscle soreness), which aided in my toning goals for my cut this summer.
Side Effects
This is a hardcore pre-workout you should avoid abuse or overuse. While using this product, I didn't experience any negative effects, as I didn't use it on consecutive days but rather a few days apart. I would only use this once in a while or every two weeks max, but I wanted to have this review ready sooner as this product won't be around for long if the FDA has its way.
Flavor
Blue raspberry was the flavor I was sent for review. It was an excellent flavor, smooth with no tart, just a slight tang. The flavor desirability was about a 9/10. The suggested amount of water is 8-10 ounces, and I enjoyed it most around 10 ounces of water, as it is a bit too tart otherwise.
Dose/Scoop Size
The serving size is 14.3 grams for a whole serving, which is a complete leveled scoop. I shake my supplements before using them, especially the first time, but maybe not every time. This product didn't give a fluffiness, so I feel the level scoop I had will be the same as anyone.
Since this is a hard stimulant-based product, you should weigh your scoops out when first using until you assess your tolerance. I only used a full serving each time, which hit precisely how I needed it. SoCal gives an amazing 30 servings, which used to be the market standard but isn't anymore. The mixability was good, with a very minor amount of sediment toward the end of the shaker.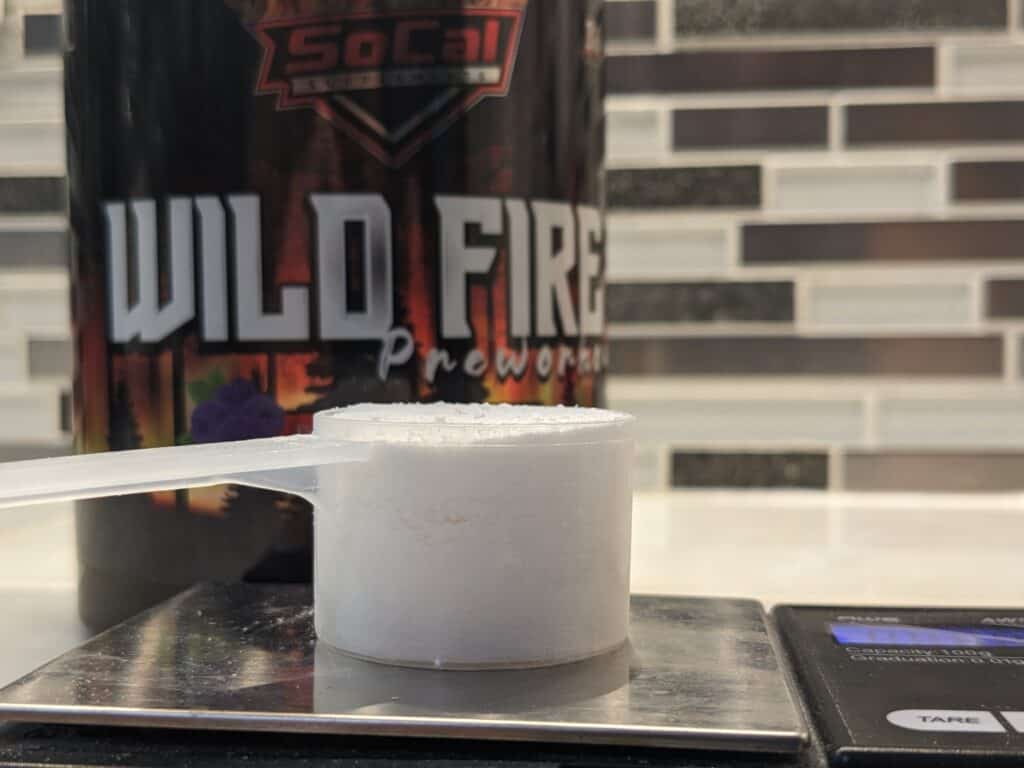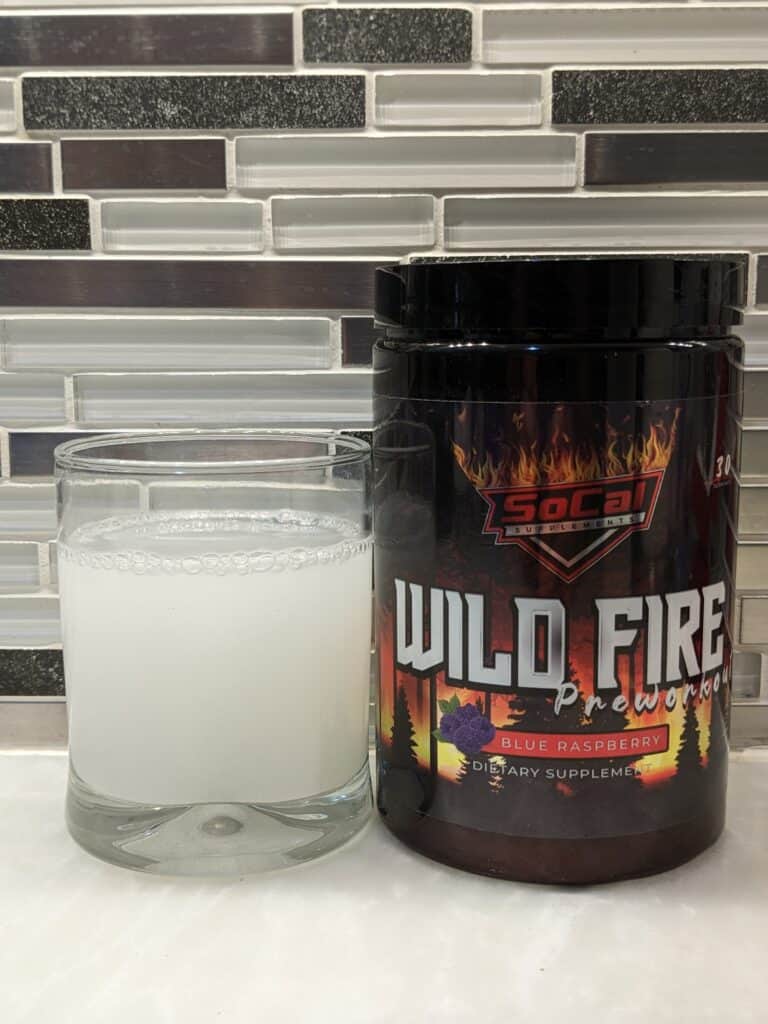 Ingredients
I am satisfied with the ingredients on this label, everything is more well-dosed than it used to be back when DMAA existed. Going from experience alone, this label is not missing anything. If you want to judge it based on the label, there isn't too much magic other than the two high stimulants DMHA/DMAA, along with some lower dosages of ingredients. If I had my preference, I would take out the l-theanine to hopefully experience even greater euphoria. It is possible that the neuron linkage occurs due to the l-theanine being present.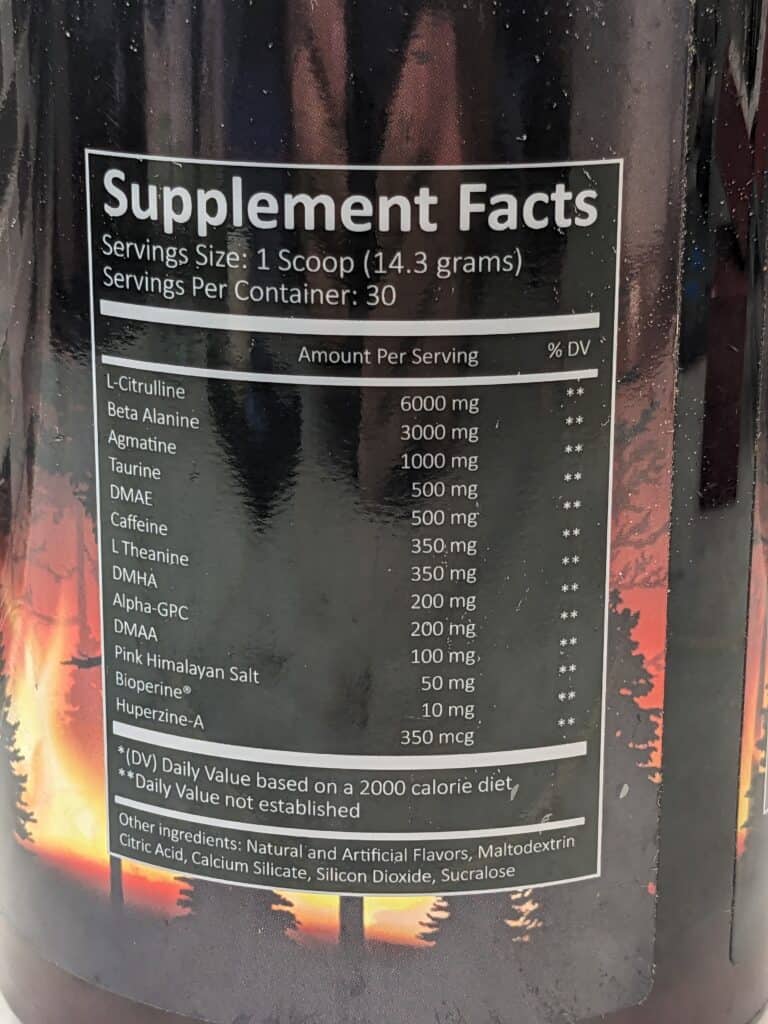 L-Citrulline – 6 g
L-citrulline is one of the most common pre-workout ingredients. Extensive evidence supports its ability to increase nitric oxide production, power output, pumps, blood flow, and endurance. It is typical for this ingredient to contain malic acid mixed in a 2:1 ratio per the clinical studies. Malic acid has some benefits similar to beta-alanine, and these ingredients aren't in a chemical bond, and some products may list malic acid as a separate ingredient.
You want four to six grams of pure l-citrulline for proper clinical dosage, dosed here in wild fire. If the ratio is on the label as 2:1, a 10-gram dose would contain close to 6.6 grams. Per the clinical trials, daily supplementation is required to obtain the full benefits.
Beta-Alanine – 3 g
Beta-alanine has been shown to support muscular endurance and act as a lactic acid buffer. Depending on the source of this ingredient, you may feel the paresthesias tingling effect. This feeling is often desirable in the sports community, as it makes you feel the intensity after ingestion. This may be negated by diet and intake of beta-alanine.
Beta-alanine requires regular intake to be effective, akin to creatine. Daily beta-alanine supplementation is recommended to become effective, with a three to five weeks loading period. Three to four grams is the recommended daily dosage for beta-alanine, putting wild fire at the low end of the clinical dose range.
Agmatine – 1 g
Agmatine is often included in pre-workout supplements as a pump ingredient, but more research is needed to understand how reliable these claims are. Theoretically, since agmatine can increase endothelial nitric oxide, it can help boost nitric oxide in the body and improve circulation.
Improving circulation can help with more than achieving a pump, but rather help the distribution and saturation of ingredients. This is especially important with high and hard stimulants. A comparable dose in similar product categories would be 750-1,000 mg putting wild fire on the high end.
Taurine – 500 mg
Taurine is a common ingredient with many positive effects, such as enhanced physical performance, improved DOMS (delayed onset muscle soreness), improved blood pressure via higher cardiac output, possible reduction of cholesterol and triglyceride levels, increased uptake of glycogen to mitochondria for energy utilization (Examine).
Taurine supplementation might block beta-alanine uptake as they are antagonistic, which wouldn't be an issue if used aside from pre-workout. It is not commonly known that beta-alanine/carnosine is a taurine-depleting antagonist (Examine). The 500 mg dose is low (one to six grams daily in studies); however, more would amplify the benefits.
DMAE – 500 mg
DMAE is a choline molecule used to treat cognitive decline in elderly patients. It is included in pre-workouts to promote focus and feelings of well-being.
Dosing guidance for performance enhancement needs to be better understood via further studies. For reference, Chemix pre-workout contains 400 mg of DMAE, while Dark Energy and Assassin V6 contain 750 mg.
Caffeine – 350 mg
Caffeine anhydrous is the standard form of caffeine, known for increasing energy, alertness, motivation, and mood. The caffeine content varies for each product. The 350-450 range is the typical dosage for sports supplements, and some products may contain other forms, such as below di-caffeine malate.
Less is more, as your dependency will lead to diminishing returns as you increase your intake. The overall combinations of many factors, such as sleep, when you take caffeine, diet, and nutrition, affect how much you will need. Don't let the dosage confuse you on how strong a product is, but rather look for other stimulants like the DMHA/DMAA found in wild fire.
L-Theanine – 350 mg
Taken from Healthline, in a review of five randomized controlled trials that included 104 participants, four trials linked L-theanine with reduced stress and anxiety in people experiencing stressful situations (ScienceDirect). This is dosed on the low end of the recommended 300-500 mg range for relaxation, which is great to have in a sleep aid and is often included in high stimulant pre-workouts to nullify the side effects.
Typically it isn't needed in regular caffeine-based pre-workouts, and unfortunately, we are given 350 mg here, which is more than some sleep aid supplements. Based on the effectiveness of wild fire, I can't imagine what side effects could arise if this wasn't dosed in this product.
DMHA – 200 mg
DMHA is a stimulant similar to DMAA, which boosts energy, focus, and mood. DMHA shares similar effects as DMAA but requires a larger dosage. This made it a popular pre-workout ingredient for replacing DMAA in DMHA pre-workout supplements.
It comes in many different forms: juglans regia extract, English walnut extract, 2-aminoisoheptane, kigelia africana, octodrine, 2-amino-5-methylhexane, 2-amino-6-methylheptane, 6-amino-2-methylheptane, 2-isooctyl amine, 2-heptylamine, 6-methyl-, 2-metil-6-amino-eptano, amidrine, vaporpac, 1,5-DMHA, and 1,5-dimethylhexylamine. Read about the comparison of DMAA vs. DMHA here.
The dosage in Wild Fire is 200 mg, above the industry standard but varies based on the product. However, just because it says something on the label doesn't necessarily mean you will always "feel" it due to different sourcing purities. It isn't often we find this ingredient with DMAA, so try lightly if you are not used to hardcore supplements like this.
Alpha GPC – 200 mg
Alpha GPC is a cholinergic compound that is produced within the body. It is used for enhancing cognition and increasing power output. Based on several studies, Alpha GPC dosages should be between 300 and 600 mg. At 200 mg, this is below the typical dose found in pre-workouts.
DMAA – 100 mg
DMAA can be extracted from geranium, which is why this ingredient is on the label. 1,3-dimethylamylamine, aka DMAA, is a stimulant that induces energy, euphoria, and motivation. After coming under scrutiny from the FDA in 2015, there were a few years when DMAA disappeared entirely from pre-workouts. While DMAA has been listed in some products recently, it may also appear as an extract or stems and leaves; however, this product lists it as the actual name. Before being banned, the dosages used were around 60 to 100 mg. Since it is more potent than caffeine and DMHA, less is plenty, especially since many products didn't actually contain DMHA when it was being used fully.
Check out Kyle's in-depth comparison of DMAA vs. DMHA, plus much more information.
Pink Himalayan Salt – 50 mg
Salt helps retain water, enabling you to achieve fuller muscle bellies during your workout. This can help prevent muscle spasms and allow for a good contraction.
50 mg is a low dosage for this ingredient; however, it is diet dependent as not everyone will need higher amounts (for comparison, FSU Dyehard has 300 mg, and Hooligan Bare Knuckle has 250 mg).
It also contains essential electrolytes! More info can be found at Supplements in Review.
Bioperine – 10 mg
Black pepper extract, or bioperine, is a patented ingredient that increases the bioavailability of nutritional supplements. In other words, it helps your body absorb more of the ingredients in the product, which helps the effectiveness of the ingredients. As the serving size increases, so does the need for a digestion aid. Typically, you only find it dosed at 5 mg, but we are oddly given double the dosage, which can only be good.
Huperzine A – 350 mcg
Huperzine A is cholinergic and acts as a cognitive enhancer. As an acetylcholinesterase inhibitor, it helps lengthen the half-life of cholinergic sources (Examine).
Depending on the extract percentage, it tends to be taken in 50 to 200 mcg dosages. This is an above-standard dosage, making it highly effective in this pre-workout.
Wild Fire Pre-Workout Review
Summary
If you are looking for a Dark Energy replacement, look no further. I had this product back last year, and I wondered why it wasn't known or promoted. Almost nine months later and now people can't stop talking about it and for good reason. Pick this up today, try all the flavors, and keep that stash for those rainy days when you need an extra edge.
Pros
Dark energy-like effects
Euphoria
Long-lasting energy (5+ hours)
Highly potent ingredients
Mind-to-muscle connection
Face and skin tingles
Good pumps
Thermogenic
Great tasting flavor
Intense focus
Intensity