What is Beta-Alanine?
Beta-alanine is a version of alanine that turns into carsonine after ingestion. Carsonine is an acid buffer that is stored in cells within the body and released when pH levels drop down, reducing the effects of lactic acid. In turn, this helps reduce muscular fatigue and soreness. Muscular fatigue is reduced in the 60 to 240 second range, which makes it directly applicable to reducing fatigue during a lifting set. These results have been observed consistently.

A small, but consistent, improvement in muscular hypertrophy has also been observed as the result of taking beta-alanine.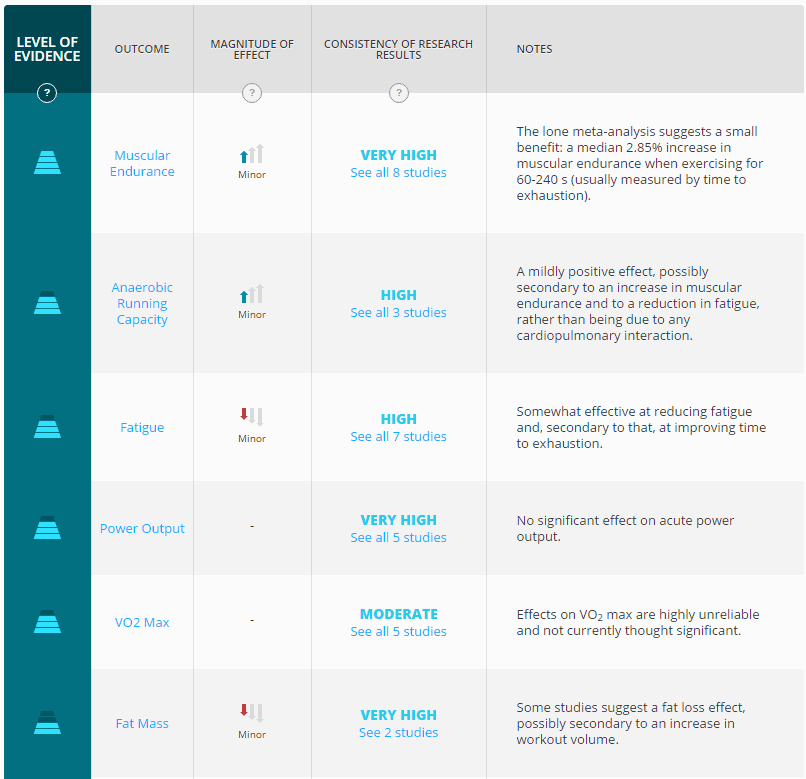 For the full spectrum of research on beta-alanine, I recommend checking out Examine, which is where the above chart is from.
How Much Beta-Alanine Should I Take?
Research supports 2 to 5 grams of beta-alanine as an effective dosage. 4 grams is often used in good pre-workout supplements.
Best Beta-Alanine on Amazon Prime
If you're making your own pre-workout or just looking for an easy way to supplement you diet with beta-alanine, Amazon Prime makes it easy. For beta-alanine, I generally prefer to go for the cheapest option.
If you're not signed up for Amazon Prime yet, start your 30 day free trial.
Best Value
Personal Favorite
Mettle Energy Beta Alanine Bulk Powder – 500g | for Athletic Performance and Recovery
BULKSUPPLEMENTS.COM Beta Alanine Powder - Beta Alanine Pre Workout, Beta Alanine 3000mg - Beta Alanine 500g, Beta Alanine Bulk - Unflavored, Pure & Gluten Free, 3g per Serving, 500g (1.1 lbs)
Nutricost Beta Alanine Powder 500 Grams (1.1lbs) - Pure Beta Alanine, Gluten Free & Non-GMO
PrimaForce Beta Alanine Powder Supplement - Enhances Strength Performance / Reduces Fatigue, 500 Grams
HR Supplements Beta-Alanine Powder, 500 Grams (1.1 Lbs), Unflavored, Lab-Tested, Scoop Included
Best Value
Mettle Energy Beta Alanine Bulk Powder – 500g | for Athletic Performance and Recovery
Personal Favorite
BULKSUPPLEMENTS.COM Beta Alanine Powder - Beta Alanine Pre Workout, Beta Alanine 3000mg - Beta Alanine 500g, Beta Alanine Bulk - Unflavored, Pure & Gluten Free, 3g per Serving, 500g (1.1 lbs)
PrimaForce Beta Alanine Powder Supplement - Enhances Strength Performance / Reduces Fatigue, 500 Grams