Skywalk is a nootropic supplement from MyoBlox, a premium supplement manufacturer. Skywalk claims to improve focus and productivity. Notable Skywalk ingredients include L-Tyrosine, Alpha GPC, and caffeine.
As a busy guy, I'm always on the lookout for something that can help me be more productive while working from home.
Nutri Cartel was kind enough to send over a tub of Skywalk for me to try out and review for you all.
I really liked Skywalk as an afternoon pick-me-up and experienced noticeable improvements in energy and focus. I'd recommend it to those looking for clean energy and focus without a crash. The peach rings flavor is delicious!
Best Focus Nootropic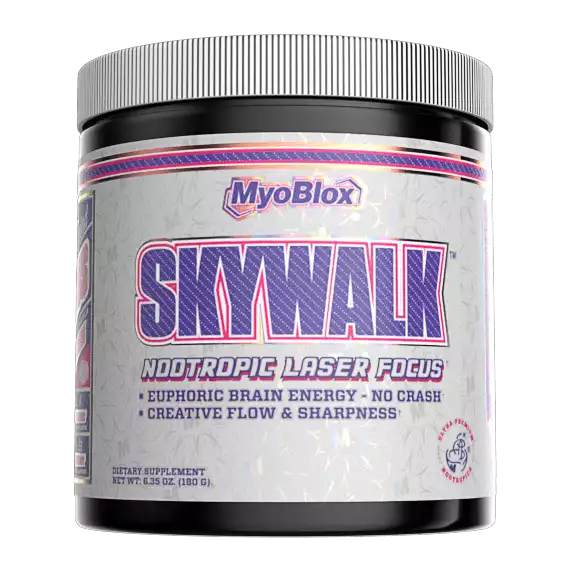 Skywalk Nootropic
With a lighter 200 mg dosage of RealCaf caffeine, clinical dosages of Alpha GPC and L-Tyrosine, and a blend of other stimulants at just the right dosage, Skywalk provides a smooth, long-lasting focus.
Great for working at home or the office!
Discount codes:
LIFTVAULT = 15% off at Nutrition Cartel
Caffeine: 400 mg
Servings: 18
Alpha GPC: 800 mg
L-Tyrosine: 3,000 mg
Shop Nutrition Cartel
Lift Vault earns a commission if you click this link and make a purchase at no extra cost to you.
My Experience
I'm on my second tub of Skywalk, so I've had quite a bit of experience with this product. Like I said above, I mainly used it in the context of working from home and needing an afternoon boost to get through my work day.
Dose
Depending on how I was feeling that day, I either went with a heaping scoop or a scoop and a half if I was really dragging.
Effects
The most noticeable effects were those advertised: focus and productivity. Skywalk definitely helps me stay in the zone while doing work, getting locked in to whatever I'm paying attention to. It's not an intense feeling, but a noticeable increase for me.
I would recommend Skywalk for those looking for improved focus while at work, studying, or gaming. In fact, it made it onto my list of the best nootropic pre workout supplements.
Side Effects
Afterward, Skywalk doesn't give me a crash or other negative side effects. It's very clean, nice energy.
Flavor
I've tried the Red Wave and Peach Rings flavor. Peach Rings is definitely my favorite, but Red Wave isn't bad.
Where to Buy Skywalk Nootropic
You can buy Skywalk from the following retailers. Don't forget to use a discount code to save some money!
Skywalk Ingredients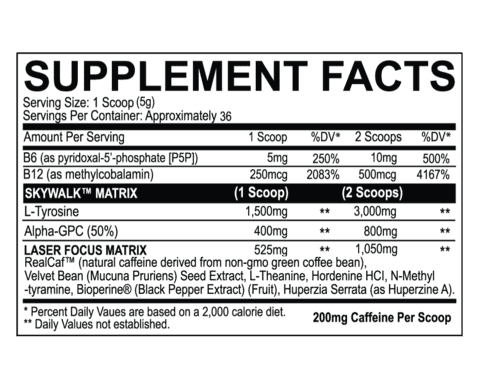 L-Tyrosine – 1,500 mg
L-Tyrosine helps "smooth out" some of the harsher effects of stimulants and increase focus. Some limited research also shows it can act as a cognitive booster in stressful environments.
1.5 grams is a solid dosage and lands within the range recommend for use in an exercise setting (source).
Alpha GPC – 400 mg
Alpha GPC is a cholinergic compound that is produced within the body. It is used for enhancing cognition and increasing power output.
For athletic purposes, doses tend to range from 300 mg to 600 mg. Doses for reducing the effects of cognitive decline are much higher, around 1,200 mg per day.
Laser Focus Matrix – 525 mg
The following is included on Skywalk's ingredient label as a propriety blend called "Laser Focus Matrix." In total it is 525 mg per scoop, 200 mg of which is caffeine, so the remaining 325 mg is spread out across the other ingredients in unknown doses.
While this is frustrating as a consumer, I can say that my experience with this product has been positive, which is what matters the most. Still, I'd love to see Myoblox move away from using proprietary blends in their products.
Caffeine – 200 mg
200 mg may not seem like much, but paired with the L-Tyrosine and Alpha GPC I think it provides a bigger boost than you'd expect. Still, sometimes I would take a scoop and a half if I felt like I needed the extra 100 mg of caffeine.
Velvet Bean (Mucuna Pruriens) Seed Extract
Also known as Velvet Bean, mucuna pruriens extract is a traditional herbal supplement with minor dopamine increasing and cortisol reducing effects, among other things.
One of the more reliable effects it has is a noticeable reduction in Parkinson's Disease symptoms, though that is not relevant here.
L-Theanine
L-Theanine is a somewhat sedative amino acid, noted for promoting relaxation and taking the edge off of caffeine.
200 mg is a decent dosage of L-Theanine and should be enough to realize some of the synergistic effects it has with caffeine.
Hordenine HCL
Hordenine (N,N-dimethyltyramine) is a stimulant that is often included in recent "nootropic" products. It is not widely researched, so much of the information available comes from anecdotal accounts.
Bioperine
Bioperine is a patented form of black pepper extract. It is included in a wide array of supplements to promote nutrient absorption.
Huperzine A
Like Alpha GPC, Huperzine A is a cholinergic that acts as a cognitive enhancer. It tends to be taken in doses of 50 mcg to 200 mcg.
Skywalk Nootropic Review (Myoblox)
Summary
Overall, Skywalk is an effective nootropic for promoting energy, focus, and productivity. It helps me stay energized throughout the day, get over my afternoon dip in focus, and stay productive while working from home.
Pros
Increases energy
Boosts focus and productivity
No crash or other negative side effects
Cons
Expensive
Uses a proprietary blend