TruBrain nootropic drinks are a variety of nootropic blends in single serve packaging designed to boost focus, productivity, and concentration. They're available in four different types: Extra, Boost, Flow, and Non-Caff.
TruBrain was nice enough to send me a sample box for review, so I was able to try two servings of each type over the course of a week.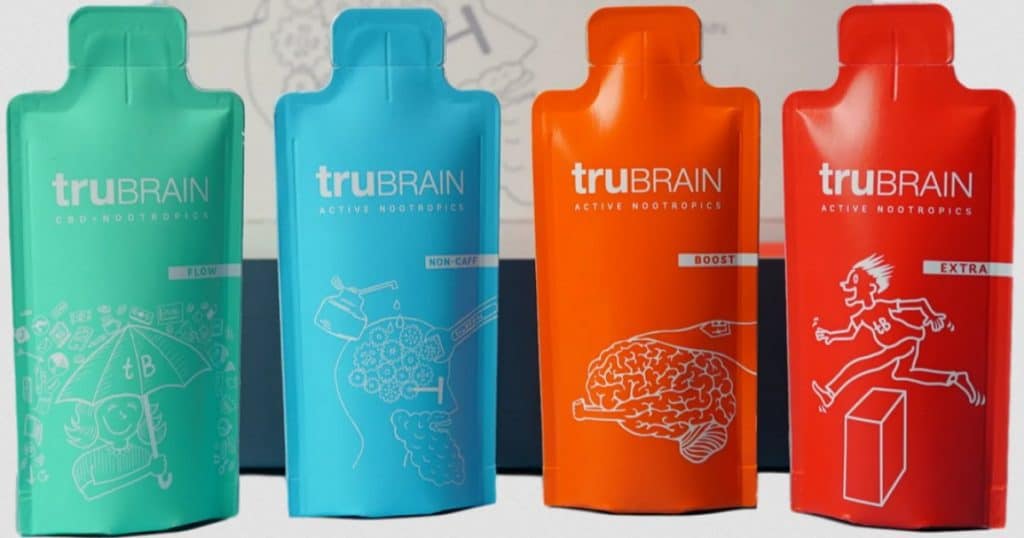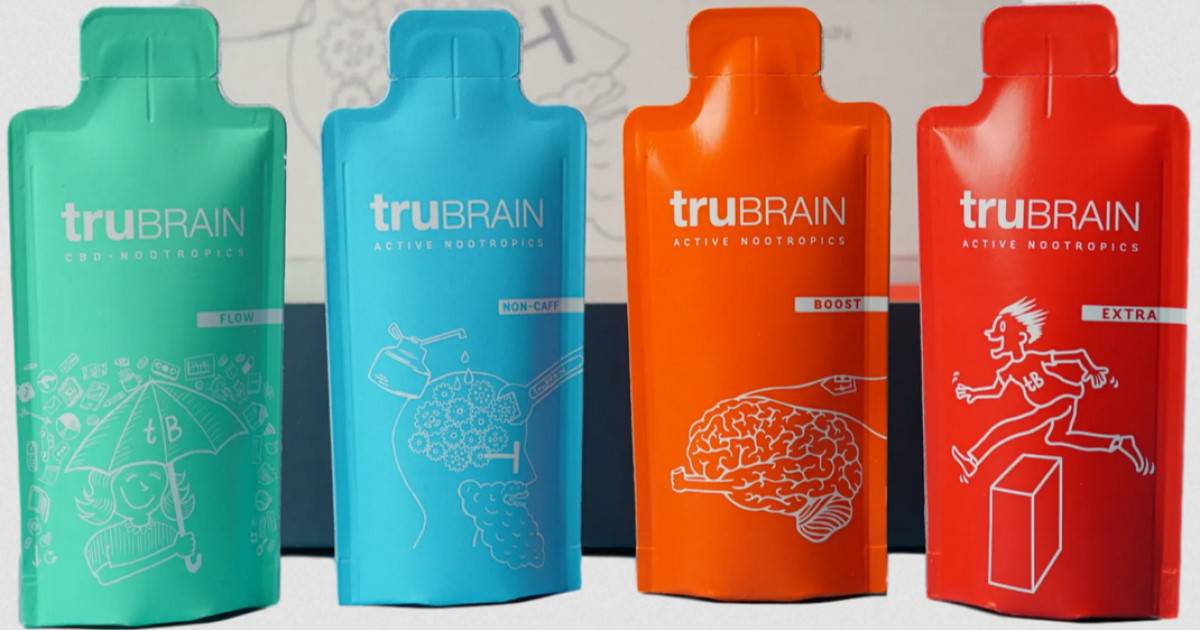 Summary
Overall I was a bit disappointed with TruBrain. I was really excited to try it, but felt like the effects were generally too mild for me. The only version I did truly enjoy was TruBrain Extra, which has adrafinil, but it is quite pricey.
The other types I found to be too mild to be something I'd broadly recommend. They're not bad products, but I think they're overpriced and not geared toward people looking for "maximum effects" (for that, check out Overtime Nootropic by Apollon Nutrition).
One nice workaround for the price issue is that you can try all 4 types of TruBrain nootropic drinks for just $29. That's a pretty decent deal if you're curious but not ready to buy a full package.
My Experience
Below you'll find the four different TruBrain nootropic drink types and my experience with each. They're ranked by preference.
TruBrain Extra (Adrafinil)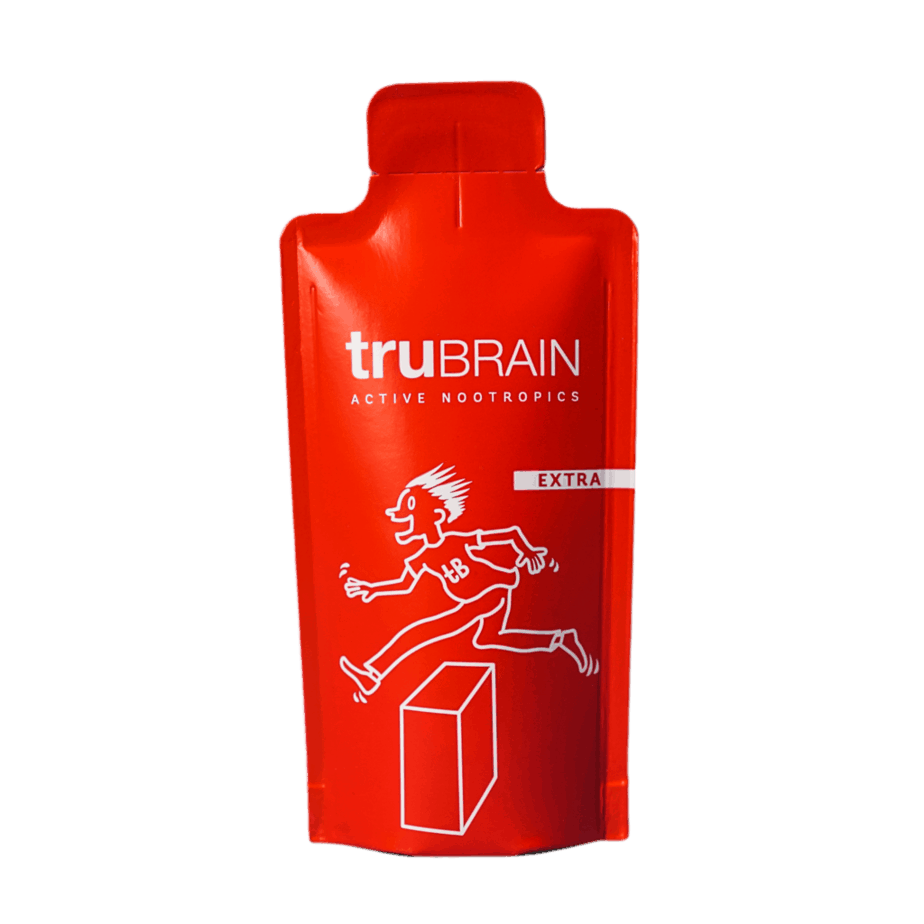 So all of the TruBrain nootropic drinks contain the same base ingredients (more on that later), except for one unique twist. The unique twist for "Extra" is the inclusion of 150 mg of Adrafinil.
This type was my favorite by far and delivered the focus and concentration I was expecting. I tried it before doing some office work and absolutely felt nice and dialed in. I still needed to supplement it with some extra caffeine since the drink only contains 100 mg, but this stacked nicely with my morning coffee.
For those who don't know, Adrafinil is broken down into Modafinil in the body. Modafinil is easily my all time favorite nootropic. It is essentially like super caffeine: it boosts mood a bit, really boosts focus, and doesn't have any of the traditional negative side effects that amphetamines like Adderall have. It's smooth, wears off naturally, and lasts a long time. While Modafinil requires a prescription, Adrafinil does not.
I would recommend TruBrain Extra for those seeking extra edge, focus, and motivation. It is expensive, but I'd say this is the only one that comes close to justifying the price tag.
Frankly, I think you'd be better off just picking up Apollon Nutrition's Overtime nootropic, but that one does not have adrafinil.
TruBrain Boost (Standard)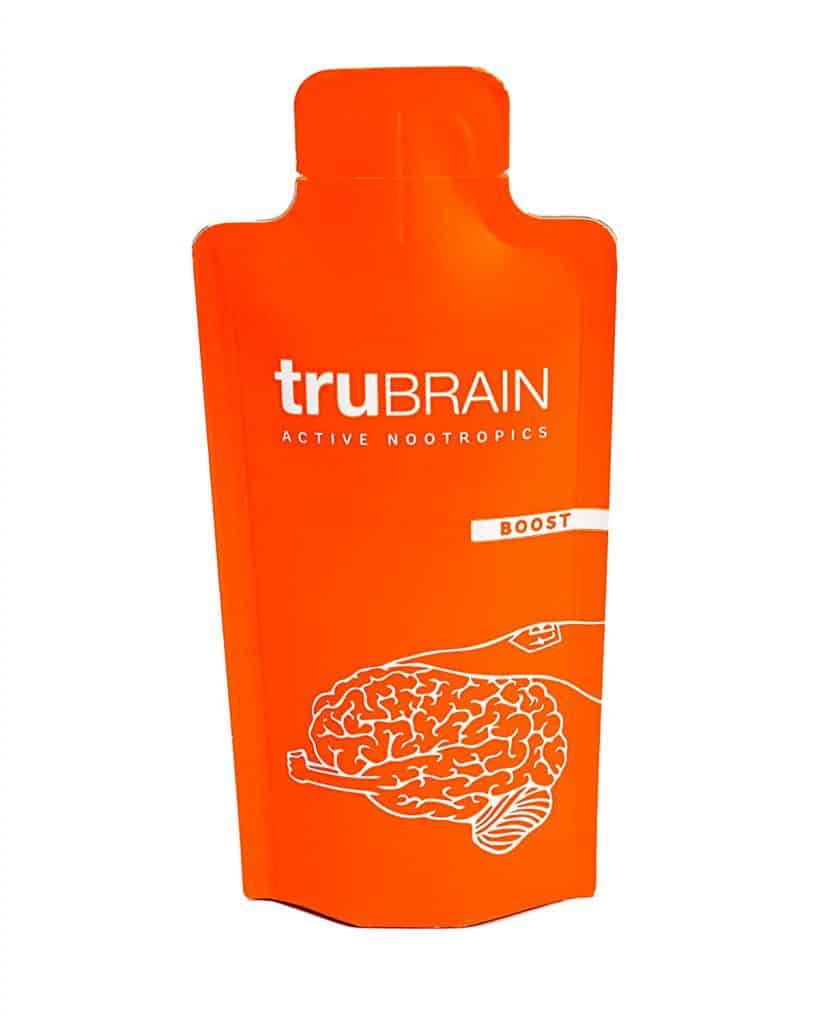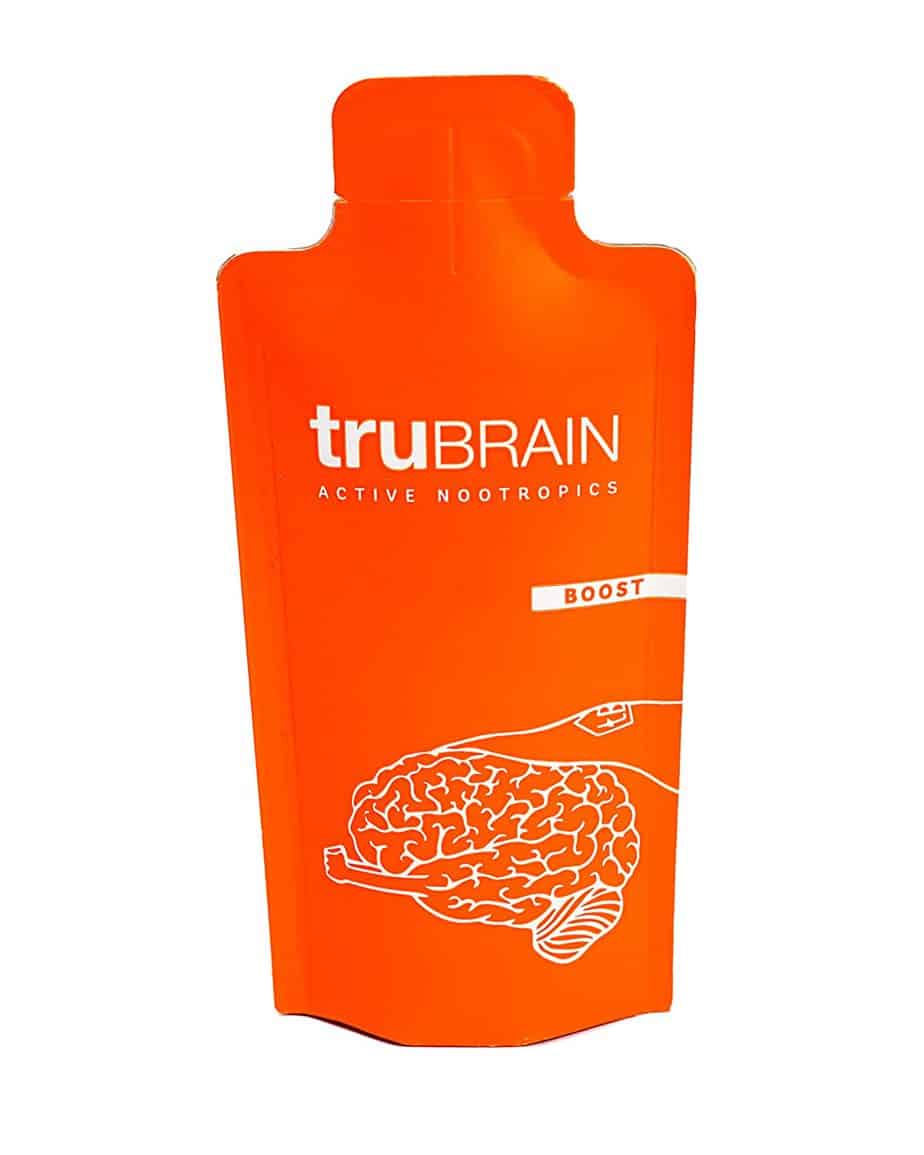 Boost is TruBrains standard nootropic drink. I thought this was one was kind of "meh" to be honest. There's a noticeable uptick in focus and concentration vs. just coffee, but I don't think it's even close to being strong enough to justify the price tag.
I would only recommend TruBrain Boost for beginners that are looking to try a nootropic and aren't concerned with the price.
TruBrain Flow (CBD)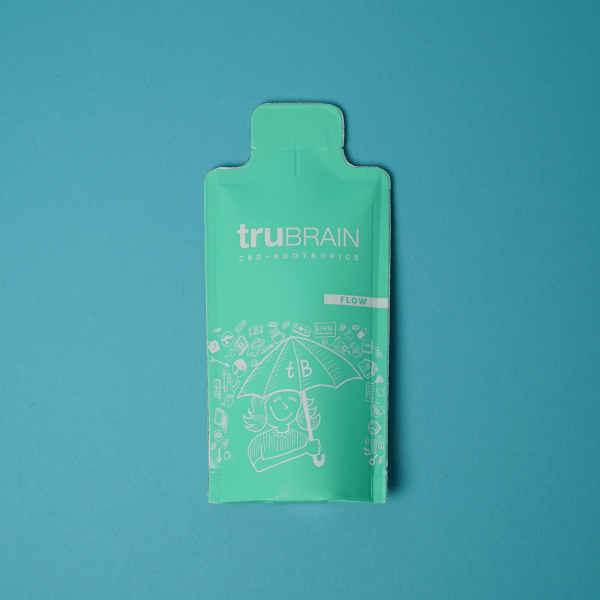 Flow is the "chill out" nootropic, which promises to quiet your anxieties while simultaneously increasing focus and concentration (you get the idea by now). It does have CBD, which is interesting and something I have limited experience with in this kind of product.
I took this before going on a walk. I didn't notice many "chill out" effects, but I also wasn't that stressed or anxious to begin with. I did do some work when I came home after my work and could feel heightened senses of focus and motivation, similar to what I felt with "Boost" but with less stimulation (there is no caffeine in "Flow").
I'm not really sure who TruBrain Flow is for, since I can't say I'd recommend this as an anti-anxiety supplement.
TruBrain Non-Caff (Caffeine Free)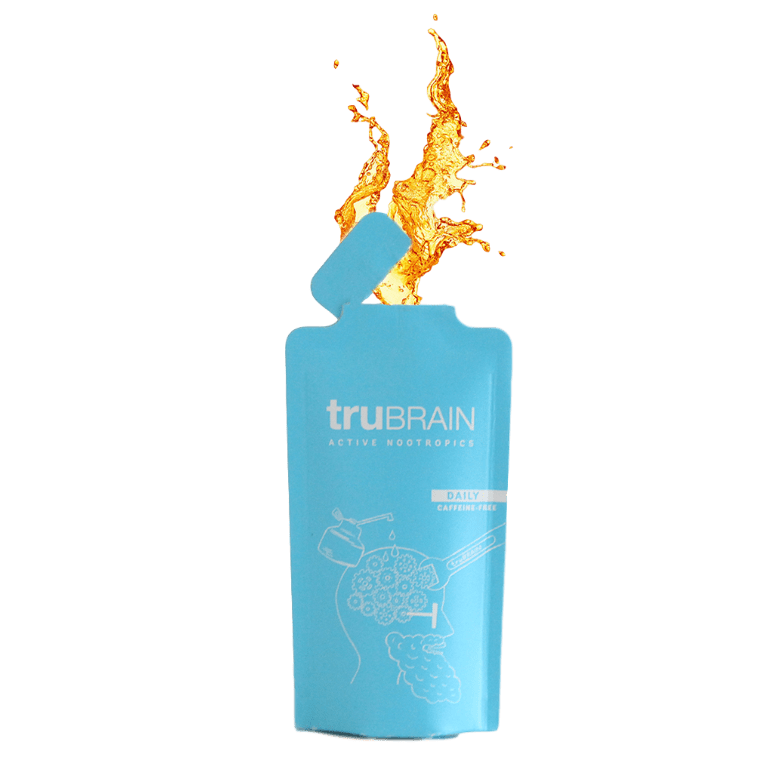 I'll be honest, this was never going to be a variation I liked. I like caffeine a lot, so to me, a caffeine-free product is of limited interest to me (unless it's a caffeine free pre workout that I can stack with a normal, caffeinated pre workout).
So did I still "feel anything?" Yep, there was still focus and concentration to be had here. Was it the level I was looking for? No, it was too mild.
I'd recommend TruBrain Non-Caff to those who are sensitive to caffeine or are comfortable sourcing their caffeine elsewhere AND are new to nootropics and looking to dip their toe in.
TruBrain Ingredients
Final Thoughts
So there you have it. All in all, I think TruBrain is an interesting product, but suffers from two critical deficiencies:
It's too expensive.
Aside from Extra, the effects are too mild.
To be fair, perhaps I am simply not the target audience for this type of product. I would feel comfortable recommending TruBrain to my mom, whereas I can think of some strong pre workouts that I wouldn't recommend she try. Someone looking for a gentle boost for their brain may find the effects of TruBrain to be just right. But for me, it just didn't cut it most of the time.
TruBrain Nootropic Review