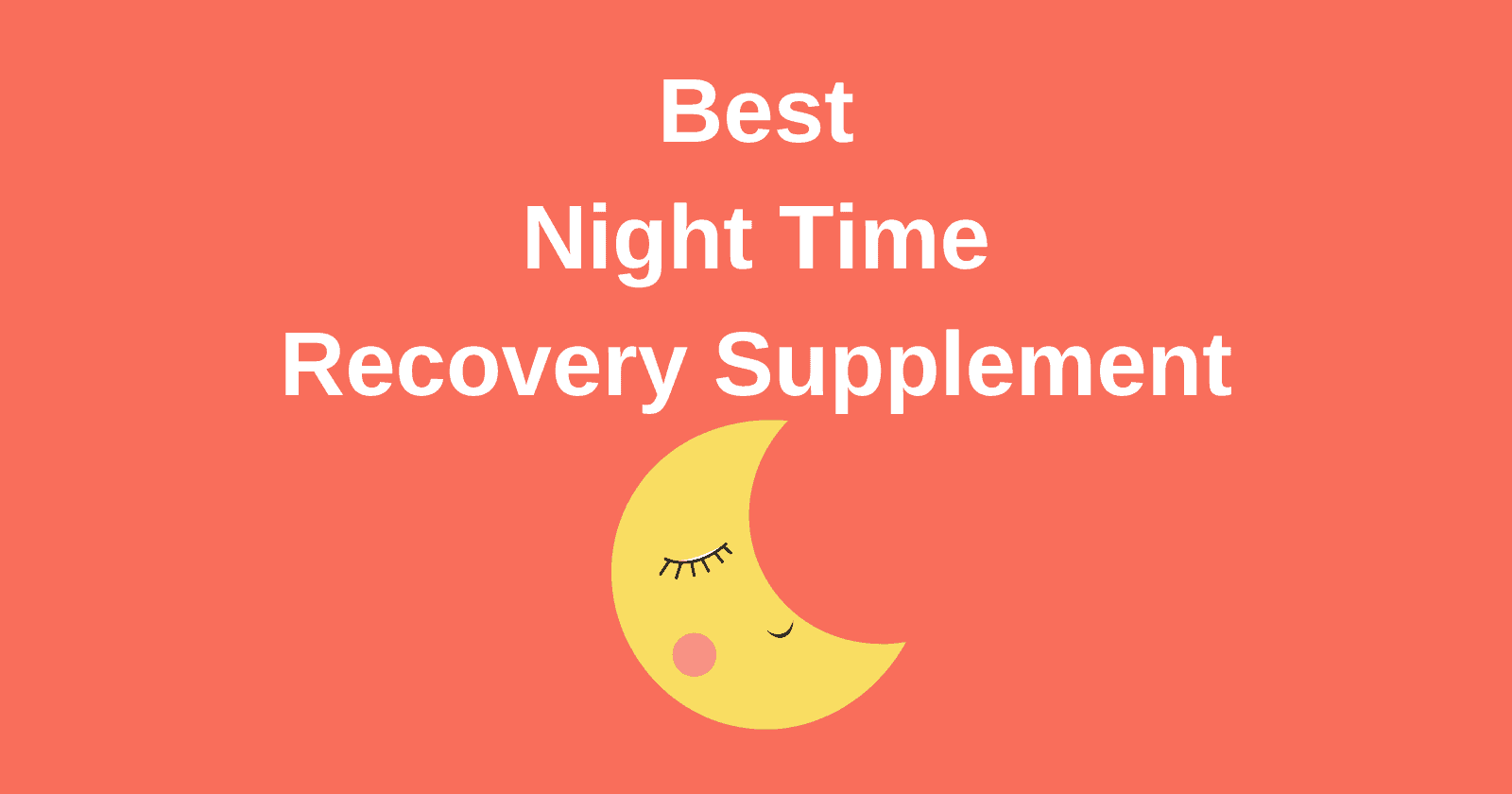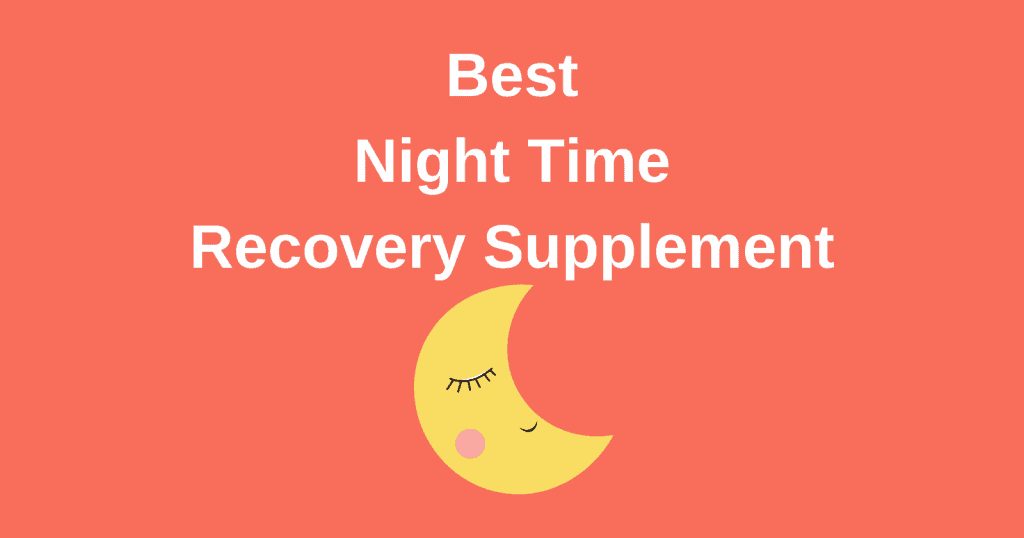 Proper recovery is essential for growing muscle, increasing strength, and making gains in general. Unfortunately, it's often overlooked by many, especially newcomers. This leads to suboptimal progress. As workouts intensify, so should recovery.
For some people, recovery supplements are helpful aids on their fitness journey.
This is especially true of supplements that help aid sleep, which is required for proper muscle recovery and growth.
Night time recovery supplements break into two basic categories:
Sleep aids that help your body rebuild
Protein & nutrition supplements that provide the tools for muscle protein synthesis during sleep
Hibernate by Huge Supplements is my personal favorite sleep aid for post-workout recovery, helping me sleep through the night, reduce soreness and improve overall muscle growth. I like it because it helps me relax and fall asleep without leaving me groggy in the morning.
For time-released protein supplementation, Kasein by Kaged Muscle is my go-to choice. This helps ensure that muscle-building nutrients are available throughout the night. Studies have shown that protein supplementation before bed results in greater amounts of muscle protein synthesis.
Each of the supplements on this list will help immensely with overnight recovery. The feature key ingredients that have been proven to help you get better, longer and deeper sleep allow your muscles ample time to repair and grow.
Huge Supplements – Hibernate (Best Sleep Aid for Post Workout Recovery)
Kaged Muscle – Kasein (Best Casein Protein Powder for Night Time)
Transparents Labs – Grass Fed Casein Protein Powder (Best Grass Fed Casein Protein Powder)
Hi Tech Pharmaceuticals – Somatomax (Best Sleep Aid with Phenibut)
Huge Supplements – Hibernate (Best Sleep Aid for Post Workout Recovery)
Key Ingredients:
Gamma-Aminobutyric Acid (GABA)- 3 g
Kanna (Sceletium Tortuosum) – 1 g
Tyrosine – 1 g
L-Theanine – 500 mg
Mucuna Pruriens Extract (98% L-Dopa) – 250 mg
Valerian Root Powder – 225 mg
5-HTP (5-Hydroxytryptophan) – 150 mg
Passion Flower Extract – 150 mg
Melatonin – 3 mg
Hibernate is created specifically for bodybuilding night recovery. Targeted specifically for bodybuilders and athletes, it is formulated to help you gain muscle. This is primarily achieved through helping you get a deep, restful night's sleep.
Hibernate uses top-quality ingredients to help you get quality sleep for at least 7 to 8 hours while providing your muscles with the ample nutrients they require to fully repair and regenerate.
I prefer to take Hibernate an hour or two before bed to help me relax at the end of the day and fall asleep more quickly. It doesn't make me feel groggy in the morning, making it compatible with my morning workout schedule.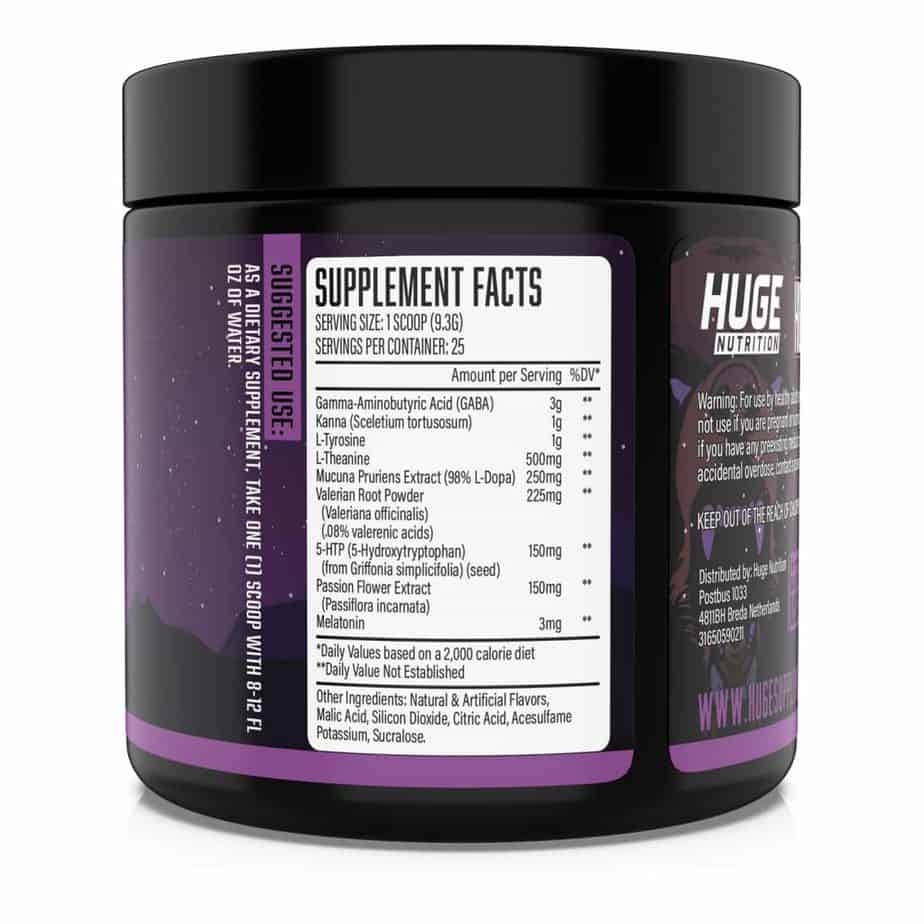 Kaged Muscle – Kasein (Best Casein Protein Powder)
Key Ingredients:
Micellar Casein Protein Isolate – 26 g

Essential Amino Acids – 10.5 g

Tryptophan
Valine
Threonine
Isoleucine
Leucine
Lysine
Phenylalanine
Methionine

Conditionally Essential Amino Acids – 10 g

Arginine
Cysteine
Tyrosine
Histidine
Proline

Branched Chain Amino Acids – 4.75 g

Glutamine and Glutamic Acid – 5 g
Kasein is a premium product that uses a special filtration process to contain as much of the structure and nutrients as possible in the Casein protein, leaving it with the same micellar makeup that it has when found in milk.
Kasein uses slow-digesting casein protein to keep your body from transitioning into a catabolic (or fasted) state when you go without food for 6 to 8 hours overnight. This makes it perfect for using as a night time recovery aid supplement.
Kasein only contains about 1 g of lactose, making it much easier on the stomach and digestive tract.
All of Kaged Muscle's ingredients are third-party tested for potency and purity, promising you a premium quality powder.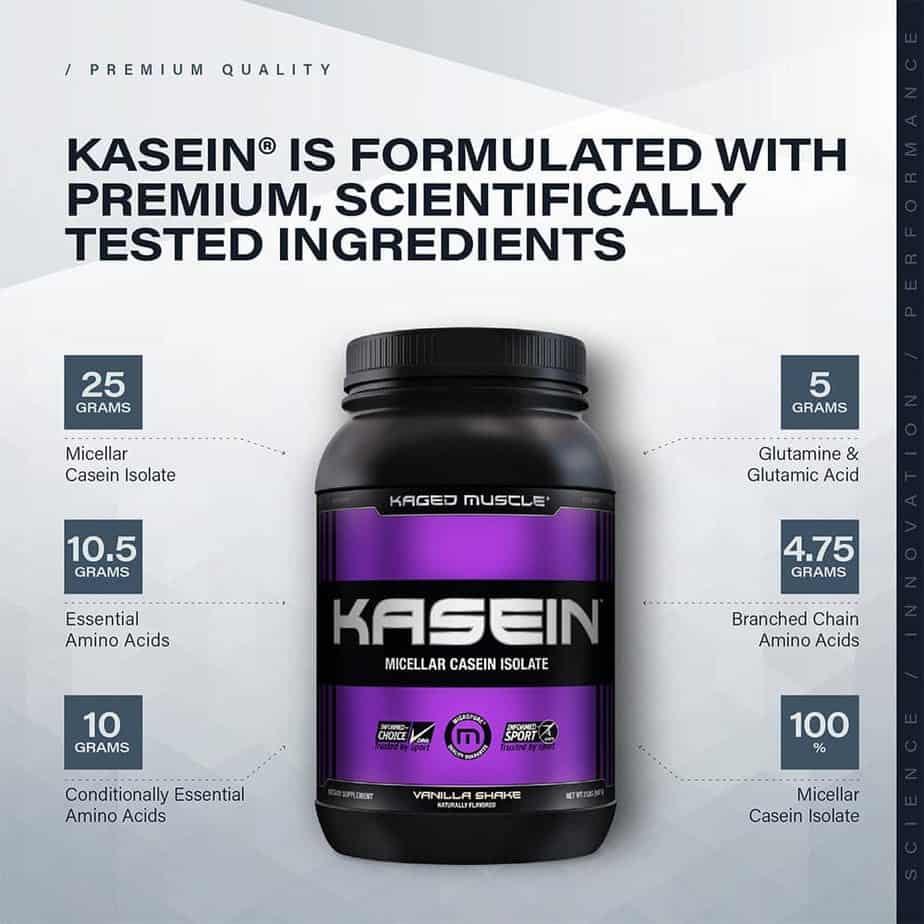 Transparent Labs – 100% Grass-Fed Casein Protein Powder (Best Grass Fed Casein Protein Powder)
Key Ingredients:
100% grass-fed pure micellar casein protein – 25 g
Fat – 0.5 g
Carbohydrates – 4 g
If grass-fed protein is important to you, then Transparent Labs makes excellent tasting, high-quality grass fed casein protein powder. Ingredients come directly from 100% grass-fed cows, meaning they are fed no steroids or hormones.
If you're not sold on the benefit of grass-fed protein or you simply don't care, then I'd recommend going with Kasein from Kaged Muscle instead. Aside from the milk source, the products are quite similar, both delivering slow-released protein that aids muscle protein synthesis throughout the night.
If you're curious about what makes grass-fed protein different, read on.
On the Transparent Labs blog post about grass-fed vs. grain-fed cow products, they say:
The added nutritional benefits are passed down through fat content. The higher the amount of fat in the protein, the more essential it is that the protein is sourced from grass-fed cows. All protein, both isolate and concentrate, contain residual fat, with more fat coming from concentrate.

– Transparent Labs, "Benefits of Grass-Fed Protein"
This likely doesn't translate to much of a tangible benefit for the Transparent Labs casein protein, as it only contains 0.5 g of fat per serving. Still, it goes to show that the company is willing to go the extra mile in how it sources and manufacturers its products.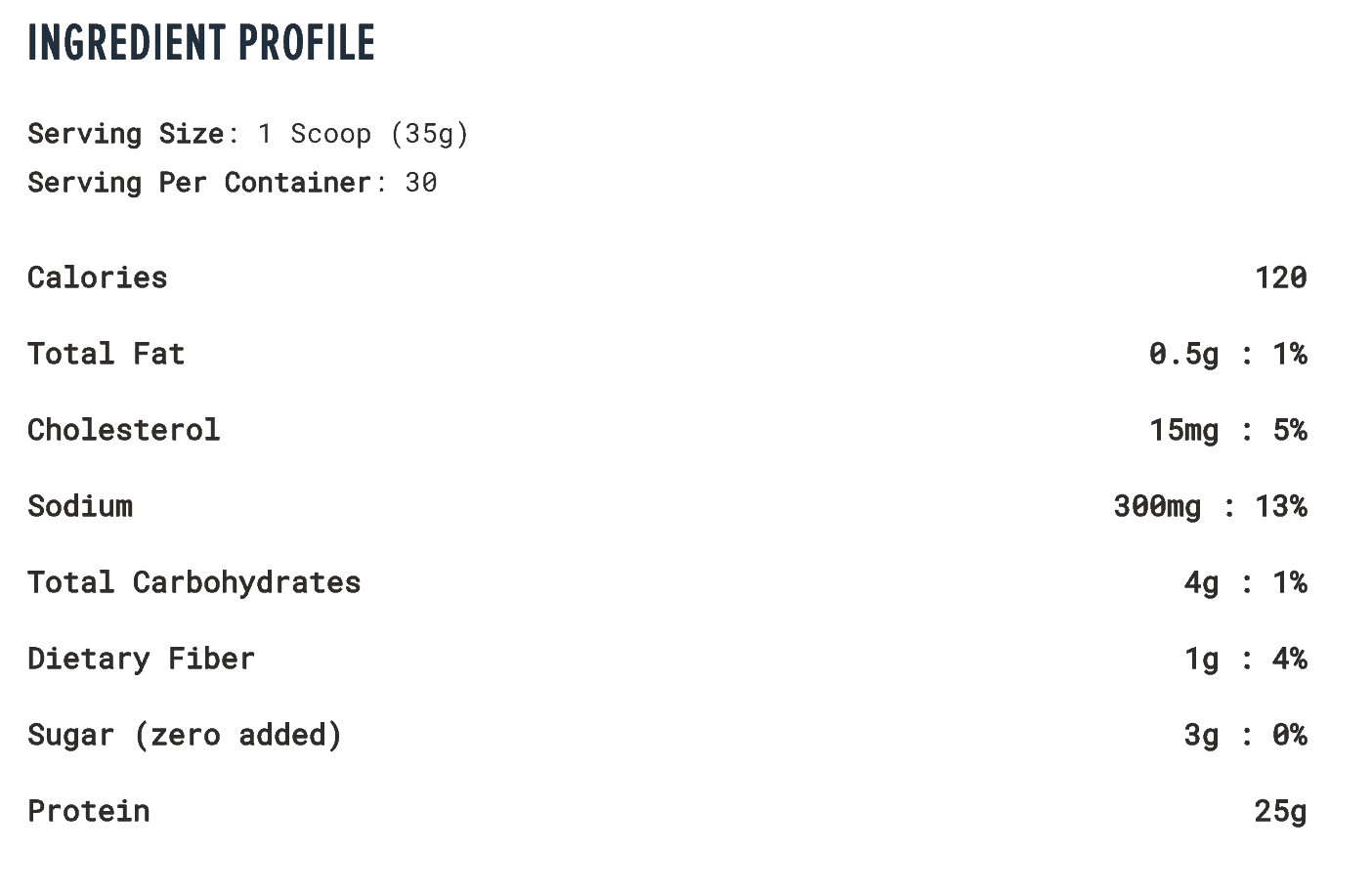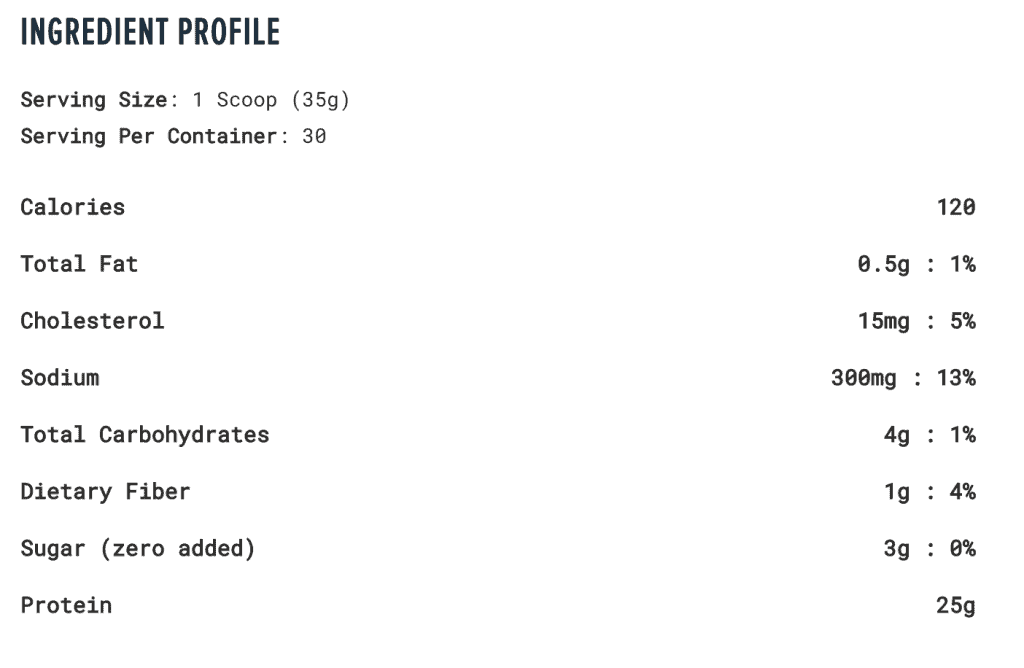 Alpha Lion – Superhuman Sleep (Best Sleep Aid with ZMA)
Key Ingredients:
L-Glycine – 3000 mg
L-Tryptophan – 1000 mg
Magnesium Bisglycinate Chelate (TRAACS) – 400 mg
Zinc (Zinc Methionine) – 150 mg
Vitamin B6 – 14.5 mg
L-Glutamine – 2000 mg
Gamma-Aminobutyric Acid (GABA) – 350 mg
Mucuna Pruriens 40% L-Dopa – 175 mg
Chamomile Flower – 75 mg
Melatonin – 2 mg
KSM-66 Ashwagandha – 200 mg
L-Theanine – 200 mg
Superhuman Sleep contains ZMA to help with muscle soreness, muscle growth, muscle repair and fat loss. This combination of zinc, magnesium, and Vitamin B6 has long been a favorite of bodybuilders and strength athletes looking to fuel their recovery.
Zinc and Magnesium do help reduce muscular fatigue and either help increase testosterone levels or prevent a reduction in testosterone levels, but additional research is needed to understand if that results in a significant increase in athletic performance. They primarily benefit those who are currently not reaching their daily recommended intake of these vitamins and minerals.
Superhuman Sleep also contains sleep-enhancing ingredients to help you fall asleep and stay asleep. Like Hibernate, it accomplishes this goal without excessive grogginess upon waking.
Finally, it replenishes electrolytes to keep you hydrated throughout the night. This probably isn't necessary, but it's still a nice touch from Alpha Lion.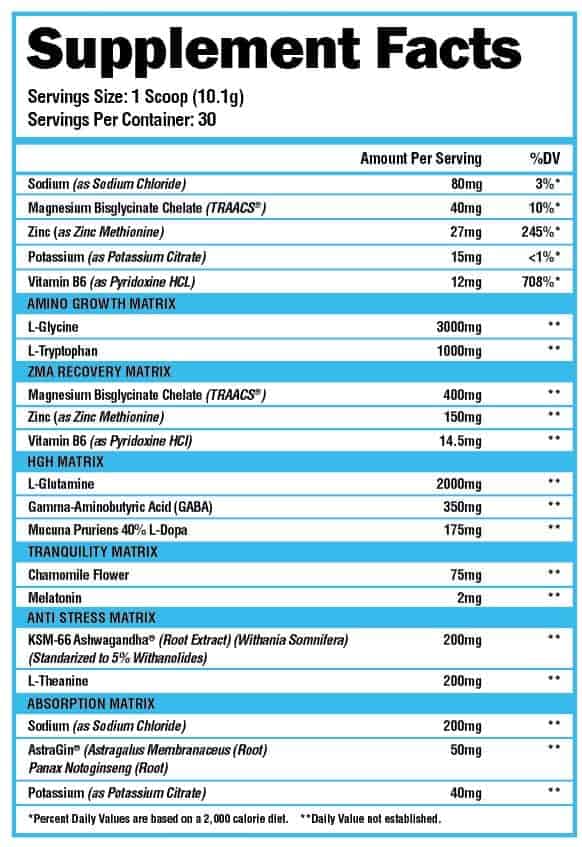 Hi-Tech Pharmaceuticals – Somatomax (Best Sleep Aid with Phenibut)
Key Ingredients:
Proprietary Blend – 14 g

4- amino -3- phenylbutyric acid
Gamma aminobutyric acid
Mucuna pruriens extract (standardized to 50% L-Dopa)
L-arginine HCI
L-tyrosine
L-phenylalanine

Vitamin B-6 – 10 mg
Somatomax is more of a "hardcore" sleep aid supplement. It is certainly not for those who have not yet tried milder sleep aids or those who are prone to addiction or in substance abuse recovery. This is because of its ingredient Phenibut, which can cause dependency and withdrawal if taken on a regular basis. As such, this is not a product for daily usage.
With that said, this product can be helpful when you "must" achieve a good night's sleep or are trying to sleep in challenging situations, like an airplane or other unfamiliar locations.
If you decide to try Somatomax, I strongly recommend starting with a quarter scoop. I took a full scoop and it made me quite dizzy and nauseous, though others have had positive experiences with this product. I can at least say I slept like a rock thanks to Somatomax.
Somatomax can work in a few ways, including as a neuro-enhancement supplement. It contains GABA and Phenibut, which, in larger servings, help to promote deep sleep and enhance neurotransmitter function through natural hormones.
When taken in smaller servings during the day, the L-tyrosine, L-dopa and L- Phenylalanine help with increased energy, mental alertness, increased mood and enhanced libido and sexual performance. I have not personally tried this product in that context.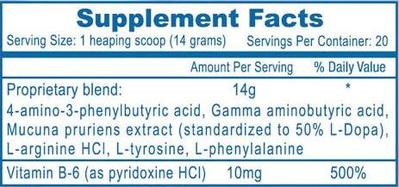 Best Nighttime Recovery Supplement Ingredients
There are many ingredients that keep popping up time and time again in sleep recovery protein powders. Melatonin, ZMA, Casein protein, Valerian Root and Glutamine are all common ingredients that can help immensely with nighttime sleep and muscle recovery.
Here are the reasons why you should look for these ingredients when picking out a sleep recovery powder and what each one does for your body. The recommended dose for each and any potential side effects are also covered, although they are all considered very safe when taken according to dosage recommendations.
Melatonin
Melatonin is a hormone that the body naturally produces and is used to adjust your body's internal clock. It helps with sleeping and is often used for insomnia, jet lag, people with overnight shifts and establishing a solid sleep cycle. Melatonin will help increase your quality of sleep.
Your brain produces melatonin on its own, increasing production when it is dark, telling your body it is almost time to sleep. It is usually completely safe for adults to take melatonin supplements by mouth. Some side effects are possible, including headache, depression, grogginess, upset stomach, irritability and dizziness.
The recommended dosage of melatonin varies from person to person. Some might have side effects from it, while others will not. The standard adult dosage is between 1 and 10 mg per night. Exceeding 30 mg may be harmful to your body. Night recovery supplements often contain a small amount of melatonin to help you fall asleep, but rarely enough to cause adverse reactions.
ZMA (Zinc, Magnesium Aspartate, Vitamin B6)
ZMA is a mineral supplement made with zinc, magnesium aspartate and vitamin B6. Zinc helps with muscle recovery and immune system strength. Magnesium aspartate helps regulate your metabolism as well as help with sleep and recovery. Vitamin B6 is known to boost your energy.
ZMA is claimed to help you to decrease muscle soreness, increase muscle recovery, boost muscle growth, raise your energy, and improve deep sleep. No major side effects of ZMA have been reported, as long as the recommended dose is taken. Taking too much can result in nausea, diarrhea, and lowered immunity.
ZMA will help you build your muscle and increase your athletic performance. The recommended dosage of ZMA is:
Zinc Monomethionine – 30 mg
Magnesium Aspartate – 450 mg
Vitamin B6 – 11 mg
Casein Protein
Casein protein is taken as a supplement. It is a slow-digesting protein derived from dairy, and It is known to increase muscle growth. Unlike whey protein, casein is slowly digested and releases amino acids slowly over time, allowing your muscles time to break down the proteins.
When taken before bed, casein protein is given ample time to be digested by your body and to help your muscles repair. Casein protein contains all of the amino acids that your body needs to repair your muscles, making it a complete protein source. Its slow digestion is due to the pH sensitivity of the proteins, causing them to gel up inside of the stomach's acid and absorb slowly into the body.
It is recommended to take one to two scoops of Casein Protein each day, and side effects are implausible. If you are allergic to casein or lactose, you shouldn't take this supplement to cause an upset stomach and diarrhea.
Valerian Root
Valerian root is derived from a plant and works as a sedative. It is used to help with sleep and to reduce stress and anxiety. Valerian helps with your overall sleep quality, allowing you more time to recover your muscles at the end of each day.
Valerian works by interacting with GABA, a messenger in your brain that reduces nervous impulses. Chronic stress is linked to low GABA levels. It also contains antioxidants that help with sleep, including linarin and hesperidin.
Valerian is extremely safe when taken in small doses. If too much is consumed, it can result in headaches, upset stomach, and dizziness. The recommended dose is between 400 and 900 mg for people that have sleeping difficulty.
Glutamine
Glutamine is an amino acid that comes in two different forms: L-glutamine and D-glutamine. L-glutamine helps with protein synthesis and with intestinal and immune health.
Glutamine has been shown to increase muscle gain and workout performance. Additionally, it speeds up recovery time and reduces muscle soreness. In normal amounts, it is not harmful. The recommended dosage is between 3 and 14 grams per day.
FAQs
Here are the answers to some of the most common questions that often come up when finding the right recovery supplement comes up.
What Impact Does Sleep Have on Muscle Growth?
Sleep is necessary for muscle growth and muscle repair. Working out hard and not getting ample sleep can cause your muscles to tear down and result in injury and other complications.
Regular sleep gives your body time to repair the microscopic tears you make in your muscles when you do a workout and rest your central nervous system overnight. Restoring your muscles gives them time to gain energy and strength for the next day.
Your body produces a muscle-building hormone called growth hormone when you sleep. This occurs in the deep sleep stage of sleeping when your muscles are completely relaxed. The growth hormone production is lessened when you are not sleeping enough and leaves you feeling sore and weak the next morning.
Not getting enough sleep increases your appetite-inducing hormone, causing you to eat more during the day. It also lowers your sensitivity to insulin and your muscle's fuel source called glycogen is not replenished enough.
Additionally, getting ample sleep improves your muscle coordination, helping with reaction times, muscle accuracy, and overall muscle performance. This is why, as an athlete, it is recommended to get 8 or 9 hours of good sleep every night for adequate recovery and performance.
What is The Difference Between Casein Protein And Whey Protein?
Perhaps the two most popular proteins on the market today are Casein and whey. They are both derived from milk, but they have very different attributes. In typical cow's milk, 80% of the protein is casein protein and 20% of the milk protein is whey.
These proteins are considered complete proteins, meaning they contain all of the essential amino acids that you require from food and that you can not produce yourself.
The main difference between these two proteins is that casein protein is absorbed much slower into your body than whey. Casein is broken down for four to five hours in your body after it is consumed, while whey is broken down in only 90 minutes.
Casein is best to take before sleeping because, while you sleep, your body goes into a fasted state. Slow-release protein gives your body protein to absorb all through the night, providing you with a constant release of amino acids and protein synthesis throughout the night.
Whey protein, on the other hand, is perfect for a post-workout boost since it is absorbed quickly and will kickstart muscle recovery fast.
Conclusion
After years of searching for the best nighttime recovery supplements, here are the best ones available. Hibernate takes the cake, combining ingredients specifically to help with muscle growth. Hibernate specifically is focused on muscle gains and sleep and uses ingredients like GABA and melatonin to make that happen.
The other products on this list help with muscle growth, recovery and sleep, but some are not as effective for me as Hibernate. However, the second choice, Kasein, by Kaged Muscle, is an all-time favorite casein protein blend. It does not contain any sleep-enhancing ingredients like melatonin, but it does help with muscle recovery and gains.
The third runner-up is 100% Grass-Fed Casein Protein Powder by Transparent Labs. This powder is also not a sleep aid, but they use all organic and grass-fed protein, making it one of the healthiest casein protein supplements on the market today.
No matter which of these protein powders you choose to take before bed, you will notice a difference in muscle recovery and overall health!