When Kaged Muscle told me they wanted to send me some products to review, I was not expecting to receive Outlive 100.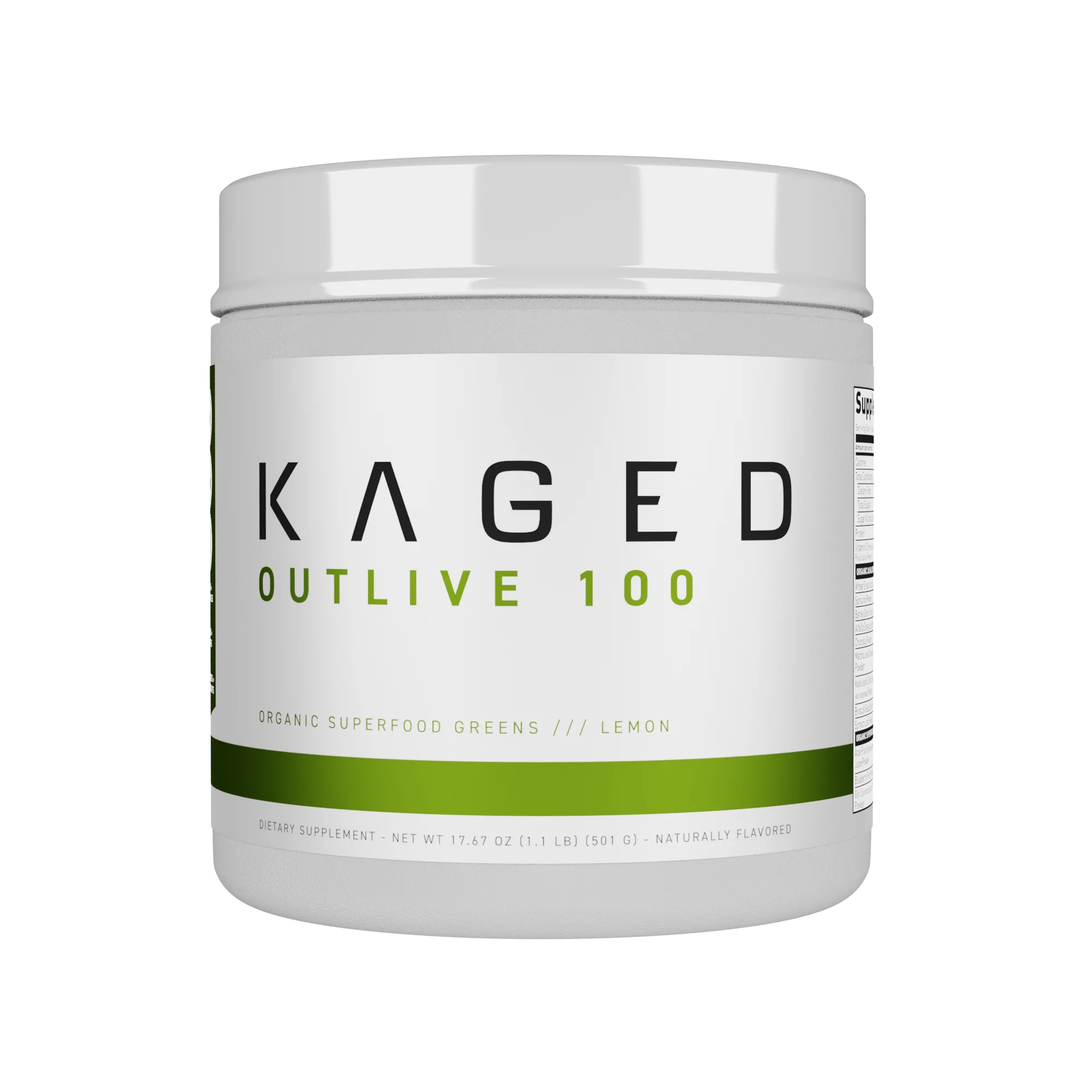 And I definitely wasn't expecting to like it.
Outlive 100 is a blend of 26 organic "superfoods" to help with a wide range of nutritional goals. The ingredient list is massive and I encourage you to check it out below.
In short, it contains a bunch of micronutrients, antioxidants, and ingredients to support gut health & digestion. I don't always eat the most, er, nutrtionally diverse diet, so I personally appreciate Outlive 100 filling in some of the gaps in my diet.
I already drink two shakes a day at home, so it's easy enough to toss in some Outlive 100 and feel a bit better about myself.
Hey, I need all the help I can get.
Recommended Greens Mix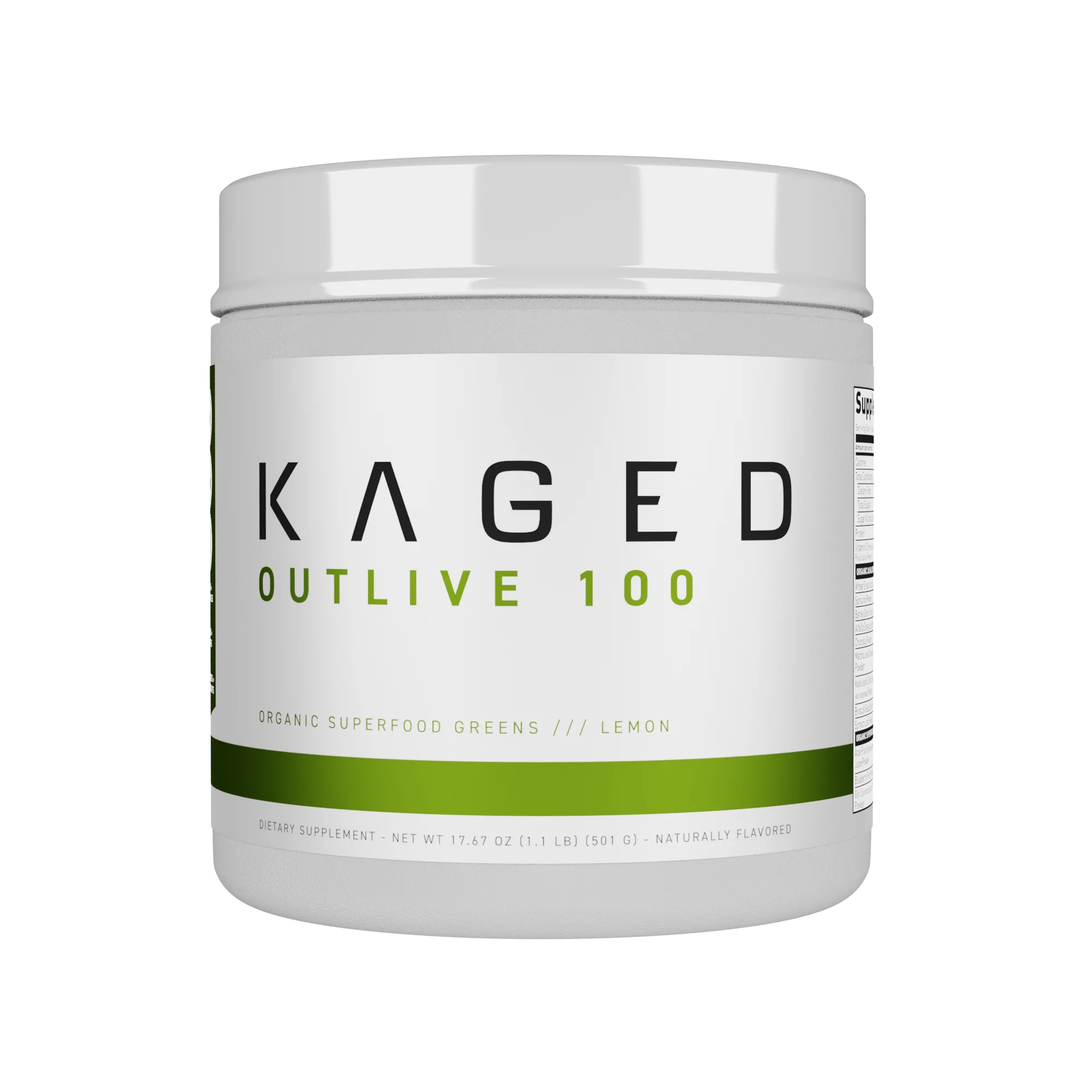 My Experience
With these kinds of nutritional supplements, it's hard to review them on effects. Instead I'll be focusing on how it tastes and what you're getting in each serving.
Flavor
I included a half scoop of Outlive in my morning and afternoon smoothies so I could get a full serving over the course of a day. I tried including a full scoop (one whole serving) of Outlive in my smoothie, but I found the taste a bit overpowering.
My normal shake consists of oatmeal, milk, peanut butter powder, banana, cocoa powder, and an egg, which usually nets out to an oatmeal-y peanut butter banana flavor with a bit of a chocolate finish. I tried the apple cinnamon flavor of Outlive and it paired decently in this mix.
I haven't tried any other superfood powders so I don't have much of a basis for comparison, unfortunately.
Ingredients
This is really the most important part of the review, as this is what matters most in a nutritional supplement like this: what's inside.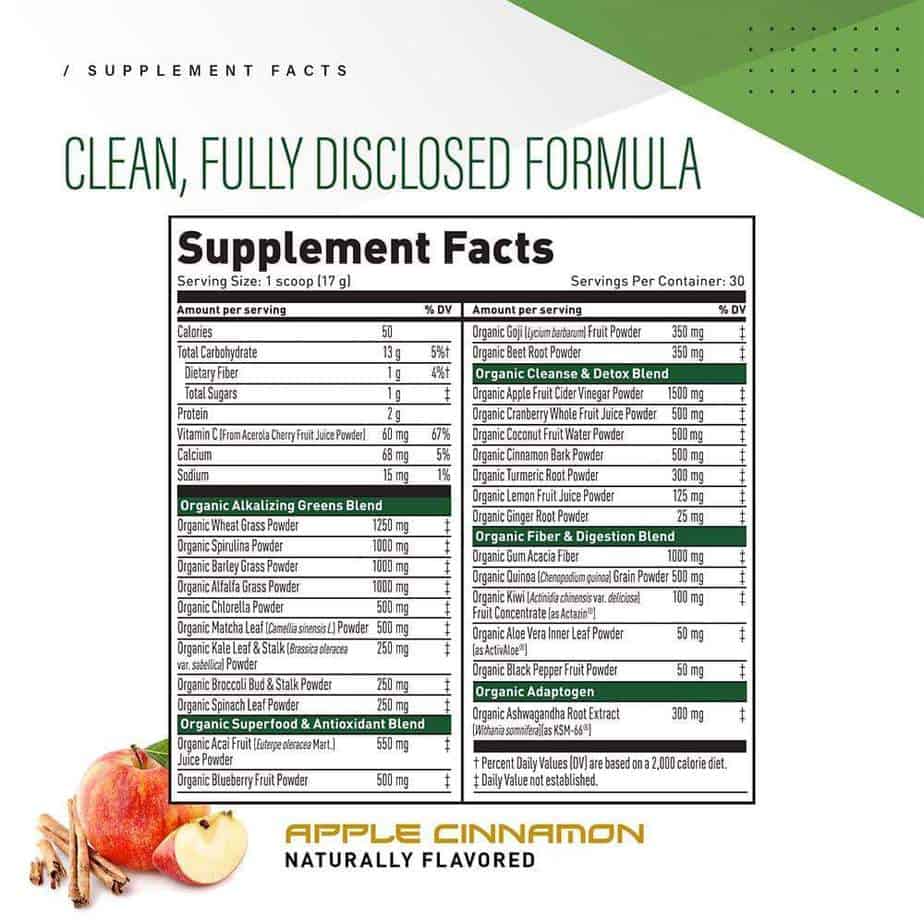 Outlive 100 is comprised of five parts, each containing exclusively organic ingredients:
Greens blend
Superfood & antioxidant blend
Cleanse & detox blend
Fiber & digestion blend
Adaptogen
Greens Blend
The greens blend in Outlive 100 is simply massive.
It contains the following ingredients, all of which are organic:
Wheatgrass powder
Spirulina powder
Barley grass powder
Alfalfa grass powder
Chlorella powder
Matcha leaf powder
Kale leaf & stalk powder
Broccoli bud & stalk powder
Spinach leaf powder
Below are some highlights:
Wheatgrass has antioxidant, antibacterial, and anti-inflammatory properties. It contains iron, calcium, enzymes, magnesium, phytonutrients, 17 amino acids, many vitamins, chlorophyll, and proteins.
Spirulina is a rich source of protein and beta-carotene, which is a precursor of vitamin A.
Barley grass is an excellent source of fiber and a good source of vitamin A, Vitamin C, and vitamin K. It also contains polyphenols and flavonoids, which are antioxidants.
You get the idea. You're getting a bunch of those micronutrients and antioxidants that make whole foods so nutritionally appealing.
Superfood & Antioxidant Blend
The superfood & antioxidant blend consists of the following:
Acai fruit juice powder
Blueberry fruit powder
Goji bruit powder
Beetroot powder
Acai, blueberry, and goji are "dark fruits" that contain anthocyanins.
Berries, especially the anthocyanin-rich darker berries, have shown great promise with regard to disease prevention as well as cognitive protection and other benefits.

Examine
As an example, Goji juice, which contains the same key ingredient, lycium barbarum, as the goji powder in Outlive 100, has been shown to "..increase subjective feelings of general well-being, improve neurologic and psychologic performance, and assist gastrointenstinal functions."
While beetroot is not classified as a "dark berry," it does contain nitrates that can help lower blood pressure over time.
Cleanse & Detox Blend
Personally I rolled my eyes a bit when I saw the words "cleanse" and "detox" on the label, but I'll hear them out.
The cleanse & detox blend contains the following ingredients:
Apple fruit cider vinegar powder
Cranberry whole fruit juice powder
Coconut fruit water powder
Cinnamon bark powder
Turmeric root powder
Lemon fruit juice powder
Ginger root powder
Apple cider vinegar (ACV) was one of the key ingredients called out by Kaged Muscle, so I figure this one is worth diving into a bit.
A serving of Outlive 100 contains 1,500 mg of ACV, but as far as I know there is not any available research around dosing for the powdered form of ACV. With that said, the liquid form of ACV does have some promising research suggesting its utility as a weight loss aid by suppressing appetite. It may also have metabolic benefits.
Coconut water is helpful for hydration, containing potassium, magnesium, and sodium, among other nutrients.
Cinnamon bark contains polyphenols and other antioxidants and even has anti-inflamatory properties.
Cranberry juice has widely documented benefits showing it can help prevent urinary tract infections.
Ginger root can help reduce nausea and improve digestion.
Lemons are known to be rich in antioxidants, a characteristic that presumably carries over to the powdered form of its juice.
Turmeric contains curcumin, which has anti-inflammatory properties. It's worth noting that turmeric is less potent than a curcumin extract, as only a small percentage of turmeric is curcumin.
Fiber & Digestion Blend
The fiber and digestion blend is comprised of five ingredients:
Acacia fiber
Quinoa
Kiwi (as Actazin)
Aloe (as ACTIValoe)
Black pepper
As the name suggests, acacia fiber is rich in soluble fiber, believed to help lower cholesterol levels and help with digestion.
Quinoa is also quite high in fiber content, though only part of it is soluble.
Actazin is included as a prebiotic and digestive aid. Prebiotics are a type of fiber that the body cannot digest (e.g. insoluble fiber). While there is less research available on prebiotics vs. probiotics, limited research suggests that prebiotics can help support probiotic growth of gut bacteria, which could lead to improved digestion and metabolism.
Aloe can help increase the amount of water in your intestines. This can help relieve constipation and maintain balance in your intestines.
Black pepper can help boost the absorption of other nutrients, which is why it is often included in pre workout supplements. Some research suggests black pepper can help increase the amount of good bacteria in your gut.
Adaptogen
The adaptogen blend isn't really a blend, as it only contains one ingredient: ashwagandha root extract. KSM-66, to be precise. This is a patented form of the ingredient, so you know you're getting the real good stuff.
Why care about ashwagandha? And what the heck is an adaptogen? Good questions.
Adaptogens are herbs that are used to counteract all kinds of stressors: physical or mental.
Sound like crap? I thought so too.
But, according to research meta analysis performed by Examine, ashwagandha has consistently shown to notably reduce anxiety and cortisol, the stress hormone. It has also shown to consistently produce a notable increase in power output. Nice.
The best part? It's included within the clinical range of 300-500 mg (Outlive 100 contains 300 mg of ashwagandha).
Final Verdict
Overall, this is definitely a thoughtfully designed product.
It's the kind of thing you probably don't need if you're already eating a diverse, balanced diet. But if you're not, this could certainly help fill in some of the gaps you're missing.
I've enjoyed taking this with my daily smoothies and plan to finish my tub.
Recommended Greens Mix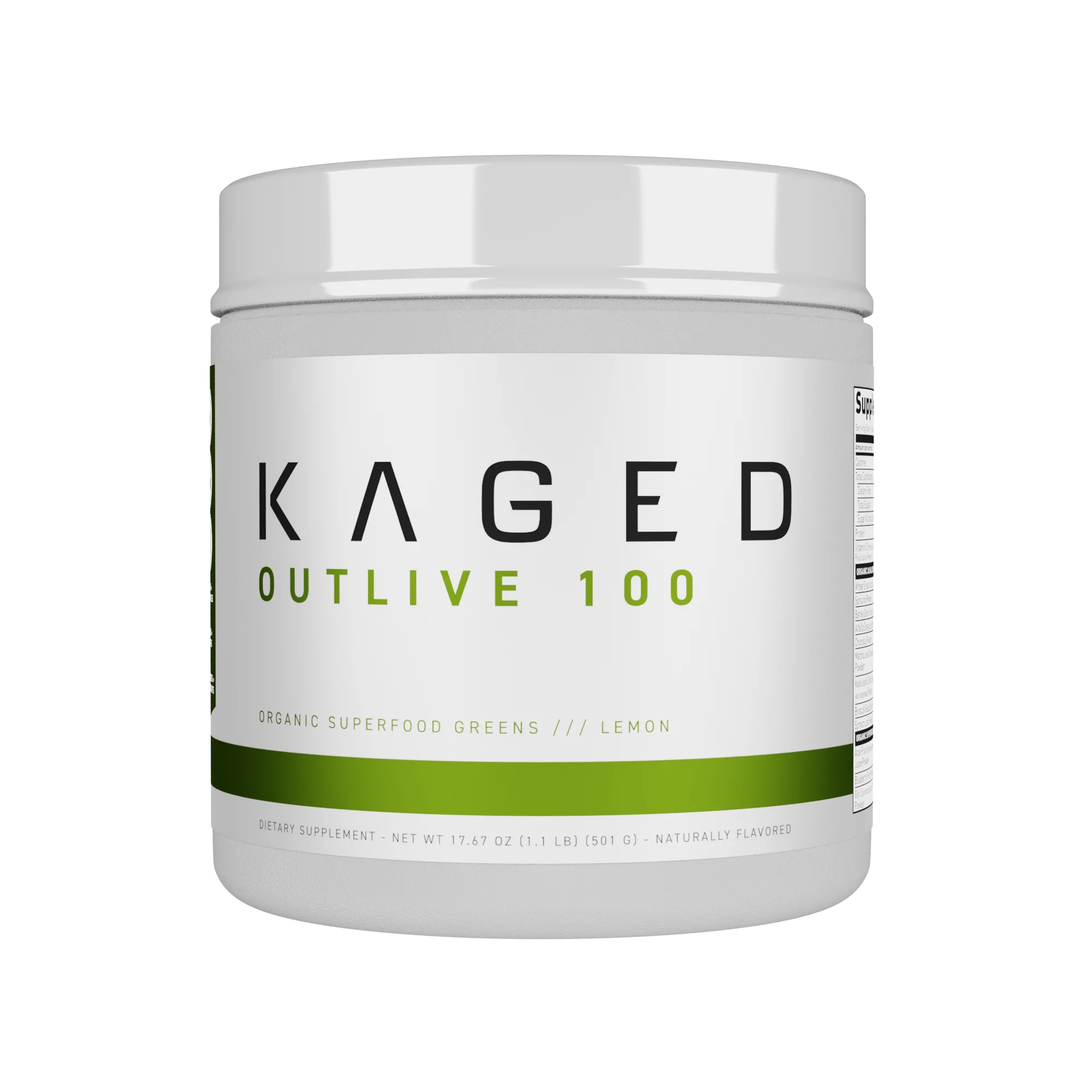 Kaged Muscle Outlive 100 Review
Summary
Outlive 100 is a greens & antioxidant blend that helps support a healthy diet. 
Pros
Diverse range of micronutrients and antioxidants
Blends easily into smoothies
High quality ingredients
Fully disclosed label
Cons
Apple cinnamon flavor may still taste a bit too earthy or "plant-y" for some people