The buzz about The Nemesis Project's Hive pre-workout hit stronger than the first version, and version 2 is here to deliver likewise. We will find out how effective it is, with increased levels of stimulants and a significant caffeine matrix for energy. Thank you, Suppscentral, for providing this complete product for review. If you are looking for a pre-workout that is hard-hitting energy but doesn't cause an overstimulated feeling, this is the product for you!
DMAA + DMHA Newcomer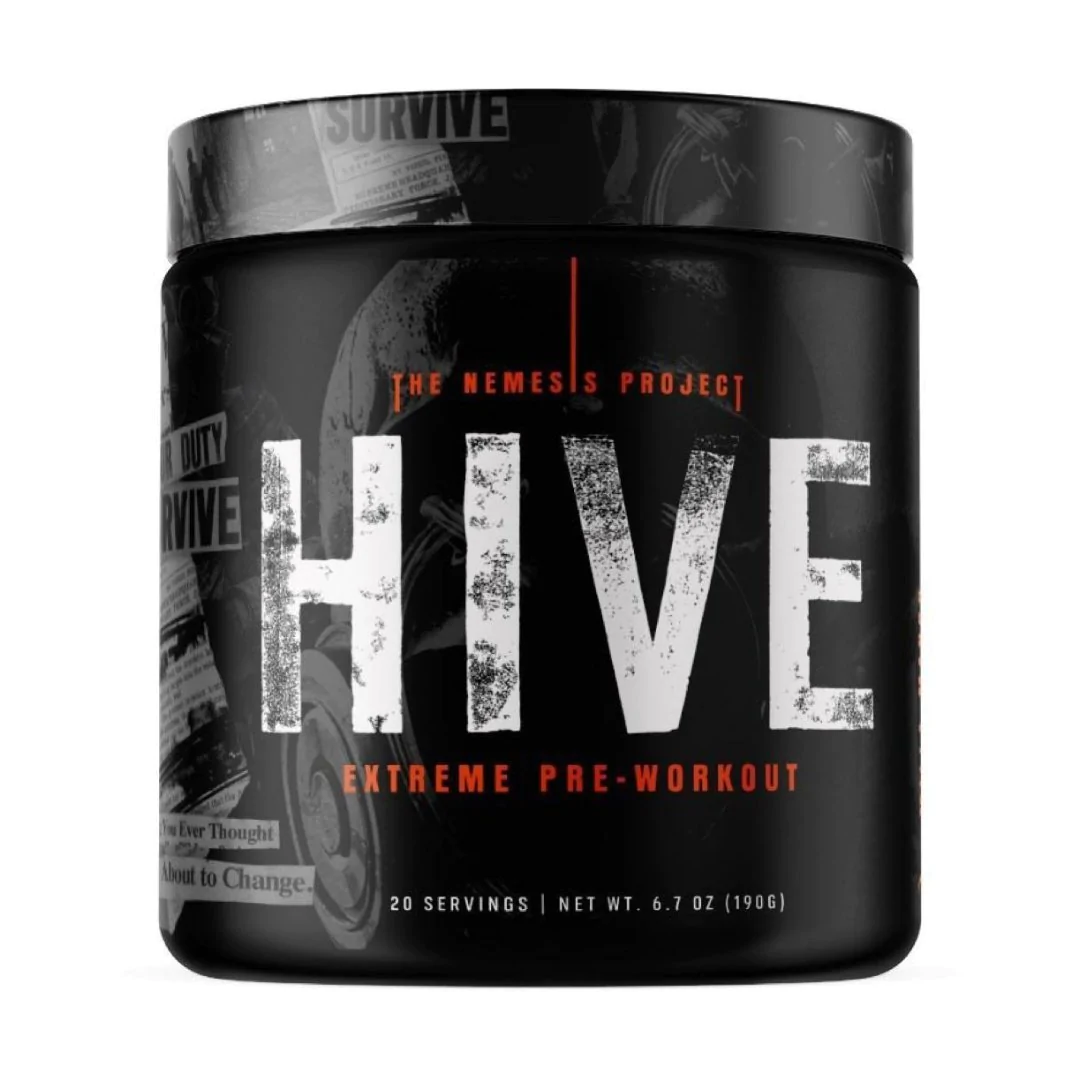 Hive Pre Workout - Nemesis Project
Hive is new on the scene, claiming both DMAA (as geranium extract) and DMHA (as juglans regia) on the label.
Basically devoid of any pump ingredients, Hive is for those seeking a pure stim experience in the gym.
Discount Code:
LIFTVAULT15 = 15% off from Supps Central
DMAA: 100 mg
DMHA: 100 mg
Servings: 20
Synephrine: 50 mg
Caffeine Anhydrous: 420 mg
Shop Supps Central
Lift Vault earns a commission if you click this link and make a purchase at no extra cost to you.
Where to Buy
You can purchase Nemesis Project's Hive V2 at the following retailers:
Experience
Following the ingestion of Hive V2, I didn't have much to report for the first 30 minutes as the energy started to ramp up to a level of 4/10. Once I warmed up, the thermogenic effects came in strong triggering some sweating. The sense of urgency with the energy levels ramps up consistently to 6/10 overall. The heart rate increase was noticeable, and with monitoring, it showed a 20-beat increase over my normal levels.
The intensity was wonderful, with no issues of feeling overstimulated. The focus peaked its head at a level of 6/10, but it didn't provide the droned-out, tail light focus that DMHA would typically trigger. It was an excellent mind-clearing focus, providing great concentration during my workouts.
The paresthesias or tingling effects from beta-alanine can vary based on your daily nutrition or supplementation. I can say that I expected V2 to slap me in the head with focus, based on the hype for it, but it didn't deliver on that front.
Not much to report otherwise, as there isn't anything greatly dosed for pumps or endurance. However, arginine could help with the circulation of the ingredients, but it does not have a noticeable effectiveness. The beta-alanine wasn't very noticeable for me except for a small amount of head and ear tingles.
Lastly, I did notice improved breathing, with a feeling of urgency sustained throughout the workout. My personal opinion is that the Noopept is in here, and while it may have English walnut extract, it didn't behave like the more potent products on the market in terms of focus.
Overall, this pre-workout provided a good amount of energy. I felt an increase in my heart rate, thermogenic sweating, good intensity, and a nice amount of focus to tie it all together.
Side Effects
I experienced a persistent cough while using this product, possibly due to the Yohimbe, which may indicate increased BP. It wasn't an issue, however.
Flavor
Licker Lime is the flavor I was sent for review, which resembles a margarita lime taste. The flavor was about an 8/10 regarding the desirability of flavor, and the taste didn't get less tasty with the review. The suggested amount of water is 8-12 ounces of water, and I personally enjoyed this at 10 ounces of water as it is not overly sweet.
Dose/Scoop Size
Hive V2 comes out to 9 grams per serving, and with this label starting off at the whole serving was fine. Those unaccustomed to 350 mg or more of caffeine might prefer a ¾ of a scoop, but the Yohimbe doesn't compare to the potent version called Alpha Yo.
As seen in the picture, this serving size is a below-level scoop, so it is advised that you don't go above a leveled scoop. At times manufacturers will change packaging, including the scooper, so please weigh out your scoops, specifically when it contains high stimulants like DMHA. With each use of this product, I stuck with one whole serving, which gives you 20 servings in this container.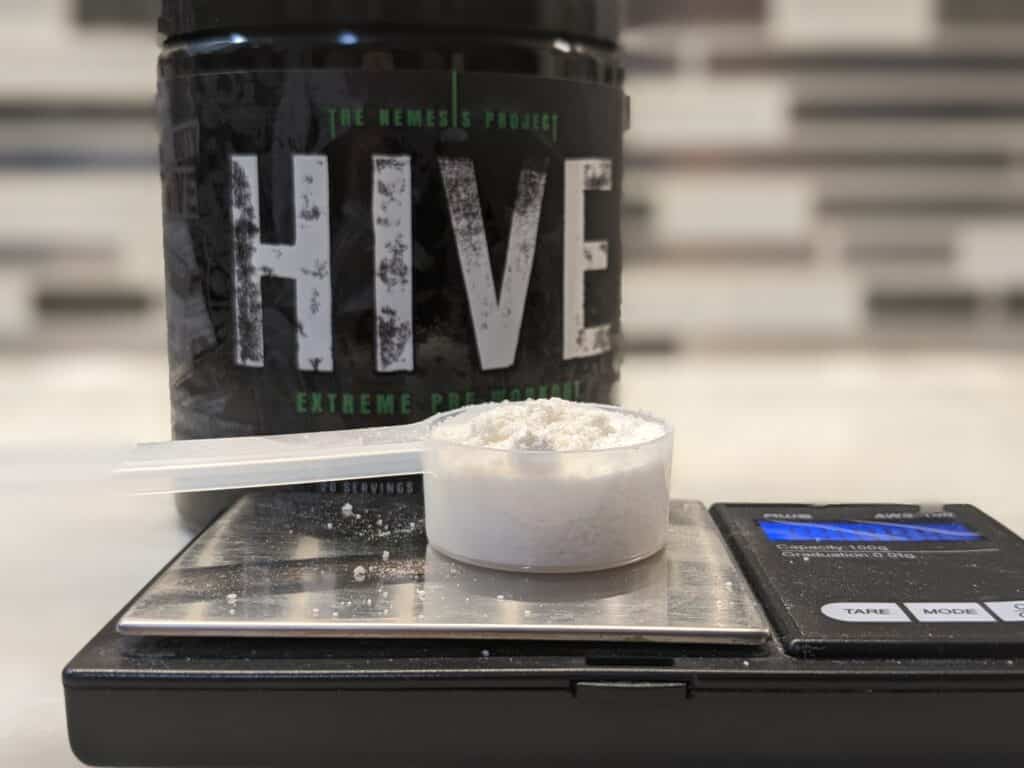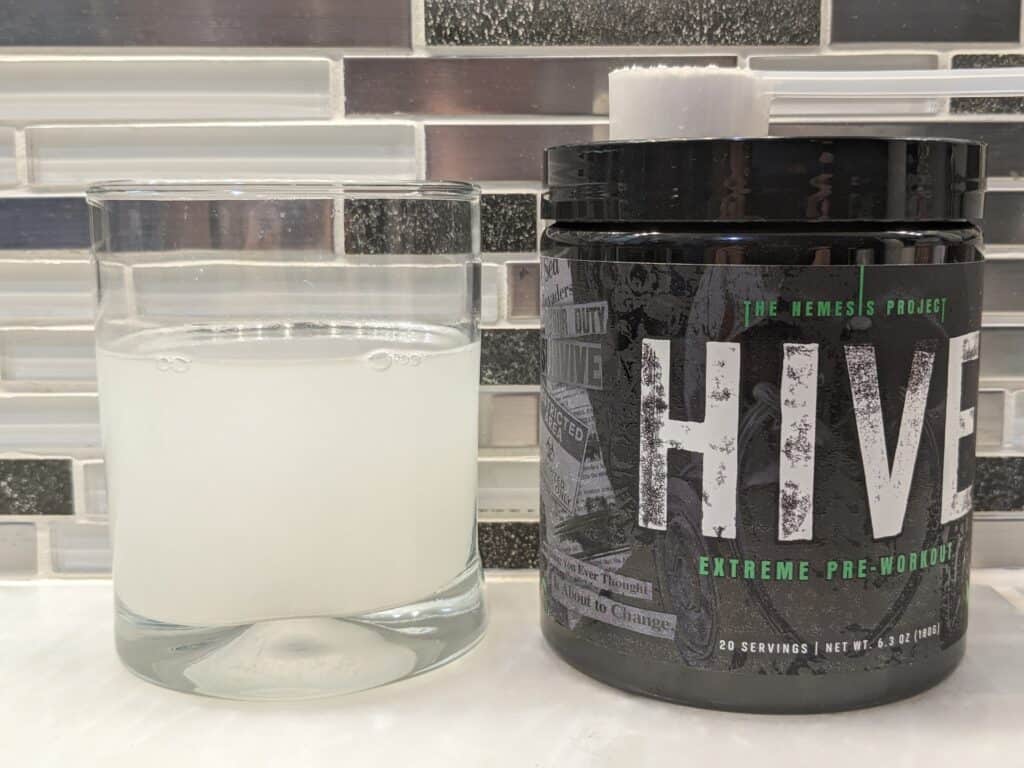 Ingredients
The fundamental changes from the first Hive version to the second were removing geranium extract, adding caffeine citrate to the exact 420 mg dosage, adding Noopept, and increasing juglans regia by 125 mg. It is suspected that V1 didn't have the true geranium with the alkaloids, which would make it illegal due to FDA, but this version reformulation is a solid increase over the first run.
Other than arginine, there aren't any pump ingredients like citrulline. I have had wonderful experiences with products containing high stimulants, which will help push you into your training to the point where nitric oxide enhancements like pumps and vascularity are significant. Still, they can vary on the label or nutrition.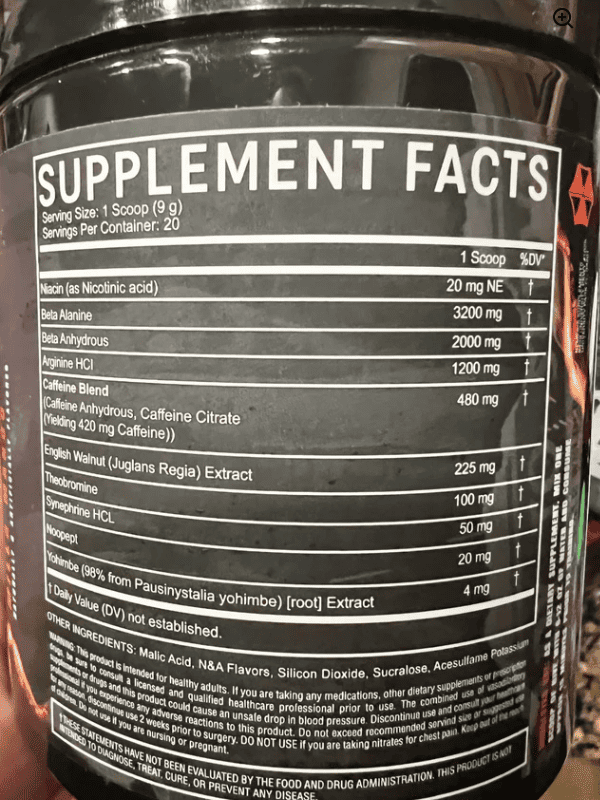 Beta-Alanine – 3.2 g
Beta-Alanine has been shown to support muscular endurance and act as a lactic acid buffer. Depending on the source, you may feel the paresthesias intensify. This feeling is often desirable in the sports community, as it makes you feel the intensity after ingestion. This may be negated by diet and intake of beta-alanine.
Beta-alanine requires regular intake to be effective, akin to creatine. Daily beta-alanine supplementation is recommended to become effective, with a three to five weeks loading period.
Three to four grams is the recommended daily dosage for beta-alanine, putting Hive V2 in the standard clinical dose range.
Betaine Anhydrous – 2 g
Betaine is included to help increase your power output. However, research needs to be more consistent around this claim. The typical range for Betaine is between 1.5 g and 5 g.
Arginine HCl – 1.2 g
Arginine is required to create nitric oxide in the body. However, it could have performed better in studies when measuring blood flow. This is likely due to the poor bioavailability of L-Arginine compared to other supplements, like L-Citrulline, which is processed in the kidneys and turned into arginine. The standard dosage for L-Arginine is 3-6 grams. Hive V2 falls very short of a clinical dosage (Examine).
Caffeine Blend – 480 mg
Caffeine Anhydrous, Caffeine Citrate (Yielding 420mg Caffeine)
This caffeine blend will provide more sustained energy throughout your training and help prevent a crash later or after the workout. Typical ranges for modern sports supplements include 350-450 mg, which Hive v2 falls right in a sweet spot with an oddly specific number of 420 mg.
English Walnut (Juglans Regia) Extract (aka DMHA) – 225 mg
DMHA is a stimulant similar to DMAA, which boosts energy, focus, and mood. DMHA shares similar effects as DMAA but requires a larger dosage. This made it a popular pre-workout ingredient for replacing DMAA in DMHA pre-workout supplements.
It comes in many different forms: Juglans Regia Extract, English Walnut Extract, 2-Aminoisoheptane, Kigelia Africana, Octodrine, 2-Amino-5-Methylhexane, 2-Amino-6-Methylheptane, 6-Amino-2-methylheptane, 2-Isooctyl Amine, 2-Heptylamine, 6-Methyl-, 2-Metil-6-Amino-Eptano, Amidrine, Vaporpac, 1,5-DMHA, and 1,5-Dimethylhexylamine.
Read about the comparison of DMAA vs. DMHA here.
The dosage in Hive is 225 mg above standard but varies based on the product. However, just because it says something on the label doesn't necessarily mean you will always "feel" it. Lastly, this is the natural form of DHMA, which typically means it isn't as potent.
Theobromine – 100 mg
Theobromine is a "caffeine light" stimulant ingredient found in chocolate, some tea plants, and the kola nut. Its name means "Food of the Gods."
Some anecdotal evidence suggests that theobromine can affect mood elevation, focus, and stimulation. Most doses range from 100-400 mg, which takes Hive V2 in the low but normal typically dosed range.
Synephrine HCl – 50 mg
Synephrine is a well-researched ingredient shown to aid in weight loss.
"In general, bitter orange extract alone (p-synephrine) or in combination with other herbal ingredients did not produce significant adverse events such as an increase in heart rate or blood pressure or alter electrocardiographic data, serum chemistry, blood cell counts, or urinalysis. p-Synephrine alone and in combination products were shown to increase resting metabolic rate and energy expenditure, and modest increases in weight loss were observed with bitter orange extract/p-synephrine-containing products when given for six to 12 weeks." Synephrine Meta-Analysis
The typical range for synephrine is 10-50mg, which is supported by evidence for fat-burning effects.
Noopept – 20 mg
Noopept, known as N-Phenylacetyl-L-Prolyglycine ethyl ester, is a synthetic nootropic ingredient with cognitive boosting and psychostimulatory effects. 10-30 mg per serving is the typical range, with 20 mg being a substantial dose of noopept.
Yohimbe – 4 mg
Yohimbe stimulant is a very popular ingredient in many supplements. It has a variety of uses and can serve as an appetite suppressant, fat burner, aphrodisiac, mood elevator, and performance and focus ingredient. Yohimbe is a tree native to central and western Africa, and the bark of the tree produces an alkaloid called Yohimbine. Depending on the quality of the extract, which is stated to be 98% on the label, it can be very potent, so dosing varies with different products or brands.
Hive V2 Pre Workout Review (Nemesis Project)
Summary
I enjoyed Hive version 2 by The Nemesis Project, as it gave me some great workouts. I recommend this product to anyone looking for a pre-workout that provides more energy and focus than the grocery store pre-workouts, as this will give you a much stronger feeling. I found this version very effective, even if not as strong as expected, and I can recommend it.
Pros
Good mind-clearing focus
Noopept noticeable
Smooth concentration
Great, long-lasting energy
Thermogenic
Intensity
No energy crash
Improved breathing
Good cardio aid
Great tasting flavor
Cons
Small crystal rock clumps
No pumps
Beta-Alanine didn't strong
Lacking endurance
Persistent cough